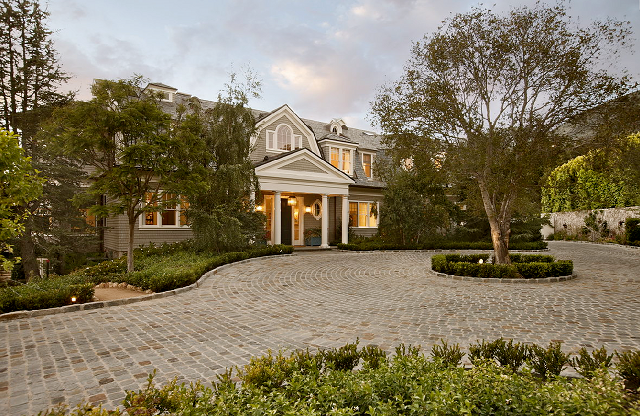 I was looking at this house that's actually being offered for lease at $42,000/month and yes, my jaw dropped too, but not only once (for the price) but also for its great design, and that's the reason why I wanted to post about this place. The moment I saw it, I wanted to know who was responsible for the well-appointed interiors and when I found out that Megan Yager was the interior designer, I had to know more about her.
Megan Yager has a background in high-end floral and event design, and I think that helps her use color with such knowledge and confidence. She works across America but has two offices based in California and Texas. Her gorgeous work has been featured in House Beautiful, Santa Barbara Magazine and others.
This Cape Cod style house inspired by Robert Stern has more than anybody could wish for, with 10,000 square feet, 7 bedrooms, 13 bathrooms, outstanding kitchen, breakfast nook, media room with seating for ten, exercise room, music room, craft room, sunroom, guest house, pool house, cabana, sports court and a dream-like 65′ saltwater pool with hot tub. What's included in the price? Besides being in this extraordinary house on one of the best streets of Montecito, California, you'll have a full-time housekeeper (I need one, don't you?), a handy man, a pool and grounds keeping service and even a personal trainer. The house also has on-site security service, if you wish! Talking about wishing… Oh, I so wish I had the $42,000 monthly to be in this place!
If this house isn't owned by a celebrity yet (just between us, I have a feeling it is), I'm sure this place would be perfect for one with all the privacy, security and even the personal trainer.
Enjoy!
Outdoors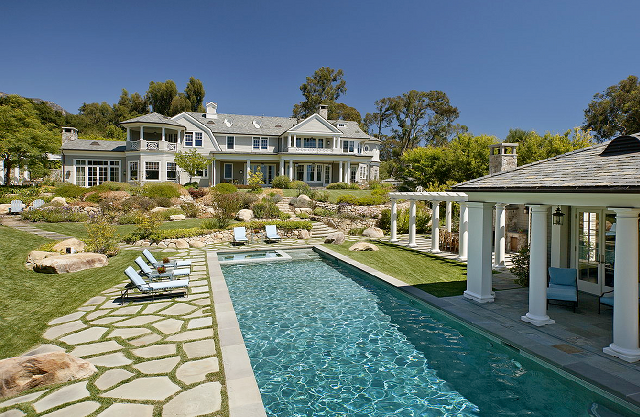 This pool is inviting and beautiful.
Foyer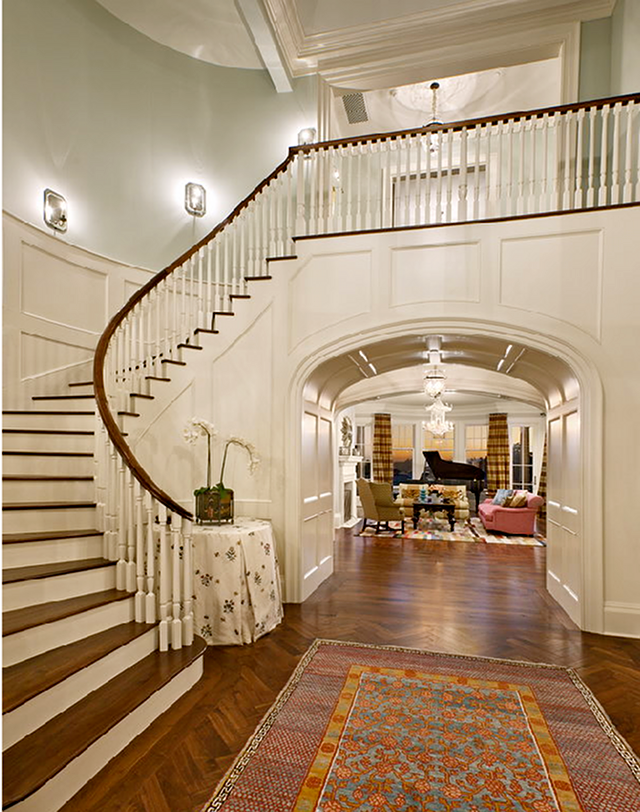 I'd love to see more in this foyer but I appreciate the gorgeous staircase and paneled arches.
Living Room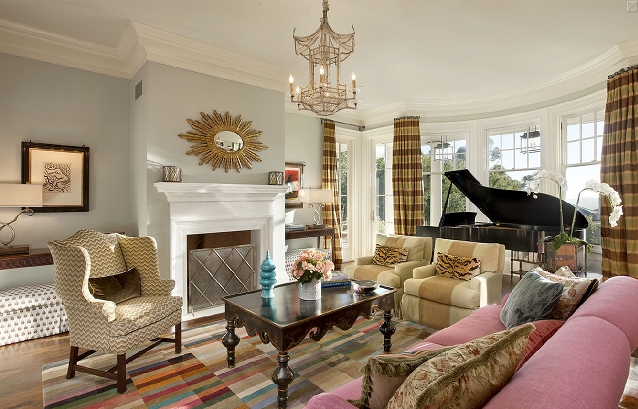 Colors and textures are perfectly added to this room. According to the realtor's site, the owners wanted to have a house that's happy yet elegant. I see that Megan Yager really listened to them.
Dining Room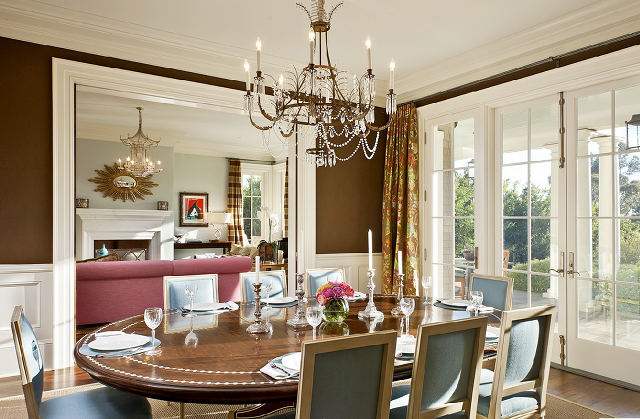 The brown walls blends perfect with the blues from the chairs and of the room next to it. Very charming and delicate chandelier.
A Kitchen to Cook and Dream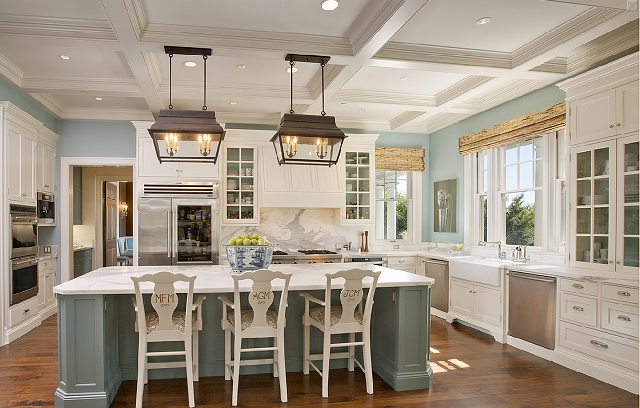 This kitchen is gorgeous with the Carrera marble counters. The light fixture and the color is simply perfect for this space. Note the stools with what I believe to be the owner's initials. Super fun idea!
Sunroom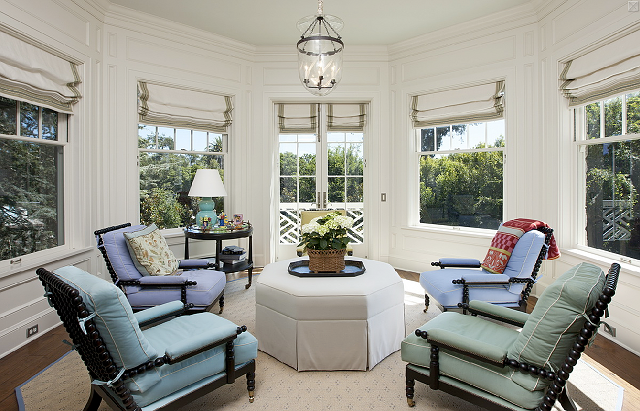 Just a dream! I love these chairs. They're stylish yet very comfortable. Great choice of fabrics! It feels sunny!
Family Room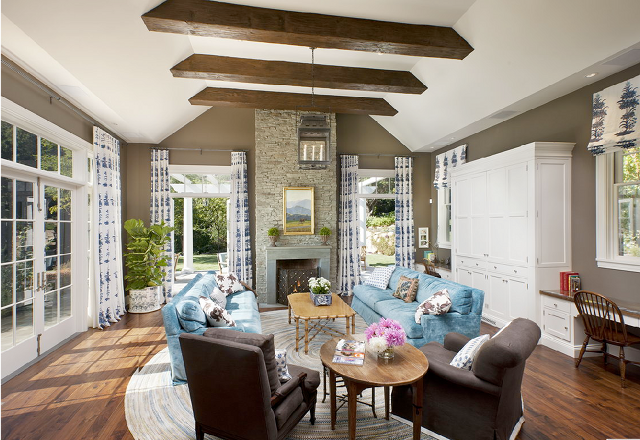 Oh, this is so pretty! I love seeing the brown and blue mix again. The built-ins hide the electronics and keep the room organized. The blue sofas are very comfortable and perfect for having everybody in the room at the same time. This is a home for the whole family.
A Closer Look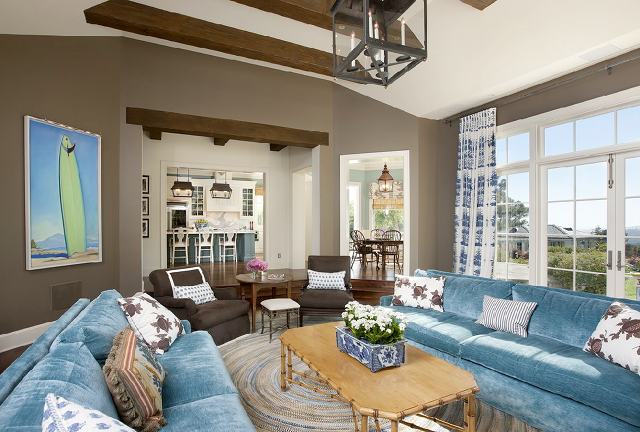 That's why it's important to have a good designer. I love to see how a designer can envision a room and finish it to perfection. Gorgeous window treatments.
Master Bedroom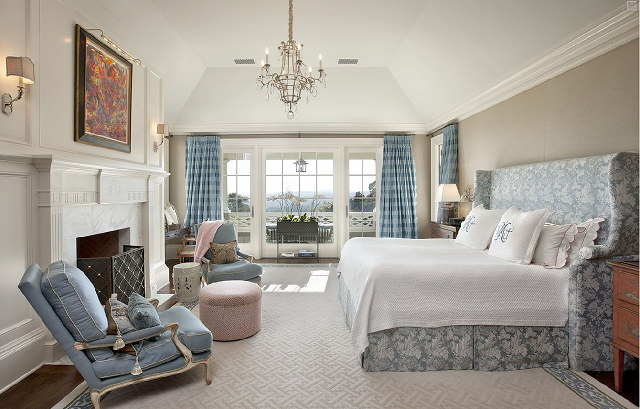 It's tailored, feminine and really beautiful.
Master Bathroom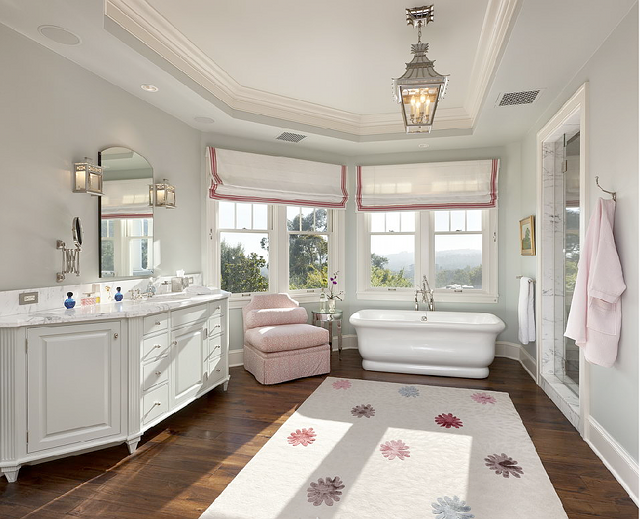 So delicate! I love this rug, the lantern, the marble counter, the tub… everything! Are you thinking "honeysuckle", too?
Guest Bedroom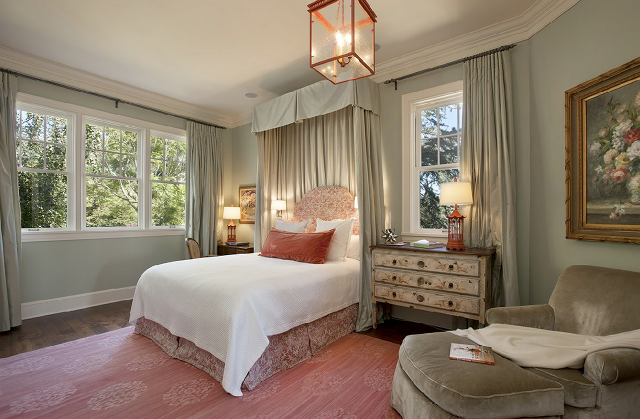 The canopy bed adds some glamour to this room and I adore the vintage dresser.
A Girl's Room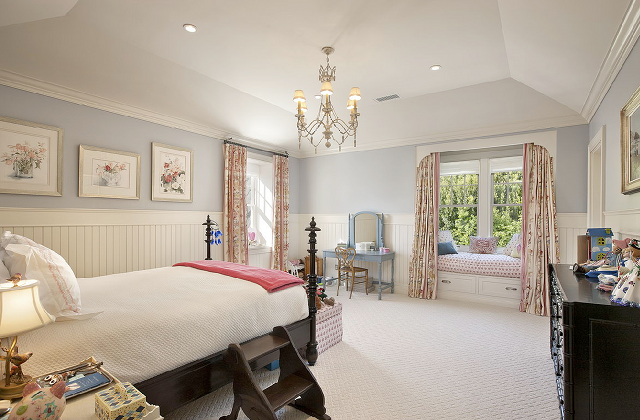 So sweet and elegant. A room that can grow with the child. It's timeless.
Media Room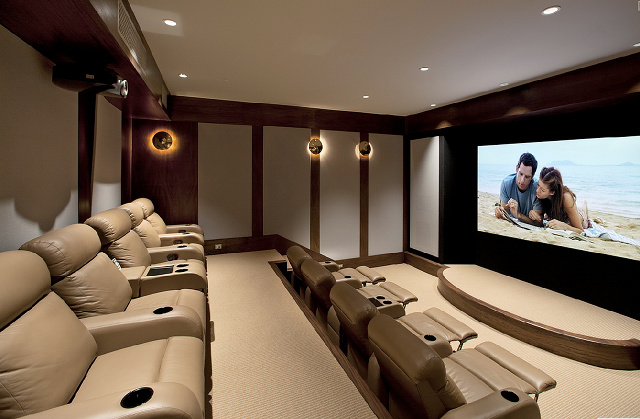 This is the kind of media room that I like. It feels like the "real" thing, but it's also stylish and elegant. Nothing over-the-top.
Architecture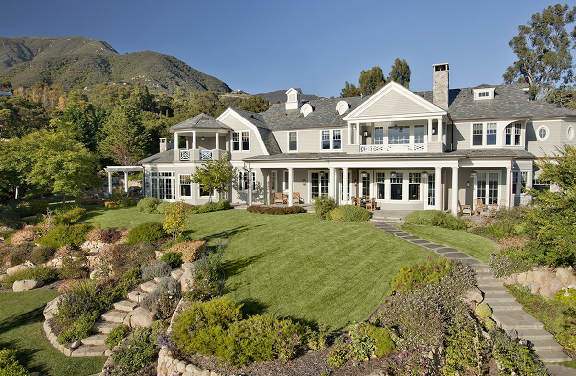 Designed by Architect Don Nulty.
Summer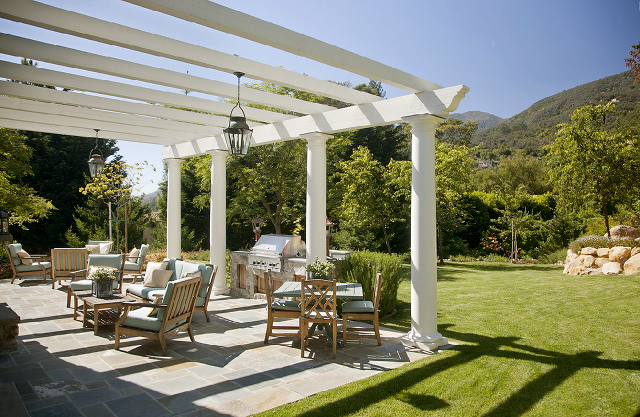 A perfect place to have the whole family on a sunny day.
Beauty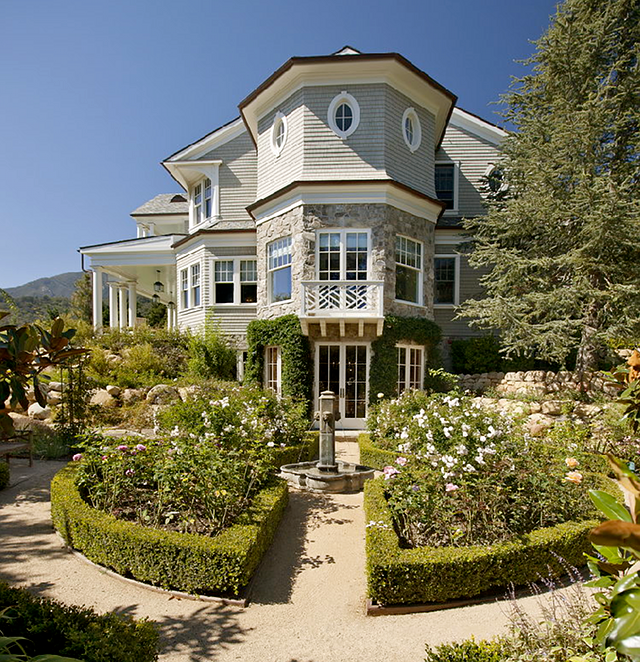 The gardens are by Grant Castleberg.
For more details on the listing: Bridget Murphy.
What I love about a house like this one is how evident it is that the architect, the interior designer and the landscaper were all on the same page when it came to providing a gorgeous home for this family, where they could actually enjoy it. For me, there's nothing better to find places like this one. This is grand, but it's also a home. I'm sure the people who live here love it! Well, I definitely would.
Would you?
xo
Luciane at HomeBunch.com
Wonder what I'm up to?  Come follow me on Twitter: Twitter/HomeBunch.
Source: Bridget Murphy.