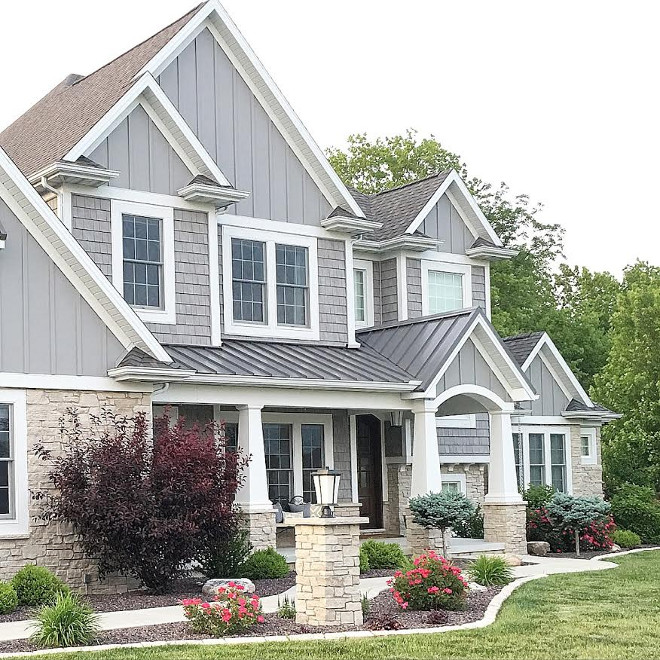 I've started the "Beautiful Homes of Instagram" almost a year ago and since then I've featured many stunning homes from homeowners I follow. These homeowners often have decorated their home without professional help, and in this series, they share not only the source for every room of their house, but also the process of building, renovating and transforming their spaces.
Today, I've decided to bring all of these homes into one post to bring some inspiration to you. This roundup is especially good in case you've missed some posts or in case you need decor and paint color sources, since all of these homes come with all of those details.
I hope you take a few minutes (or hours if you can!) to relax and meet some really great people which are sure to inspire you.
Interior Design Ideas: Follow @HomeBunch on 

and on
Beautiful Homes of Instagram Roundup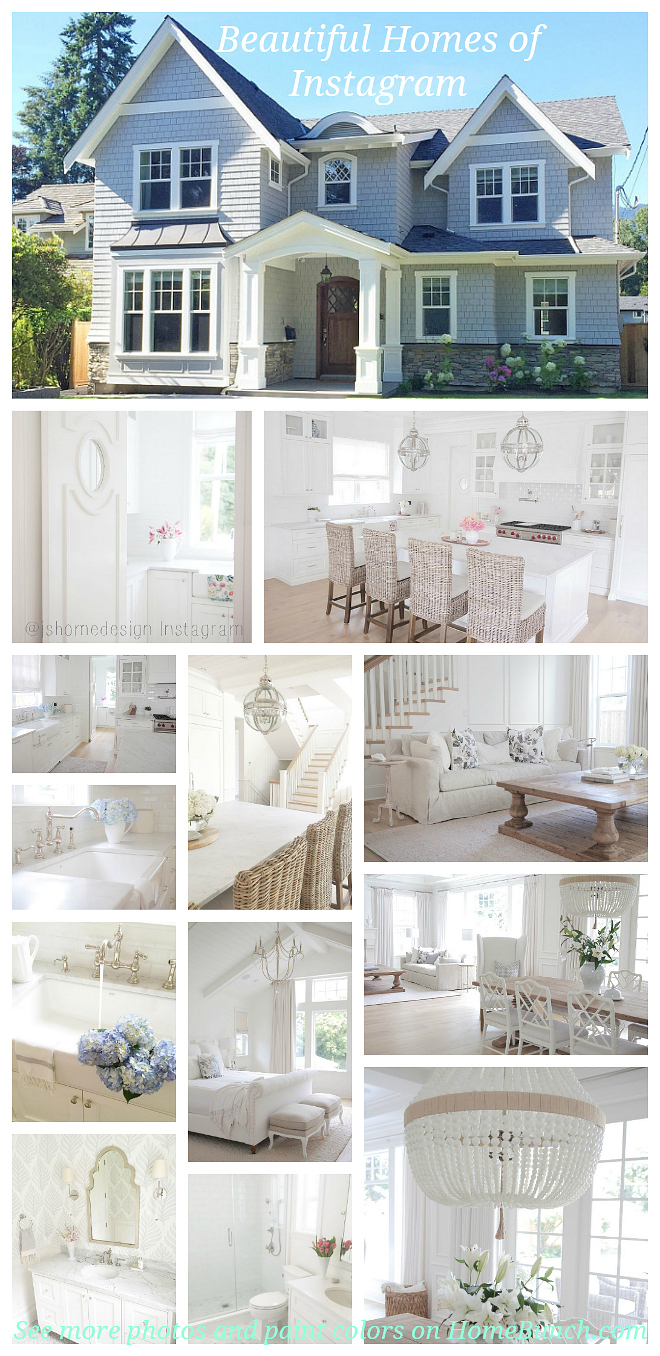 Located in Vancouver, this was the 1st "Beautiful Homes of Instagram" and have inspired me to start this series.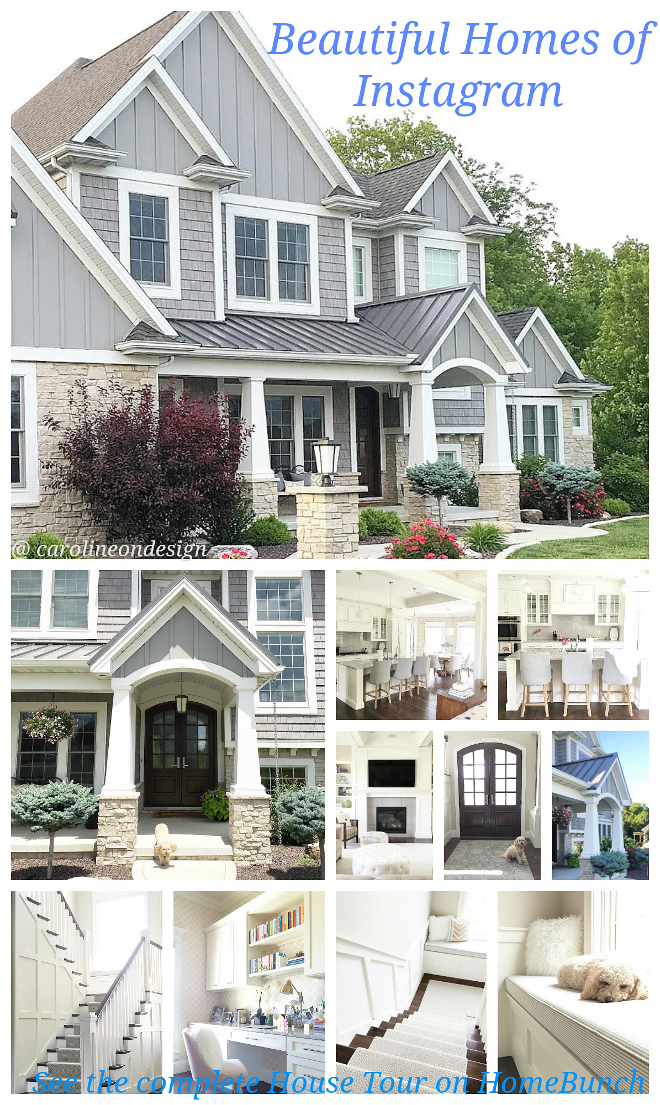 Caroline's home is warm and built for a family. The curb-appeal of this home will impress you!

Everyone loves Summer's kitchen and her basement is one of the most pinned I've seen on Pinterest!

For me, this home is all about the architectural details. Impressive!

The interior of this home is really beautiful and the homeowner knows how to make every room feel special.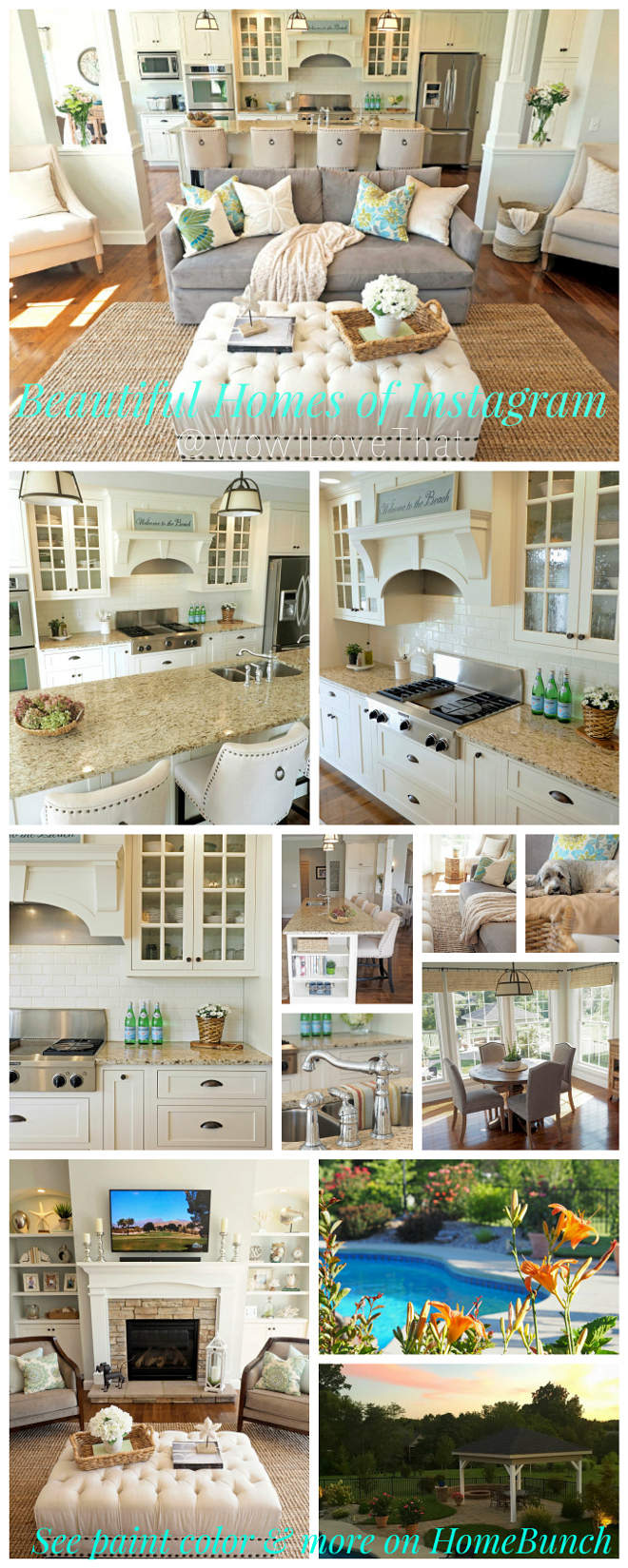 This is a very, very popular popular post on Home Bunch. Everyone loves this kitchen and the paint colors used in this home.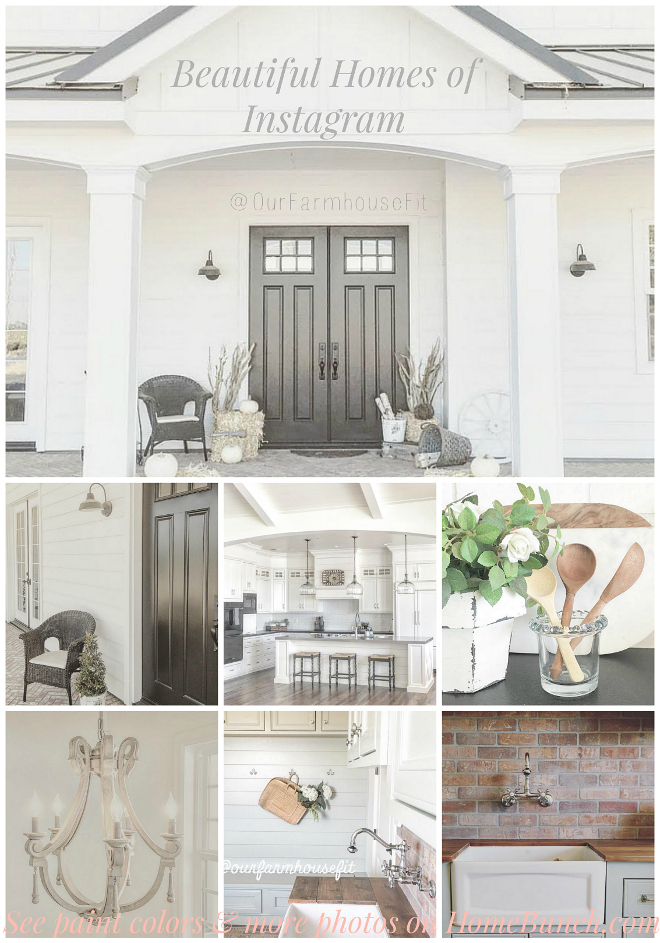 If you like neutral farmhouse interiors with lots of shiplap and exposed brick, this home is for you! This homeowner knows how to do it like no one else!

Jan's home is pure happiness for me! You can feel this homeowner's positive energy through these gorgeous interiors!

This is one of the most pinned Beautiful Homes of Instagram! Everyone loves this farmhouse!

I fell in love with "Miles", the dog, as much as I fell in love with the homeowners! Bryan designed his home himself and said that he got most of the inspiration from Home Bunch. This made me so happy! 🙂

Here you will have the opportunity to see what happened to this former HGTV Dream Home and it's better than you can imagine. Hollie truly is one of the most talented people I've met on this series!
You simply can't help but love Deborah and her gorgeous home! These two have plenty of charisma and personality!

This farmhouse is being extremely popular on Pinterest. The post shares all of the details such as paint colors, decor, lighting and more. Very helpful!

Kate's kitchen is one of my favorites of this series (I always say this to her!) and she is one of the sweetest person I've met here!

If rustic farmhouse is your thing, this home should be your ultimate inspiration!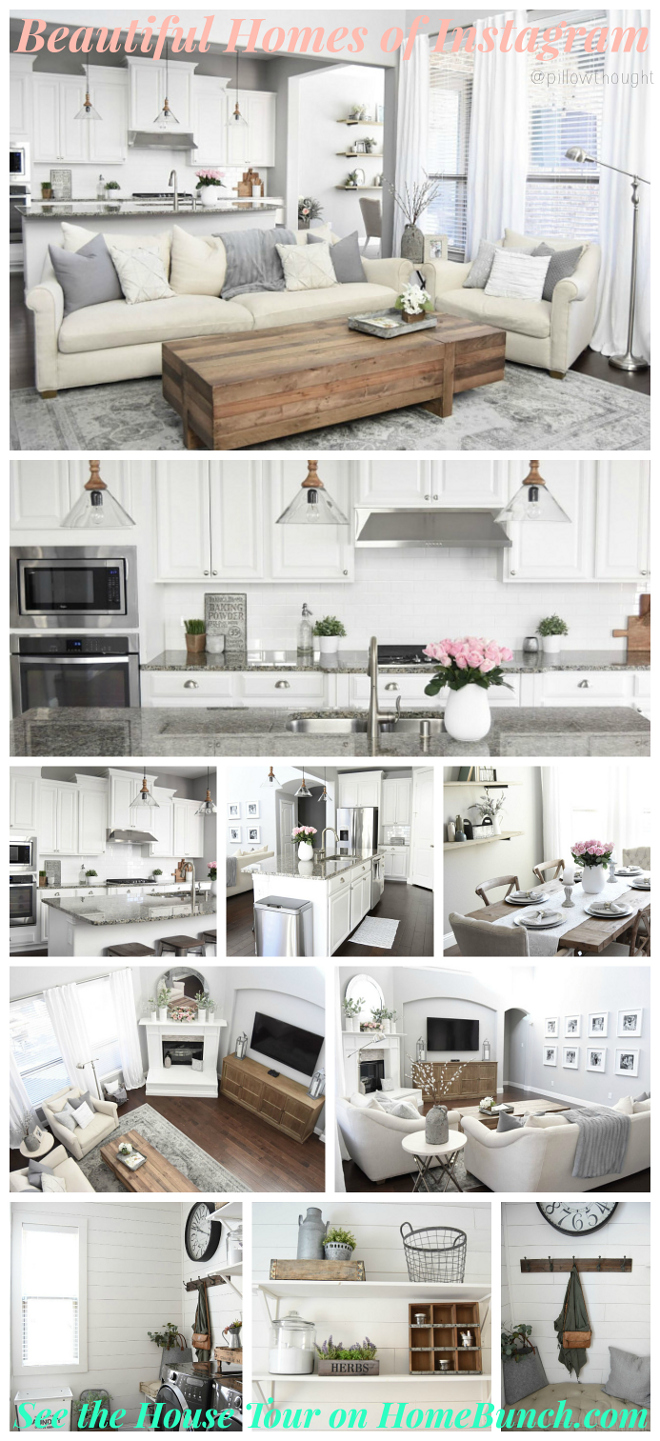 Gorgeous neutral home with farmhouse influences. My favorite part? That DIY laundry room with shiplap walls and open shelves!

There's so much to see in this home. I love how the homeowner added personality to the neutral spaces.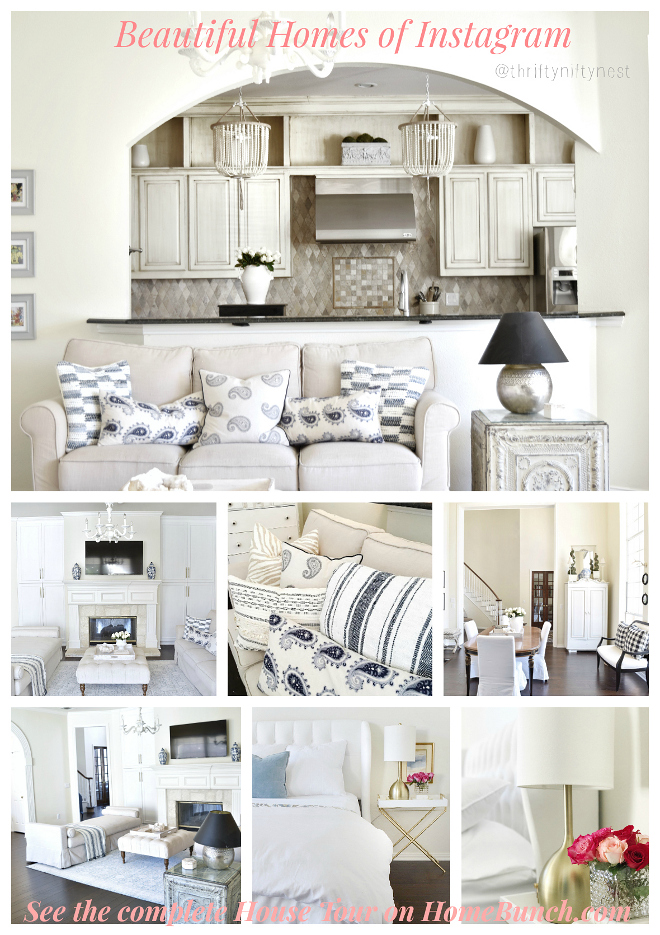 Erin is an angel and that's why her home feels like heaven! I am sure you will love her as much as I do and feel inspired as much as I did. 🙂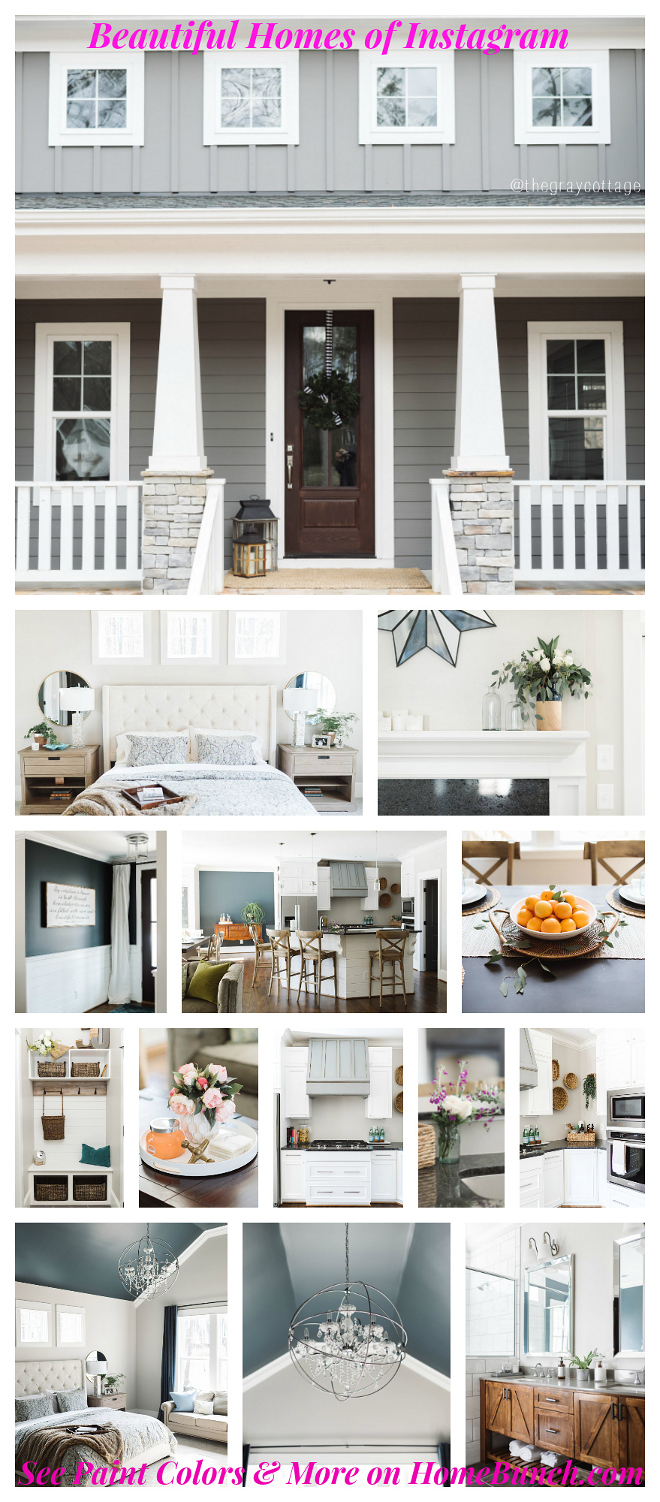 This homeowner and her husband designed all of the cabinets for the kitchen and bathrooms… they're incredible!

This home might be big but surely isn't as big as this homeowner's heart. Missy is inspiring, humble and very talented!

Jen brings a farmhouse flair to every room of her stunning home. This is one of favorite features!

I waited a long time to share Jordan's home on Home Bunch. She wanted to finish some of her DIY projects before taking all of the pictures for the post. Waiting for it was so worth it!

Irina's home is soothing, calm and full of ideas. I could live here!

Mel's home is located in Texas and it's full of gorgeous decorative pieces. I fell in love with her living room!








Seasonal Beautiful Homes of Instagram.

The most popular "Beautiful Homes of Instagram" gets dressed-up for Christmas!

Beautiful Christmas decor brings some extra charm to this stunning home!

Would you like to be featured on "Beautiful Homes of Instagram"? Feel free to contact me on Instagram or send me an email!

Posts of the Week:

See more Inspiring Interior Design Ideas in my

Archives.
Interior Design Ideas:

Paint Color
Hello, my wonderful friends! I hope you had a good time seeing these dream homes and have enjoyed meeting some talented homeowners. I am truly grateful for all of the work they put into these features, from getting their homes ready, taking the pictures and sharing all of the sources with us. Aren't they amazing?!

May you all feel healthy and have a Blessed week and always remember to tell the people how much they matter to you!
See you guys tomorrow!
with Love,
Luciane at HomeBunch.com
Interior Design Services within Your Budget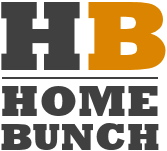 Get Home Bunch Posts Via Email

Save
Save
Save
Save
Save
Save
Save
Save
Save
Save