Posted in:
Architecture
,
Bathroom Design
,
Beautiful Homes
,
Beautiful House
,
Bedroom Design
,
Classic Design
,
Dining Room Design
,
Furniture
,
Home Decor
,
Interior Design Blog
,
Interior Design Ideas
,
Interior Designers
,
Kitchen Design
,
Laundry Room Design
,
Living Room Design
,
Paint Color
,
Small Space Design
,
Traditional Interiors

9 comments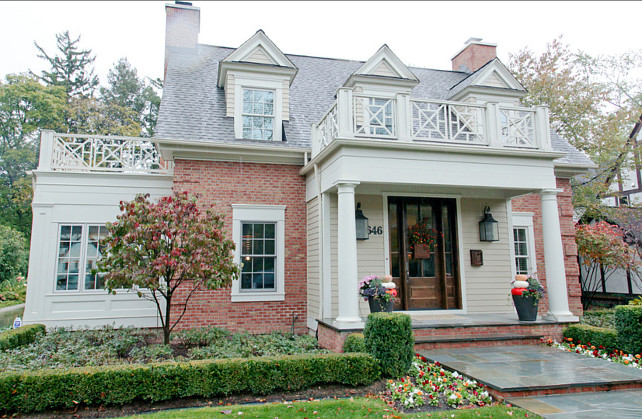 Mixing neoeclectic architectural details and handsome brick accents gives this classic home the look of days gone by while maintaining all of the convenience of today.
Designed by Dwellings, this charming home has inspiring interiors, starting with a roomy white kitchen, casual living room, dining room and warm sunroom. As you tour this home, you will notice how stylish and thoroughly livable the interiors feel, and that, in my opinion, is how most of us want to live.
Get inspired by this comfortable and beautiful family home.

 Charming Home with Inspiring Interiors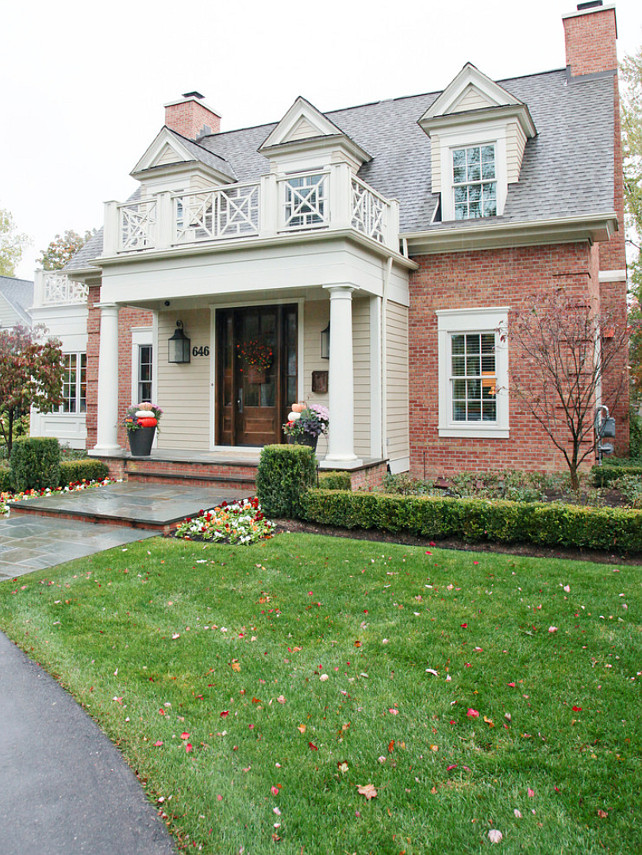 This beautiful curb-appeal was achieved with a carefully designed facade and landscaping.
Note the brick and railing design.
  Neoeclectic Architecture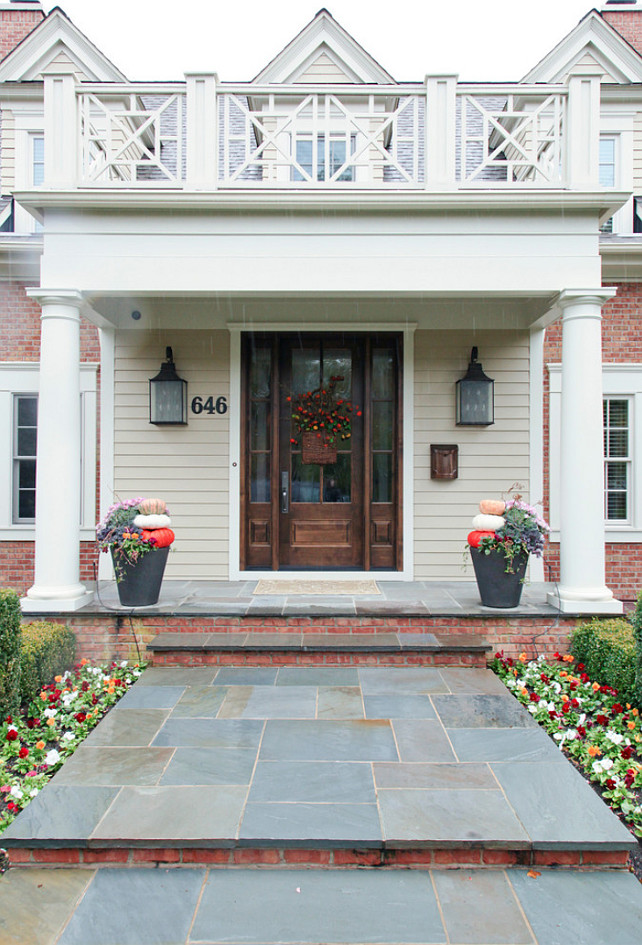 What an inviting front entry! Even the rain doesn't make its charm go away

Lanterns are from "Worlds Away".
Flooring is "Natural Bluestone".
  Living Room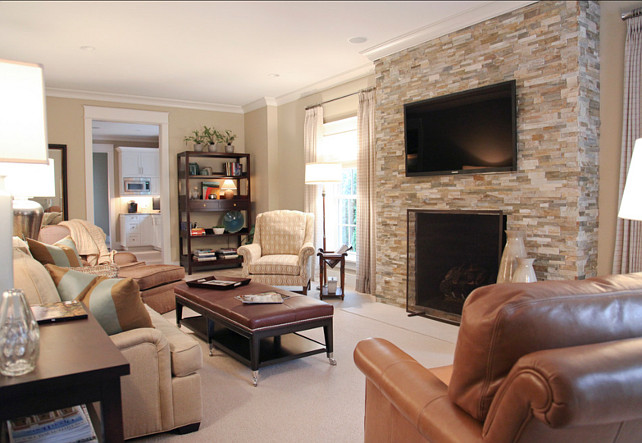 This is a simple, not too big, but very welcoming living room.
I really like the warm color palette.
 Stone Fireplace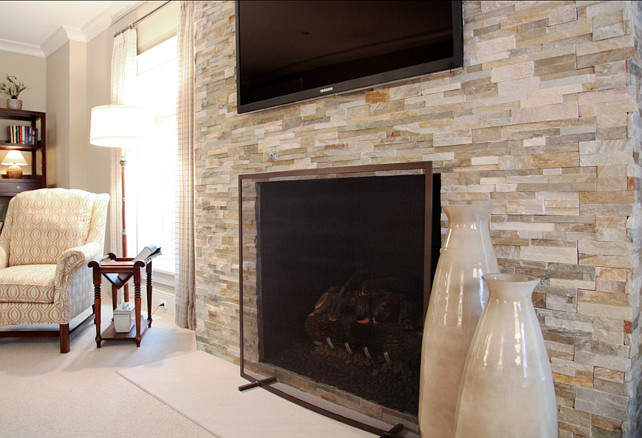 Stone on the fireplace is "Virginia Ledgestone".
 Comfy Chair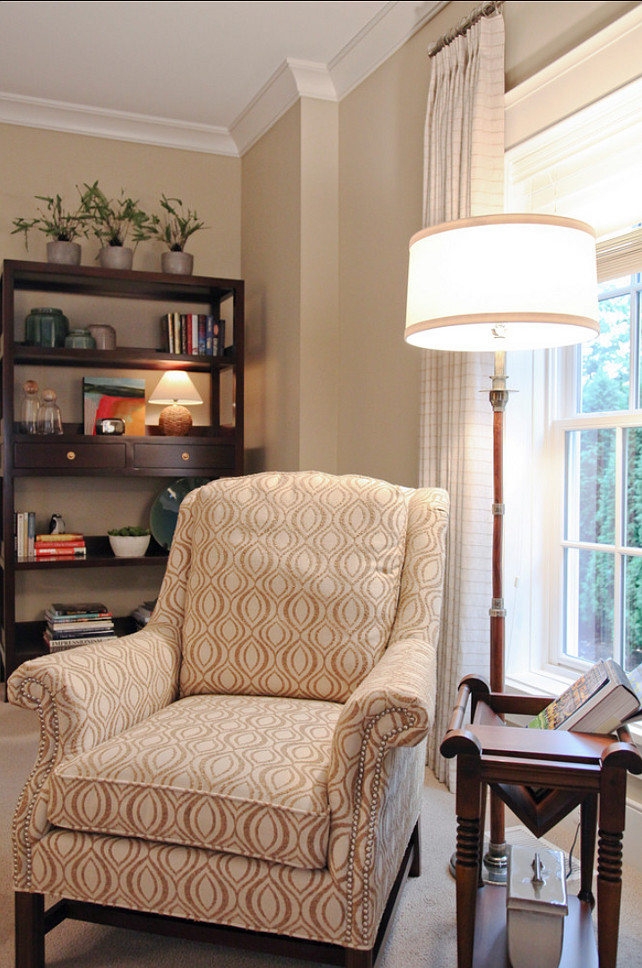 Home is all about creating comfy areas where you can just relax and forget about the world outside…
Dining Room Paint Color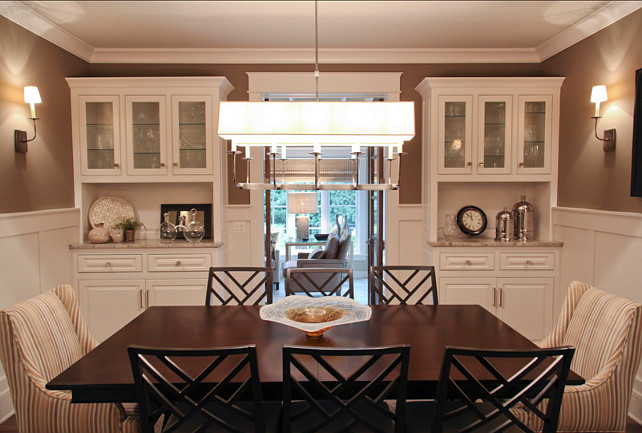 Paint Color: "Davenport Tan  HC-76 Benjamin Moore".
Dining Room Design
The formal dining room is cozy and very pretty.
Built-ins add storage while a striking light fixture brings more interest to the space.
Light fixture is the "E.F Chapman TT Linear Branched 10-Light Chandelier with dual Linear Shade".
 Kitchen Design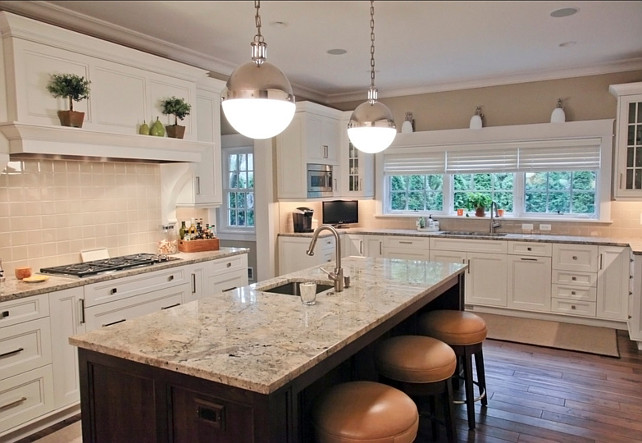 This kitchen has the perfect size and a very practical layout.
Pendants over island are "Thomas O'Brien Hicks Pendant".
Hardware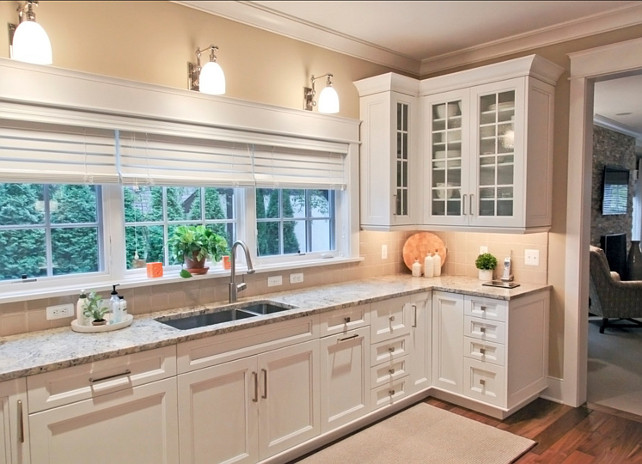 The hardware is from "Schaub and Co.".
Kitchen Countertop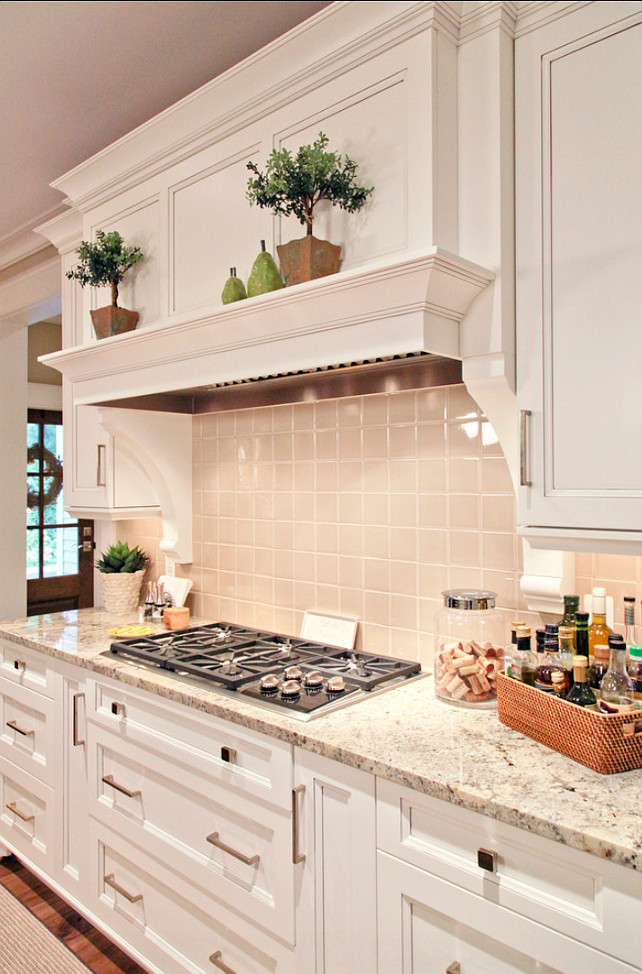 Countertop is granite, called "Persia Avorio".
 Open Kitchen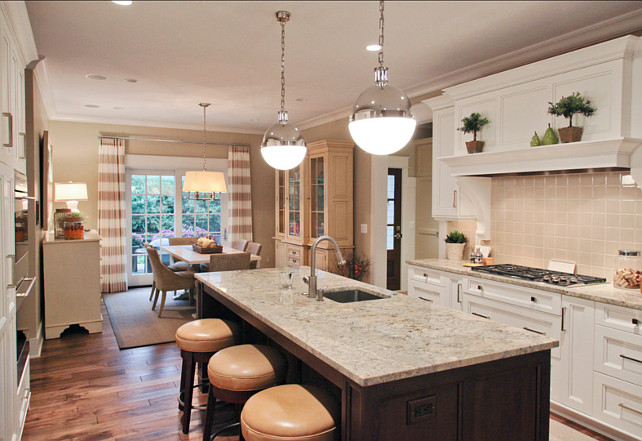 The kitchen opens to a very inviting eating area.
Eating Area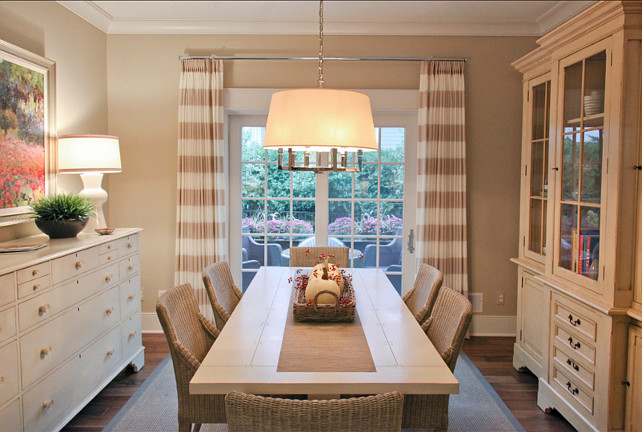 This is my kind of eating area… beautiful and useful! I love the neutral colors found here.
The curtains are custom. The fabric is from "Clarke and Clarke".
Chandelier is the "Six Light Square Tube Chandelier by Sandy Chapman".
 Sunroom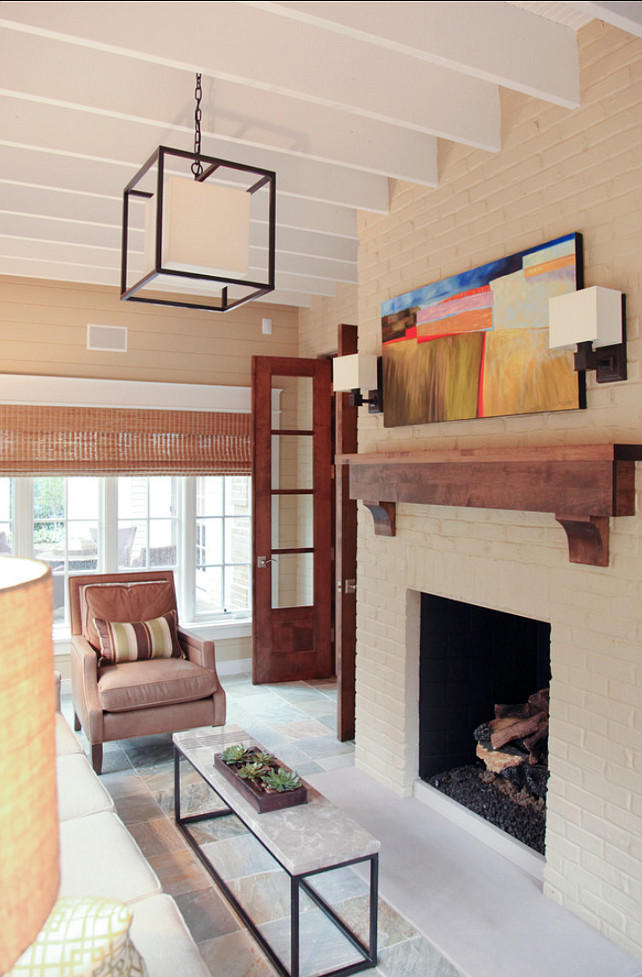 The sunroom is not too big, but the height makes the room feel more spacious and airier.
 Flooring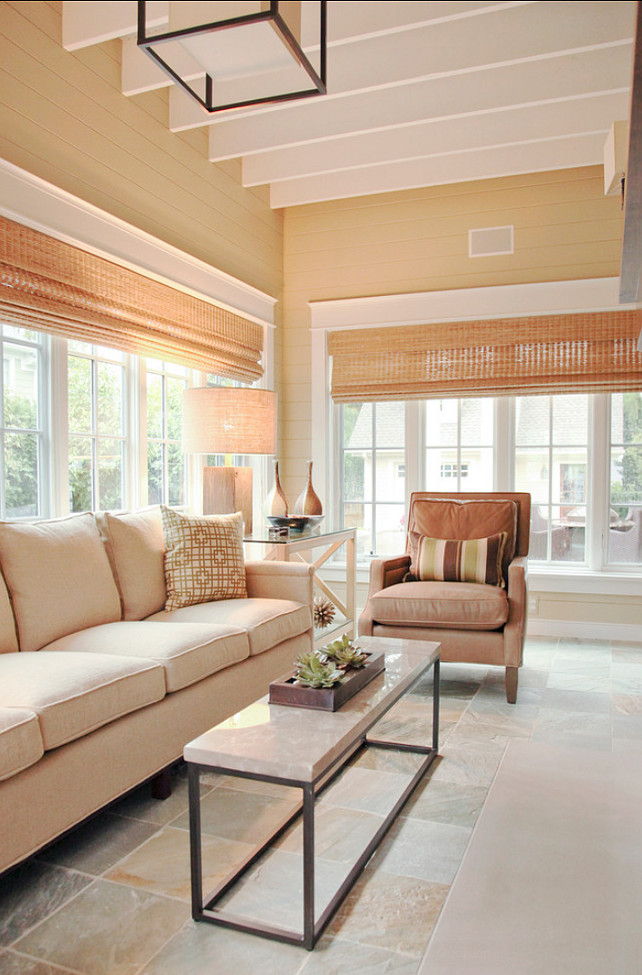 Using durable and low-maintenance flooring in rooms that connects to the outdoors is always a very smart and economical choice.
Flooring here is "Natural Bluestone".
Furniture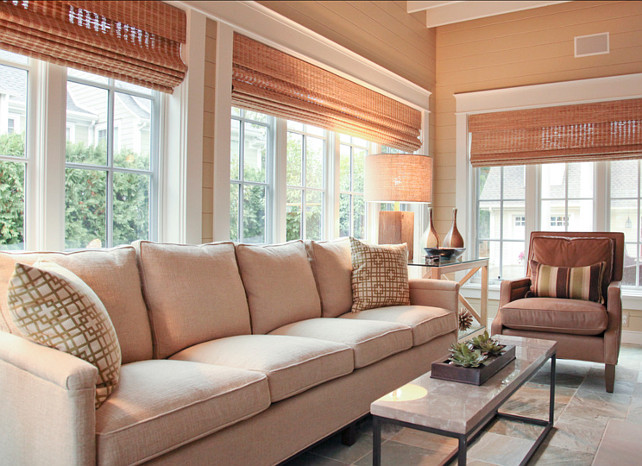 Comfy furniture and natural elements make this sunroom feel welcoming and guest-friendly.
Den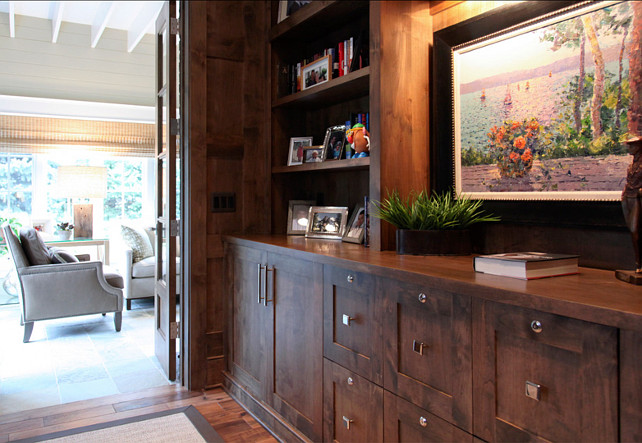 His den is connects to the sunroom.
Built-in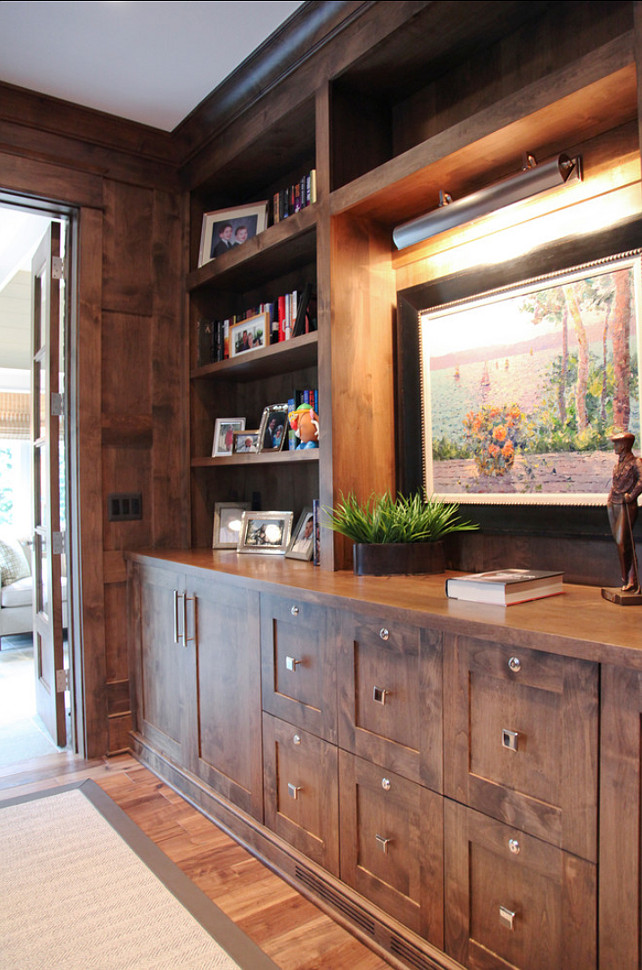 This built-in offers safe storage and beauty. I love the stain color on the cabinets.
 Home Office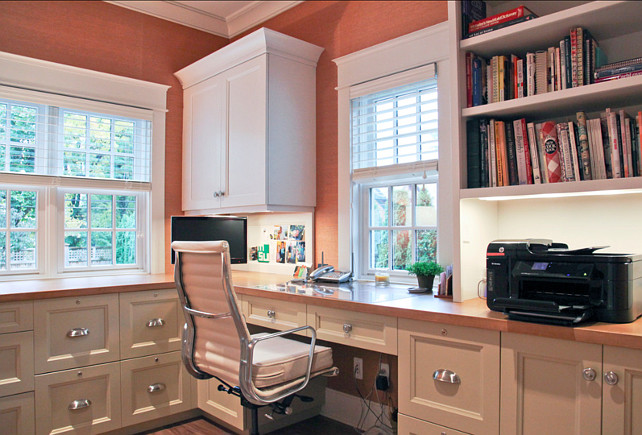 Having a well-organized home office can make your life a little easier!
Walls are covered with a "Phillip Jeffries wallcovering called Glazed Abaca / Copper".
Family Den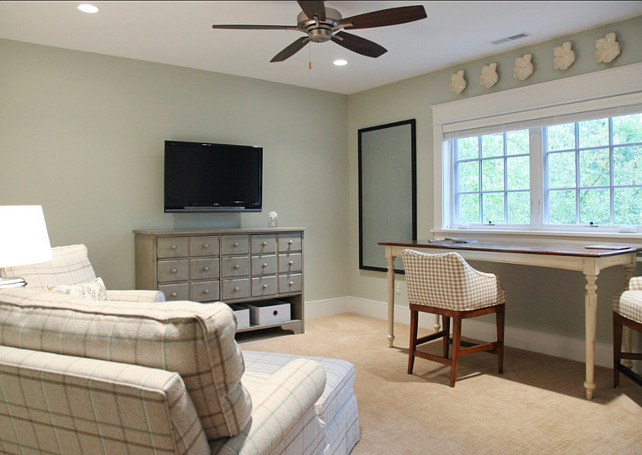 If two dens aren't enough for you, add another one for the whole family. This space is located on the second level of the house and can be used for TV watching, reading time or crafts.
Powder Room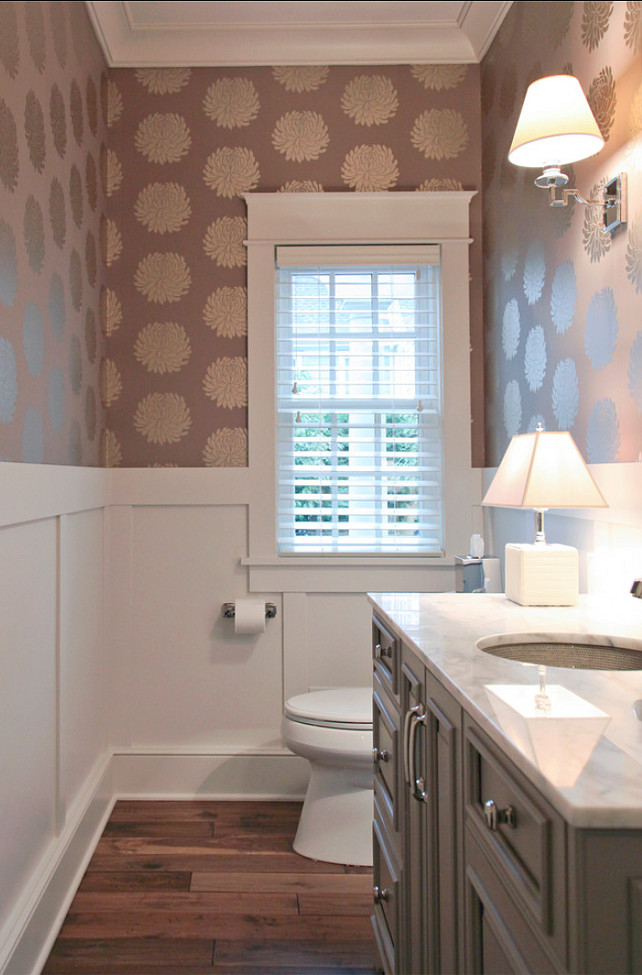 This powder room is stunning!
The wallpaper is from "Romo", but it is discontinued.
 Dimensions: 6 x 9
Picture Framing
Picture framing is always an affordable way to decorate your walls!
   Master Bedroom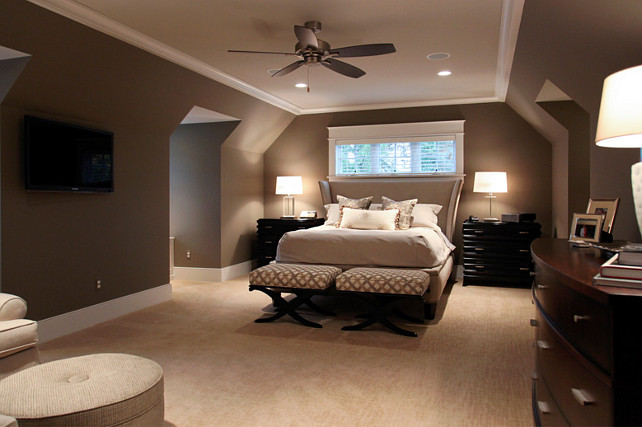 I love deep paint color in bedrooms. Dark colors can be very restful for many people, making them have a better night of sleep.
 Bed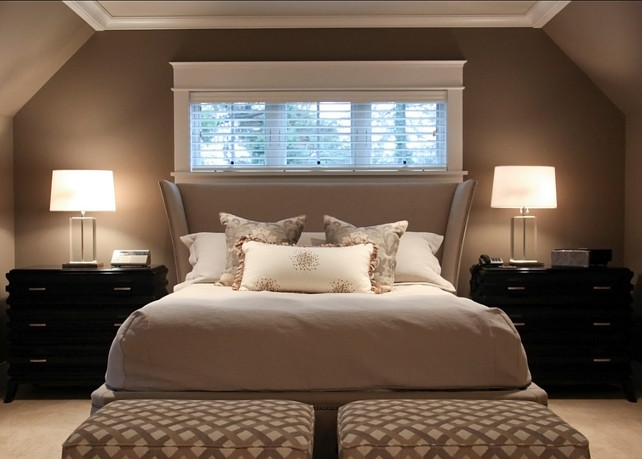 This is the "Upholstered Wing Bed by Hickory White". Isn't it beautiful?
 Paint Color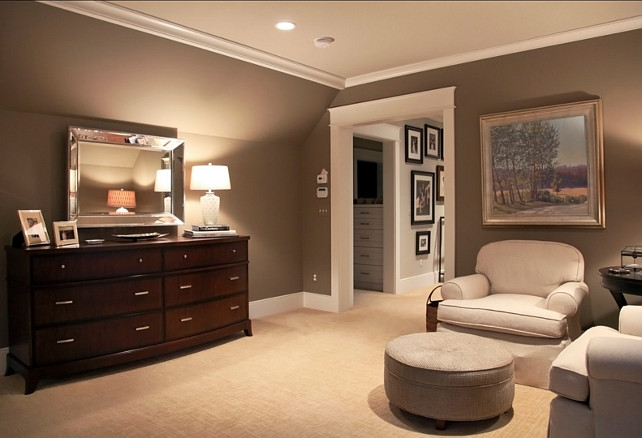 Walls are "Davenport Tan  HC-76 Benjamin Moore".
Seating Area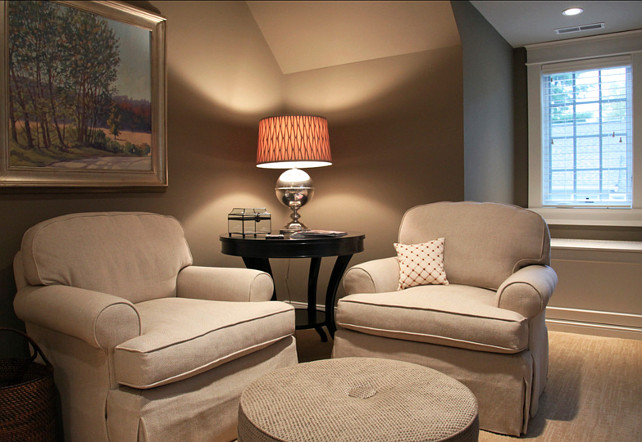 Charming!
 Bathroom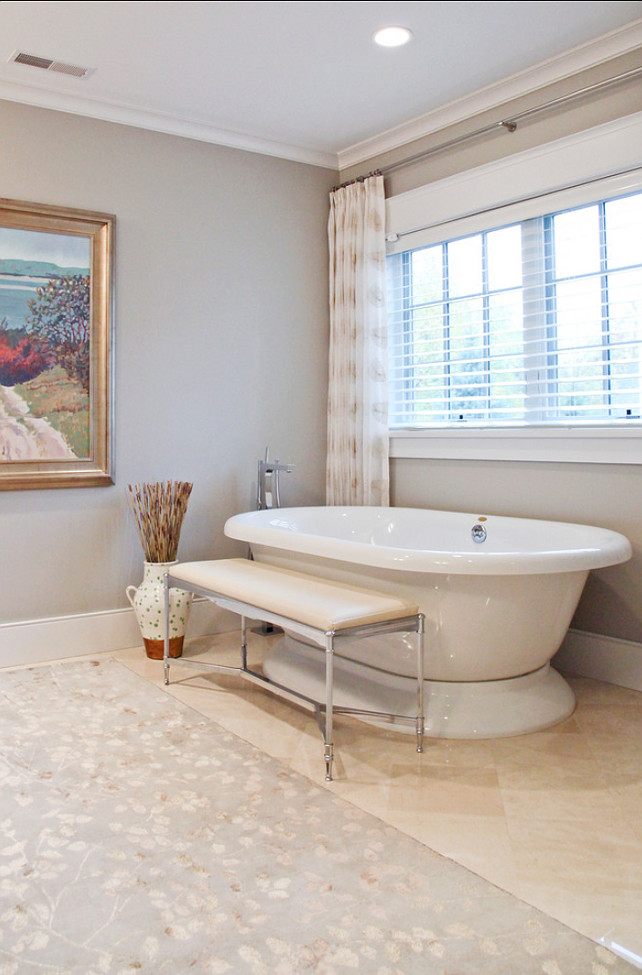 The master bathroom is feminine and it has a great layout.
Wise Choices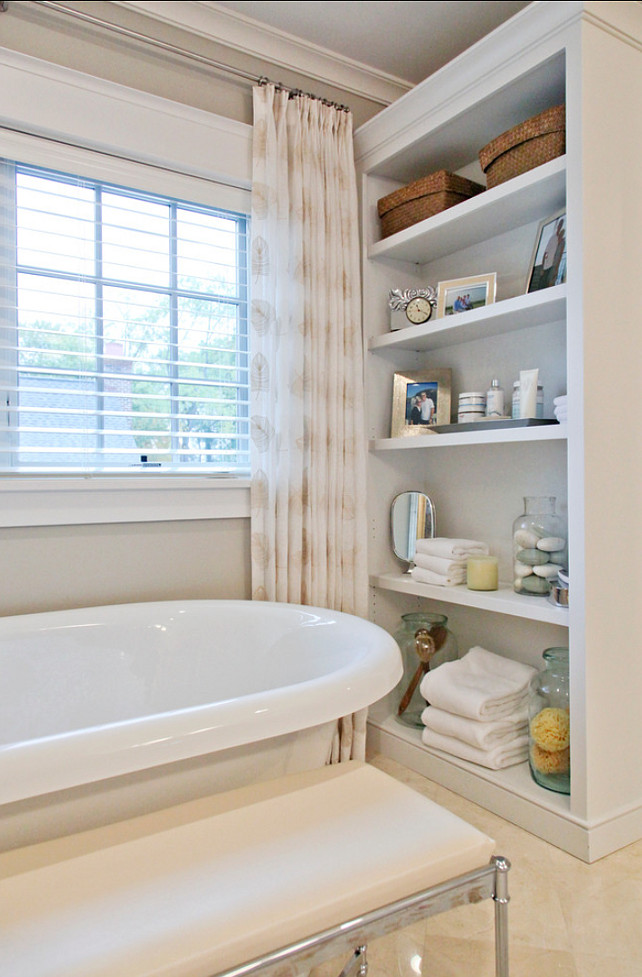 The side shelf adds some extra storage space in this bathroom.
Vanity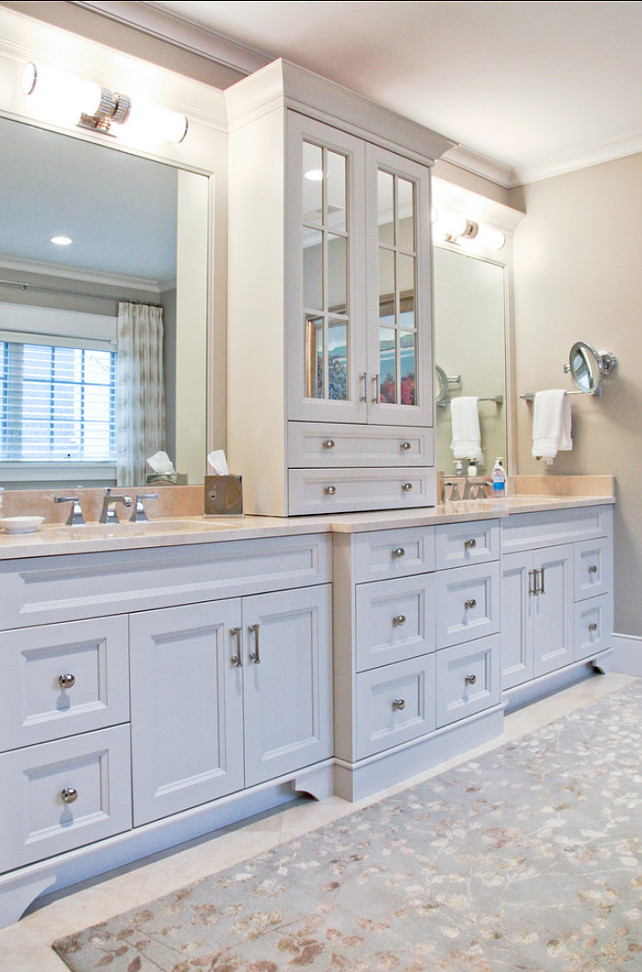 Beautiful custom cabinets!
I also like the idea of adding a comfy rug – as long it stays away from the shower and toilet. Also, keep in mind you will have to replace it faster than you would have to in a living room. The humidity will damage it faster, unless it's an outdoor rug, which it doesn't seem to be the case here.
 Shower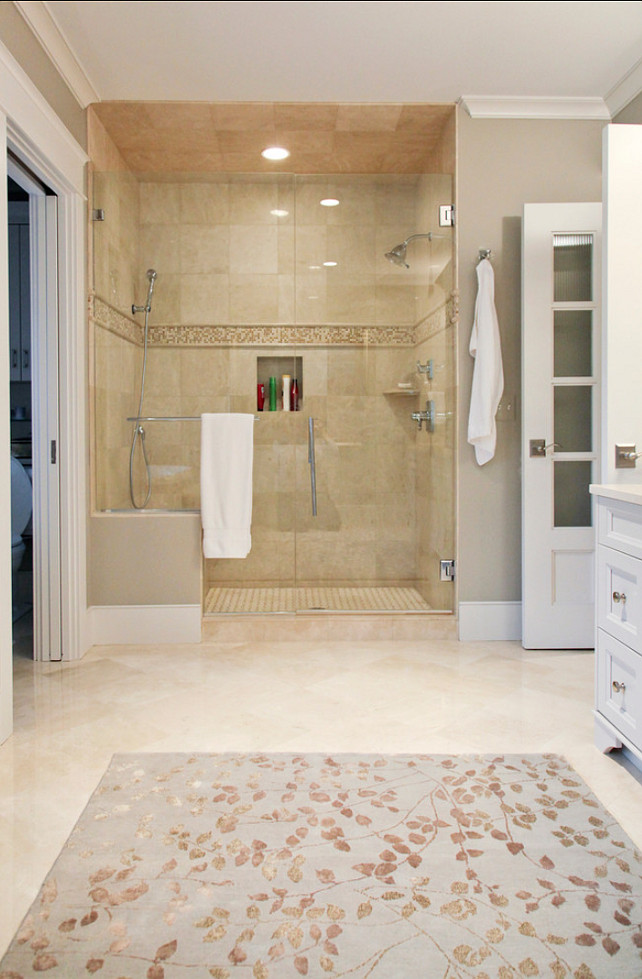 Great shower! Note the large ceramic tiles… These are much easier to clean than small tiles.
Guest Bedroom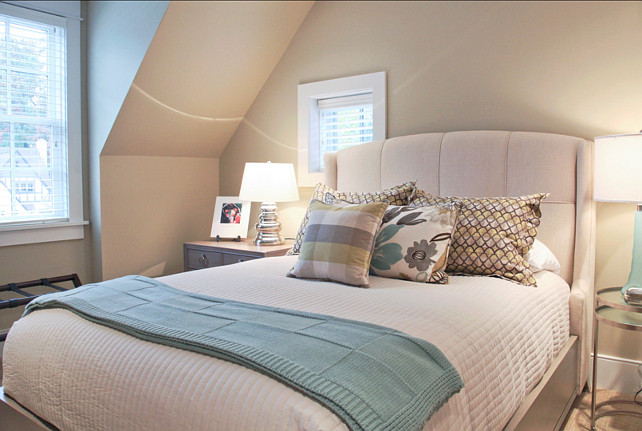 What a beautiful bedroom! It's cozy and soft!
Bedding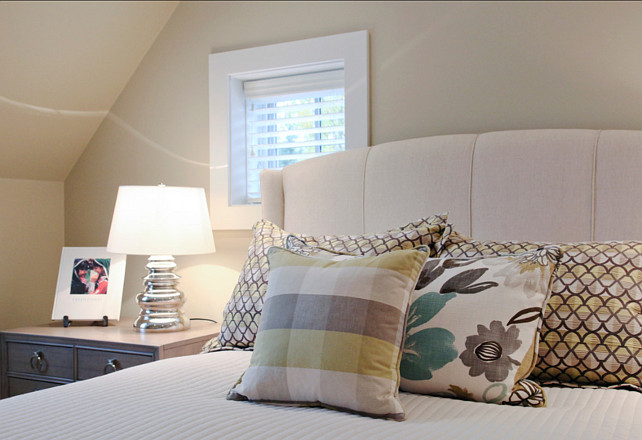 Inspiring color palette.
Space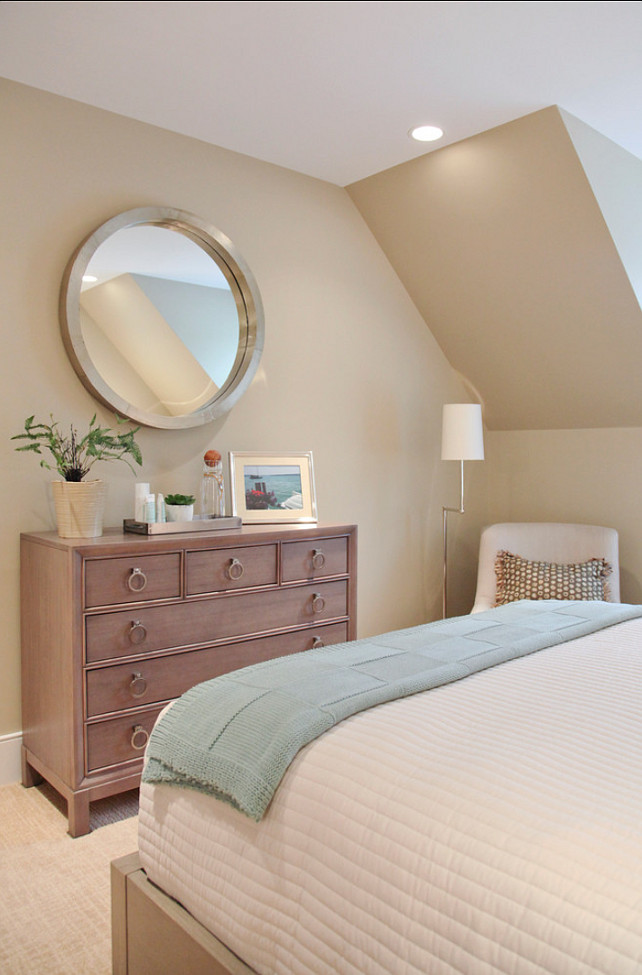 This bedroom is not very spacious, but it was carefully designed with furniture that fits perfectly in the space.
This is something you should always keep in mind when decorating a small room – use furniture that don't overwhelm the space, but instead, complements it.
  Basement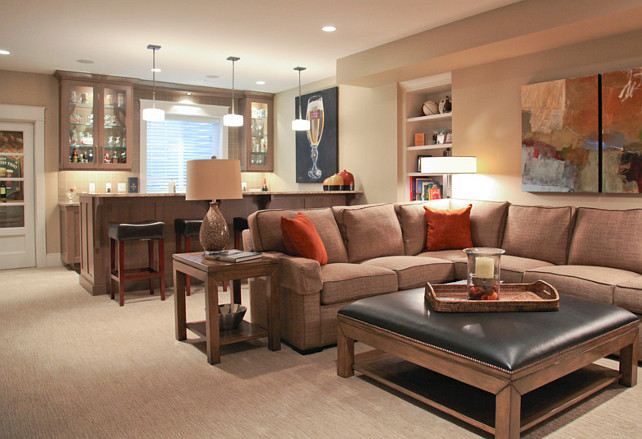 This spacious basement is great for entertaining. It has a bar, seating area and a wine room – far left.
Paint Color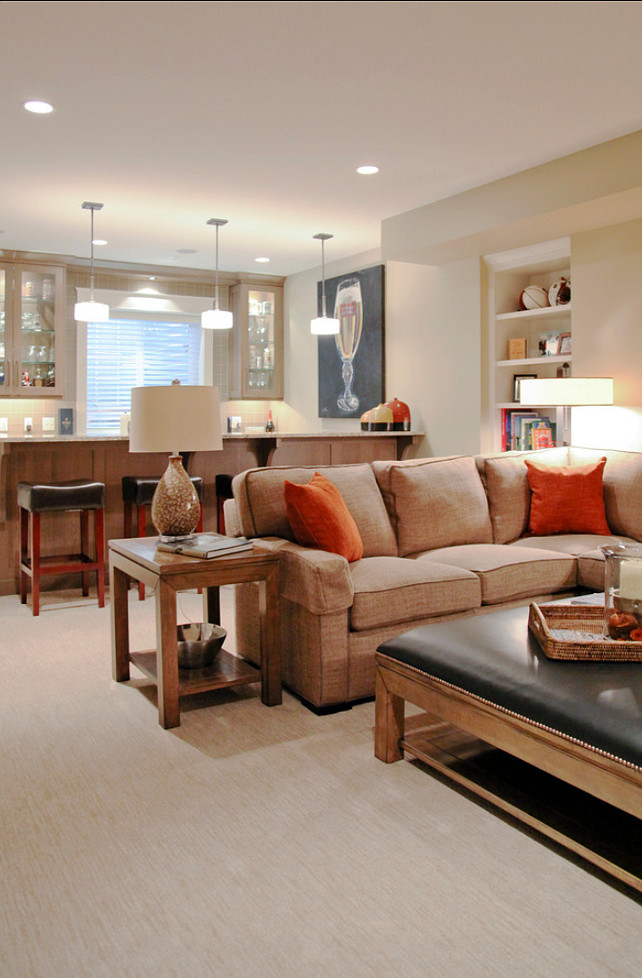 I always like carpeting in basements. It adds warmth and softness to the space.
Similar Paint Color: "Shaker Beige HC-45 by Benjamin Moore".
Color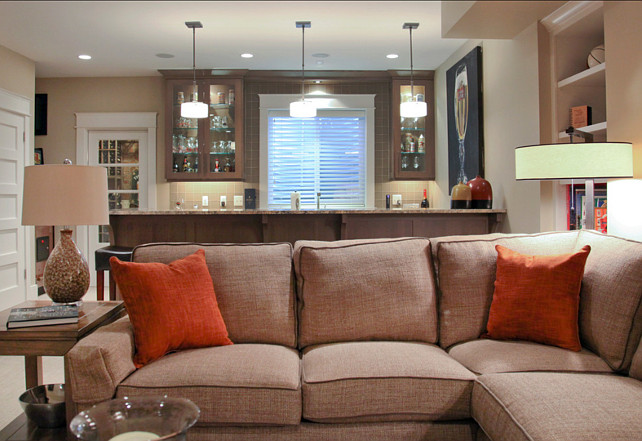 The basement carries the same neutral color palette from the above levels, but with of hint of color.
 Ottoman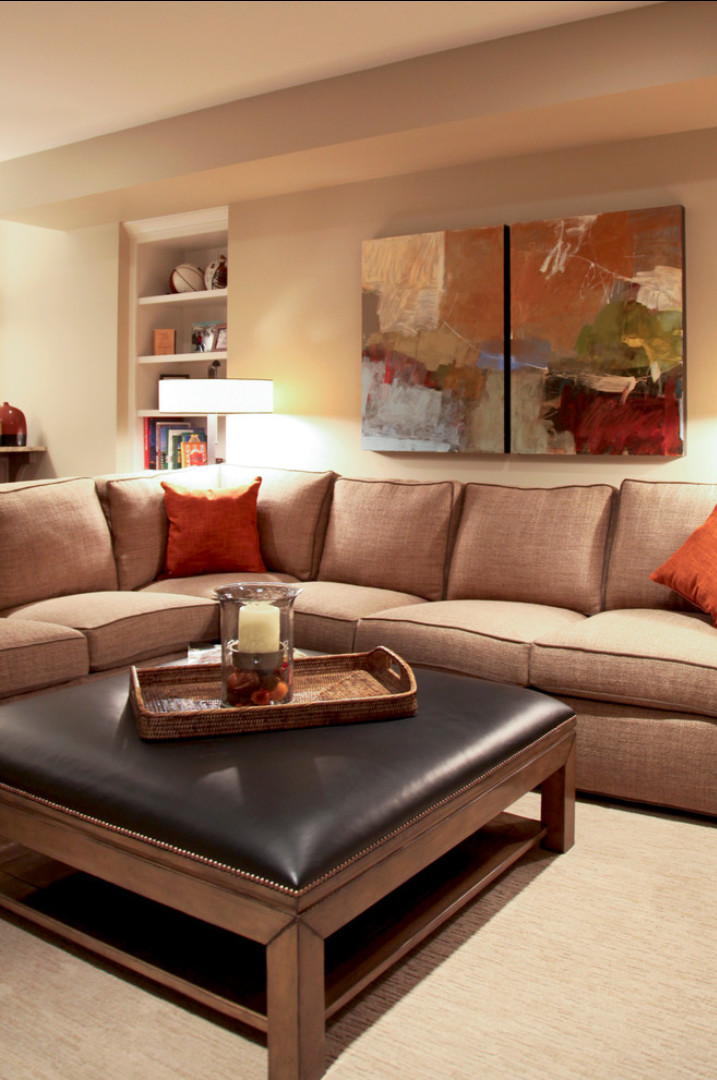 The ottoman is from Lorts.
Small Bathroom Design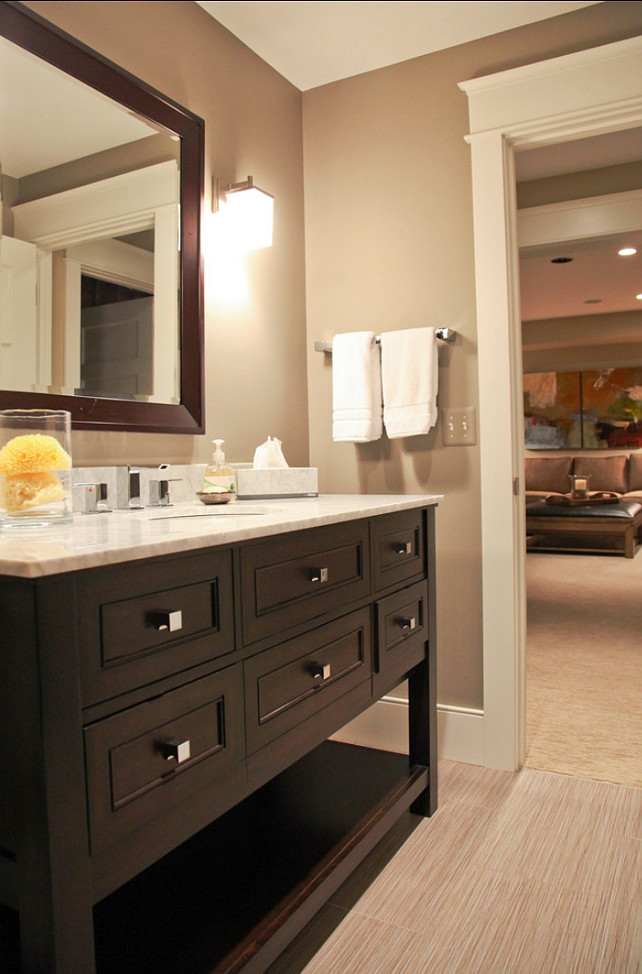 Great looking tile and vanity!
Laundry Room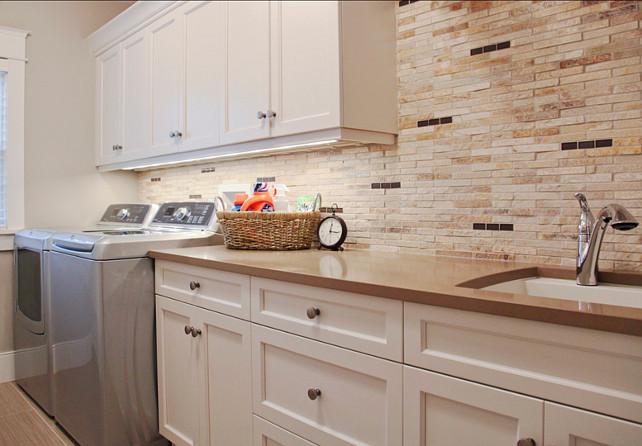 This laundry room is wonderful! I love the creative stone backsplash and quartz countertop.
 Mudroom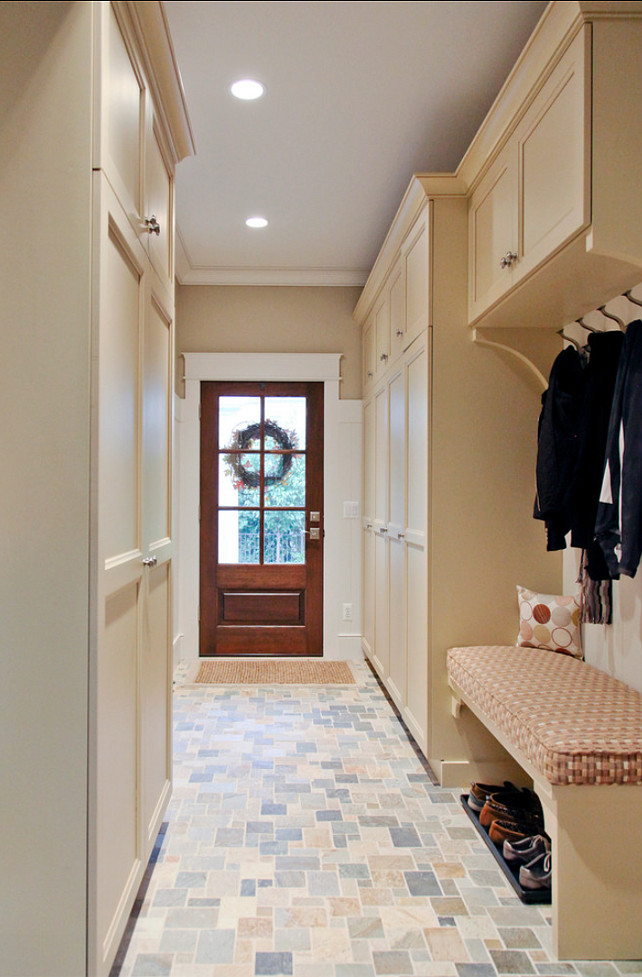 Seeing creative spaces are always inspiring, isn't it? This mudroom has durable floors and organized storage – must-haves in any mudroom!
See more Inspiring Interior Design Ideas in my

Archives. 
Hello, my friends! I am happy to finally be here… I apologize for being late, but for some reason I wasn't able to publish this post. It took me a long time to figure this out, but I am happy it's working now! 
Did you guys watch the Oscars yesterday? I had a really good time seeing all the gorgeous gowns and people. A dreamy "world", isn't it? I was also touched by Lupida Nyong's speech. That was the highlight of the night for me.
Ellen was amazing as always… she's smart, funny and she seems to be so approachable. And she likes pizza! How not to love her?!
What was your favorite part of the Oscars last night? Do you have a favorite dress? I would love to know!

Wishing you all a very Blessed and safe week and thank you so much for being here today!!!
with Love,

Luciane at HomeBunch.com
Interior Design Services within Your Budget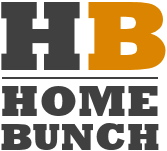 Get Home Bunch Posts Via Email

Sources: Dwellings.
Interiors by Laura Davidson.

Posted in:
Architecture
,
Bathroom Design
,
Beautiful Homes
,
Beautiful House
,
Bedroom Design
,
Classic Design
,
Dining Room Design
,
Furniture
,
Home Decor
,
Interior Design Blog
,
Interior Design Ideas
,
Interior Designers
,
Kitchen Design
,
Laundry Room Design
,
Living Room Design
,
Paint Color
,
Small Space Design
,
Traditional Interiors

9 comments