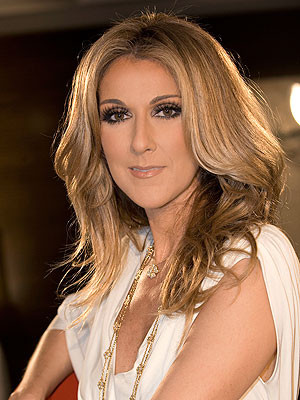 Celine Dion has her new Florida home for sale. Yes, that infamous house with the waterpark and all!
Celine Dion's house, that took many years to be build, is now for sale for $72.5 Million! According to Forbes, in 2005 Celine Dion and her husband/manager René Angélil paid $12,525,000 for a home at 215 S. Beach Road in the exclusive Floridian inlet of Jupiter Island. They proceeded to tear down a 6 bedroom, 6 bathroom, 8,579 square foot home to build this massive Bahamian-inspired estate, which was completed in 2010.
This five and a half acre property with over 415 linear feet on the Atlantic Ocean is being sold turn-key with almost all its contents, which means, you'll get all that you see here.
The property is comprised of the main residence and 5 individual pavilions including a double 4 bedroom guest house (for a total of 8 bedrooms); a tennis house with simulated golf range leading to the tennis court; a pool house with built-in grill and separate kitchen; and a cozy beach house with second floor sleeping loft and massage room. Not enough? Celine Dion's house also have THREE separate pools, one at the rear by the ocean, and two connecting pools at the front with a huge and controversial water park.
Celine Dion's Florida House for Sale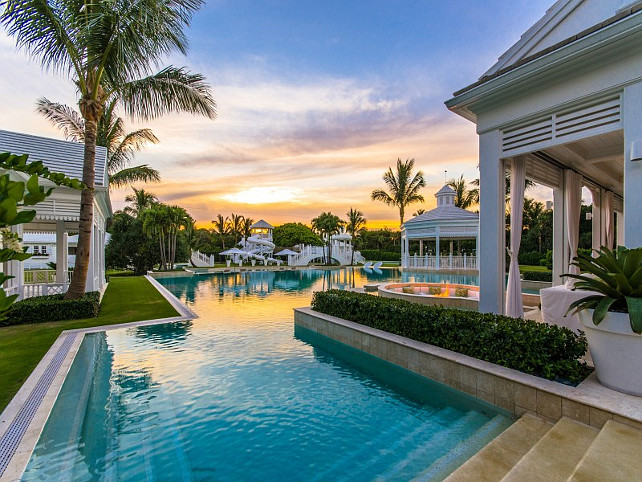 Celine Dion paid around $20 million to build this house.
 Celine Dion's House Arial View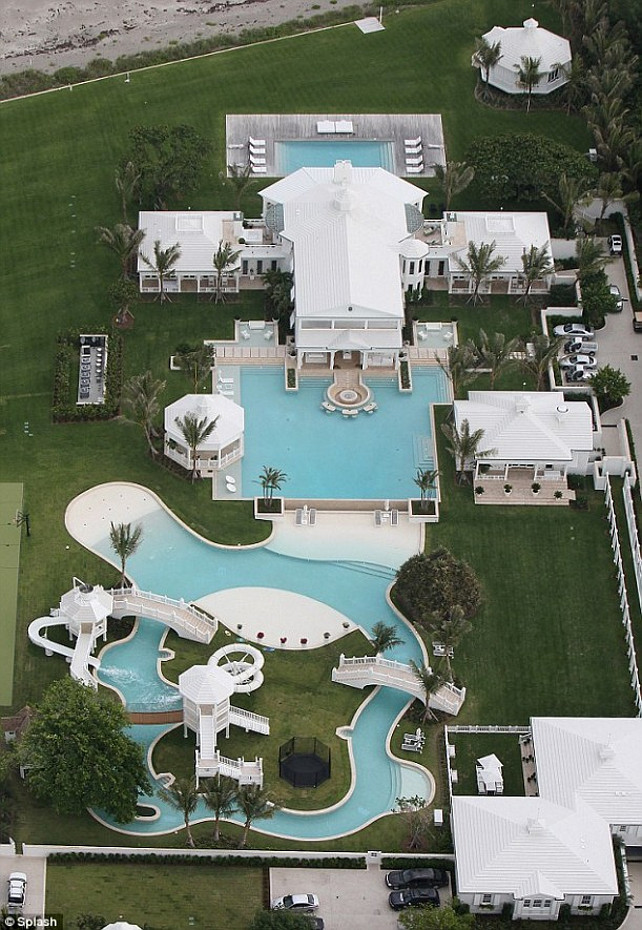 Celine Dion's infamous water park was causing some controversy with her multimillionaire neighbors. According to Hooked on Houses, "the community was upset that her backyard waterpark used so much of the fresh water supply on the island, which led to a drought and water restrictions in the area."
Celine and her husband were "fined for the massive use of water and in an attempt to appease her neighbors, had six wells constructed on the property to store enough water to keep the pipes pumping the 6.5 million gallons needed for the park each year."
Living Room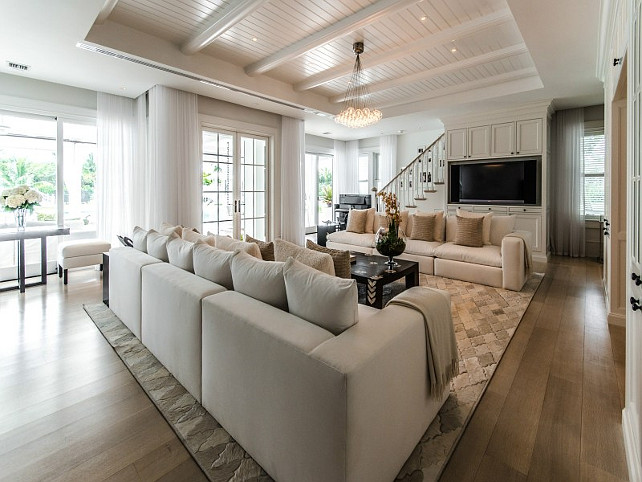 The main residence is an open-concept that takes full advantage of the ocean views. The main level features a formal living room, a large kitchen, family room and dining room, a ground floor bedroom suite with huge walk-in closet, bathroom and screened-in porch, a media room and a separate guest wing.
 Kitchen & Eating Area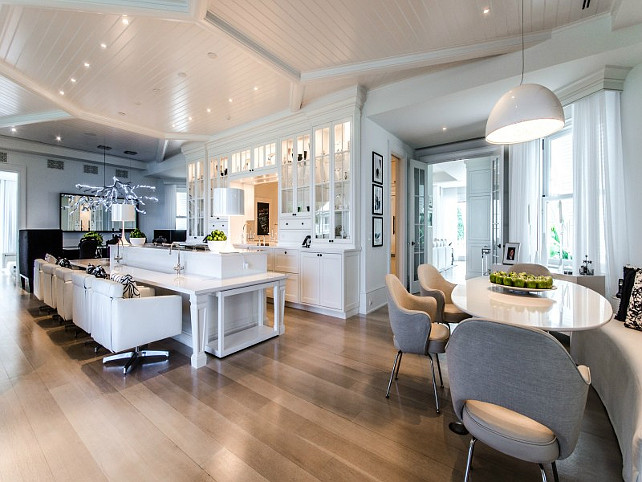 The kitchen is huge and has two areas. The one you see in this picture and another working area behind the cabinets — see photo bellow.
 Kitchen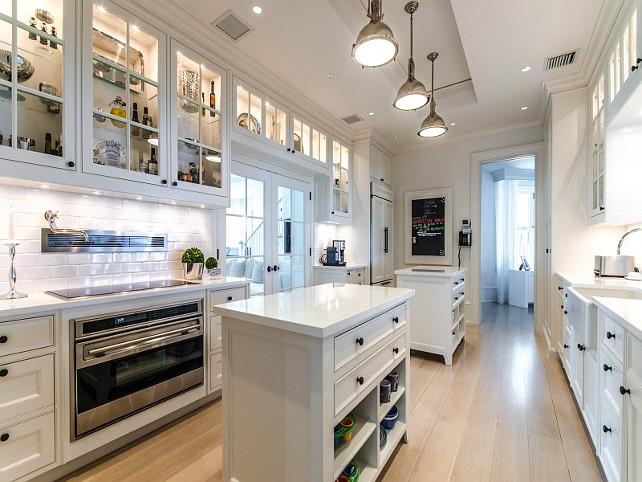 This is the other part of the kitchen… I haven't seen anything like it before.
 Kitchen & Family Room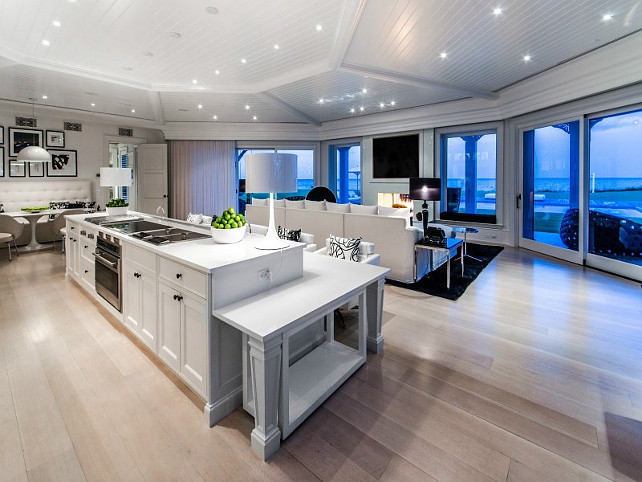 The main rooms have incredible ocean views!
 Family Room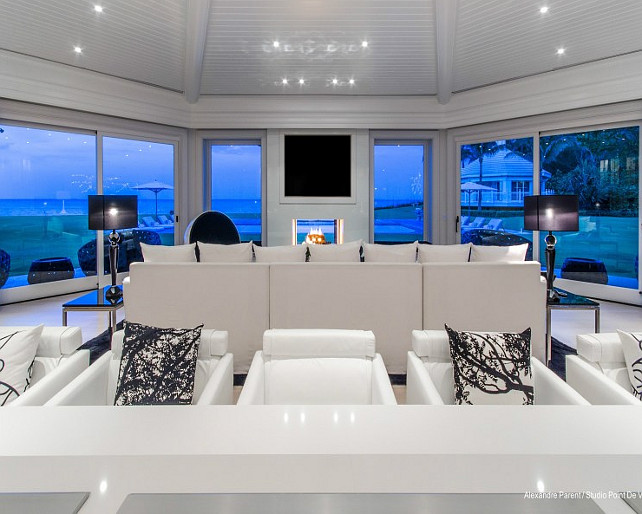 The family room is beautifully designed, but the "all white" approach is not very practical when having kids…  Spaghetti should be forbidden in this house! 🙂
 Celine Dion's Family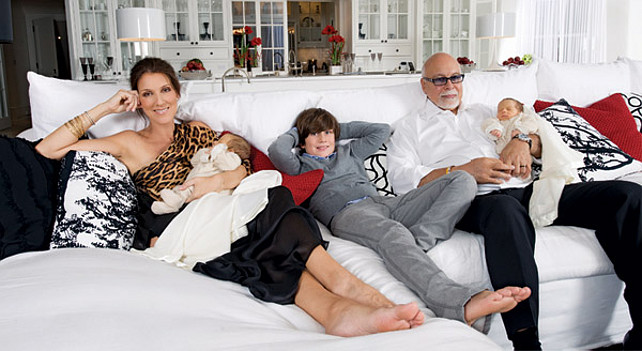 Celine and her family relaxing in her family room. I always got the impression she's a very smart and sweet woman. Not to mention, talented!

 Bedroom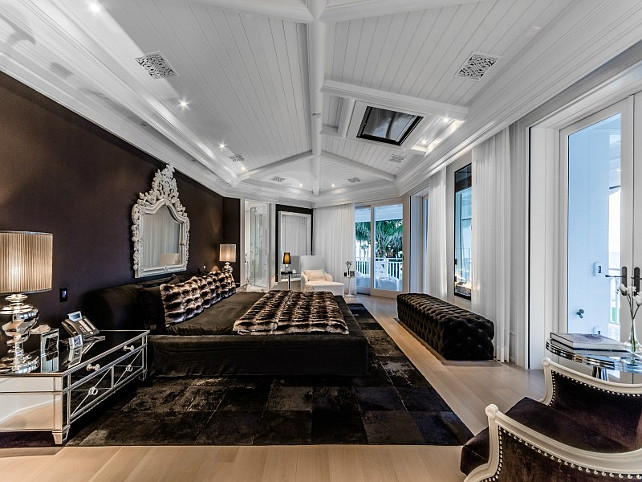 The second floor features two children's bedrooms with their own ensuite bathrooms, children's den and a spectacular master bedroom. The master suite has a wrap-around terrace overlooking the ocean and two separate decks, one with outdoor fireplace, the other with hot tub. As expected in a diva's home, Dion's house has a fabulous dressing room with tons of built-ins, a gorgeous ensuite bathroom and every woman's dream: an enormous walk-in closet with separate fully-automated clothes and shoe racks.
 Black & White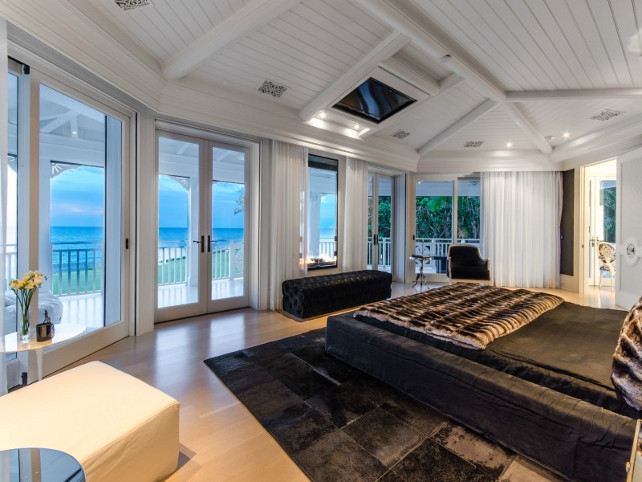 The main house comes with "almost all of its content," the listing reads. Dion, however, gets to keep her clothes and mementos.
 Bathroom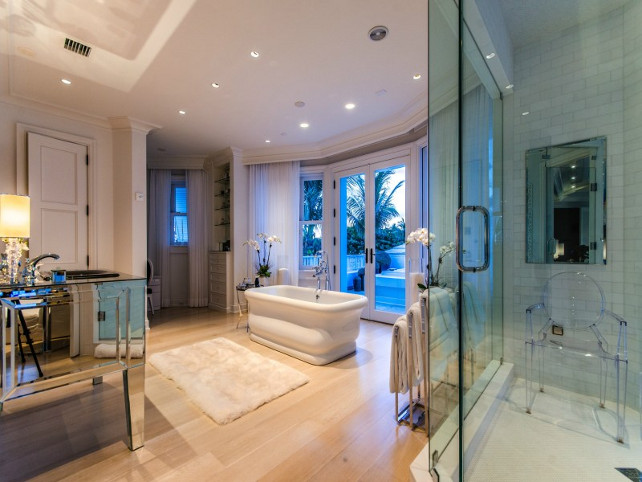 This bathroom is amazing! I love the tub, the mirrored vanity, everything! It's elegant and feminine.
Closet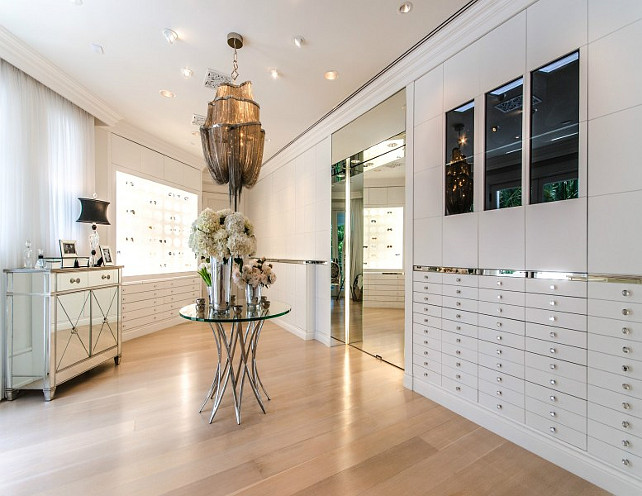 An automatic closet? Really?! Yes, please! Oh, Celine… you're a lucky girl! This is every girls' dream!
Bedroom Design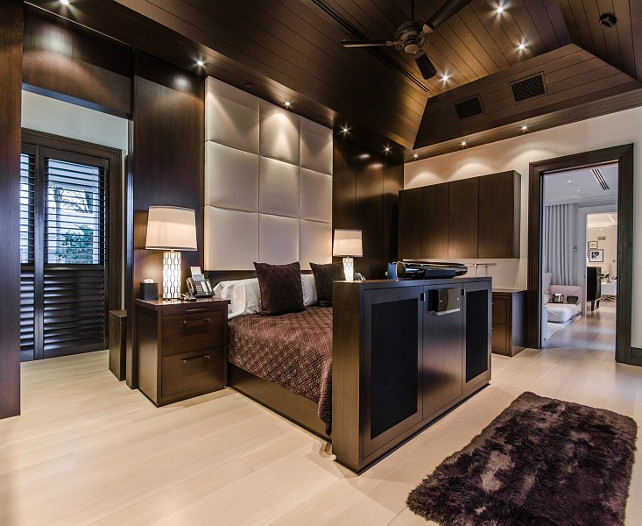 This bedroom is masculine, contemporary and sexy… Very 007! 🙂
I love the ceiling and bed.
 Pool & Poolhouse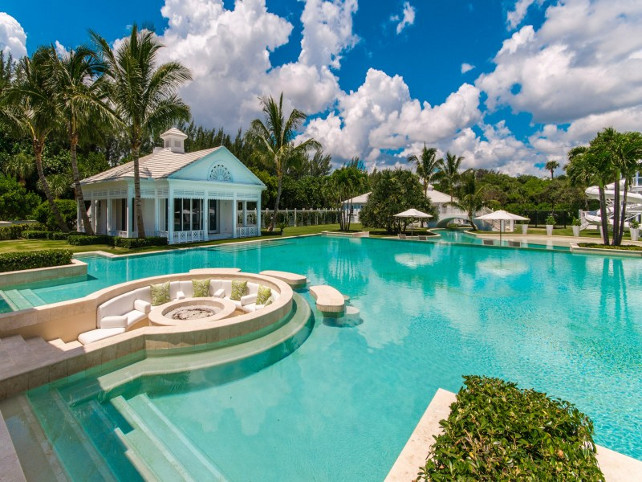 The pool and the poolhouse in the distance.
 Poolhouse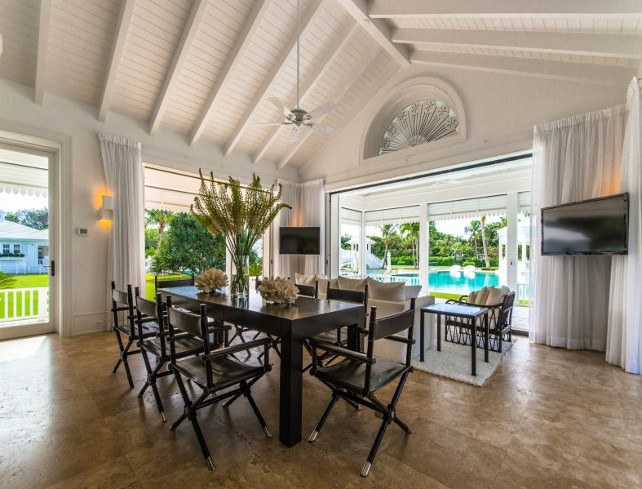 The poolhouse is relaxed and neutral.
Daybed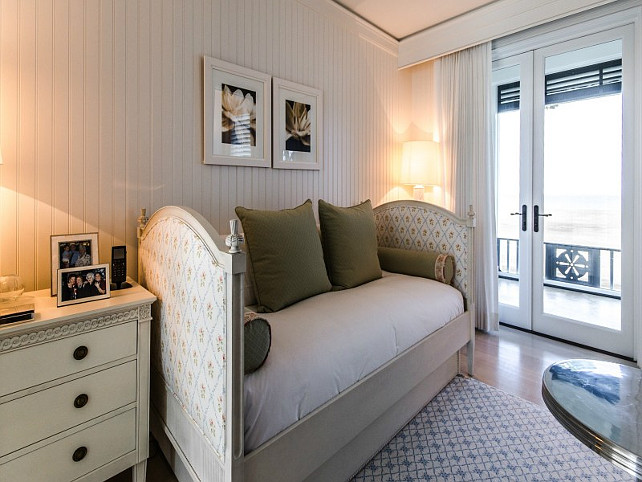 An adorable place to daydream… 
 Celine Dion's Waterpark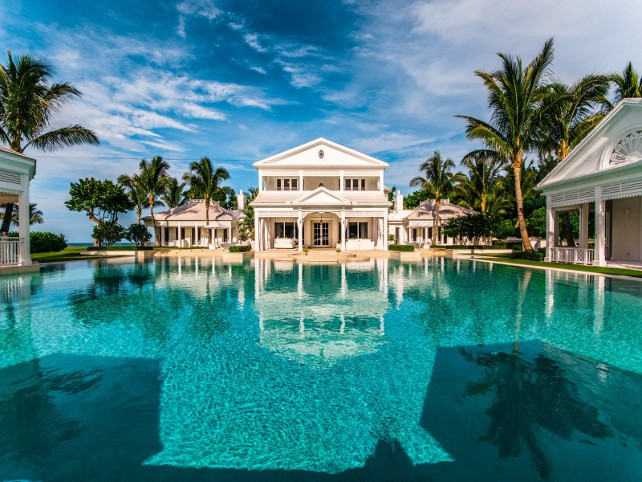 The home was designed by Dion and husband/manager René Angélil and took more than two years to complete.
Blue Light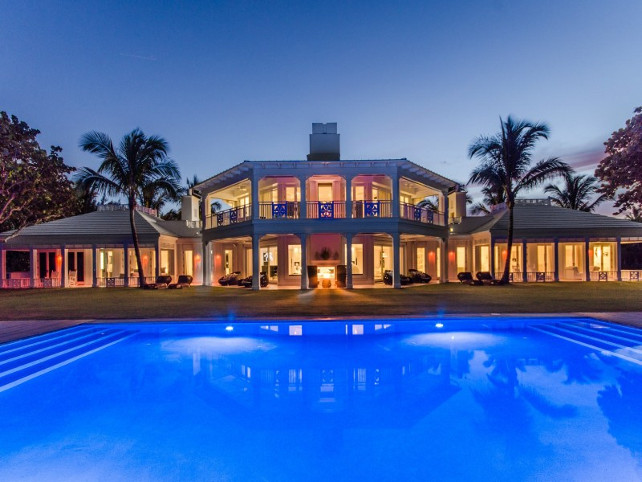 Celine Dion's home has a full basement, providing additional storage for cars as well as rooms specifically designed for the kids.
Isn't this place spectacular?
Firepit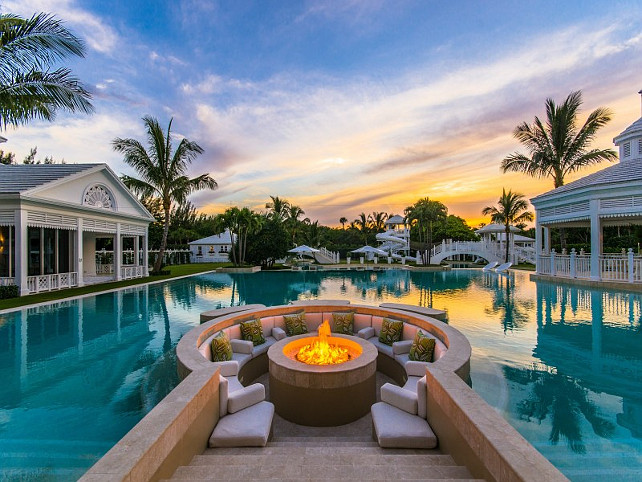 Yes, this backyard is a little over the top, but who wouldn't want to spend some time here?!
 Celine Dion Twins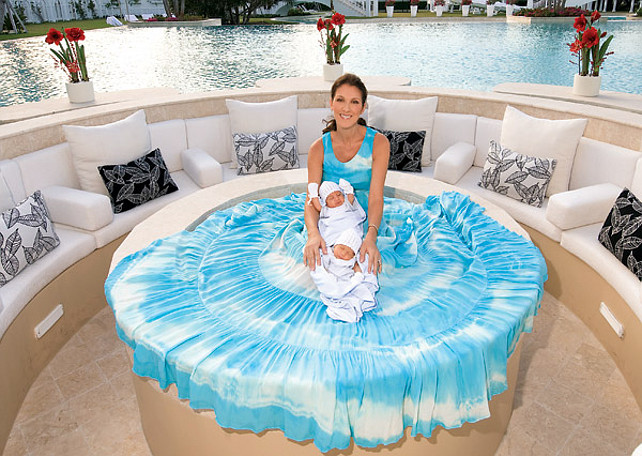 According to the realtor, the house was really built for her family before the twins came along, so it's not working as well as planned. 
Do you think the water park has anything to do with it? As a mother of small children, I would be terrified with it! This water park basically surrounds the property.
Here, Celine with her two precious little ones… they're two years old now. 🙂

Dream Backyard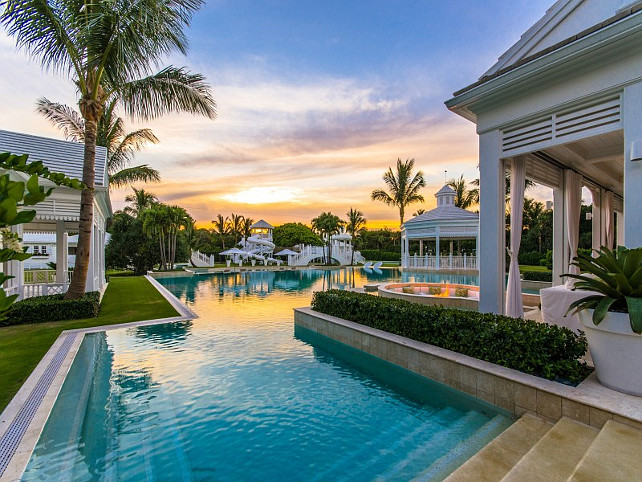 "It really is a true water park," listing co-agent Joseph Montanaro of Sotheby's International Realty Quebec told Zillow. "It has slides and a lazy river at the bottom of it. It has a foot bridge at the bottom of it where kids can play. Being the person that she is, it's hard for her to get out of the house with the kids, so she created this for her and her family."
 Pool Design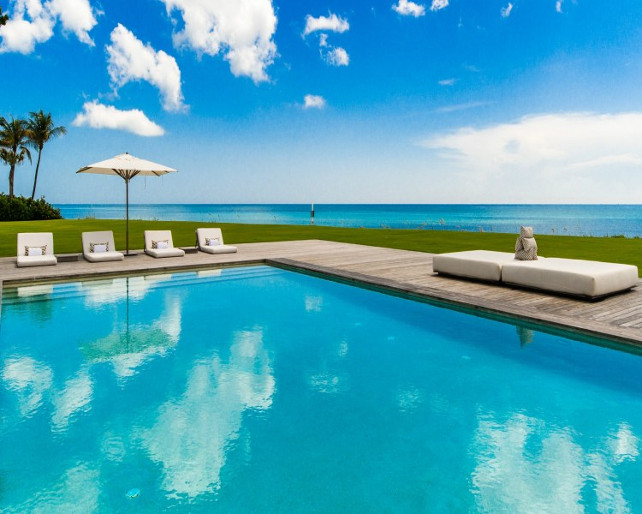 Serene and private… This is paradise!

Celine Dion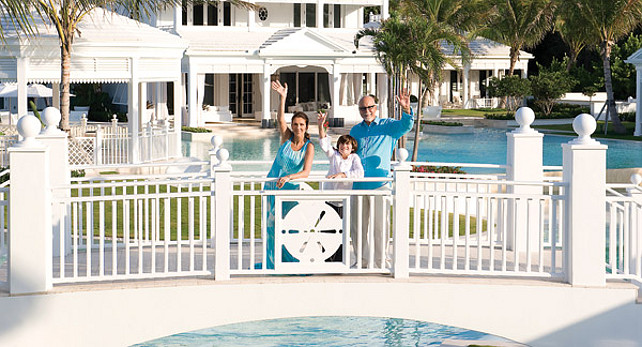 Dion performs regularly at Caesar's Palace in Las Vegas, and her continual work there led her to list the Jupiter Island home, as she no longer spends as much time there.
Click here to see Celine Dion's house in Montreal that's still for sale. That house also comes furnished! Take a look and tell which one would you rather have!
See more Inspiring Interior Design Ideas in my

Archives

. 
Ok, so we just saw a house that, even if I win the lottery I know I wouldn't buy it, not because I don't like it, but because I think that would be totally impractical for me and my family, not to mention the pricey maintenance.  But this got me thinking… how far we go to give the best we can to our family…
I see this house and I can imagine how much Celine, who is a person just like you and I, dreamed of having her whole family there to enjoy the beautiful water park, the beach, that lifestyle she can offer.
Now, here we are, also giving the best we can to our kids, making of our home a beautiful and safe home, creating spaces where everyone can feel comfortable and have a good time.
My point is, no matter how much we have, we're all trying to create a place where we can feel at peace, simply happy.
Life is beyond things we own, but memories are created often in places we share love.
I hope you're always able to make the best of what you have in life. Whatever we have becomes even more precious when truly loved.
with Love,

Luciane at HomeBunch.com
Interior Design Services within Your Budget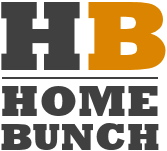 Get Home Bunch Posts Via Email

Sources: Listing Photos: Sotheby's, 1st Celine Dion Image: Via People Magazine, Hooked on Houses, Remain Celine Dion Images: Celebrity Cribs, Arial Photo: Splash.