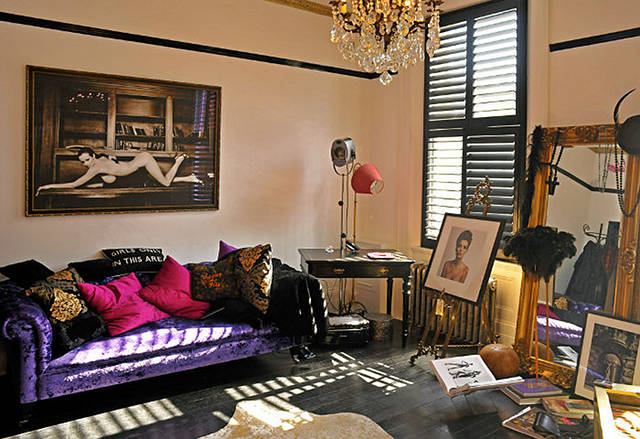 This one may be shocking to some and a little inspiring to others. This is the kind of place Madonna could've filmed one of her raunchy music videos. I guess now Lady Gaga would  be the one going — pardon the pun –  gaga over this place. That said, there's some outstanding pieces of furniture here, but when you combine them with all the other stuff (like black wallpaper and a swing in the middle of the place) it all becomes too much.
Now, I wonder what you think of all this originality. Do you think sensual decor is something you could feel inspired by or does it scare you a bit? Take a good look, there's always something to discover in every single picture and then tell me… Is this sensual decor, Cool or Fool?
Mysterious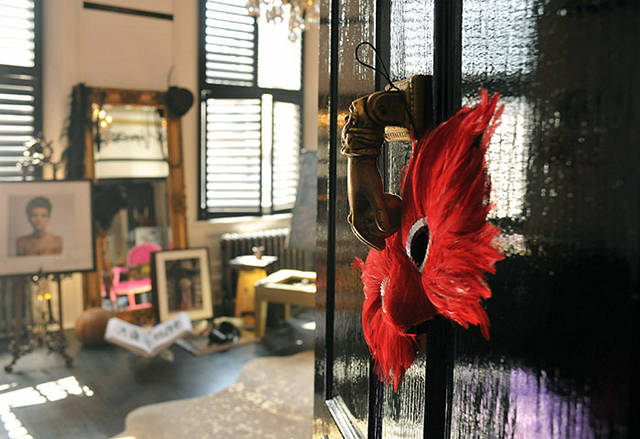 Wear your mask before you come in.
Hey, Sexy Lady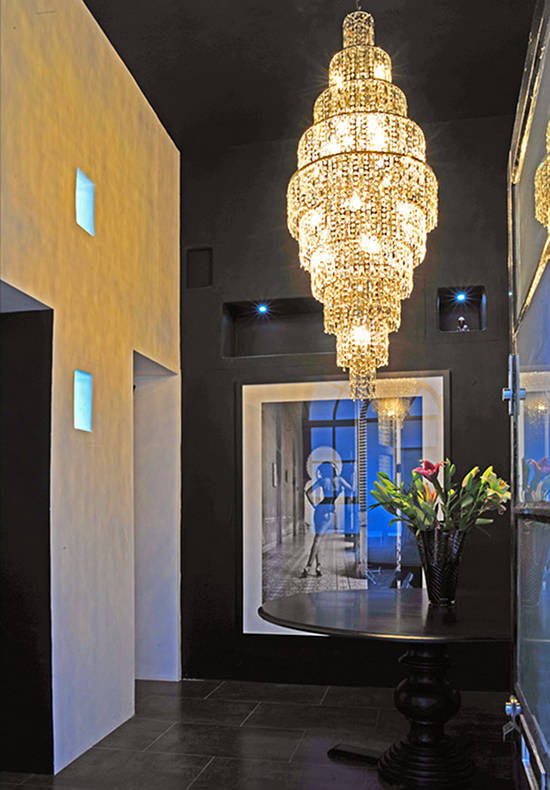 You'll find pictures of women almost everywhere in this loft. Now, this is something you'd never find in my foyer.
Do You?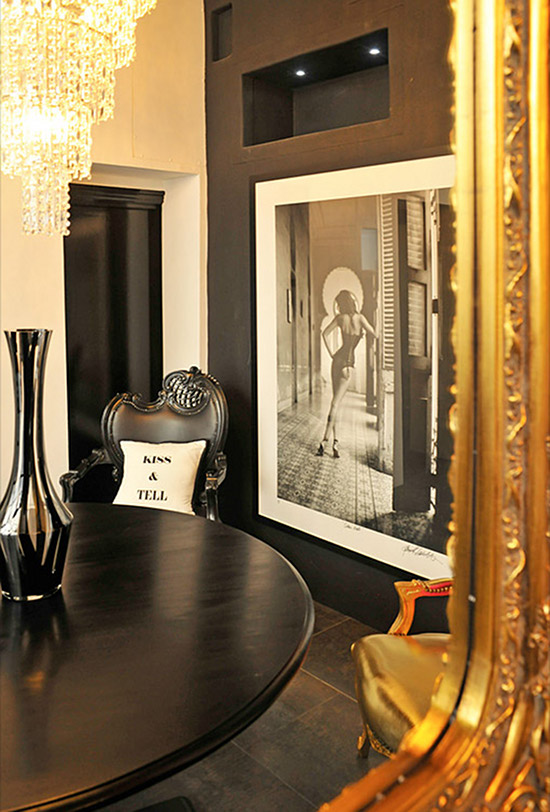 Do you kiss and tell?
Golden Walls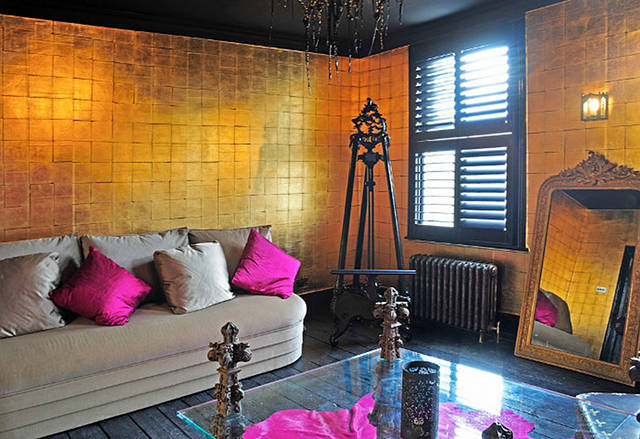 Whoa! Golden walls, pink pillows, pink cowhide, black ceiling, black chandelier and shutters.
More Whoa!
The black wallpaper and the swing.
The Swing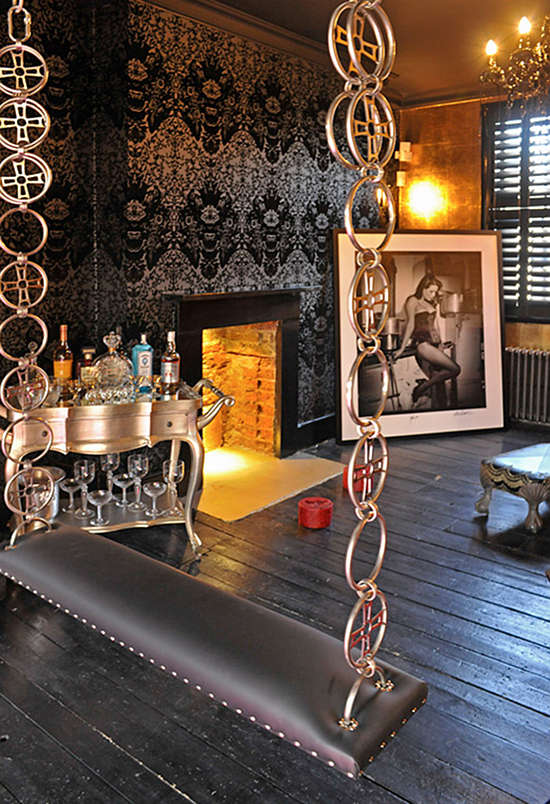 Swings are great and I have a blog friend that has it in her office and it looks amazing (Hello Lovely Inc, Lady!), but this one in the middle of the house is a bit too much for me.
Party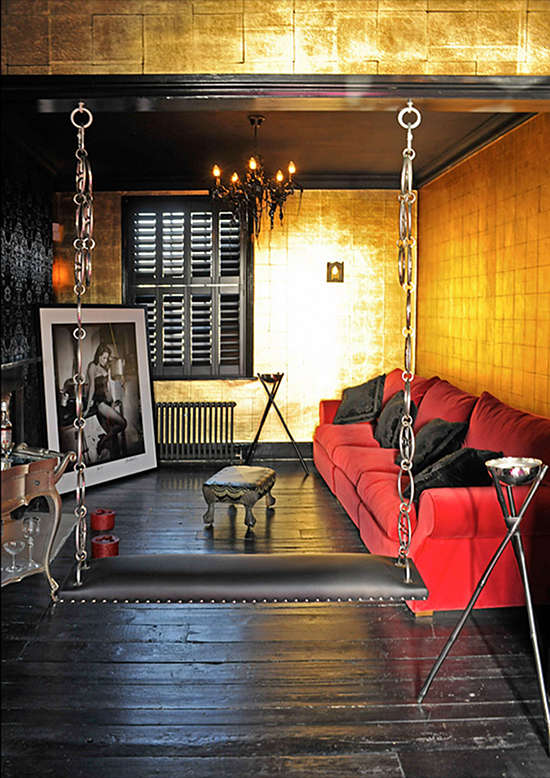 But again, maybe the owner just loves having parties here and this would be a fantastic place for that, I guess.
Pick One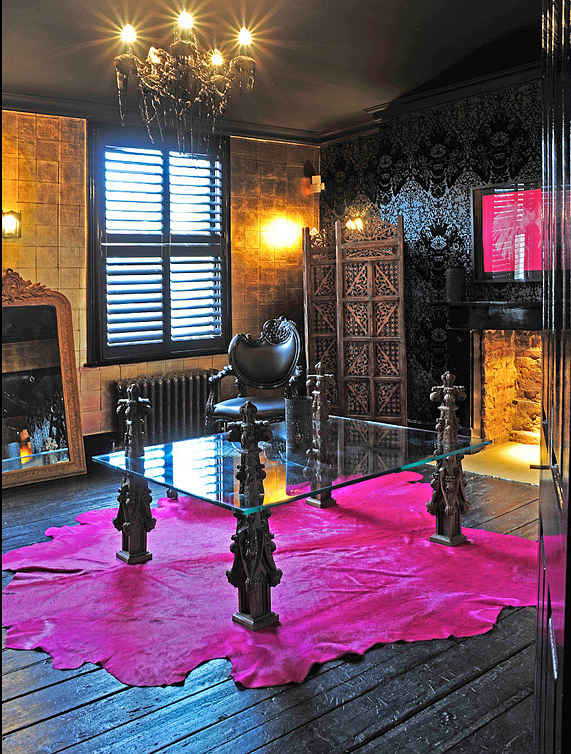 Take a good look at this picture. Is there anything you'd like to see in your home?
My Choices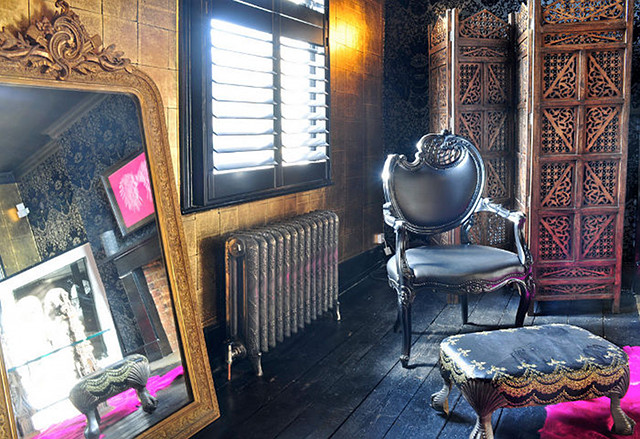 I like the mirror and the chair, but that chair would need a transformation. I'd like to see it white and with a fun fabric on it, less "gothic".
Cowhide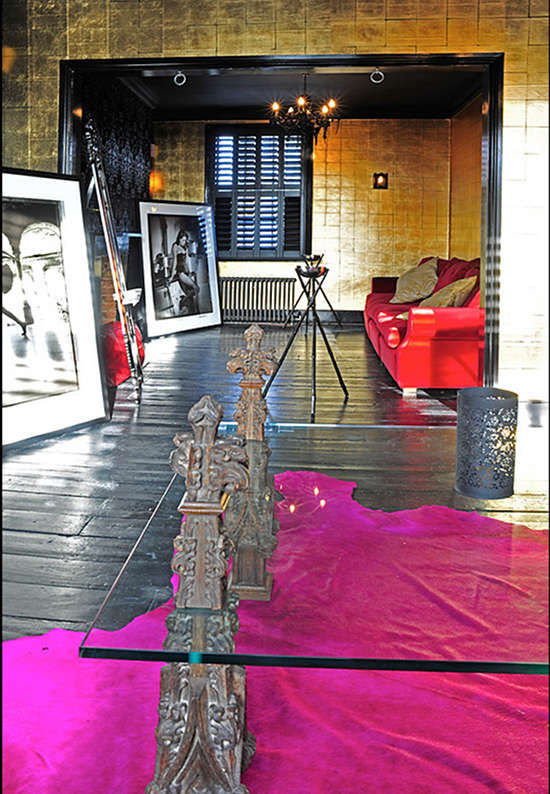 The cowhide is fun. I can picture it in a white room to give it a splash of color.
Kisses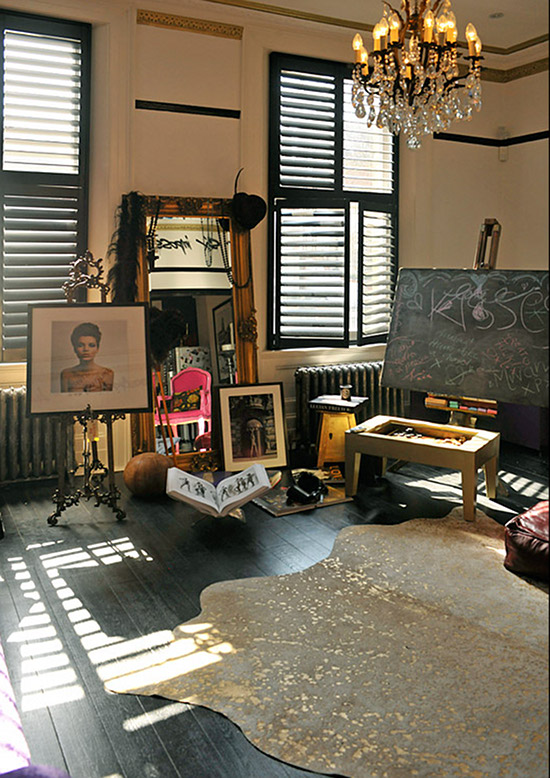 A corner filled with personality.
Take It Out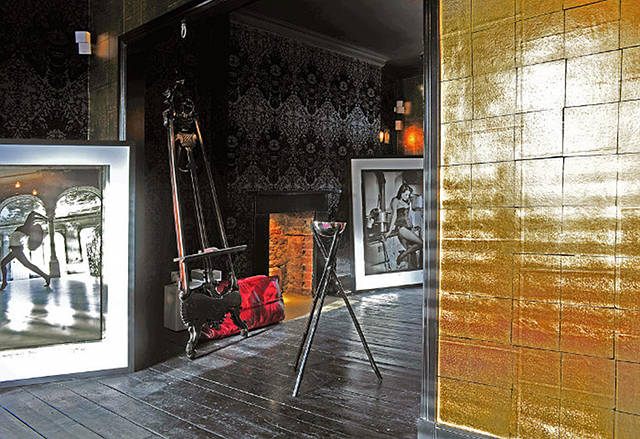 The swing can be taken out when not wanted.
Kitchen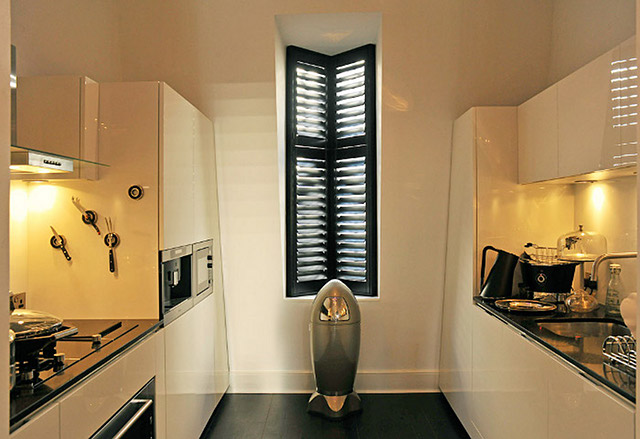 A break from strong colors.
What's Cooking?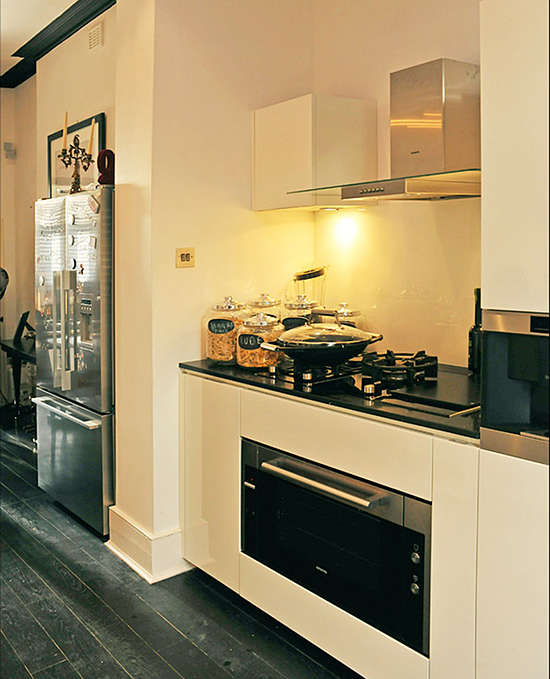 I actually like this kitchen. Very sleek.
Obsession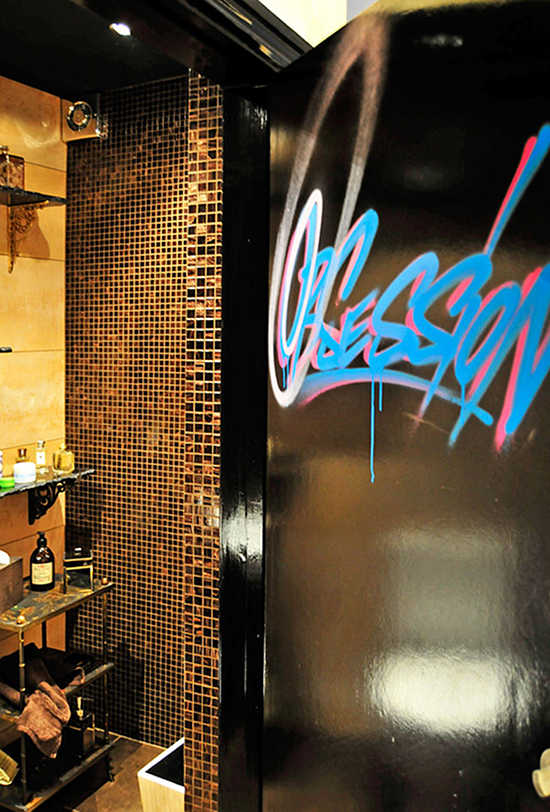 Ok, this is a bit odd, even scary. Imagine you're dating the owner of this place (be it a man or woman), you see all this decor around, the photos, the swing and then you ask to go the bathroom. You open the door and read: "Obsession". That would scare me! It reminds me of chicks like Sharon Stone on "Basic Instinct"! Ha!
Sink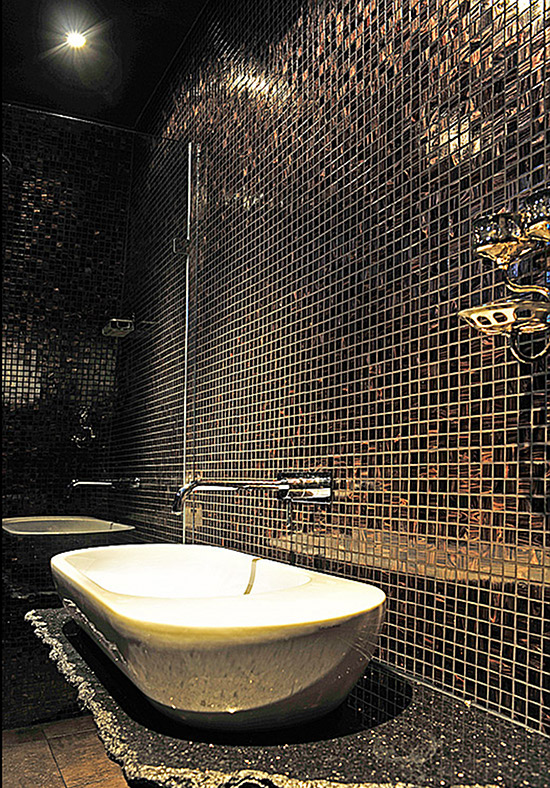 At least the sink is nice.
Pillow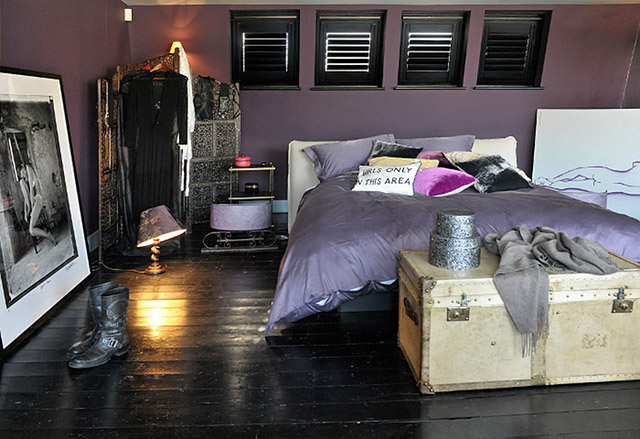 The pillow says: "Girls only in this area". The sad thing is, I still don't know if this place is owned by a girl or a man!
Pieces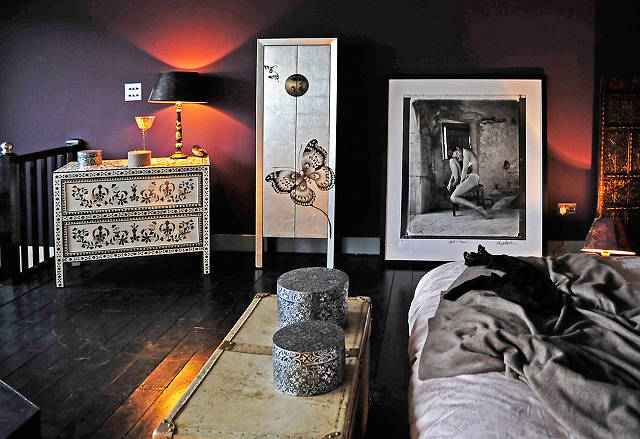 I see some interesting pieces of furniture in this place. For me, it's a mix of beautiful and crazy.
How do You Like it?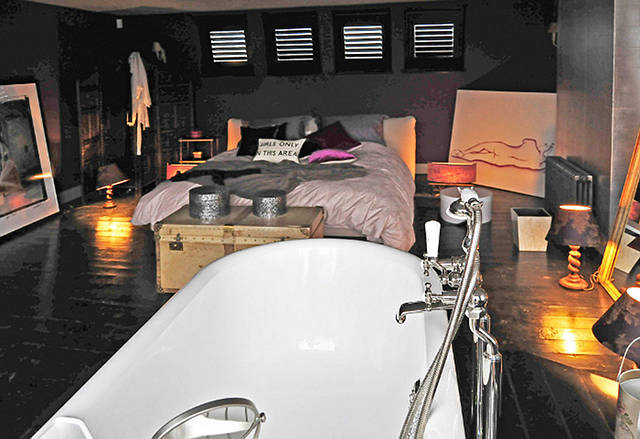 Do you like baths in bedrooms or you find it a bit odd?
Charming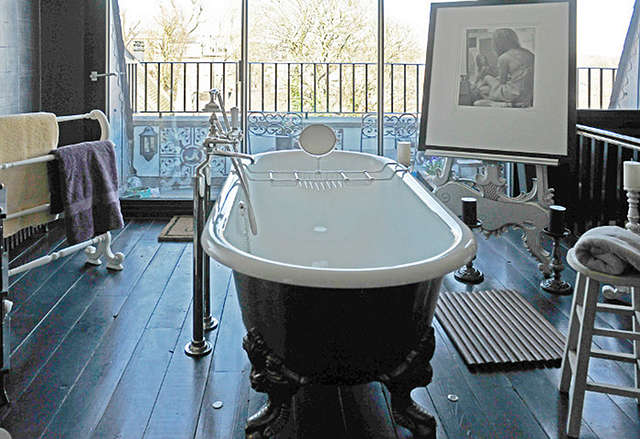 I love this part of the house. It's beautiful.
Silver Views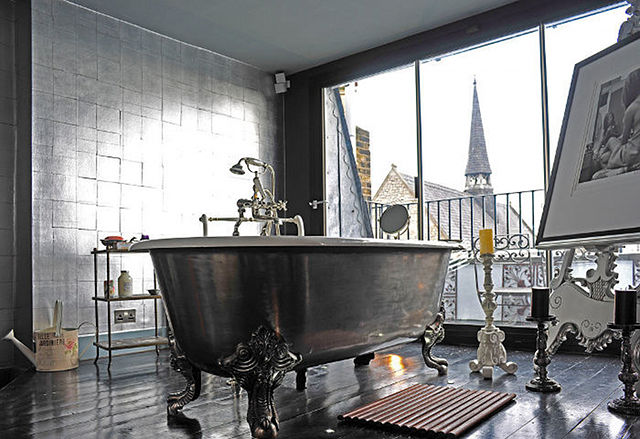 A silver wall and a view of a church.
The first person to see my posts is usually my husband, and when I showed this to him, he said it wasn't "over the top". I really don't know what would be over the top for him though. He seems to like everything non-traditional. We're very opposite when it comes to decor, but we never fight over these things. We just laugh sometimes at each others tastes. Besides that, he asked me if this place was in Vegas. If you're also wondering, the answer is no, this place is actually in London. 
Can't wait to know what you think of this place! Is it Cool or Fool?
Wishing you a very cool weekend!
Make sure to enter on our 1st Giveaway. Last week!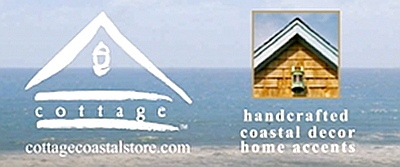 xo
Luciane at HomeBunch.com
Hot Summer Prices! Get My Help with Interior Design:  HB's Design Service.
Come Follow me on Twitter: Twitter/HomeBunch
Source: 1st Option.
* "Cool or Fool" happens every Friday. I've started this section where I post "different" and controversial things that I know some of you will love and others will not. The point is to tell us what you really think, regardless of anything. It's a space where you speak your mind and analyze what you see. Have fun with it and laugh along the way!
17 Comments to 'Cool or Fool: Sensual Decor'
Subscribe to my RSS Feed
Leave a Reply