Today I'm sharing many laundry room design ideas and photos because I'm just finishing designing a laundry room for a client and I feeling very inspired lately. My own laundry room could use of some help. I have a great space, but it's lacking of some useful storage, especially with amount of laundry we have here at home.
In most houses, the laundry room works overtime as a mudroom, a dumping ground for cleaning supplies, an arts and crafts supply area, or gift-wrapping and very often we neglect this space, becoming more like an utilitarian room. But a laundry room can be much more than that, it can be a place where you can feel comfortable at. A well-designed laundry room has great storage and helps facilitate your chores.
I hope you feel inspired by today's Interior Design Ideas: laundry rooms!
Ready to "pin"? Come follow me on Pinterest/HomeBunch
Laundry Room

Perfect if you have a big family.
Sunny
Welcoming and warm.
Paint
I like seeing painted cabinets in laundry rooms. Lovely colors found here.
Built-in
The built-in keeps the machines hidden.
Doors
Organized with the doors closed.
Fold It
Lots of efficient storage and a fantastic folding area.
Clean
Clean lines and timeless materials.
Three
Pure perfection!
Subtle Coastal
Blue and white in a subtle way.
Country
This is a very cute country laundry room. Click here to see more.
Rustic
The paneled walls give this room a rustic feel.
Storage
Laundry room contained!
Mixed
To create this unique aesthetic, combine modern appliances with vintage furnishings.
Standing Tall
Traditional with a big twist.
Gray & Red
Gray and red always look great together.
Red

This laundry room reminds me of Christmas. Happy, happy!
More
Wow! This is the kind of laundry I need! Double machines and lots of storage.
Knock Knock
Use a vintage door to add some interest.
Barn
Laundry room barn doors. How cool is that?
Hello! Hello!
I've met so many clients that don't have the courage to bring lots of colors and textures to the main rooms of their home, but love to add lots of it in their laundry room.
Shelving
Add a shelf right above the machines to prevent laundry from falling behind it. Isn't it a smart idea?
Classy
Classic and chic. Via Giannetti Architects.
Counters Count
Save some money buy using IKEA butcher block for counter top in laundry room.
Farm
This is such a beautiful farmhouse laundry. I especially love the sink and faucet.
Keep Family in Mind
Baskets for each family member to pick up their clean clothes.. genius! Via Family Brings Joy.
Cloud
Timeless and practical.
Ideas
Uniformity: laundry soap + dryer sheets in jars that are pleasing to the eye, instead of commercial packaging.
All Here
Organized laundry.
TV
Don't be bored when folding laundry. Watch some TV!
Closet
Say goodbye to the ugly laundry closet! This shows you how nice it can be!
Written
Creative!
Design
Modern and very efficient. Via Meridith Heron.
Sink
I think a sink is essential in a laundry room. This one is stunning.
Dream
I love every detail of this laundry room. Isn't it perfect?
 Smile
This made me laugh! You can buy it here.
Which one are you

 

pinning

 

today?
Are you feeling inspired to do some laundry? I wouldn't mind to do it in any of these laundry rooms.
 I hope you're having a fantastic day!
Thank you for stopping by!

xo
Luciane at HomeBunch.com
Interior Design Services within Your Budget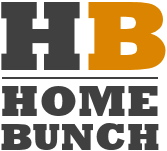 Get Home Bunch Posts Via Email

Sources:  Allied Stone, Pinterest Board 1, Pinterest Board 2, Pottery Barn, House Beautiful, Pinterest Boad 2, Pinboard 3, Family Brings Joy, Pinboard 4, Meridith Heron, Giannetti Architects,
 Thistle Wood Farms.

6 Comments to 'Interior Design Ideas: Laundry Room'
Subscribe to my RSS Feed
Leave a Reply