Summer is completely gone by now and even the leaves on the trees are starting to fall, but we can all relive the warm summer days when we see this shingle style cottage.
Beautifully designed by Birdseye Design, this coastal cottage has that appealing classic shingle style that many of us love.
This shingle style cottage features an inspirational mix of metal roof, stone shingles and dormer windows. And, when it comes to the interiors, the decor is undoubtedly coastal with a minimalist approach, which helps to maximize the water views.

Looking at this cottage we can certainly say that every detail of this place was truly well-designed with sustainable architecture in mind, while keeping that charm that only shingle-style cottages can deliver.
Shingle Style
I simply can't resist a beautiful front porch. This one is done to perfection.
Singles are "White cedar shingles" and they're treated with "Cabot bleaching oil".
Coastal Porch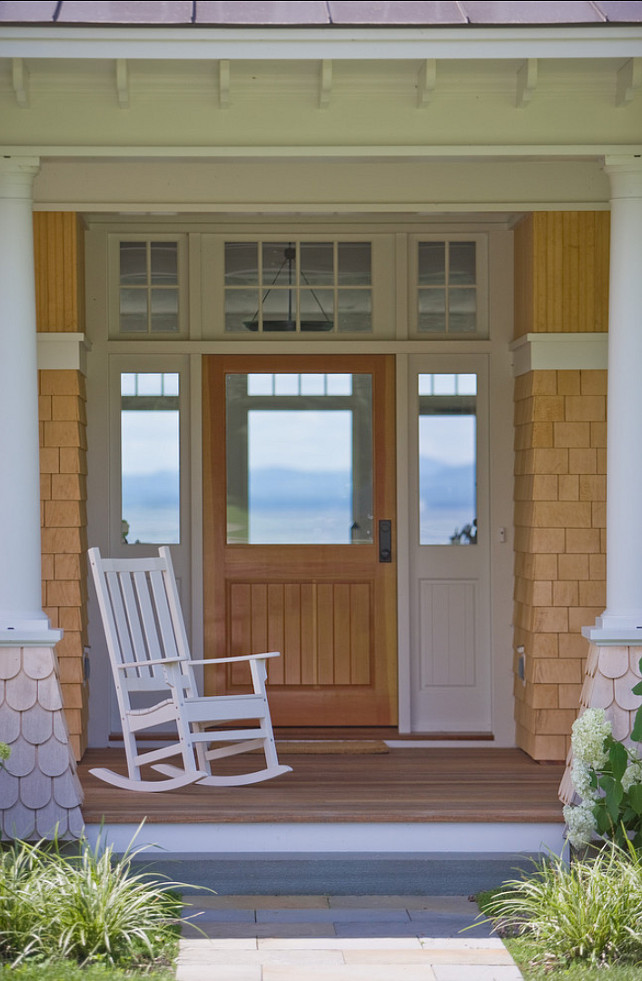 Welcoming and homey… this is what coastal cottages are all about.
Entryway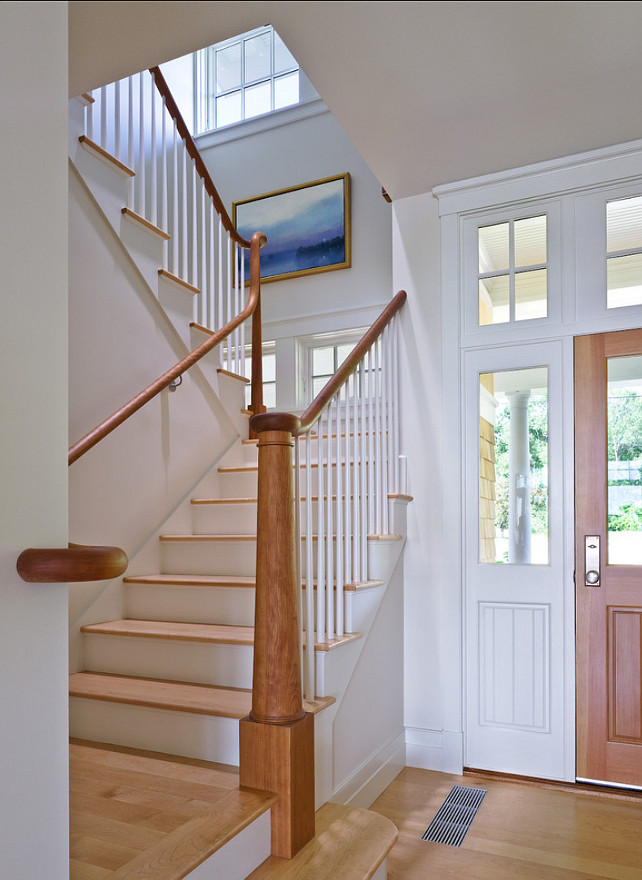 The entryway decor was kept minimal. Therefore, your attention is turned to the architectural details found in this space.
Modern Coastal Cottage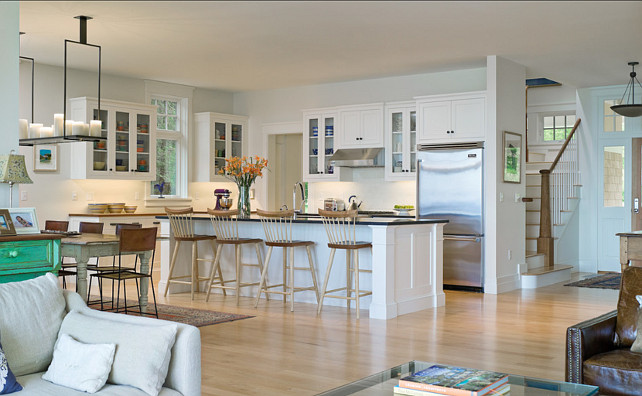 The main floor is open and bright, making the space feel even larger than it really is.
Kitchen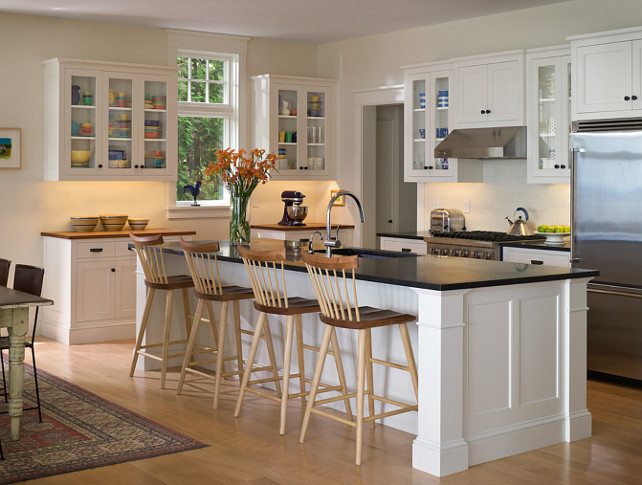 The kitchen cabinets are simple and have very straight lines. Interest and color are added with dinnerware and other decorative elements.
 Island stools are the "Eastward stools" by Thomas Moser.
Countertop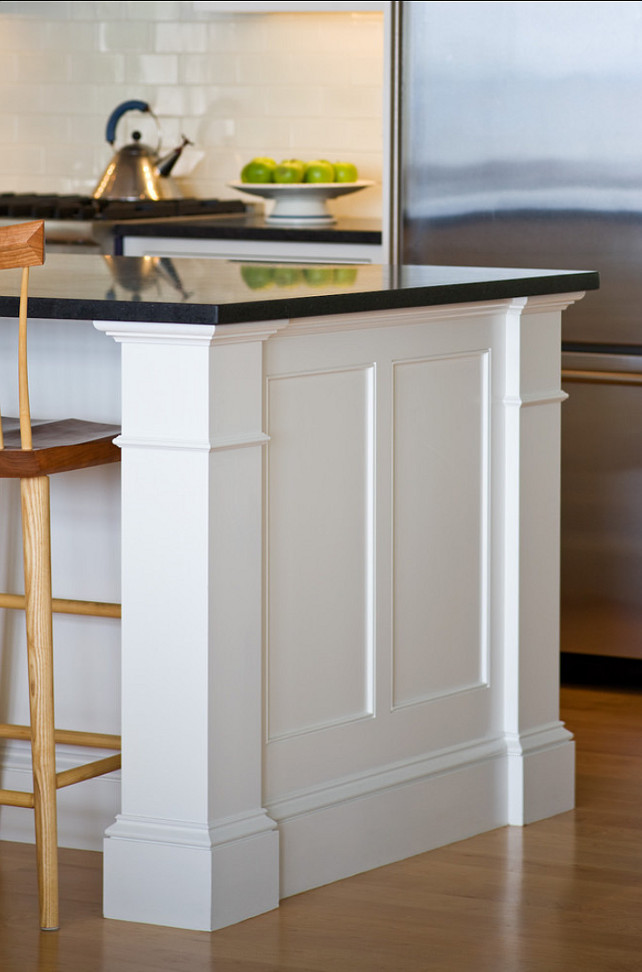 Similar Kitchen Cabinet Paint Color: "Simply White OC-117 by Benjamin Moore".
Kitchen Design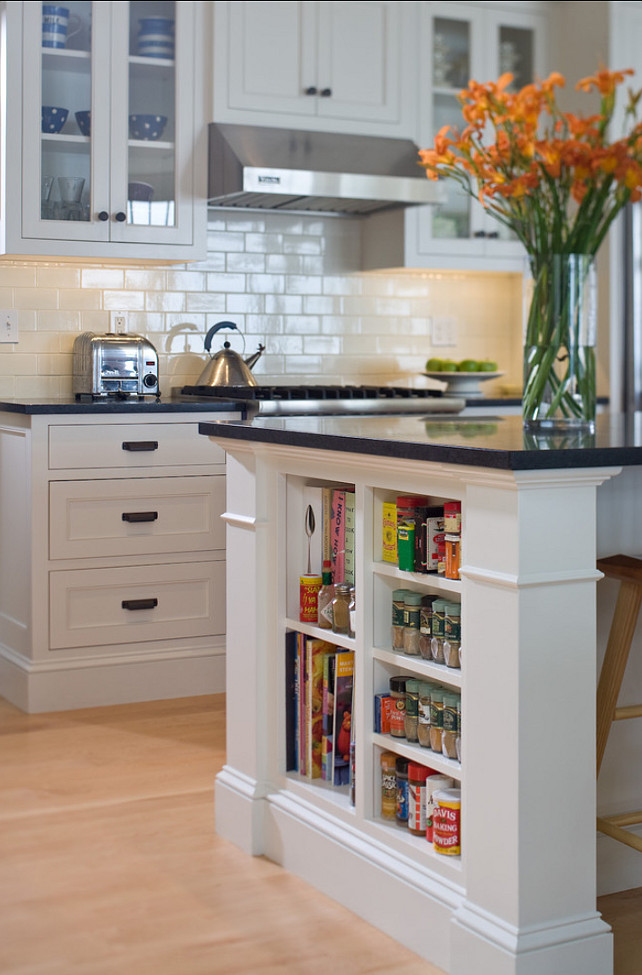 This is a great kitchen with classic black & white elements.
Countertop is "honed black absolute granite".
Living Room
Lovely hues are found in this living room. The furniture was kept low to not interfere with the view.
Coastal Dream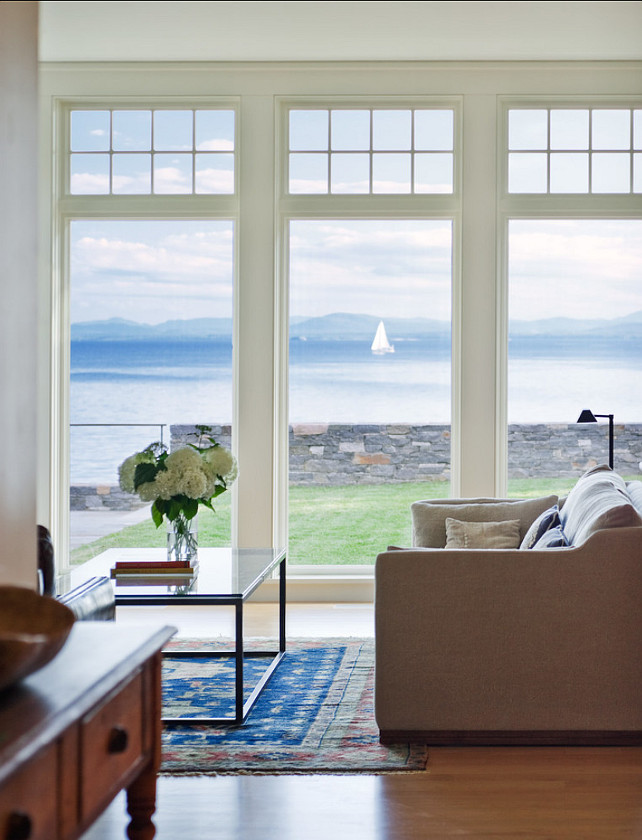 It's impossible to not fall in love with this cottage… you look at that view and you feel at peace.
Coastal Decor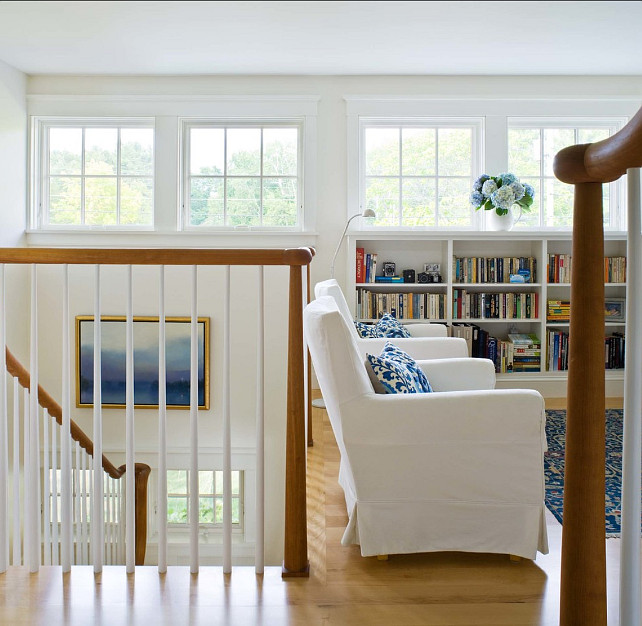 A very bright and comfortable seating area is found on the second floor.
Slipcovered Comfort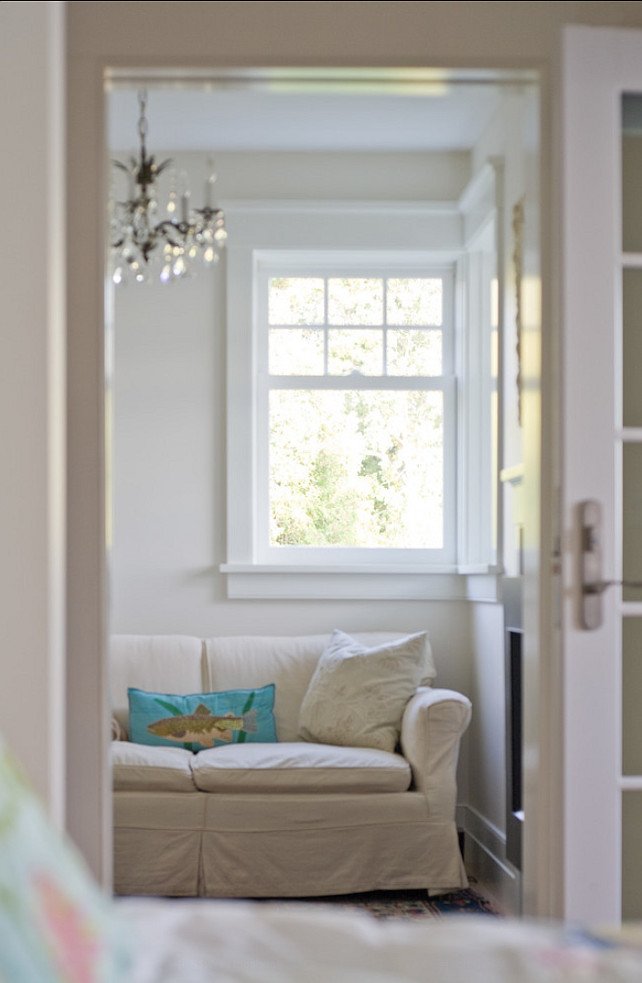 This is a cute and cozy spot to take a nap at the end of the day… after all, you're in a cottage!

Bathroom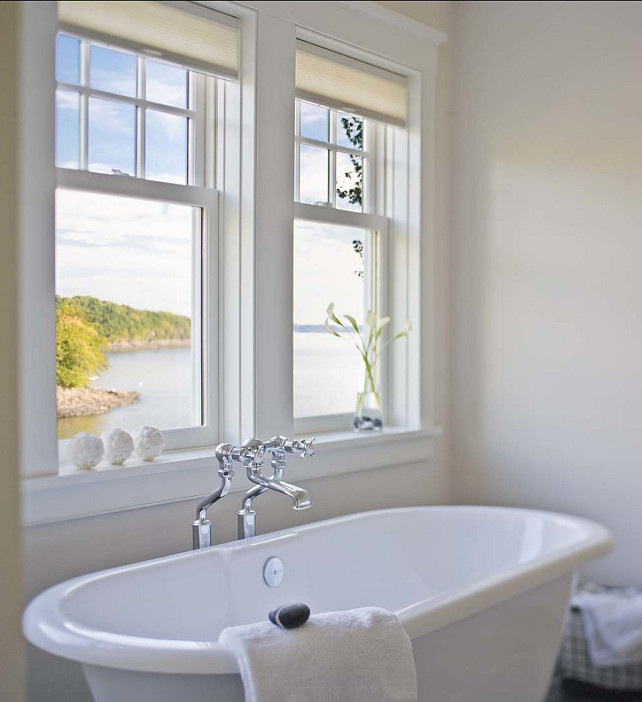 This bathroom is classic and it has a modern approach. The best feature? That view!
Shingled Coastal Cottage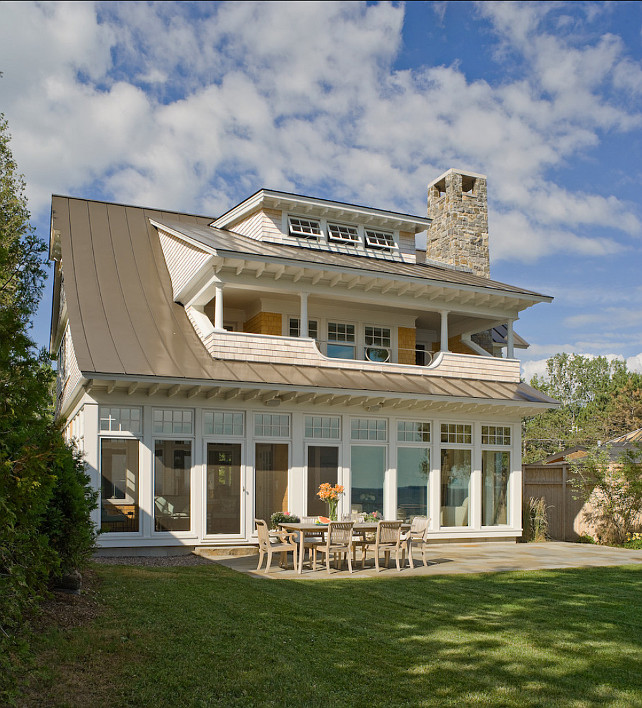 Isn't this patio great? I can picture myself spending many hours here, enjoying the sun, and watching the kids run in the backyard.
Shingle Architecture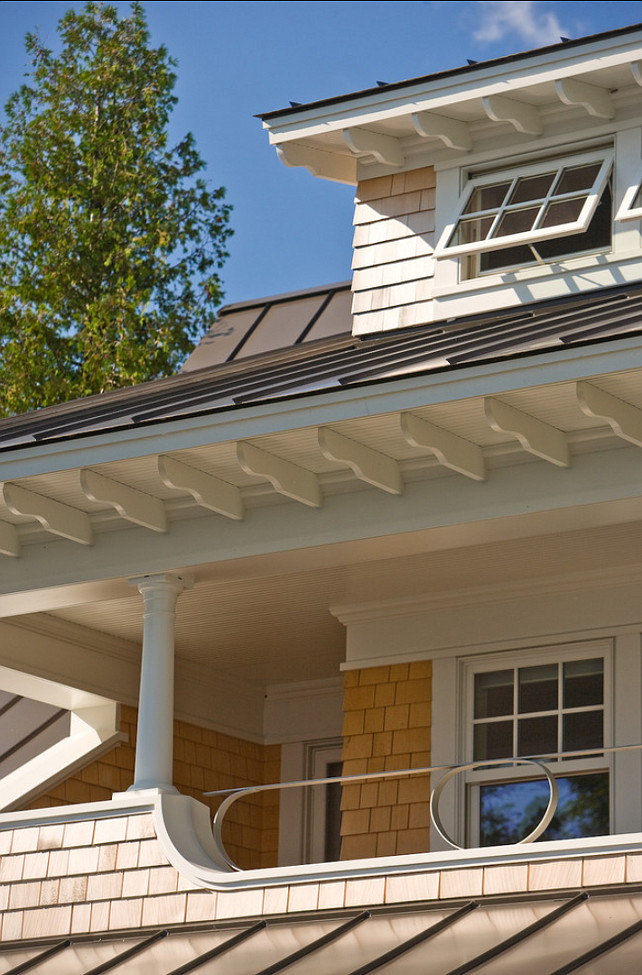 This cottage feels very unique… full of interesting details.

Balcony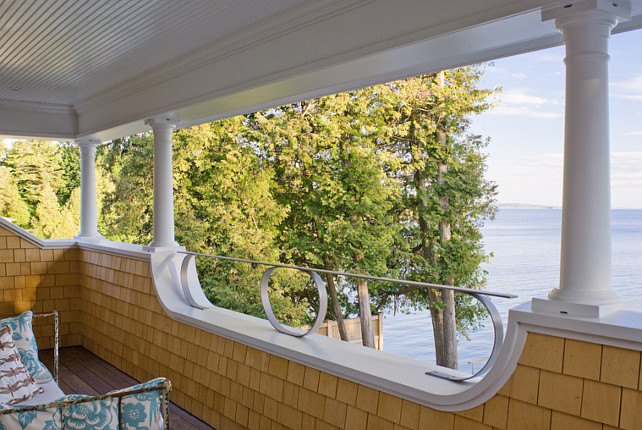 Can you imagine waking up and walking to your balcony to enjoy this view? This would be a really good way to start your day!
Backyard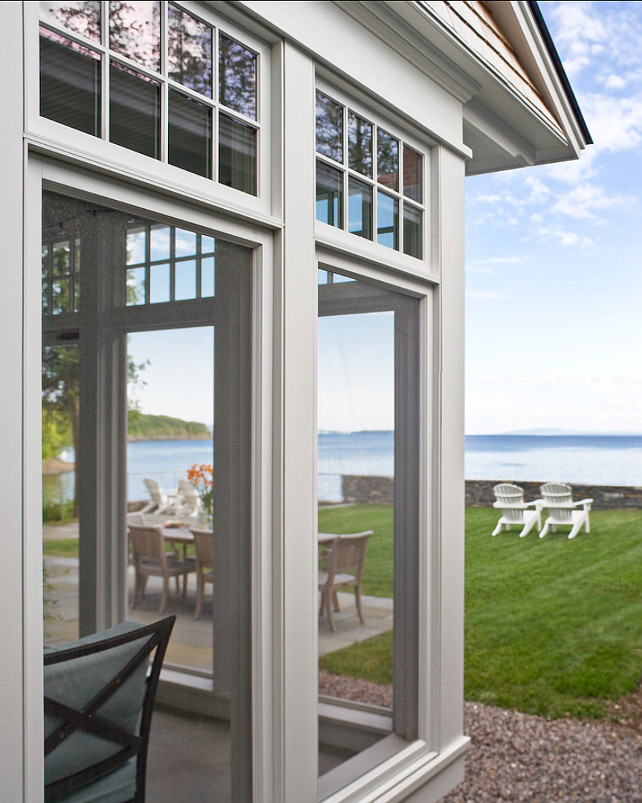 This backyard has the perfect size and it's low-maintenance.

Windows are by Marvin Windows.
Outdoor Shower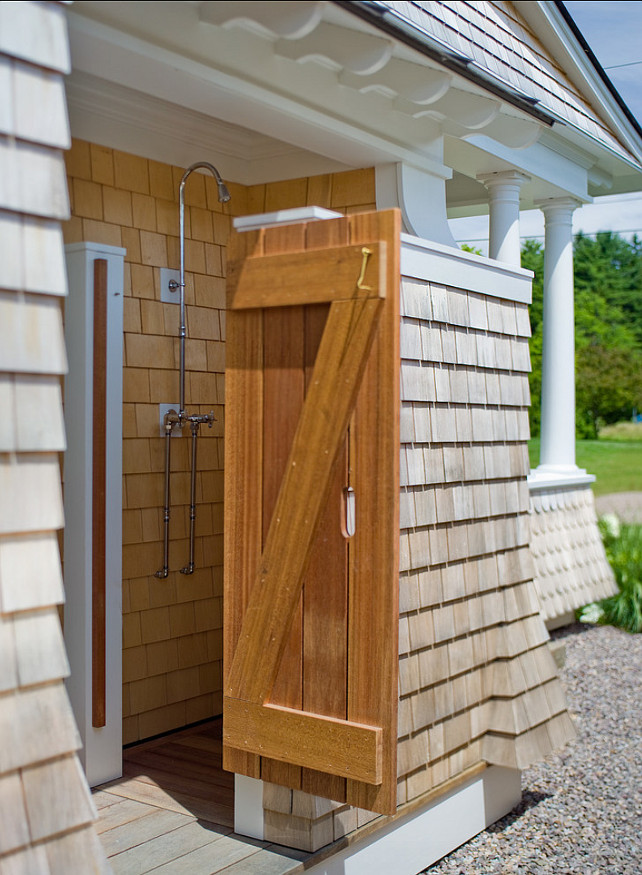 Yes! This gorgeous shingle style cottage comes even with an outdoor shower! Whoa!
Home Sweet Home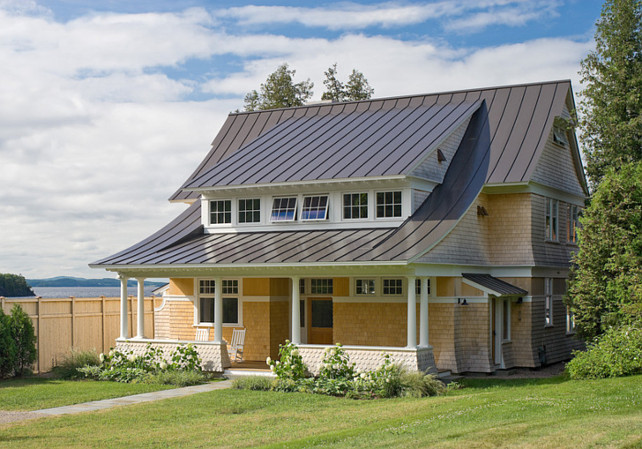 What a dreamy place! Notice the beautiful roof lines and dormer.
Patio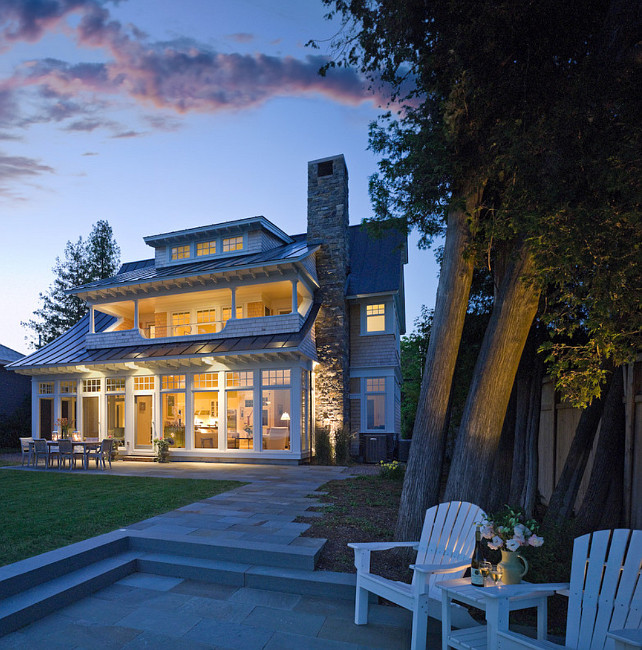 A perfect place to relax and enjoy the view… It can get even better with a special person by your side!
Paradise
Perfectly created.
Love this cottage? Let me know! I want to hear from you!
See more Inspiring Interior Design Ideas in my

Archives

. 
Hi, my friends! What an incredible place, right? I feel in love with this cottage… the exterior made my jaw drop!

I am feeling MUCH better today! I took a long bath (like some of you suggested yesterday), watched a show w/ my hubby ("Breaking Bad"… we're watching the 3rd season), relaxed and went to bed earlier than usual. All of that helped me feel happier, calmer and less whiny. LOL Oh, I can't be so bad if I am overtired! LOL
So, since I am feeling better, I am loving my bedroom even more today. I could put the last details together and it's looking great… my husband at first thought it felt a little too feminine, which isn't true… it just has a more elegant, chic feel to it.
Today he woke up and said that he actually likes it now. He said it's like waking up in a nice hotel room. Well… I get that as a compliment!

Have a great and happy day, everyone!
with Love,

Luciane at HomeBunch.com
Interior Design Services within Your Budget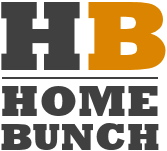 Get Home Bunch Posts Via Email

Sources: Birdseye Design via Houzz.