As most of you know, I've being busy designing my client's home lately and we're just finished her family room, and the next step will be designing her kitchen. We want it to be warm and inviting. My client is a person that I adore working with and the whole project is being very pleasant.
To be honest, I'm feeling incredible happy with my online design services and I'm having many requests lately. I choose to work with one client at a time, because I believe each project deserve my full attention. After I finish with this current project I'm booked to design a beautiful white kitchen for a client in Australia. Having said that, I'm thinking a lot about warm white kitchens.
Designing any kitchen is not an easy task, but it can be even trickier when it comes to design a white kitchen. You need to know how to incorporate all the others elements in the room accordingly with your main goal. A white kitchen can feel cold or warm, depending on the choices you make.
I like color and I like to make my rooms feel alive and welcoming. A great white kitchen for me has classic materials, such as marble, it has a hint of color (bring fresh flowers in and add some stylish fabrics) and it's a place designed for the whole family in mind.
I hope you enjoy seeing this white kitchen designed by interior designer Sheb Fisher.
The Beautiful White Kitchen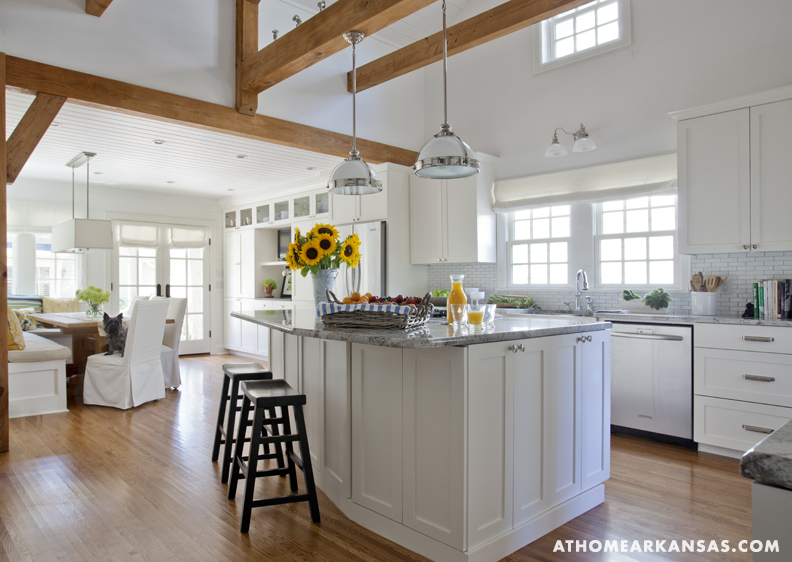 I think most of us like white kitchens because they always feel bright. Take a look at those beams!
Also, notice the breakfast area (see the first picture for more details), the fabrics used are by Cynthia East Fabrics and the flooring is by Ken Holmes Floor Co.
Happy Decor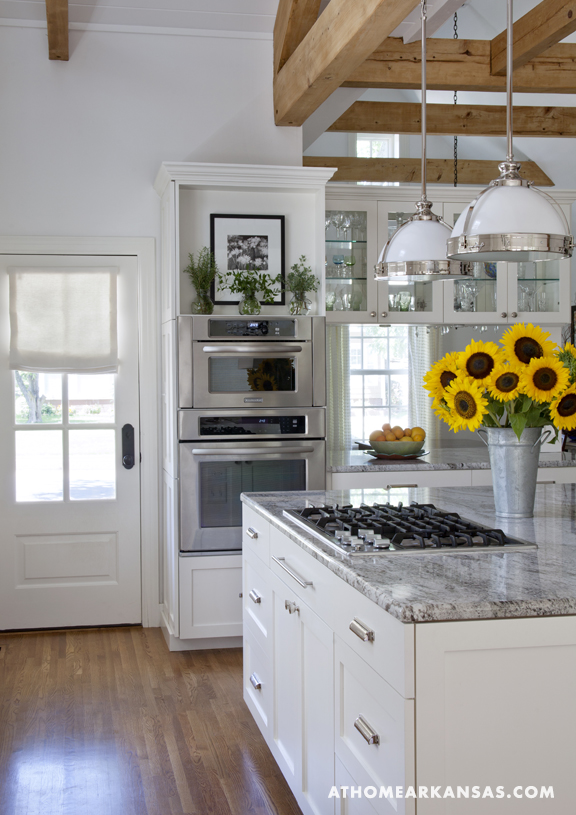 Beautiful and spacious.
Island & Beams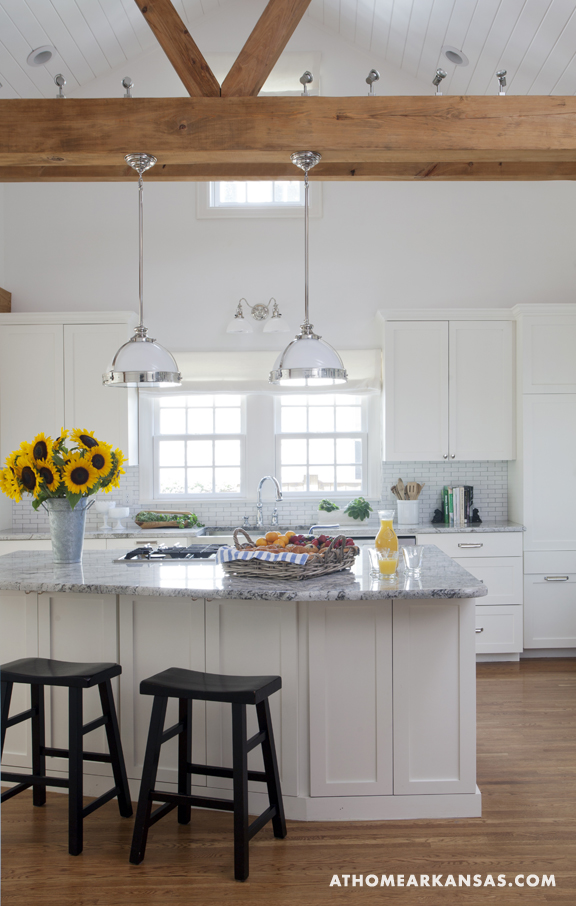 I love the high ceilings in this kitchen.
Light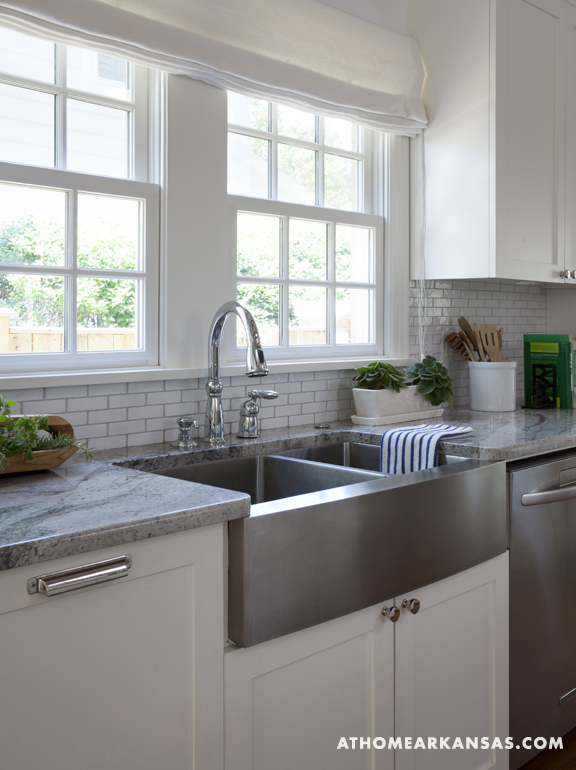 Are you renovating your kitchen? Buy a big sink if you have the space for it. It will make your life much easier!

Pop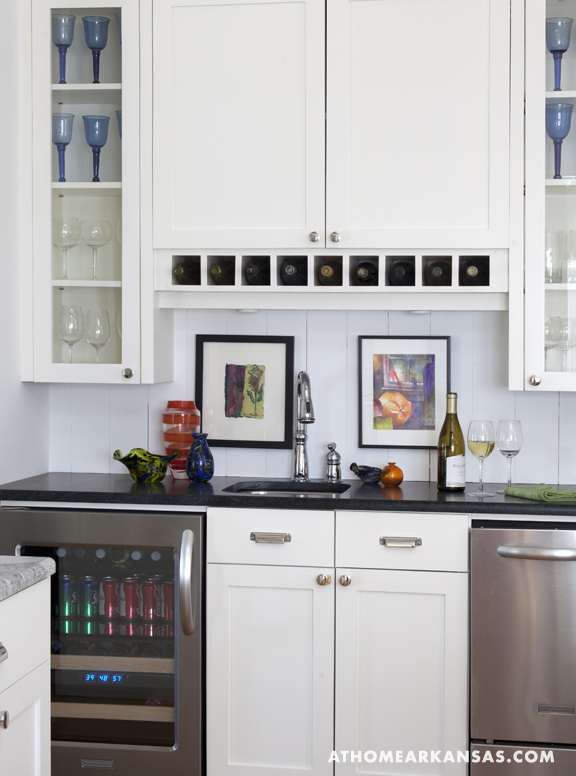 The bar for entertaining contains built-in wine and glassware storage, a beverage refrigerator and a dishwasher.
 Pull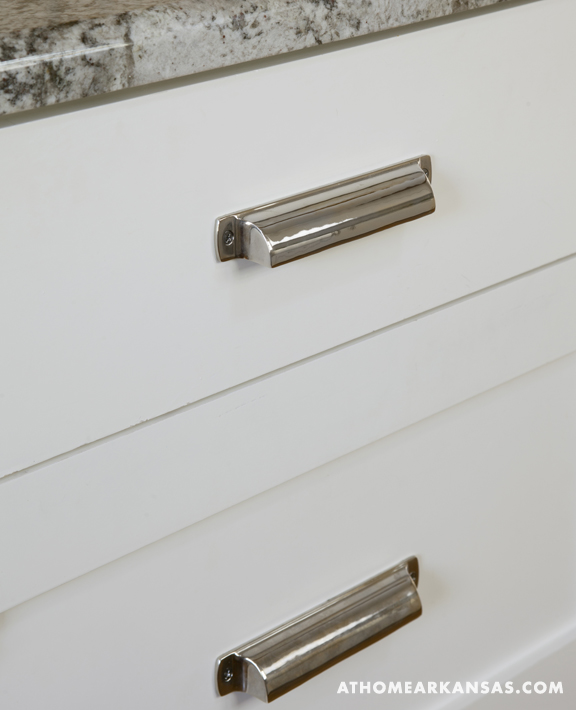 The hardware is classic and modern at the same time.
 Turn it On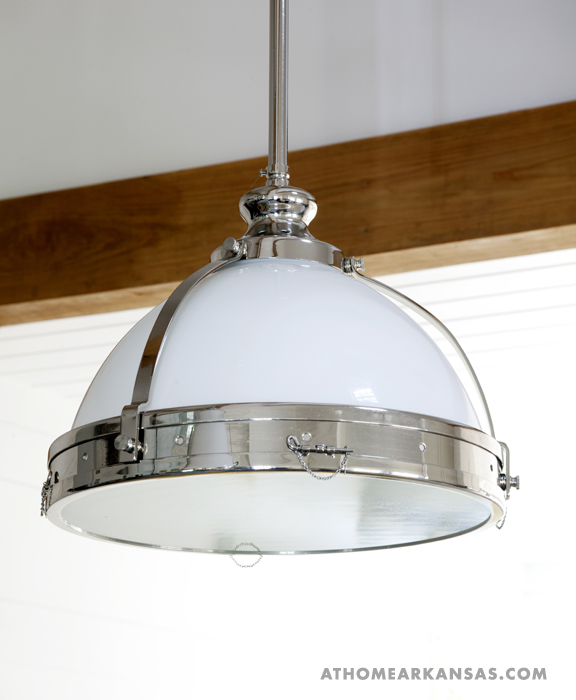 Don't choose light fixtures just because they're trendy. Choose pieces that are durable, have a timeless and elegant design.
Lonely Bird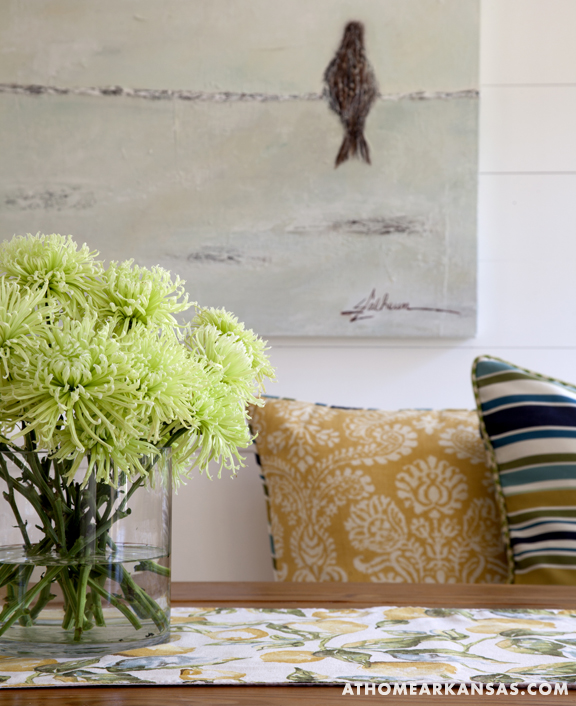 Kitchens in general, should never be boring, lifeless. Bring color and make it feel homey.
I hope you felt inspired by this white kitchen.
Remember to add small things to make a big impact in your kitchen. Even if you don't have your dream kitchen yet, you can still have a place where you feel happy at. Bring some stylish accessories, some beautiful plates or add some art on the walls.
Be creative, transform, but before anything else, be grateful. Feeling good about where we live, has to do more than just with what we see, it actually, has a lot to do with how we bring our heart into the space we have.
xo
Luciane at HomeBunch.com
Interior Design Services within Your Budget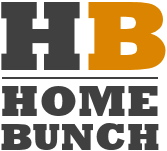 Get Home Bunch Posts Via Email

Sources: At Home in Arkansas, Architects & Contractors: Chris Milligan, Dwellings Inc., Little Rock dwellings-ar.com, Design Sheb Fisher, Cynthia East Fabrics, Little Rock, (501) 663-0460.
5 Comments to 'White Kitchen'
Subscribe to my RSS Feed
Leave a Reply