Ben Stiller is selling his beautiful house in Outpost Estates for $11, 495,000. What do you get for that kind of money? Well, not one, but two lavish yet comfortable homes. Located on almost an acre of land, the estate has 10 bedrooms, 11 baths, really stunning kitchens, a pool, outdoor dining and living areas, grassy yards and a romantic fountain. The main house is a 1929 authentic Spanish house that has been totally restored to mint condition. The second house is a stunning Mediterranean redefined with from contemporary point of view. If that's not enough space, you also get a one bedroom guesthouse.
It has been said that Ben Stiller and his wife are planning to move to New York and that's the reason they're selling. If that's true, I must say that they'll miss their garden, because you simply cannot get this tropical feel in NYC.
Would you pay almost $12 mil for Ben Siller's house? Take a look and let me know…
Calling Home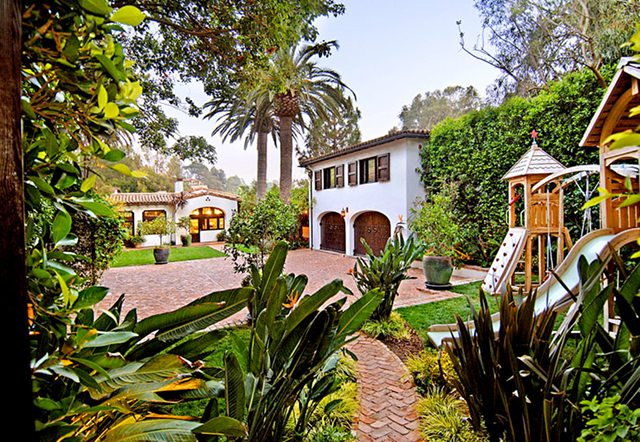 This place feels like home. Love the idea of having a play area for the kids. Perfect for Ben's kids.
Gate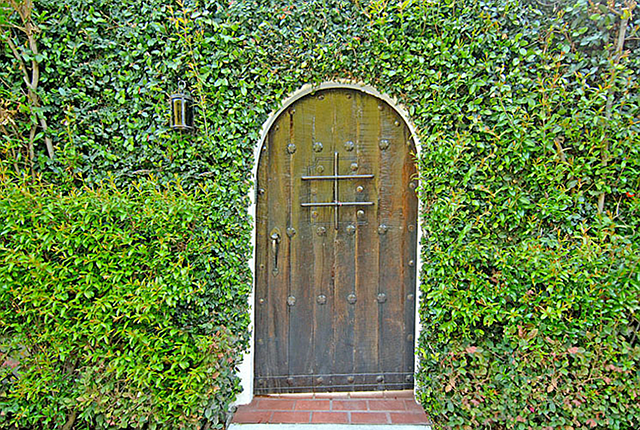 Charming.
Welcome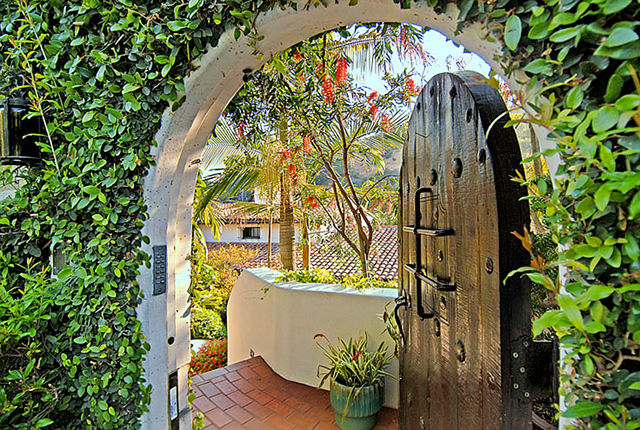 Beautiful from the start.
Spanish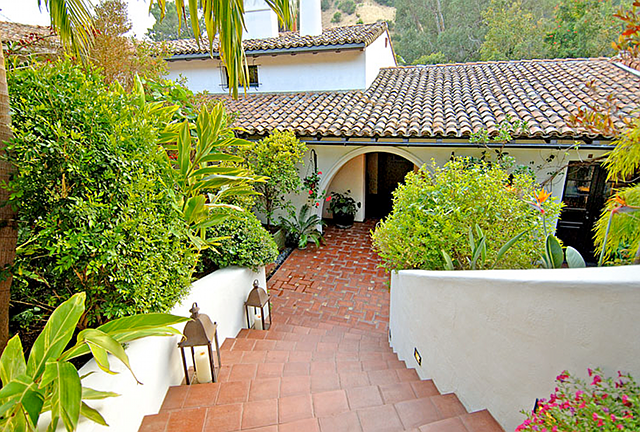 Some Spanish homes have this really welcoming feel to it, don't you think?
Stairs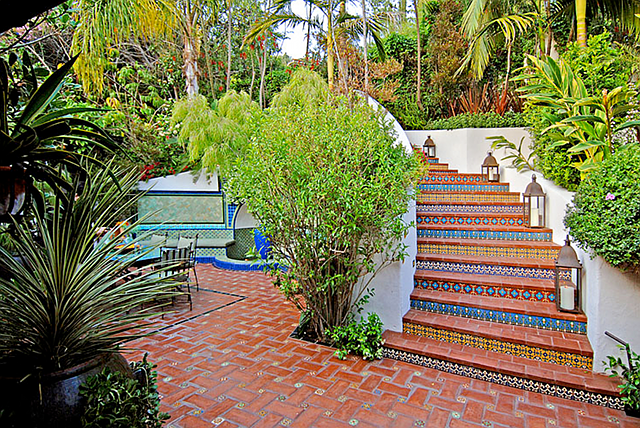 Take a look at the details of the stairs. Amazing!
Living Room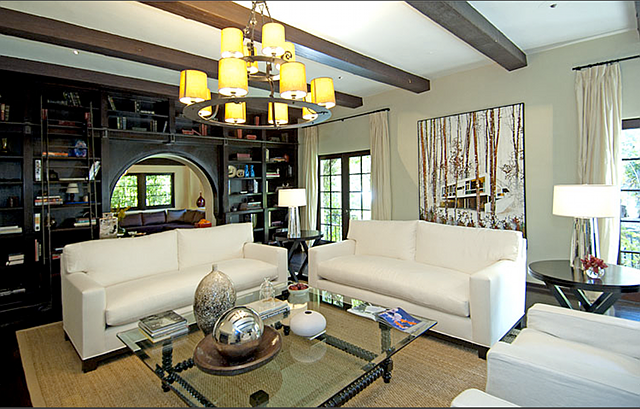 The living room has gorgeous arches and wood beams.
Fireplace
It's cozy and beautiful.
Dining Room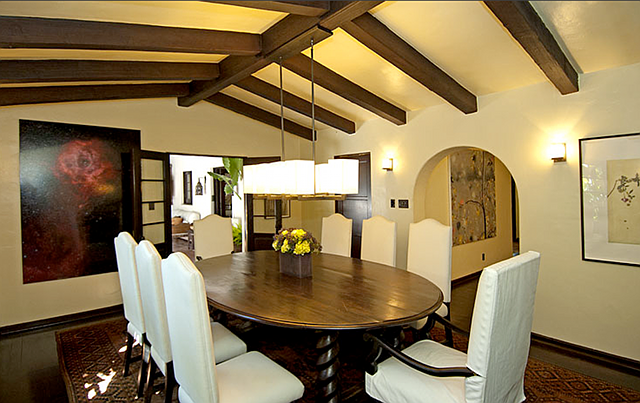 I like the furniture chosen here. Great size and form. The oval table imitates the arch and balances the room.
Kitchen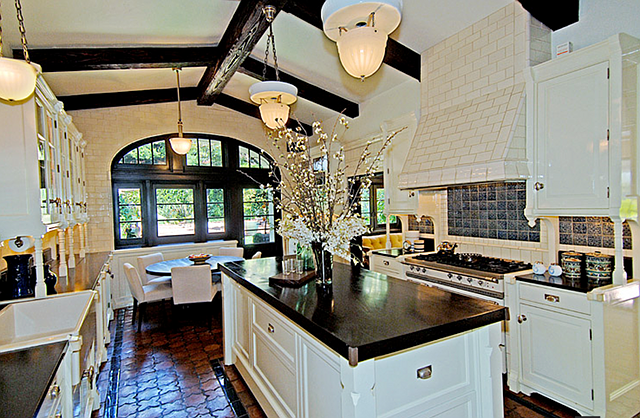 This kitchen is a beauty! I love everything about this kitchen. It's Spanish, has its Spanish charm but it's not too "loud". Its white cabinets bring some serenity to this room and the dark stained beams complement the countertops.
Island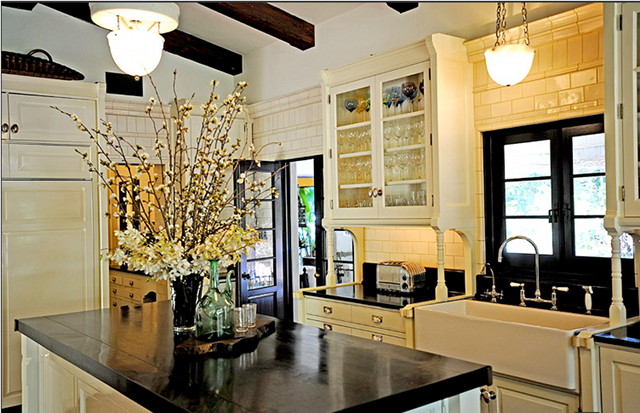 The lightning is also gorgeous in this kitchen.
Details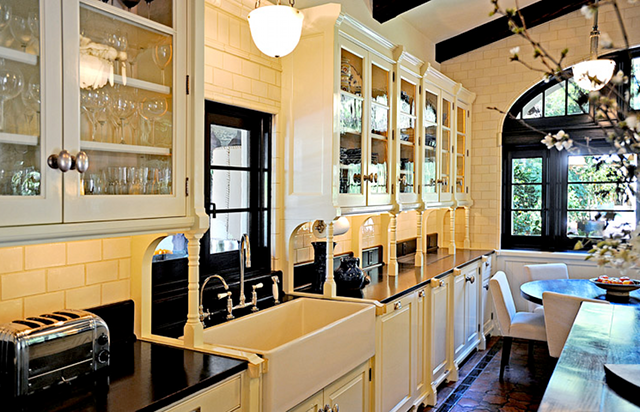 I like the details here. It's definitely an interesting kitchen. There's nothing boring about it.
Range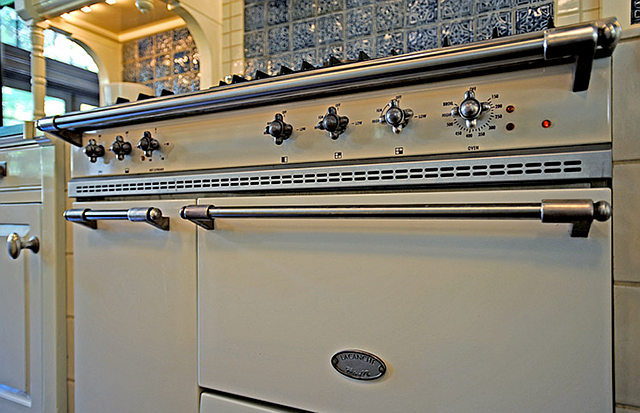 Lacanche! This one is worthy of a picture!
Eating Area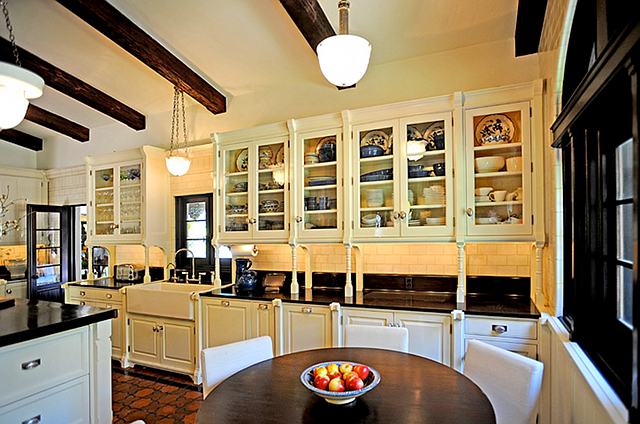 I've always been a fan of having a table in the kitchen. This one is just perfect!
Family Room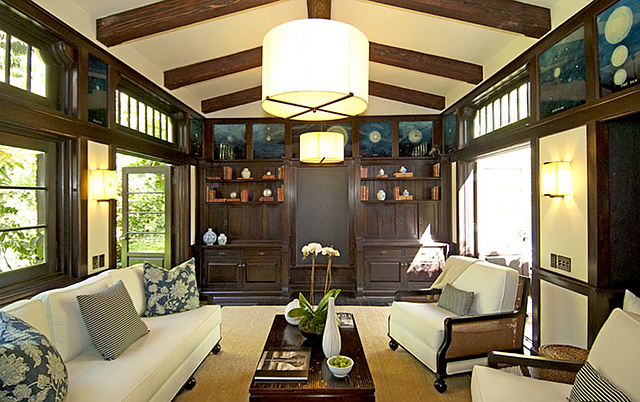 Interesting artwork. I really like the furnishing in this room.
Media Room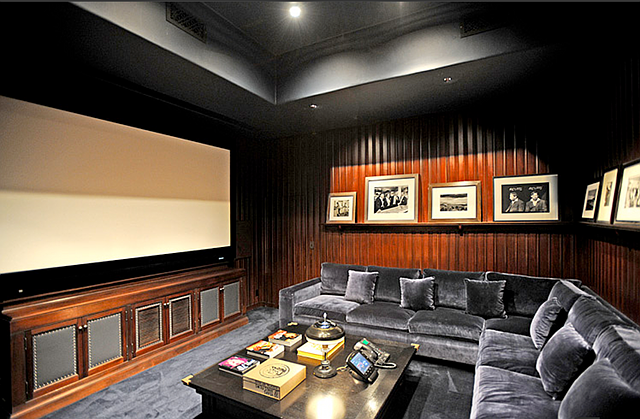 It's interesting. It feels classic and comfortable.
Ben's Bedroom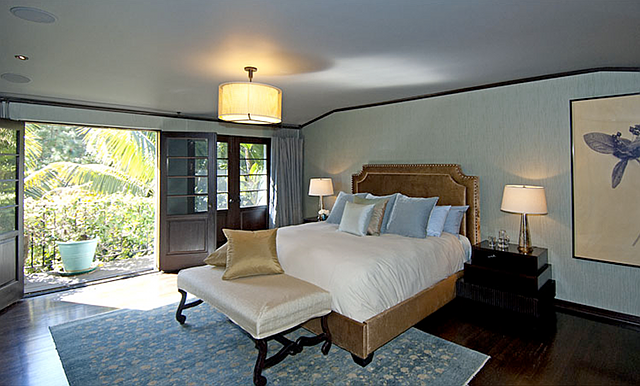 It's a very simple but comfortable bedroom.
By The Fire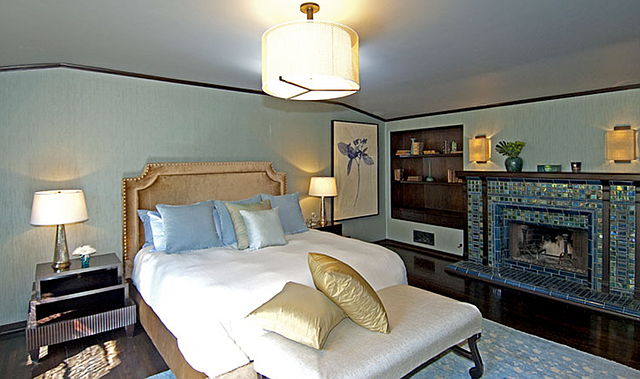 A wood burning fireplace completes the space.
Master Bathroom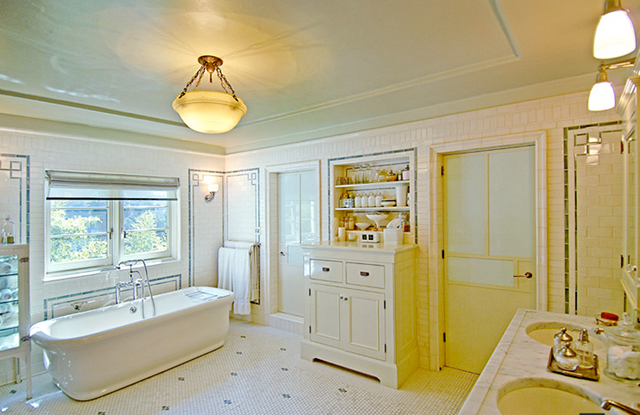 I really like this bathroom! I love the old charm found in this space.
His & Hers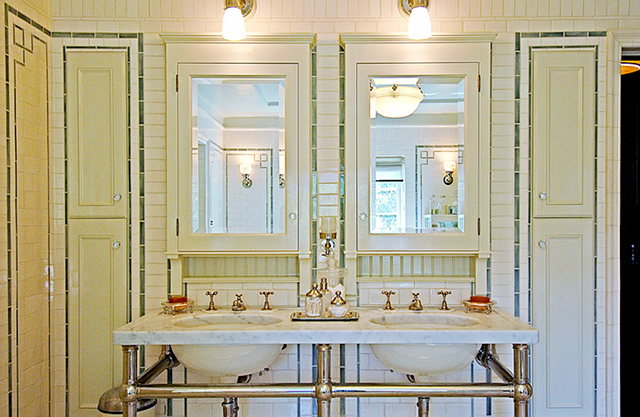 Beautiful sinks and the great thing is they have extra storage with the built-ins. A must when having this type of sink.
Girl's Bedroom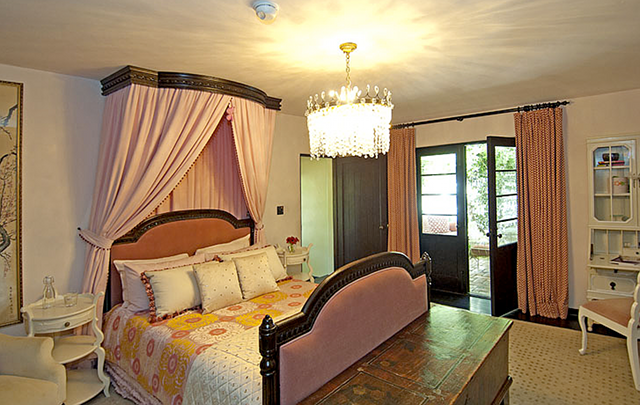 Really sweet.
Boy's Bedroom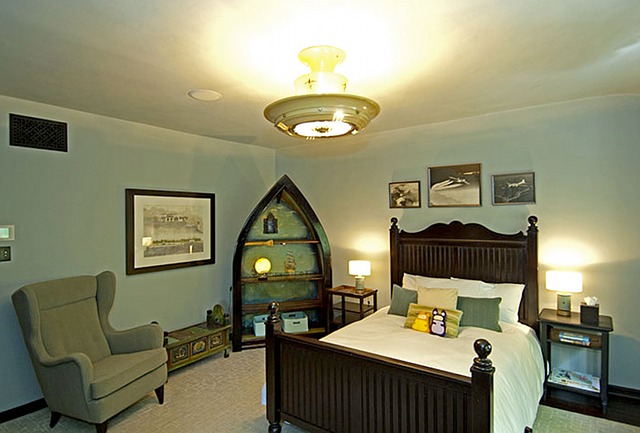 It feels fun.
Kids' Bathroom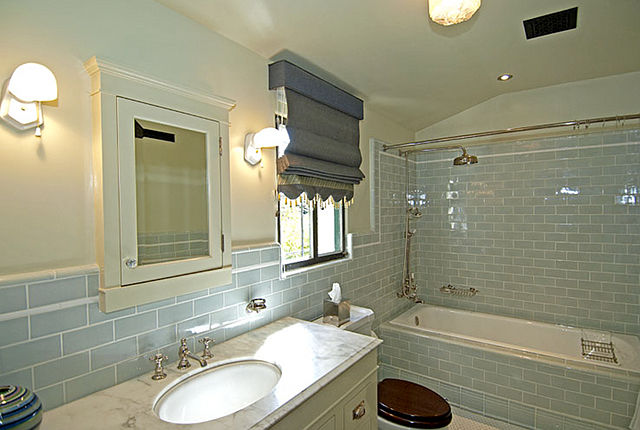 I like the color scheme in this bathroom.
Relax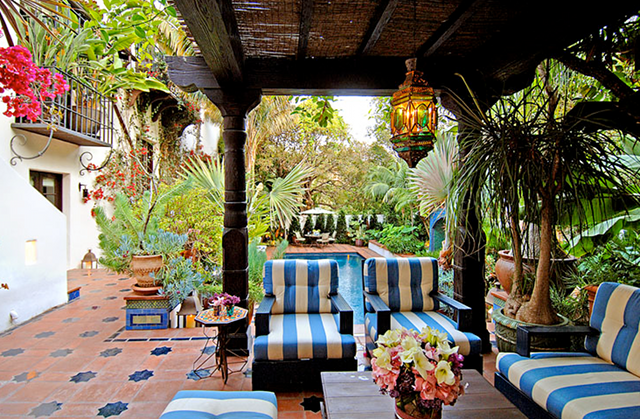 Oh, this place has stolen my heart! I'd love to have a place just like this one, and yes, please give me the California weather too!
Chit- Chat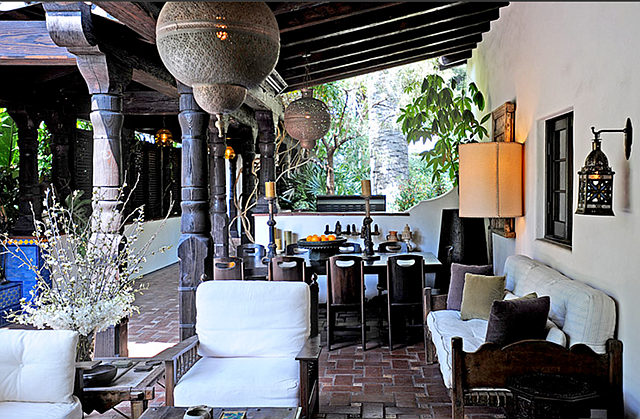 Love the decor and the whole space. It's really inviting and perfect for gatherings.
Lush Gardens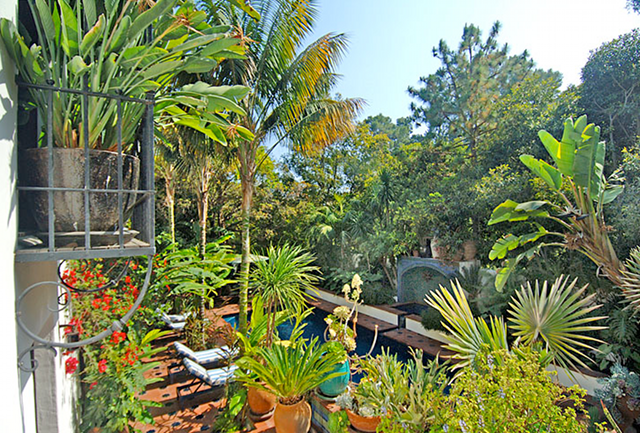 Paradise!
Shade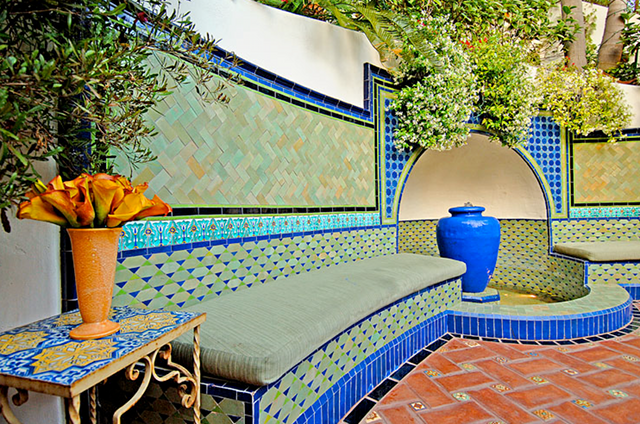 A nice spot to hide from the sun and read a book.
Dine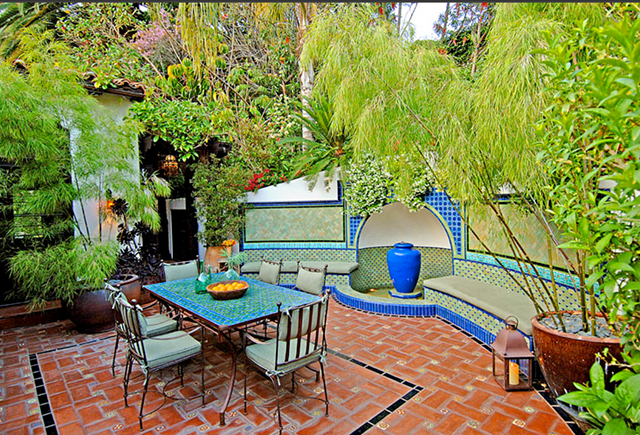 Wouldn't it be wonderful to dine here surrounded by color?
Pool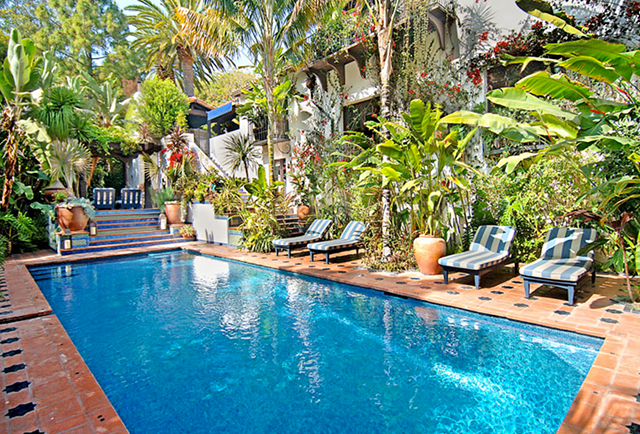 Just beautiful!
Green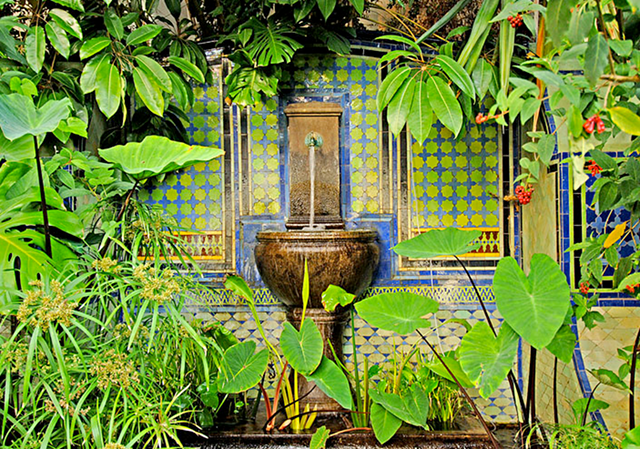 The more I see this garden, the more I fall in love with this place.
Warming Up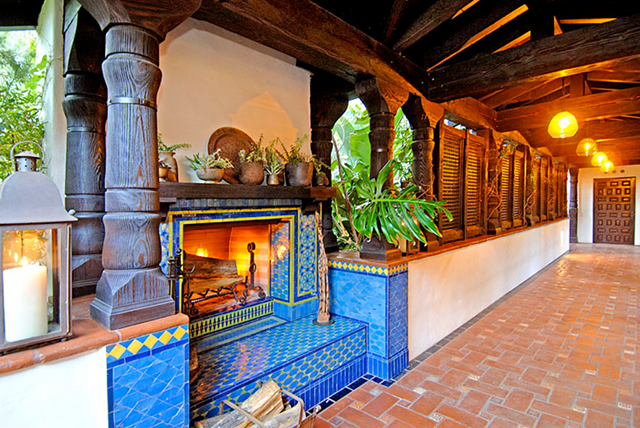 Cozy nights by the fire.
Night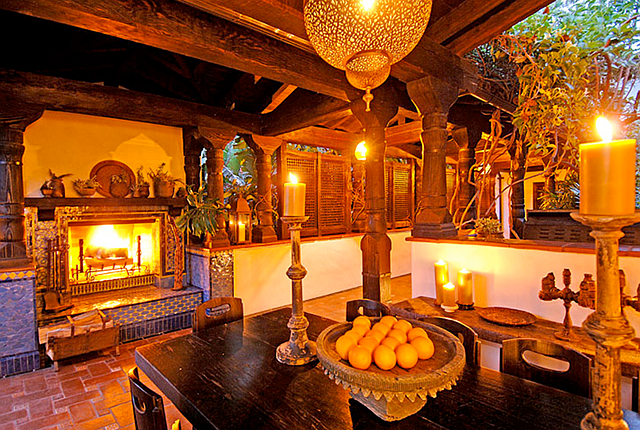 This is a very special home.
Pool at Night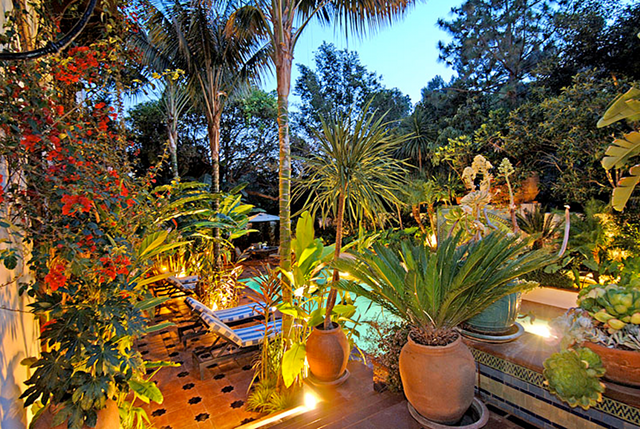 This photo makes me feel the wonderful breeze of a summer night. Gorgeous!
Now I understand why Ben Stiller is always in a great mood. How can you be in a bad mood with all these beautiful colors surrounding you, right? I think this house is very special for all of its charm and especially because of the garden. Definitely feels like a great place to live.
Did you like Ben Stiller's home? Leave a comment telling me your thoughts on it. 🙂
How was your weekend? Did you have time to relax for a brand new week? I finally relaxed a little. Last week was so busy and I really hope to take it easy this week. If you're wondering, I had my first doctor's appointment last week and I'm 6 weeks pregnant now (I thought I was 5, but I guess not! lol). Everything is great, thank God, but I feel tired all the time, which is pretty normal, right?
I want to wish you a super-duper happy and colorful week! May your week have so many beautiful surprises, that you can feel fulfilled in your life, and that you remember that even if you don't have a "perfect" day today, tomorrow will bring new opportunities and chances.

xo
Luciane at HomeBunch.com
Come Follow me on Twitter: Twitter/HomeBunch
Source: The Real Estalker, Jonah Wilson.