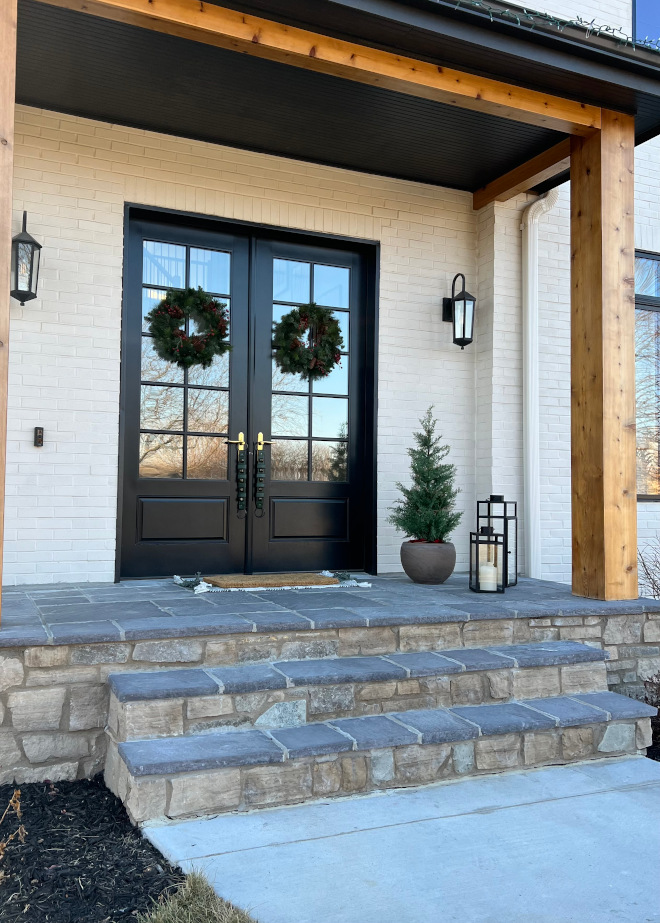 Hello, my dear friends! Can you believe how close Christmas is? I hope this is not making you feel stressed. If so, remember to stop pressuring yourself. If there's something I have learned is that nothing needs to be perfect to feel perfect! Allow yourself to slow down and enjoy your surroundings and the people you are with.
Sharing talented homeowners on my "Beautiful Homes of Instagram" series at this time of the year is extra special and today I am so happy to have Heather of @then.comes.home sharing her home with us. On this home tour you will find so many inspiring Christmas decorating ideas and I think you guys will love getting to know Heather and the way she decorates her home for the Holidays. Talking about that, can you believe her father built this gorgeous home? Amazing, right?! Keep reading to know all of the details!
"Hello! I'm Heather and I'm the face behind the instagram account @then.comes.home. I am so excited to be able to share my home with you all here, on Home Bunch. When Luciane asked if I would like to be a part of the Home Bunch Christmas Special, I was ecstatic. It's the greatest time of year and what we're considering, our first official Christmas in our home. So as you can imagine, we've been all about the Christmas decor, Christmas movies, Christmas music, and anything else that puts us in the spirit. 
To give you all some background on myself, I was born and raised in Nebraska. I played volleyball in college and met my husband in professional school. He's originally from New Mexico but Nebraska is home to him now too. We've been married for four years and have two dachshunds that we adore (you'll probably catch a peak of them later). Together we love to travel and are always finding places to go hiking. If you follow me on my instagram account, you'll also see that we love to try the local coffee and donuts wherever we go.
Shortly after we were married, we decided to find a home to purchase. The housing market was getting incredibly crazy at the time and we struggled to find a home that we loved. Since it would be our first home purchase, we looked to my parents for advice. My dad has worked as a contractor throughout my whole life. He's done just about everything in the industry from installing windows, tiling, roofing, cabinets, all the way to full room renovations. The one thing he hadn't ever done before was build a house. He put the idea of building into our heads and then we asked him if it was something he could do. His response, "We could figure it out." So we hired a company to draw up custom floor plans and from there, we general contracted our own home build with my dad taking the lead. Pretty easy right? And by easy I mean a pandemic, increased costs, snow, delays, supply shortages, and on and on but so worth it in the end. With that, welcome to our home tour!" – Heather of @then.comes.home
Christmas Home Decorating Ideas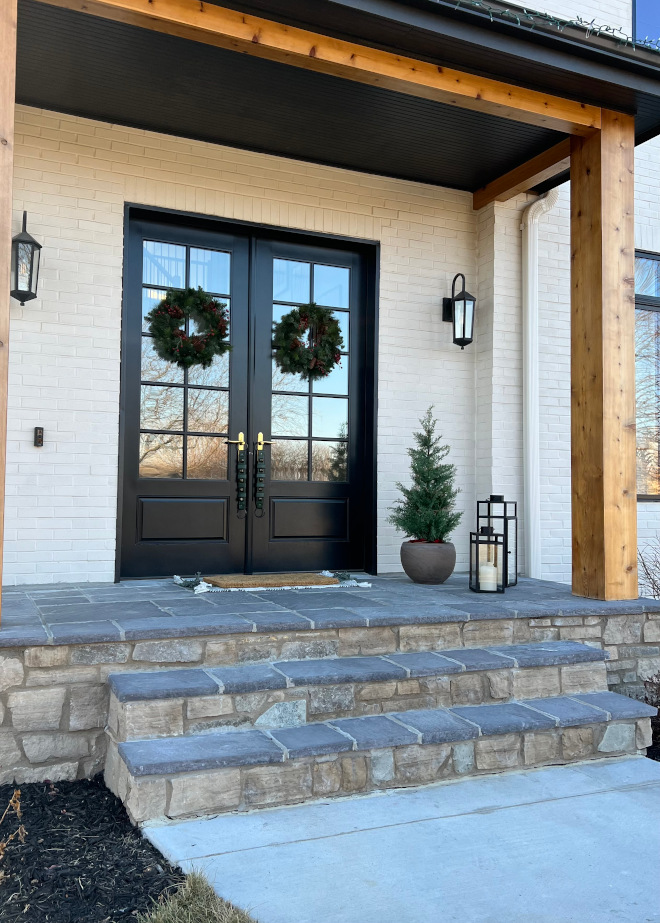 "The exterior of our home is faced with brick and painted White Dove by Benjamin Moore. We offset the white with black Pella windows and a black front porch roof. We wanted to add some texture and visual interest to our porch so we went with bluestone pavers and added tumbled stone to the sides. " – Heather of @then.comes.home
Front Door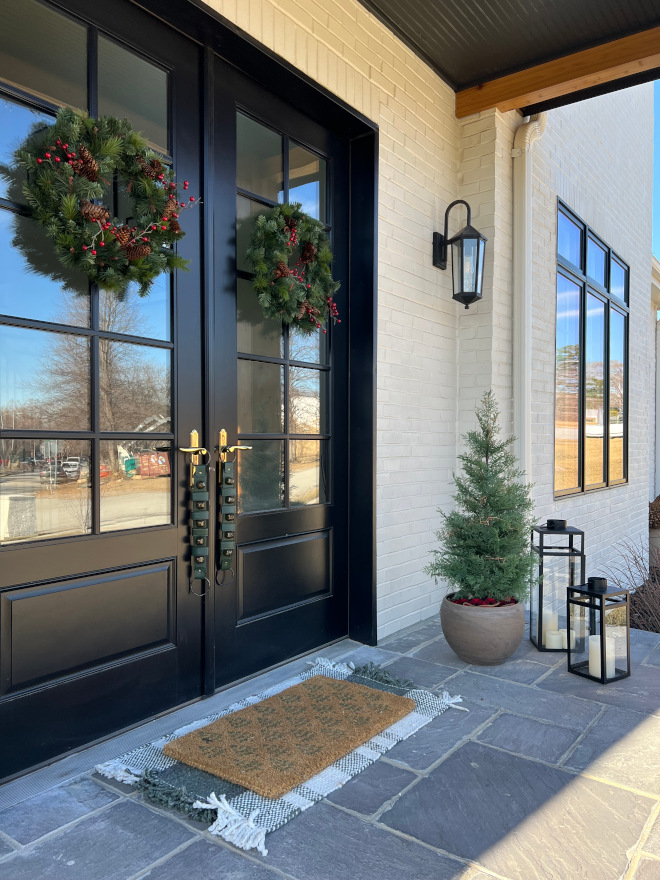 Front Doors: Therma-Tru – Paint is factory color from Therma-Tru.
Outdoor Lights: Ellsworth Outdoor 1 Light Wall Sconce.
Tree: Artificial Feathery Pine Tree – Threshold.
Lanterns: 16″ x 7″ Decorative Metal Lantern Candle Holder Matte Black.
Rug: Handloom with Fringe Rug Ivory Forest Moss.
Doormat: Discontinued – similar here – Others: here, here & here.
Hello, Pup!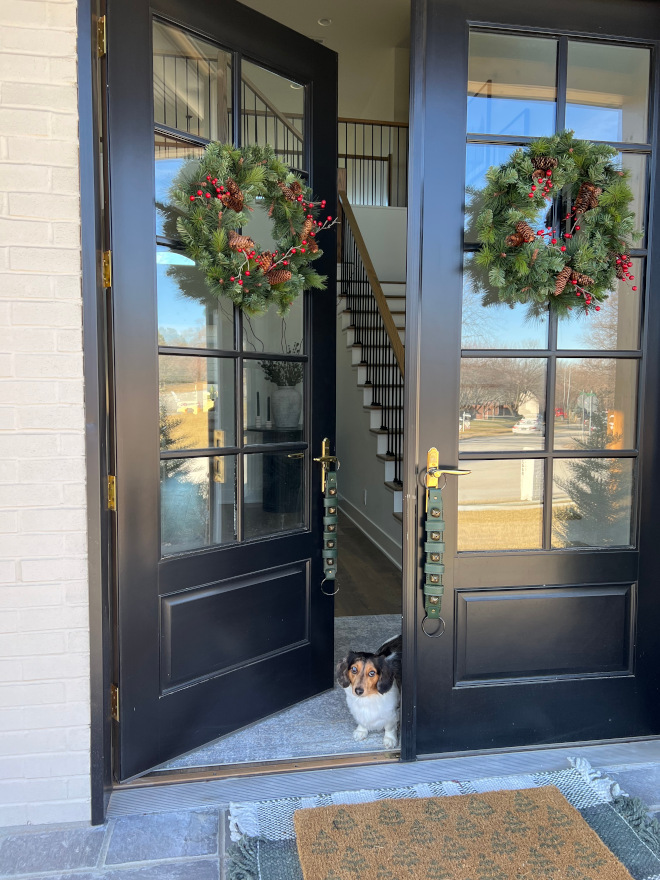 "That's our pup Barley. He's always curious as to what I'm up to. You'll see him show up a lot in my reels and stories, along with his brother, Brew." – Heather of @then.comes.home
Foyer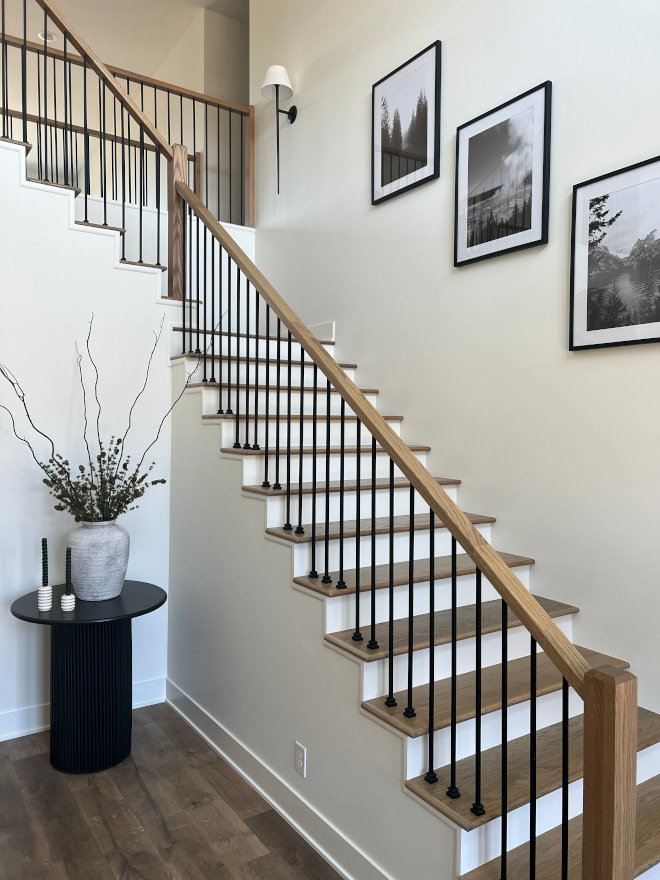 "One of our main goals in our house was to make it feel very open. Having a two story entry with the upstairs overlooking it, really sets the tone for the overall open feel from the beginning. The other main thing we had in mind when designing the entry, was separation. We didn't want the entry to open up into the main living space and kitchen. We wanted it to feel separate from the rest of the home. No one wants to see a dirty kitchen when they walk in, right?!" – Heather of @then.comes.home
Arches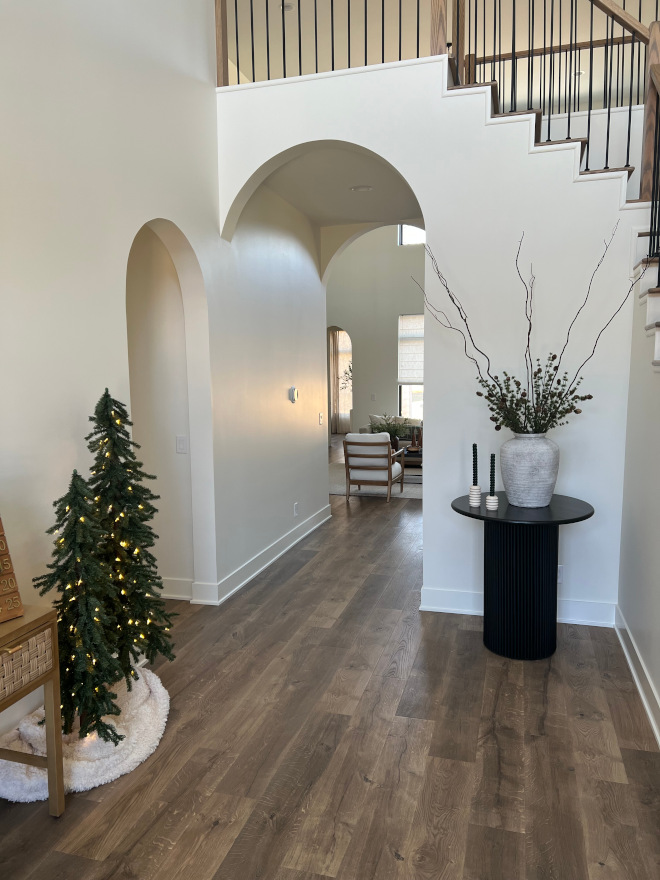 "Right before the start of our drywall, we decided to arch all of our entryways and I love the character they add." – Heather of @then.comes.home
Console Table Christmas Decor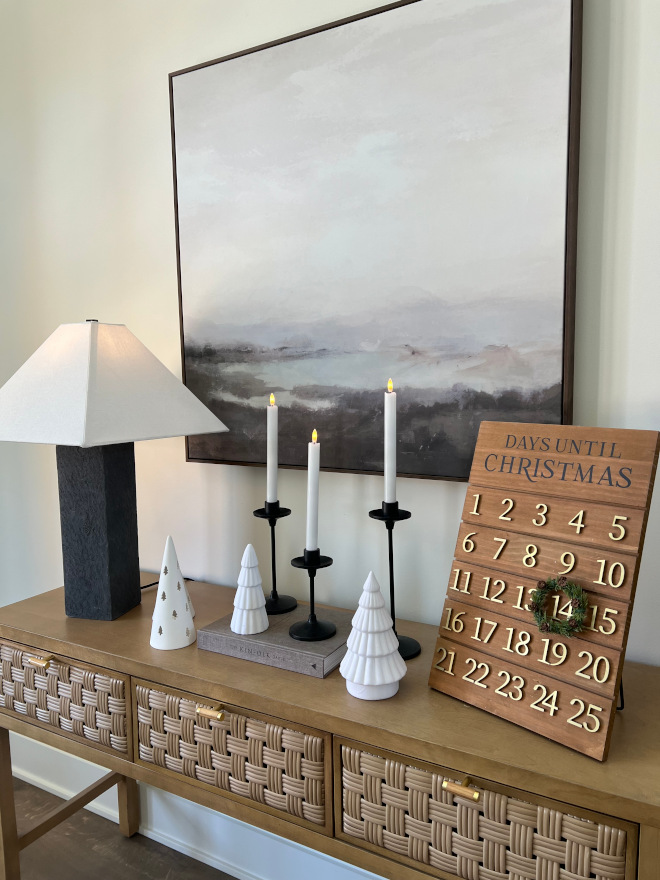 Console Table: Palmdale Knockdown Woven Drawer Console – Other Favorites: here, here, here, here & here.
Candle Holders: 11″x4″ Set of 3 Tapers Metal Candle Holder Black.
Artwork: 36″ x 36″ Dreary Abstract Landscape Framed Wall Canvas.
Ceramic Trees: White Ceramic Cozy Cashmere Christmas Tree Scented Candle.
Wood Countdown Calendar: Threshold.
Railing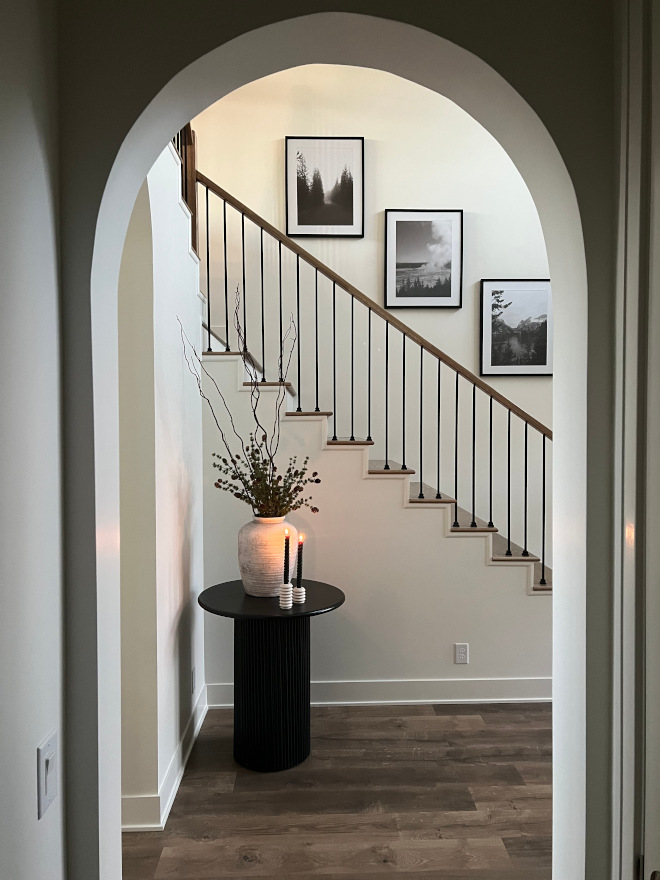 "We actually did the entire staircase and railing install ourselves, with my dad taking the lead, of course. I custom stained all of the red oak to match our flooring. The photos on the wall were actually taken by my husband on some of our camping trips in different National Parks." – Heather of @then.comes.home
Table: Custom: Similar style (larger): here.
Foyer Table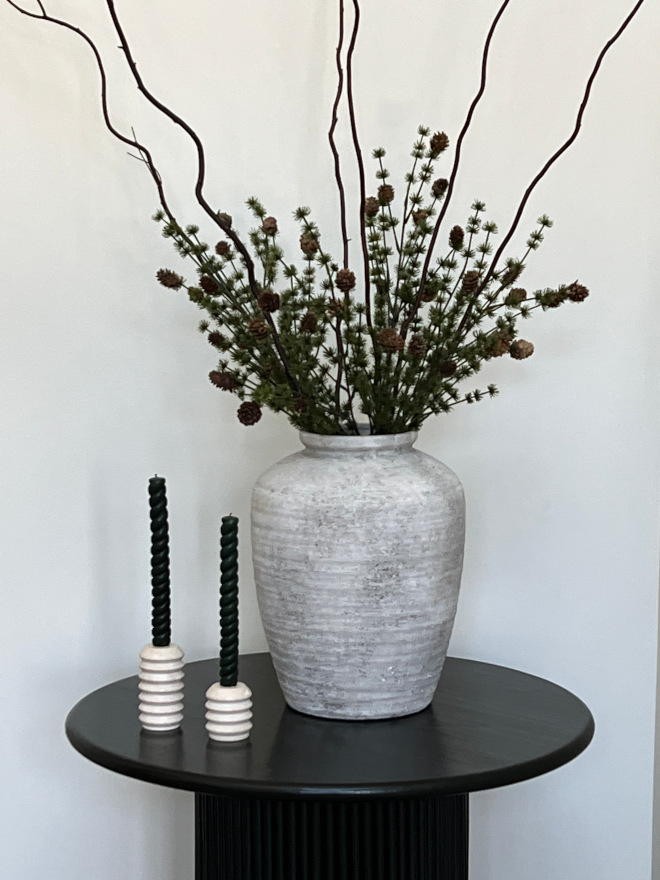 "This table was an easy and quick DIY.. You can check out my tutorial on my instagram account." – Heather of @then.comes.home
Travertine Candle Holders: Orren Ellis.
Vase: Earthenware Table Vase – similar – Otehr Beautiful Vases: here, here, here & here.
Foyer Paint Color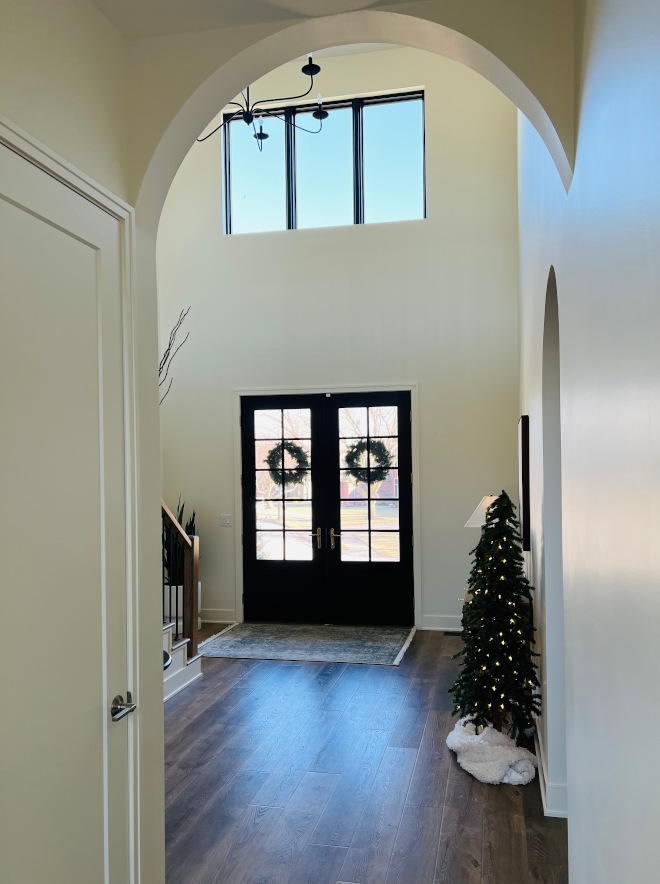 Foyer Paint Color: Benjamin Moore Swiss Coffee at 75% strength.
Chandelier: Brighton 6-Light Farmhouse Chandelier.
Floors: Pergo in Wheaton Oak.
Meet the Homeowner!


It's such a huge pleasure to be sharing Heather's home with all of you today. Make sure to give her a follow on Instagram! 🙂
Kitchen Backsplash: Ivy Hill Tile Amagansett Cream Satin Ceramic Wall Tile.
Kitchen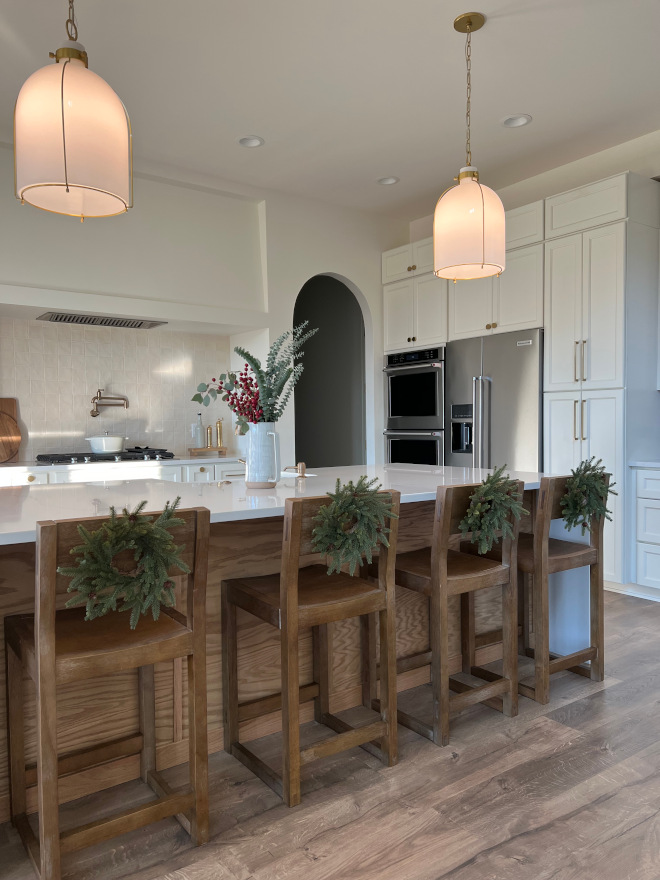 "Next up is our kitchen. We tied in the wood elements from other parts of the house with the island and the island seating. We went with gold fixtures and went for a creamy white cabinet to complement our wall color. This is, and will probably always, be my favorite space. I love to cook and bake so this is where I spend a lot of my time. Having a large island has been so useful for us. To make our kitchen a little more festive, we added small wreaths to the back of the stools and went for a Christmas colored floral arrangement on the island. Again, we kept it minimal." – Heather of @then.comes.home
Counterstools: Reed Counter Stools.
Pendants: Eldridge 7314 Pendant.
Inspired by this Look:
(Scroll to see more & Click on items to shop)
Kitchen Island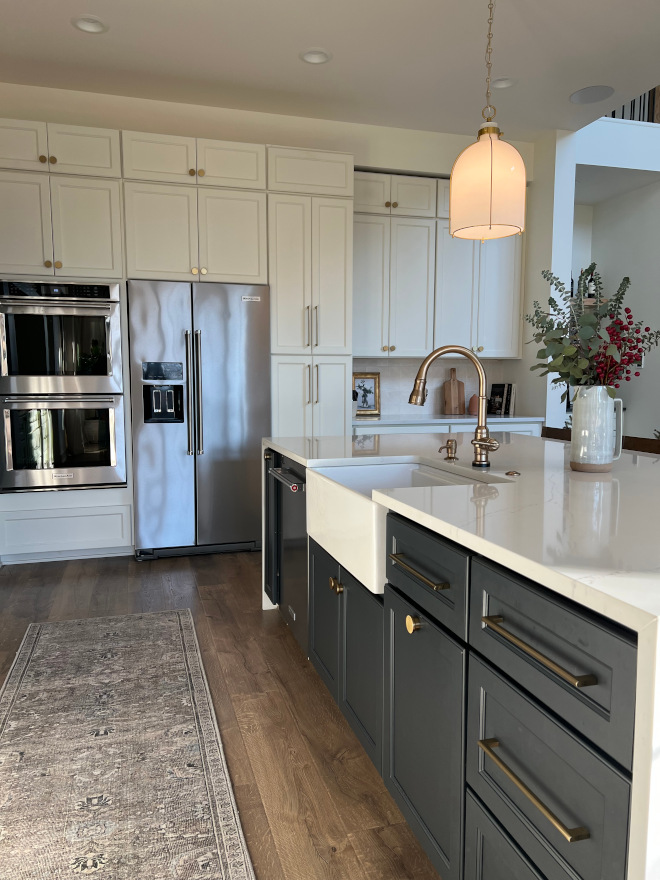 "The reverse side of our island has matte black cabinetry. We wanted to add a little color and thought this was the perfect way to do it." – Heather of @then.comes.home
Cabinetry: J&K Cabinetry Cabinet – Factory Color: Charcoal.
Cabinet Hardware: Sumner Street Home Hardware Vail 8 in. Satin Brass Drawer Pull & Knobs.
Runner: Layla Printed – LAY-13 Area Rug.
Faucet: Delta Broderick 1.8 GPM Single Hole Pull Down Kitchen Faucet with Touch2O.
Sink: Farmhouse Kitchen Sink with Sink Grid.
Appliances: KitchenAid.
Cabinets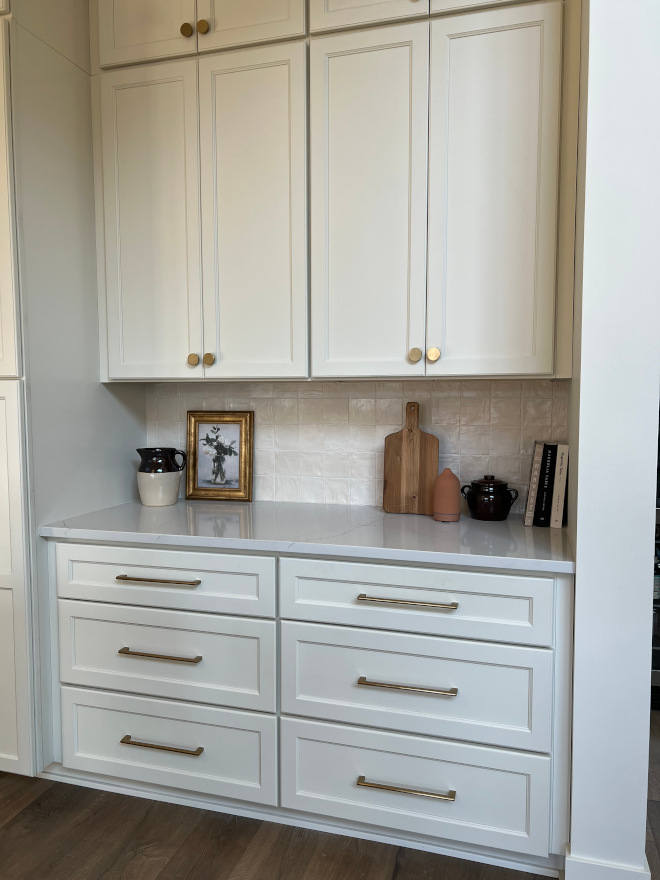 "We went with almost all drawers for our lower cabinets and I would make that same decision if we ever built again. They are so much easier to access than traditional cabinets with doors."- Heather of @then.comes.home
Kitchen Cabinetry: J&K Cabinetry Cabinet – Color: Factory Color Dove.
Backsplash: Ivy Hill Tile Amagansett Cream Satin Ceramic Wall Tile.
Dining Nook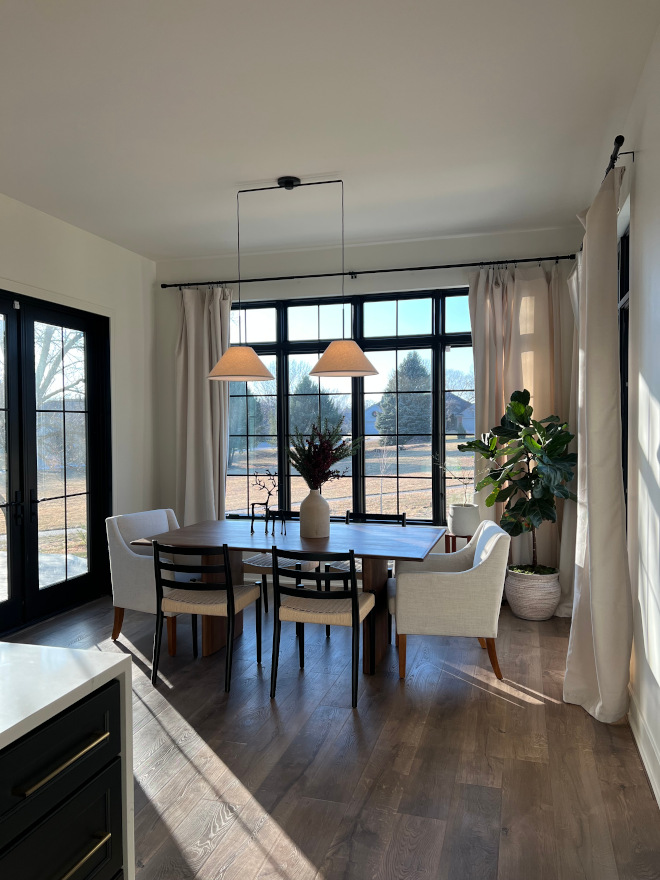 "We opted to not include a formal dining room, as we didn't feel we would use it often. So far, we've loved having our main eating area directly off of, and open to, the kitchen. You'll see that we went for lots of windows in this area as well."  – Heather of @then.comes.home
Wall Color: Swiss Coffee by Benjamin Moore at 75% strength.
Curtains: Worn Velvet Curtain – Alabaster.
Chandelier: Sculptural 2-Light Pendant, Fabric Cone 18″ Natural, Antique Bronze.
Dining Table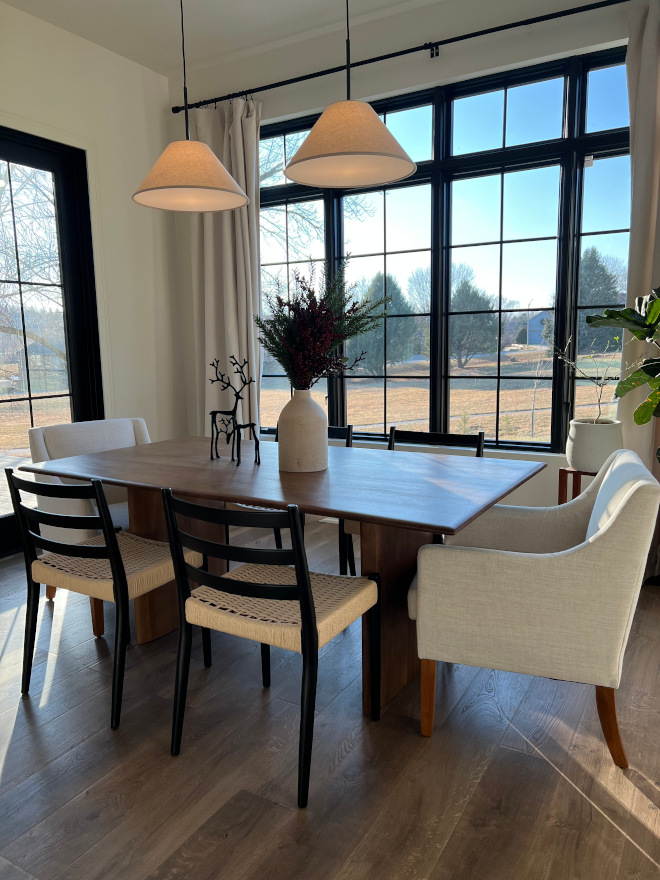 Dining Table: Anton Solid Wood Dining Table.
Windows: Pella Windows.
Dining Chairs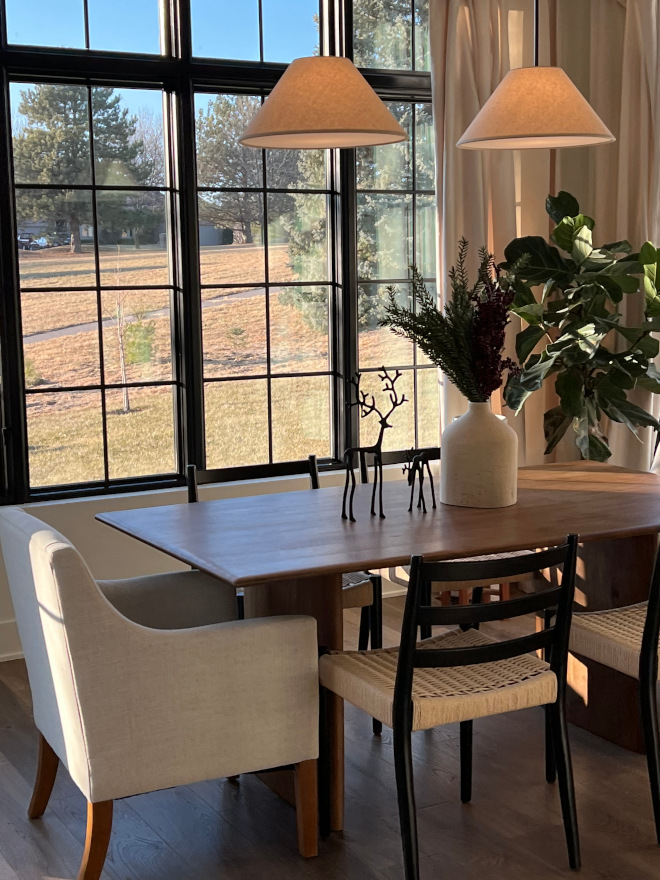 Host Dining Chairs: Clearfield Swoop Arm Dining Chair.
Side Chairs: Holland Dining Chair – similar style: here – Others: here & here.
Kitchen to Living Room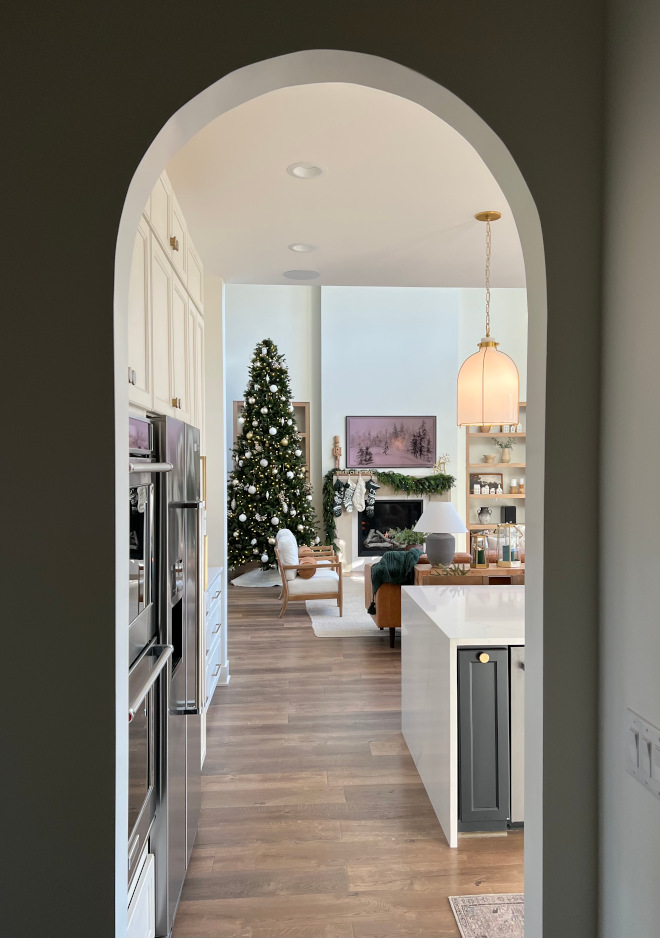 "This is the view from our mudroom (another project coming soon) looking into the kitchen/living area. It's one of my favorites this time of year since it looks straight into our Christmas tree."   – Heather of @then.comes.home
Living Room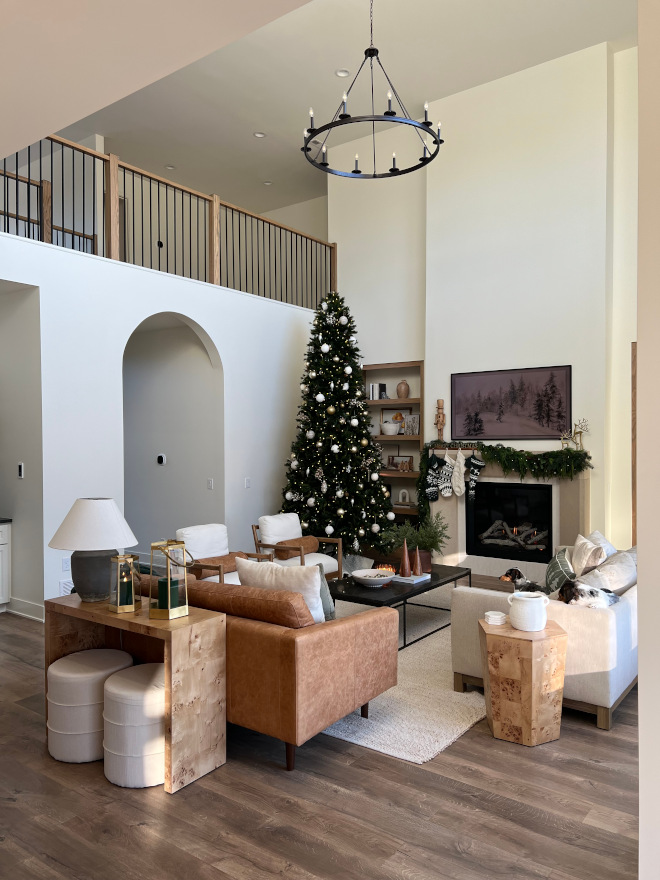 "We continued with the open feel very clearly in our living room. We love having a two story ceiling and having everything open to the upstairs. The opposite wall is lined with windows to let in all the natural light we can get." – Heather of @then.comes.home
Chandelier: Safavieh Telta 10-light Chandelier – Others: here, here, here & here.
Leather Sofa: Genuine Leather Sofa.
Upholstered Sofa: Jake Upholstered Sofa with Wood Legs.
Inspired by this Look:
(Scroll to see more & Click on items to shop)
Christmas Decor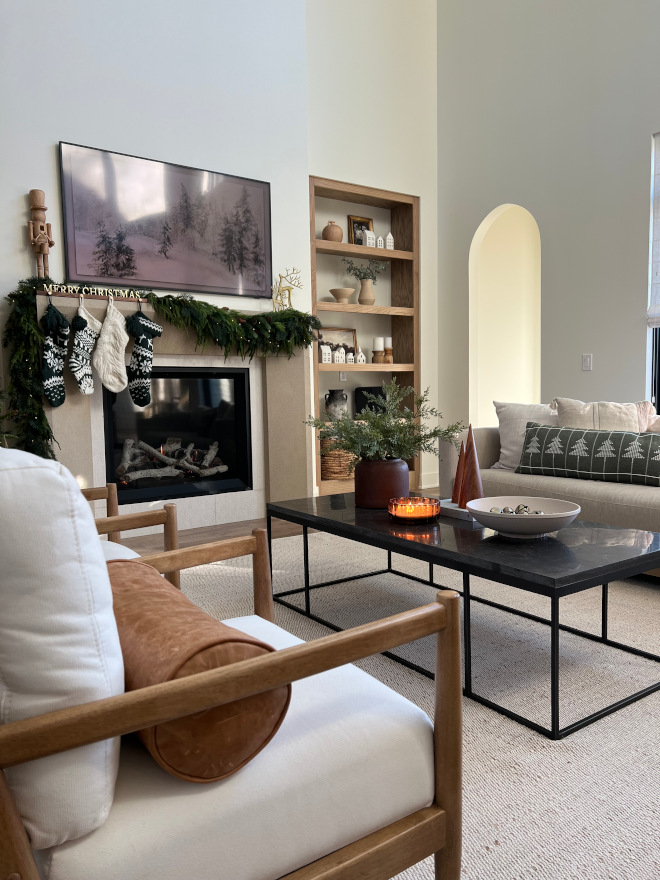 "For our holiday decor, as you can probably tell, we kept it minimal and neutral with lots of pops of green."- Heather of @then.comes.home
Coffee Table: Harlow Small Coffee Table – similar style: here.
Rug: Natural Handwoven Jute-Blend Area Rug.
Fireplace Built-ins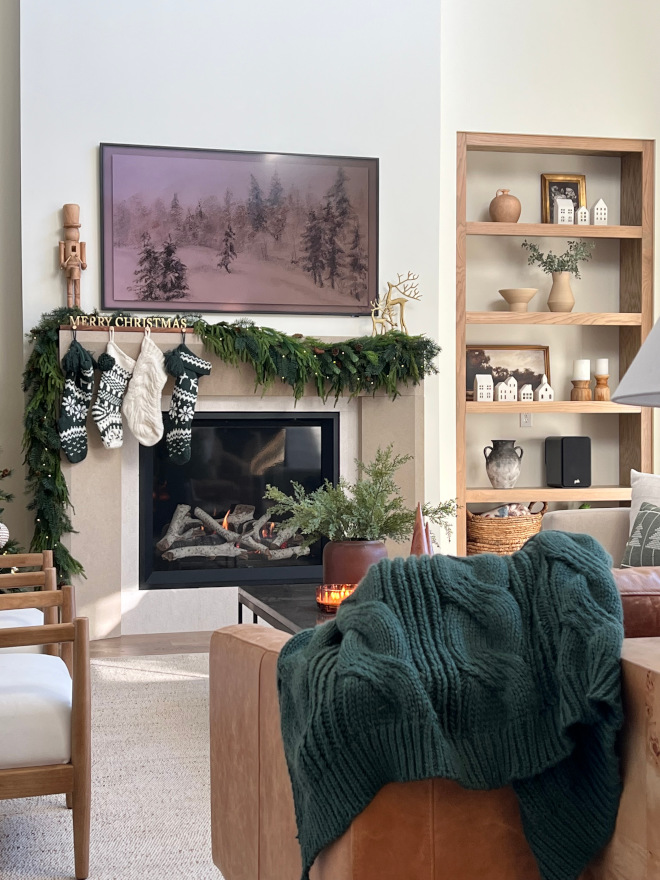 "Our built-ins were another one of our projects that we completed. The design/build came from my dad, I custom stained the red oak, and then my dad and husband installed them. I love the warmth the wood brings into the living room." – Heather of @then.comes.home
Green Throw: here – similar.
Bar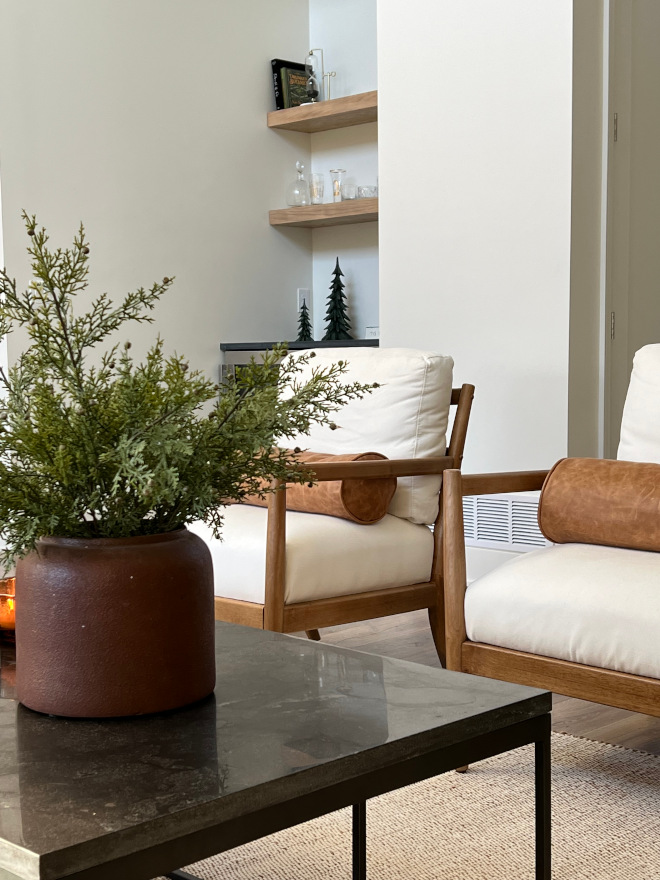 "You can see we have a bar just off of our living room. More custom made, stained, and installed floating shelves here. We have some changes we'll be making to this area over the next month or two that I think will make a big impact." – Heather of @then.comes.home
Accent Chairs: Park Valley Ladder Back Wood Arm Accent Chair, Cream – Other Favorites: here, here & here.
Bedroom Design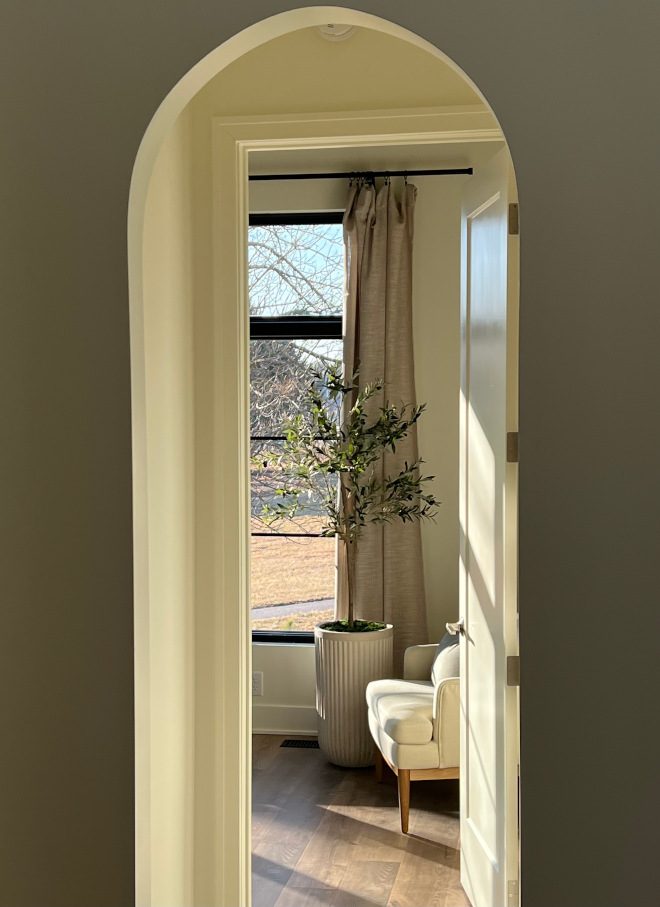 "Our primary bedroom is located off of our living room and has a small hall dividing the two spaces. This is the view into our bedroom." – Heather of @then.comes.home
Chair: Howell Upholstered Accent Chair with Wood Base, Cream.
Olive Tree: Artificial Olive Tree – Others: here & here.
Fluted Cement Pot: Tall Fluted Planter.
Primary Bedroom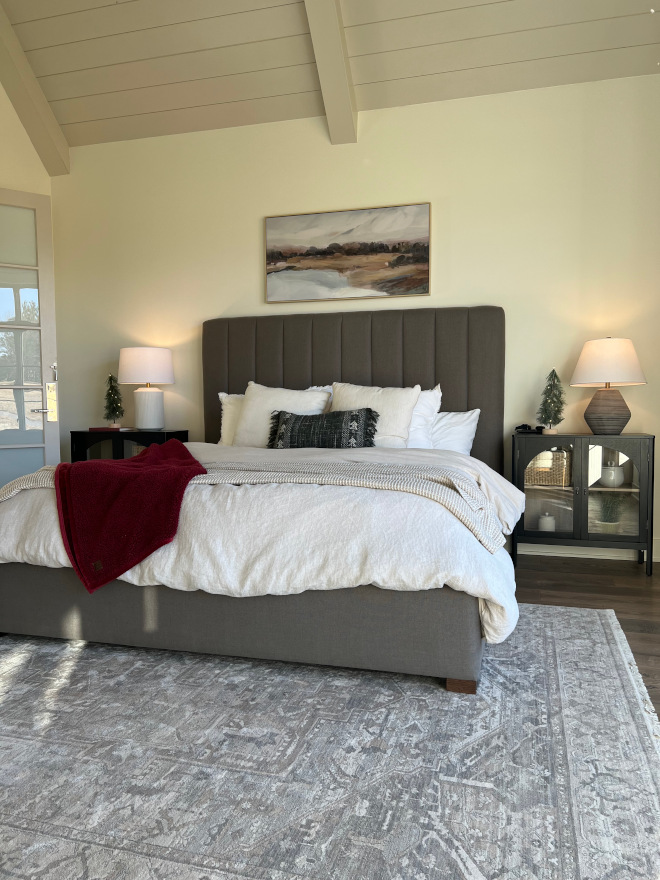 "We added just a few holiday touches in here to keep it cozy while feeling festive." – Heather of @then.comes.home
Bed: Hoffman Bed, Gray.
Rug: Bungalow Rose Wideman Geometric Silver Area Rug.
Inspired by this Look:
(Scroll to see more & Click on items to shop)
Nightstands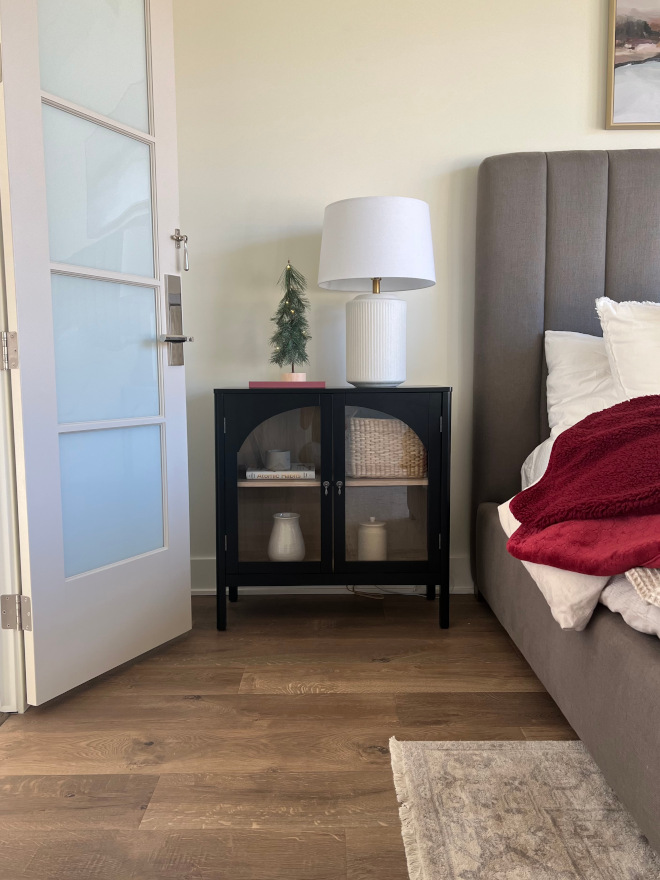 "We really used our bedframe and these arched cabinets to add color and texture in our bedroom. I love that they tie in our black windows and the arches that are carried throughout our house." – Heather of @then.comes.home

Cabinets: New Bedford 2 Door Accent Cabinet Black – Others: here, here & here.
Table Lamp: Ceramic Assembled Table Lamp White.
Vaulted Ceiling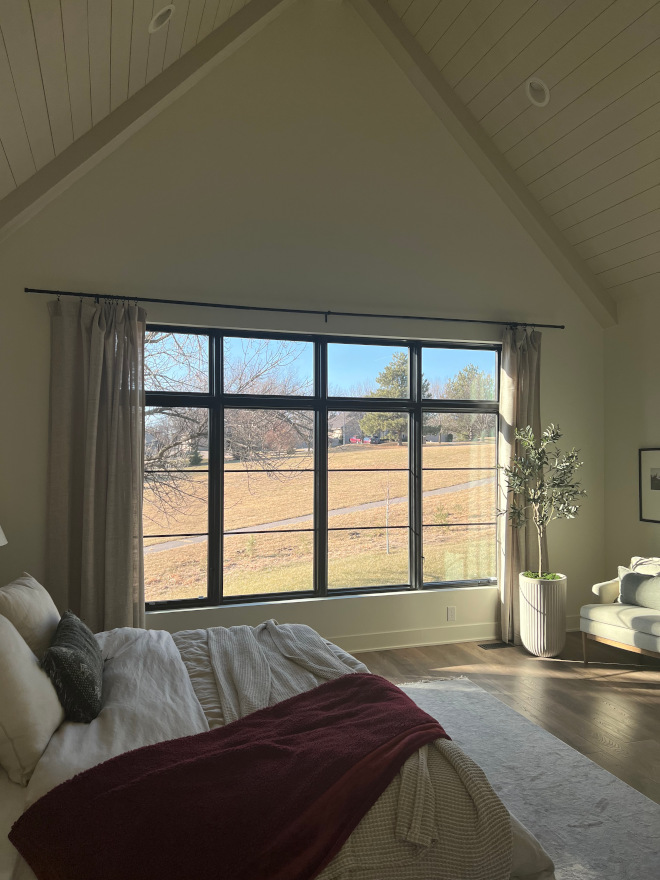 "We vaulted the ceiling and went with some more large windows to get lots of natural light." – Heather of @then.comes.home
Construction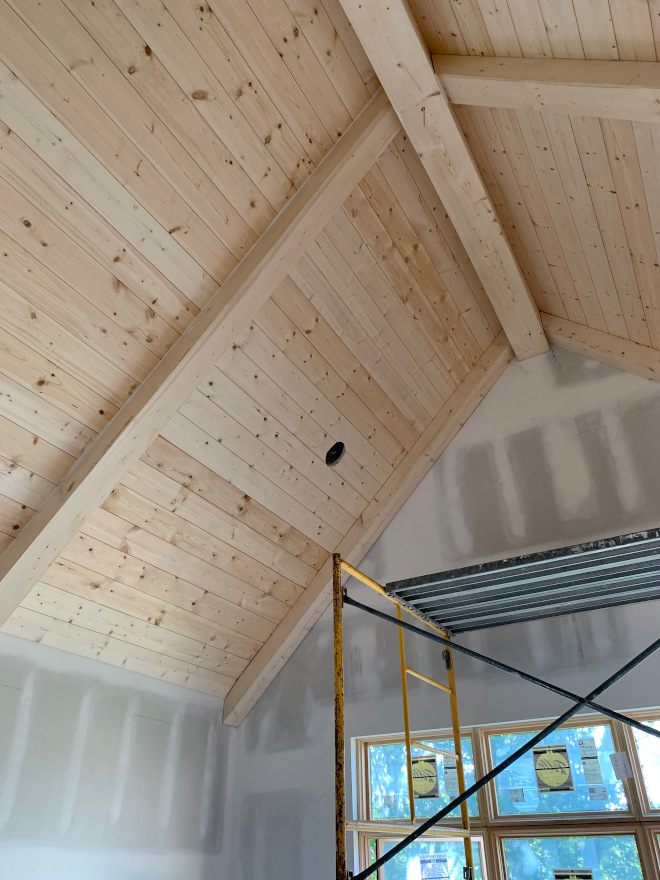 "One of the things I love most about our bedroom is the shiplap and beams on the ceiling. These were a true labor of love. My dad, husband, and brother installed all of the shiplap, made the beams, and then installed the beams as well." – Heather of @then.comes.home
Ceiling Paint Color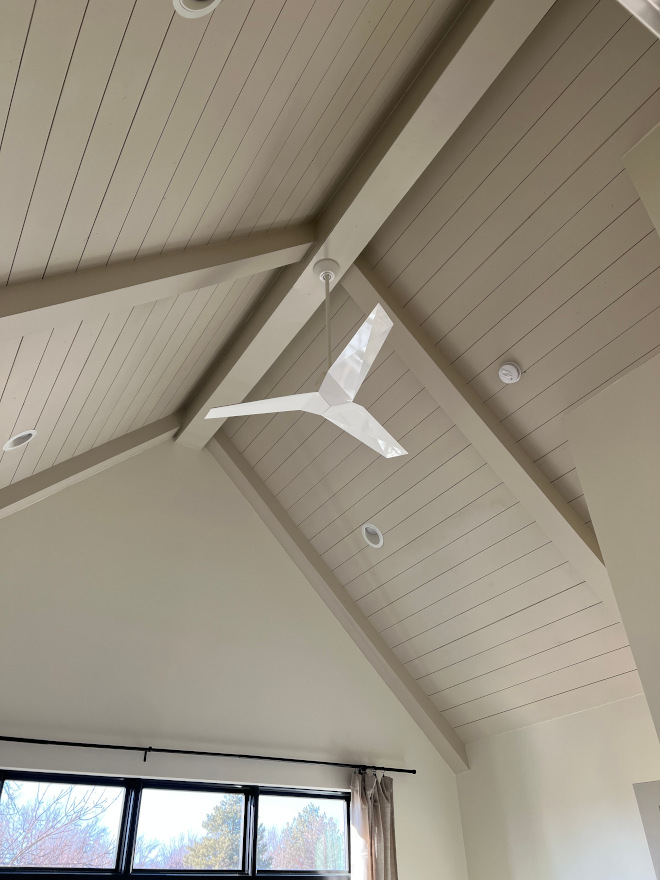 "I get a lot of opinions on whether or not we should've painted the ceiling but I love how it turned out. This color really warms up the bedroom." – Heather of @then.comes.home
Ceiling Color: Benjamin Moore Natural Cream.
Primary Bathroom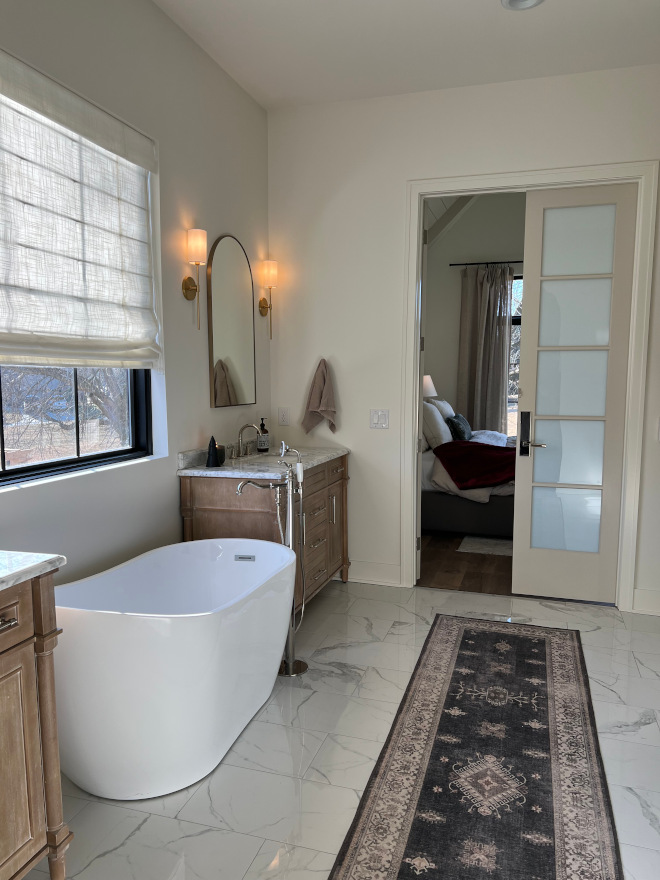 "This is the last stop on our home tour. We went with french doors into our bathroom and painted them to match our bedroom ceiling for fluidity between the two rooms. One of my favorite features is our separate vanities. It was a must have request for my husband and I would definitely do it all over again." – Heather of @then.comes.home
Rug: Verena Dark Wood Rug.
Bath Vanities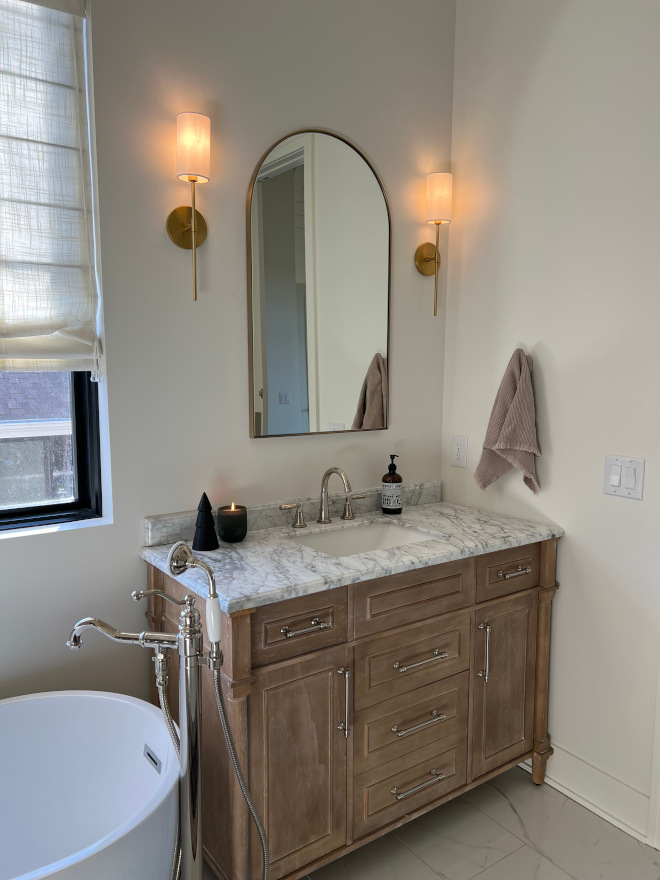 Bathroom Vanities: Aberdeen Bath Vanity in Antique Oak with White Carrara Marble Top – Others: here, here, here, here & here.
Mirror: Medium Arched Gold Classic Accent Mirror – similar here.
Sconces: Olivia Linen Wall Sconce.
Home is Where We're Surrounded by Love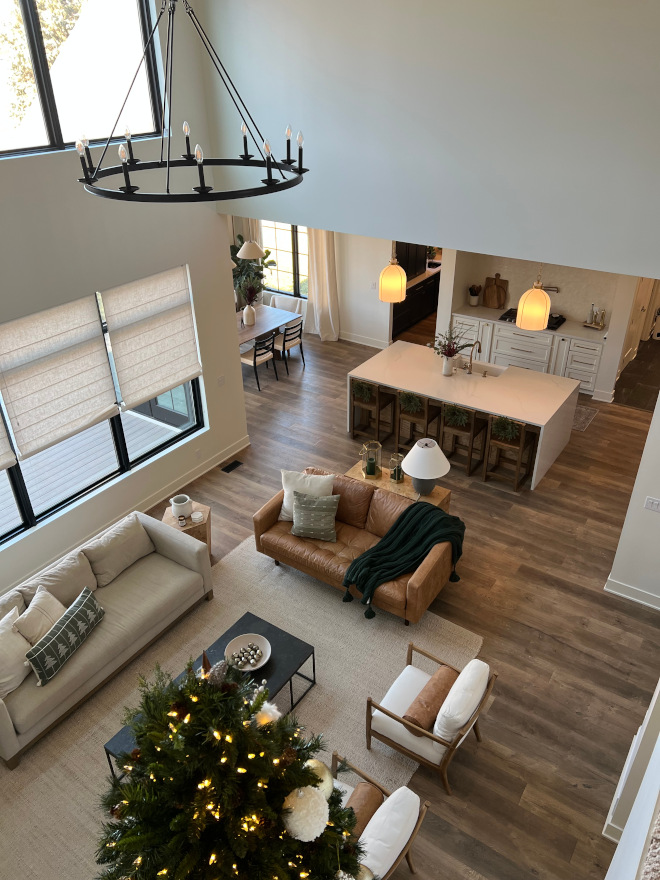 "Thank you so much for allowing me to share my home with you all. This really has been so much fun to document and share. Happy Holidays!"- Heather of @then.comes.home
Many thanks to Heather for sharing all of the details above! Make sure to follow her on Instagram to continue seeing her beautiful home!

Home Bunch's New Finds:

Click on items to Shop:
Best Sales of the Month: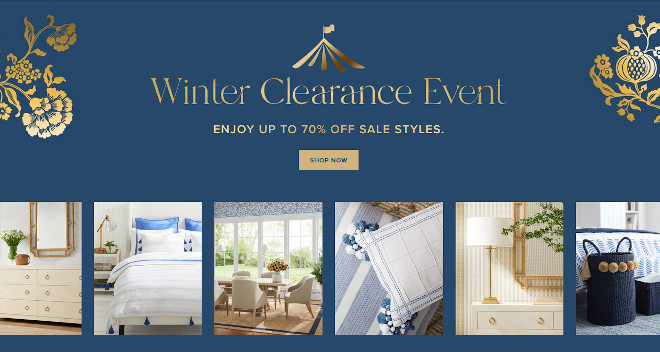 Thank you for shopping through Home Bunch. For your shopping convenience, this post may contain AFFILIATE LINKS to retailers where you can purchase the products (or similar) featured. I make a small commission if you use these links to make your purchase, at no extra cost to you. Shopping through these links is an easy way to support my blog and I appreciate and I am super grateful for your support! I would be happy to assist you if you have any questions or are looking for something in particular. Feel free to contact me and always make sure to check dimensions before ordering. Happy shopping!
Ballard Designs: Up to 70% Off Sitewide.

Pottery Barn: Up to 50% Off Furniture, Bedding, Decor & More.
Popular Posts: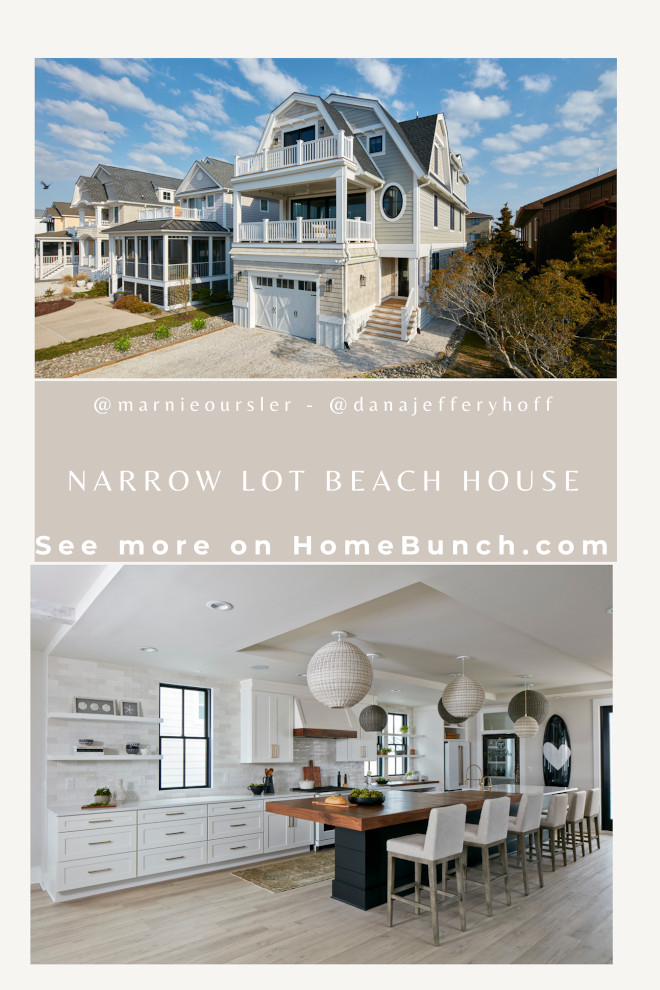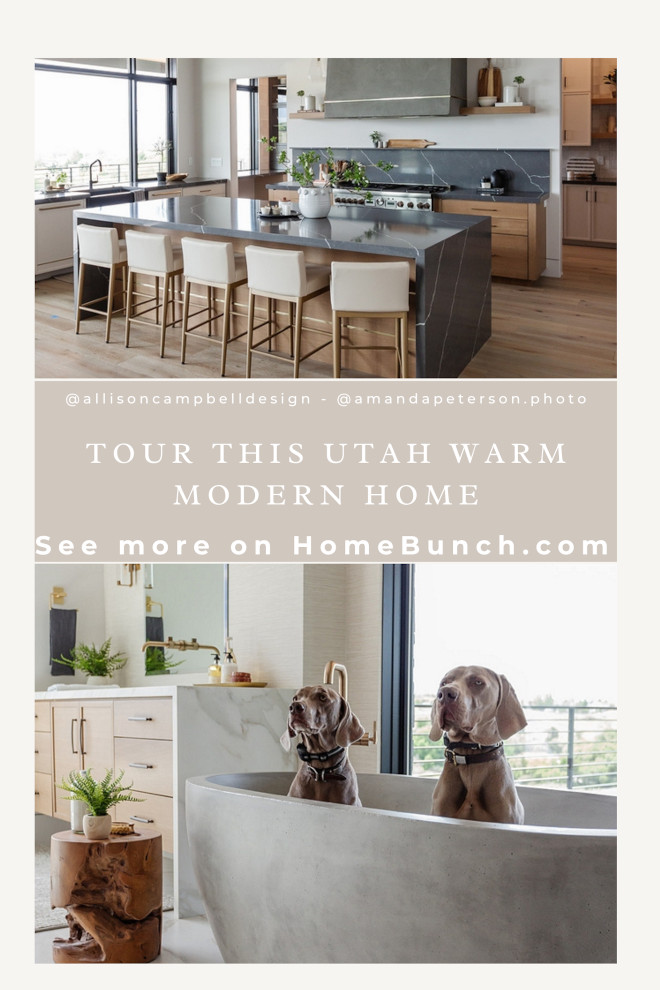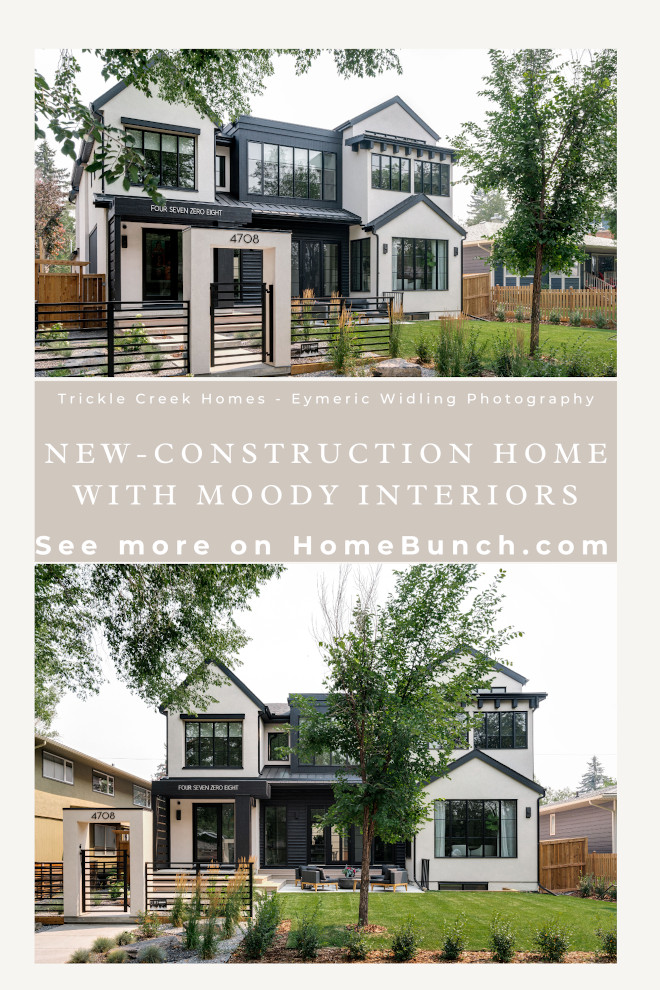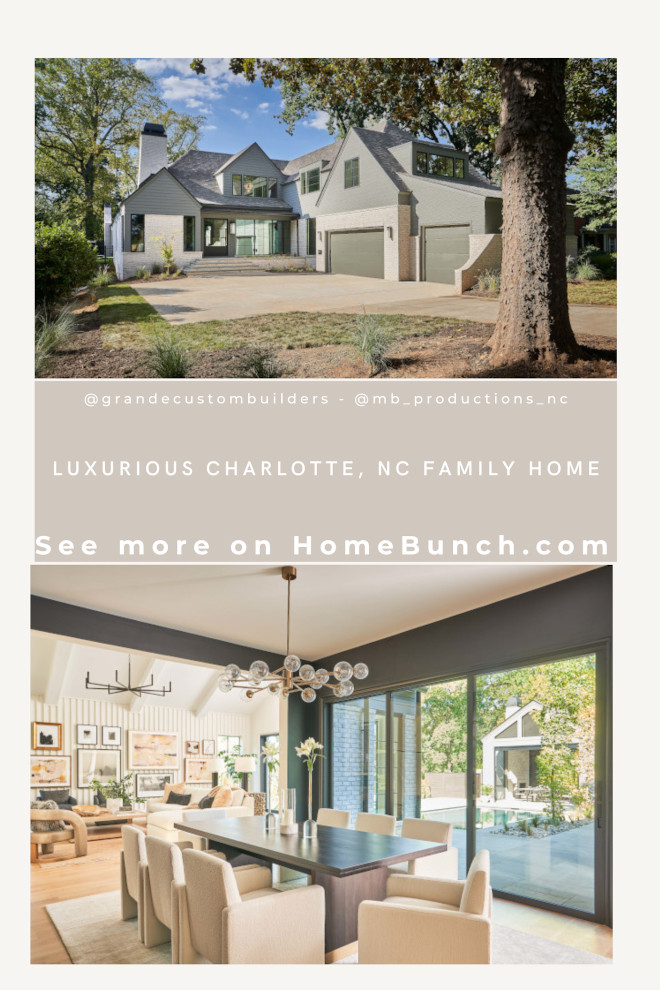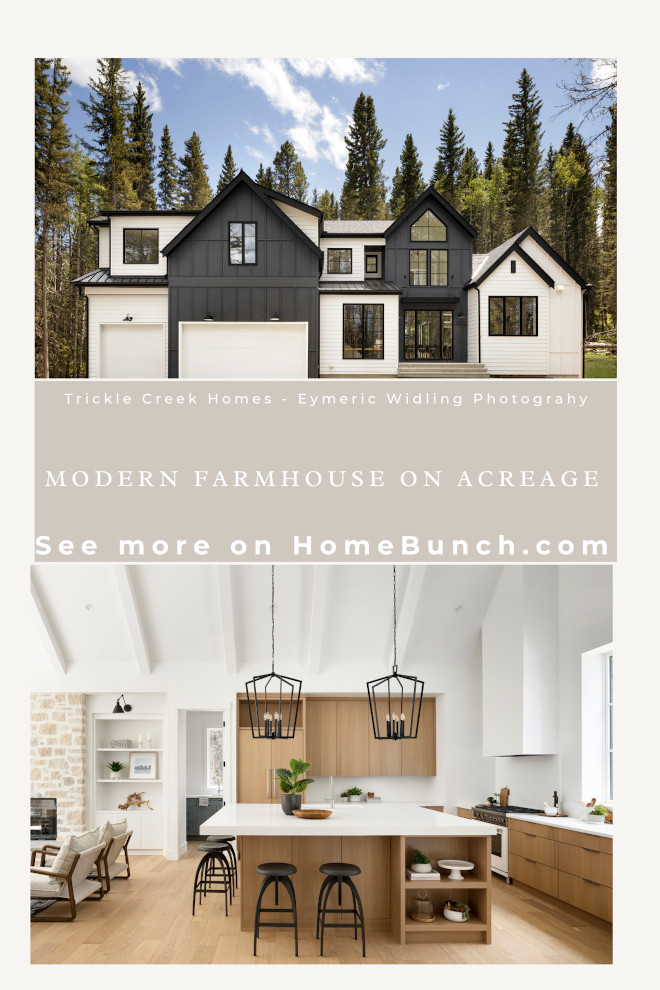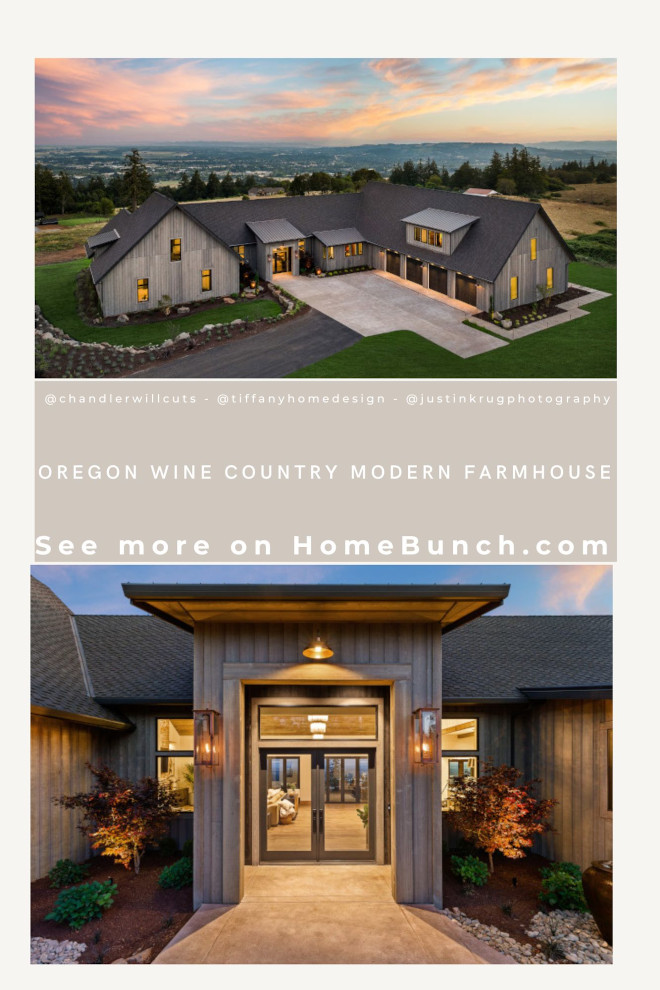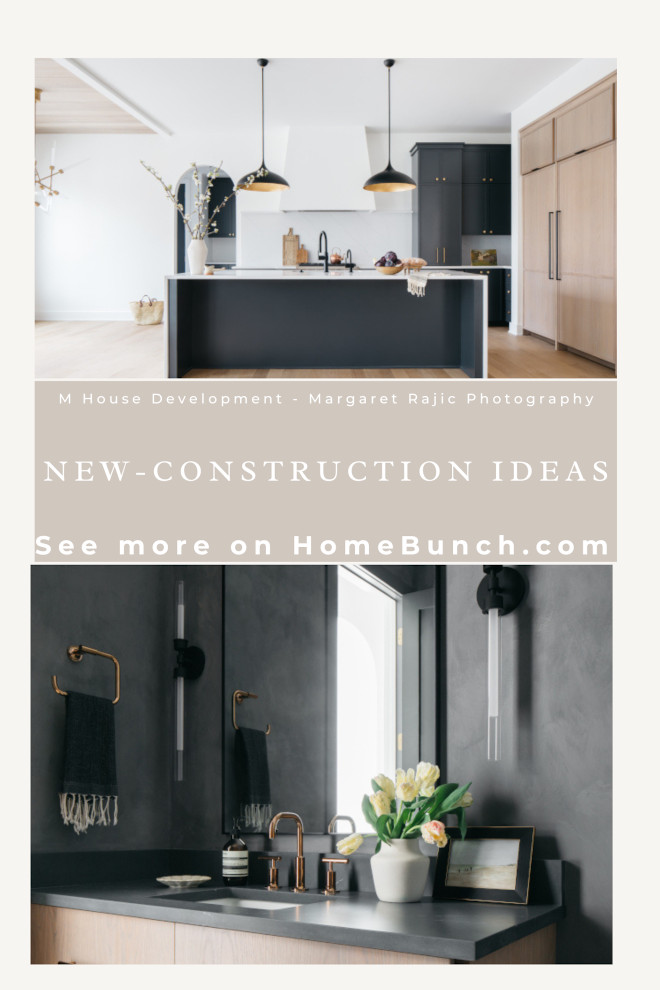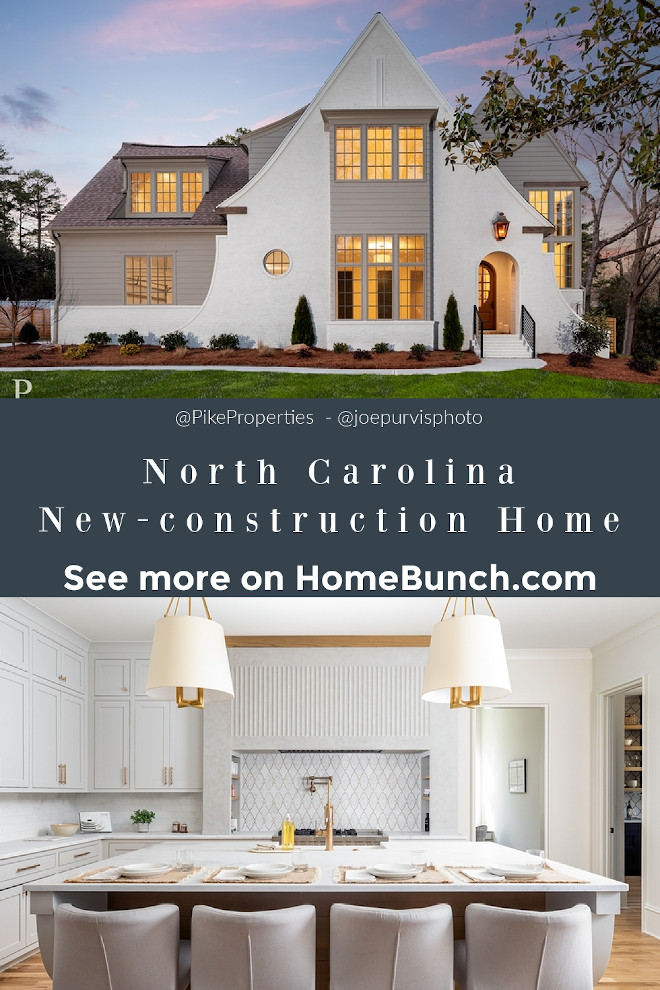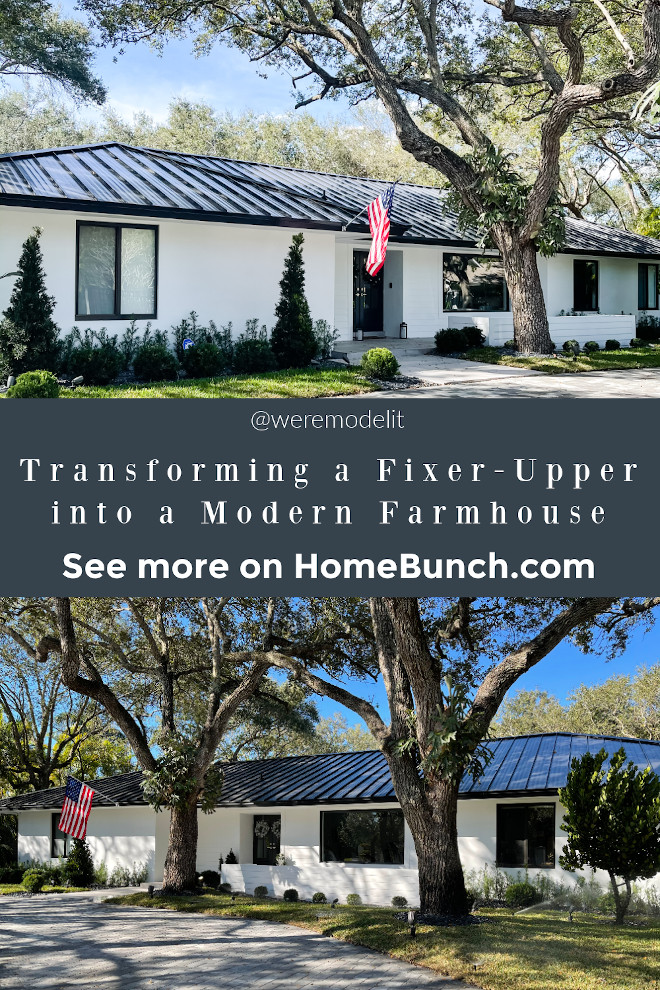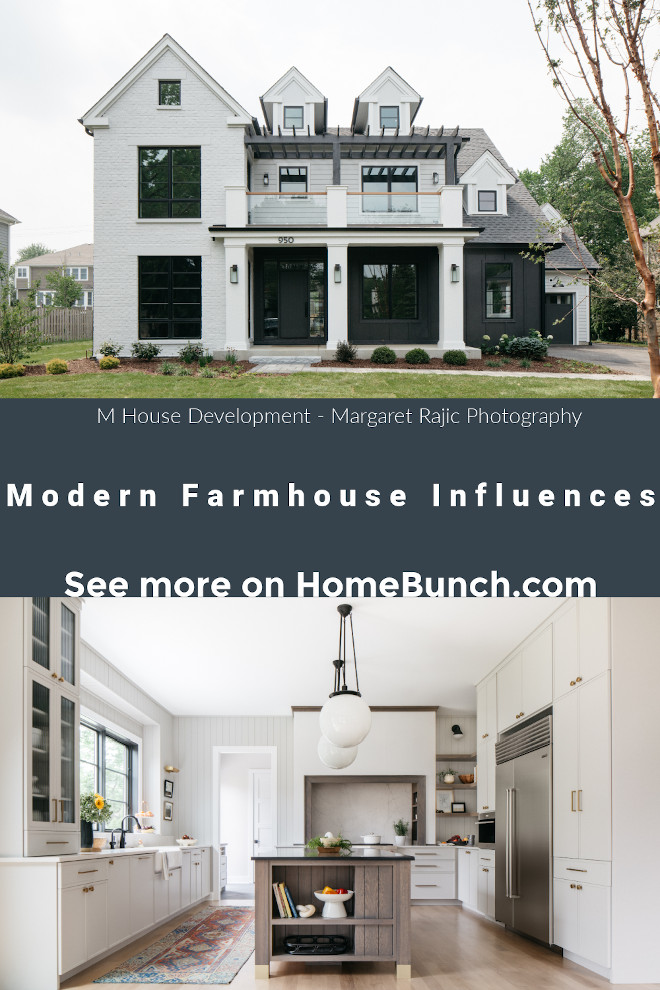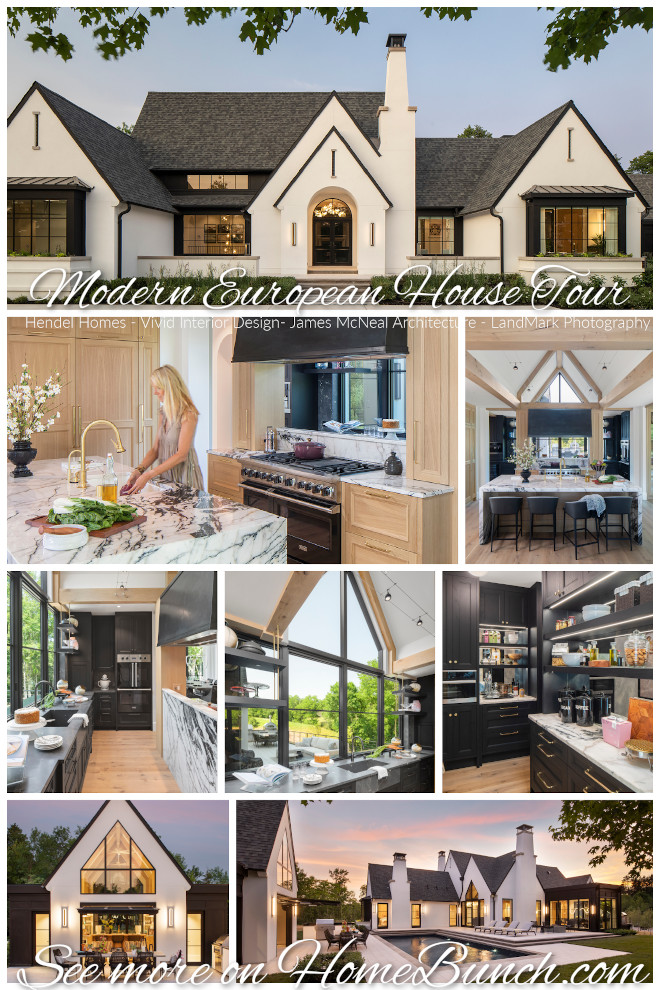 Follow me on Instagram: @HomeBunch

See more Inspiring Interior Design Ideas in my Archives.
"Dear God,

If I am wrong, right me. If I am lost, guide me. If I start to give-up, keep me going.
Lead me in Light and Love".
Have a wonderful day, my friends and we'll talk again tomorrow."
with Love,
Luciane from HomeBunch.com