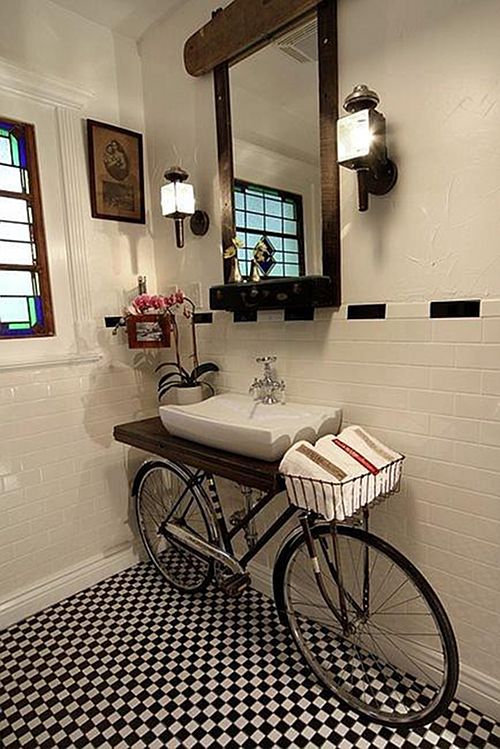 Are you a good recycler? Good to the point to reuse an old bike as a "pedestal" for your sink? When I first saw this I was laughing and loving it at the same time. Isn't it a cute idea? Definitely very unique! But the more I look at it, the more I ask myself if I actually would do such a thing in my own house.
I wish I had more pictures to share with you guys, but even not having other pictures I'm sure we can see plenty here, right? Take a good look at the sink itself. Not that common. Do you like the waves? The room overall is great. I love the old-charm feel to it, the subway tiles, the floors and what about that window? Just great!
Now, about the "bike", I'm sure I'd keep hurting my legs on the pedal. The cute thing is using the basket to store the towels and soap. That's clever!
To be really honest, I'm not really sure what to think of this idea and I can't wait to know your opinion on this one, since it's not so obvious. I know some people will look at it and love it and others will be a bit confused. What do you think? Cool or Fool?
I hope you guys have great plans for this weekend and take something from this post: Don't take everything so seriously. Be creative. Having fun along the way is very important!
xo
Luciane at HomeBunch.com
Get My Help with Interior Design: HB's Design Service.
Come Follow me on Twitter: Twitter/HomeBunch
Source: Achados de Decoracao.
* "Cool or Fool" happens every Friday. I've started this section where I post "different" and controversial things that I know some of you will love and others will not. The point is to tell us what you really think, regardless of anything. It's a space where you speak your mind and analyze what you see. Have fun with it and laugh along the way!