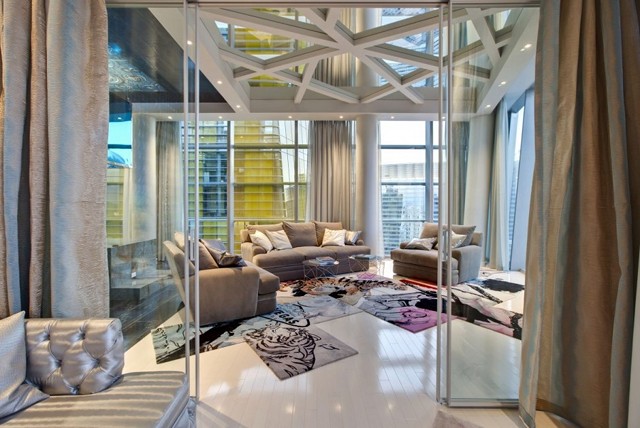 When I saw the first picture of this place designed by interior designer Mark Tracy of Chemical Spaces I thought this place wasn't that different, and it actually looked okay. Yes, I'd change that rug, where there's not only a pair of breasts but also a tiger and a gun stamped on it (sorry, not my kind of stuff) , but my "tour" didn't stop on the first picture and the more I saw, the more I asked myself about this place. There's some elements that could look great in any space and others that I would leave right where it belongs: Vegas!
According to the Contemporista, the designer used only the finest materials for every surface of the penthouse and really wanted to create an extravagant environment.
"This penthouse's primary features include a 13' tall by 13' wide floor-wall-ceiling glass mosaic in an ocean blue color scheme with embedded images and bordered by a glass veneer tile. In the middle of the centerpiece mosaic hangs a chandelier encased in a blue glass cube."
Take a good look and let me know if you think this penthouse is Cool or Fool.
Magic Rug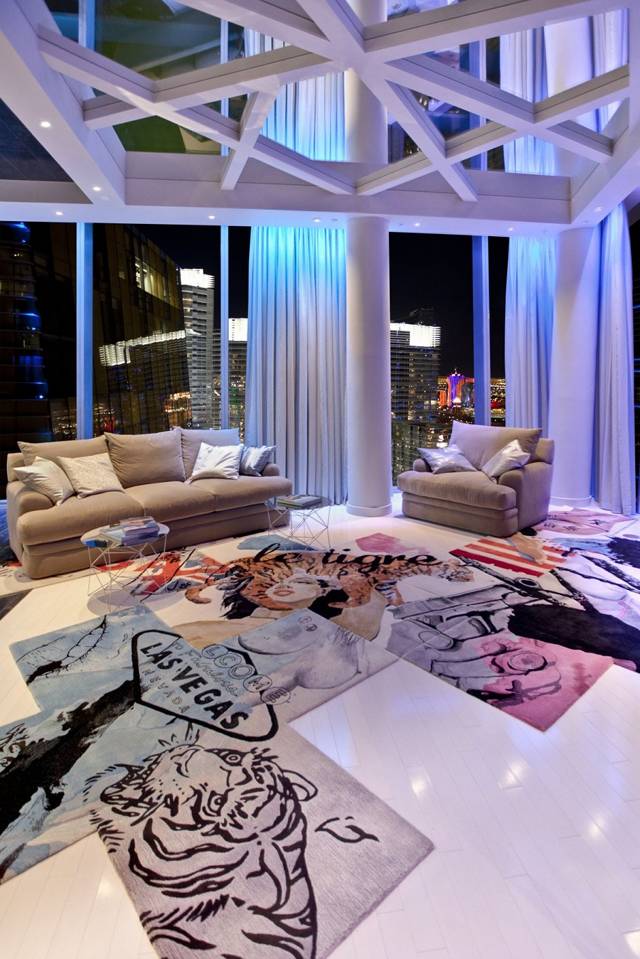 A closer look at the "pièce de résistance".
Lights, Camera, Action!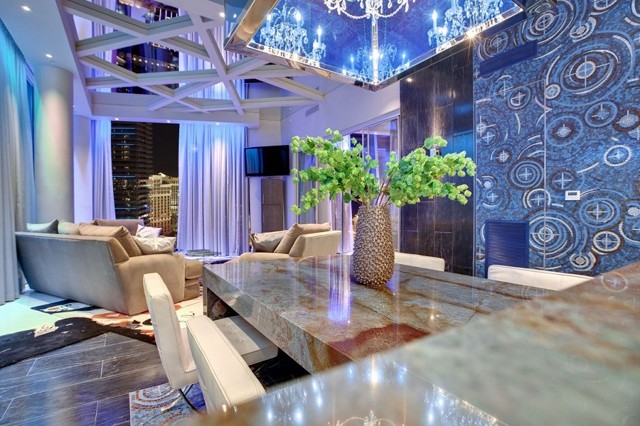 This place has 120 linear feet of RGB LED lighting embedded around the perimeter of ceiling throughout the entire penthouse.
Love In A Box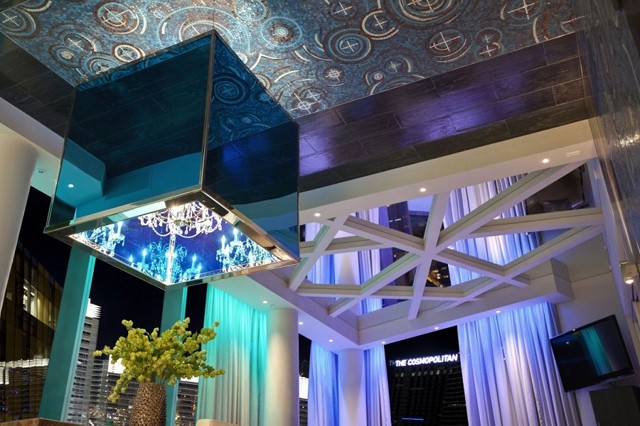 The strange and unique boxed chandelier.
Mosaic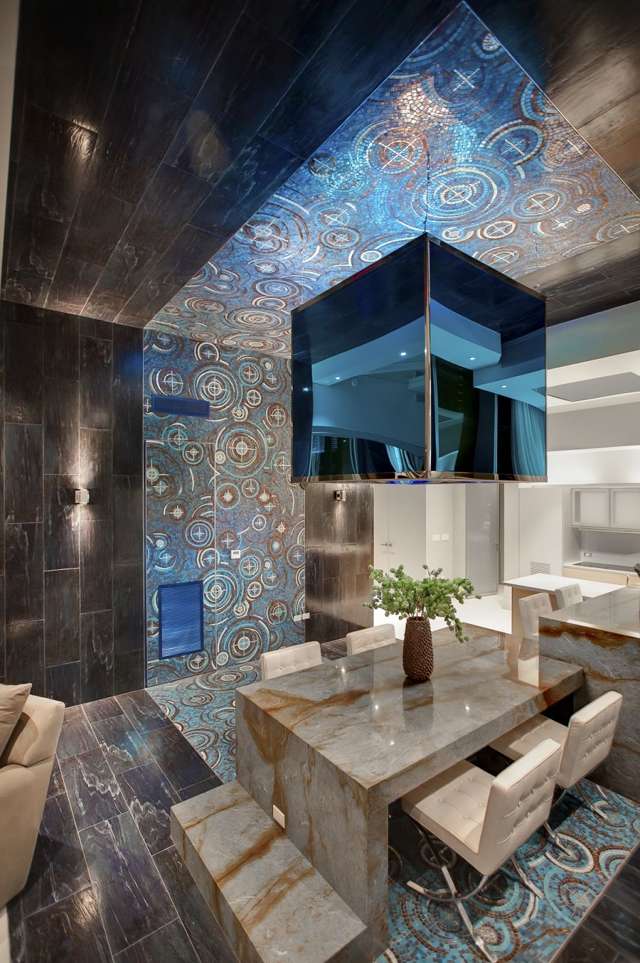 Yet another very unique feature, the mosaic wall.
Take That!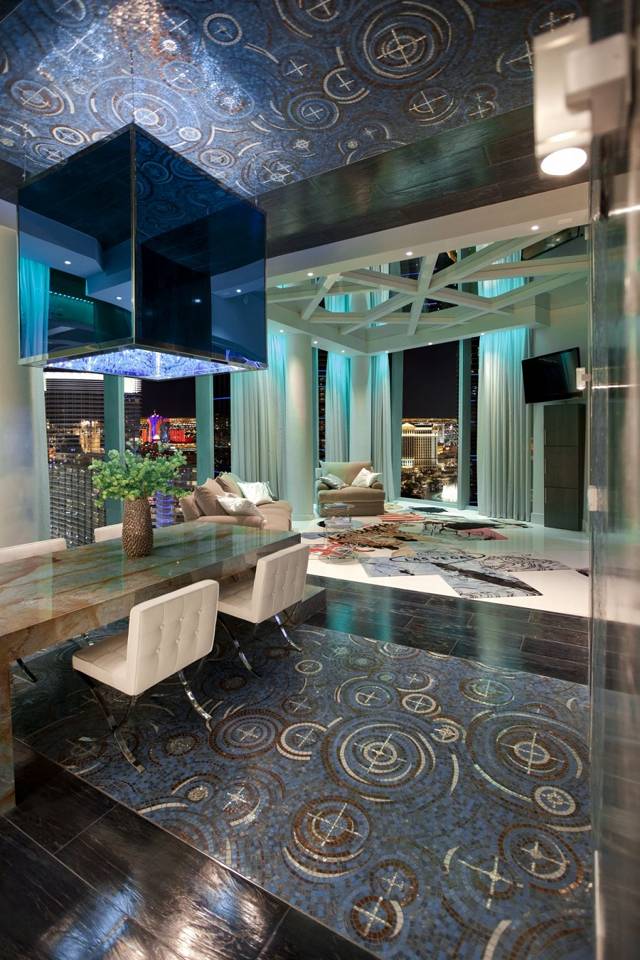 Alright, loving or hating the interiors, we can't deny that view is fantastic!
Bachelor's Paradise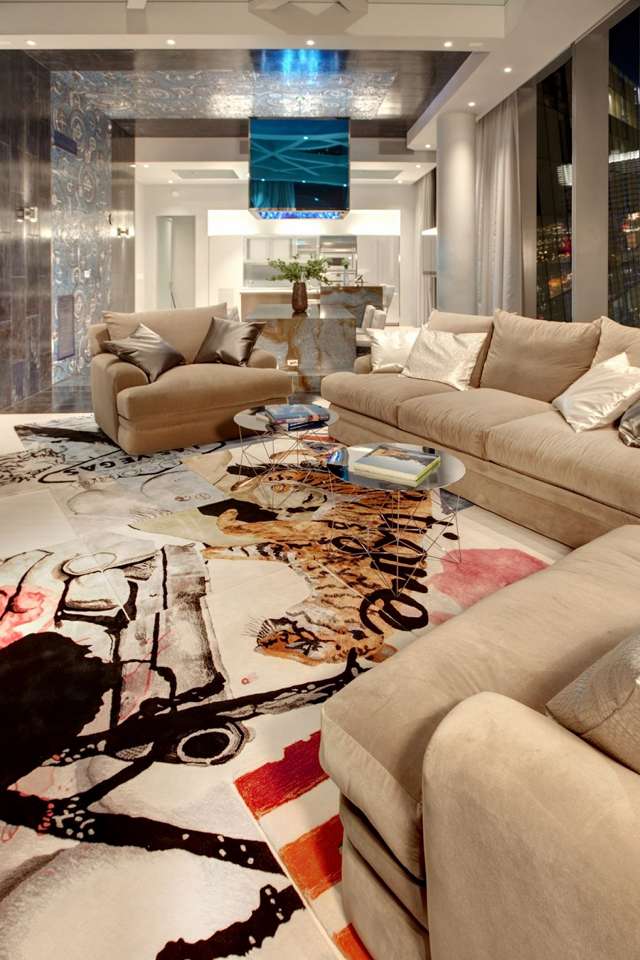 Wow… I can almost see Charlie Sheen "partying" in this place!
Master Bedroom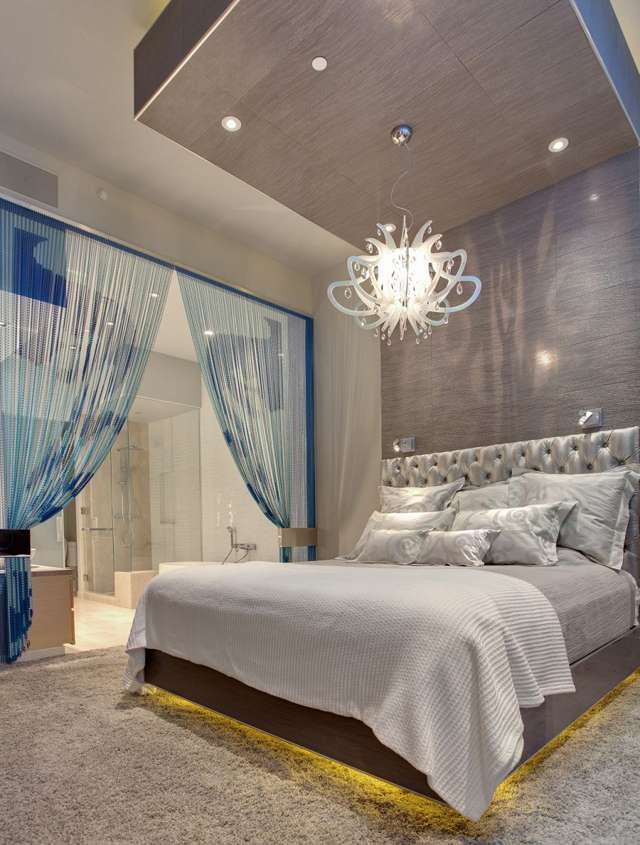 I love the bed and the chandelier. This bedroom could be "Vegas-free" if it wasn't for the light under the bed and, of course, those curtains! The bathroom seems to be the only "normal" place in this penthouse, unless the toilet starts playing some music while you're using it. I have a feeling that anything can happen in this place. 🙂
Wiggly Curtains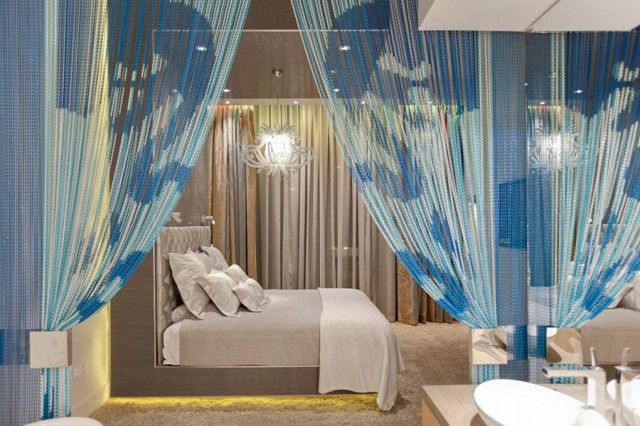 These curtains would be nice at a cottage by the sea, but it's totally tacky here.
So, what do you think about this place today? Do you think it's a place that could inspire you or simply a place that only people with little taste and lots of money would actually buy? Let me know what you think of this place as you see it. Is it Cool or Fool?
Friday! How exciting! Actually, I'm planning on celebrating (away from Vegas) my 8th Anniversary with my husband during the weekend. We won't do too much, just enjoy each others company. I think that's all we really need and want, especially after a very busy week.
I hope you can have a very blessed and safe weekend with the people you love, the people that make you laugh and remember to enjoy the calming moments the days bring to you. Calming moments should always be used to hear what our hearts have to teach us.
See you back here on Monday.
xo
Luciane at HomeBunch.com
I Can Help You with Interior Design: HB's Design Service.
Come Follow me on Twitter: Twitter/HomeBunch
Source: Contemporista
* "Cool or Fool" happens every Friday. I've started this section where I post "different" and controversial things that I know some of you will love and others will not. The point is to tell us what you really think, regardless of anything. It's a space where you speak your mind and analyze what you see. Have fun with it and laugh along the way!