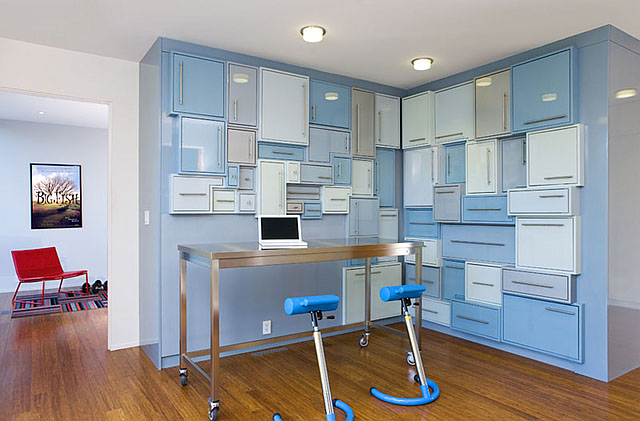 Cool or Fool is always filled with really "crazy" decor and sometimes we will find hideous interiors in this series. Why, you ask? Because I love knowing your opinion on many different kinds of places and seeing how many people agree or disagree with the pictures seen here. It keeps things fun and we even laugh a little when we find certain things.
I'll keep this Cool or Fool a bit short today. I wish I had found more pictures, but I want to share this home office with you regardless of that because I think it's very unique. Have you seen anything like this before?
This totally customized home office has a place for everything! From large drawers to tiny ones. The "desk" is made of stainless steal and the stools are a bit strange and I wonder for how long one can stay seated on them.
Take a look and tell me if you think this home office is Cool or Fool. Would you have it at home?
*****
Can you promise me one thing? Promise you'll take care of yourself during this weekend. I'm a big believer that the more we love ourselves, the more loved we will be. It's so important for us to value who we are and everything we've achieved in this life so far. Have confidence and trust in yourself. We need to believe we're capable of achieving our biggest goals in life and most importantly, that we're deserving of that.
Sometimes we can be our worst enemy because we keep judging ourselves, seeing all of our faults and rarely appreciating our efforts. If we stop for a minute and realize we've done more right things than committed mistakes, then we can understand that life is where we learn to grow and every day is a new chance given to us. Don't always try to be extraordinary. Don't always expect more. Relax a little and watch life exceed your expectations.
Have a blessed weekend!
xo
Luciane at HomeBunch.com
Get My Help with Interior Design: HB's Design Service.
Come Follow me on Twitter: Twitter/HomeBunch
Get Home Bunch Via Email: Become a Subscriber
Source: Priceypads.
* "Cool or Fool" happens every Friday. I've started this section where I post "different" and controversial things that I know some of you will love and others will not. The point is to tell us what you really think, regardless of anything. It's a space where you speak your mind and analyze what you see. Have fun with it and laugh along the way!