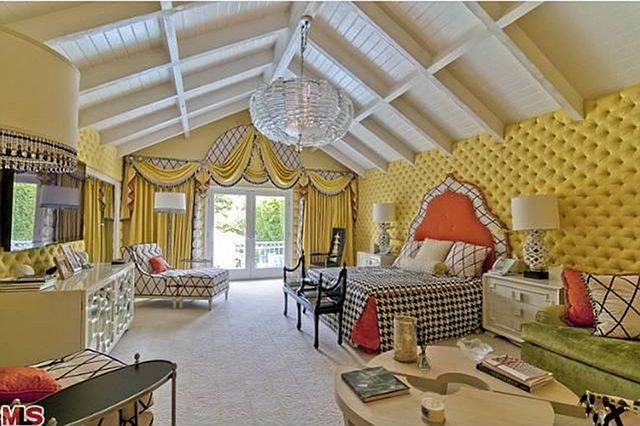 The Cool or Fool of this week is all about love OR hate and nothing in between. I saw this bedroom the other day from a listing of a house in Beverly Hills. The house itself is very trendy and even has an interesting family room designed by interior designer Michael Taylor. I was loving the house, until I got to this picture. I took a long look at this bedroom and I wondered how far should we go when designing our rooms. We all agree that we should decorate our homes however makes us happy but when you're in this business you end up seeing many, many rooms that have great potential but instead of looking fabulous, they become victims of the trends and end up looking totally overdecorated.
Looking at this room, you'll see many great elements, including the beautiful architecture of the room itself. But you'll also see the yellow tufted walls, the same fabric used on the chaises are also used on the bed board and pillows. Too much? Well, you take a look and tell me know if this master bedroom looks Cool or Fool.
I hope you guys have a brilliant weekend. Enjoy your Halloween, eat some candy and have lots of fun! Fun, fun, fun!!!
xo
Luciane at HomeBunch.com
Get My Help with Interior Design: HB's Design Service.
Come Follow me on Twitter: Twitter/HomeBunch
Source: Click here to see the rest of the house: Redfin.
* "Cool or Fool" happens every Friday. I've started this section where I post "different" and controversial things that I know some of you will love and others will not. The point is to tell us what you really think, regardless of anything. It's a space where you speak your mind and analyze what you see. Have fun with it and laugh along the way!