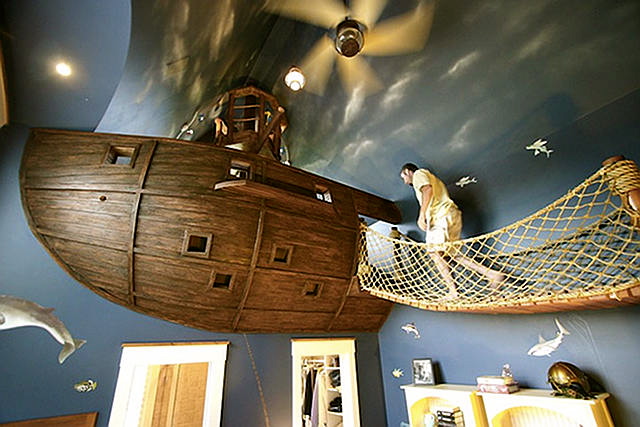 If you're familiar with the interior design world and watch shows on HGTV, you probably have seen many interior designers disagreeing about making a kid's bedroom or even a nursery look "too" juvenile. Not generalizing, but many interior designers would advice you to use fun and colorful fabrics around your kid's nursery, but rarely would recommend a themed room. Why? Because as we all know, kids grow up fast and you would have to keep updating the room every couple of years. With a neutral nursery, the kid can grow and you only have to make minor changes. In other words, you would save lots of money! That's all right, all good, but when I found some pictures of this super-fun bedroom I had to include it on "Cool or Fool" because I'm so curious what your opinion on themed rooms is.
This pirate ship bedroom was designed by Steve Kuhl for a very lucky 6-year-old boy.
"The main feature of the room is the incredible floating pirate ship. Kuhl used 2×12 ribs to construct the hull of the ship, covering them with layers of 1/2 inch plywood to act as the planking. A bomb-proof blend of plaster and epoxy with integrated coloring was used simulate an old ship's hull.

The room is also decked out with a rope bridge that connects the pirate ship to the top of a jail cell, and a rope suspended from the ship's hull provides drop-in access to the closet. There's also a completely hidden spiral slide, that lets you travel downstairs in a more adventurous way."
So, even though many interior designers say that you shouldn't really go too far with themed bedrooms, what do you think about this one? Too much? Super fun? Cool or Fool*?
High in The Sky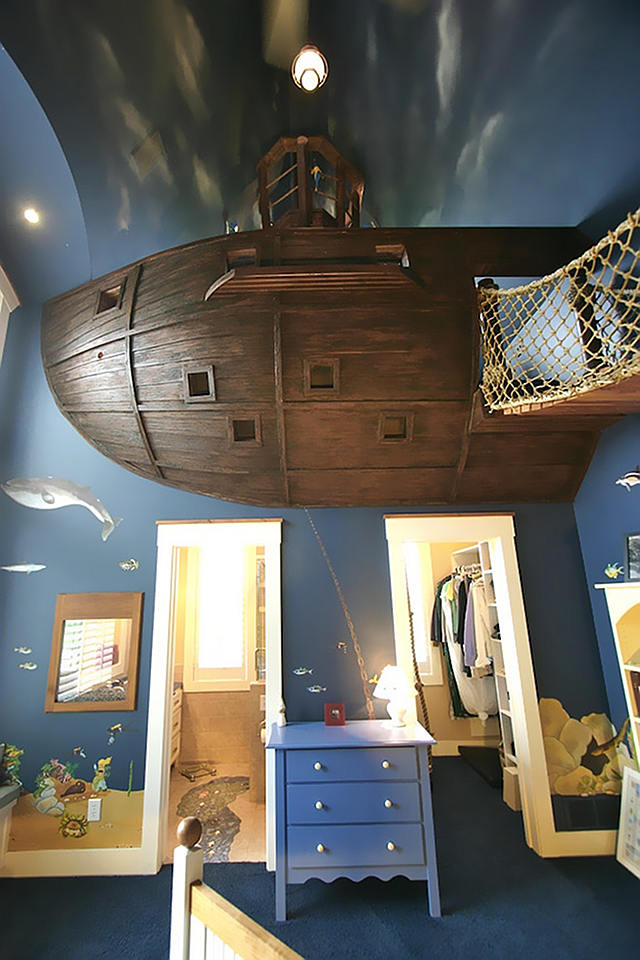 Would you feel totally comfortable with your kid going up that high?
Wiggly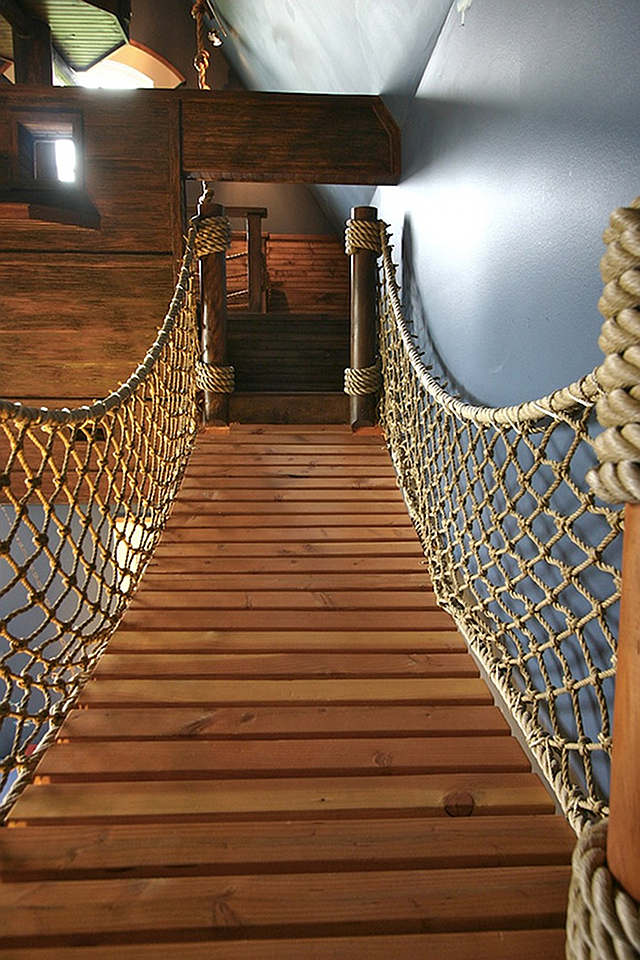 Oh, I miss being a kid!
Ahoy!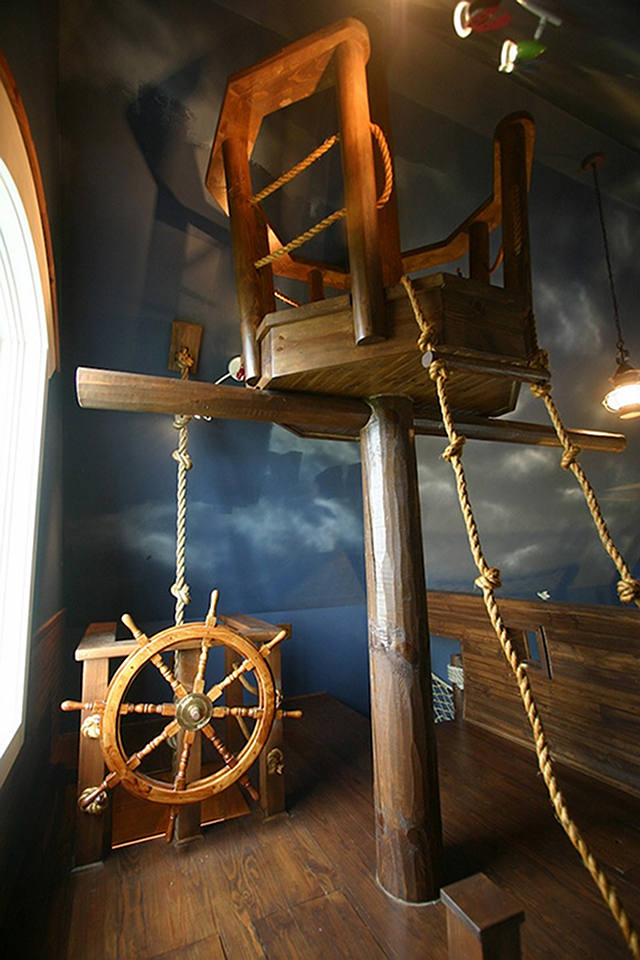 This is how it looks inside the ship.
Secret Passage
A "secret passage" to the level below. Now, this would freak me out to leave a "hole" like this in my kid's room. 🙂
To The Bridge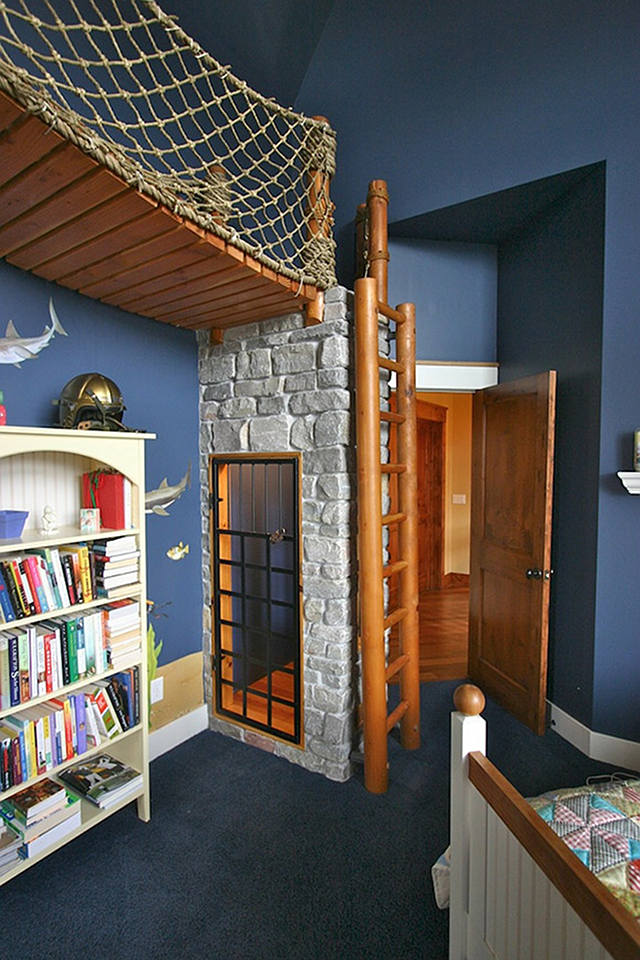 You have to climb the ladder to get to the bridge.
I'm really curious what you think about this. Should we keep our kids' rooms neutral and save money in the future or should we make their space feel like their space (a space where they can live out their fantasy of being a pirate, a pilot, a cowboy, a princess)? What do you think of themed bedrooms? Cool or Fool?
One thing I know for sure… we're kids only once. 🙂
Did you have a good week? Mine was good, but I've been feeling even more tired and also really nauseous. I'm almost 8 weeks pregnant now (on Sunday) and I know I'll feel better after the 12-week mark. At least, that's what I'm hoping! But overall, I'm doing great and I'm so, so excited because my little boy will be turning 6 on Saturday. It's just incredible to see your kids grow. It's a real blessing!
Make sure to enjoy your weekend. Do something you enjoy and haven't done in a while. Eat your favorite food, buy a new perfume, go for a walk in the park and see the first blooms of spring. Make of this weekend a special one.
See you back here on Monday!
xo
Luciane at HomeBunch.com
I Can Help You with Interior Design: HB's Design Service.
Come Follow me on Twitter: Twitter/HomeBunch
Photo source: Like Cool.
* "Cool or Fool" happens every Friday. I've started this section where I post "different" and controversial things that I know some of you will love and others will not. The point is to tell us what you really think, regardless of anything. It's a space where you speak your mind and analyze what you see. Have fun with it and laugh along the way!