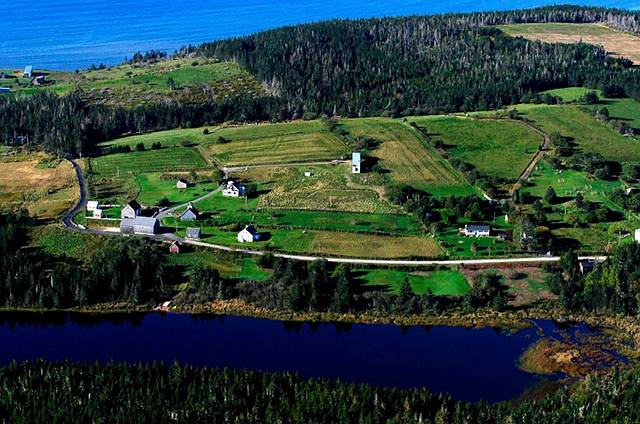 I feel right at home seeing this picture. Not because I live in a sliding house, which I don't, but this house is located not too far from where we live. This house was designed by MacKay-Lyons Sweetapple Architects and it was completed in 2008. This contemporary 1,700 square foot vacation home is located in the coastal community of Upper Kingsburg, Canada, where the views of the ocean, hills and farmhouses are panoramic.
The sliding house is so unique and I felt surprised that you can book it from $1,800 to $2,250 per week, depending on the season. Wouldn't it be cool to be in a house featured here on "Cool or Fool"? I like the idea!
The Siding House by MacKay-Lyons Sweetapple Architects:
"The house is sited on an agrarian hillside, along a 250 year old existing stone wall so as to cultivate rather than consume the field. Its sliding axis is eastward, down the hillside to the lake. In the historic village below there are three houses, corresponding to three sons of the original settlers. There are three barns, three chicken houses, etc. The third barn was demolished in the 1970s.

The house adds back this lost barn. It is sited orthogonally to the other village buildings. It is both of its place and radically modern – testing the limits of a critical regionalist position.

The Sliding House sets up a tension between a 'plumb' interior and a 'crooked exterior.' A building precedent is the 1753 house immediately below, leaning down hill due to 250 years of prevailing westerly winds. The plan addresses the human need for prospect and refuge. A thick north service wall containing stairs, baths, kitchen, hearth, and storage protects the house from the cold north winds; while the continuous south ribbon window opens the house to the sun, and the absolute ocean horizon. The volume of the house pinwheels symmetrically in section about the horizontal axis of the ribbon window, creating an upper and a lower bedroom.

The rough exterior cladding of industrial corrugated metal is contrasted with a refined interior hardwood liner completely crafted of flush, bleached clear poplar. The tilted box allows the corrugated roof to drain downhill. The quiet restraint of this minimal aesthetic allows the power of the landscape to dominate. This is an absolute architecture both in its platonic form and in its irreducible, monolithic palette of materials. It approaches the idea of zero – minimal form, maximum content."
Now, take a good look and let me know if you think the Sliding House is Cool or Fool.
Going Down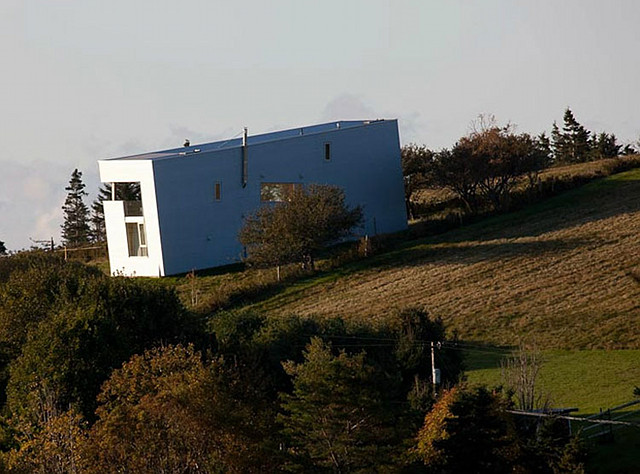 Truly unique!
Farmland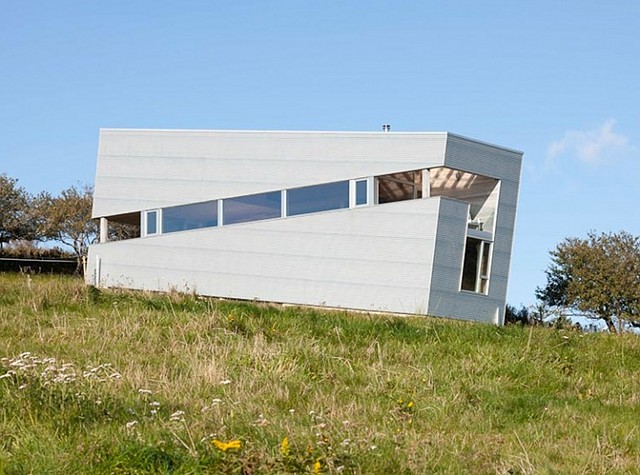 The surroundings seem to be very peaceful.
Closer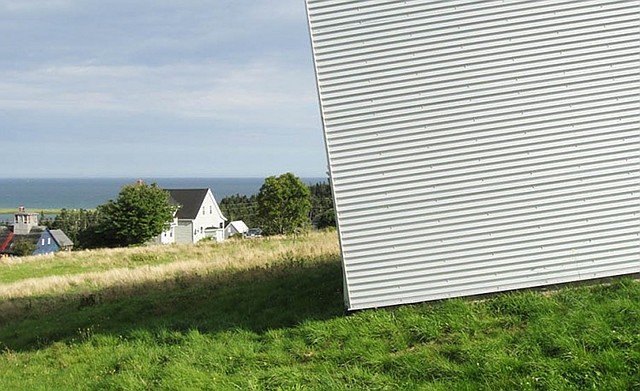 Taking a close look!
Summer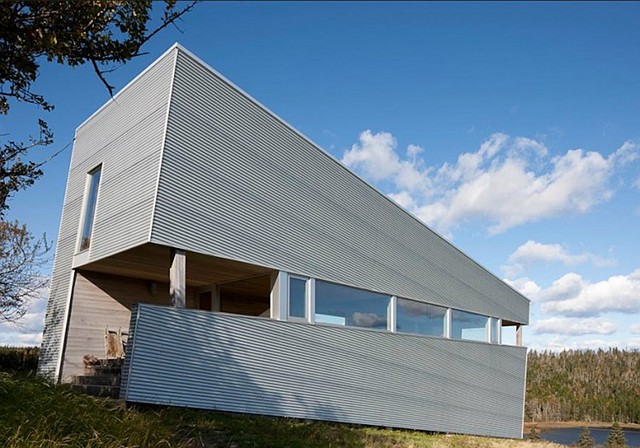 Would you choose this place to spend some days during the summer?
Original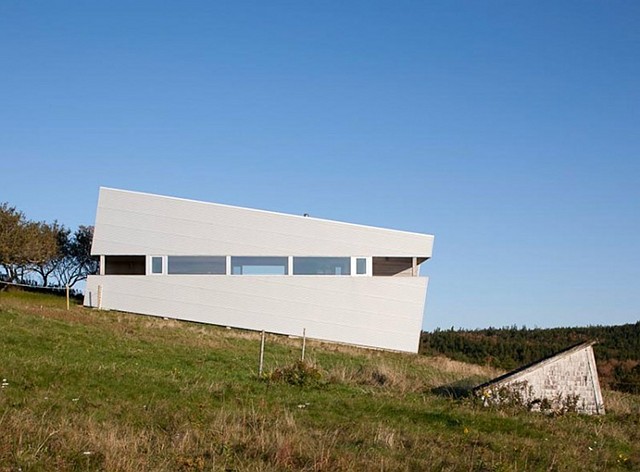 I can't deny it: I like original minds.
Front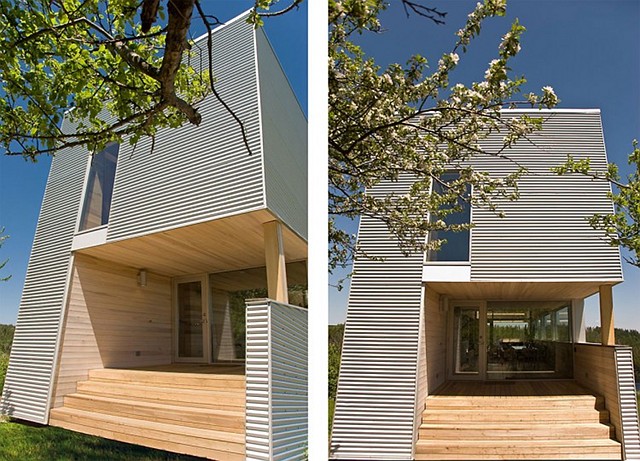 Front of the house.
Back & Side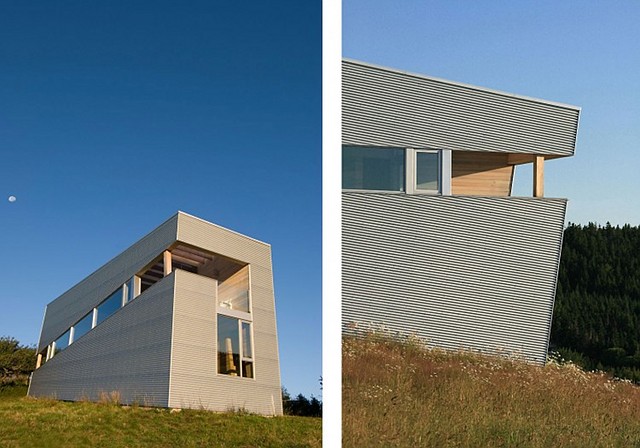 The back and side of the house.
Balcony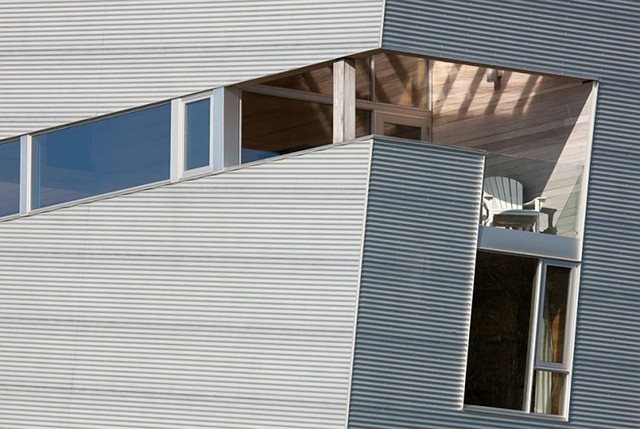 Interesting balcony.
Views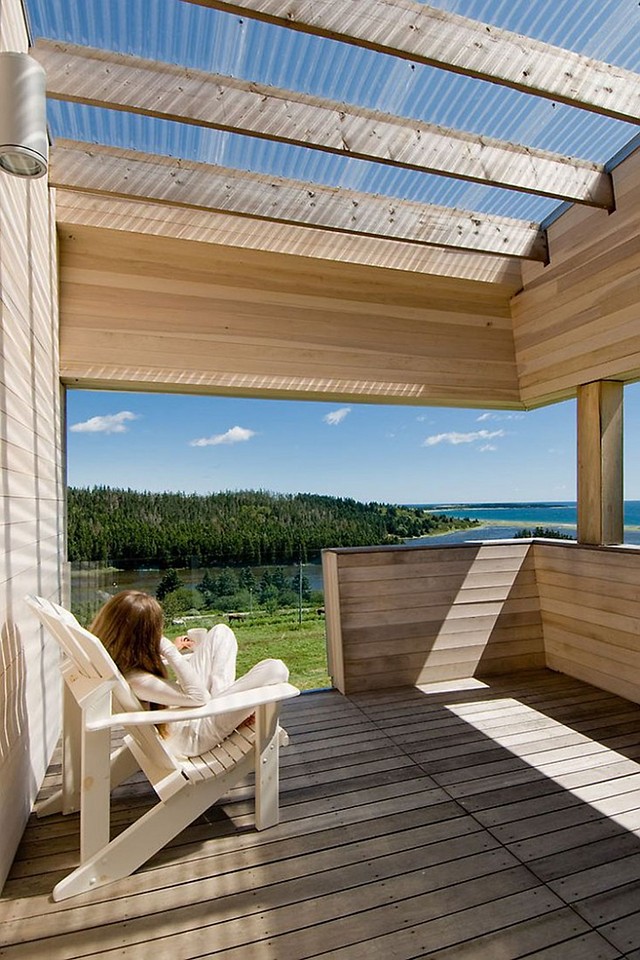 Great place to enjoy the beautiful views
Interior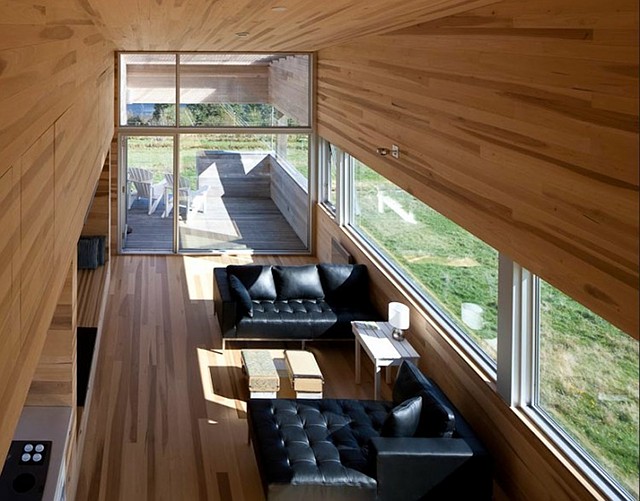 The sleekness is continued inside of the house.
Eating Area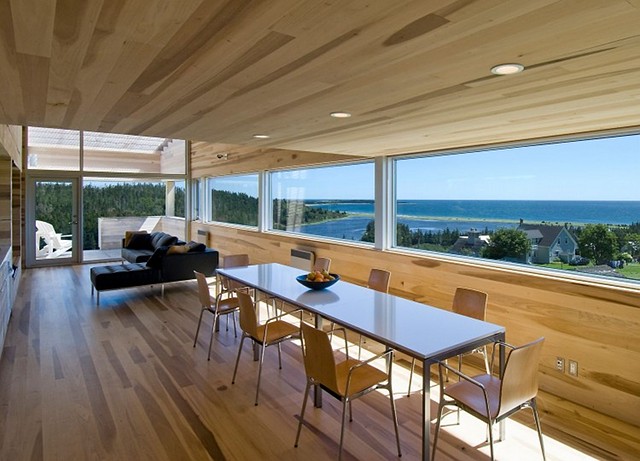 I love the views of this place!
Kitchen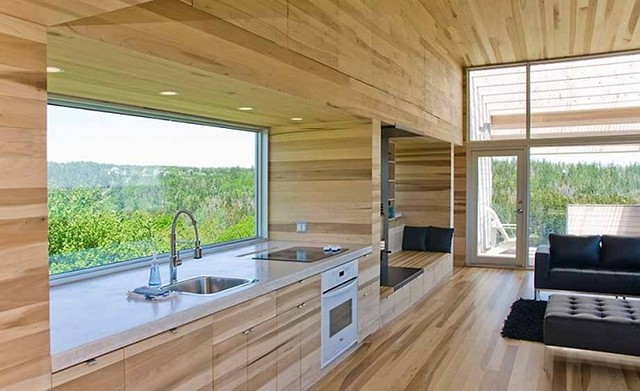 Practical.
Wood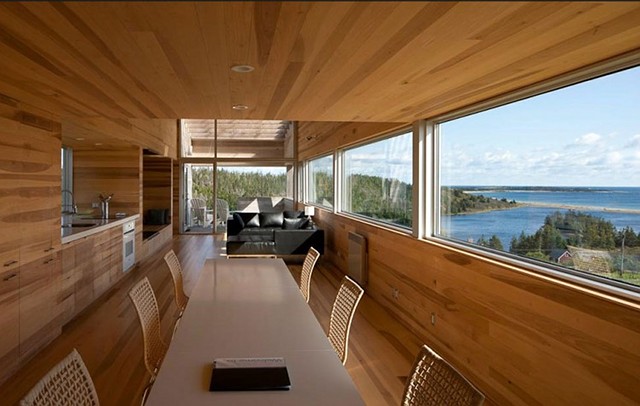 I couldn't live with this much wood if I had to live in this house, but I think it's lovely for a vacation home.
Master Bedroom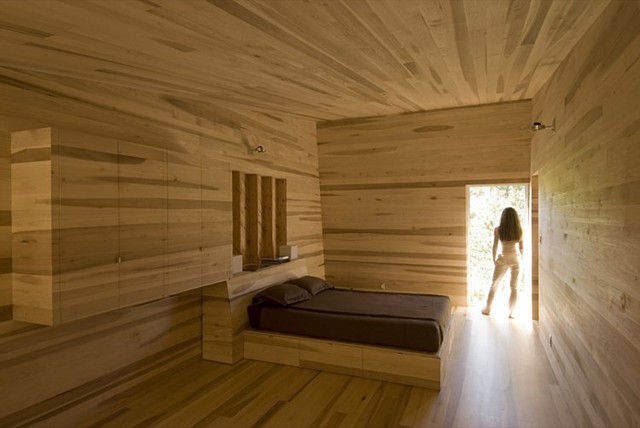 This room needs some help!
Guest Bedoom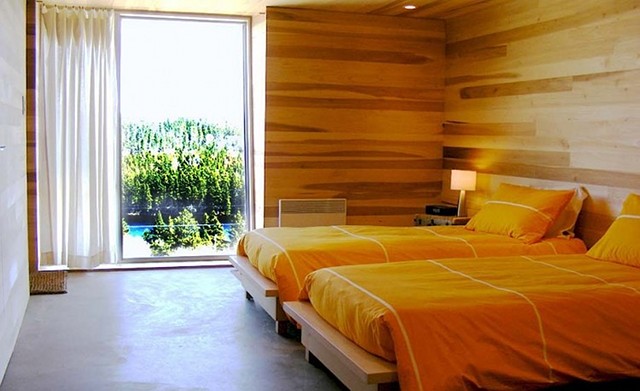 I like seeing more color here. I think the whole house could use more color.
Dreamland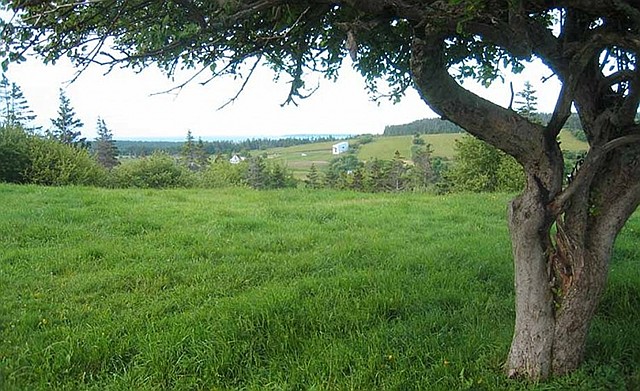 This is truly a beautiful and peaceful place.
Now, that you've seen the Sliding House inside and out, tell me what you think: Cool or Fool?
Seeing the surroundings of this house made me remember how lucky we are for living in a place very similar to it (quite close, actually). I think it's important to live in a place where you feel not only safe, but also a place you can feel at home. It's so hard to find a place like that after you get out of where you grew up, but if you're lucky enough to be in a place where you can feel happy, then, you've found "home" once again.
I guess this is the biggest purpose of this blog; feeling at home, wherever home might be.
I also want to thank you all for the sweetest comments and emails you sent to me yesterday! Words truly cannot describe how touched I felt by your support. I never knew I'd get this much love and kindness from you when I first started blogging. You make it all worth!
Some of you might not know, but this is our 3rd pregnancy. I have a 6 year old son and an almost 5 year old daughter, and now, our baby boy! We didn't expect to get pregnant again and I know this baby was sent from God to us. But somehow, I always felt in my heart that a baby boy would come to our lives someday and I guess I was right! The kids, my husband and I couldn't be happier. We all know how blessed we're being at this moment.
So, thank you so much for being part of this moment of my life, for being there so I can share this happiness with you too.
Have a safe and blessed weekend!
xo
Luciane at HomeBunch.com
I Can Help You with Interior Design: HB's Design Service.
Come Follow me on Twitter: Twitter/HomeBunch
* "Cool or Fool" happens every Friday. I've started this section where I post "different" and controversial things that I know some of you will love and others will not. The point is to tell us what you really think, regardless of anything. It's a space where you speak your mind and analyze what you see. Have fun with it and laugh along the way!