Friday! Ooohooo! Are you off from work yet? I hope you can have some quiet time during this weekend, maybe take a bubble bath… and talking about bubble baths, I couldn't pass this one up without showing it to you. This is an outstanding house in Westport, Connecticut and it's on the market for $6.5 mil. I was taking a look and even thought about making a post, that was until I clicked on the master bathroom's picture and saw the tub!
I must say I felt a bit confused about it. The free stand tub wasn't free at all. Poor thing, right? They stuck it by the window and made sure to even add tiles around it. And I keep asking myself "why?" Why would you buy a free stand tub and make it look just like a "normal" tub? I thought at first it could be that the tub was on sale, but again, if you have a $6.5 mil house, I'm sure you can afford any kind of tub.
Well, take a look and tell me if you think what they did is it "Cool or Fool".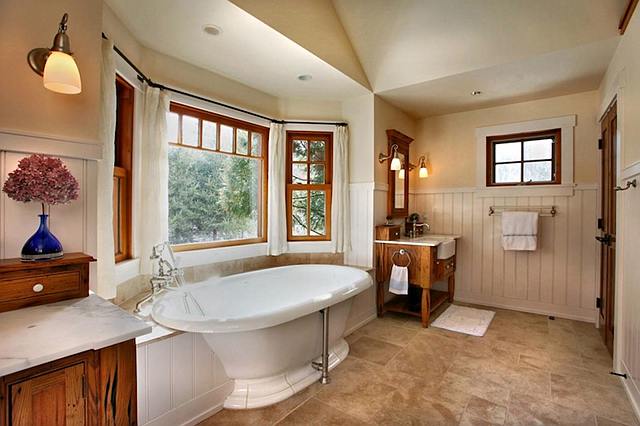 What do you think of this? Is it Cool or Fool to use a "free stand" tub like this or they should've planned it better with another tub? I believe they wanted to have storage on one side of the tub, but if that's the case, why not add a charming (and small) side table?
Can't wait to hear what you think about this!
Click here to see the rest of the house.
I really hope all of you have a wonderful weekend. Have fun, people! Really! Enjoy your life, take a minute to simply do something you want to do, not have to do. We so often forget what gives us pleasure and feeling pleasure is so important. I understand we have so many things we need to take care of, but sometimes we truly need to take a mental break from our errands. Use of this weekend to do that, even if it's only a few hours, but remember that when re-energize our mind and spirit, we can offer more to everything that surround us.
Be happy and be safe.
Wishing you a blessed weekend!
xo
Luciane at HomeBunch.com
Get My Help with Interior Design: HB's Design Service.
Come Follow me on Twitter: Twitter/HomeBunch
Get Home Bunch Via Email: Become a Subscriber
Source: Willian Raveis via Pricey Pads.
* "Cool or Fool" happens every Friday. I've started this section where I post "different" and controversial things that I know some of you will love and others will not. The point is to tell us what you really think, regardless of anything. It's a space where you speak your mind and analyze what you see. Have fun with it and laugh along the way!