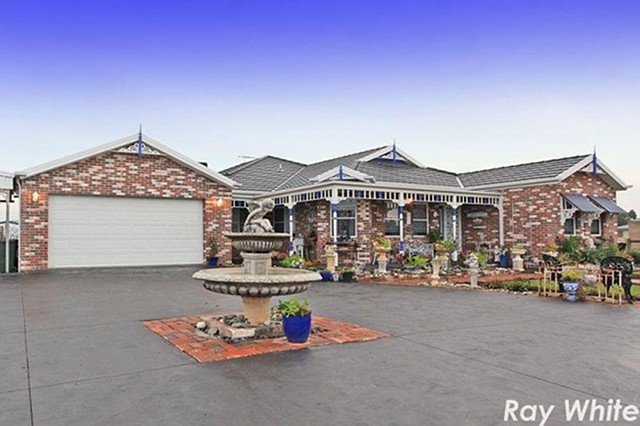 I saw this house the other day at my friend Julia's blog, Hooked on Houses, and I even told her that I had to show this to my daughter. As soon I did it, my little one was begging me to buy this home. I told her it was too far away, in Australia and that got her even more excited since "The Wiggles" are from there. My 5-year-old daughter's favorite color is purple. Once you take a look at this house, you'll understand why she thinks this is the "ultimate" home. But remember: She's only five!
This house is located in the South Eastern Victoria region of Australia and it was just sold. The asking price? $590,000, which is about $625,000 USD.
When I see a house like this I always imagine the owners to be really fun people. I can't picture boring people living with so much color! Can you? I can picture opening the door of this house to meet a very cheerful woman that loves to wear colorful outfits and always has a friendly smile on her face.
Please take a look and tell me what you think of this cheerful house. Cool or Fool?
Come On In!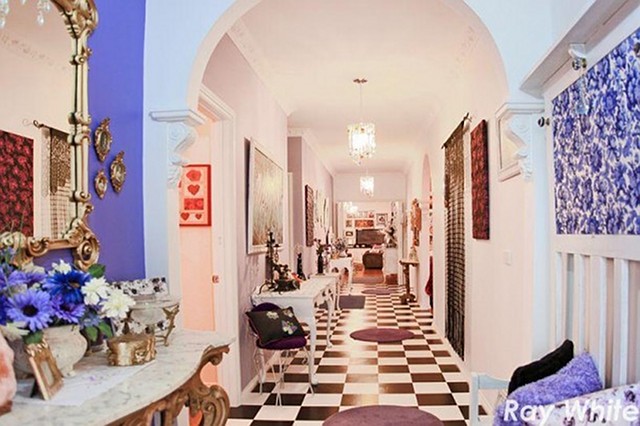 You notice all the patterns, colors and everything in between.
Purple Living room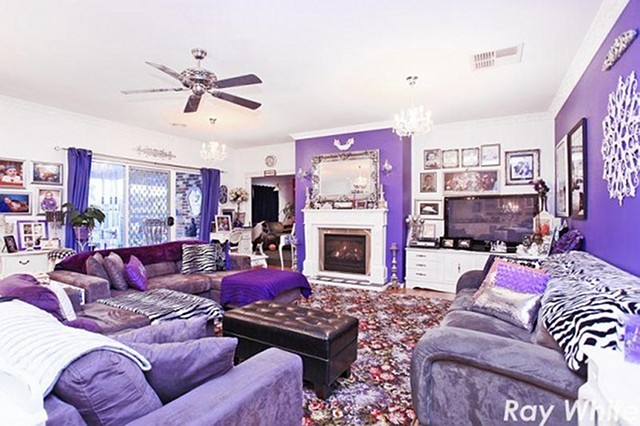 Oh, so much to look at in this room! Love Zebra? Got it! Love chandeliers? Got It! Love ceiling fans? Got it! Oh, you can have it all, baby! Or can you?
All in One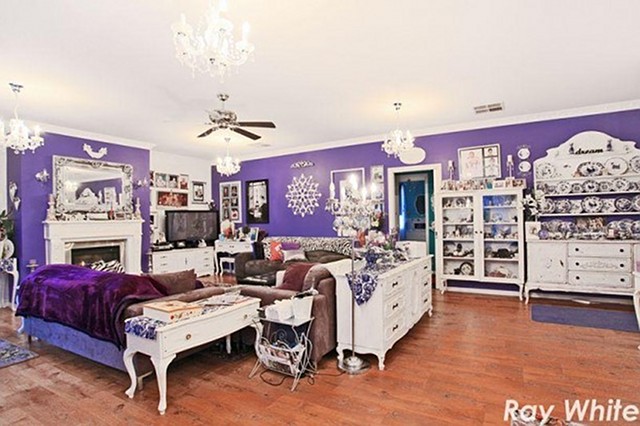 You know what I'd love to do here? I'd love to go "shopping" in this room! There's some great elements here that are hard to find. Balance is always the key, my friends!
Color Me Kitchen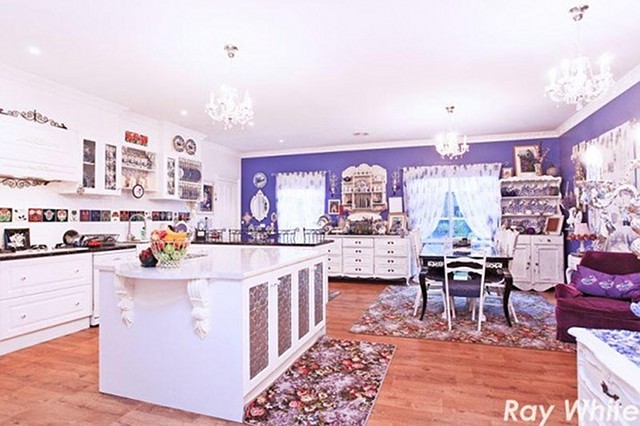 This kitchen has great space and so much potential.
Imagine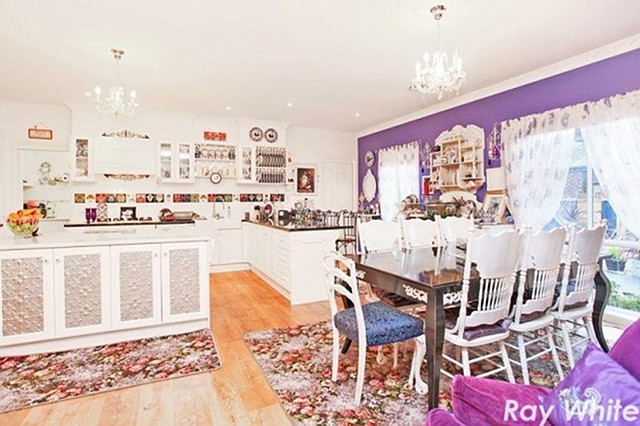 How would you design this space?
Whatever You Want it to Be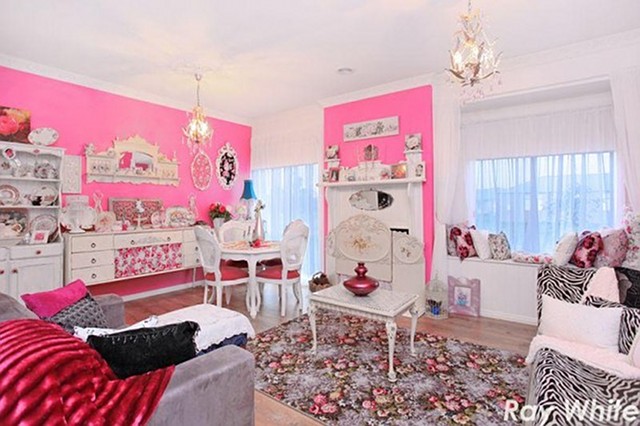 Tell me one thing, what would you call this room? Family room? Dining room? Whatever it is, it's a bit too much, once again!
Master Bedroom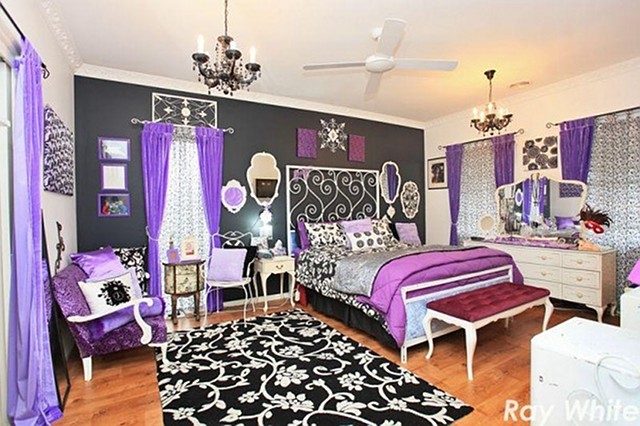 What? You didn't think purple wouldn't make it to the master, right? You'd be wrong!
Master Bathroom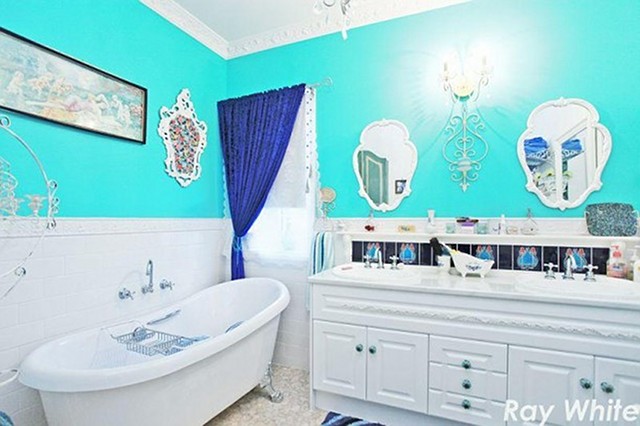 I actually really like this bathroom. The color should be much lighter and that purple-ish/blue curtain should go and then you'd have a charming bathroom!
So, are your eyes hurting yet or did you actually enjoy it? I simply can't wait to hear your thoughts! Is this Australian home Cool or Fool?
What are your plans for this weekend? Relaxing is at the top of my list, but who am I kidding, I'll probably help my husband assemble something for our baby's nursery. Time is flying! I can't believe we're in middle of September already! This remind us to enjoy life and really take the time to spend doing whatever we like and being with the people we care for.
Try to do the same during this weekend. Try to do something you really enjoy and haven't done for a long time. Try to be with someone you really like but haven't seen or talked to for a while. Call or be there.
Be happy and safe during this weekend and thank you so much for dropping by every day. I never get that for granted.
xo
Luciane at HomeBunch.com
Get My Help with Interior Design: HB's Design Service.
Come Follow me on Twitter: Twitter/HomeBunch
Source: Hooked on Houses.
* "Cool or Fool" happens every Friday. I've started this section where I post "different" and controversial things that I know some of you will love and others will not. The point is to tell us what you really think, regardless of anything. It's a space where you speak your mind and analyze what you see. Have fun with it and laugh along the way!