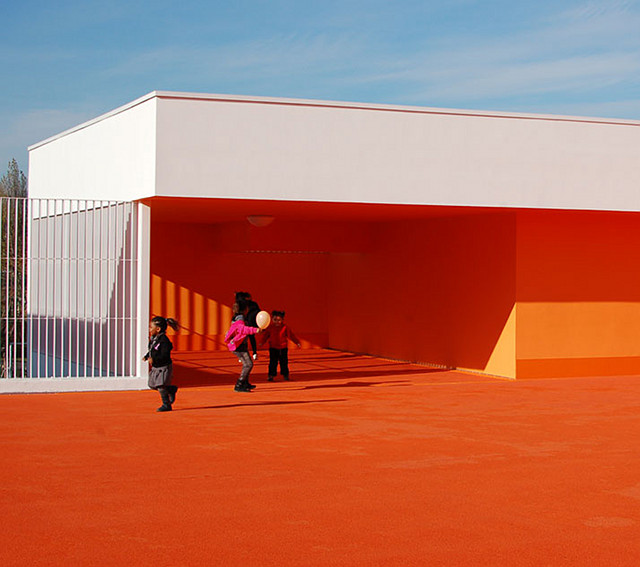 First time I saw this school, called Josephine Baker School, built by Dominique Coulon & Associés I was stunned by its architecture but at the same time, I was shocked by the choice of the really, really strong orange, not used as a focus point, but used on the majority of the walls, many floors and even ceilings. Now, that got me thinking and wondering if this is a good thing or a bit too much.
By Yatzer: "Emphasis has been given by Dominique Coulon & Associés to the relationship between the child's physique and the space. It isn't just another school which has been designed as an area for adults in a micro scale serving children. The use of natural products – such as linoleum on the floors, and wood for the door and window frames – and the attention paid even to the smallest details contribute to making the building an almost luxurious place, a place hailed enthusiastically at its inauguration by a population of parents and pupils."
Please, take a look and let me know what you think of this Orange school. Is it Cool or Fool?
Exterior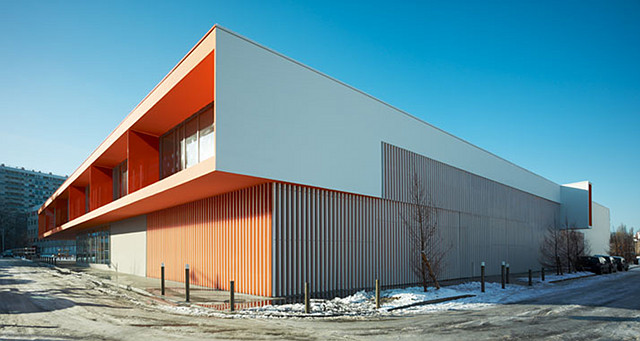 The exterior looks modern, but not too uncommon for a school.
Separated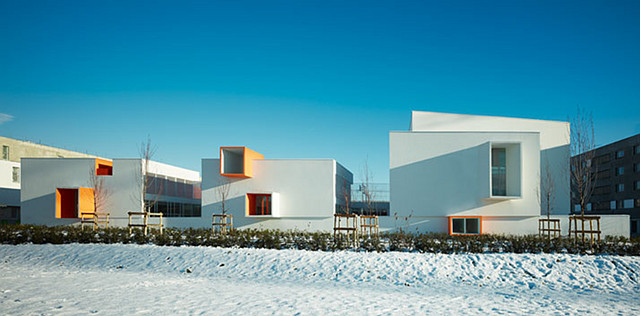 There's a nursery school and elementary. Both in separated buildings.
Entrance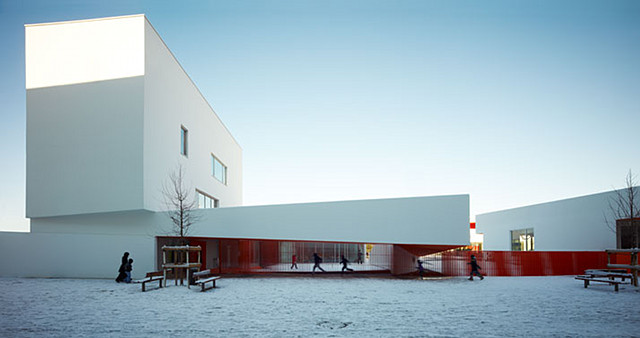 The orange color pops on the outside, but wait until you get inside!
Interesting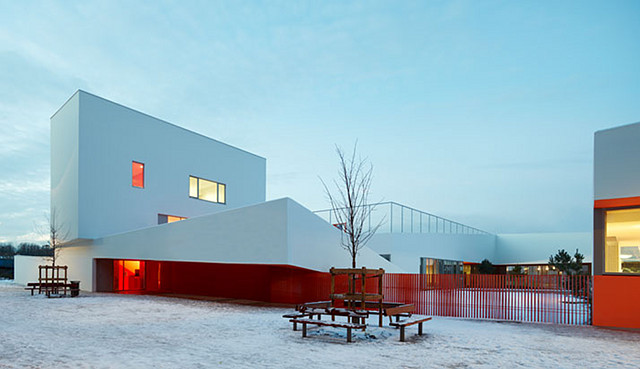 Very interesting architecture.
Rectangle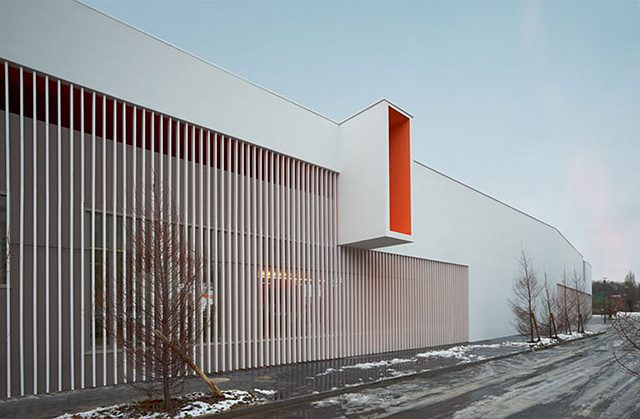 Do you like it?
Sun Ray
I guess the orange makes things more "alive" with all the snow around.
Building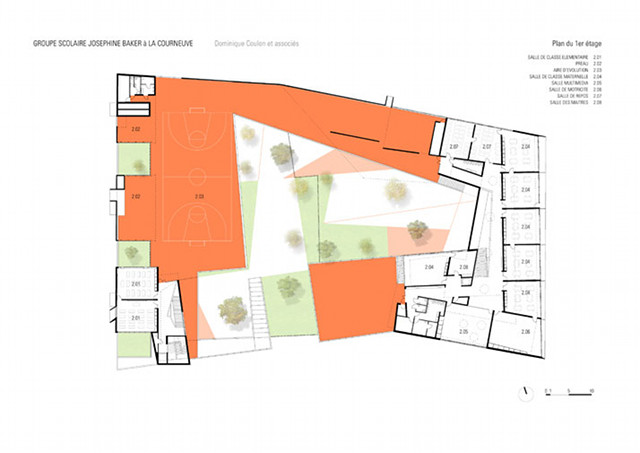 To better understand this space.
Room To Roar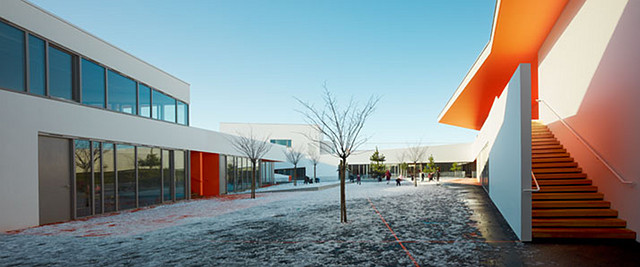 Spacious areas for the kids to play.
Hallway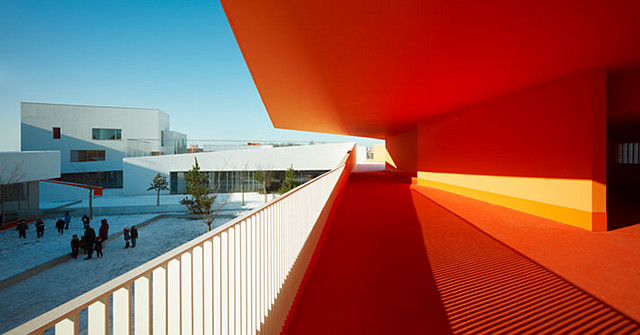 An outdoor hallway.
Orange View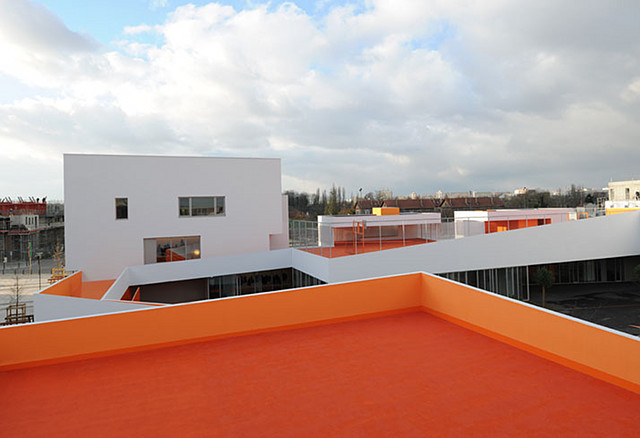 The building from the top.
Main Entrance
From now on, get ready to see orange.
To the Classes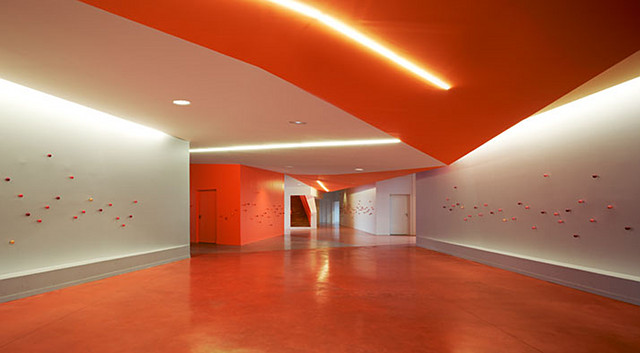 Grab your sunglasses. 🙂
Modern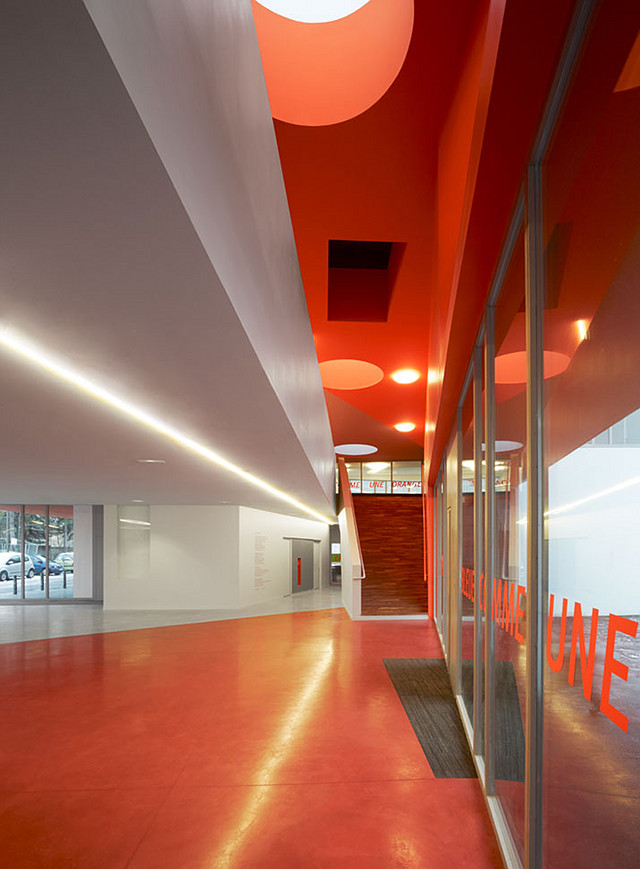 The building feels really modern.
Lighting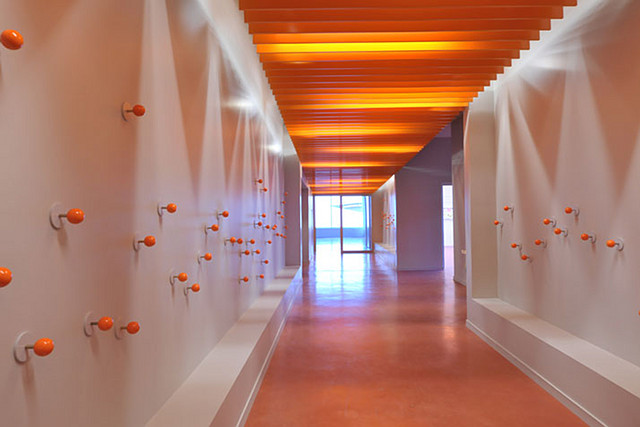 This is really cool. I like this hallway.
Walls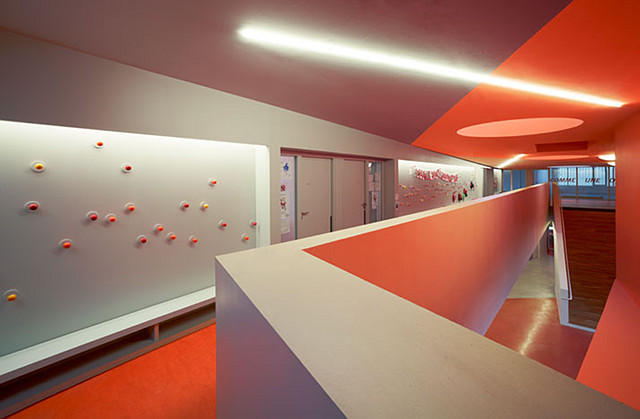 The kids use these "balls" on the walls to hang their coats.
Stairs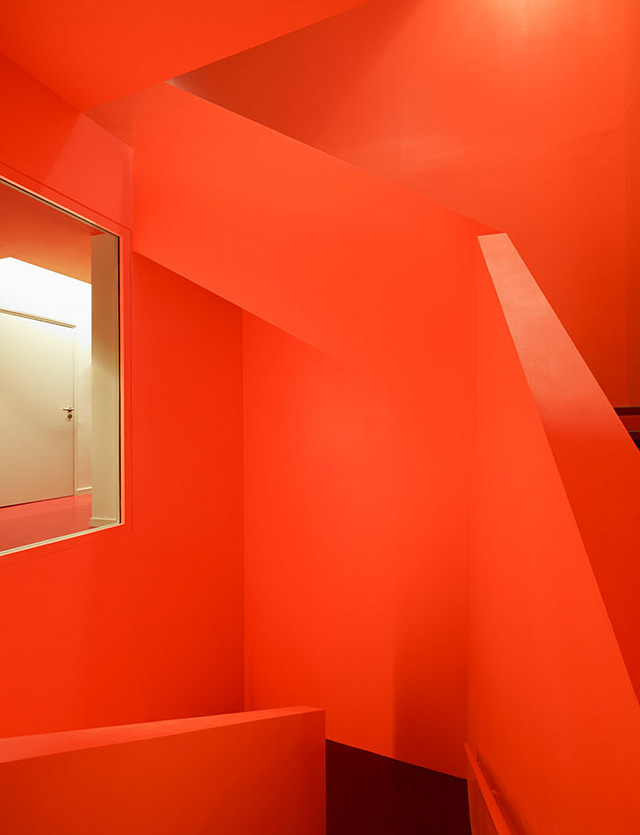 Wow!
Sunset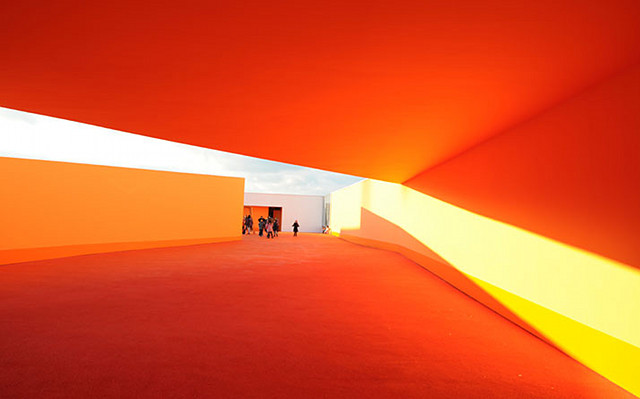 The reflection of the sun looks beautiful on the wall.
Orange and More Orange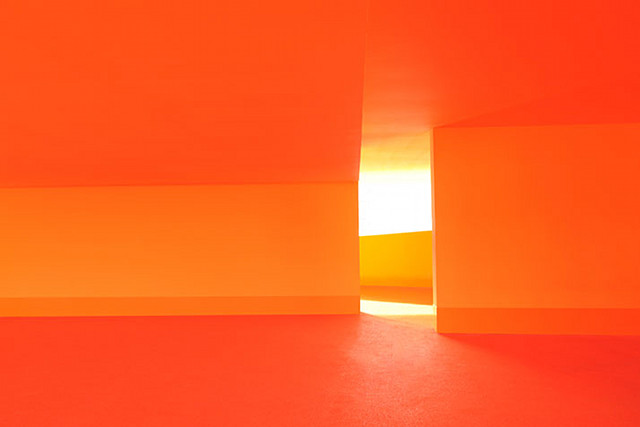 I warned you to wear your sunglasses, right?
Jump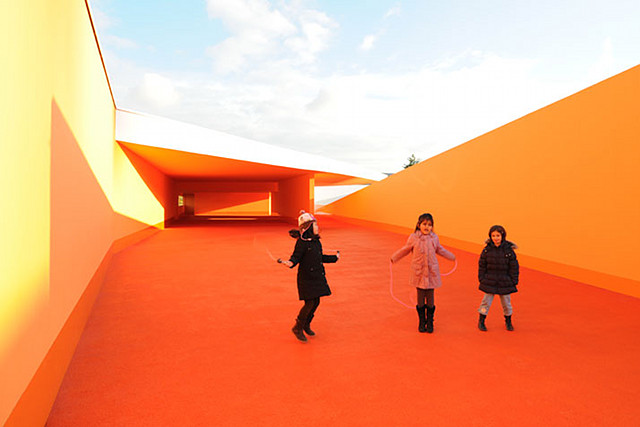 Happy kids in a orange-y world.
Classroom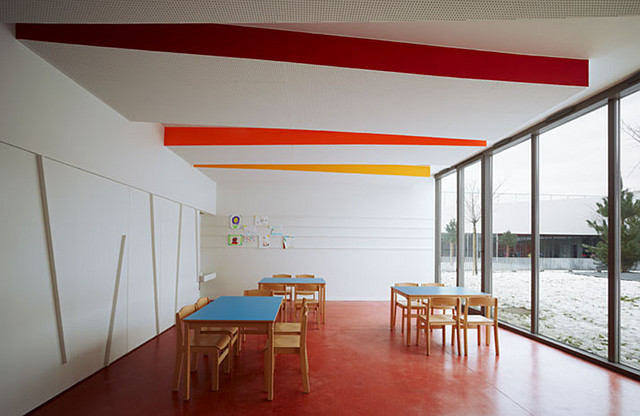 A break from all the orange. Needed!
Open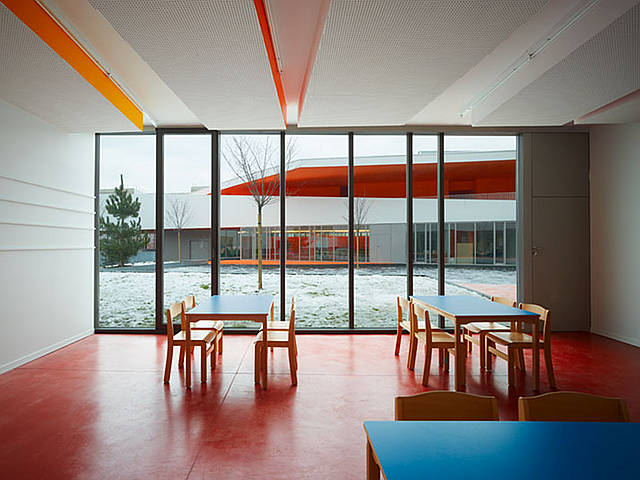 Having this much of natural light is fantastic for a classroom.
Learning Time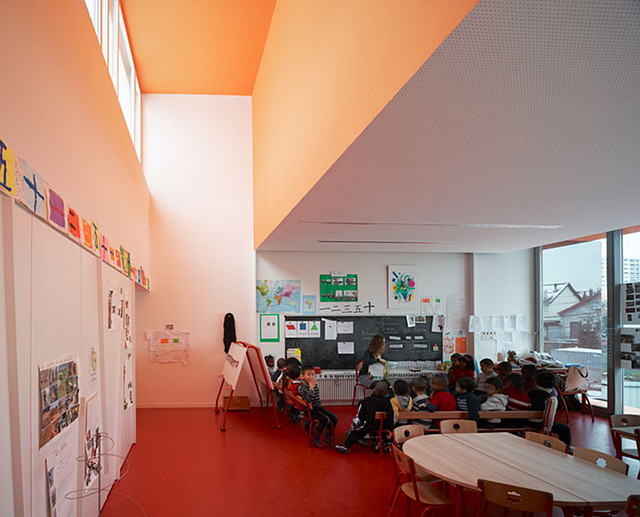 This is a great classroom.
So, what do you think of this place? Too Cool for school or what a Fool school? 😉
I hope you have a wonderful weekend and I'm wishing you some warm weather, some sunshine and some ice cream! Yes, I'm having some during this weekend!
See you back on Monday!
xo
Luciane at HomeBunch.com
I Can Help You with Interior Design: HB's Design Service.
Come Follow me on Twitter: Twitter/HomeBunch
Source: Yatzer.
* "Cool or Fool" happens every Friday. I've started this section where I post "different" and controversial things that I know some of you will love and others will not. The point is to tell us what you really think, regardless of anything. It's a space where you speak your mind and analyze what you see. Have fun with it and laugh along the way!