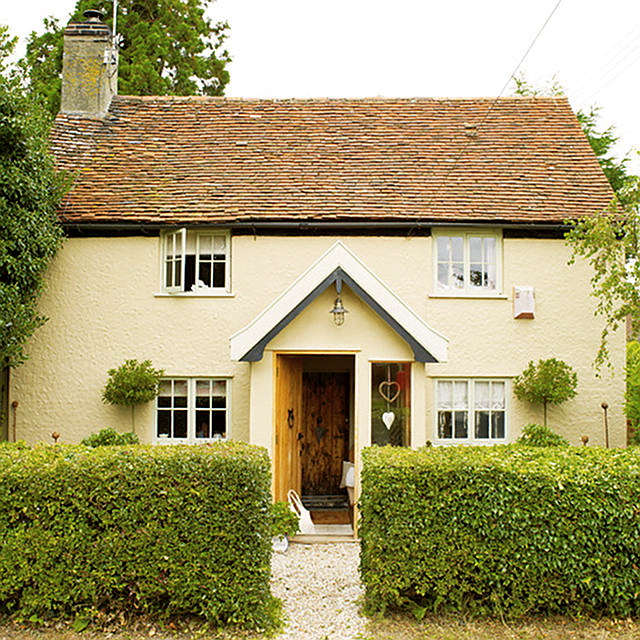 This is such a cute and sweet country cottage. Very simple, very warm and I really can imagine a happy family living here. The cottage is located in Suffolk, England and was built in 1780. Its charm is evident in every room, where you can find beautiful architectural details from the era it was built. I can imagine kids growing up here and having sweet memories of a place that truly feels like "Home-Sweet-Home".
Minty Dining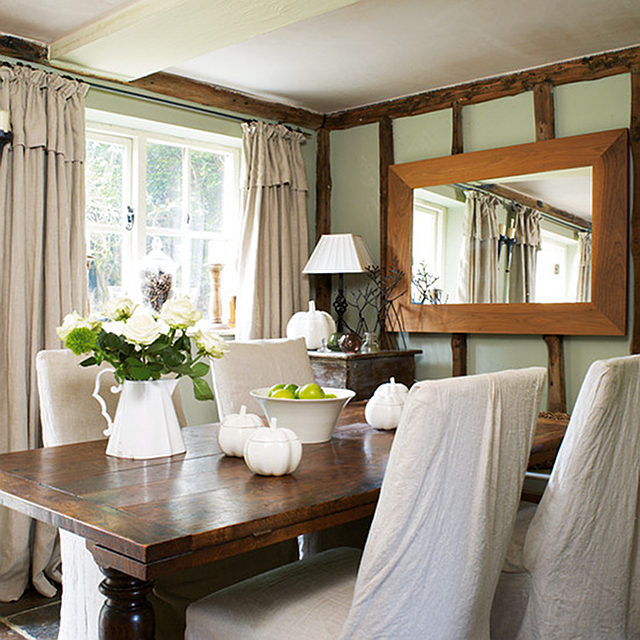 The soft mint green walls make this dining room feel fresh and bright. I really adore the antique table and the linen covered chairs.
Once Upon A Time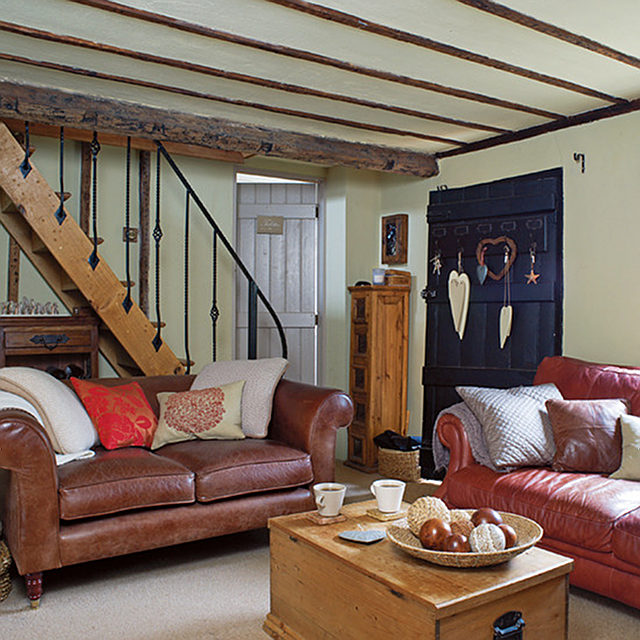 Since this cottage was built so long ago, you expect the rooms to be small and the ceilings quite low. The natural light is also at a premium here. In that case, the best you can do is paint everything, including the ceiling in a very light color. That will help the room feel brighter. The leather couches aren't really my favorite, but they bring some warmth to the space.
Kitchen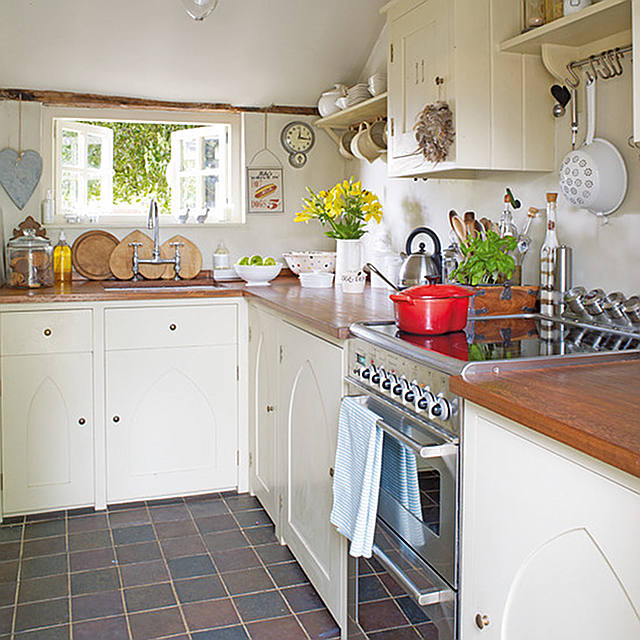 So lovely. Don't you think?!
Sunroom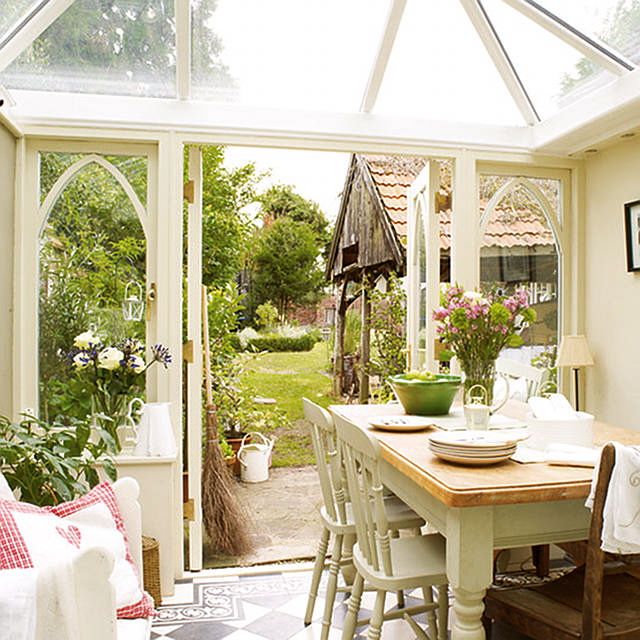 The sunroom is my favorite part of this cottage. The garden feels so inviting.
Work It!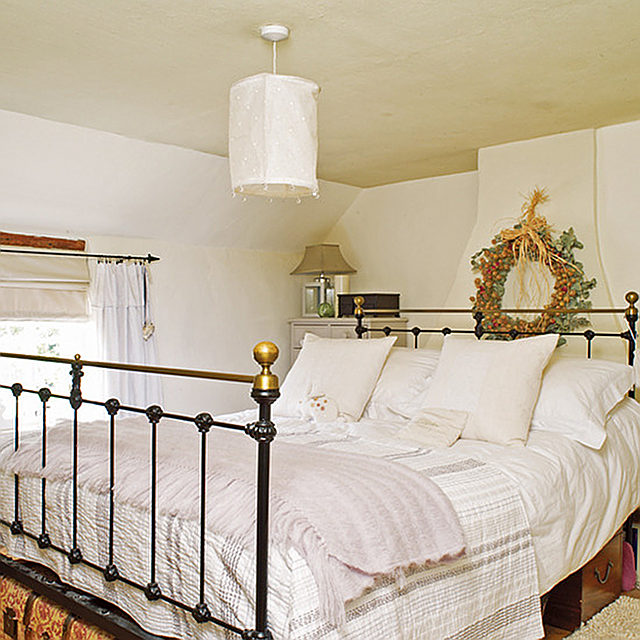 This is a simple cottage, right? I'm the kind of person that sees beauty in simplicity and I think this bedroom has lots of great things. I like the bed and I love the fireplace, which unfortunately is hidden behind the bed. That's a shame. Also, the light fixture is not ideal for this room, a small chandelier would look much better. I'd replace the light and the bed should go in front of the window if there's not other wall to use, which we can't tell from this angle. This bed would not obstruct the light from the window and you could see the fireplace.
Sweet Little Girl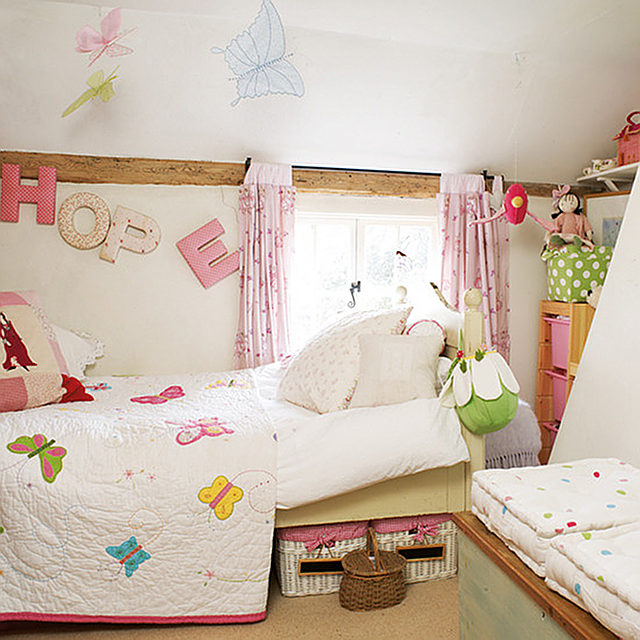 This cozy bedroom is full of fun and cuteness.
Bathroom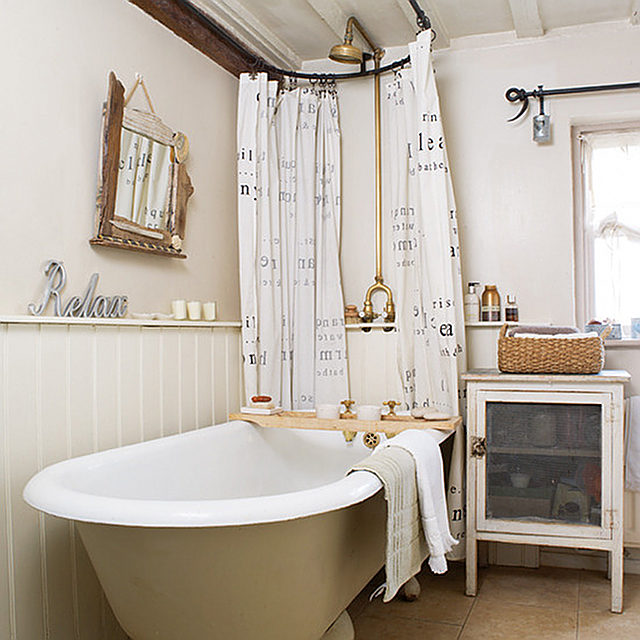 Oh, sweet claw tub! Lovely shower/bath curtains too.
Isn't this tiny cottage as cozy as it can be? It seems that you almost feel hugged by these rooms and their soft textures. I wanted to post this cottage today because I saw there's space for improvement. It's easy to always find perfect places to post about, but I like to post about places that can teach us something, make us think what would we do differently. This is a real place, and that makes it even more special to me.
I hope you also have enjoyed it!
I'm getting many comments and emails of readers asking me to not stop with the "Cottage of the Week". I started it as a summer treat, but I guess we all feel in love with this series, right? Including me! So, to show you that I am always listening, I'll keep the Cottage of the Week. By the way, if you want to see more "Cottage of Week" posts, you can always click on "Cottage of the week" on Categories.
xo
Luciane at HomeBunch.com
Get My Help with Interior Design: HB's Design Service.
Come Follow me on Twitter: Twitter/HomeBunch
Source: House to Home.