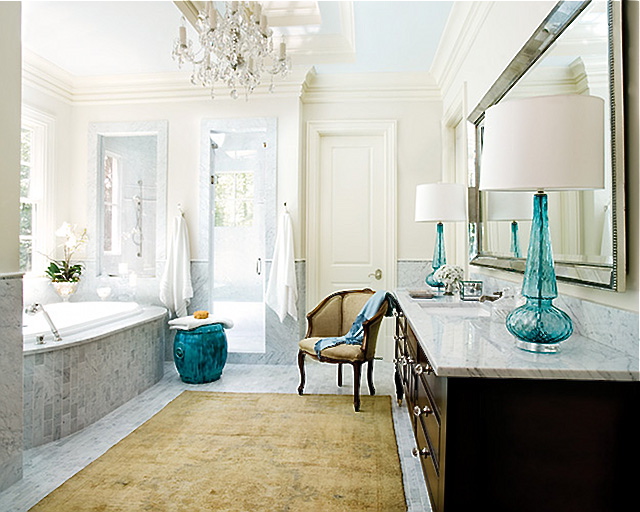 What makes a bathroom feel feminine? What are the elements that create the sensation of being embraced by beauty? If you take a close look at these bathrooms, you'll see many of them have great architectural detail, but more than that, they have accessories that make them stand out and become more welcoming. That's how a feminine bathroom should be. It should make you feel welcome. You can achieve this by using your favorite color, the accessories you love, comfort (luxuriously fluffy towels and mats) and, of course, a charming chandelier. Yes! Chandeliers in the bathroom is the ultimate feminine accessory and it's even better when you can dim the light and create a calming atmosphere.
I hope you really like these amazingly beautiful bathrooms that I mostly found at the House of Turquoise. I'm pretty sure you already know Erin's blog, but if not, I'd recommend you go take a look. She always has amazing interiors and all have a shade or two of turquoise, of course. Erin is a very sweet person and I'm so excited for her because she's getting married in almost 3 weeks! Whoa! Isn't it great?!
Now, enjoy these bathrooms that are spaces designed with women in mind. All the beautiful light fixtures, pretty accessories, chairs, hugs and fluffy towels are a perfect fit for a special woman. Oh, I wish I could be enjoying any of these bathrooms right now. Find your favorite!
Tailored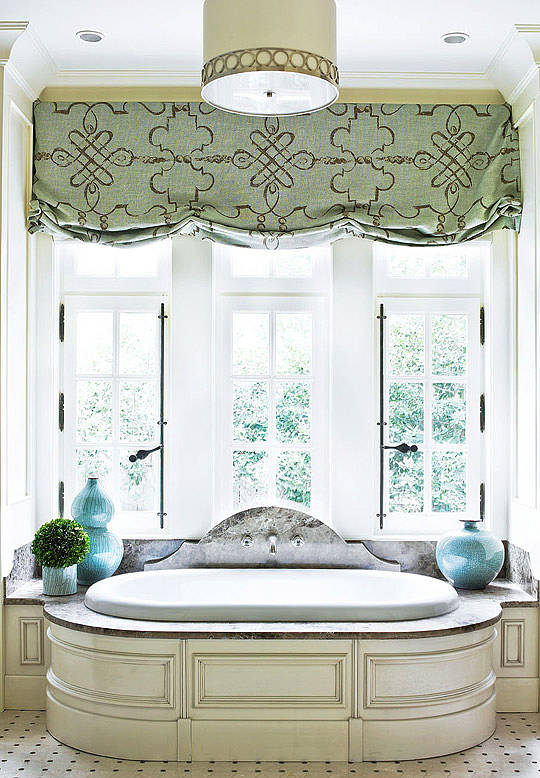 This bathroom is pure elegance! Linda MacArthur.
Pretty Woman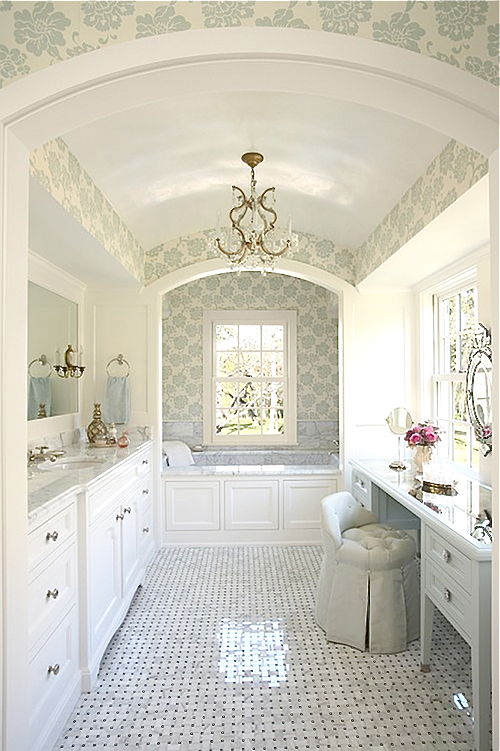 For the princess in every woman. Houzz.
Deliciously Rustic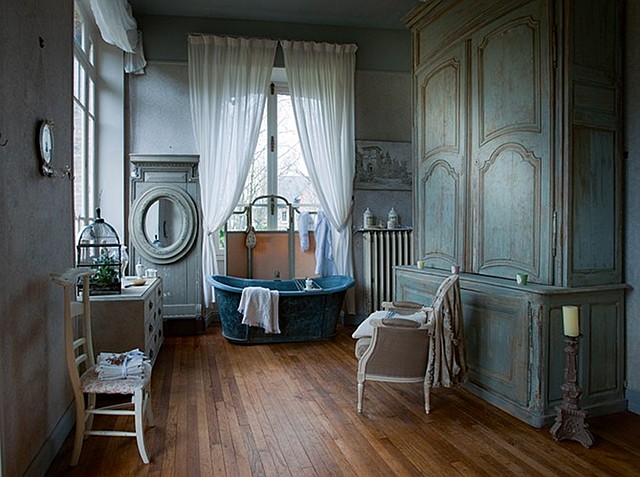 Not only feminine but also romantic. Nuevo Estilo.
Lanterns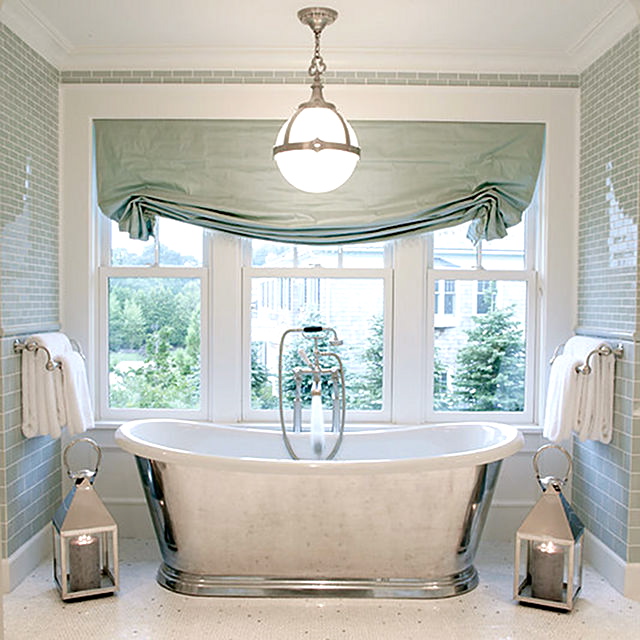 This bathroom is very special. Love the tub with the lanterns.
Sweet Times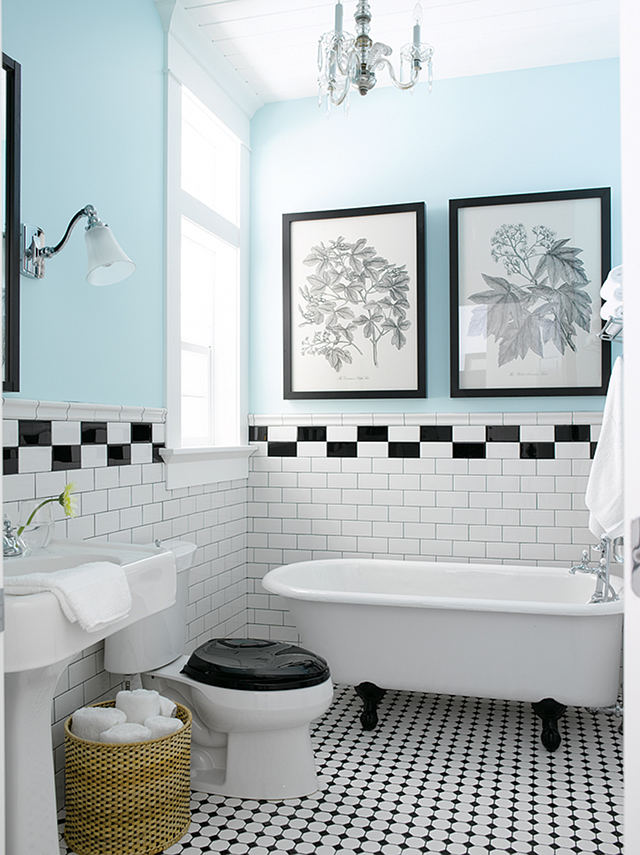 Strong and sweet. Oh, aren't we just like that? Seattle Homes & Lifestyles.
Beach Mood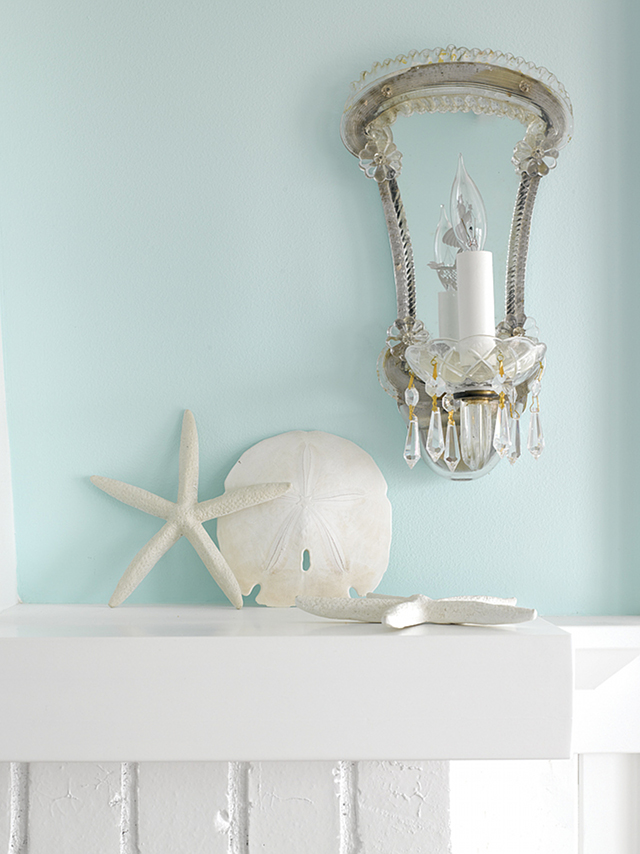 Almost any kind of bathroom can become more feminine with some objects and accessories. Seattle Homes & Lifestyles.
Wallpaper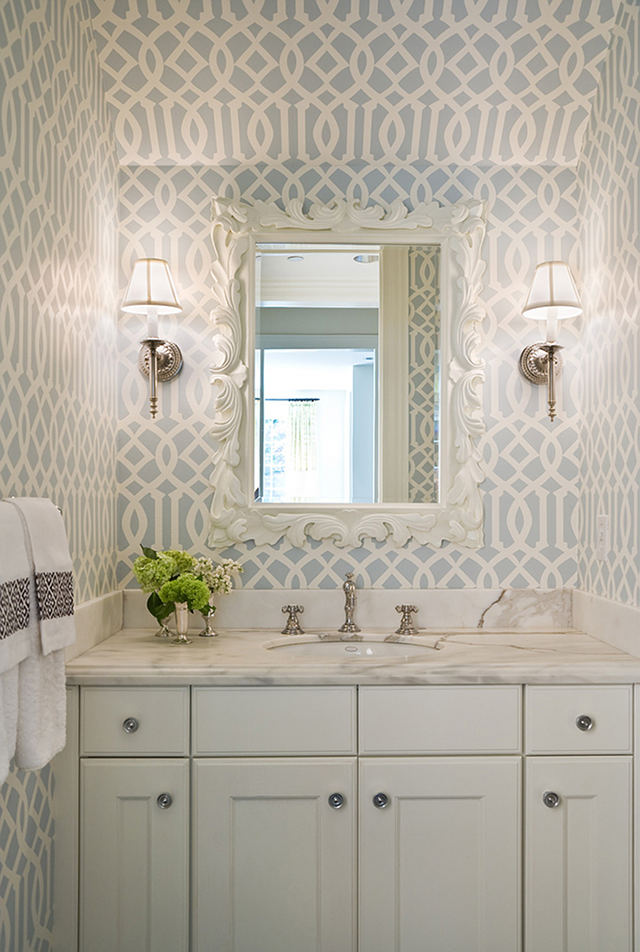 Wallpaper can always help to transform a room, for better of for worse. In this case, for better! Graciela Rutkowski.
Skirted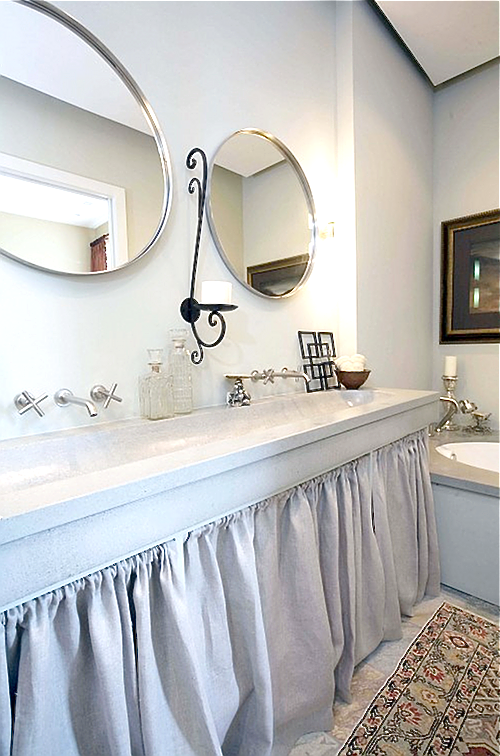 I simply love this skirted sink! Houzz.
Please, Not too Much!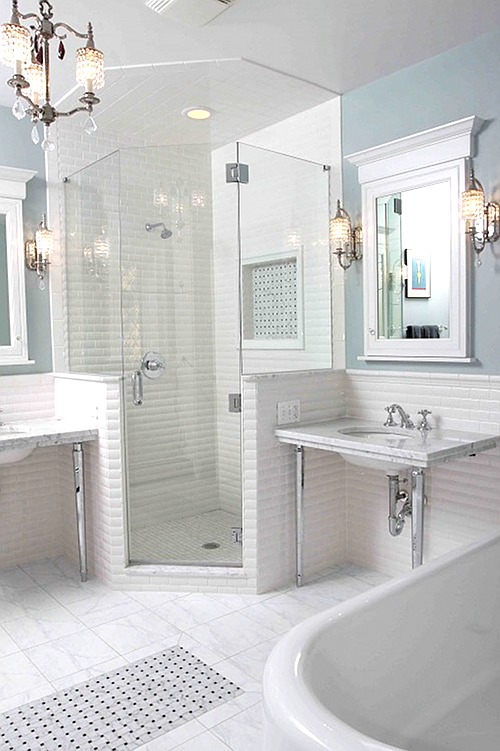 If you don't like your bathroom to be too feminine (after all, you got to share it with your man), you can add delicate but subtle touches. For example, light fixtures are an easy way to change the look of your bathroom and it's usually not overpowering. Houzz.
Star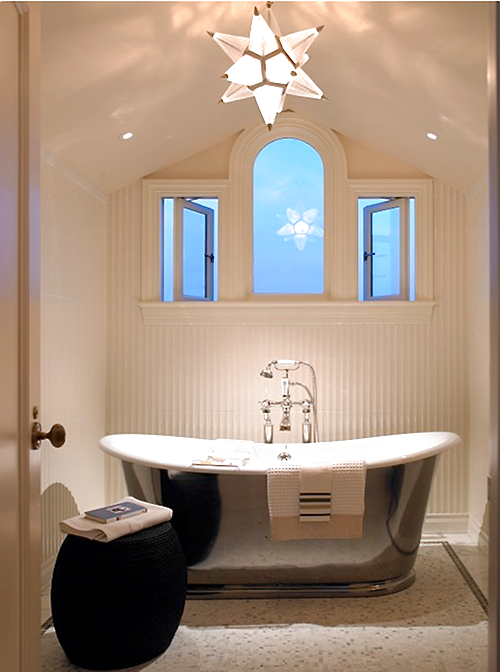 You don't need to have a "Barbie" bathroom to have a feminine bathroom. This is a great example. Houzz.
Sweetness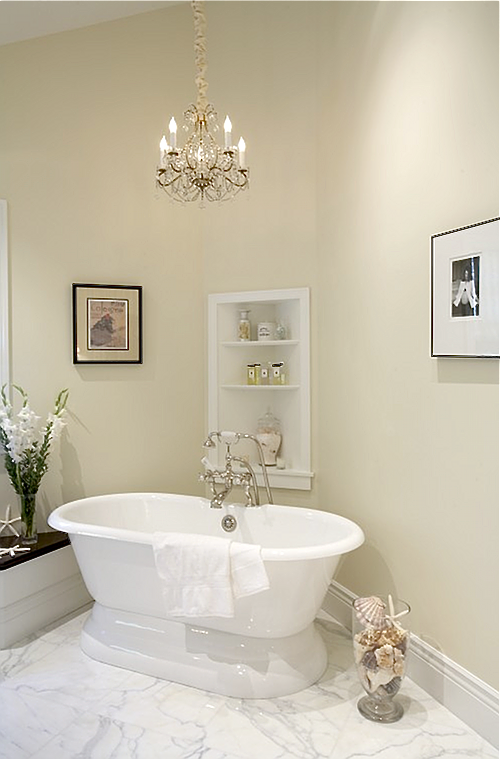 I adore this tub and floors. Houzz.
The Cross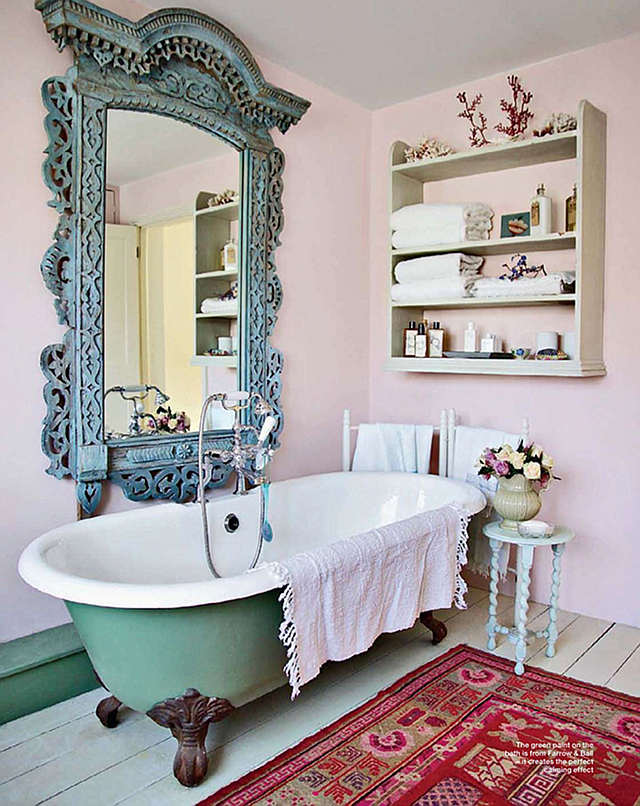 It's full of character and delightful colors. Photographed by Winfried Heinze.
Enjoy this day with all the love you have in your heart. Do you remember the last time you did this?
xo
Luciane at HomeBunch.com
Come Follow me on Twitter: Twitter/HomeBunch
Sources: House of Turquoise, Houzz.