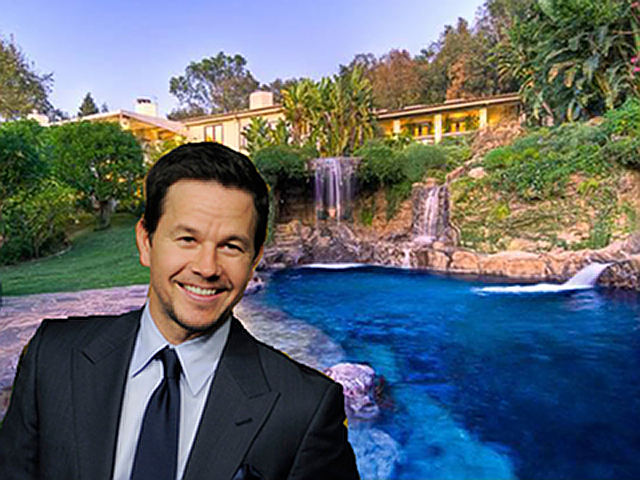 Mark Wahlberg is selling his Beverly Hills house and for a good reason. He and his wife are finishing building their 33,000 square foot dream home according to The Wall Street Journal. Mark had his house on the market about two years ago for $15.9 million, but it seems that the real estate market is not that strong even for the rich and famous and he decided to bring it down to $13.95 million. Honestly speaking, I don't think that the difference in the asking price will hurt his bank account anyways.
This house seems to have his personality stamped everywhere, especially the outdoors. There's a gym that can make any pro gym feel like a joke. It has 2,500 square feet and a boxing ring (that's where he trained there for his starring role in The Fighter). With 1.75 acres of land, the house seems to offer good privacy and lots of room to have fun, including a fantastic swimming pool with grotto. There are also waterfalls, a putting green and a sports court.
The interiors are also huge. My personal opinion? I was expecting more. It's a great house, don't get me wrong, but some rooms lack personality and the master bathroom needs a good professional helper! The lighting fixtures are almost scary… at least for a bathroom!
Well, take a good look and tell me what your thoughts are.
Gates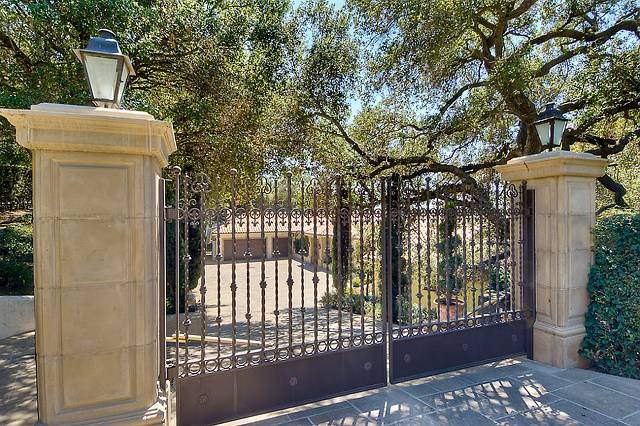 Privacy and security is always essential to any celebrity but most of us can appreciate that too, right?
Living Room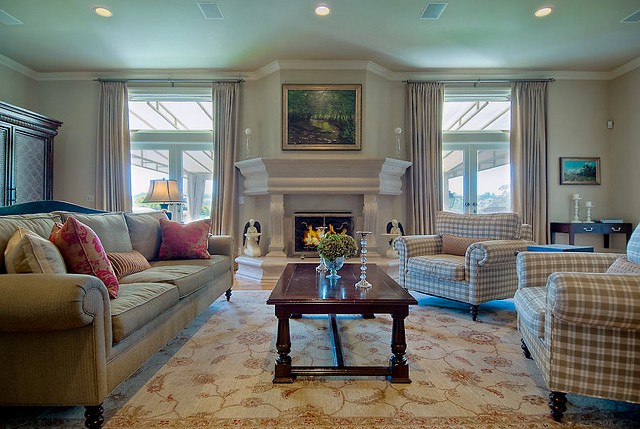 The formal living room has a country comfy vibe.
Colors?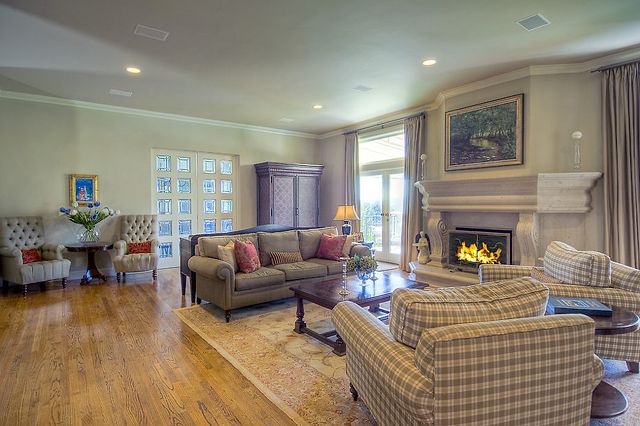 Do you like the color scheme in this room?
Dining Room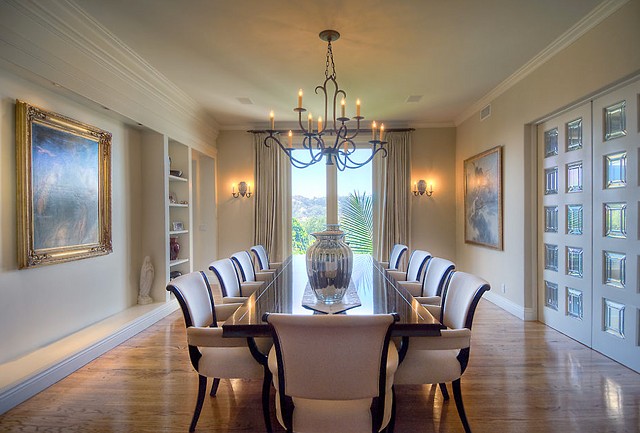 I feel there's something missing here, but if you think that "less is more", this room should feel just right. I really like the chairs and their curves.
Kitchen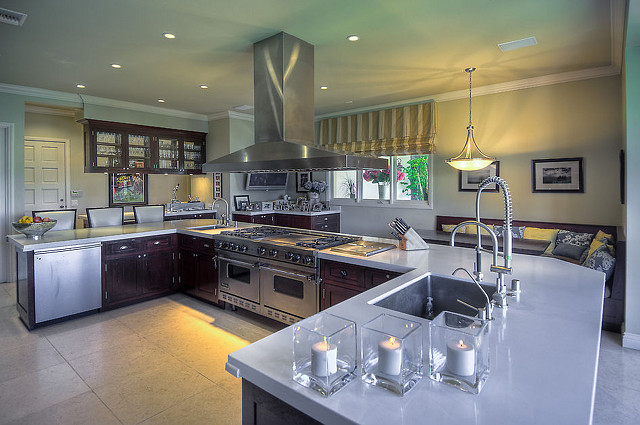 The kitchen feels a bit too cold, maybe too "industrial" because of that giant range hood. But I wouldn't complain if I had this kitchen in my house.
Counter Space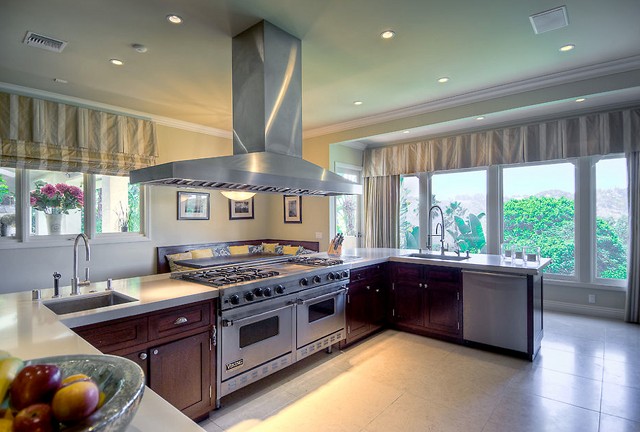 This kitchen has great countertop space, but I'd add an island to make it feel cozier and even more practical.
Family Room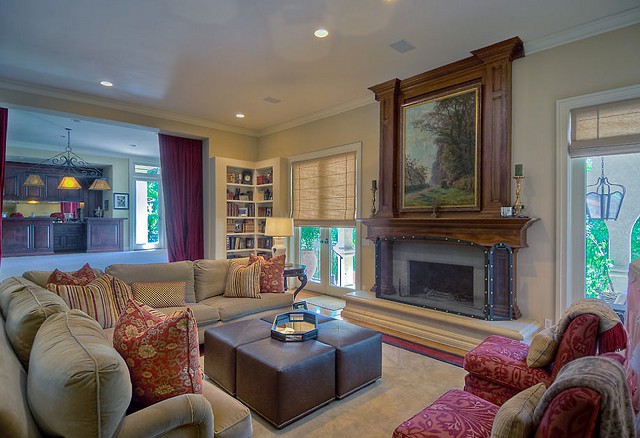 The family room seems to be a great place to relax and talk.
Media Room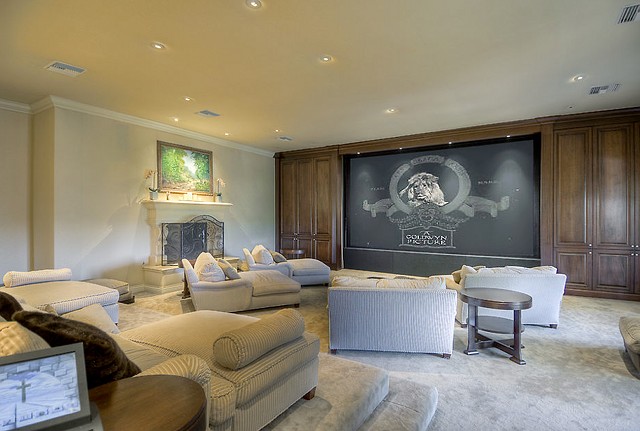 I simply love this media room. It's perfect! Very comfortable and spacious.
Master Bedroom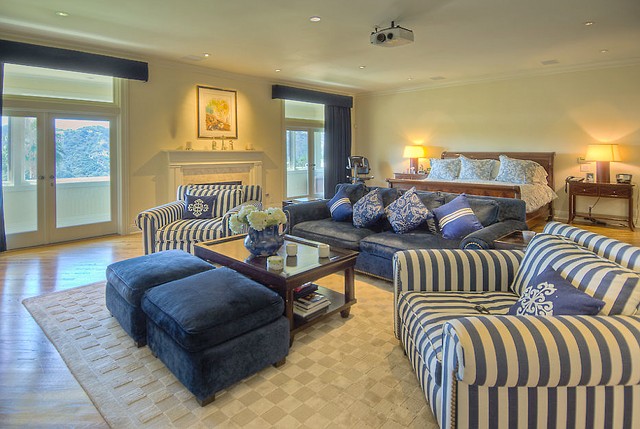 I like the sitting area, but I'm not crazy about this bedroom. It needs a better rug and some artwork. The curtains should be updated also, too much of the "same" blue.
Movies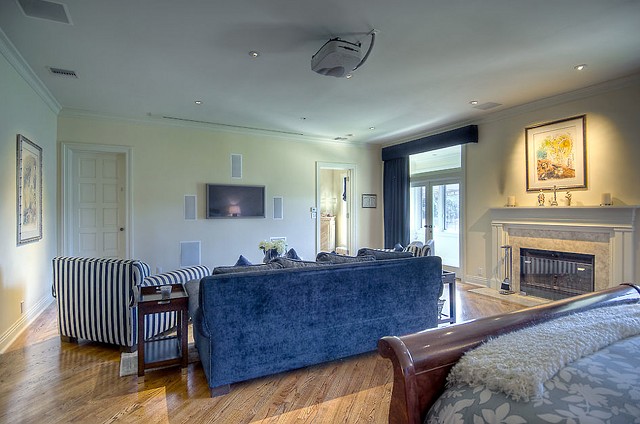 The master bedroom is equipped not only with a TV but also with a projector!
Master Bathroom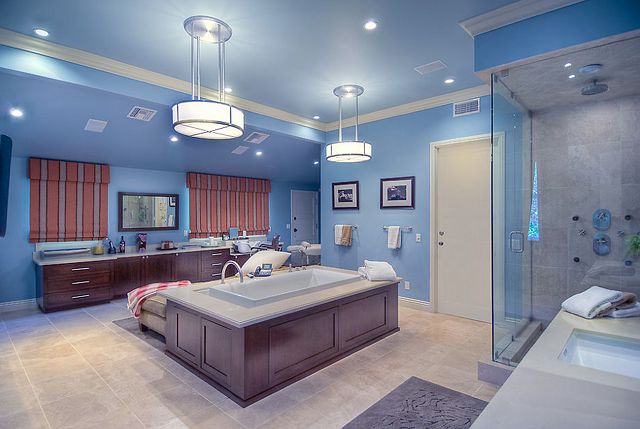 Yes, I get the message! They love the "blue" in this house. But do we really need to use these light fixtures in a bathroom? Maybe (I said "maybe"!) above a kitchen island, but above the tub is way too much!
Loggia
This is a great part of the house.
Balcony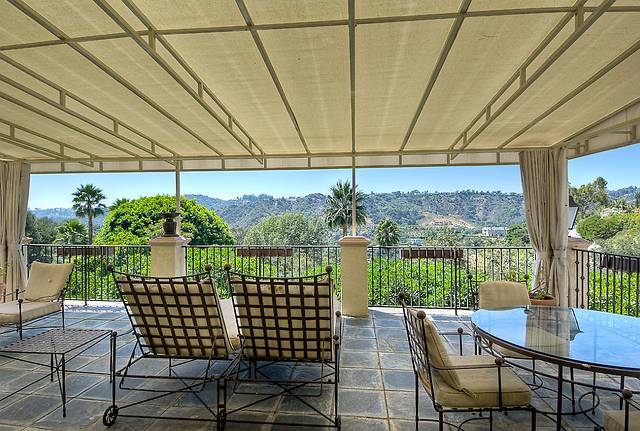 Really nice views!
Guest House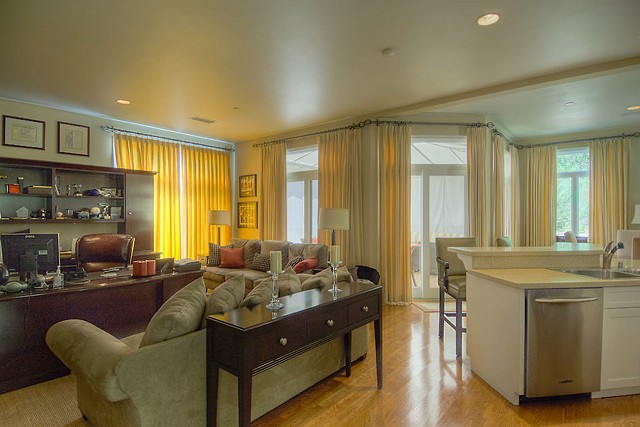 Mark's office is located in the guest house.
Pool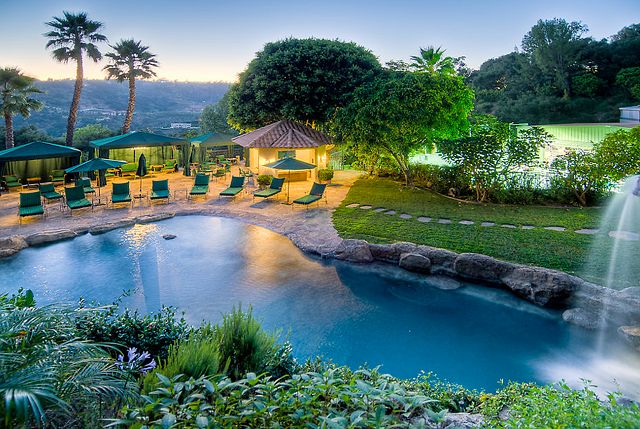 This pool is fantastic!
House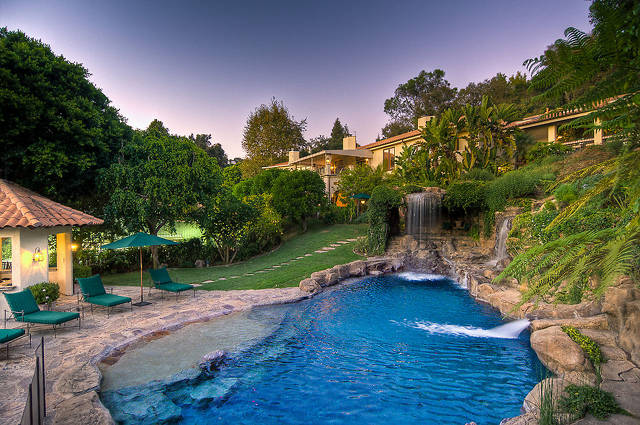 This is the best part of this house.
Putting Green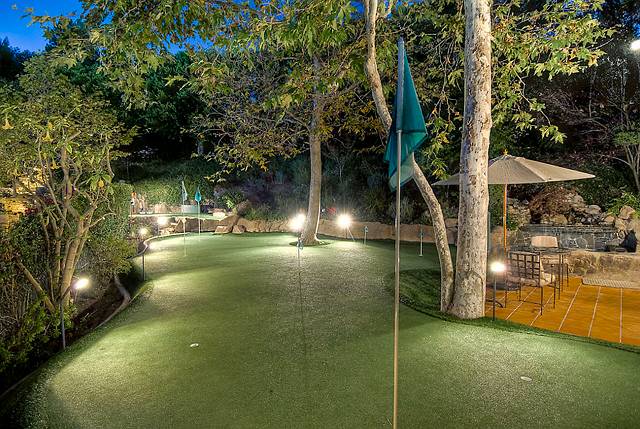 Fun!!!
Sports Court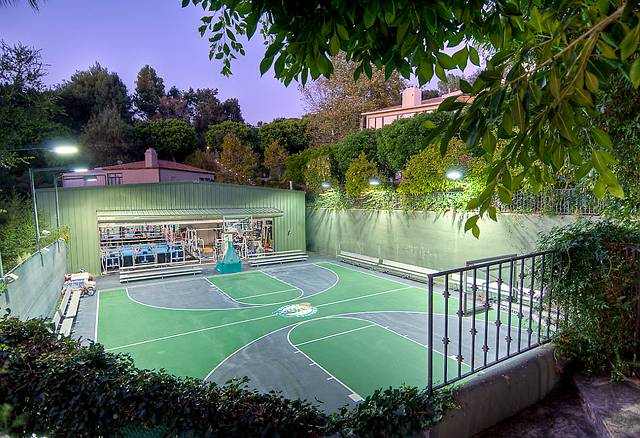 This is where Mark comes to play. You can see the gym behind the court.
The Gym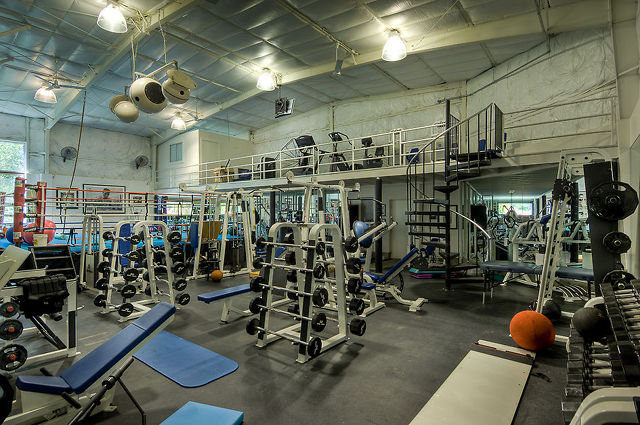 Mark Walhberg is very serious about his workouts. Take a look at this gym and the boxing ring.
Views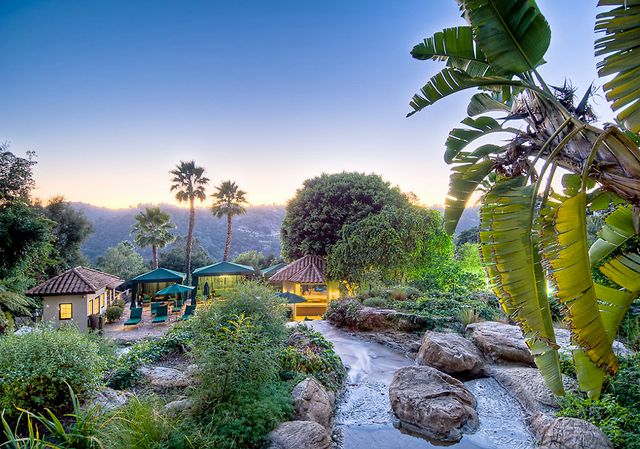 The view above the pool's waterfall. Impressive!
Source: Business Insider, Chad Rogers.
What are you thoughts of Mark's house? I really like the backyard. I think it's the selling point of this property and if you love to work out, that gym is just amazing. Can't wait to know your thoughts on this one!
Wishing you all a very blessed week!
xo
Luciane at HomeBunch.com
Get My Help with Interior Design: HB's Design Service.
Come Follow me on Twitter: Twitter/HomeBunch