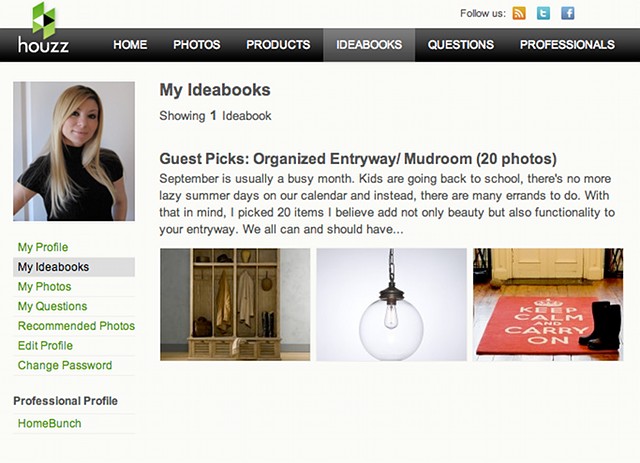 Hello everyone!
I'm so excited to tell you that Houzz contacted me to contribute monthly to their "Guest Picks" section. I start this month with a list of "My 20 picks for Entryways/Mudrooms" and I think this is the perfect time of the year to give some extra attention to this part of the house. Having an organized mudroom can help you save time during those busy mornings. When the kids can easily find their jackets, boots and backpacks, well, it makes things go much smoother and helps avoid those "forgot the backpack at home" moments as you pull up to the school. And when they come back from a long day at school it helps to have a proper place where they can put their stuff, which makes your life a little easier. After all, who wants to open the door to a messy mudroom, right?
I would really appreciate if you guys could drop by and leave a comment telling me and our friends at Houzz what you think of my "20 picks"! I'd be very grateful!
I hope you enjoy it!
Please, click here to go see it: "My 20 picks for Entryways/Mudrooms"
Have a wonderful week!
xo
Luciane at HomeBunch.com
Hot Summer Prices! Get My Help with Interior Design: HB's Design Service.
Come Follow me on Twitter: Twitter/HomeBunch
Source: Houzz.