Nicolas Cage is sadly having financial problems and this is not a secret anymore. We all heard of him trying to sell many of his mansions and some, including this one in Las Vegas, went to foreclosure. Many news outlets are saying that he's in a very difficult situation and owing around $6.3 million in taxes "with no funds available to pay them." Nicolas Cage blames his financial manager for this situation.
This beautiful mansion in Las Vegas was once owned by Nicolas Cage and it was on the market for $ 9.95 million then lowered it to $ 9.49 million and finally sold it as a foreclosure for $4.95 mil. Nicolas bought this Las Vegas house back in 2006 for $8.5 million.
Now the new owner had the brilliant idea (or so he thinks) to spend millions to renovate many things around the house like putting in new floors, electric shades/drapes and saunas. He's definitely trying to make it more appealing to the future buyer, but he also is trying to make some money with it, of course! The house was first listed at $8.9 mil but just dropped to $7,910,000 and I wonder if this price will continue to come down.
The house itself is massive with 14,000-square-foot, 7 bedrooms, 8 & 1/2 bathrooms, marble floors, professional movie theatre, elevator, games room, a 2,000 square-foot master suite, 16+ car garage, infinity-edge pool, gorgeous views and it comes fully furnished.
Compare the "Before (when Nicolas Cage owned this Las Vegas House) and the After" pictures:
Before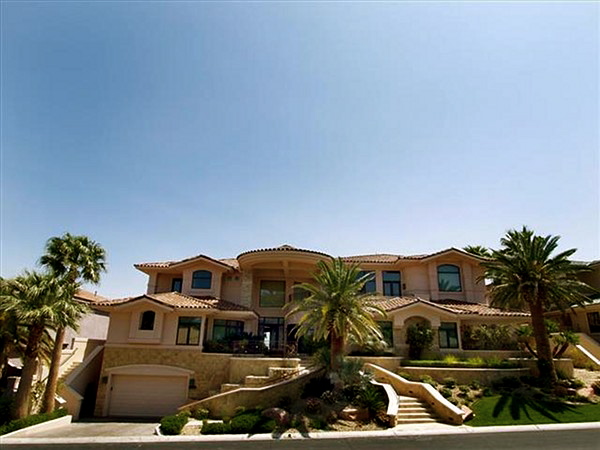 Beautiful curb-appeal.
After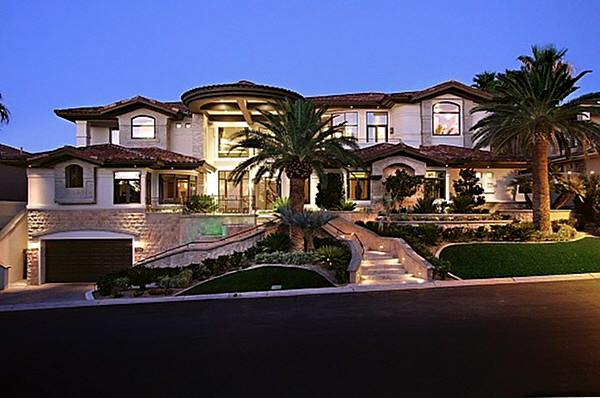 Some changes in the landscaping.
Before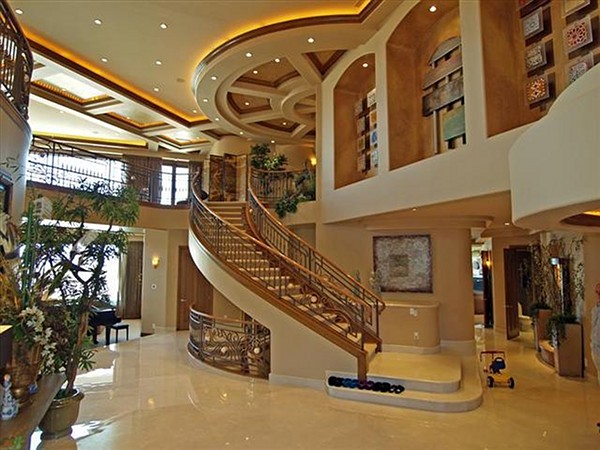 Not staged, maybe a little bit "messy" but it shows that somebody actually lives here. But remember, buyers don't want to "see" that you live there, they want to see them living there.
After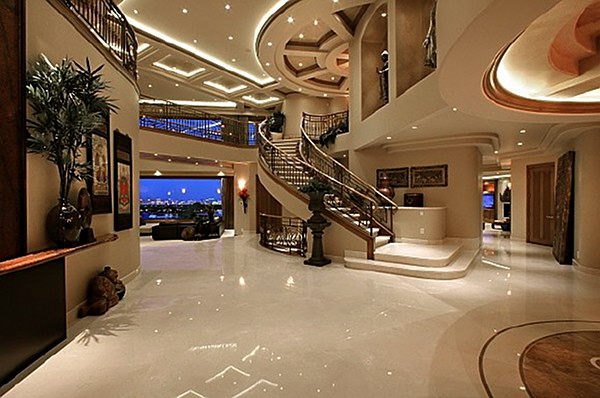 Minor changes, like painting the staircase, changing the decor. Do you want to know what have changed the most? The quality of the picture. You'll attract more buyers (or viewers) if the picture is well taken.
Before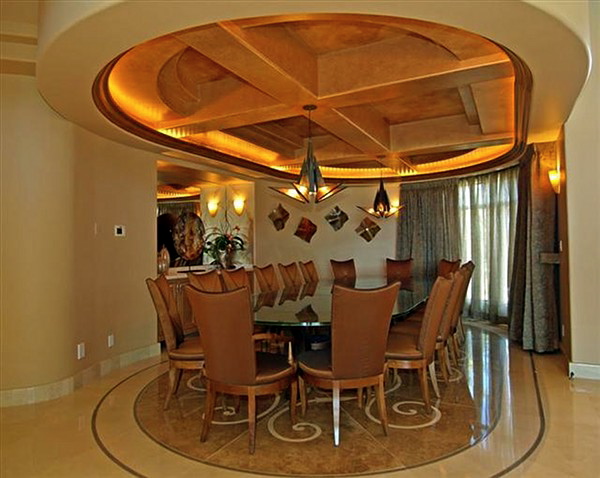 Ok, it's not bad, but it's too much of the same color and that's why I find it boring. The light fixtures are a little bit too "mars" for me.
After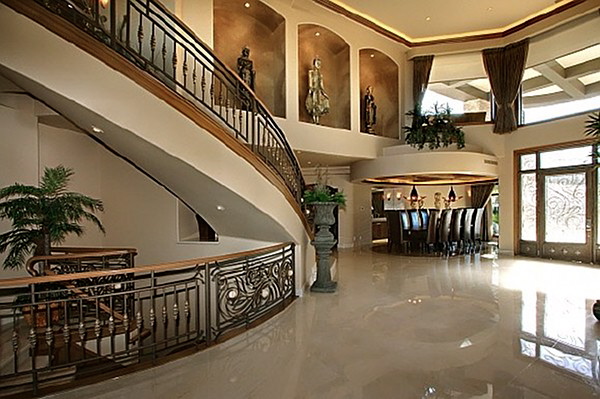 You can still see the dining room and I don't see much change besides the furniture. The lighting is still there!
Before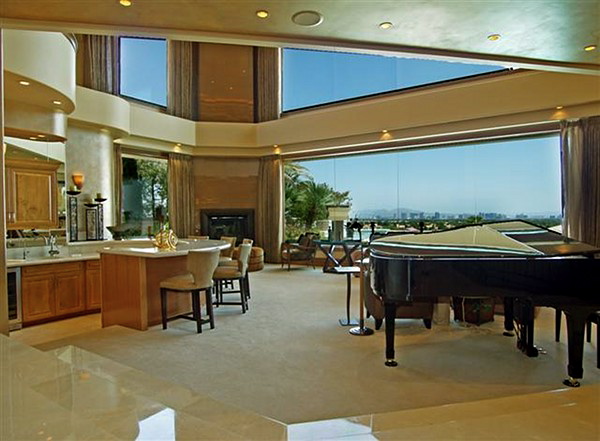 Lovely views. Not a huge fan of carpet by the kitchen, I'd prefer hardwood, especially at this price!
After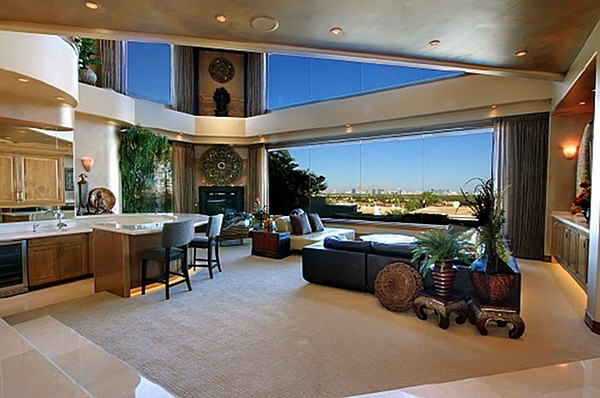 A newer carpet looks better, but I'd prefer hardwood still. I like the low furniture, so you get a better view.
Before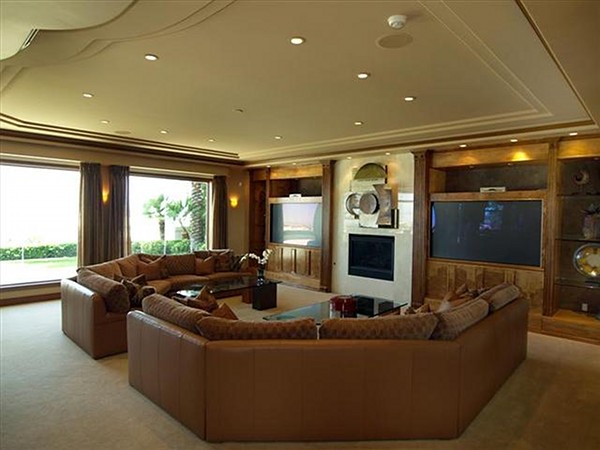 Huge couches. I know, this is an interior designer blog and I should say this is a huge "no-no, Mr. Cage", but I look at it and even though I don't like it, I see how comfortable it would be and how fun it would be to have the whole family there. Maybe it wouldn't be too bad if it wasn't too brown.
After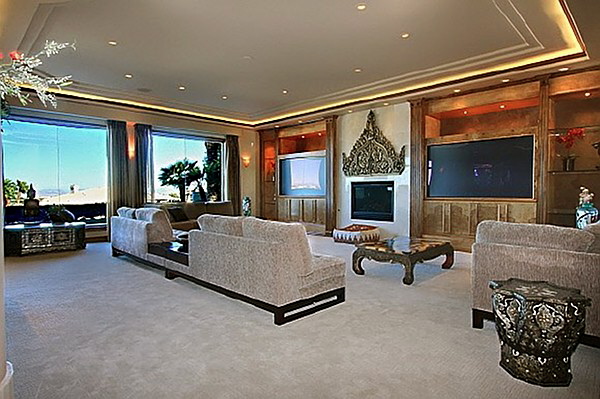 Of course this looks better and more spacious and I guess you can still have everybody there.
After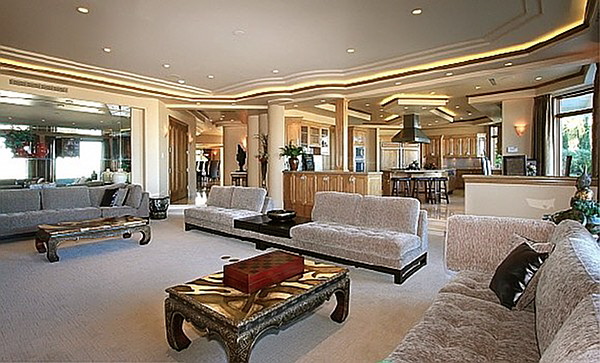 I like how open this house feels.
After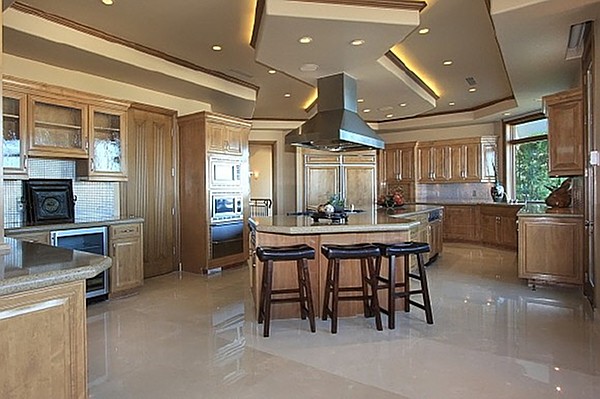 I don't have the kitchen's picture from "before" (besides the one you see with the grand piano) but by looking at it I don't see many changes besides the appliances.
After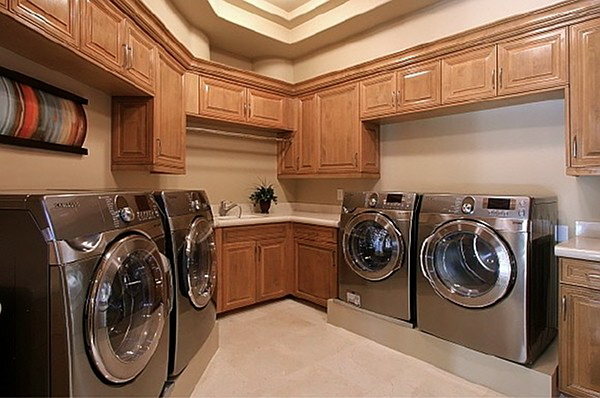 Oh, I so wish I had double washer & dryer too! I have way too much laundry! 🙂
Before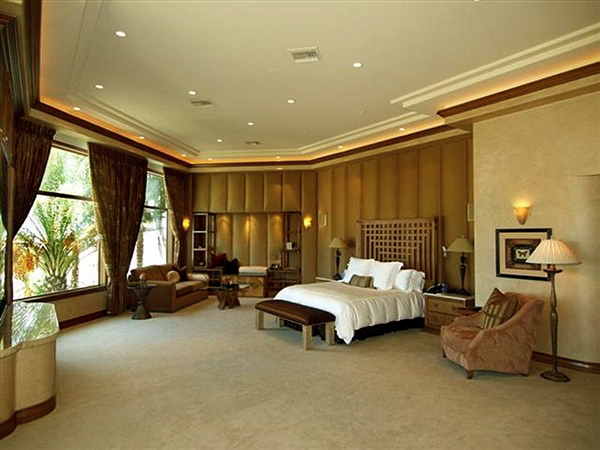 This is Nicolas Cage's bedroom. Do you like it or hate it? Wait, I'll show you more:
Before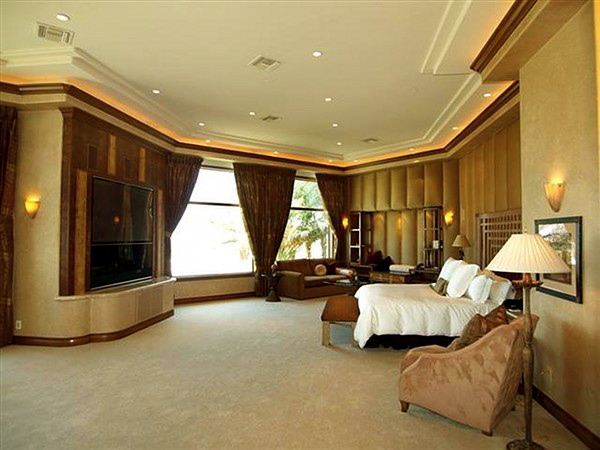 Nicola's cage bed. Who designed Nicholas Cage house? What happens in Vegas stays in Vegas? In this case I really hope so! 🙂
After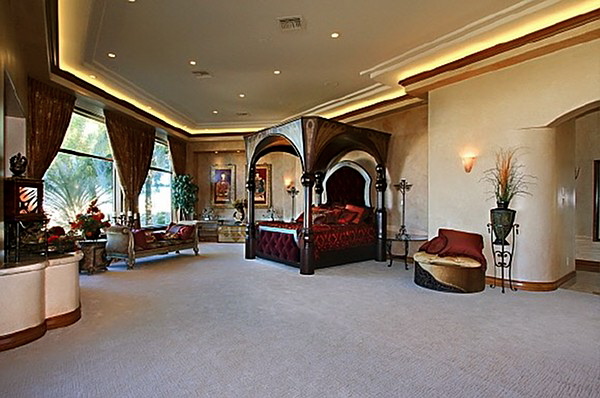 This is much better! No"puffy" walls!
After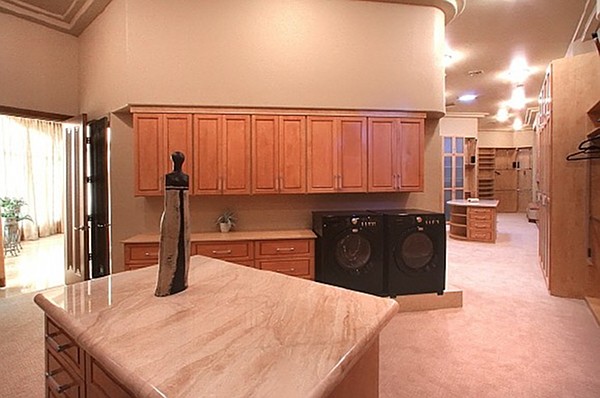 This closet is huge! Having a washer/dryer there would be very handy but a little bit too noisy. Yes, I hear what you're saying… use it just during the day. Good point!
After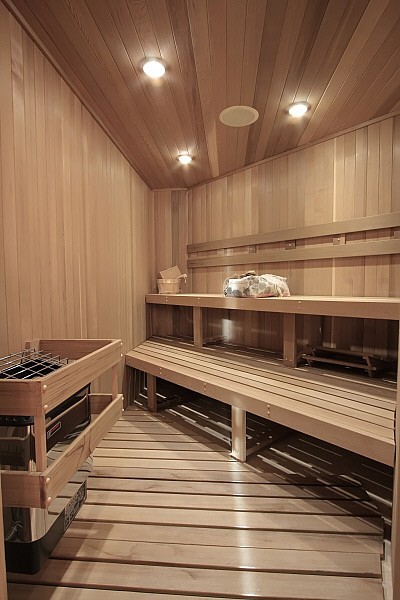 A sauna would be fun!
Before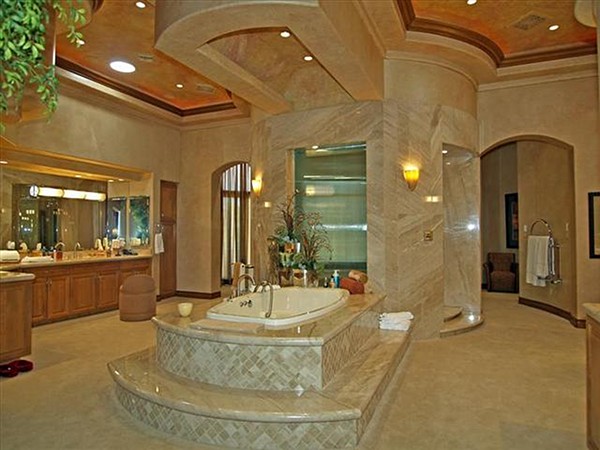 It's a beautiful bathroom, not very "now" but still beautiful. Do you think that red slippers on the left are Nicolas's? 🙂
After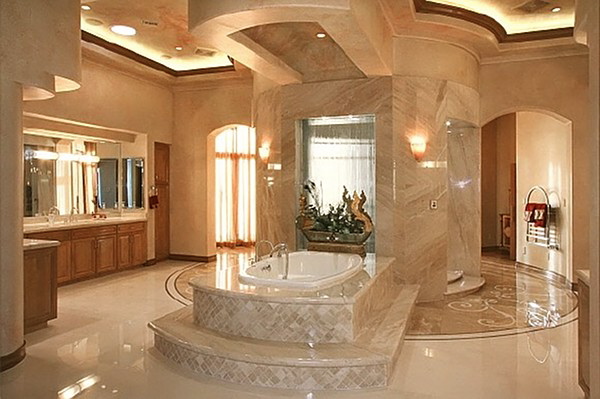 I love the design on the floor that they added. It looks much better and more interesting than before.
After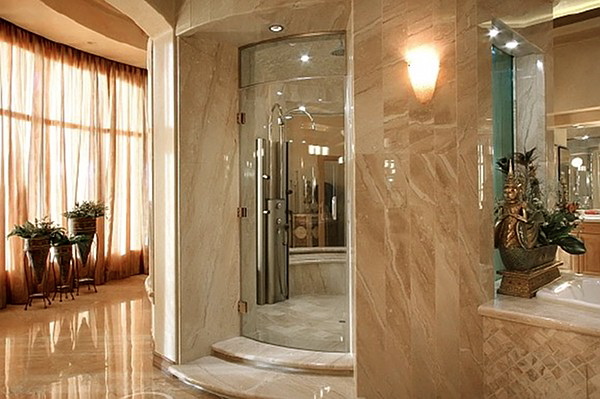 Gorgeous shower.
More of the "After" Pictures: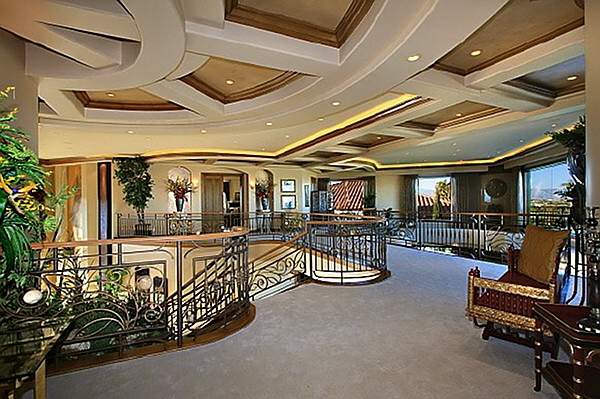 This is my favorite picture. I love it!
Guest Bedroom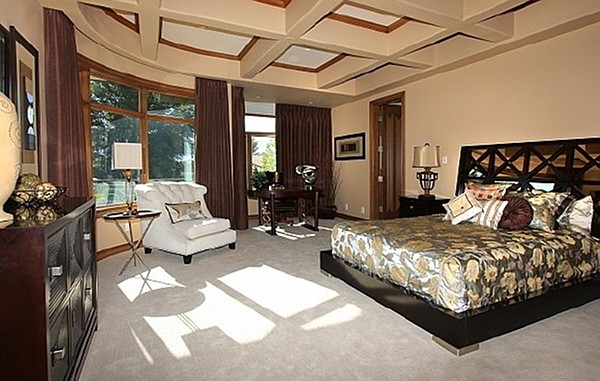 The white chair and side table are my favorite things in this room.
Other Guest Bedroom
Good if you like beige and brown.
Bathroom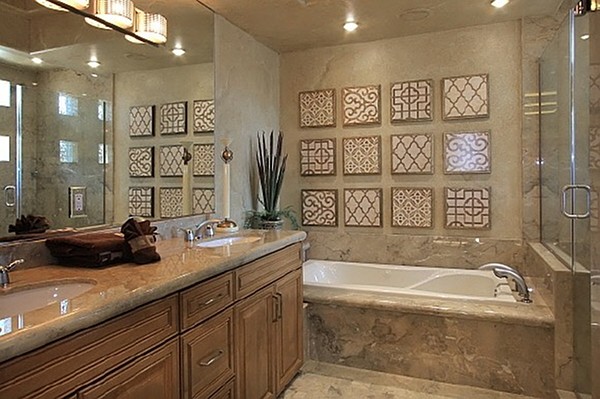 I love the art on the wall. This is a very nice bathroom.
The House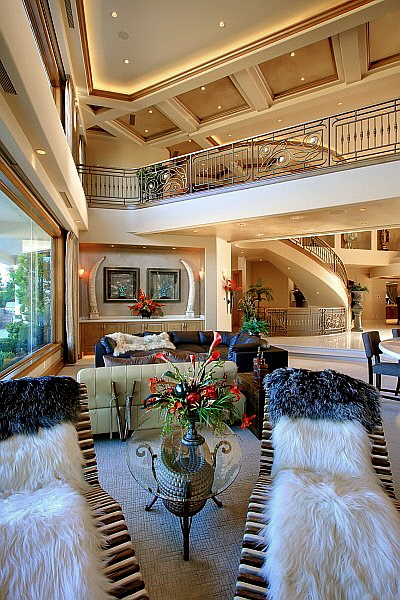 Fun spot to have some coffee, read a book or just chat.
Pool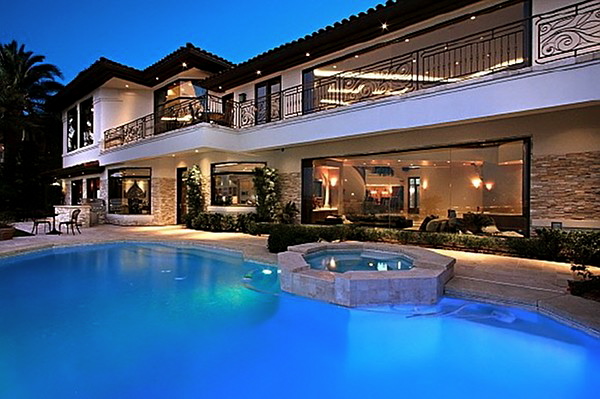 This is amazing!
Views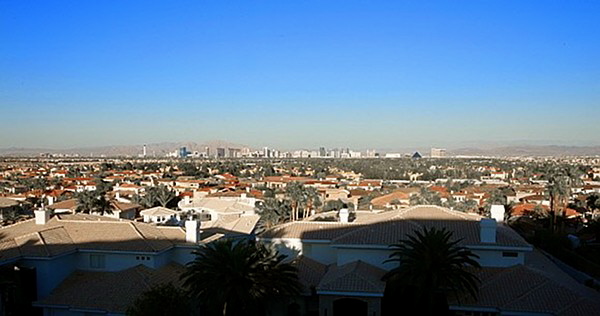 Las Vegas from your backyard!
Source: Luxe Estates Collection, Luxist.

What do you think of this house? What do you think of Nicolas Cage's taste?
Leave a comment telling me your thoughts about Nicolas Cage's house and his situation now. Do you think this house is worth this much?
Have a great weekend!
xo
Luciane at HomeBunch.com
Wonder what I'm up to? Come follow me on Twitter: Twitter/HomeBunch.
Save