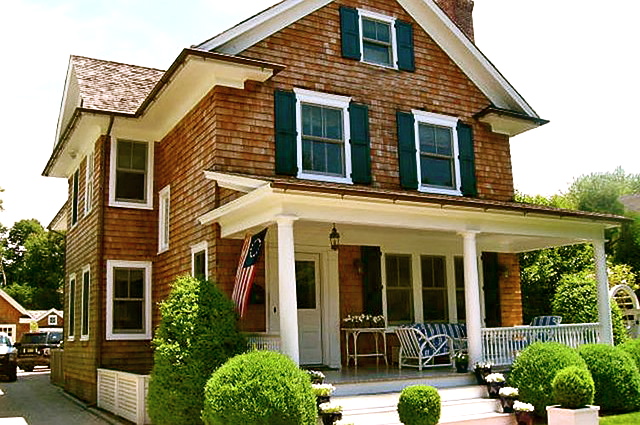 Southampton is a place where you can find immense mansions, cozy cottages and also warm and welcoming family homes just like this one. When I first saw it, my initial thought was: "Okay, this is one that feels 'real'". As you know, I always feature houses and rooms that can be achievable, but sometimes they just stay in our dreams. Maybe the location of this house is not that easy to achieve, but the interiors are not hard to create in our own abode.
This newly renovated home has six bedrooms, six full/2 half bathrooms, paneled rooms, a mudroom, two laundry rooms, master with beautiful paneled tray ceilings, and an ensuite with soaking tub, steam shower and heated floors. The property sits on a .50 acre parcel with a gorgeous 20×50 freshwater pool that has an automatic cover (it's all about making your life a little easier, right?!) and also a pool house with cathedral ceilings, a bathroom and kitchenette, making it a perfect space for your guests. Oh, and also an outdoor shower… just perfect for the sunny summer days.
Nights on the Porch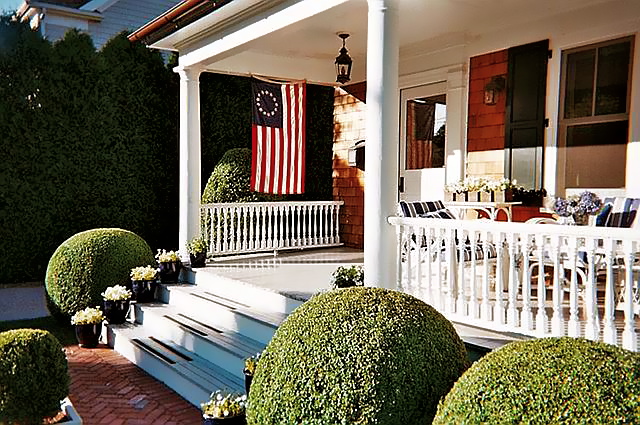 Bring lemonade and let's celebrate the sunshine!
Home Sweet Home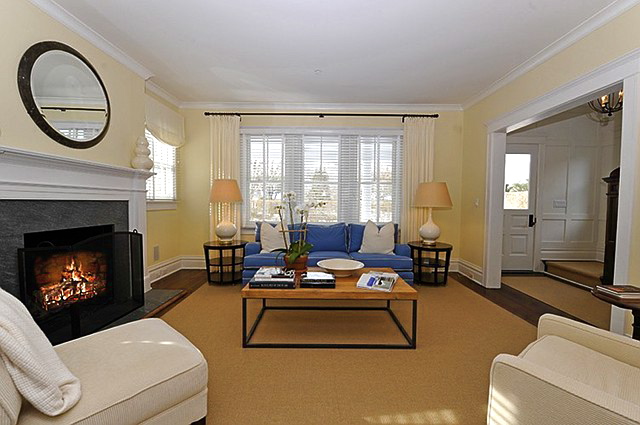 A living room that feels stylish for guests and comfortable for the whole family at the same time. This is my kind of home.
Bringing the Waves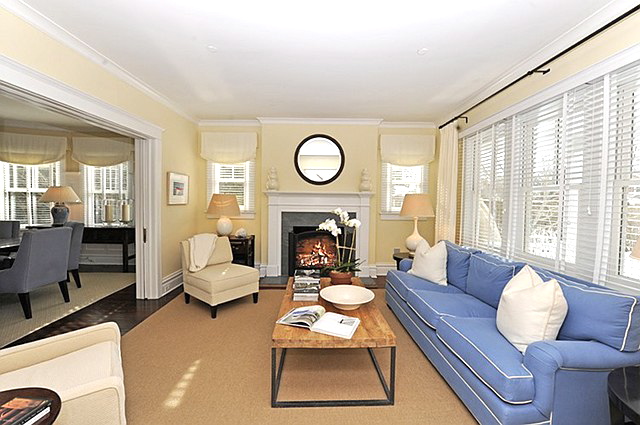 I think you should embrace a more relaxed style if you live in a coastal area. This room's colors showcase the blue of the ocean, the rugs remind you of sand and the light yellow on the walls is like the warmth of the sun.
Dining Room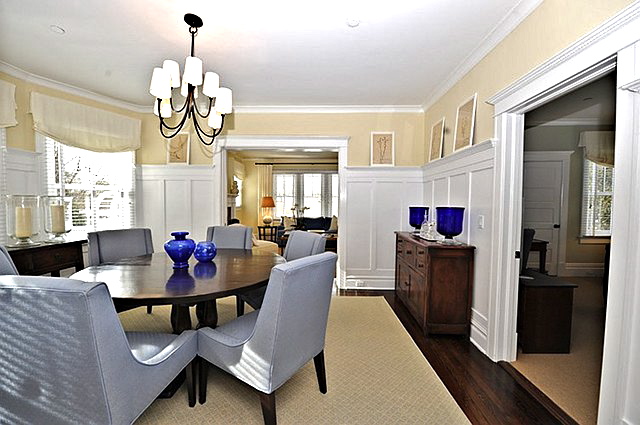 I've said before that I prefer a cozy dining room because you feel more connected with your guests. A living room of this size is just perfect and a round table that can be extended is a very smart idea in case you have a bigger number of guests during a special occasion. Also, it's very important to pay attention to the comfort of the chairs. Note how these chairs are not only beautiful but also comfortable. It's like when you go to a restaurant, if the chairs are cheap, uncomfortable and cold, you simply won't stay there for a long time. Having chairs which embrace your body is a way to say "welcome and enjoy my space" (as opposed to hard-surfaced chairs which say "eat and go!"). So, what's the message you want to give your guests? If you've answered the second one, you should rethink who you're inviting over for dinner. 🙂
Tiny Charm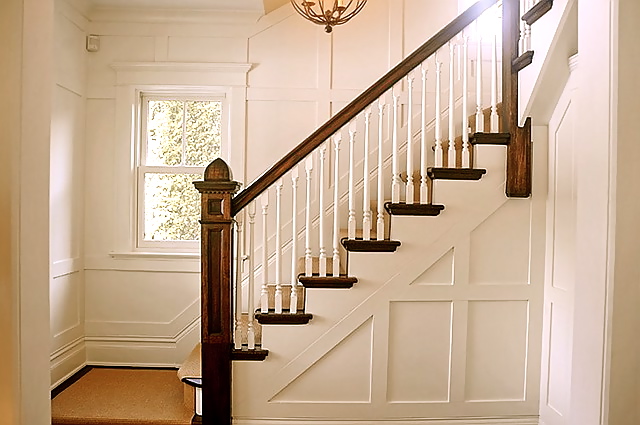 This foyer is small and full of charm and character. It's okay to have a small foyer (we can't change everything we want, right?) but you should make the best of what you have. The paneled walls make it feel special. I'd add a nice console table or a pair of French chairs with a fun fabric (some blue, maybe?) and a coat stand to create a nice mix.
Family Room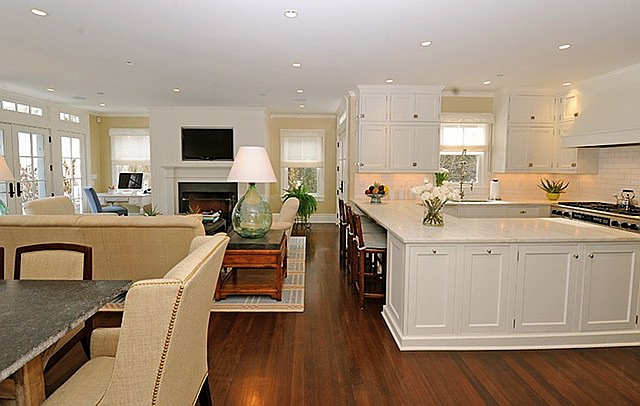 The open floor plan makes this area feel really spacious and welcomes family time. Gorgeous lamp — and a perfect size for this room!
Kitchen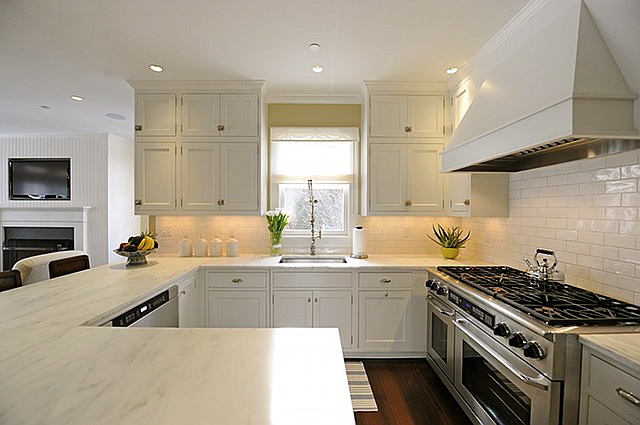 Perfectly done and totally functional.
View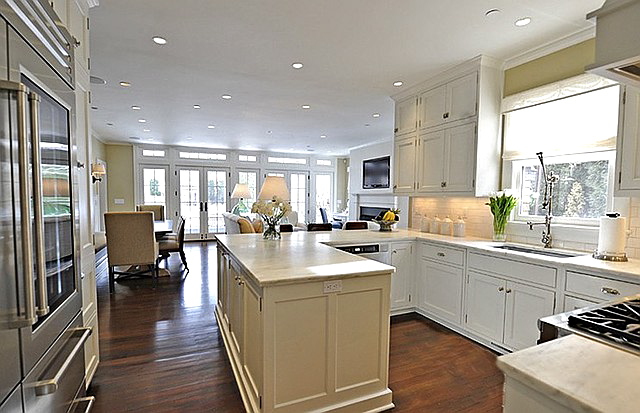 Why do I love this kind of kitchen? Because it's classic. The marble countertops, the classic lines of the cabinets, and the subway tiles are all timeless elements. That means you'll have a kitchen that will look good for many years to come. This kind of look is trendy right now, but it's a good trend…. a classic one. This will take a long time to look dated, which means you save money over time.
Eating & Living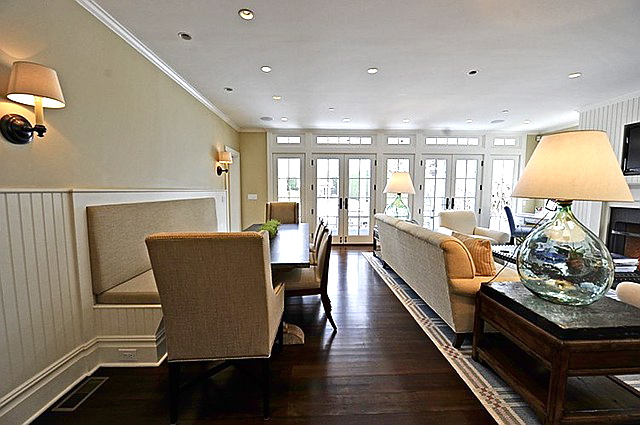 This is beautiful, isn't it? A banquette is a great thing to have when you have children. I like all the furniture in this space. Feeling in love with that rug and lamp!
Laundry Room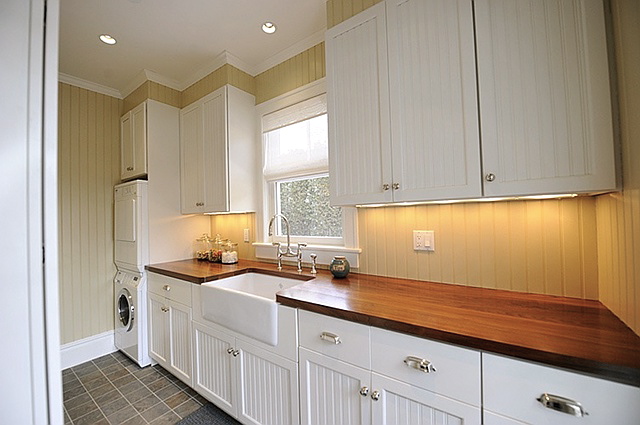 This is a great laundry room. I don't like to see things; I like to store cleaning products up high not only because they are ugly but also because I have small kids. I love storage space where you don't see anything. It keeps a clean look. The countertop is fabulous, but maybe not ideal for a laundry room.
Master Bedroom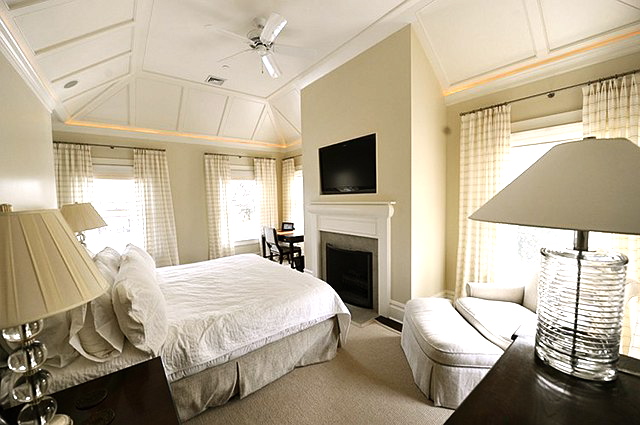 Nice and calming. The color on the walls keep it very neutral and very soft on the eyes. The tray ceilings makes the room feel larger and add a beautiful architectural detail to the room.
Master Bathroom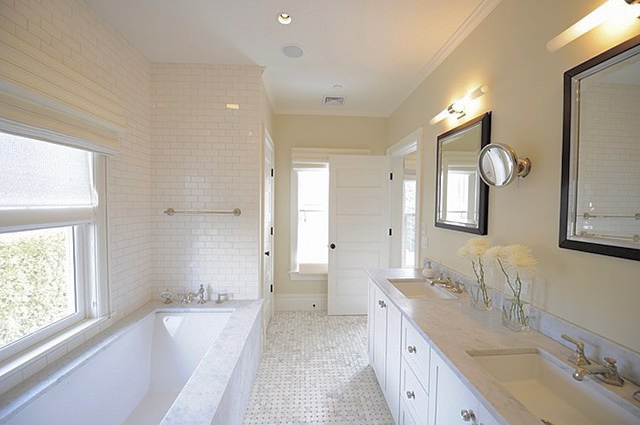 Yet another classic look. Very pretty and bright.
Outdoors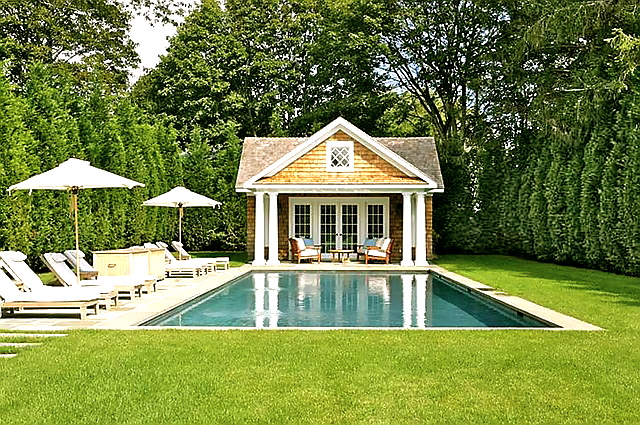 I love when I see the grass so close to the pool. It feels very organic and natural. What a cute pool house!
I hope the weather is getting warmer where you live. Spring is already here! Unfortunately we still have some snow on the ground here but I've seen some birds coming back… and that's a great sign. Warmer days are coming and more fun is awaiting! Start planning days of fun in the sun with your family!
Now, let me know what your thoughts are about this home. Leave a comment below so we all can know what you think! 🙂
xo
Luciane at HomeBunch.com
Come Follow me on Twitter: Twitter/HomeBunch
Source: Saunders.