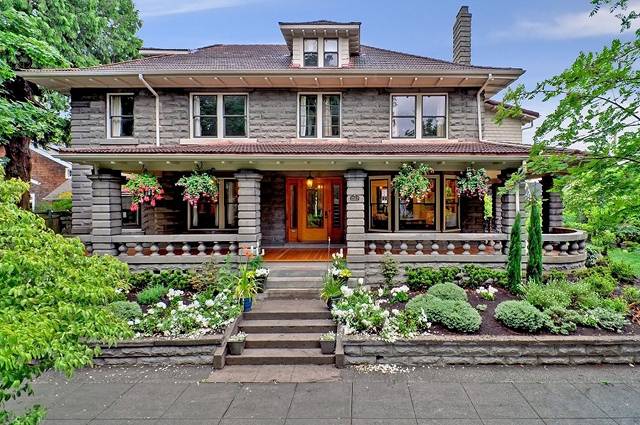 Some things simply cannot be replaced. When it comes to charm this one is a winner, so instead of replacing this gorgeous 1912 stone house, it was totally restored and renovated by Sheila Reilly Design. This house is located in Portland, Oregon and it's on the market for $979,000.00. The house features beautiful formal rooms, 4 bedrooms, 4 full and 2 half bathrooms, 4,532 Sq. Ft, media room and the most welcoming wrap around front porch.
I really hope you enjoy this one!
Welcome!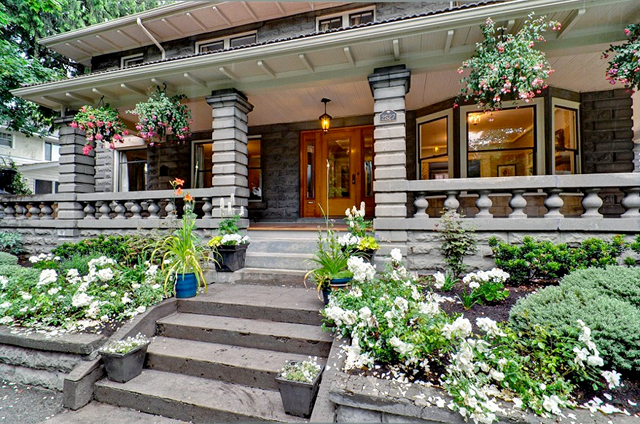 Beautiful gardens are always a way to welcome guests.
Porch
Is there anything better than having a front porch? I love them! I'd love to put beautiful furniture here.
Street View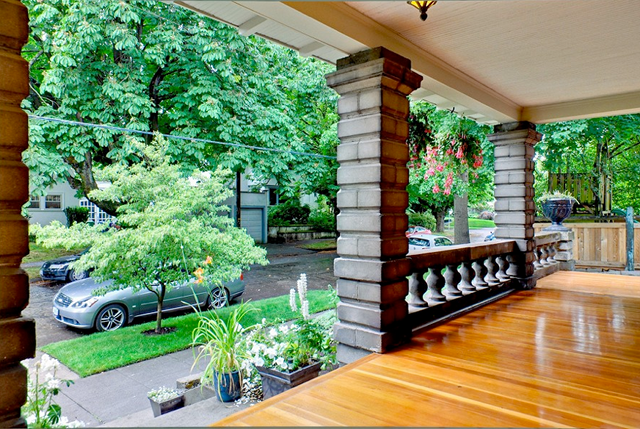 This house is located in one of the best neighborhoods in Portland. I adore streets with tall trees.
Floors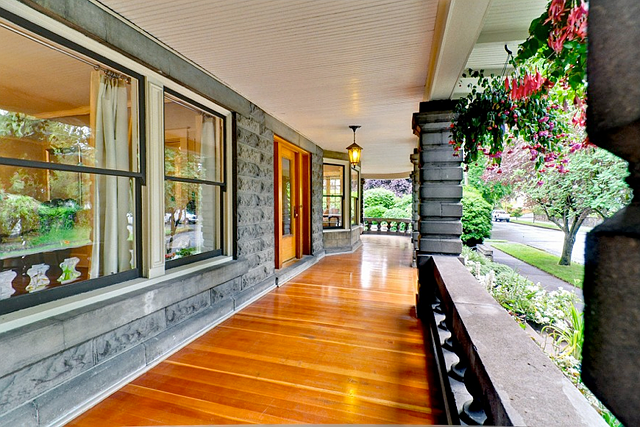 Aren't the floors of the porch just stunning?
Home Sweet Home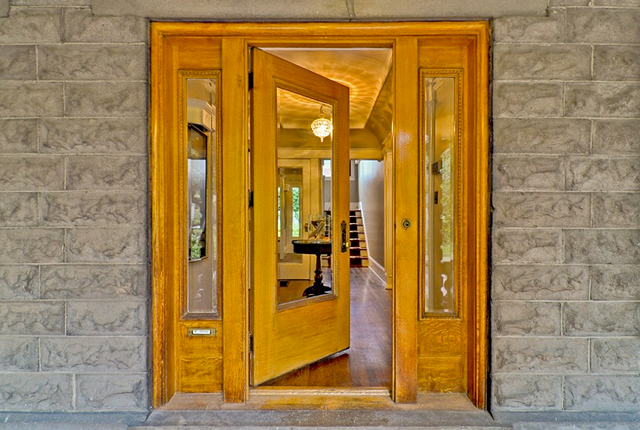 Beautiful wooden and glass door.
Foyer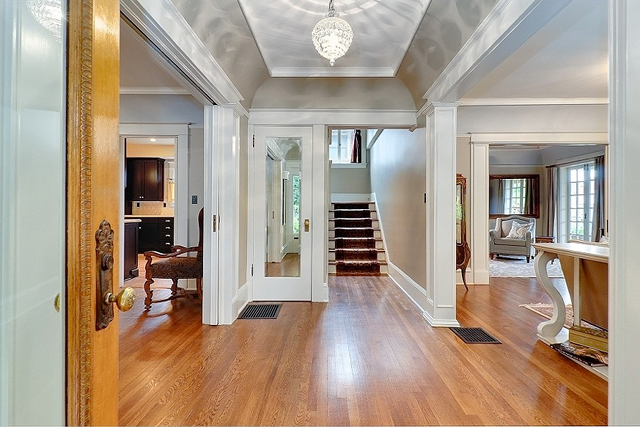 Calming colors on the walls always deliver a great vibe when you first open the door.
Living Room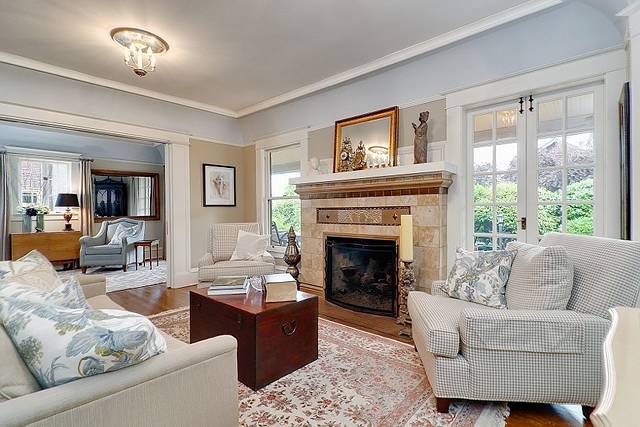 Beautiful soft colors.
Furniture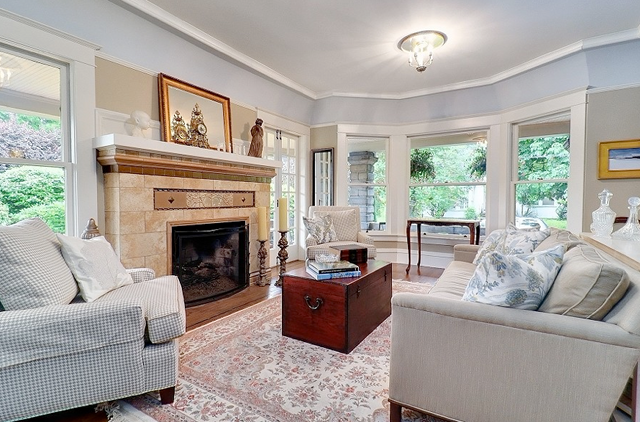 They used only neutral furniture. They look fantastic here.
Windows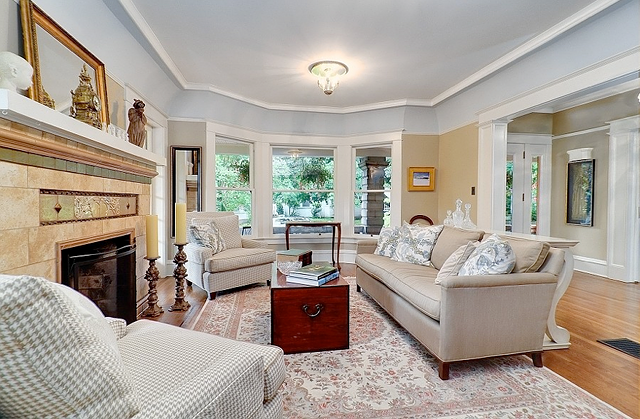 The windows display a view of the porch and street.
Dining Room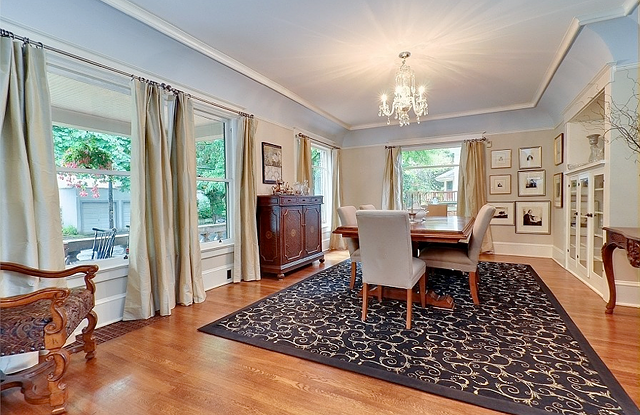 I like everything in this dining room, including the window treatments.
Chandelier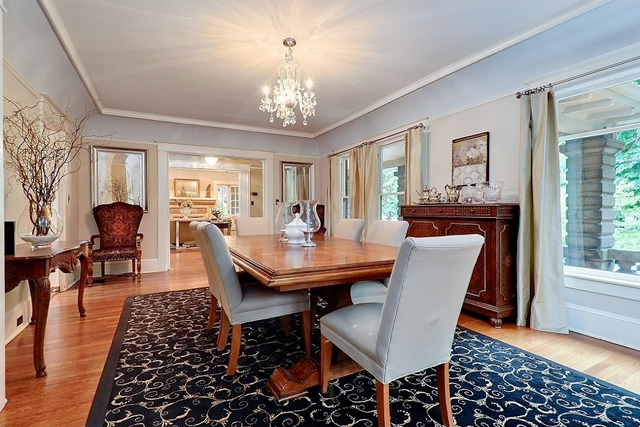 A delicate chandelier always beautifies any room.
Parlor/ Den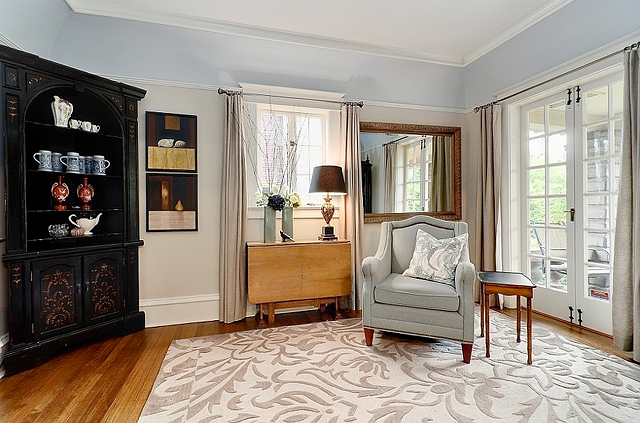 I love the amount of natural light in this room.
Kitchen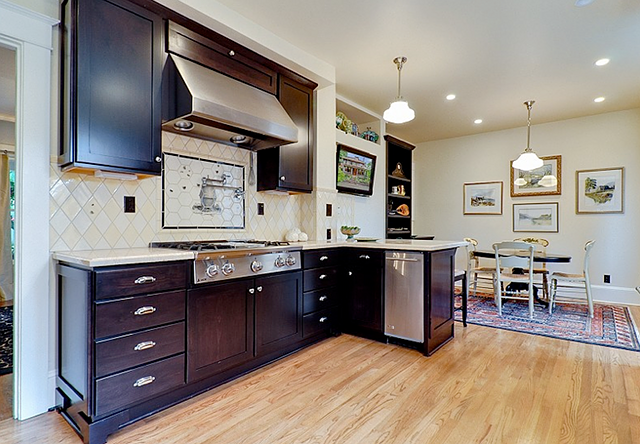 The kitchen is also a charming space of the house.
Island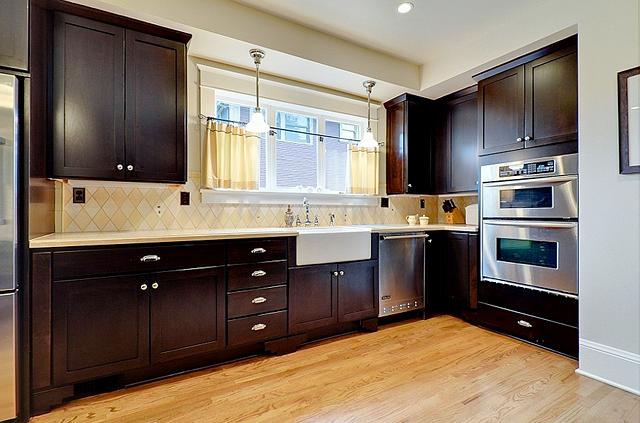 I usually like seeing an island in kitchens, but an antique farmhouse table would look great here also.
Buzzzz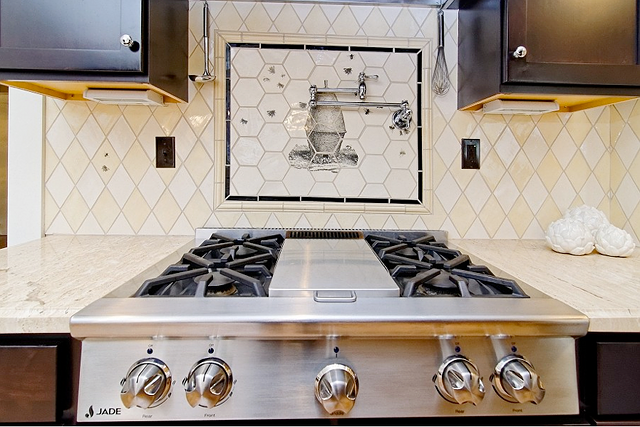 The bees makes me smile. Sweet!
Eating Area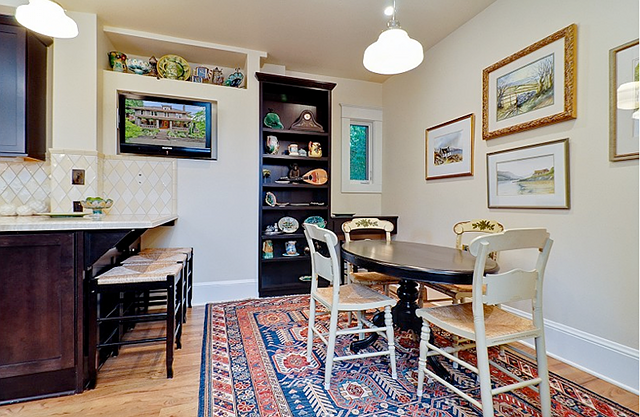 I always like cozy eating areas. I think this one is so cute!
Upstairs
I love seeing charming built-ins in older homes. Aren't they gorgeous?
Master Bedroom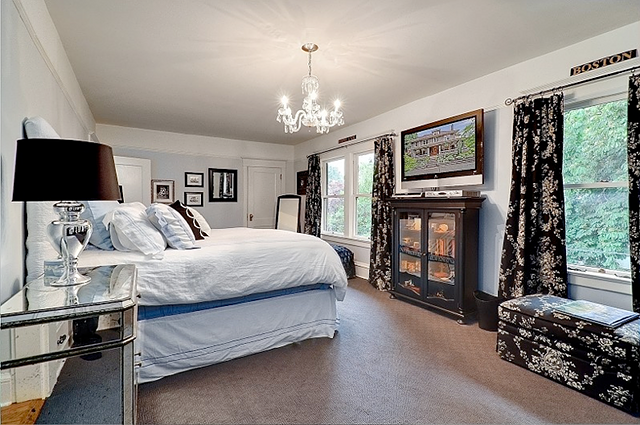 Honestly, this is my least favorite place of this house. It could look much better. Maybe that's because I'm not impressed with the curtains and ottomans of the same fabric. But that's something personal and very easily changed. I'd like to see wooden floors here also. Agree or disagree?
Master Bathroom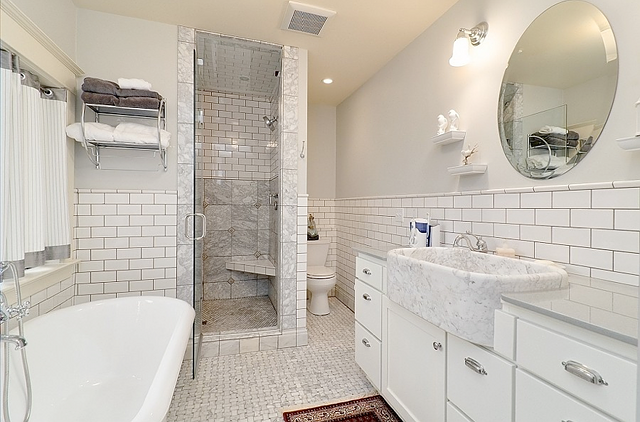 Love it! Beautifully done!
Sink & Tub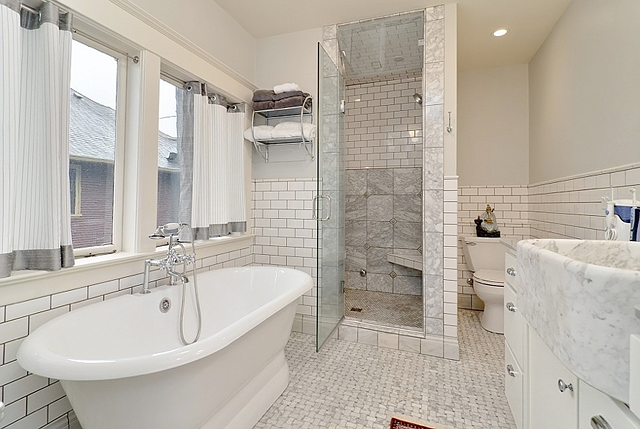 The marble sink is just the right touch here and that tub is perfect for this house. This is a fairly small master bathroom and the floor plan could be a great inspiration when dealing with small spaces.
Guest Bedroom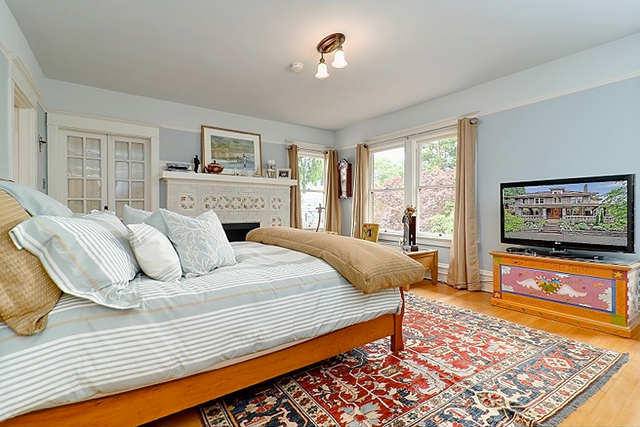 Soothing colors are the best option for a guest bedroom.
Fireplace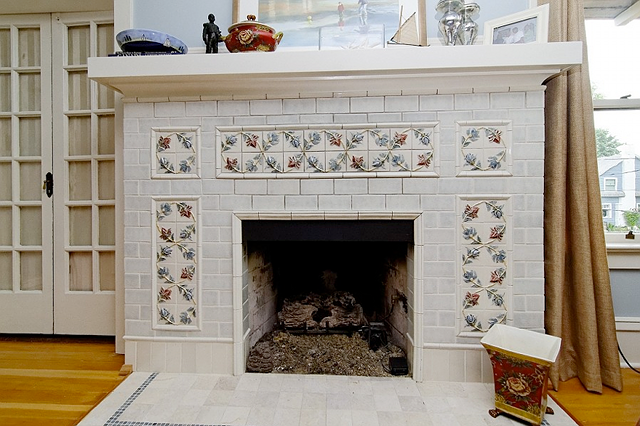 Isn't this fireplace so darling?
Built-ins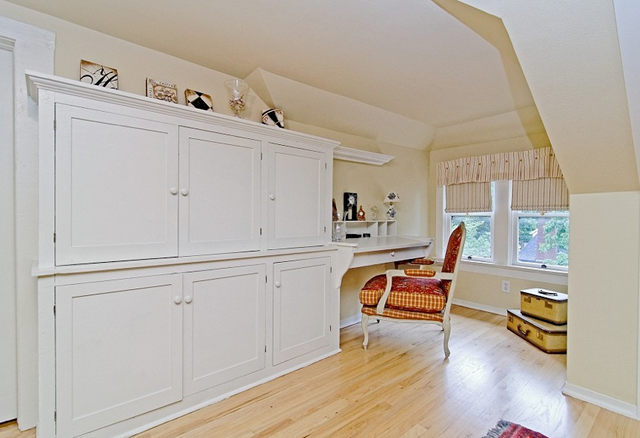 This is a fantastic idea to add storage and beauty to an empty wall.
Guest Bathroom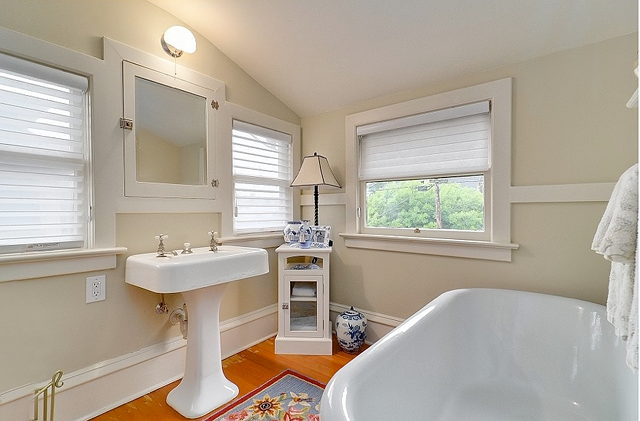 So charming! It's ideal for a house of its time.
Source: Priceypads, Equity Group.
I really hope you've enjoyed this house as much as I did. You already know by now how much I love sharing spaces with you that can inspire and create new ideas to be used in our own homes.
I'm wishing you a happy day! Thank you for dropping by today and please, let me know how you're doing by leaving a comment. Hearing from you always makes me smile and I read every single comment you leave here.
xo
Luciane at HomeBunch.com
Get My Help with Interior Design: HB's Design Service.

Come Follow me on Twitter: Twitter/HomeBunch