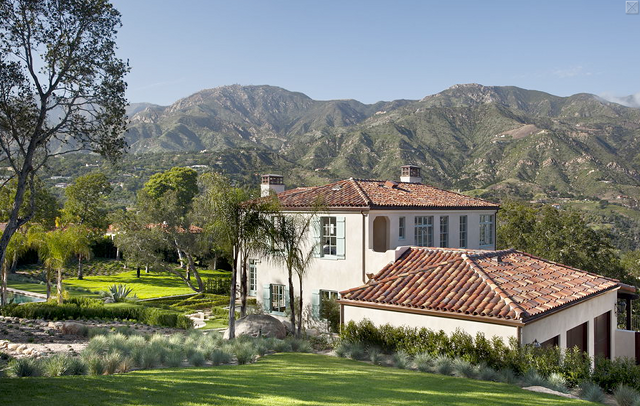 This home exudes historic facts and architectural details that are truly rare to find nowadays. It was designed in 1928 by renowned architect Gardner Dailey, the architect of Montecito's famed Coral Casino, in a Modernist-influenced Spanish Colonial Revival style for the artist Bruce Porter in May 1927. Porter occupied the house from 1929 to 1937. The house was meticulously restored and has five bedrooms and seven baths on three levels. Also, a pool house with mountain views, loggia, fireplace, ½ bath, and courtyard shower, pool, fountain, and spa. Both the pool and spa are highlighted by artisan tile, inspired by Catalina tile designs, reminiscent of the period.
I hope you enjoy this one!
Magnificence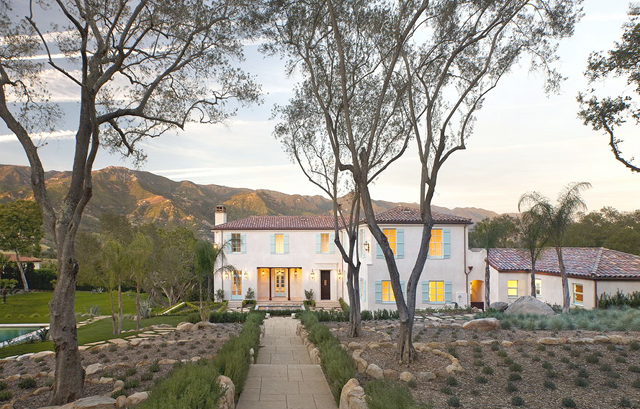 Perfect scenery…
Wood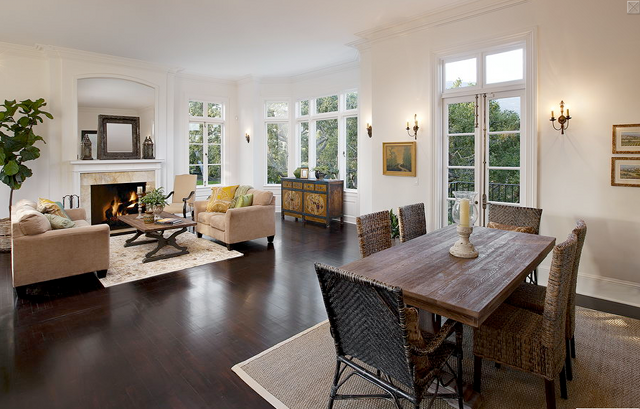 Original Honduran mahogany flooring in most rooms. Amazing!
Library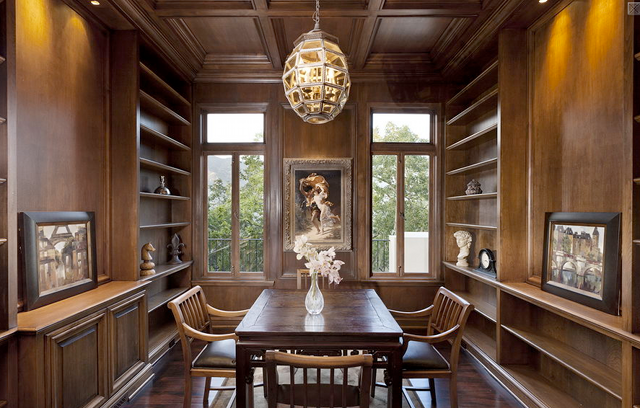 The cabinetry is custom Charlie Starbuck.
Old & New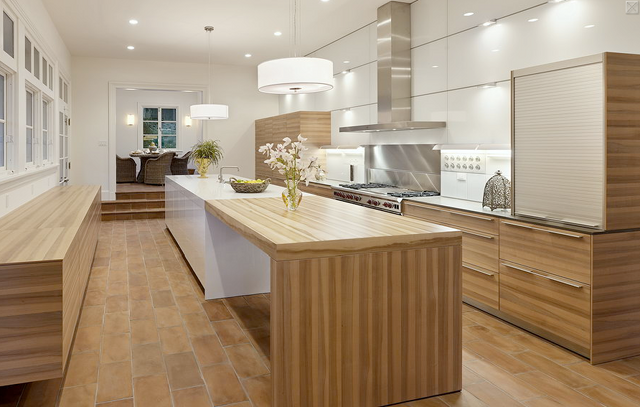 A very unexpected kitchen! I'd never think of creating an ultra-modern kitchen in a house like this one. Do I like it? I like the kitchen, but I'm not sure if it's the best option for this kind of house. What do you think?
Details: Bulthup kitchen with apple wood cabinets and island, Wolf range, Miele appliances, butler's pantry, floor to ceiling glass panels, and white lacquer accents, opens up to a large, private al fresco dining courtyard with cut-out herb gardens and fruit trees.
Family Room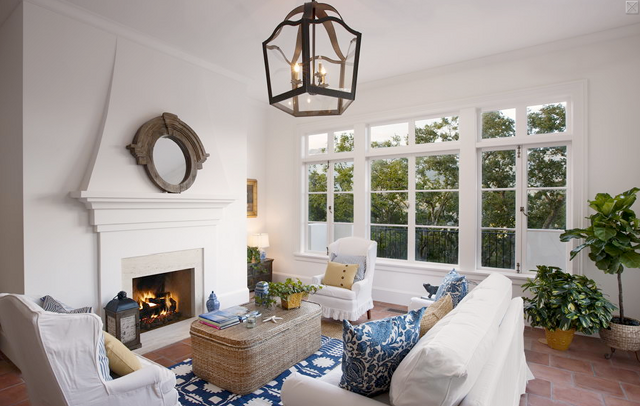 This is my favorite place in this house! I simply love how comfortable and light this room feels. The lantern is the perfect touch for this space!
Master Bedroom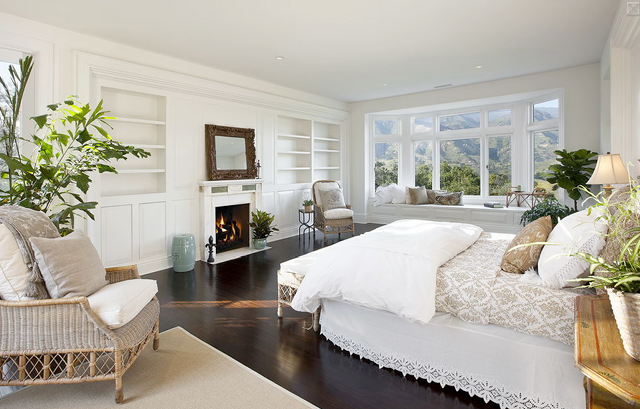 Yet another amazing room in this house. The views are breathtaking!
Master Bathroom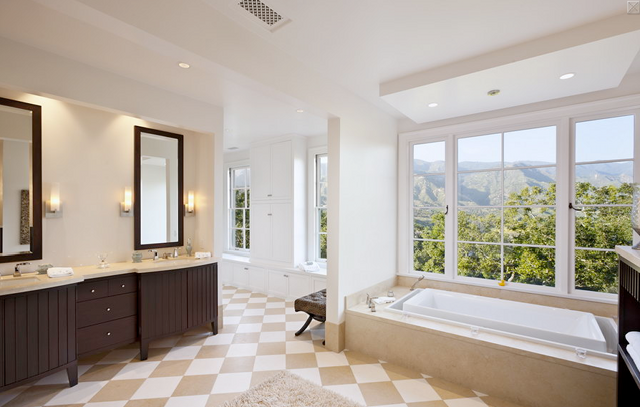 Another modern surprise. The cabinets are very sleek, but I'd like to see something more from the era of this house. The tub is infinity and that view is almost like that too.
Guest Bedroom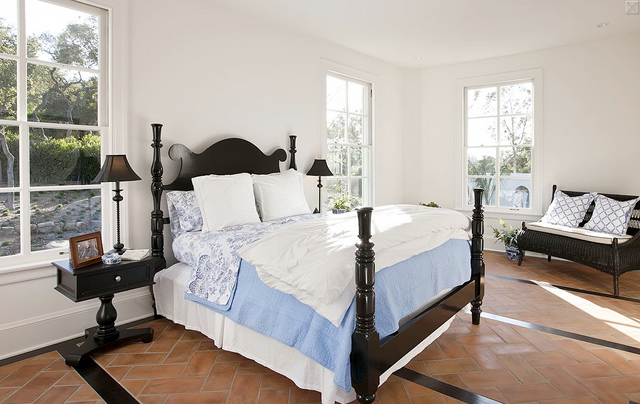 Who wouldn't enjoy staying in a bedroom like this?
Large Guest Bedroom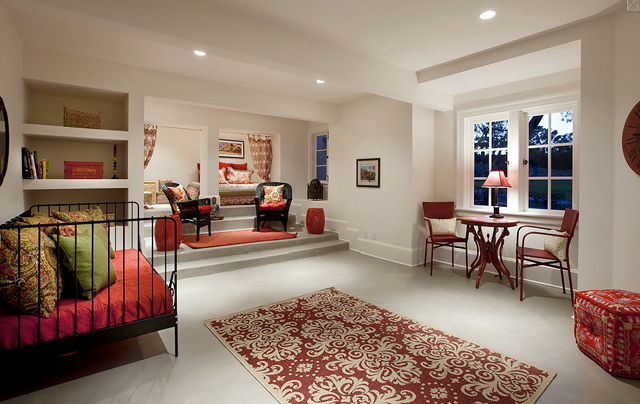 This guest bedroom would be perfect for a teenager.
Vistas
Pretty romantic.
Splash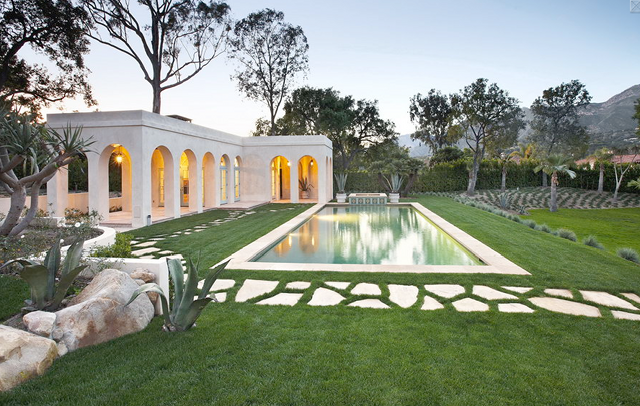 Summer perfection!
Not hard to fall in love with this place. I just wish they didn't have done a kitchen so modern, and added something more "appropriate" for this kind of architecture. But I guess they wanted to "surprise" the potential buyers. What's your opinion on this?
Guys, I just want to tell you that yesterday I completed 12 weeks being pregnant! I just want to share this with you because I feel so excited. We also have started buying some things for the baby, we already bought the crib and the stroller and some baby clothing (mostly white, light yellow and light green). I'll find out if it's a Boy or Girl only on July 5th, and I simply can't wait. Shopping will be even more fun! But honestly, more important than all of this is how I feel about this baby. It's incredible how much my love for him or her is already so strong and so pure. My kids are also so excited and they're always giving kisses to the baby on my belly. Daddy is happy too… I just feel so blessed. I know that no one has a perfect life in this world, all of us have problems, but we need to start counting our blessings more than our problems and believe that we deserve all the wonderful things that come from above.
I hope you had a good weekend and had enough time to do things you enjoy. Let's all try to have an even better week, full of peace, good thoughts and happiness.
Wishing you always the best!
xo
Luciane at HomeBunch.com
I Can Help You with Interior Design: HB's Design Service.
Come Follow me on Twitter: Twitter/HomeBunch
Source: Susan Conger.