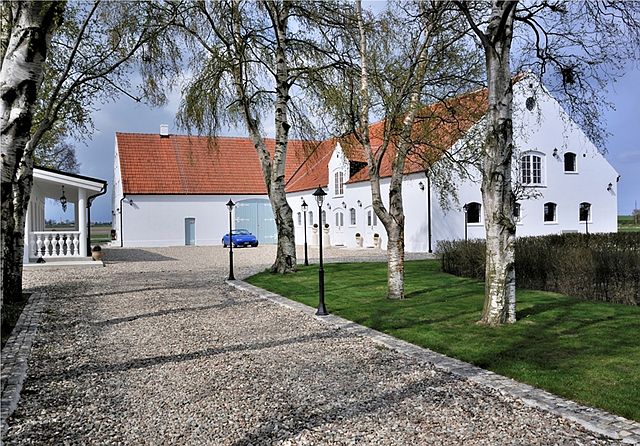 I must admit, my heart started beating a bit faster the moment I saw this Scandinavian farmhouse. Do you know when you see a place and you really wish you could live there? I love Scandinavian homes but I never really saw one that I'd really want to move right into. I've seen many I'd love to spend some time at, but this one is such a keeper. I'd be jumping every time I entered this house. Yes, I'd look silly, but the happiness would speak louder than sense.
This is truly a magnificent residence, where every detail, every nook, has its unique design with a common theme of tastefulness expressed in stone, white-painted wood, brick and iron. The present owners have taken equal measures of love and skill, and mixed in plenty of delight and vigor to create a unique lifestyle home. The house comes with a huge bonus room that feels almost like a chic barn that's actually connected to it.
Imagine yourself in this place and get your pinterest account ready. You'll want to share this place with the world!
Farm Foyer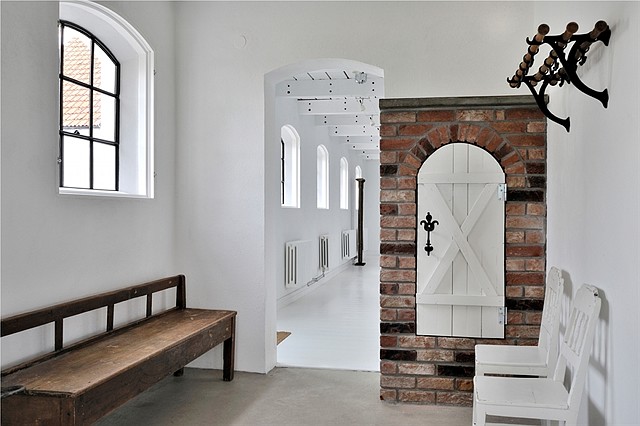 What else can be more charming than this foyer? The antique bench, the windows and the brick are just a few of the elements that make this space look timeless.
Living Room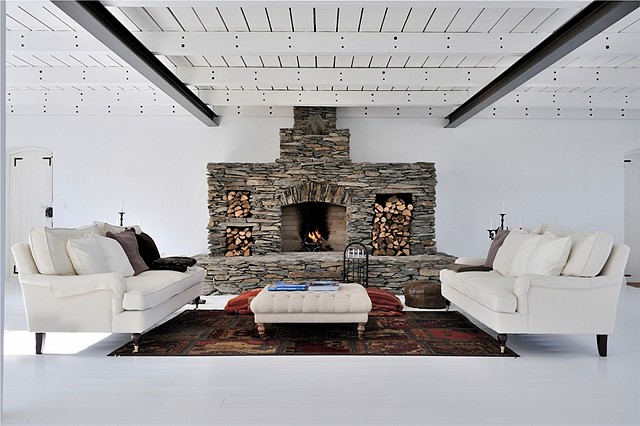 Is your heart beating a little faster too? This is one of the most charming living room I've seen in quite some time. I love that fireplace! Imagine staying in this place on a cold winter day and feeling the warmth from the wood being burned.
Hot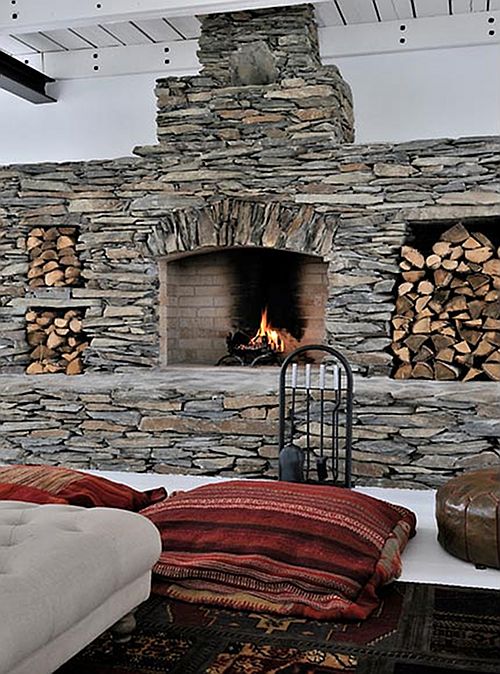 Perfectly done.
Space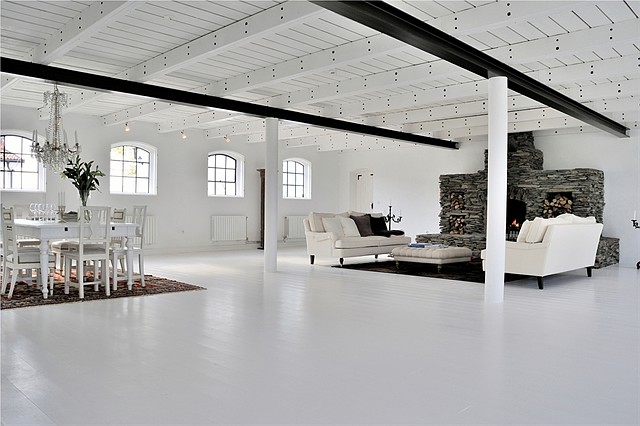 The living room shares this beautiful ambiance with the dining room.
Dining Room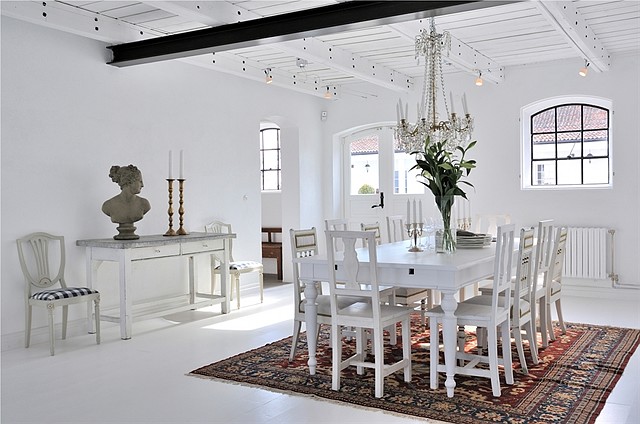 Gorgeously white and serene. I adore the chandelier. Color is added with the beautiful rug.
Table
Imagine having a dinner party at this place.
Ceilings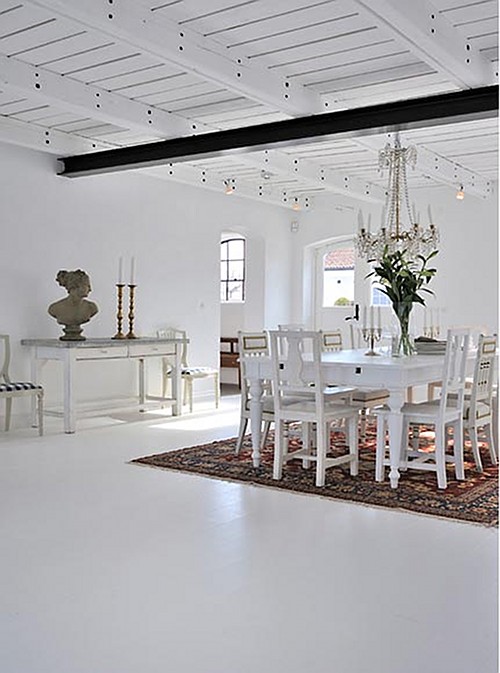 The ceilings of this place are incredibly beautiful and simple at the same time.
Kitchen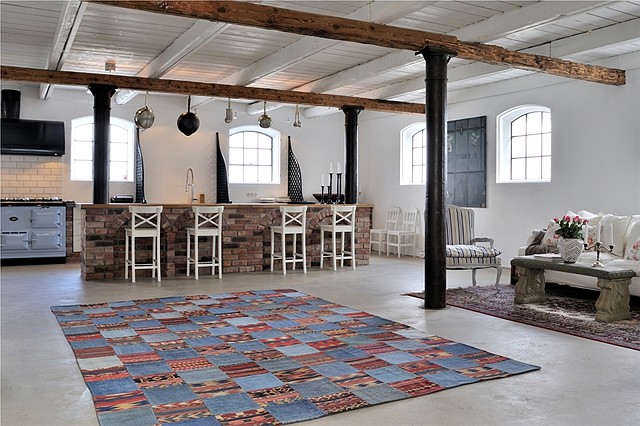 This kitchen is very inspiring and so is the that rug.
To View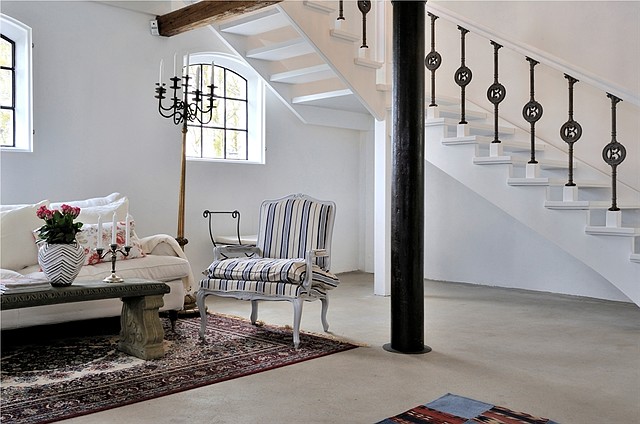 The family room sits to the side of the beautiful staircase.
Look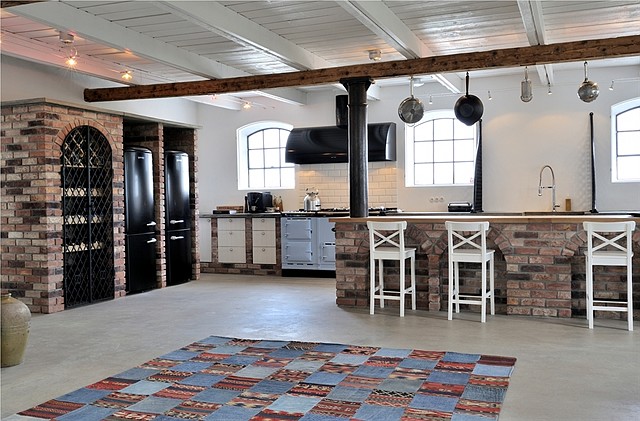 Take a good look at this kitchen. The rug goes perfectly with the blue range, the brick and timber adds some warmth and yet everything is kept to a minimum. Very Scandinavian.
Iron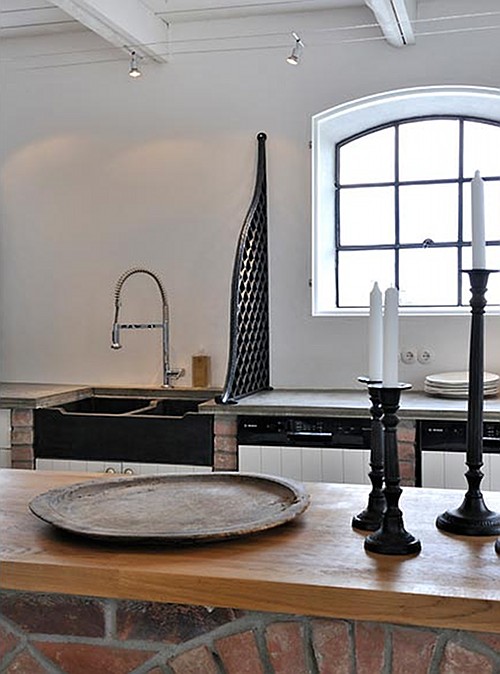 Interesting ironwork by the sink.
Aga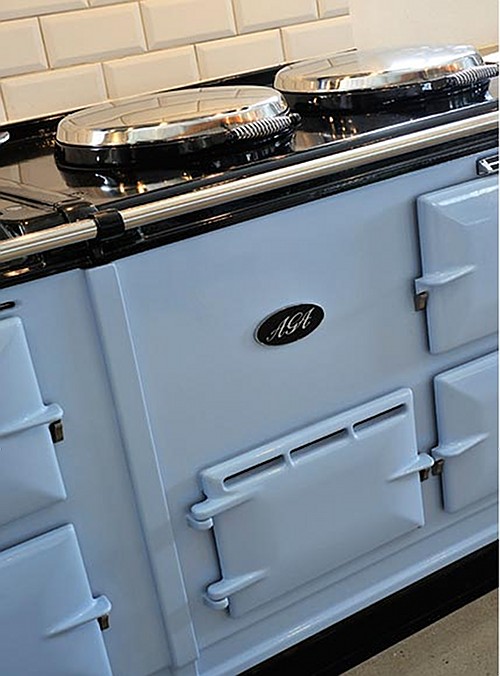 Lovely color for this range.
Staircase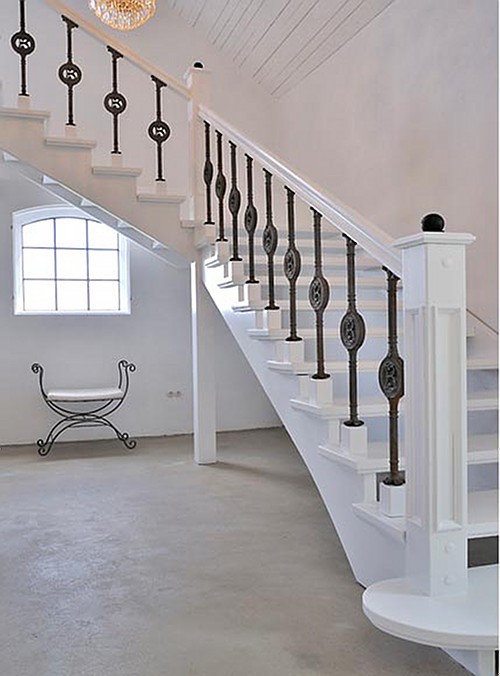 Stunningly done.
Lounge Area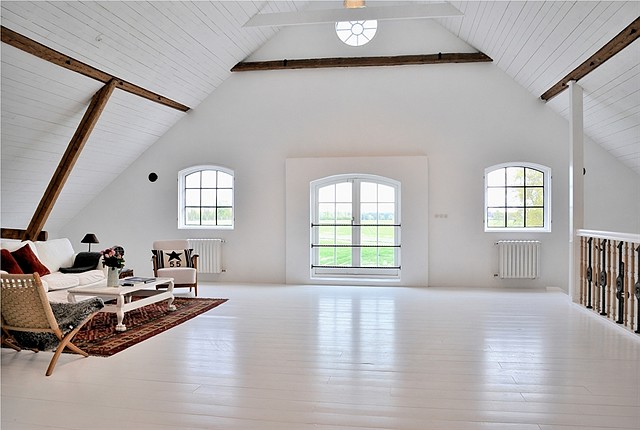 This is the lounge area you find as you arrive upstairs.
Space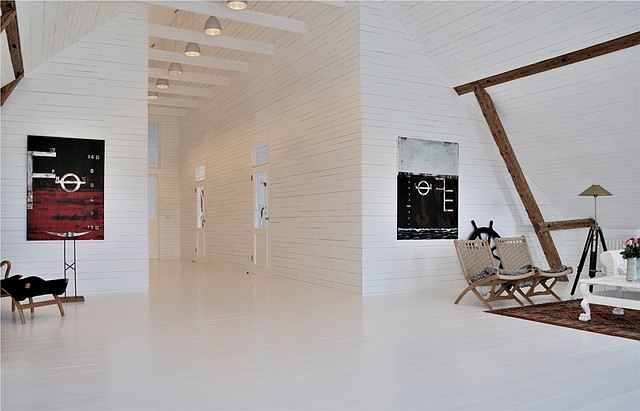 So much space! Notice how high the ceilings are and the painted walls. The hallway leads you to the bedrooms.
Master Bedroom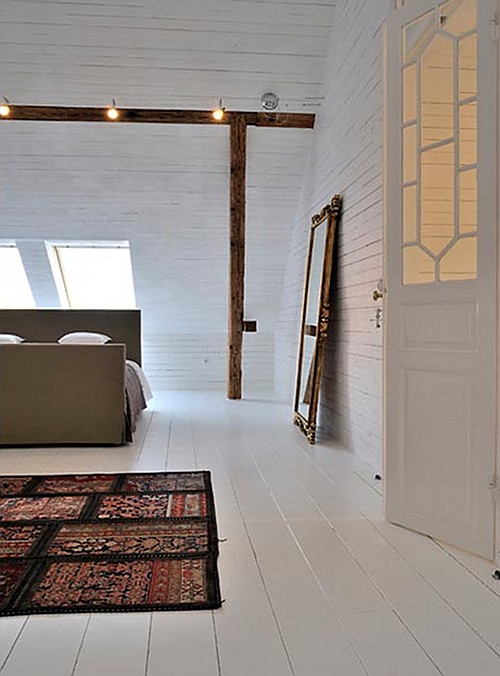 I really like these doors.
Chair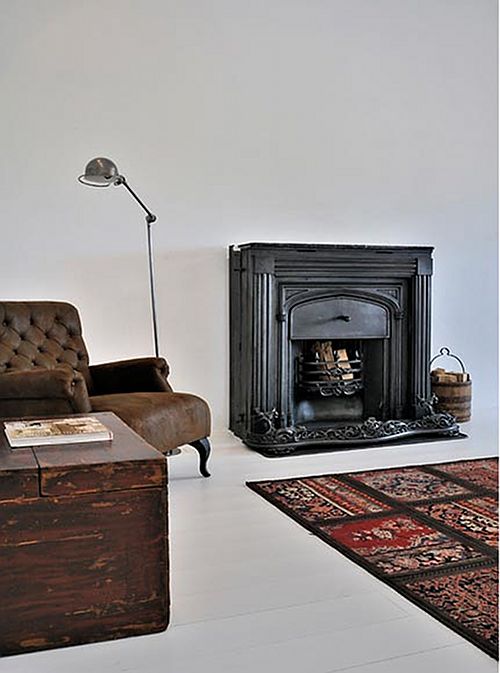 Antiques bring some charm to this master bedroom.
Master Bathroom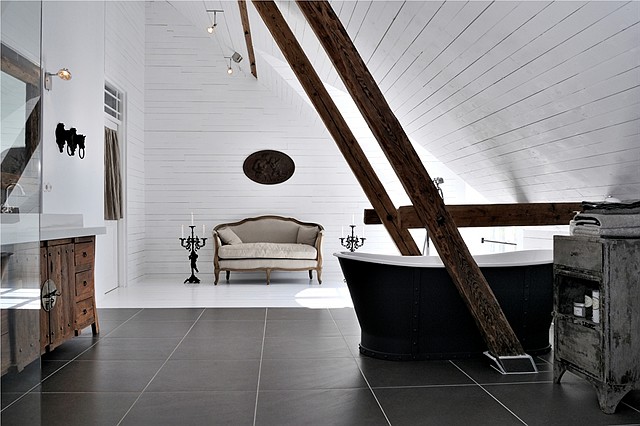 This bathroom is dreamy! I can't stop looking at the beauty of this place.
Vanity & Shower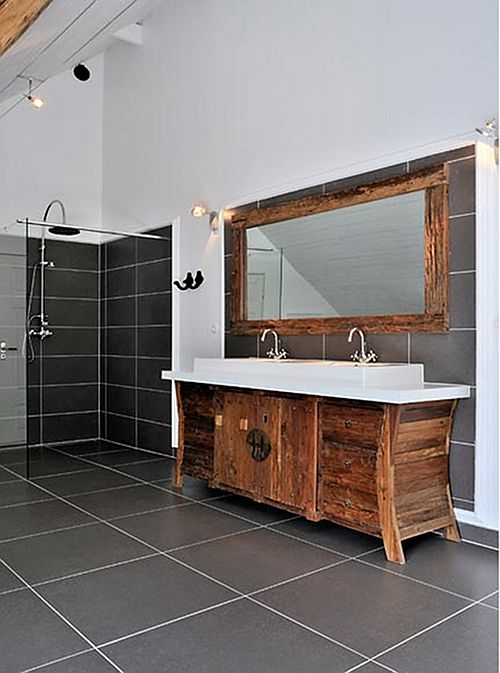 This vanity is just the perfect fit for this bathroom.
Details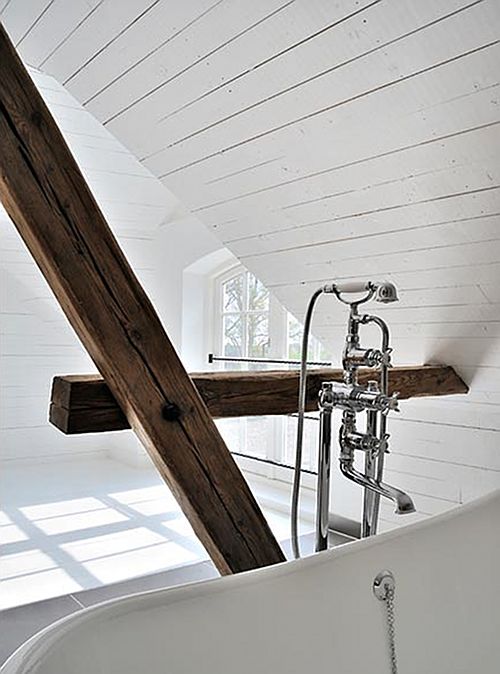 So charming!
Guest Bedroom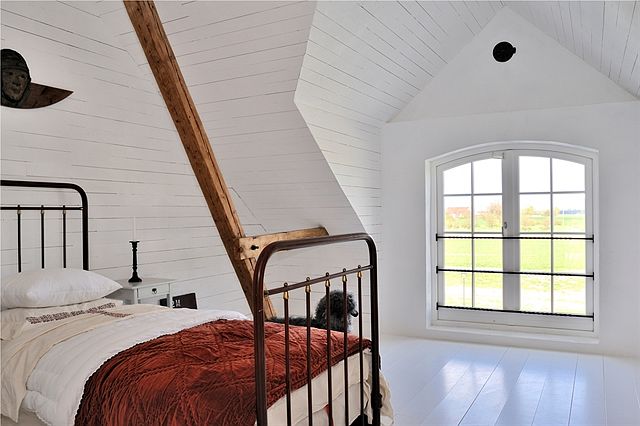 I like the architectural details in this bedroom.
Lucky Little Girl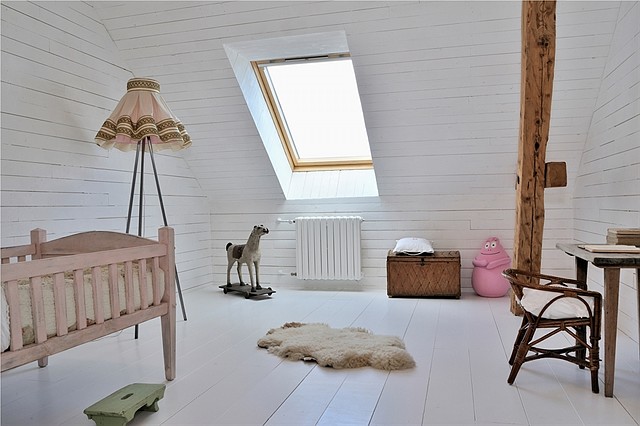 Sweet as cotton candy!
Simple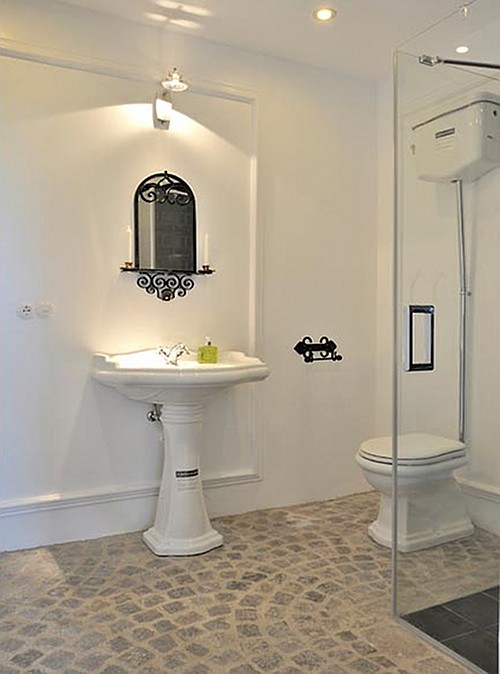 The stone floor of this bathroom are so beautiful.
To the Outdoors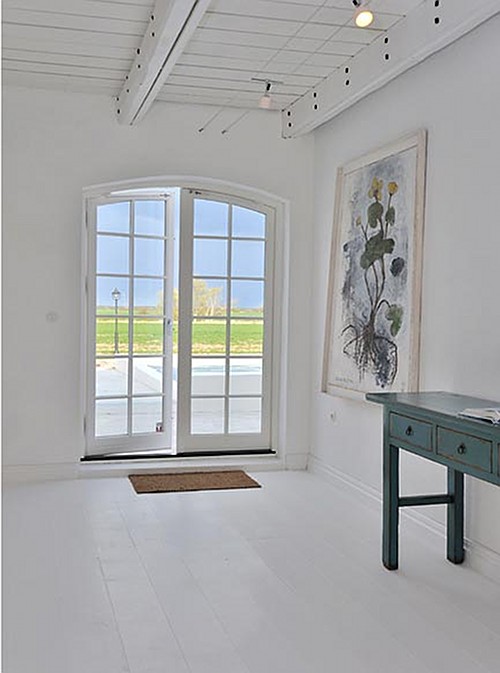 Heavenly.
Lions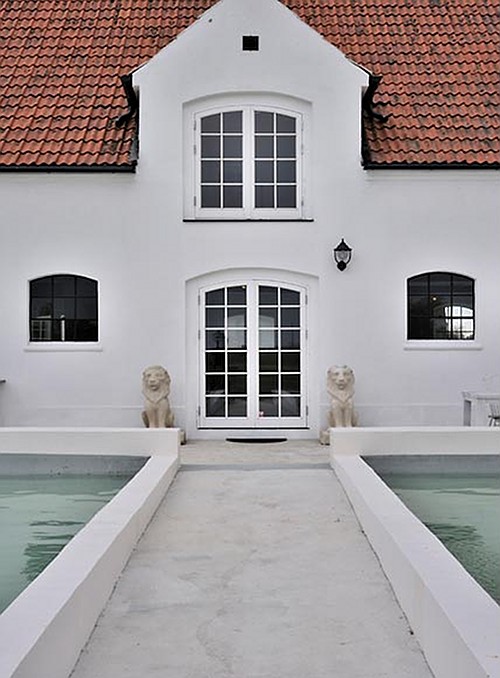 Gorgeous!
Anywhere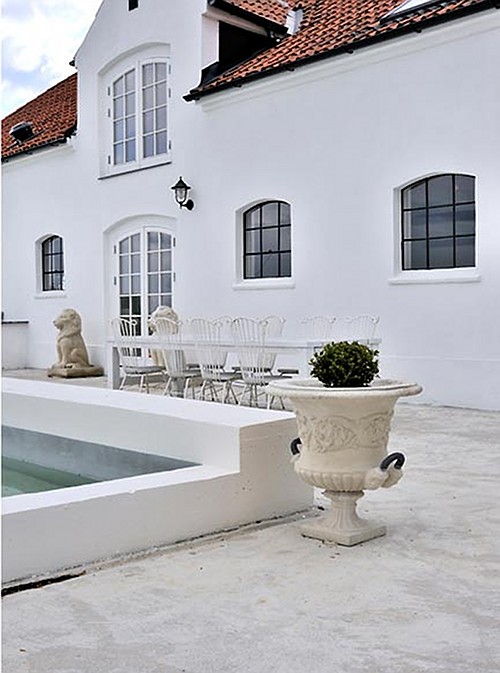 This house is beautiful inside-out!
Views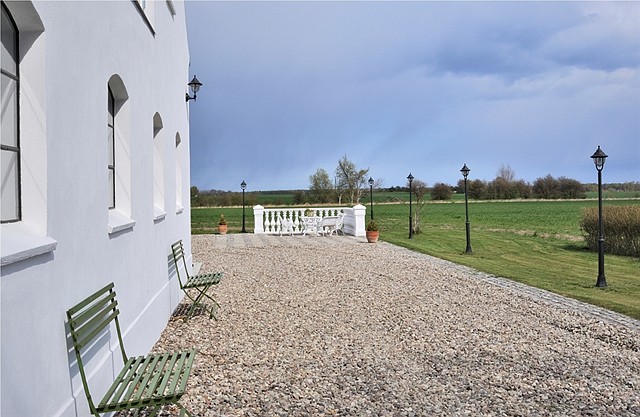 Take a look at this place!
Surprise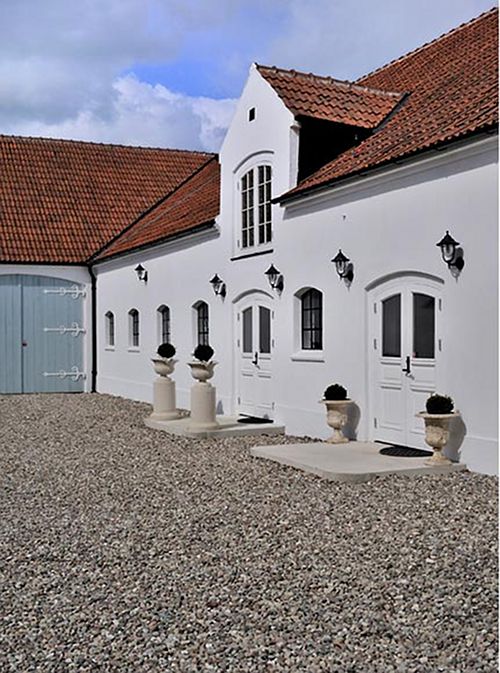 See that turquoise door? See where it leads you…
Dreams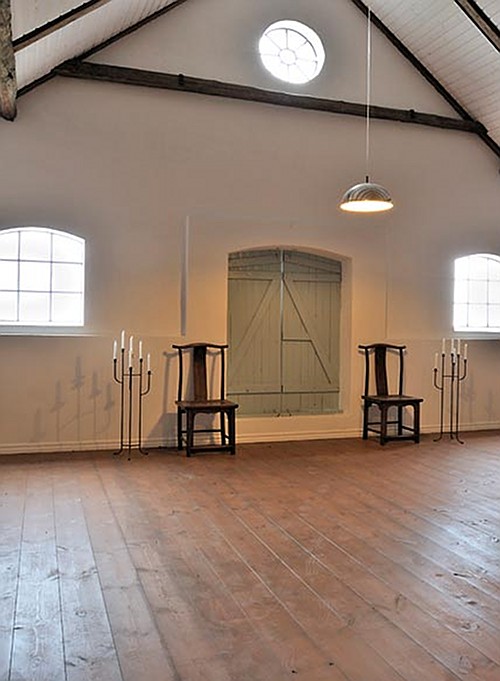 That door leads you to this huge barn-like building. Take a look:
The Place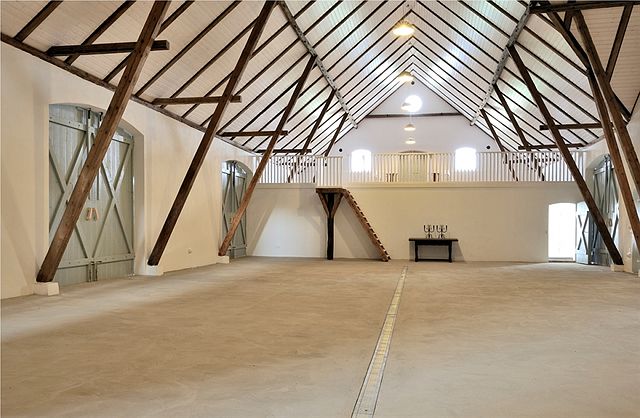 What would you do with all of this space? I think I'd have my office upstairs and downstairs would be perfect to have as many different living areas.
Extra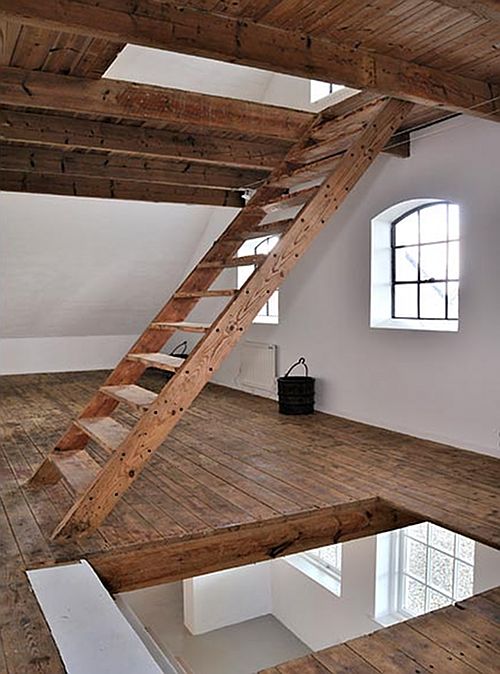 More space to fill with dreams.
Flowers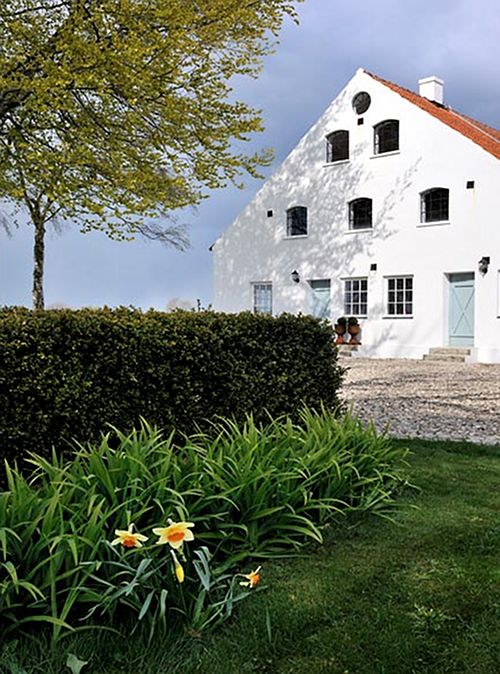 Isn't it an amazing place?
Take a Seat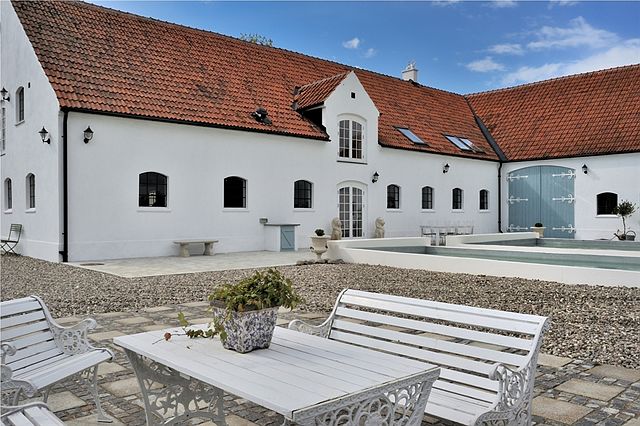 Have you fallen in love?
I can't wait to know what you think of this place! All I have to say is "I want it"! This house is extraordinary in style, elegance, simplicity and architecture. I really hope you've enjoyed it as much as I did.
Did you had a good weekend? I ate during this weekend. I will be honest with you, I'm being very healthy during this pregnancy and even though I ate a lot of ice cream during the summer, I try to never skip my veggies and fruits, but I'm also not feeling guilty if I want to eat something extra, like a cupcake. Yum! So, during this weekend I has some fun with my deliberate eating cravings and I don't feel like apologizing for that. Isn't it great to eat something without any guilt? I'm enjoying life! 🙂 Besides, I had 5 people this week telling me I look so tiny. Guess what I did? I laughed! I'm mean, I know it's just my belly, but I told them I feel huge! I roll to get in and out of the bed, my friends! And if anything falls on the floor I make a sad face. Do I really need to get it? Oh, what about putting my shoes on? Not fun! Yes, this is how we all feel when there's only 8 weeks left to give birth. Have I mentioned I'm very anxious? 🙂
Wishing you a super, duper great week!
xo
Luciane at HomeBunch.com
Get My Help with Interior Design: HB's Design Service.
Come Follow me on Twitter: Twitter/HomeBunch
Source: Skeppsholmen.