Sharon and Ozzy Osborne has their new house for sale and many people feel surprised since they just had it featured last month at Architecture Digest and also on the hot TV show "Million Dollar Decorator" with designer Martyn Lawrence-Bullard. The infamous interior designer, whose client list includes Cher, Elton John, Christina Aguilera, Eva Mendes, Ellen Pompeo and kid Rock, just finished designing their beautiful home, located in the gated community of Hidden Hills, California.
"Sharon rules the roost when it comes to decor," according to Lawrence-Bullard. And I think he's totally right on that one, it's hard to even imagine Ozzy in this house.
The house, built in 2001, is a sophisticated Cape Cod inspired estate located atop an intimate cul-de-sac on 2.5 acres of land. It features breathtaking city and mountain views. The house is also really large, with 11,000 Sq.Ft, 6 bedrooms, 10 bathrooms, plus 4 partial bathrooms, a very unique kitchen and formal living areas. Outside you'll find a guesthouse, pool with a separate shallow pool, spa, BBQ island, commode & outdoor shower, and the amazing views, which I believe to be the selling point of this house. How much you ask? $12,999,000. Take a look and leave a comment letting me know if you think this house is worth it or not!
Curb-Appeal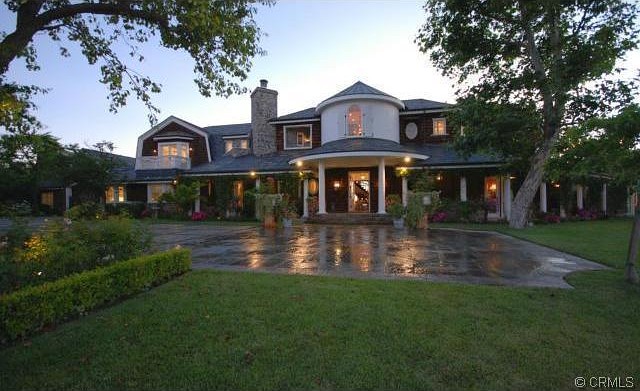 I think this house has tremendous curb-appeal.
Welcome!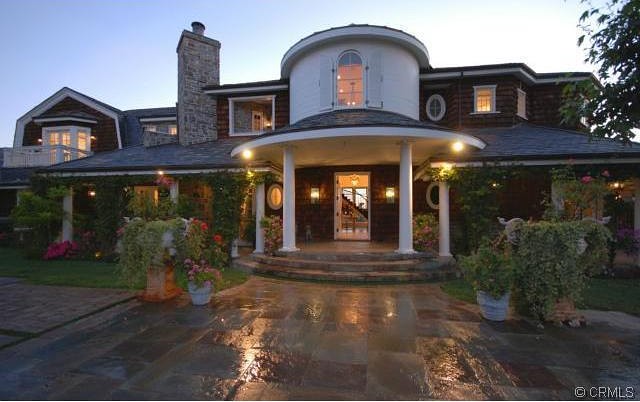 It reminds me of the houses we see in the Hamptons.
Foyer Then (Architecture Digest AD)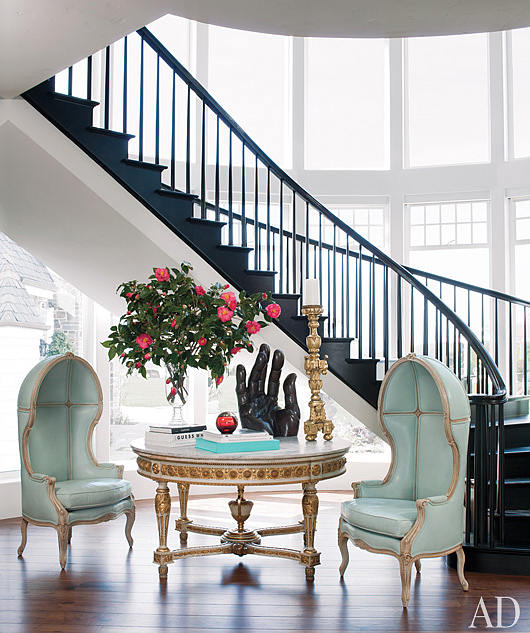 We all know that houses get a "facelift" before a photo shoot for any magazine. I'm posting some pictures from AD and the ones from the listing now. Take a look and compare.
Foyer Now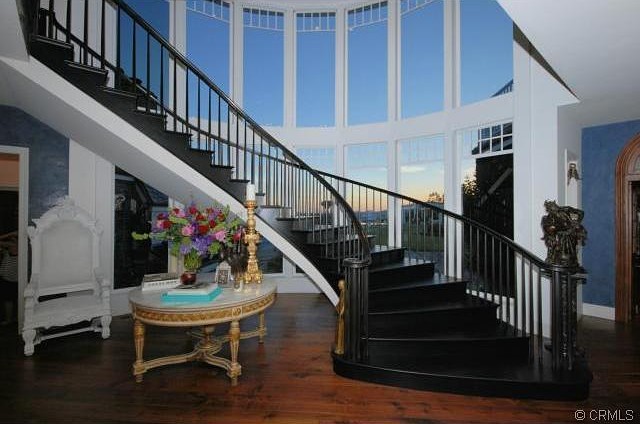 I'm missing the pair of custom-made porter's chairs covered in an Edelman leather. The table is 19th-century French.
Sharon Hearts Mirrors
After seeing this house, you'll agree that Sharon Osborne loves mirrors.
Living Room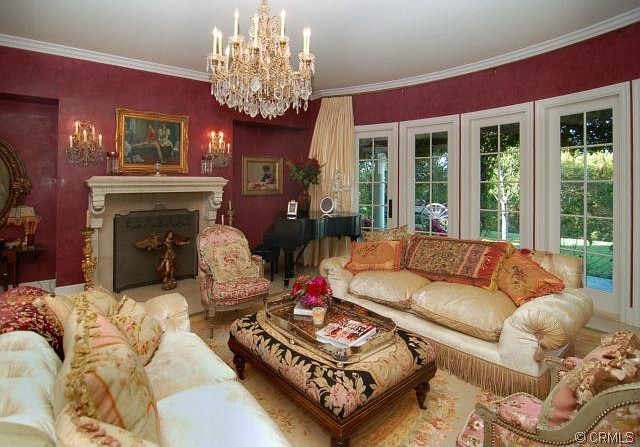 I cannot say I'm a fan of this room. I know it feels really warm, but that color on the walls is a bit too much for me.
Then_ AD Living Room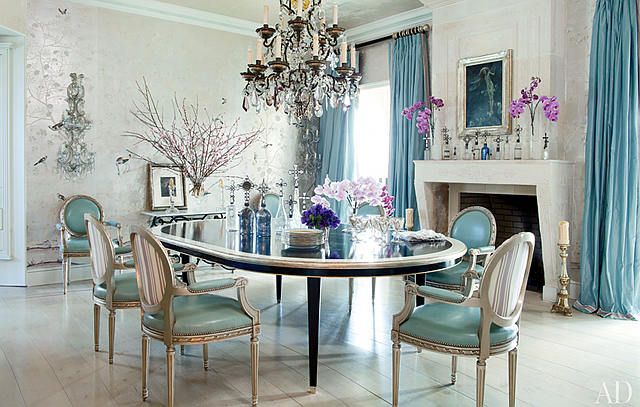 The Directoire-style fireplace in the dining room is from Exquisite Surfaces, and the table and chairs are by Martyn Lawrence-Bullard Design; the chandelier is 19th-century French.
Sweet Image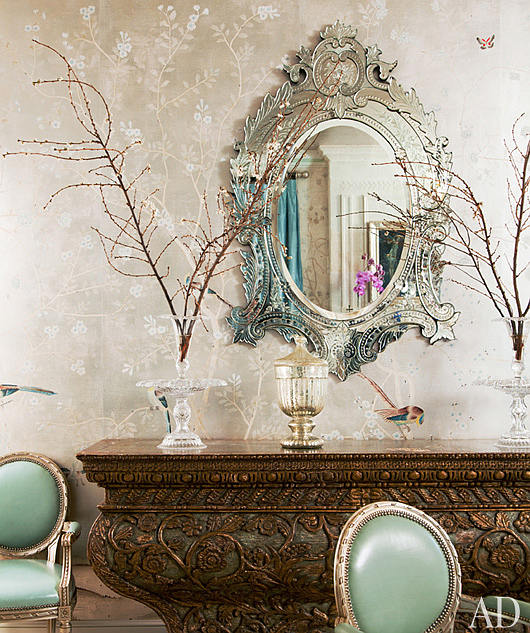 A 19th-century Venetian mirror complements the dining room's luminous de Gournay wallpaper.
Dining Room Now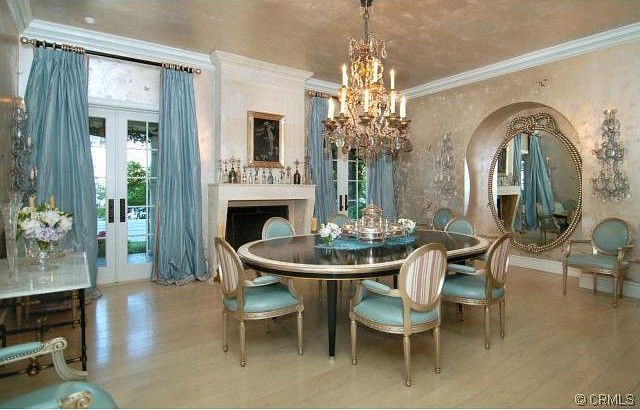 Wow! How important is to have good quality photos, right? I wish the realtor could compare the listing photos with the magazine ones. The rooms look much better and brighter, the colors are more vivid. That would help on the listing, I'm sure.
Cozy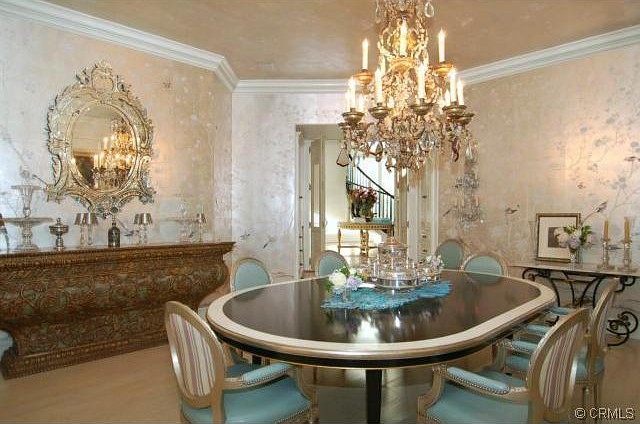 I really like the size of this dining room. It feels cozy.
Then_ AD
Sharon displays her collection of vintage Americana in the kitchen, including a cash register on the island and animal weathervane ornaments.
Kitchen_ Now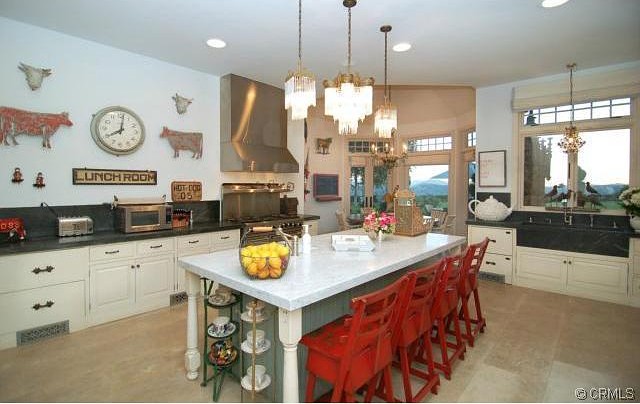 I like this funky kitchen!
Then_ AD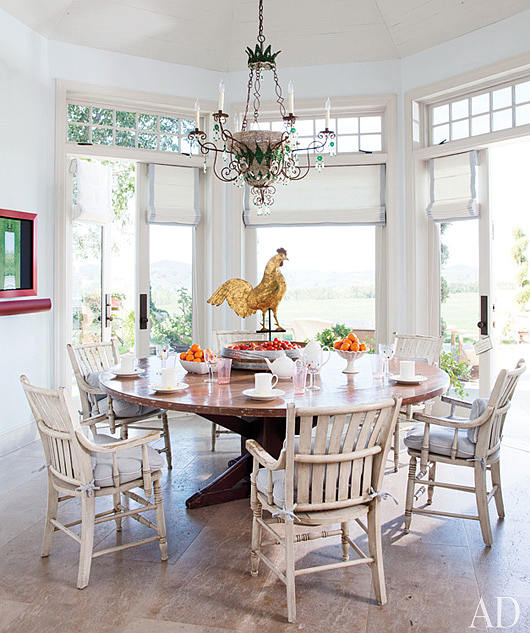 Country chairs by Richard Mulligan encircle an antique farm table from Dos Gallos.
Eating Area_ Now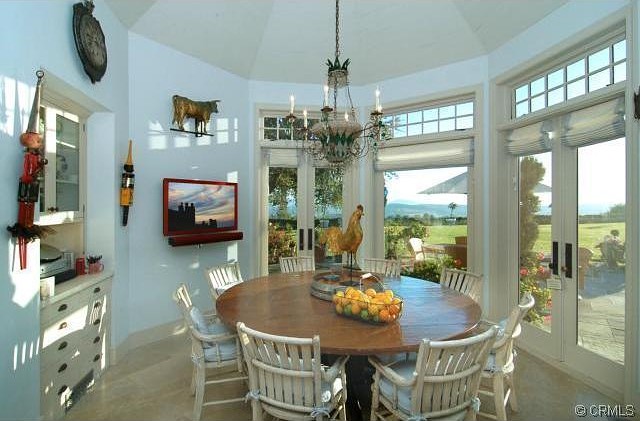 I love seeing that there's almost no change in this room. Take a look at the views!
Then_ AD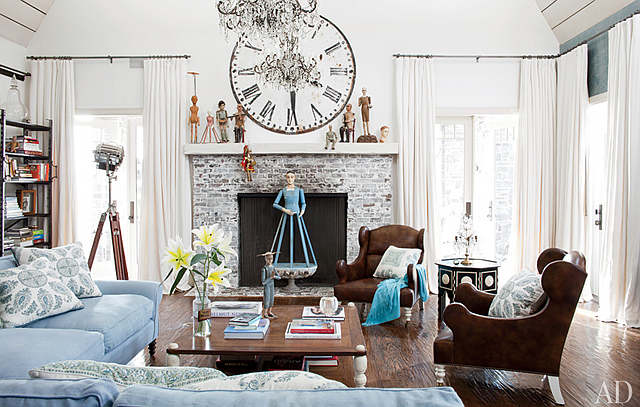 The living room, painted in Benjamin Moore's Antique White, showcases Sharon's Italian puppets and dolls. At left is a Montauk tripod floor lamp by Ralph Lauren Home. The reclaimed-brick fireplace surround is from Exquisite Surfaces; the large vintage clock is from Lee Stanton Antiques.
Now_ Family Room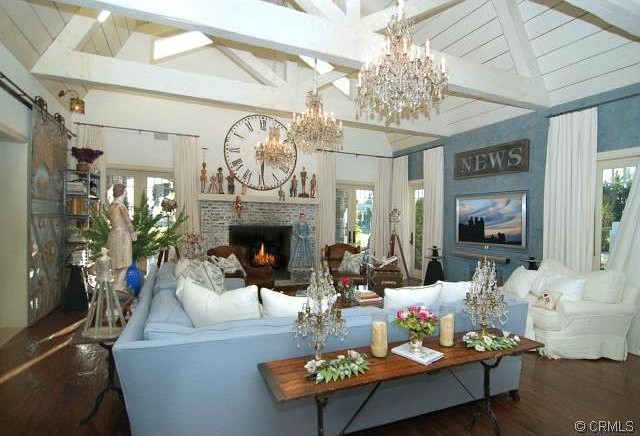 This is my favorite room in the house, maybe I wouldn't have the puppets and dolls, but I love the architecture of this room.
Then_ AD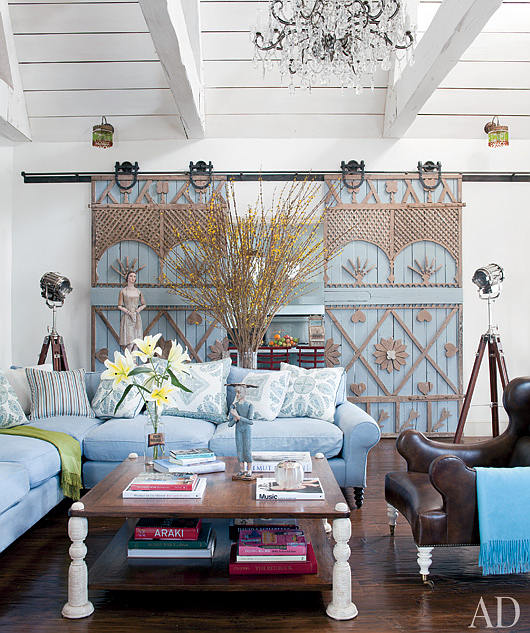 The sectional sofa, the Byron wing chair, and the Jaipur cocktail table are all by Martyn Lawrence-Bullard Design. The sliding barn doors were found at American Garage.
Now_ Barn Doors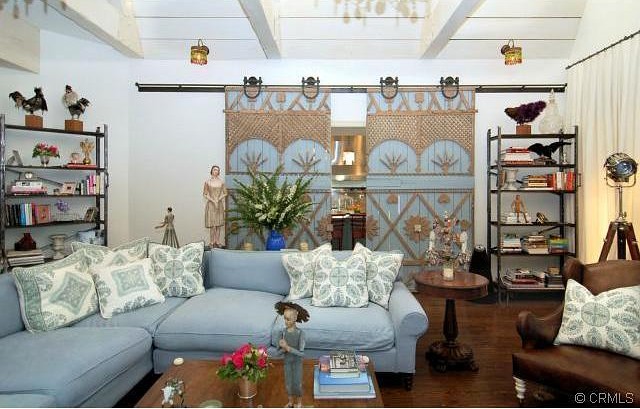 Gorgeous sofa and barn doors.
Then- AD Sharon's Office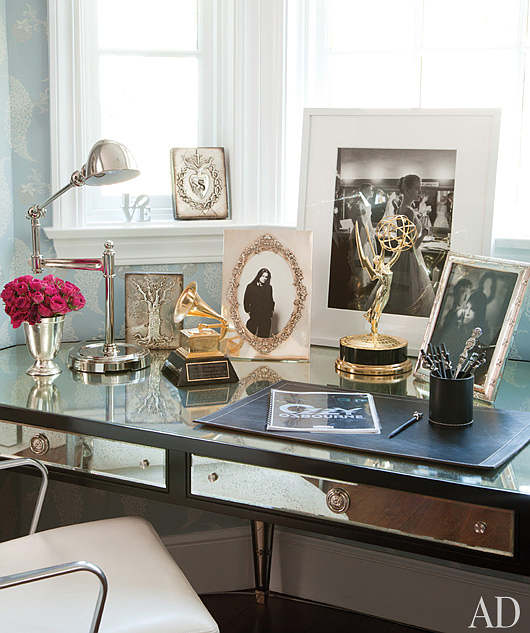 The desk in Sharon's office was designed by Lawrence-Bullard in the style of Maison Jansen.
12 and Counting…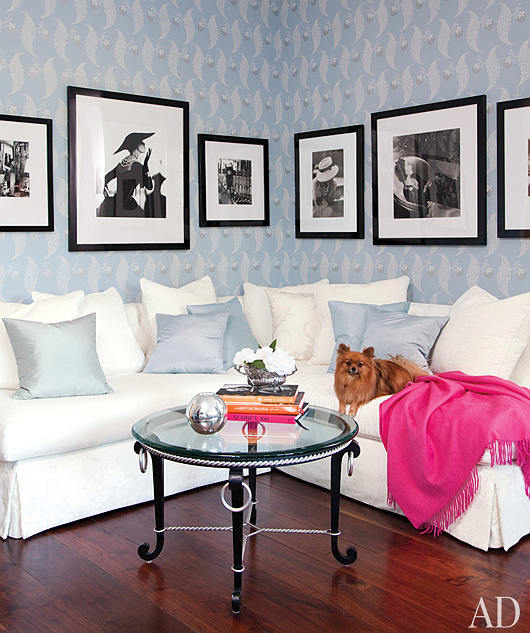 Fashion photography by William Klein, Horst P. Horst, Cecil Beaton, and others is against a Farrow & Ball wallpaper in Sharon's office; Bunny, a Pomeranian, is one of the Osbournes' 12 dogs.
Now_ Sharon's Office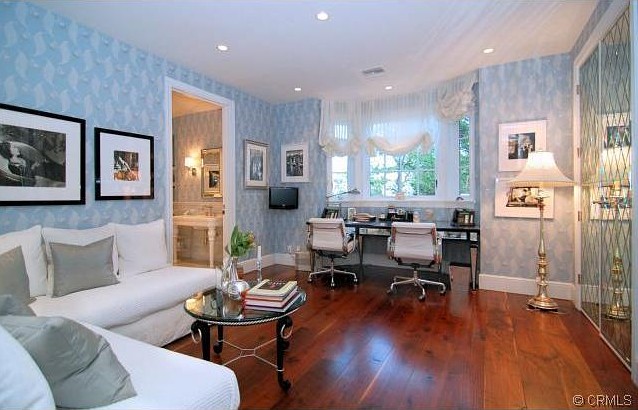 I'd love to have an office like this one.
AD_ Ozzy's Office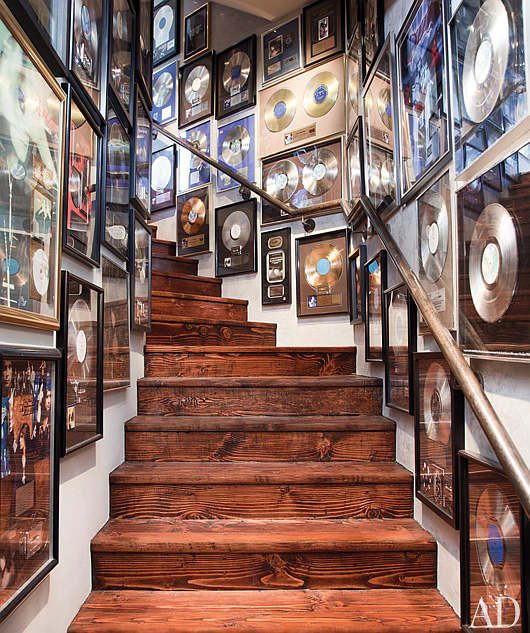 The stairway to Ozzy's home studio, lined with his gold and platinum albums, features steps of reclaimed oak from Exquisite Surfaces.
Then AD_ Master Bedroom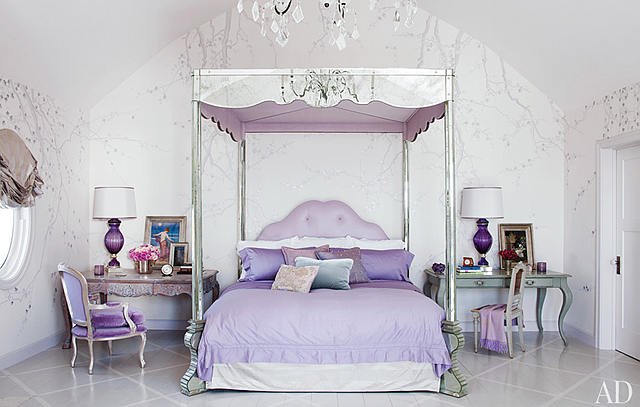 The Osbournes' mirrored four-poster echoes the style of midcentury French designer Serge Roche; the wallpaper is by de Gournay, and the bedding is by Frette.
Now_ Master Bedroom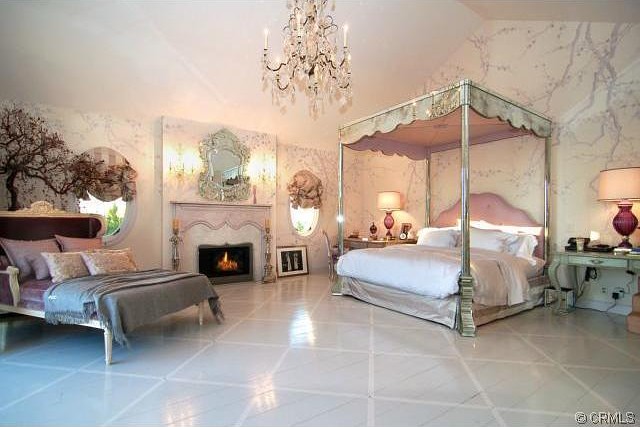 Can you picture Mr. Ozzy Osborne, the guy that "ate" a pigeon's head, sleeping in this lavender bedroom? What's going on with the "Prince of Darkness"? Ha!
Then_ AD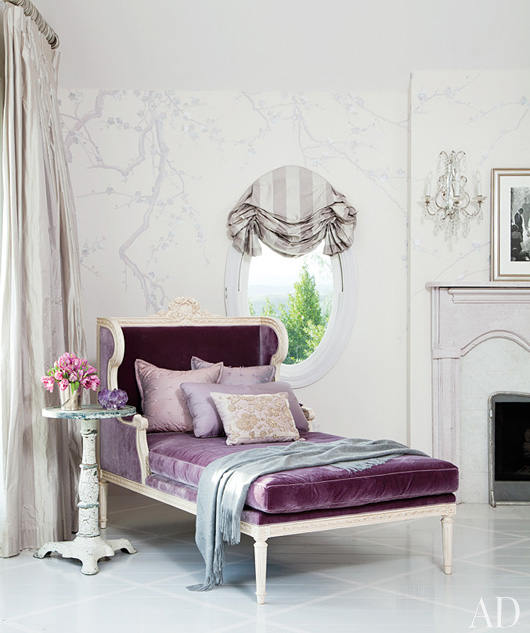 The master bedroom also includes a Marie Antoinette chaise upholstered in a de Gournay silk velvet.
Now_ Mirror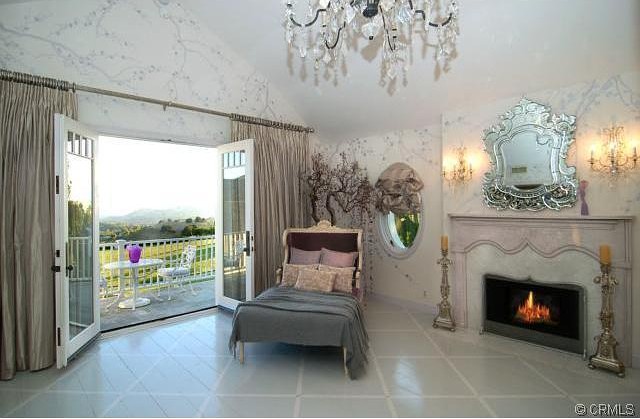 Notice they changed the mirror for a picture above the fireplace on AD photo. Which one you prefer?
Then_ AD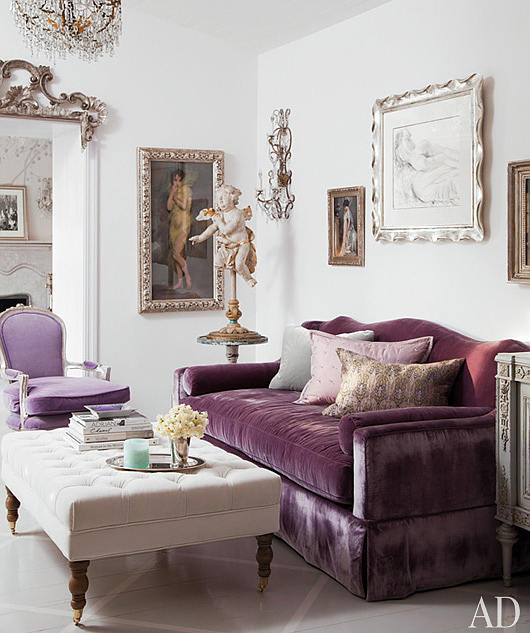 The sitting area combines a Romeo sofa by Martyn Lawrence-Bullard Design with an overscale ottoman.
Now_ Sitting Area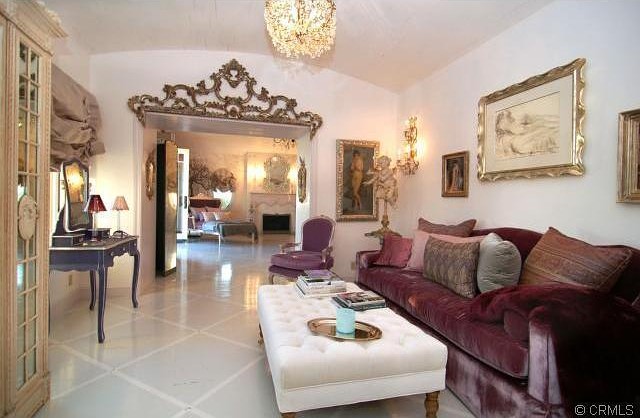 Just beautiful!
Then_ AD
A Candide tub and Julia fittings by Waterworks anchor the master bath; the shower is tiled in Carrara marble from Walker Zanger, and the clamshell bowl is by Mecox.
Now_ Master En Suite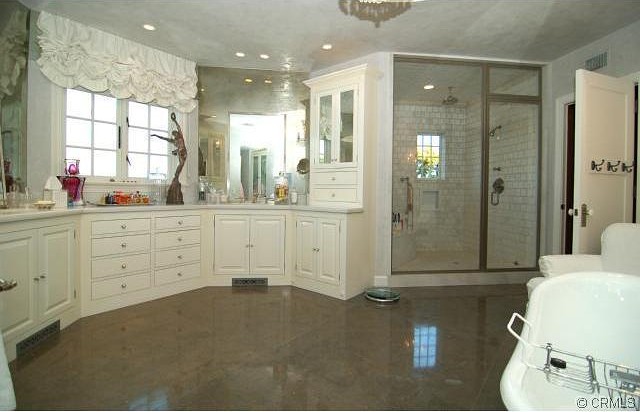 It's hard to believe it's the same bathroom!
Another View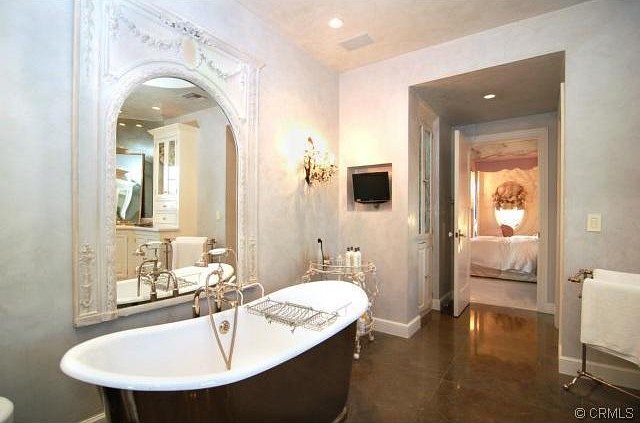 You can see their bed from here.
Guest Bedroom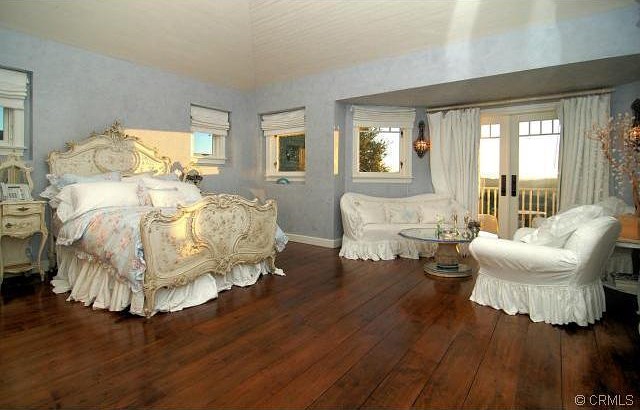 Very pretty.
Guest Bathroom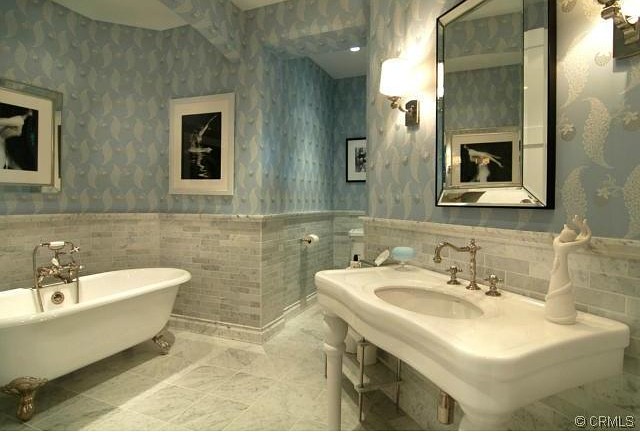 This bathroom has the same wallpaper from Sharon's office. I guess she really liked this one.
Outdoors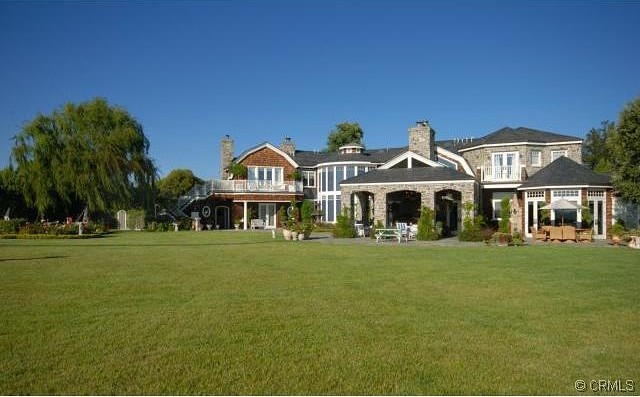 This house is truly stunning.
Gardens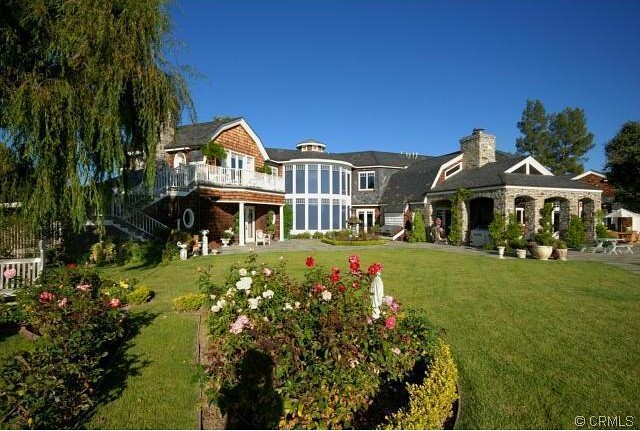 Beautiful property.
Run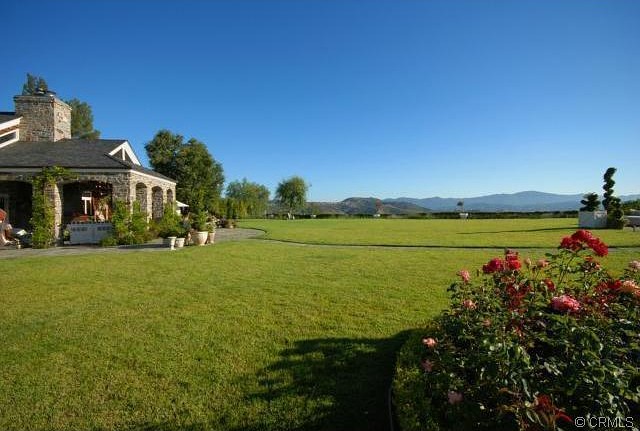 So much space and privacy. I love houses with these qualities.
BBQ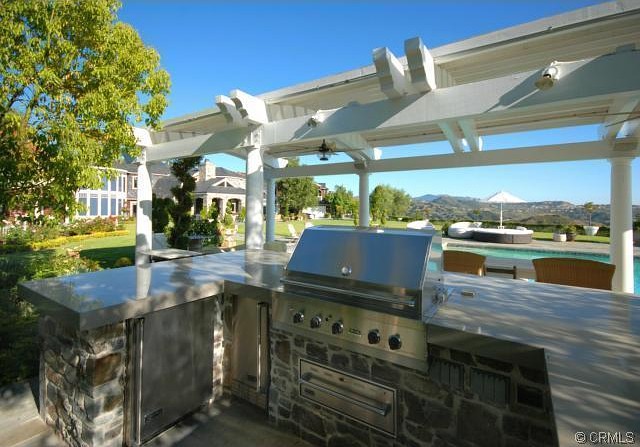 I know someone that would love this area. My hubby! I'm sure yours would too, right?
Pool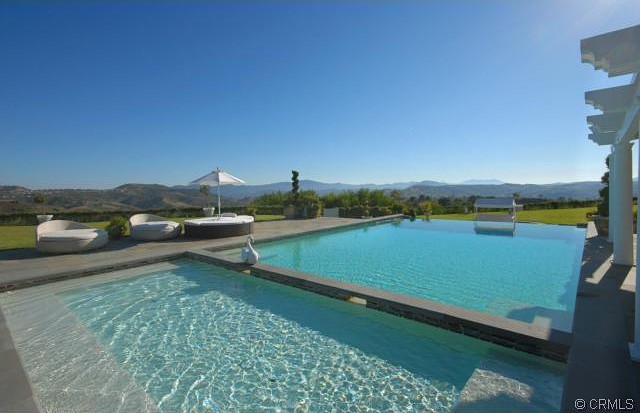 Paradise! I wouldn't need a vacation if I had this pool and that view!
Wake Up and Smell the Coffee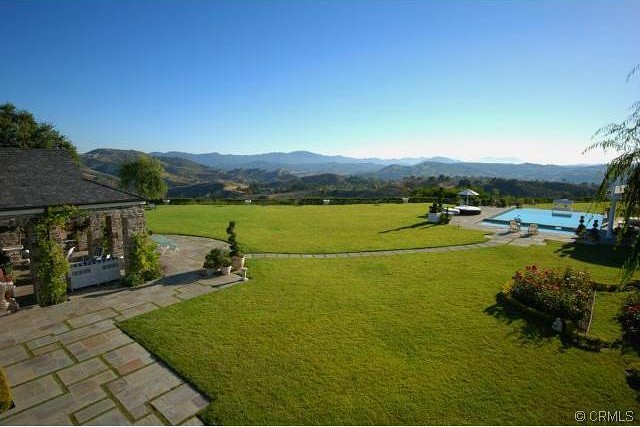 Picture perfect!
By The Stars
It looks great at any time.
Come Over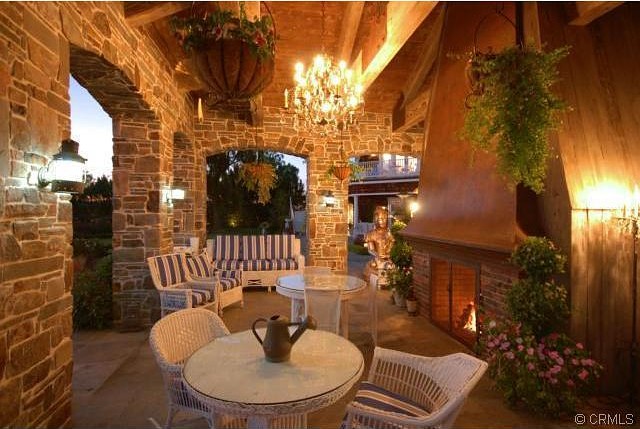 Imagine having great time with family and friends here.
Reflections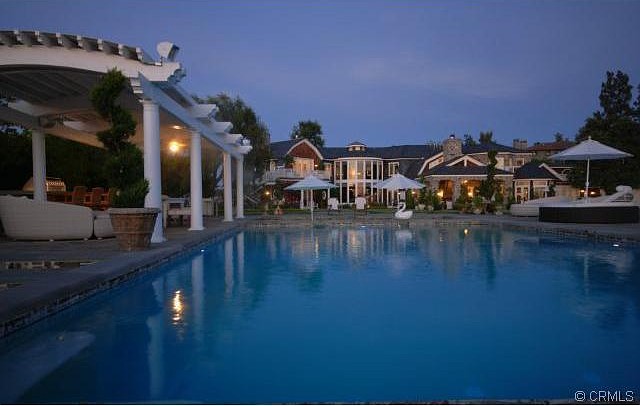 Yet another fabulous place to have fun!
Sunset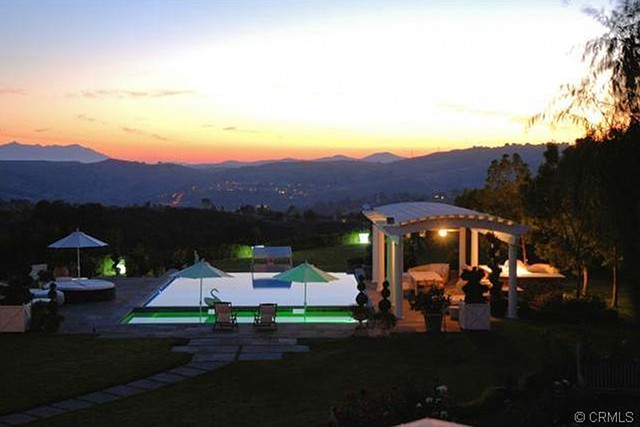 The perfect place to embrace the end of the day and the beginning of a new evening.
Can you see yourself living in this house? Would you pay almost $13 mil for it?
Source: The Realstalker, Sotheby's International Realty, Architectural Digest.
I hope you have enjoyed this post. Can't wait to know what you think of their house!
I also want to wish you all a Happy 4th of July! I hope you're having lots of fun!!!.
PLEASE, MAKE SURE TO COME BACK TOMORROW! I HAVE A SURPRISE FOR YOU!
Have a Happy Day!
xo
Luciane at HomeBunch.com
I Can Help You with Interior Design: HB's Design Service.
Come Follow me on Twitter: Twitter/HomeBunch