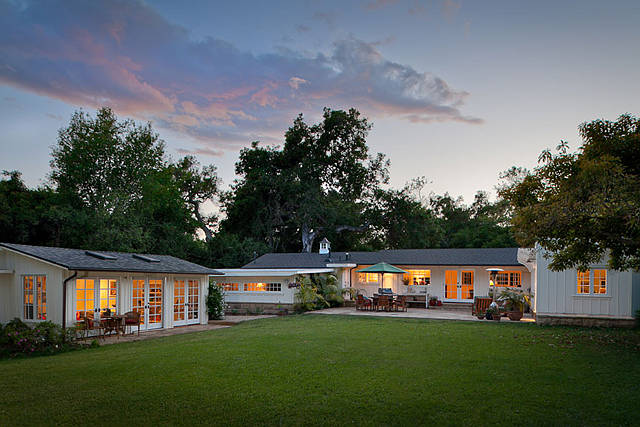 Hello! How are you doing today? I'm feeling great! I'm starting this year planning to give more attention to my house. Do you know when you feel the need for a change? When you want to see something different, something that reflects more who you are? We moved to this house almost four years ago and even though I like where we live, I still feel it's missing something. But this is not a bad thing, actually. I think it's really rare for us to live in a home where every single room is perfectly done and nothing else could be added, changed or improved. I'm excited to slowly make of this place my own. I know it will take a while to be the way I want, but that's also part of the process and I know I'll be having fun!
Now, to the post of the day.
Some places you see and you just wish you were there. This California rancher is the kind of house that embraces beauty and comfort. The property is surrounded by approximately 40 acres of natural preserve, which is a dream for people that like privacy.
What I like the most about this place are the white interiors and the vibrant natural green outside. This home feels completely balanced and harmonious.
Buy Me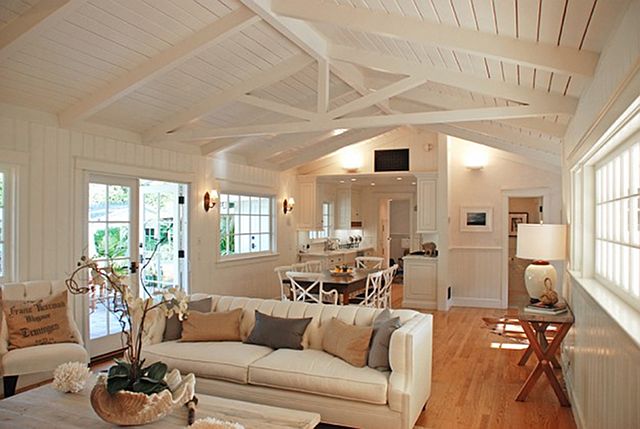 This Montecito, California house is offered for $3.195 mil.
Wood paneling grazes the walls and pitched beamed ceilings add a farmhouse allure.
Fireplace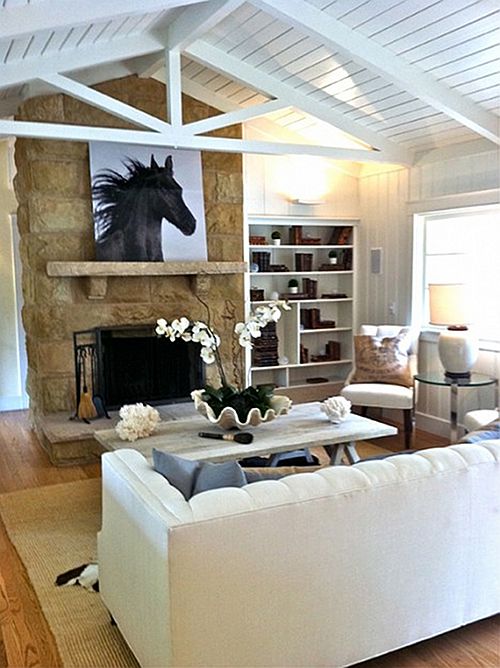 A Santa Barbara stone fireplace creates a romantic ambiance for the living and dining areas.
Great Room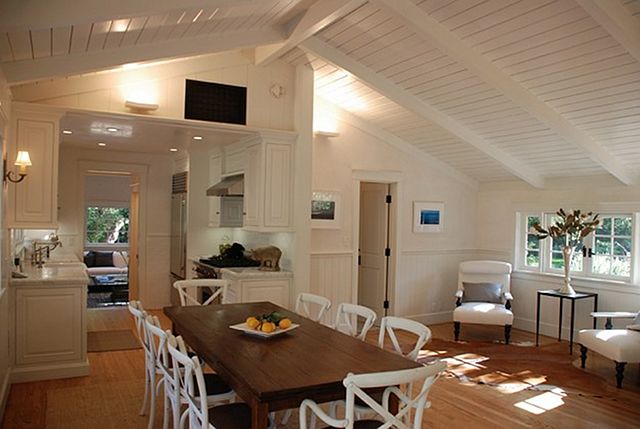 The kitchen is very small but its finishes are great, besides not only huge kitchen can be stunning, right? This is a great inspirational room that can be useful for any space, from a home like this to an apartment.
Master Bedroom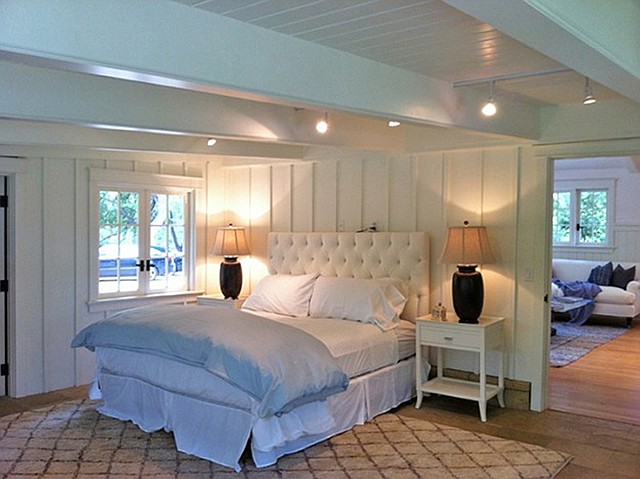 Dreamy and delightful with elegant stone flooring and encircling windows.
Ensuite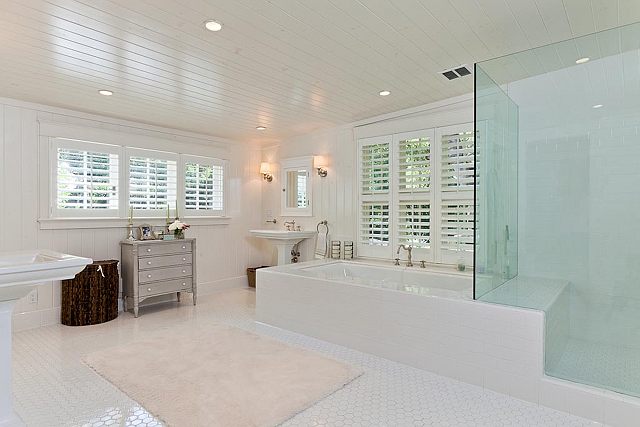 This is why I fell in love with this home! This is what I call "timeless". Gorgeous hexagon tiles.
Sublime Guest Bedroom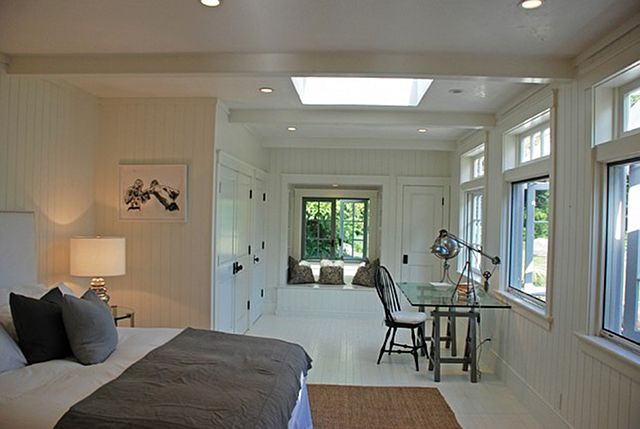 So spacious and stylish.
Sweet Guest Bedroom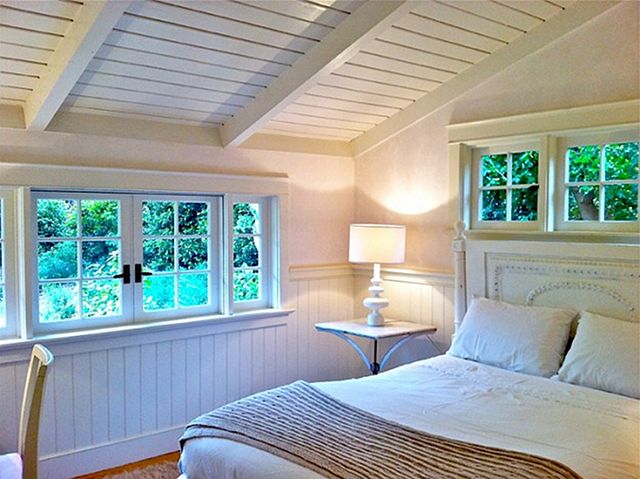 Fairytale-like three views.
Cottage
You guys know how crazy I am for cottages, right? Now, imagine having a cottage in your backyard?
I-Want-It!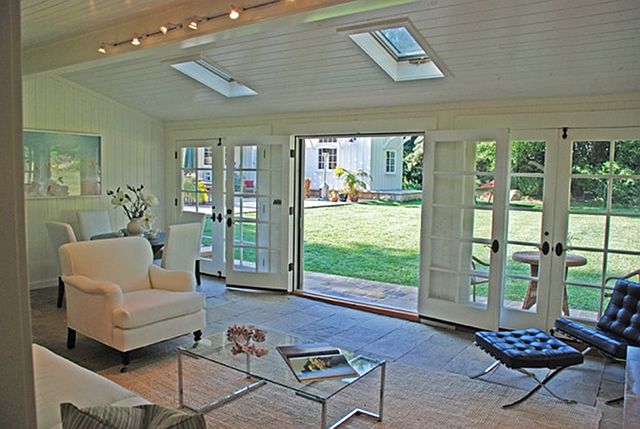 The cottage is one of my favorite features of this house.
Bedroom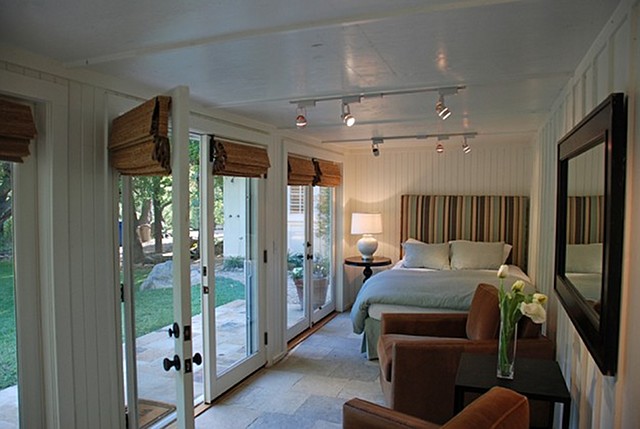 Another great use of space.
Oaks
Sprawling lawns, fruit trees, mature oaks and natural stone pathways lead up to the house.
I really hope you guys enjoyed this place. What's your favorite room? I'm in love with the master bathroom and I can dream with the detached cottage. That would be my space! Although I think I'd have to "fight" for that, since I'm sure my husband would love to have it too. Well, who wouldn't, right?
Have a wonderful day and thank you for coming to visit me here today! 🙂
xo
Luciane at HomeBunch.com
Get My Help with Interior Design: HB's Design Service.
Come Follow me on Twitter: Twitter/HomeBunch
Get Home Bunch Via Email: Become a Subscriber