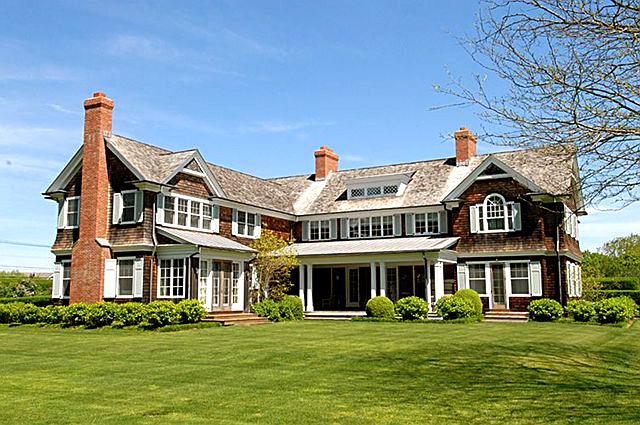 There's always something glamorous about spending your summer in this region. Maybe the sandy beaches and the very particular architecture makes you notice how special this place is. Or maybe, it feels glamorous because you know that nothing in this place comes cheap. This house is one of those "things". It's an outstanding custom-designed home by architect Frank Greenwald. It has 7,296 sq ft and comes with a double height post and beam living room which has french doors that lead to a covered porch. The kitchen here is full of surprises. The home has 2 masters and three other guest bedrooms, a heated gunite pool, a pool house, a tennis court and park-like lawns. The price? $9 mil. As I said, nothing comes cheap in this area, but this "tour" is free… so let's enjoy it!
Trees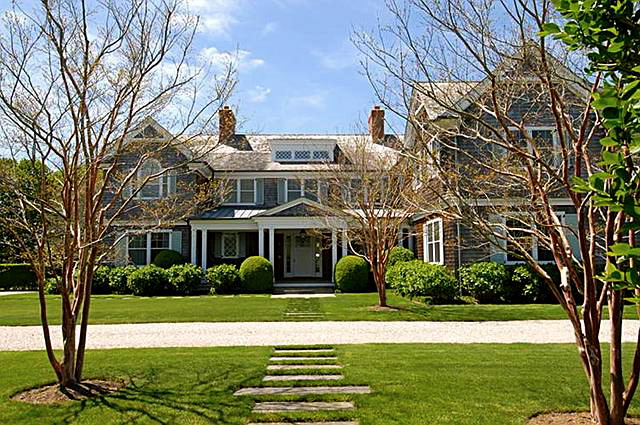 Welcoming.
Entrance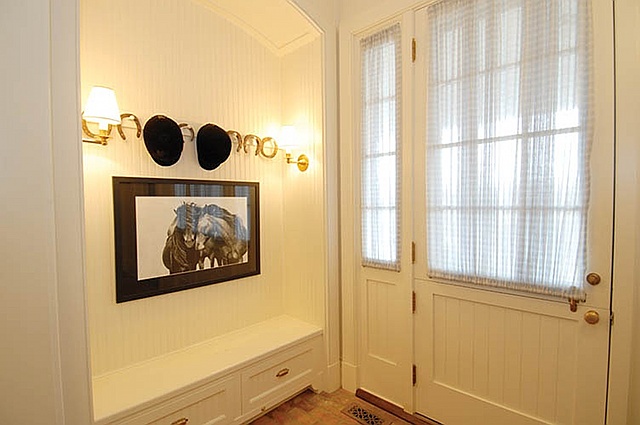 This foyer looks great with this arched nook and storage. Fun idea of displaying horseshoes like this.
Living Room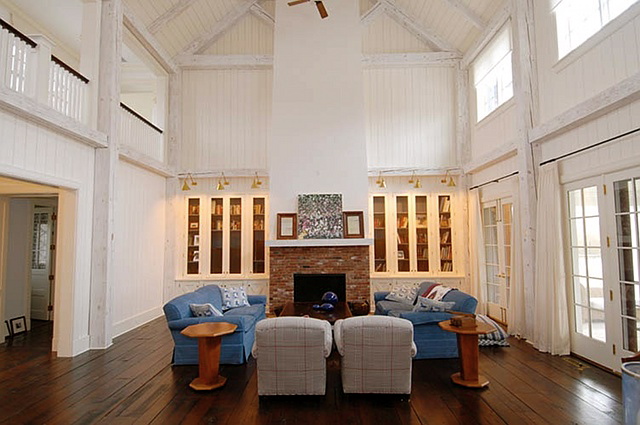 This room has a presence of its own. I think it feels really comfortable, nothing over the top. Actually, it feels simple, and what really "shines" here is the beautiful architectural details of the room.
Post and Beams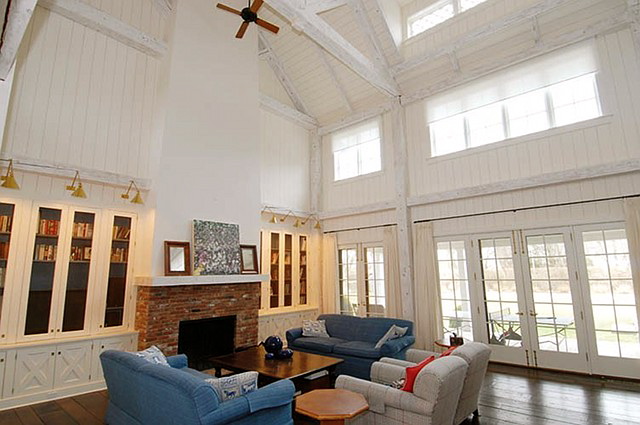 How can you not love a room like this?
A Bit Country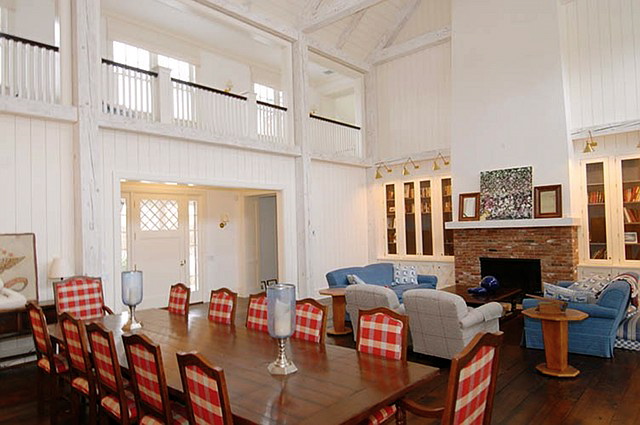 The chairs are fun and a little bit country. Do you like them?
Light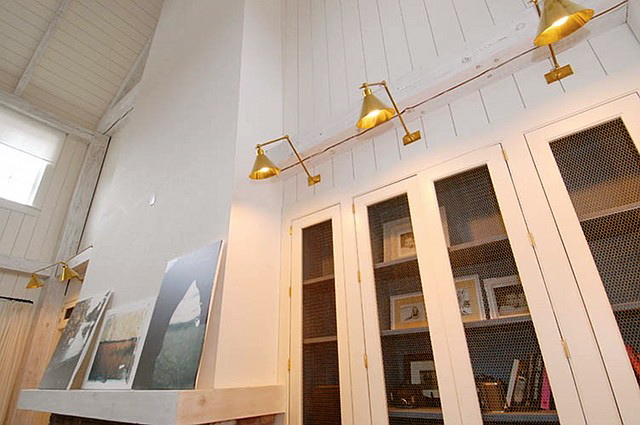 I really like the work they did with these built-ins. They feel rustic but chic at the same time.
Kitchen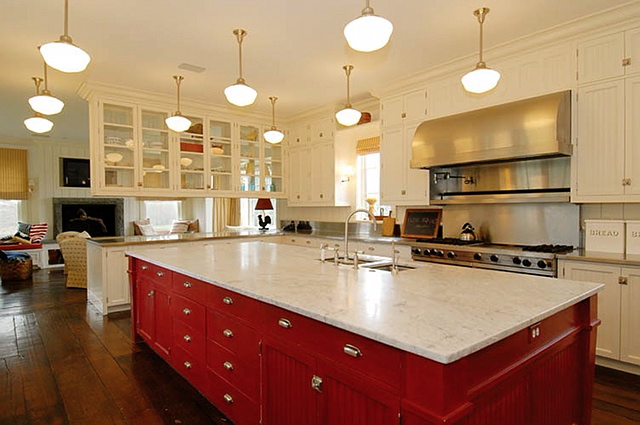 Would you dare to have a red island?
Fresh Strawberry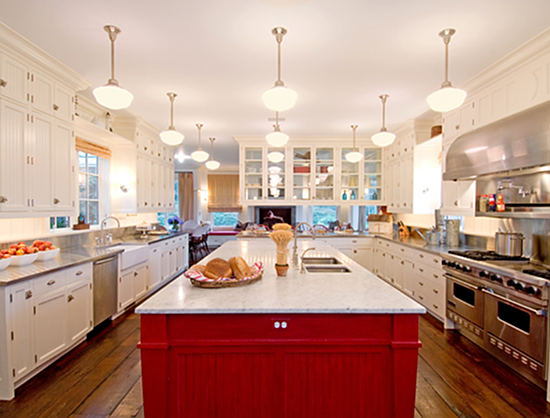 It's quite courageous but really pretty. The more I see it, the more I like it.
Space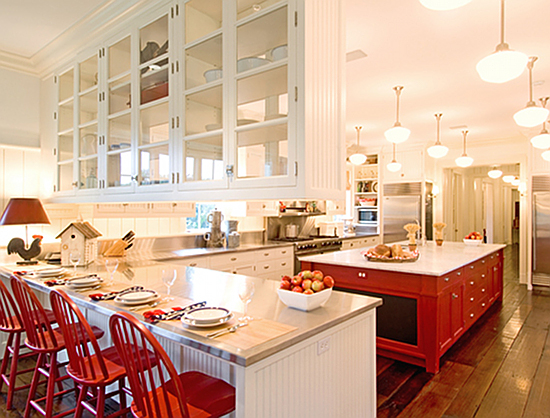 Wow, this kitchen is huge! I love the red stools, simply perfect with the island. Why not use your favorite color on the island? I'm loving this fresh idea.
Tired?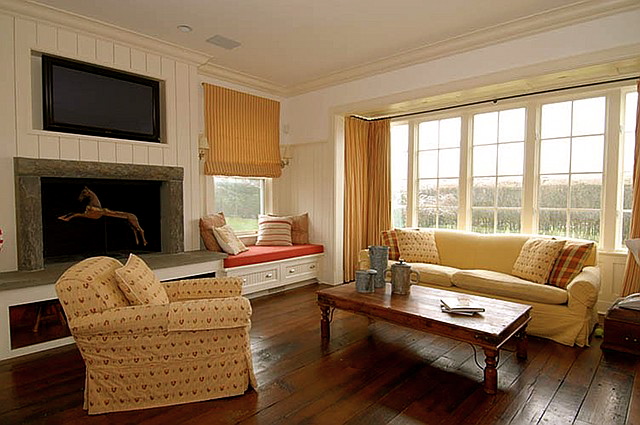 Now, this is a room that needs some work. This chair is looking so tired. I'd love to see an interesting rug so this room wouldn't look as bare as it does.
We Need Them!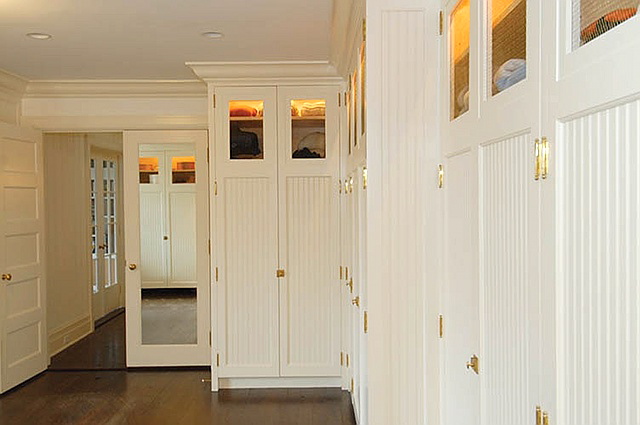 Yes, we all need storage, don't we? How fabulous are these built-ins? I'm a huge fan. Here's what I think: if you plan on living in your current house for many years, you should invest in built-ins. They add so much to the house and make your life much easier.
Upstairs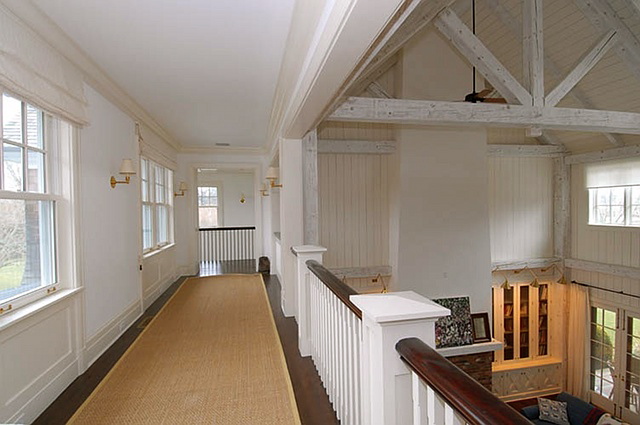 Nice architecture.
Master Bedroom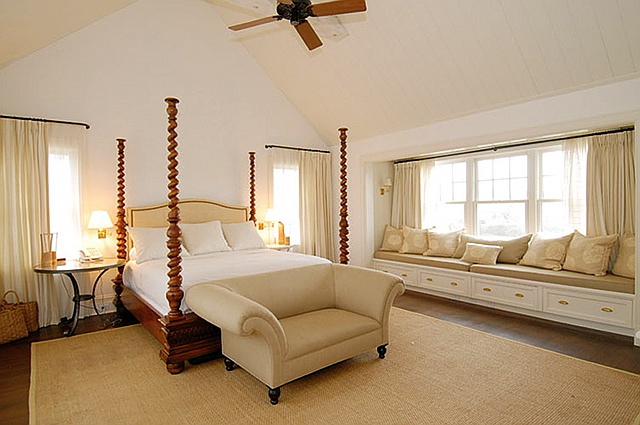 Finally a room with a nice rug! 🙂 I really like how serene this bedroom feels. Sure, you could add some color but this color reminds me of a morning walk on a sandy beach.
Door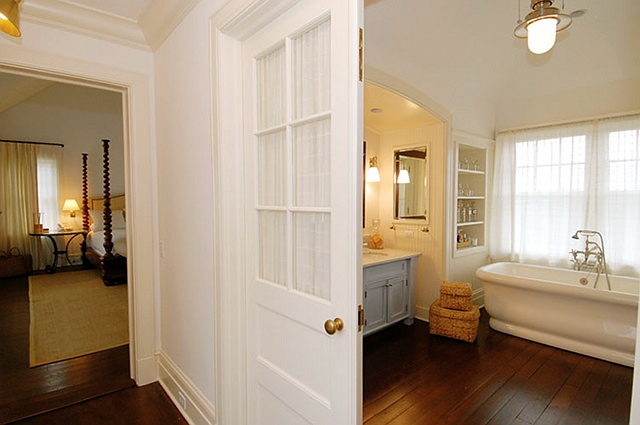 This place is really charming. I really like the double doors to the master bathroom.
Master Ensuite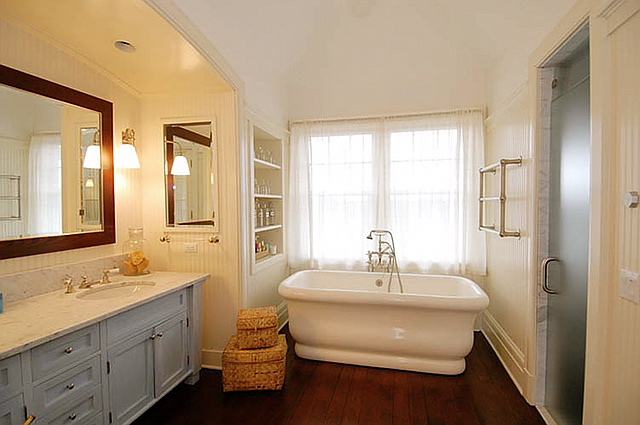 Oh, this is beautiful! The detail of this bathroom creates an overall luxurious feel.
Guest Bedroom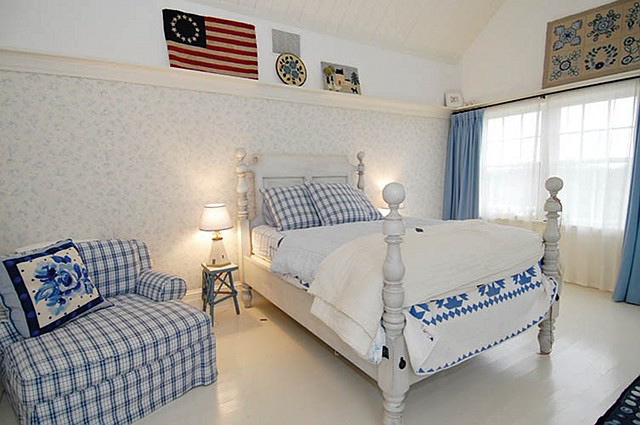 Blue is always a great idea, especially when used with white in a bedroom like this. It just feels like you're in a cottage.
Backyard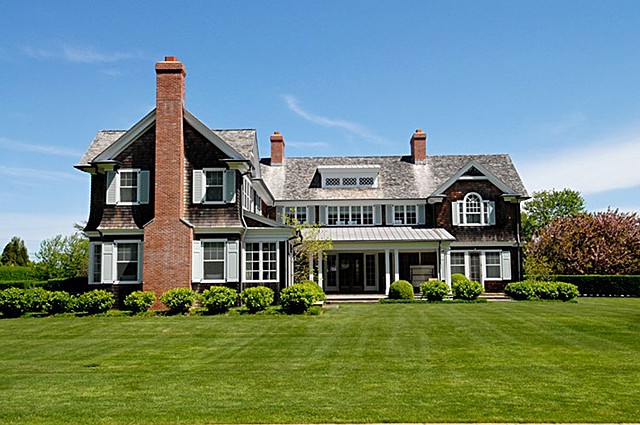 Catch the ball! 🙂
Lines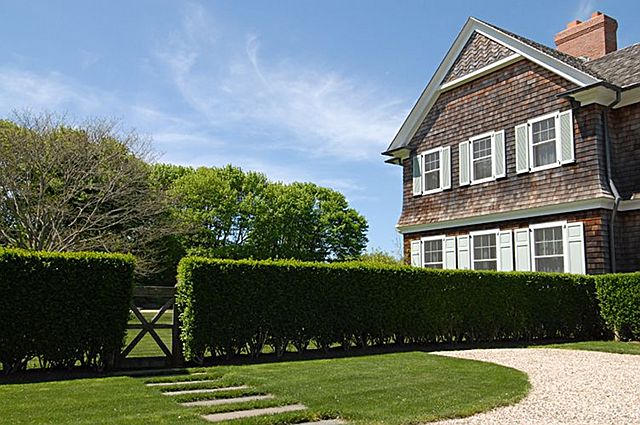 Immaculate.
Green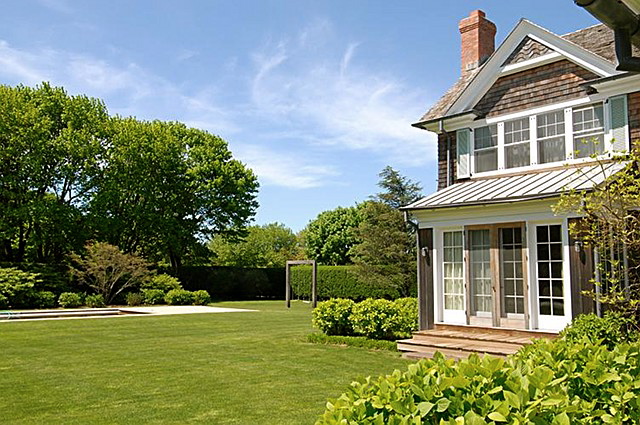 How wonderful would it be to have this much space and privacy? It's really inspiring.
Tennis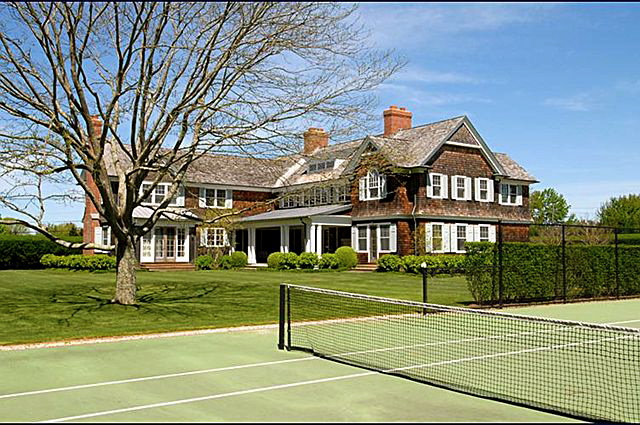 Tennis, anyone?
Seeing a house like this always makes me think more about the kind of lifestyle you can have in it. This is what we always should think about when buying, renovating or living in a house. We usually don't think much about this, but we should because our houses can have an important impact on how we manage our lives. If our house is extremely cluttered because it lacks storage, our lives can feel unpleasant and messy, which then can also make us feel disorganized in other areas of our lives. If we have a house that gives us some space for gardening, that can help us feel more relaxed and at ease (and force us to exercise a little bit, too).
Keep this in mind. How is your house affecting your lifestyle?
I also want to thank you each of you for your daily support. I'm so grateful to have you here!
Have a Beautiful Day!
xo
Luciane at HomeBunch.com
I Can Help You with Interior Design: HB's Design Service.
Come Follow me on Twitter: Twitter/HomeBunch
Photo Source: Saunders.