This Swedish farmhouse looks great as is, but do you know when you see a place and can just imagine what you'd do if it belonged to you? I love when I find homes like that and this one made my imagination have some fun. So if you're like me, I think you'll enjoy looking at this beautiful place and imagine what you'd add to it.
I also love the quietness of this space. Every room seems to be serene and the surroundings are very inspiring. Talking about "inspiration", I love the red barn that comes with this farm and its own artist studio.
Let's take a look…
Coming Home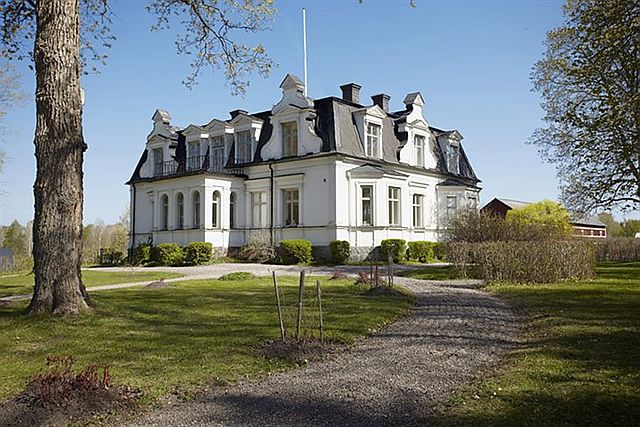 A place ready for beautiful stories.
1904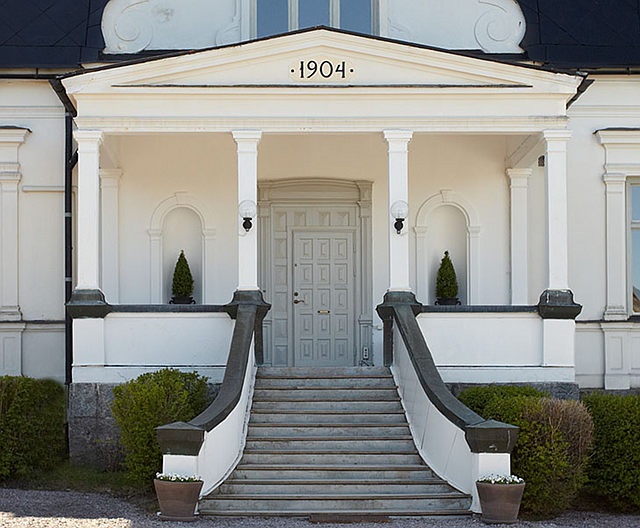 Take a good look at the architectural details of this farmhouse. I love the front door.
Front Porch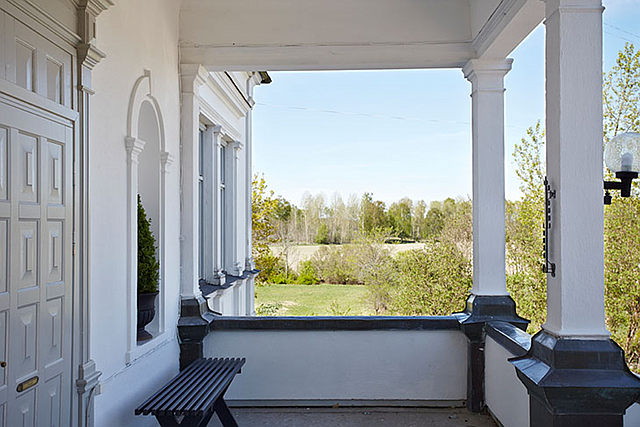 I like the idea of having the bench, but if this house belonged to me, I'd add a porch swing and some comfy pillows on it.
The Other Side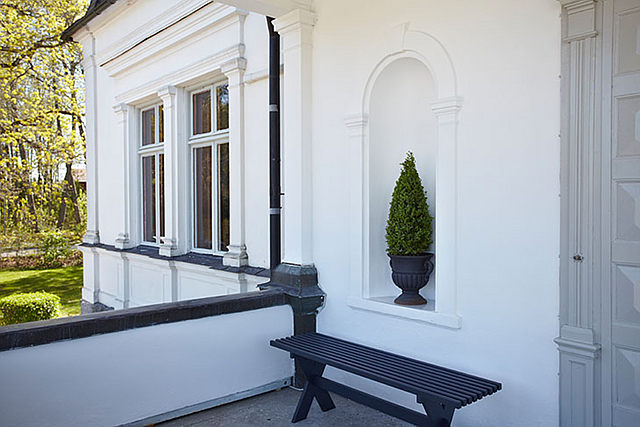 The two benches add some symmetry to the place.
White & Green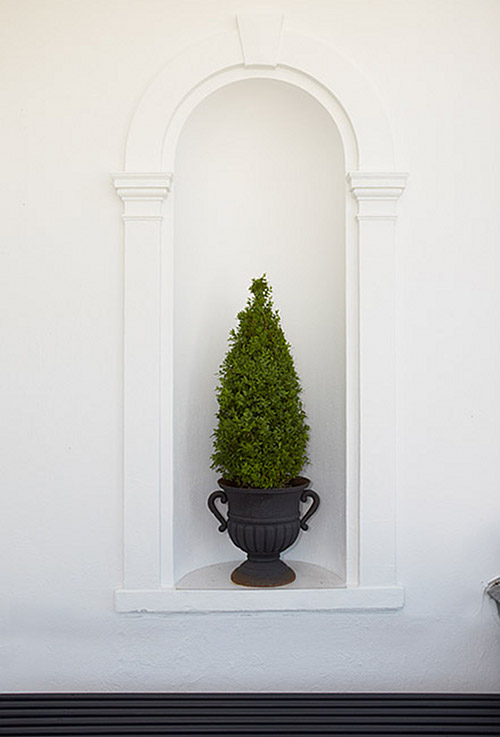 Beautiful homes become beautiful just because someone is willing to pay attention to the details and make them shine.
Foyer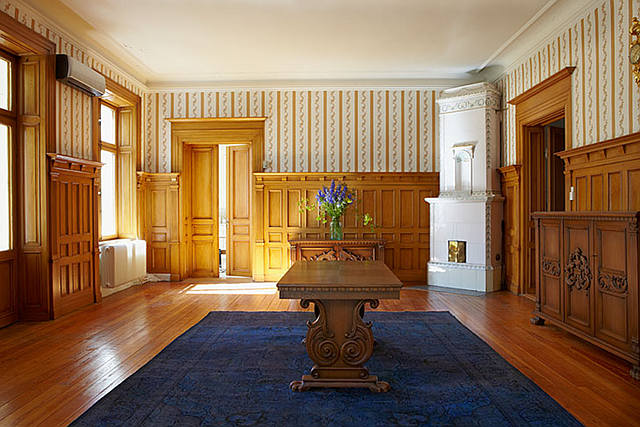 A very large and elegant foyer embraces you as you enter. The rooms are kept separate from the entrance creating some privacy.
Dining Room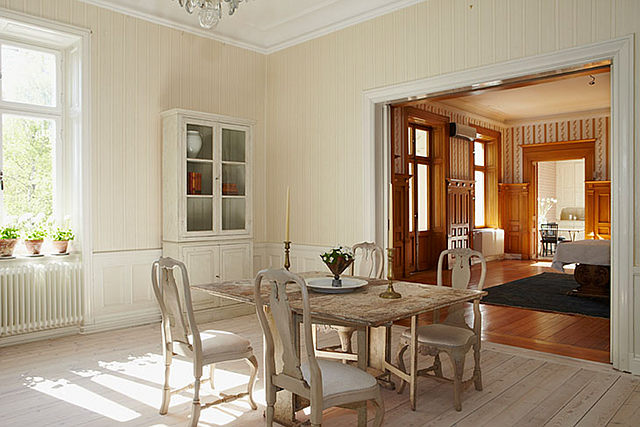 The dining room has large pocket doors that can be opened to the foyer.
The Room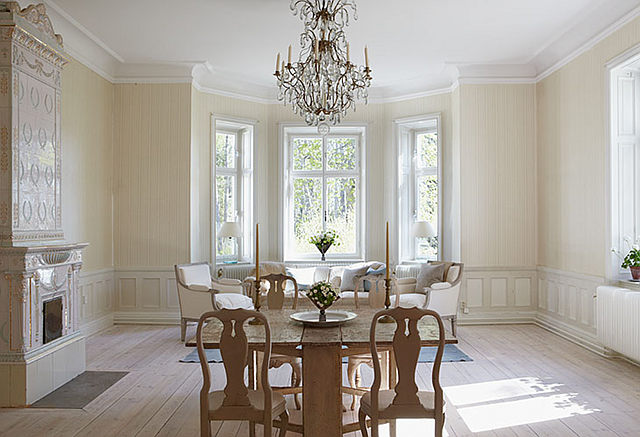 This large room accommodates the formal dining room and living room. Please, notice the gorgeous chandelier and fireplace.
Table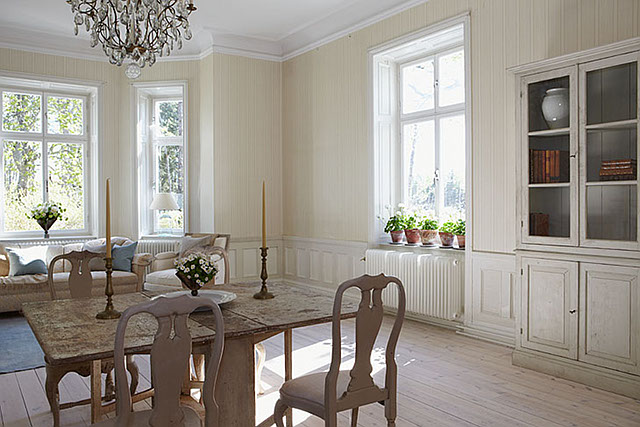 The table and chairs are elegantly simple.
Living Room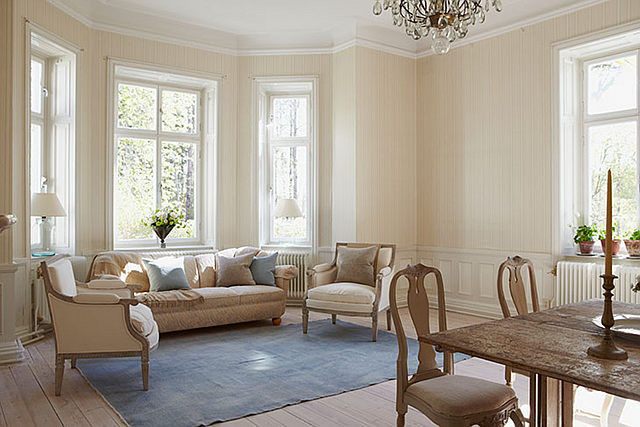 The living room is also kept to a minimum. The beautiful chairs and the couch goes perfectly with the light blue rug and pillows.
Fireplace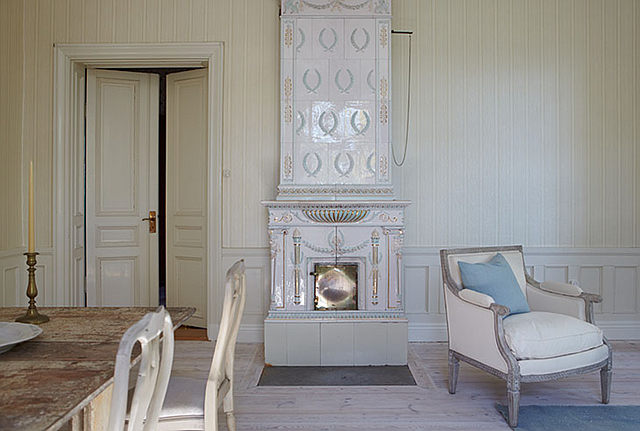 The light blue appears on the fireplace also.
Staircase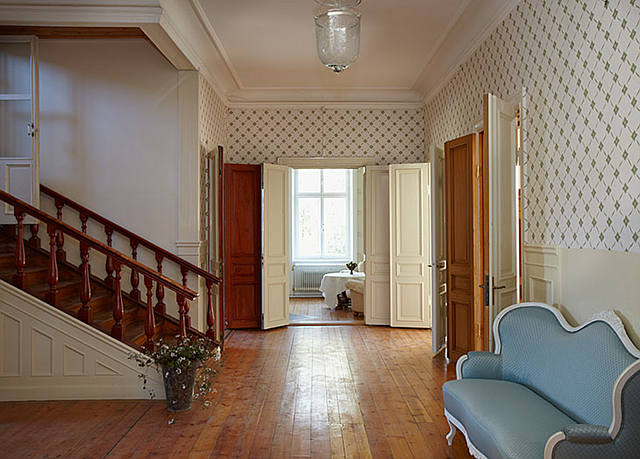 I love older homes. The charm you can find in places like this one is irreplaceable. I'm also loving the blue settee!
Eating Area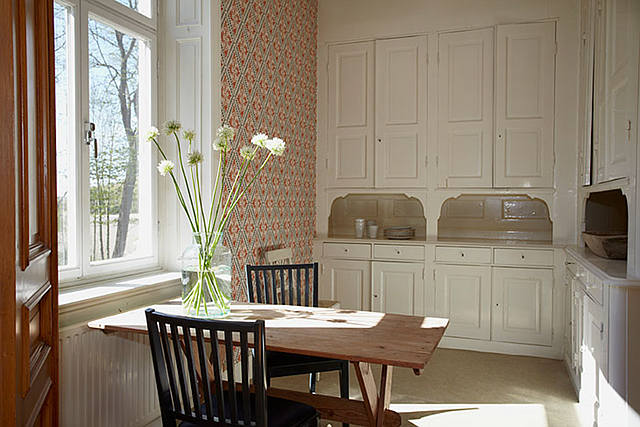 The cabinets are so beautiful! I also like the punch of colors added with the wallpaper.
Windows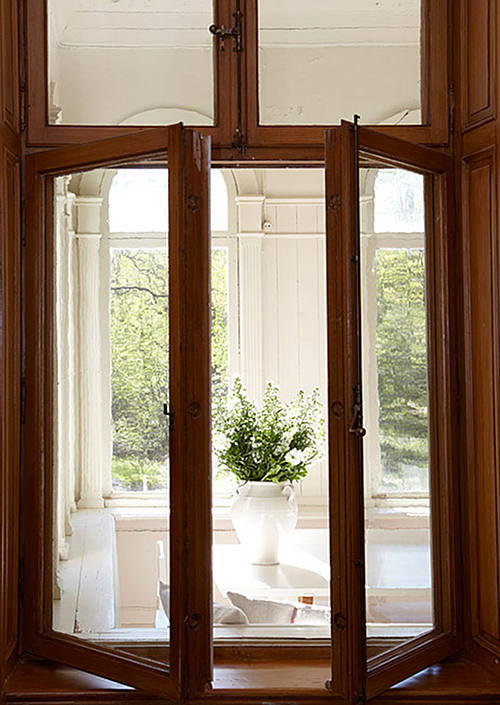 This window is a piece of art itself.
Sunroom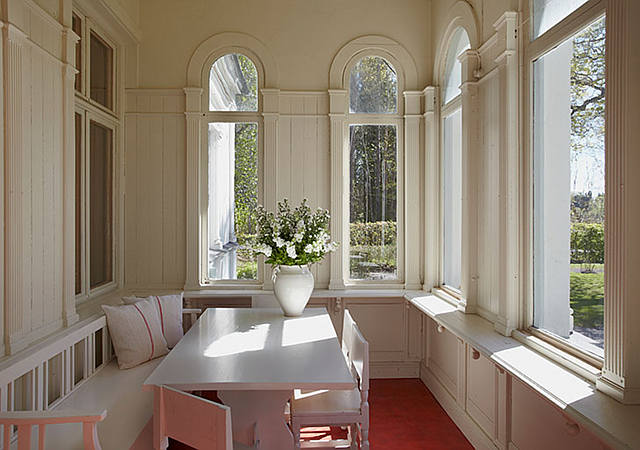 I'd spend hours in this sunroom. All I need is a cup of coffee, a blanket and those views. A productive day for my mind! 😉
Playroom
I don't know if I like more the room or the vintage toys. Aren't they so cool?
Under The Sun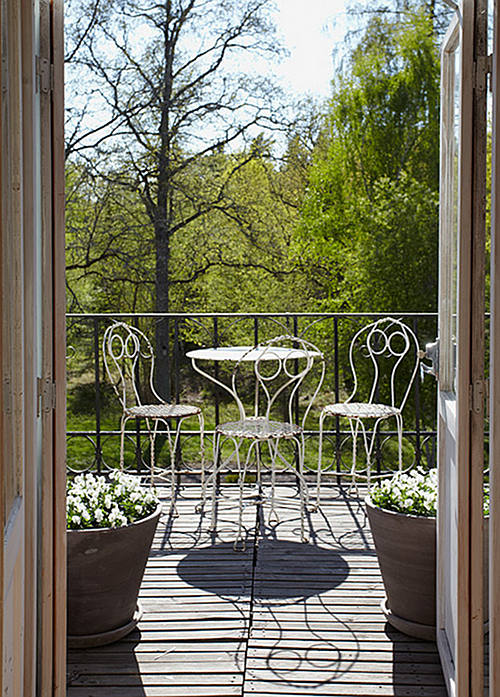 Charming!
Land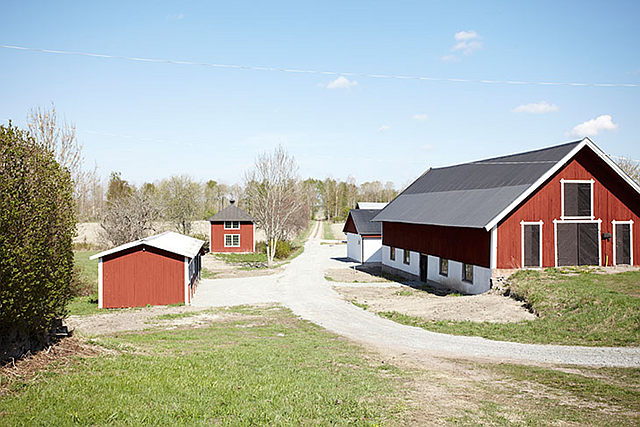 Have you ever dreamed of living with this much space, no neighbors right beside you, just land? It's definitely a lot of work, but also very peaceful.
Red Barn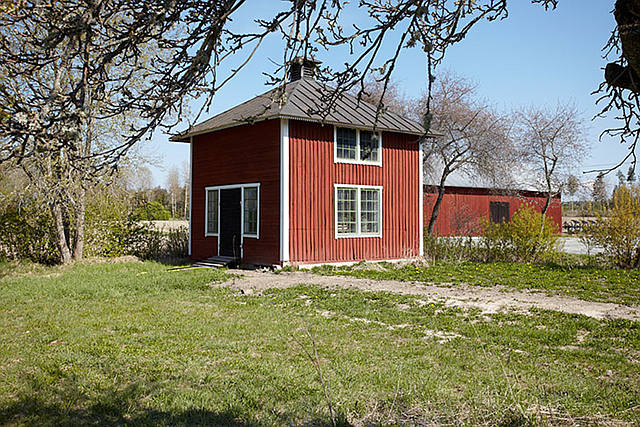 I love barns! I think they're so cool.
Old Barn Door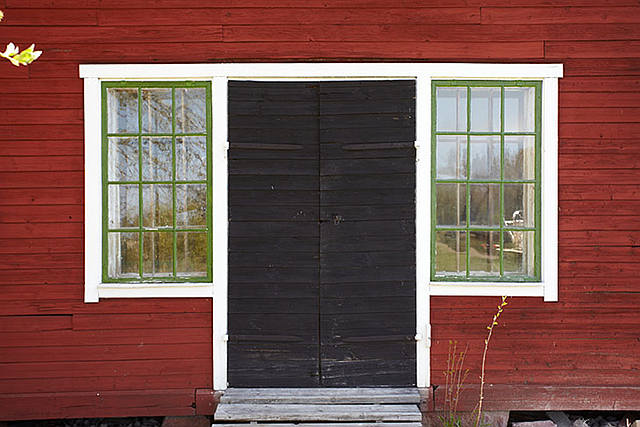 Curious to see what's inside?
Friends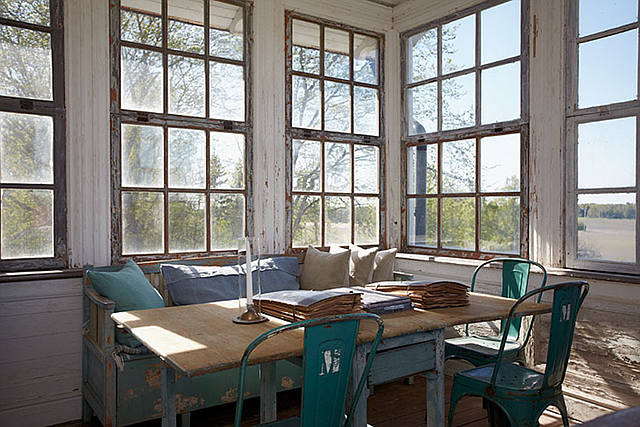 It's a mix of guest house, studio and where you take care of your plants when it's cold.
Games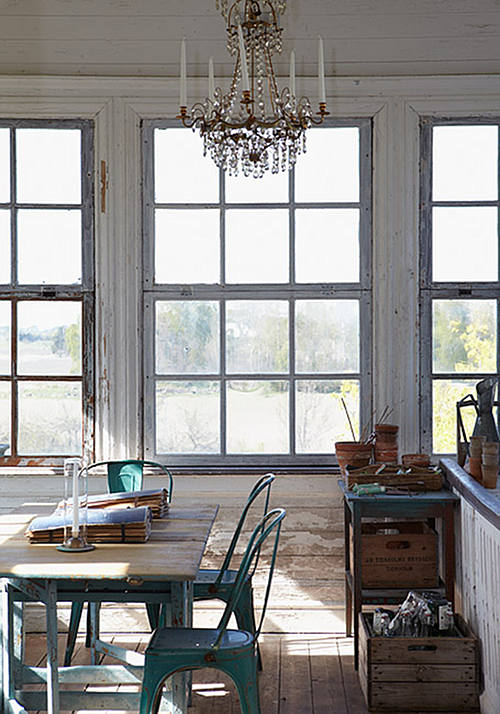 Wouldn't it be fun to have some friends here?
Plants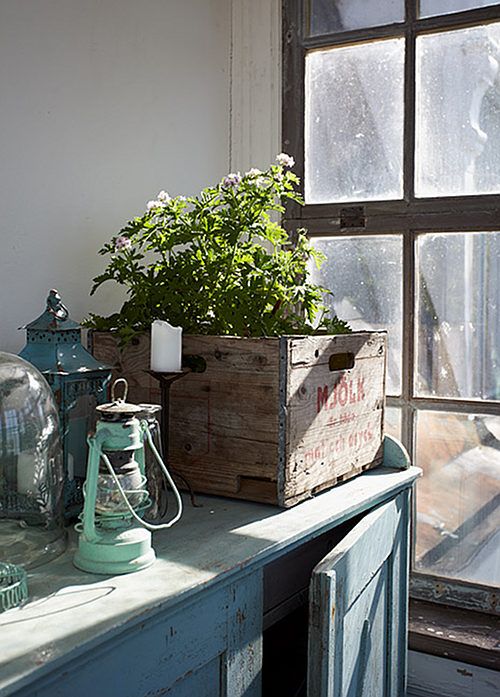 Lovely turquoise!
Views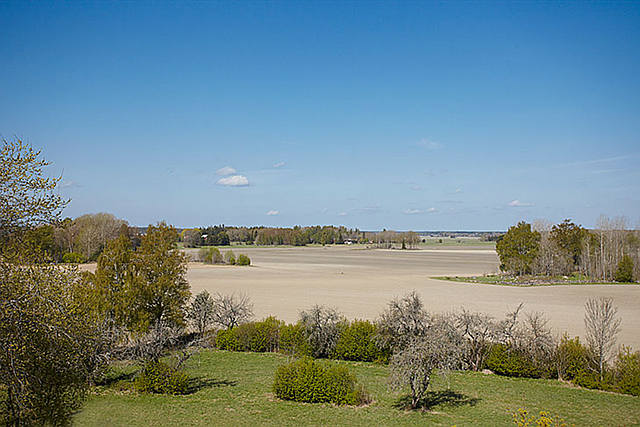 Living with quietude.
I could see myself living in place like this, where the house is filled with old charm and so much land around me. What about you? Can you see yourself living in a place like this?
Have a blessed day, my friends. And, for those of you that have being asking how I'm doing, let's just say I'M READY!!!! Actually, happily ready! 😉
xo
Luciane at HomeBunch.com
Get My Help with Interior Design: HB's Design Service.
Come Follow me on Twitter: Twitter/HomeBunch
Source: Skeppsholmen.