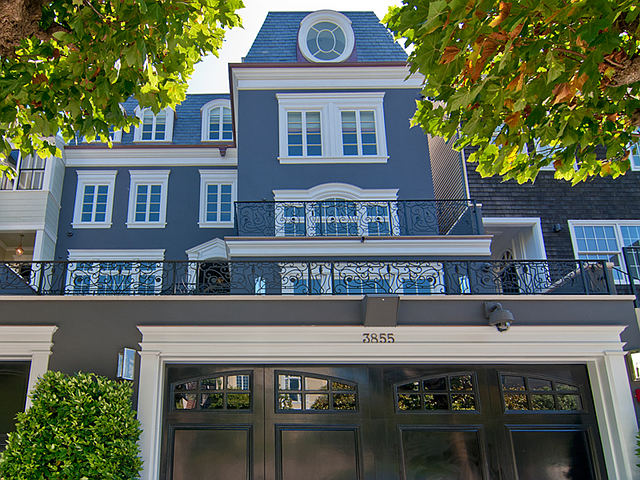 I hope you don't mind it but I just found yet another gorgeous home in San Francisco. Do you guys remember the San Francisco house I posted last week? It was a big success. Many of you emailed, commented, posted it Facebook and Pinterest. We all loved that house, didn't we? (To see it, please click here). I know it's hard to top that house and that kitchen, but this house gets very, very close. I'm sure you guys will really enjoy the design, the architecture and the interior.
The interiors were done by the owner, Alison Pincus. They say our house should reflect who we are, if that's the case she's probably a very elegant and fun person to be around, because this house is just like that. The house was built in 1937 and has 6 bedrooms, 6 bathrooms and a kitchen to die for! Can you buy it? Yes you can… if you have $8,900,000. If you don't, you can come to my team of "dreamers!"
I really hope you enjoy seeing this home as much as I enjoyed preparing this post for you.
Welcome Home!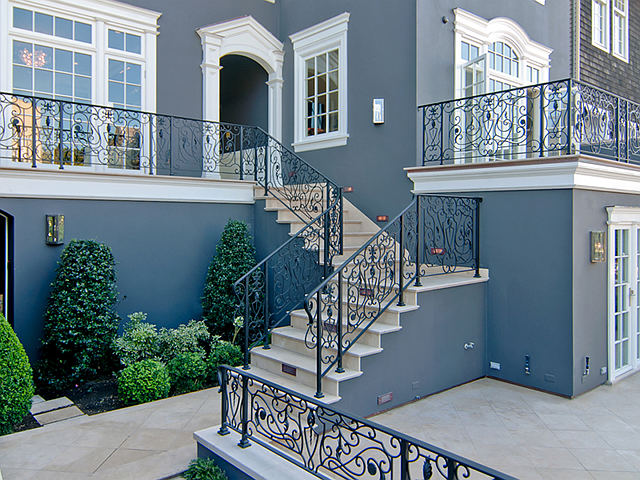 The architecture is stunning and so is the iron work and the color they chose to paint this house. Very classy.
Foyer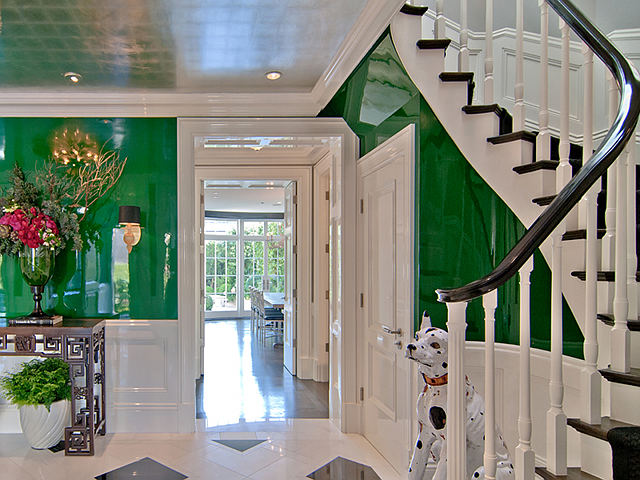 Shocking! But don't let this foyer make your mind about the rest of the house. It's actually very calming. But they did want to "blind" their guests. Glossy! Very glossy! At least they had some fun with this room and even though I wouldn't choose this for my home, I admire this space.
Living Room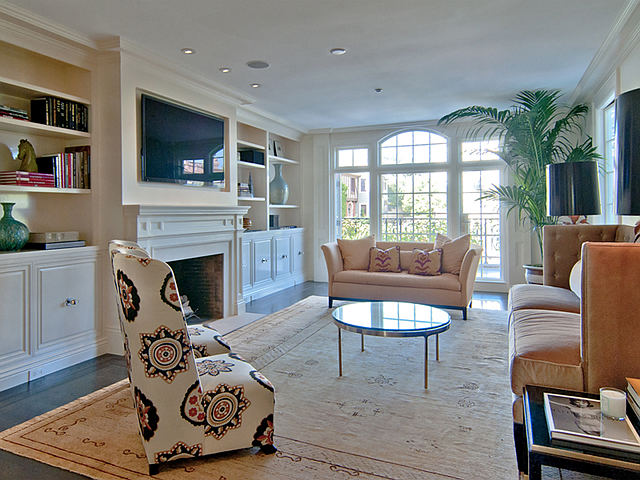 TV or no TV? That's very debatable. If you don't like seeing it, please just ignore it and take a look at the beautiful windows, built-ins and furniture here. I really like the neutral palette they used here.
Kitchen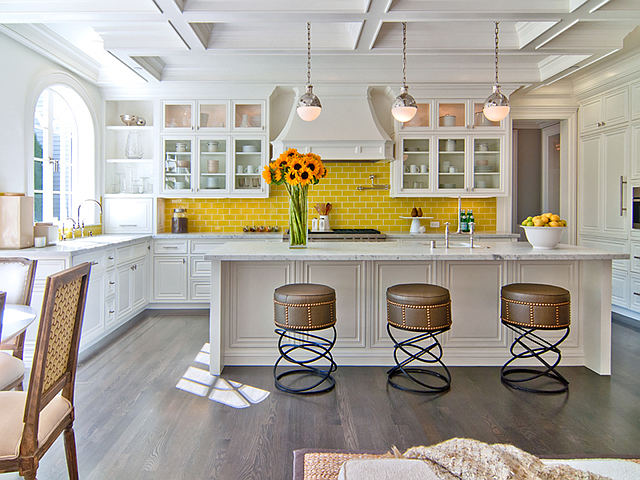 Pinterest-ready, isn't it? This is one of my favorite parts of this house. This house actually keeps getting better and better! Take a good look at the window above the sink, so charming! Stool? A classic twist. Literally! What about bright yellow subway tiles? Unique? Definitely! This is a "slap" to boring! 🙂
Heart of The House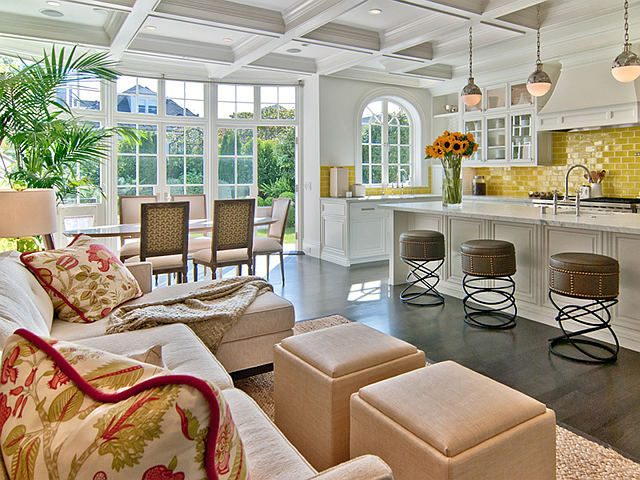 The kitchen, eating area and family room are perfectly combined.
Dining Room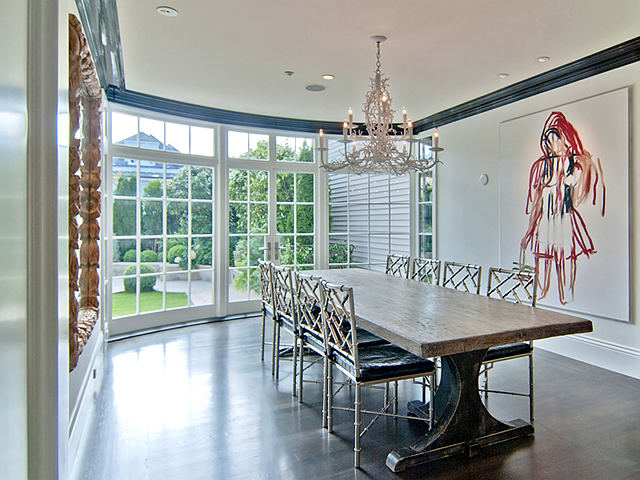 Lovely if you like minimalist, but since I'm not one, I'd make it feel warmer. What's missing? A rug, a credenza and I prefer upholstered chairs. But hey, that's just me. Gorgeous table though.
Office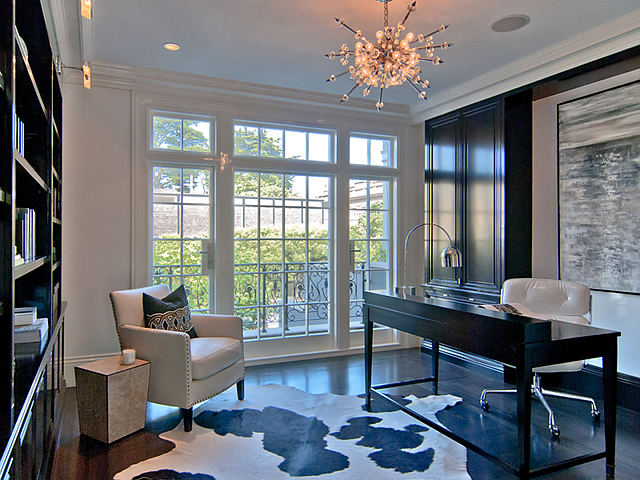 This is just wonderful! Not too masculine.
Upstairs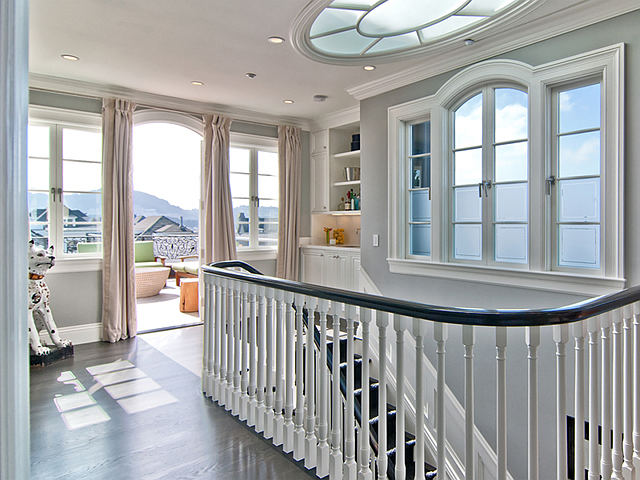 Stunning staircase, floors, windows and views. I also really like the color on the walls, it's very crisp and clean.
Landing Area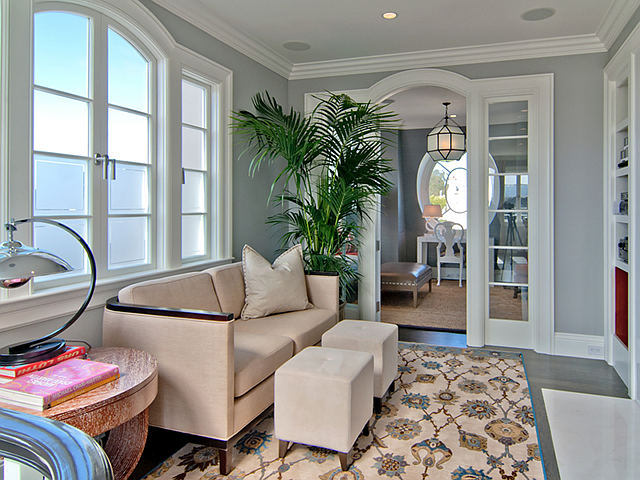 A beautiful and comfortable landing area and office (next door). I adore this rug.
Master Bedroom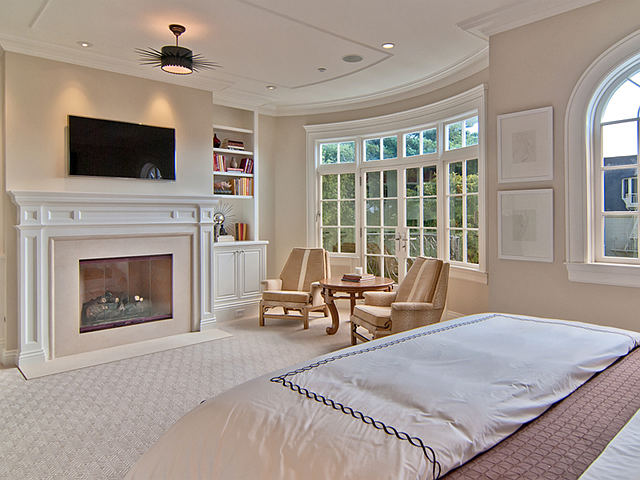 The master feels like a neutral, calming retreat. I especially like the sitting area. Those chairs are spectacular.
Master Bedroom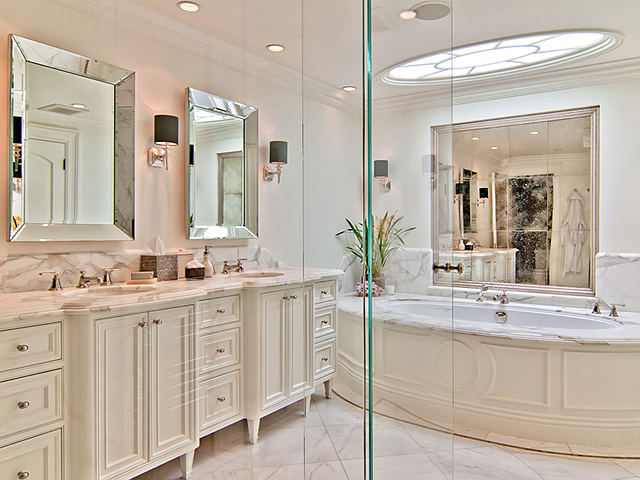 This is how I usually envision a master bathroom. Nothing overwhelming, everything feels elegant yet not over the top. Classic design is always chic.
Kids' Room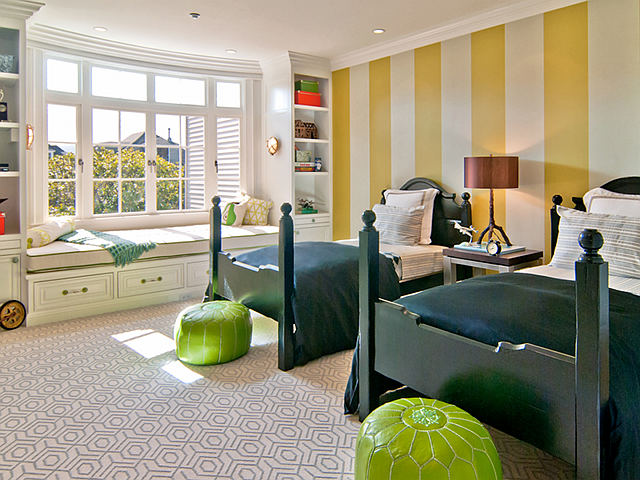 I'm loving the yellow stripes and the green Moroccan ottoman. This is a really well-designed kids' room.
Girl's Room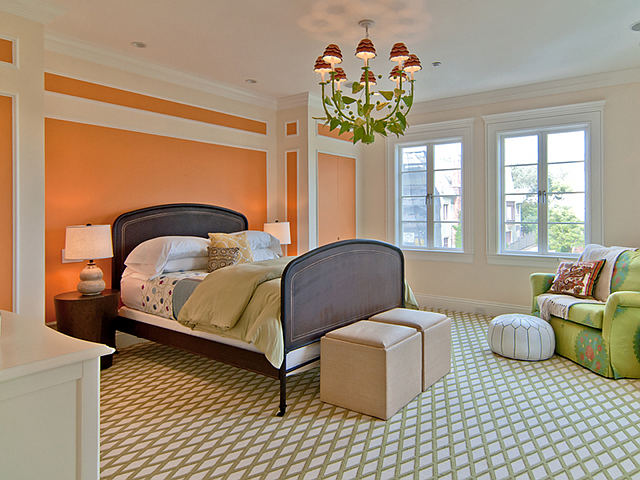 This is not a "too girly" girl's room. I like the orange with the green (take a look at the great carpet!) and the chandelier is really fun!
Guest Bedroom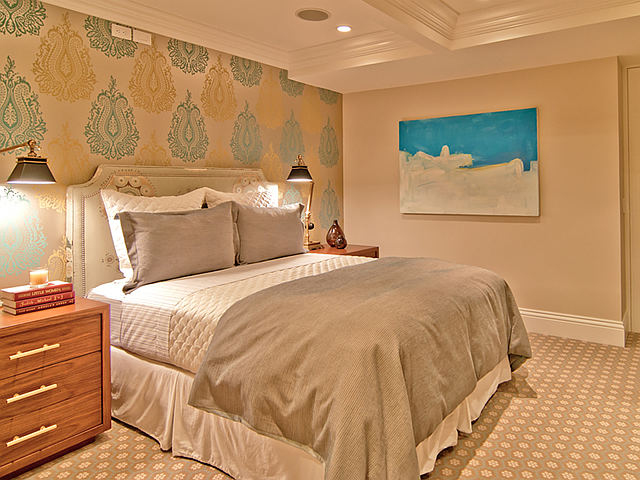 Isn't it gorgeous? The wallpaper works perfectly here and the bed is just stunning!
Bathroom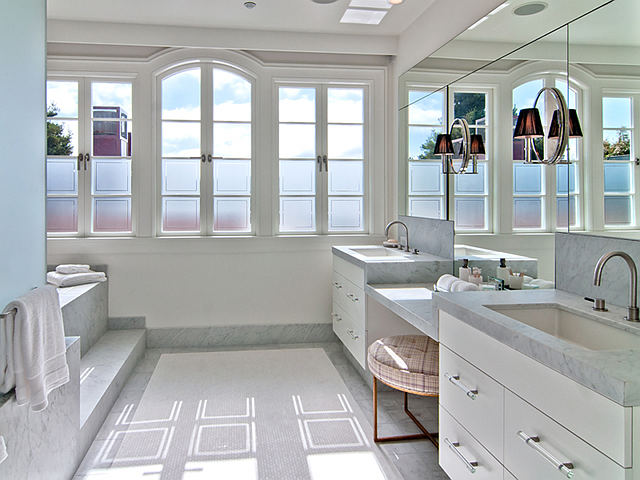 A classic design with a modern approach. Just perfect!
Back of the House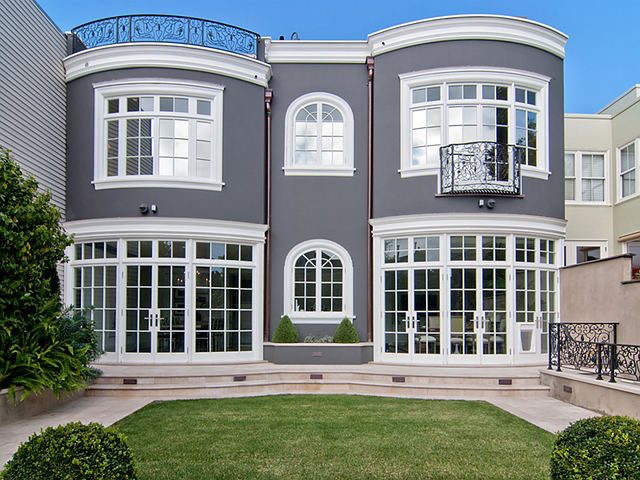 As I've said before, the architecture is fantastic and I would love to live in this house, but I really don't like to have house by house like here. But again, this is San Francisco! So, you need to compromise, I guess.
What are your thoughts on this house? Does it appeal to you? Do you have a favorite room? For me, I'd have to choose the kitchen!
I want to say something to all you, I actually want to thank you all for your support. Most of you know I'm very close to giving birth to my son very soon and if you ever been pregnant, you probably remember how you felt the last weeks. How am I feeling? Tired! I feel good and thank God I feel healthy, but pregnancy is pregnancy. Some days I wish I could stay in bed all day, just taking it easy, but I can't since I have other 2 small children to take care of. So, to get to my point. I want to thank you all for your support on this. I got an extremely sweet and supportive email from a reader the other day where this woman said how much she appreciated every post I make. She didn't really understand how I'm still making these posts just a few weeks away. I explain to her that I do feel tired at times, but this is really my passion. I simply can't let you guys down and I feel happy to share my thoughts with you all. So thank you so much for appreciating my work here. It's the best reward I can get!
Oh, don't forget to come back tomorrow for our Cottage of the Week. I think you guys will really like it!
Have a truly blessed week. May you all feel good about yourself, life and where you are at the moment.
xo
Luciane at HomeBunch.com
Get My Help with Interior Design: HB's Design Service.
Come Follow me on Twitter: Twitter/HomeBunch
Source: Click here to see the rest of the house: Sothebuy's, Priceypads.