Posted in:
Architecture
,
Beautiful Homes
,
Beautiful House
,
Classic Design
,
Coastal Decor
,
Coastal Homes
,
Coastal Interior Ideas
,
Coastal Interiors
,
Colorful Interiors
,
Cottage
,
Home Decor
,
Interior Design Blog
,
Interior Design Ideas
,
Interior Designers
,
Interior Paint Color Ideas
,
Laundry Room Design
,
Online Interior Design Services
,
Paint Color
,
Restored Houses
,
Small Interior Ideas
,
Small Space Design
,
Transitional Interiors

1 comment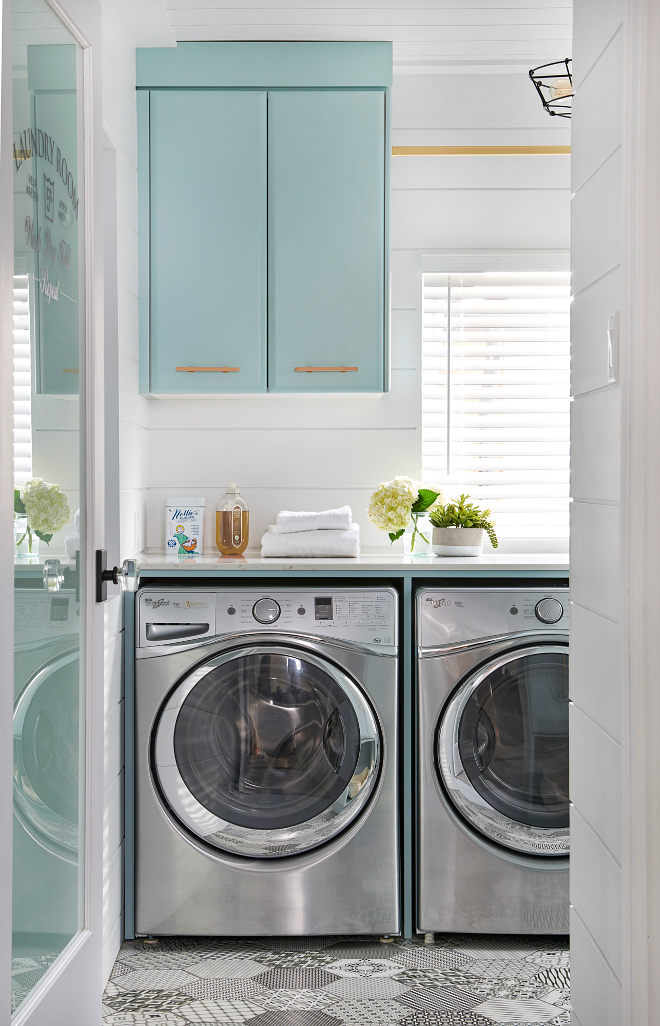 Are you looking to renovate your tired laundry room? This laundry room with turquoise cabinets should inspire you! Take notes on all of the details shared by the Canadian interior designer, Cynthia Soda from Soda Pop Design Inc.:
"Our clients had a very outdated laundry room space (think pink grout and dark green 4 x 4 tiles as a countertop…!) The window above the countertop actually used to be a door that we converted into a window so we could make more efficient use of the space (put the washer and dryer side by side and run the counter across). 
The room lacked function and style.  The whole house has rooms stuck in the 80s and 90s and the homeowners are more eclectic/retro/cool so we wanted to reflect that in the space that they tend to spend a lot of their time in (whether we like it or not!).  We went with a retro vibe with the pillow style of cabinetry and wanted to play with unexpected colors and metals to keep it current.  They have two small dogs who sleep in the laundry room so we needed to make sure we incorporated space for them to hang out ;).  Since it is a space in which function is the #1 priority we made sure we chose dark grout to not show dirt/stains, enough cabinet space to store the ironing board, a hanging rod to dry the delicates, etc.  It was a fun project to work on.  Our clients just let us go nuts and it turned out amazing!  We (and out clients) couldn't be happier with it."
Turquoise Laundry Room Cabinet Paint Color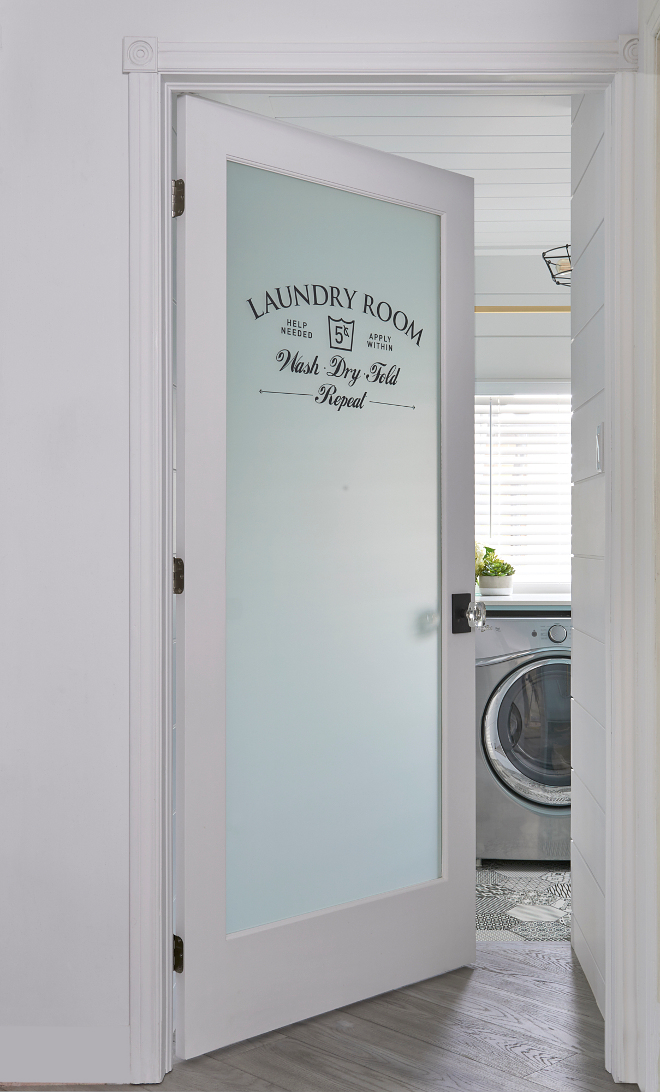 Adding a frosted glass door to a laundry room is always a smart idea; especially for those busy week days where piles of laundry is being done. The door keeps the noise contained and any mess out of sight.
Creating a Dream Laundry Room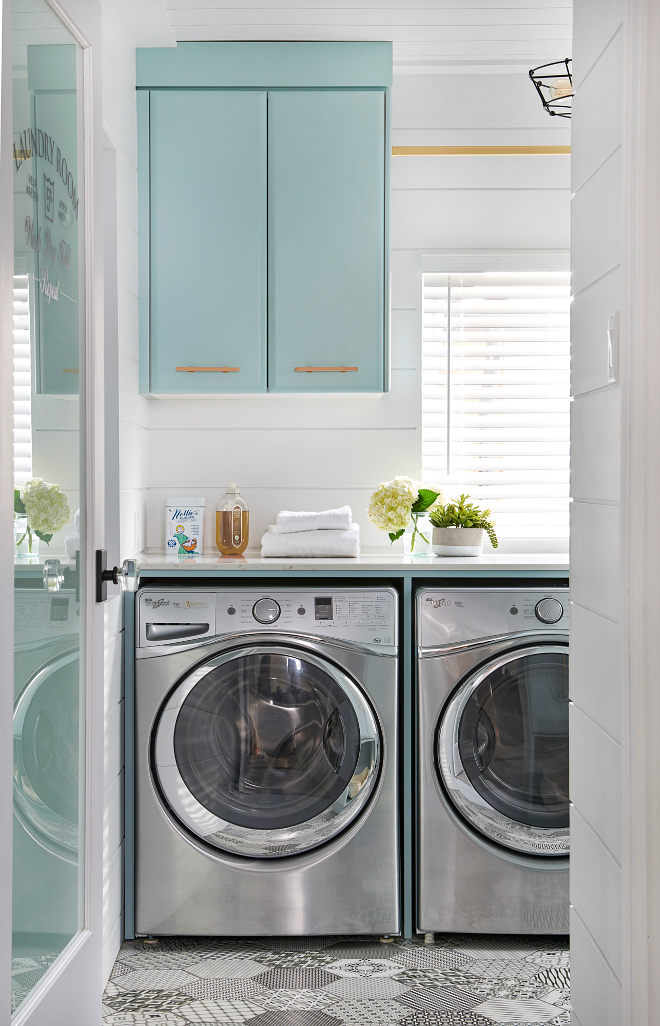 This dream laundry room features black and white hex cement floor tiles and a silver front loading washer and dryer enclosed beneath a white quartz countertop. The laundry room walls are paneled with horizontal shiplap.
Cabinet Maker:  Colclo Custom Woodworking.
Appliances are Whirlpool Duet.
Cabinet Paint Color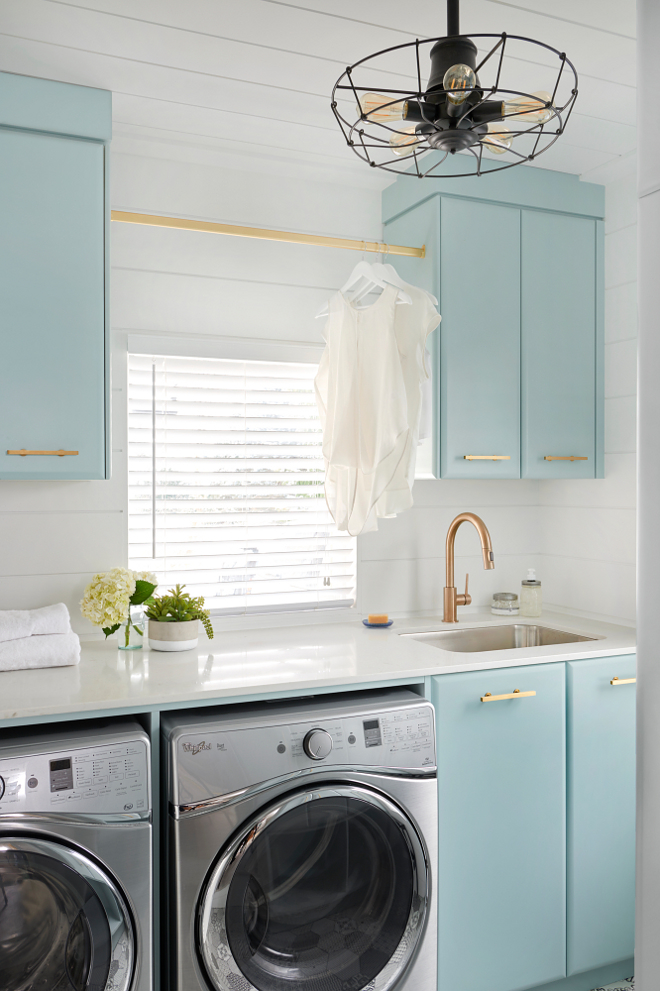 A brass drying rod was installed between the upper cabinets. The turquoise blue cabinets are painted in Benjamin Moore Gossamer Blue 2123-40. 
Wall Paint & Color: Benjamin Moore Chantilly Lace OC-65 (wall and ceiling application: MDF shiplap).

Lighting: Supreme Lighting – GLENDORA 14259/4
Room Dimension: approx 8′ x 8′ space.
Laundry Room Faucet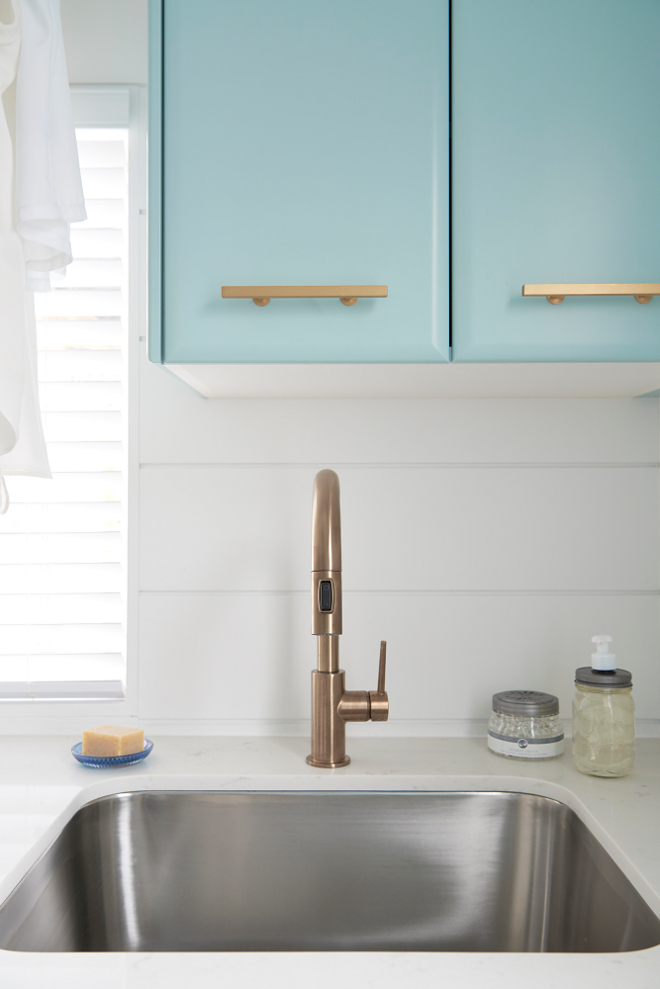 Faucet is Delta Trinsic Single Handle Pull-Down Kitchen Faucet in Champagne Bronze.
Laundry Room Sink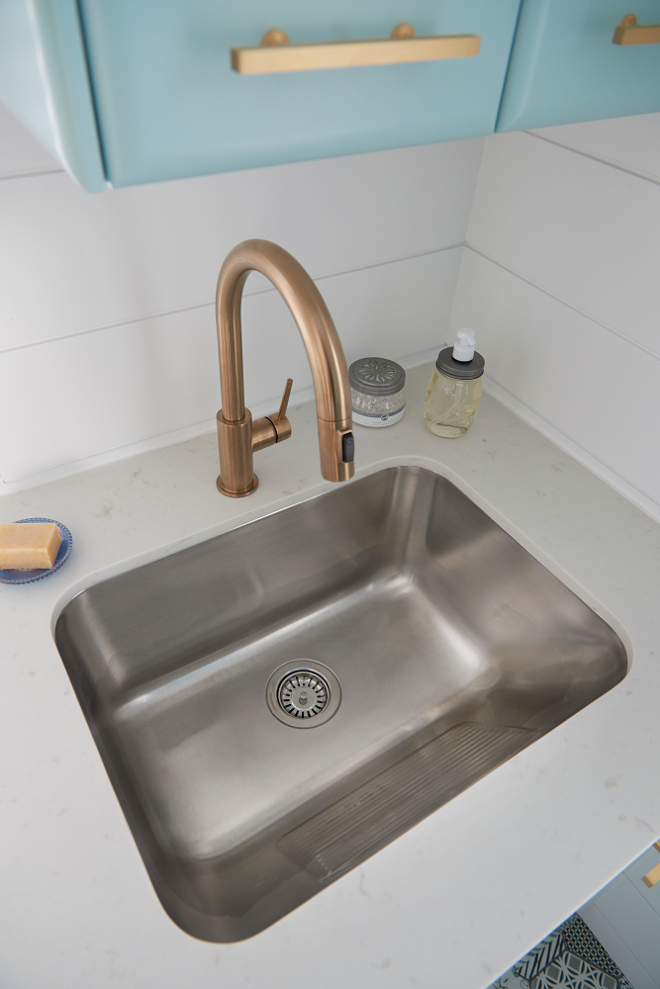 Sink is Blanco 400779 Practika Laundry / Utility Sink with Built-in Washboard in Stainless Steel.
Brass Pulls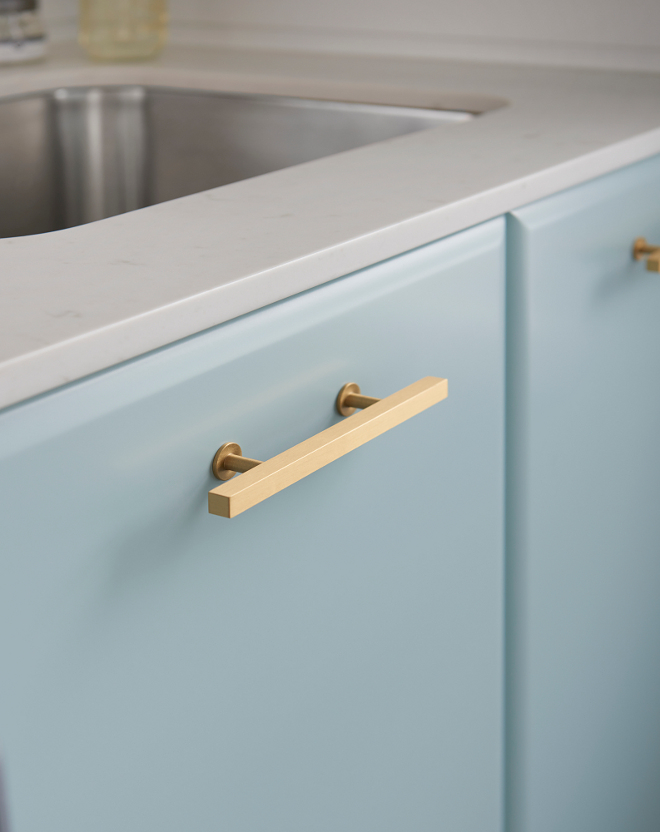 Hardware is Upper Canada Specialty Hardware – Lew's Dolin Bar Series in Brushed Brass.
Countertop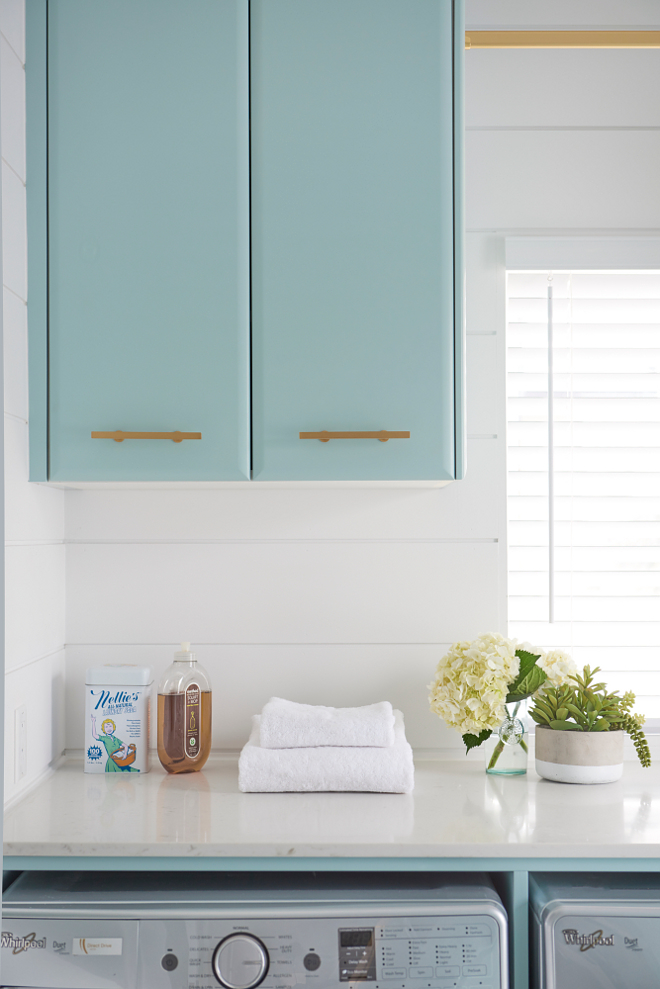 Countertop: Simplex Marble & Granite – Cashmere Carrara. Practical and beautiful!

Little Pups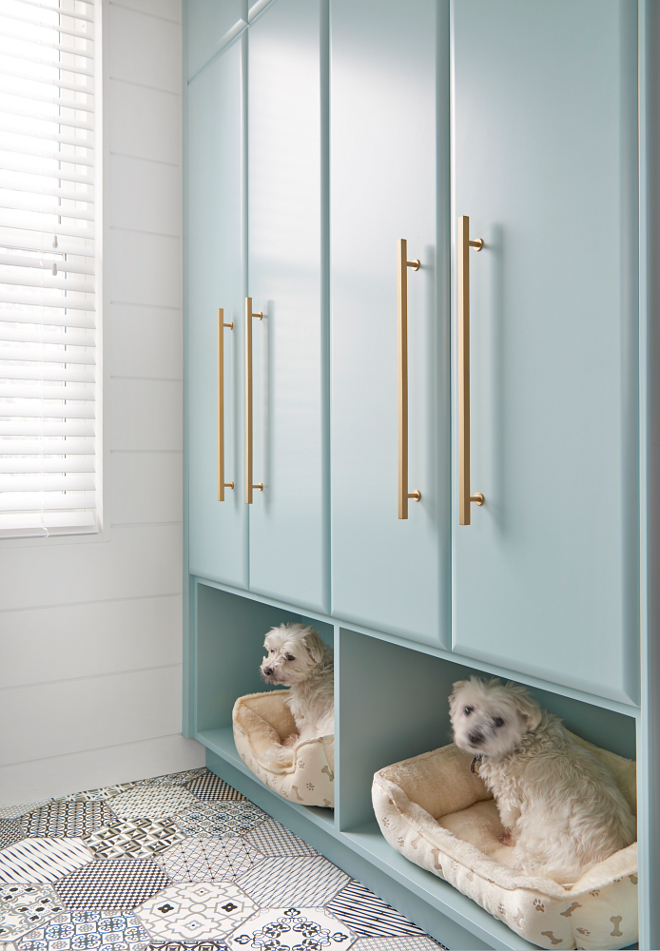 Good designers take everyone in consideration when designing a space, including pets! These adorable dogs always loved sleeping in the laundry room, so designing a built-in bed for them was just natural.
Flooring is Ceragres St-Barth 8 x 8 hex with laticrete dark grey grout.
Posts of the Week: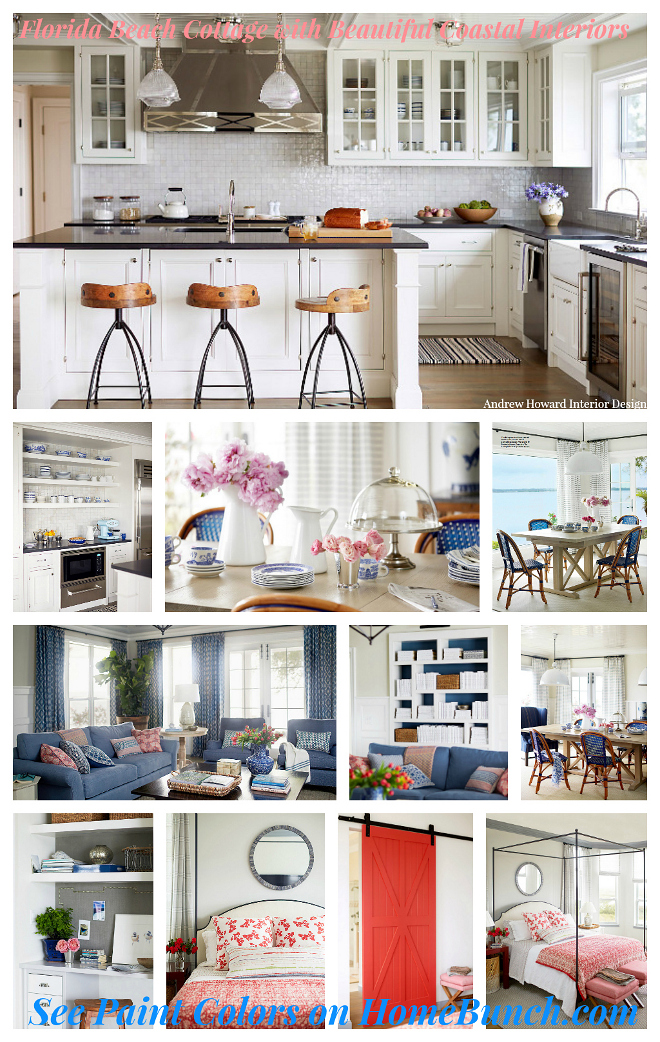 Popular on Home Bunch:

 Popular on Pinterest

More Interior Design Ideas:

2017 New Interior Trends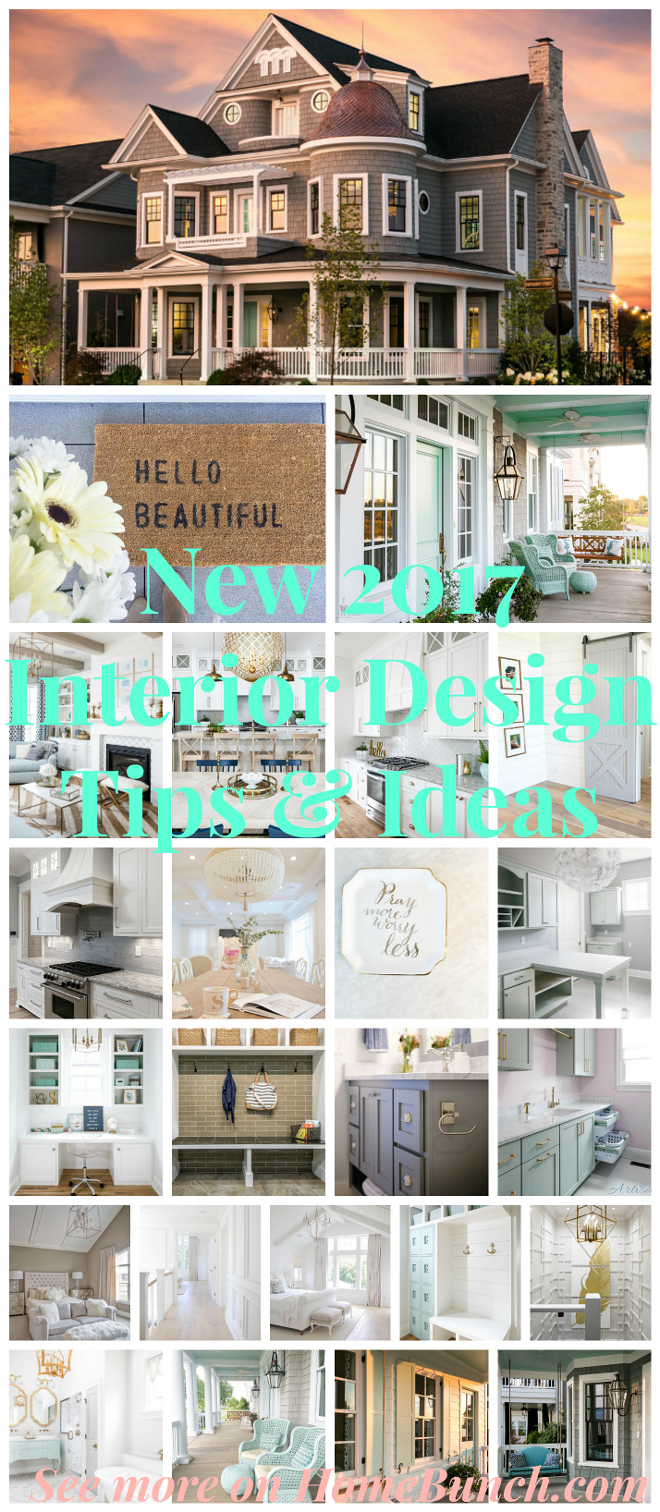 See more Inspiring Interior Design Ideas in my

Archives.
Interior Design Ideas:

Paint Color
I love, love, love this laundry room! The cabinet paint color is a dream and the layout of the entire space is just perfect! I hope you had a good time and could feel inspired.
Have a day filled with laughter. Complain less and smile more! 🙂
See you guys tomorrow.
with Love,
Luciane at HomeBunch.com
Interior Design Services within Your Budget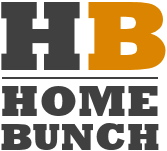 Get Home Bunch Posts Via Email


Posted in:
Architecture
,
Beautiful Homes
,
Beautiful House
,
Classic Design
,
Coastal Decor
,
Coastal Homes
,
Coastal Interior Ideas
,
Coastal Interiors
,
Colorful Interiors
,
Cottage
,
Home Decor
,
Interior Design Blog
,
Interior Design Ideas
,
Interior Designers
,
Interior Paint Color Ideas
,
Laundry Room Design
,
Online Interior Design Services
,
Paint Color
,
Restored Houses
,
Small Interior Ideas
,
Small Space Design
,
Transitional Interiors

1 comment