Posted in:
Architecture
,
Bathroom Design
,
Beautiful Homes
,
Beautiful House
,
Bedroom Design
,
Classic Design
,
Dining Room Design
,
French Interiors
,
Gardens
,
Home Decor
,
Interior Design Blog
,
Interior Design Ideas
,
Interior Designers
,
Kitchen Design
,
Living Room Design
,
Paint Color
,
Patio Ideas
,
Pool Ideas
,
Traditional Interiors

7 comments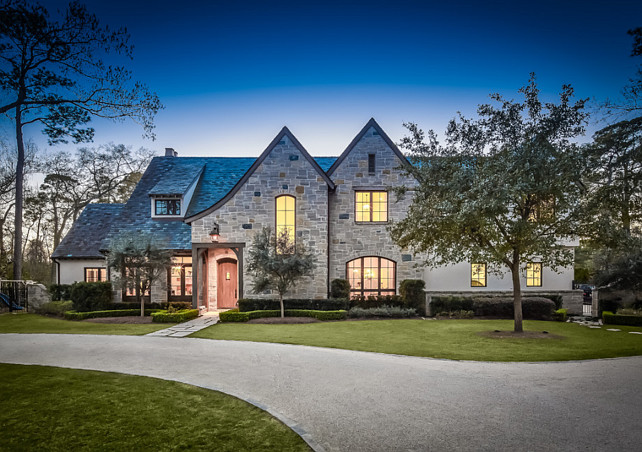 Designed by Thompson Custom Homes, this French home beautifully interprets French country design with a classic approach.
This home was designed for a young family embodying a modern day interior layout for casual, comfortable everyday living. Using antique accessories and reclaimed vintage materials, the interiors of this French home feel elegance yet practical.
Equally impressive are the resort-inspired grounds, which include a beautiful pool, manicured gardens and a very romantic guest house.
Let's dream together!

French Home Design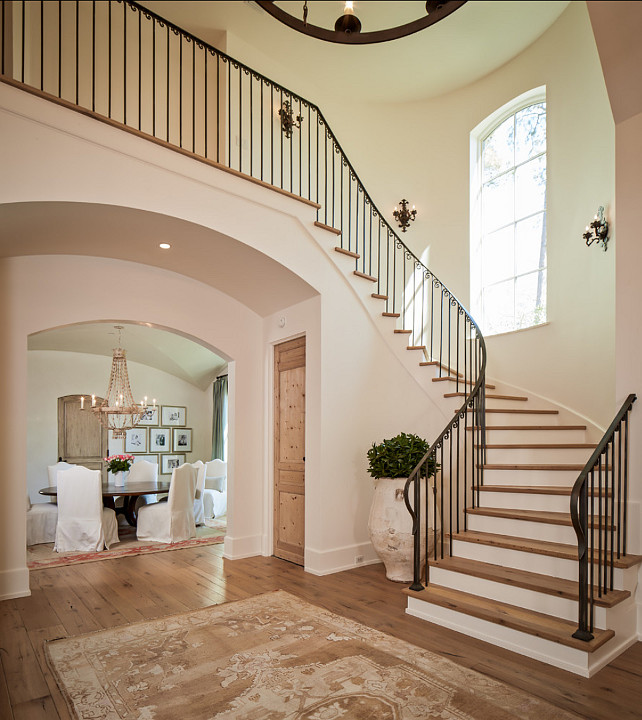 Timeless design is blended with neutral hues in this extraordinary home.
French Foyer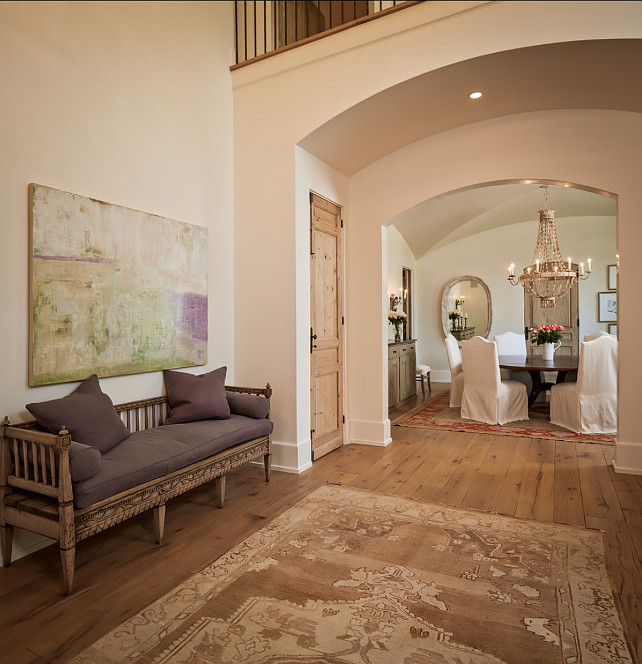 Beautiful French-inspired furniture blends perfectly with striking architectural details.
Reclaimed Flooring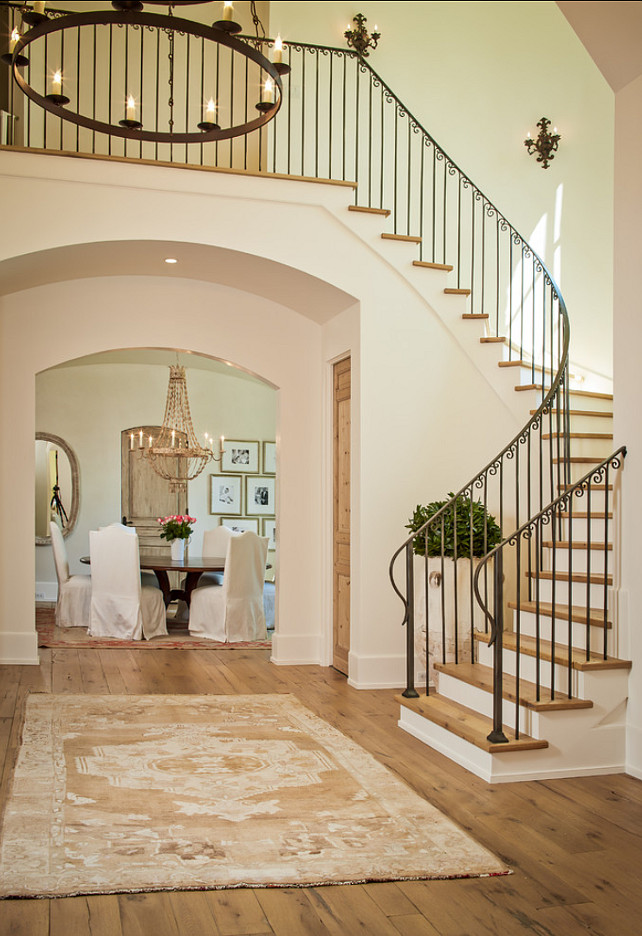 These floors are 5-7-9″ 150 year old hand selected reclaimed vintage oak.
Dining Room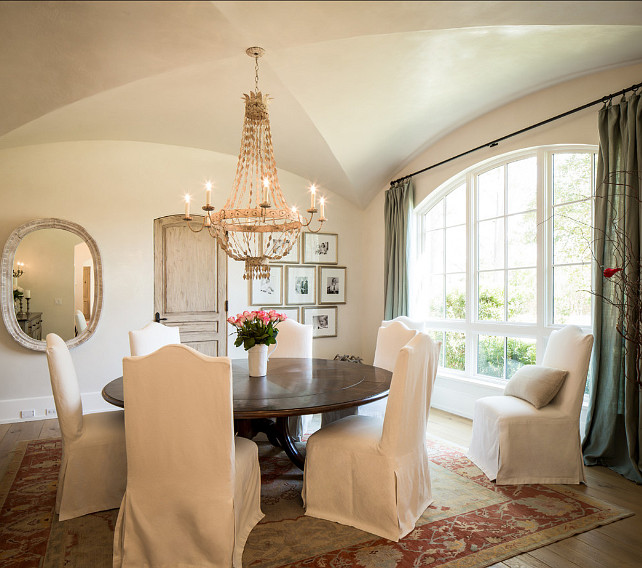 This French dining room is elegant without being overly decorated.
Note the stunning ceiling and the empire style iron chandelier. A similar chandelier can be found here.
Paint Color
Paint Color: These walls are plastered. The color is "Sherwin Williams Opaline", 75%.
Staircase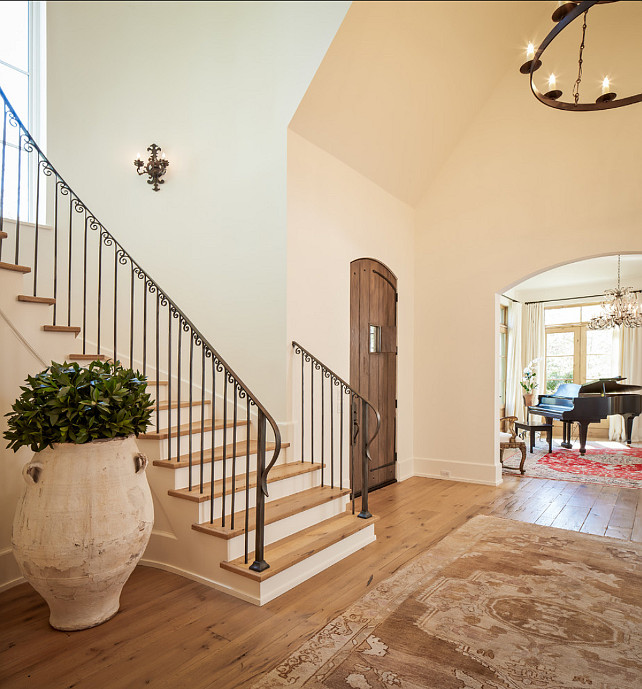 Delicate details were added to the custom stair railing.
Music Room Design Ideas
Lovely garden views can be appreciate from the music room.
Red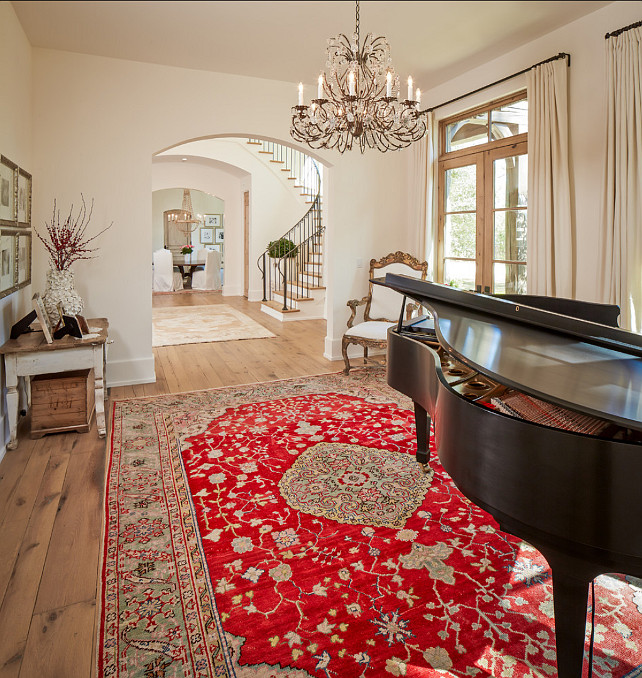 I am loving the tapestry. Elegant and unexpected.
Play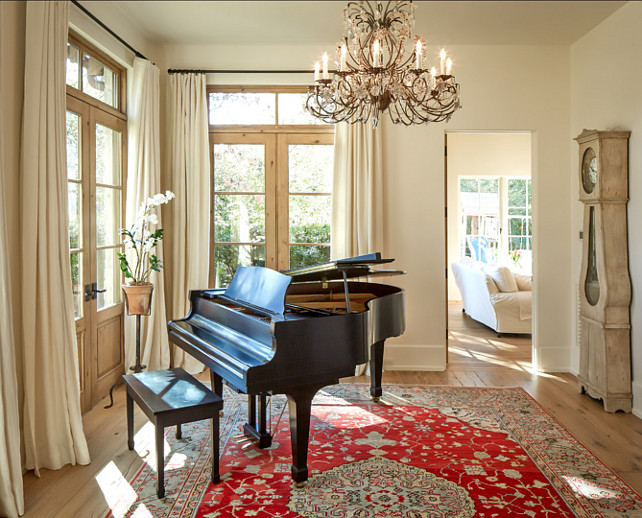 Can you play?

French Living Room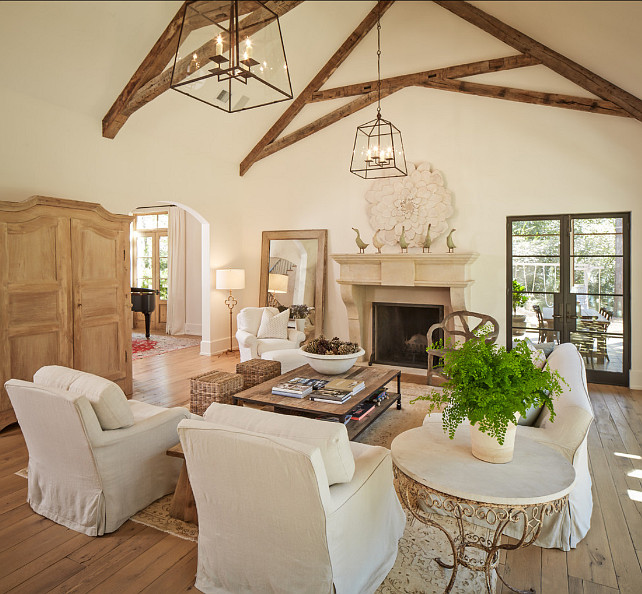 Spacious, airy yet inviting. It's easy to fall in love with this living room.
Furniture Layout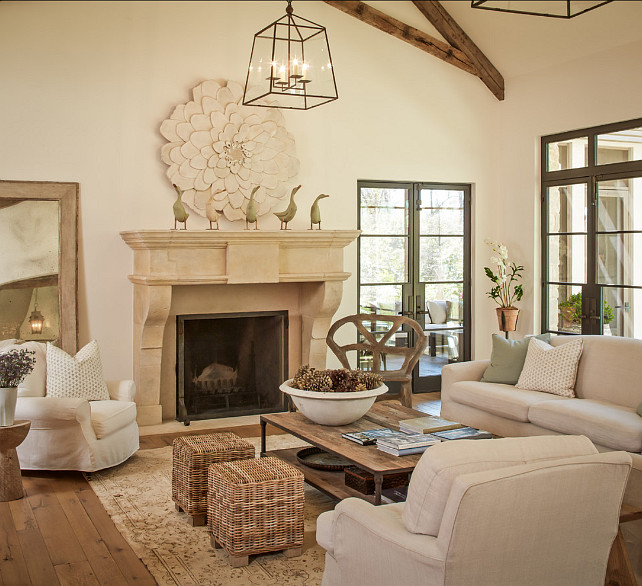 I like the layout in the living room. It brings people together.
Note the art and the decor above the mantel.
French Decor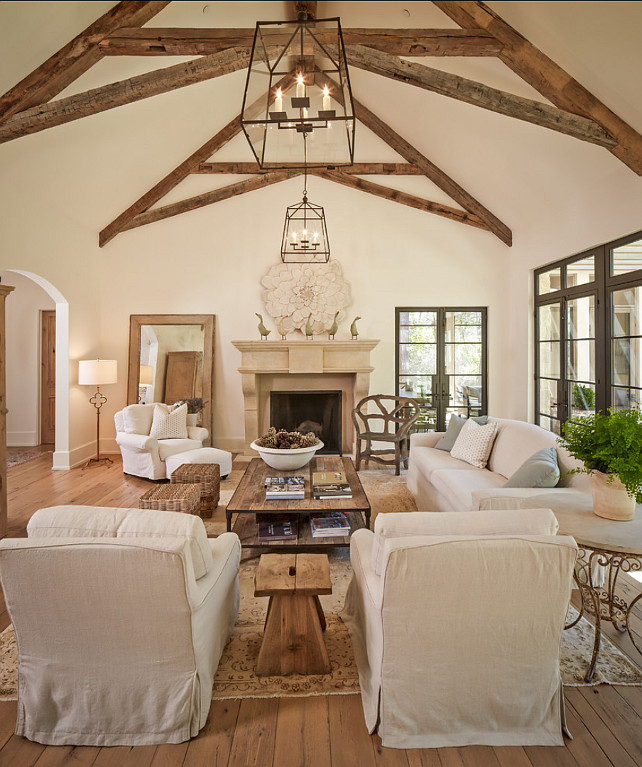 Slipcovered furniture is a great option if you have kids at home. Got dirty? Just throw the covers in the machine and there you have it!
Living Room Dimensions: 22 x 32.
Natural Touch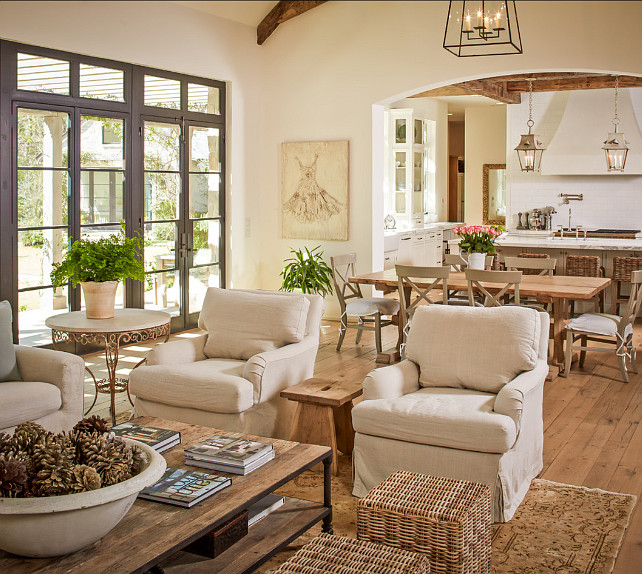 I love the natural elements found in this room.
Windows and doors are by "Kolbe" .
Paint Color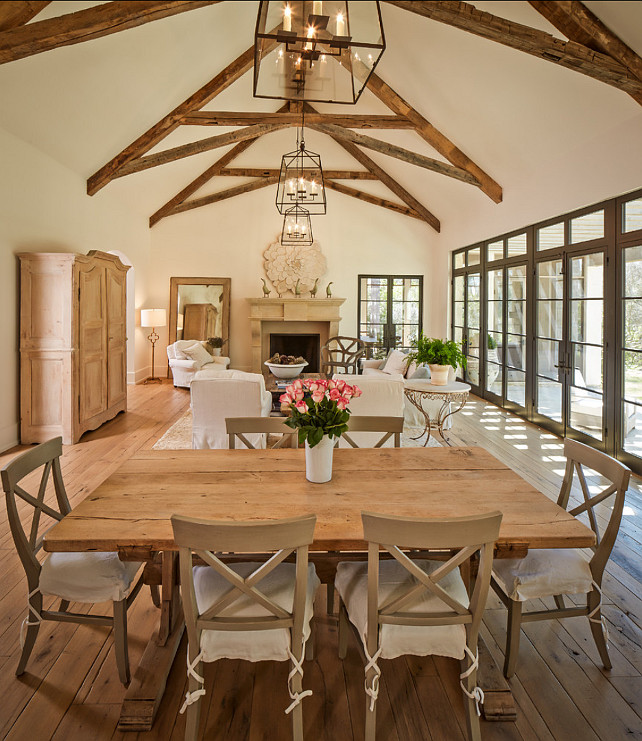 Walls: Benjamin Moore – Aura Matte Opaline 75%,
Ceiling: Benjamin Moore – Regal Matte Opaline 75%
French Kitchen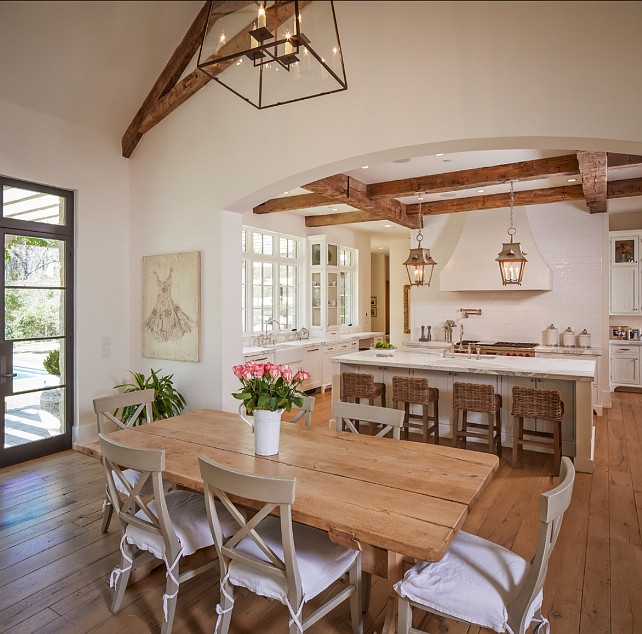 This has to be one of my favorites room of the house. This French kitchen and eating area were impeccably designed.
Kitchen Island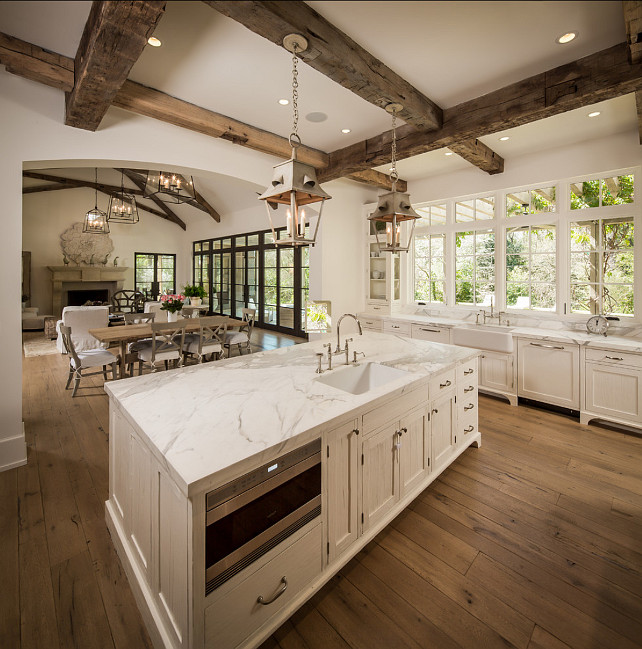 White marble contrast perfectly with the reclaimed hardwood floors and beams.
The ceiling beams are vintage oak.
Kitchen Cabinets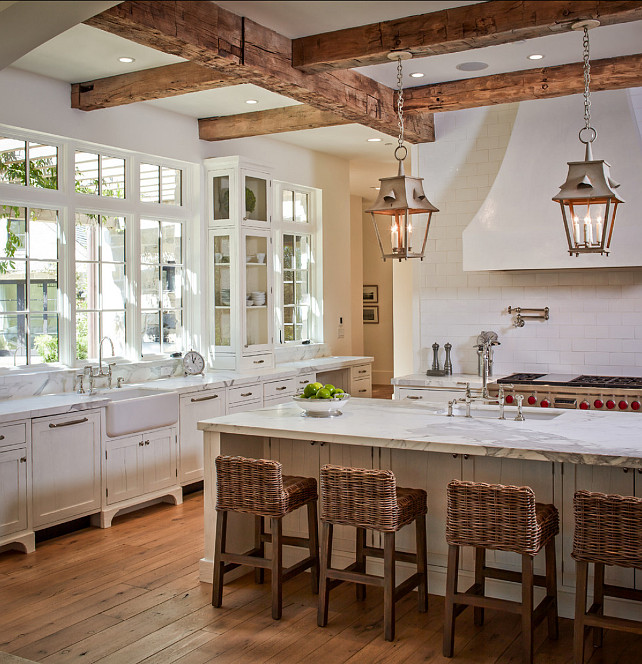 This kitchen feels very uncluttered and open. I love seeing large windows above sink.
Lanterns are vintage, but "Lantern & Scroll" have similar ones.
White Kitchen Paint Color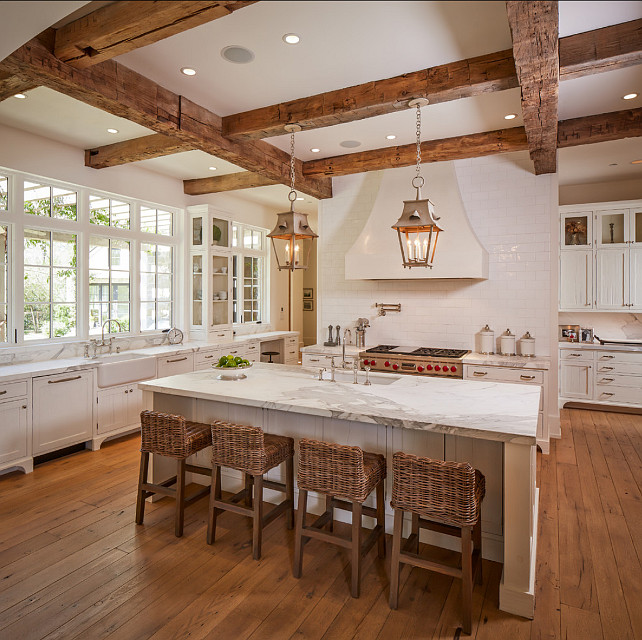 Kitchen Cabinets Paint Color: The cabinets are painted in "Benjamin Moore White Dove OC-17″
Dimensions: The kitchen is roughly 22 x 21.
Screened Porch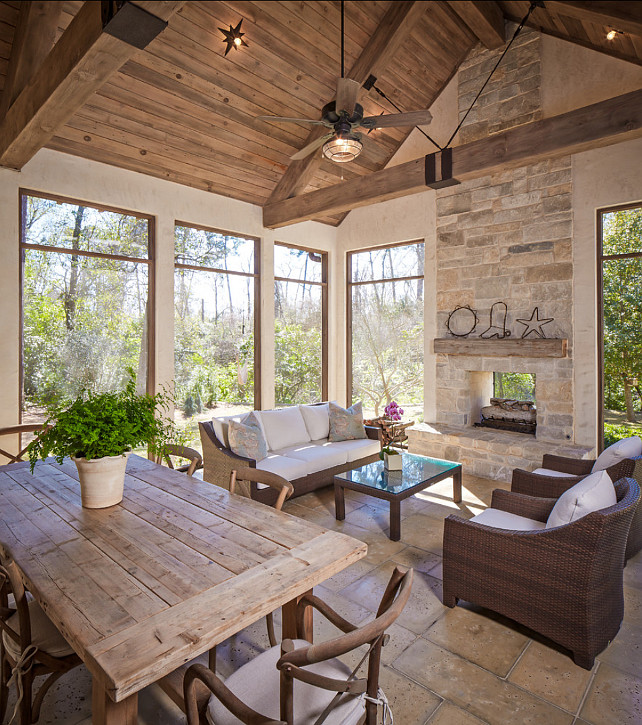 What a nice place to enjoy the relaxing views.
Table is a custom from "Custom Floors Unlimited".
Flooring is limestone tiles.
Hallway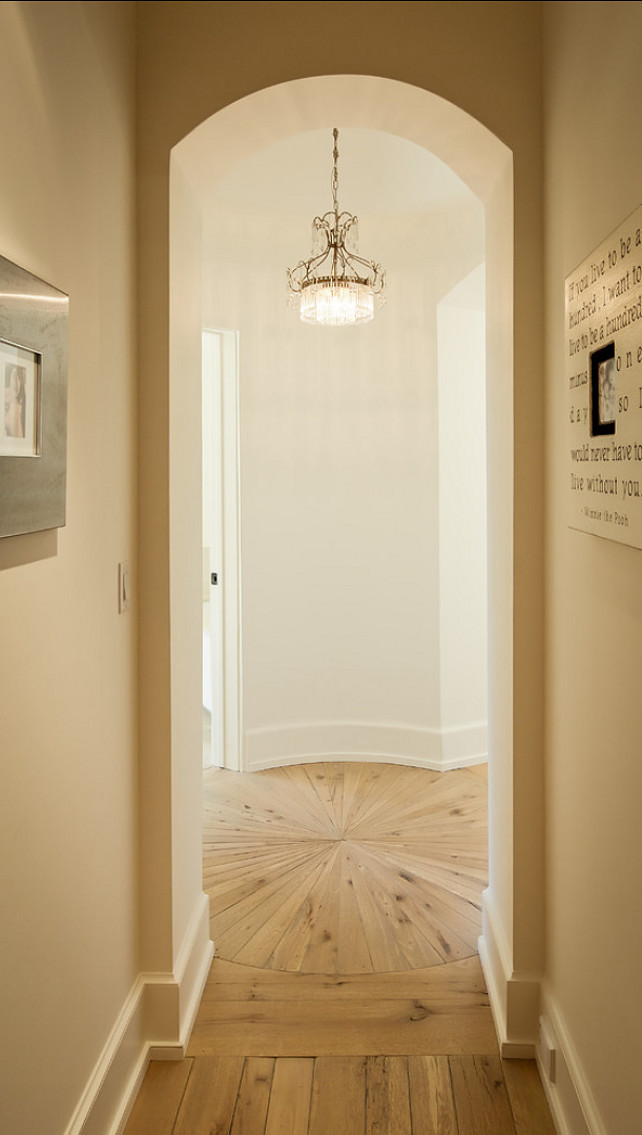 Gorgeous flooring!
Shabby Chic Girl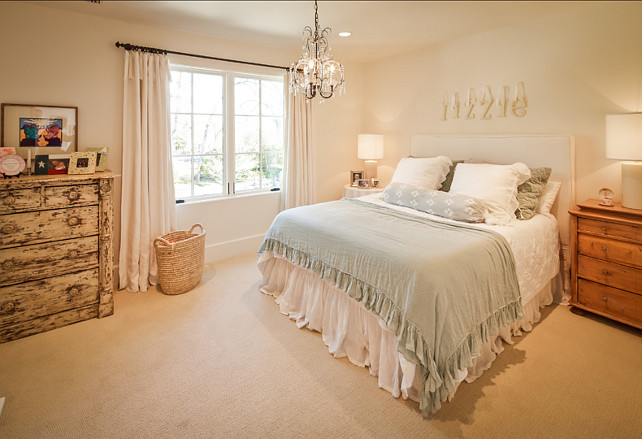 Do you want your children to fall asleep better during the night? Try painting their bedroom in a warm neutral color to help them feel more relaxed. Bright colors tend to stimulate us; which is not very helpful when you're trying to rest.
Master Bedroom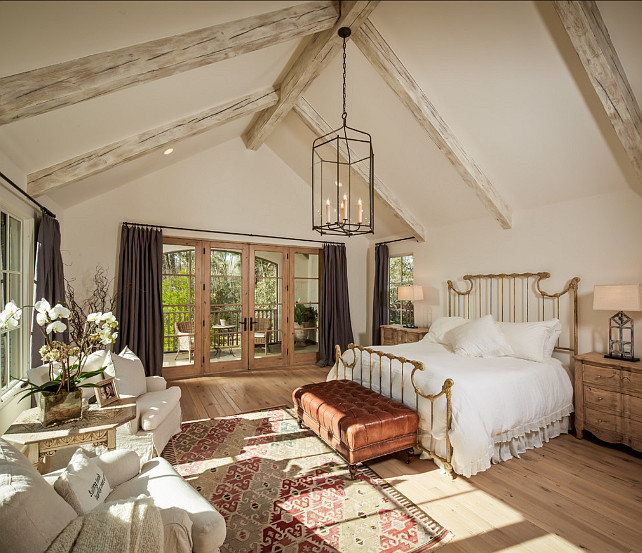 This French bedroom is warm and very romantic. I love the bed, ceilings and the balcony.
Backyard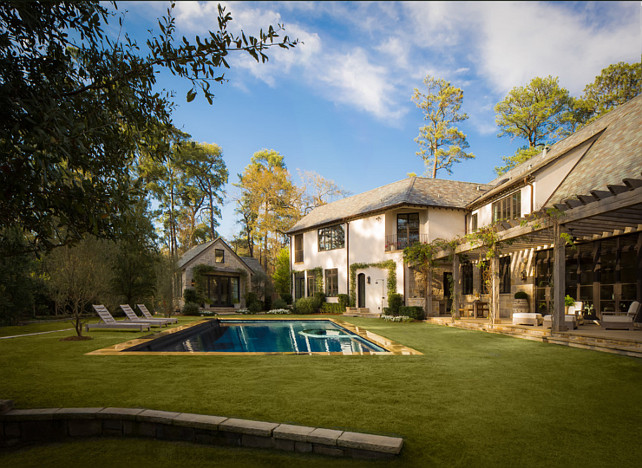 French influences were applied to the landscaping and the pool as well.
Guest House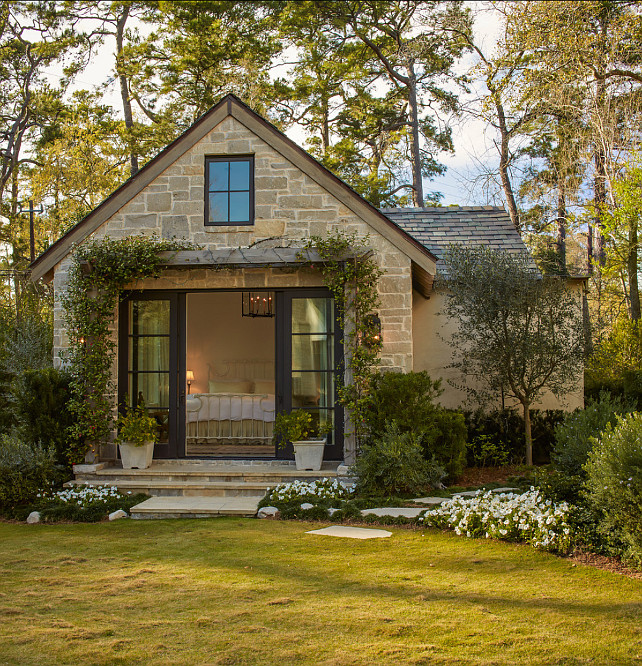 A guest house or a romantic love nest? You choose…
See more Inspiring Interior Design Ideas in my

Archives. 
I was a little late with my post yesterday. Click here if you missed it:

"Coastal Home with Inspiring Interiors".
 I hope you had a great time here today… I was so happy when I found this home and I couldn't wait to share it with you. I love that little guest house… how romantic is that?

I have a busy day ahead of me, but I woke up in a very good mood and extremely happy – so I am bringing this mood with me wherever I go today.
I hope you're feeling the same way, but if not, here… I can share this good feeling with you, too!

Have a Blessed day, my friends and thank you for always visiting me. It's wonderful to have you here!
with Love,

Luciane at HomeBunch.com
Interior Design Services within Your Budget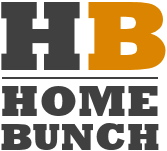 Get Home Bunch Posts Via Email

Sources: Thompson Custom Homes.


Posted in:
Architecture
,
Bathroom Design
,
Beautiful Homes
,
Beautiful House
,
Bedroom Design
,
Classic Design
,
Dining Room Design
,
French Interiors
,
Gardens
,
Home Decor
,
Interior Design Blog
,
Interior Design Ideas
,
Interior Designers
,
Kitchen Design
,
Living Room Design
,
Paint Color
,
Patio Ideas
,
Pool Ideas
,
Traditional Interiors

7 comments