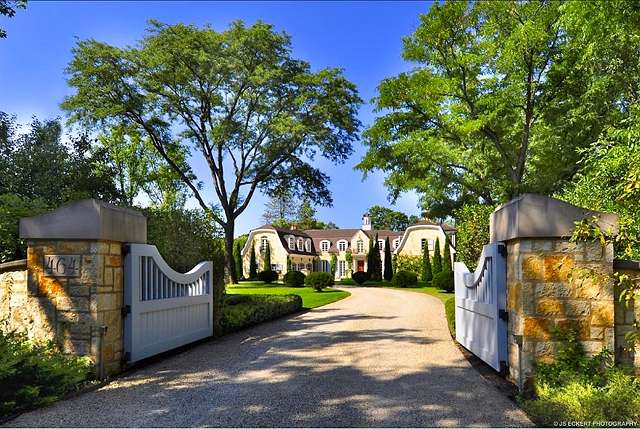 Got your Pinterest account ready? Set? Go! If you have a Pinterest account, I'm sure you're be adding some picture from this post because some rooms here are truly impressive. I'm sure you'll agree with me after you see the kitchen, the master bathroom and the closet (oh, yes! The closet!!!) of this house.
The estate sits on 2.6 acres and is located on a historic street. It has 11,000 square feet, 5 bedrooms, 6 full and 3 half bathrooms, a tennis court, pool with pool house. The millwork and craftsmanship in this house is truly exceptional. One of the most impressive qualities of this house is how it blends old architecture with newer amenities.
This house is on the market for $5,995,000. I'm letting you know just in case you fall in love…
Stones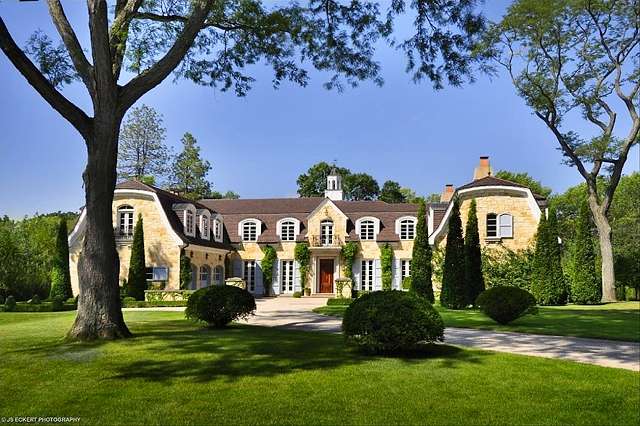 Beautiful halquist lannon stone and Ludowici clay tile roof.
Foyer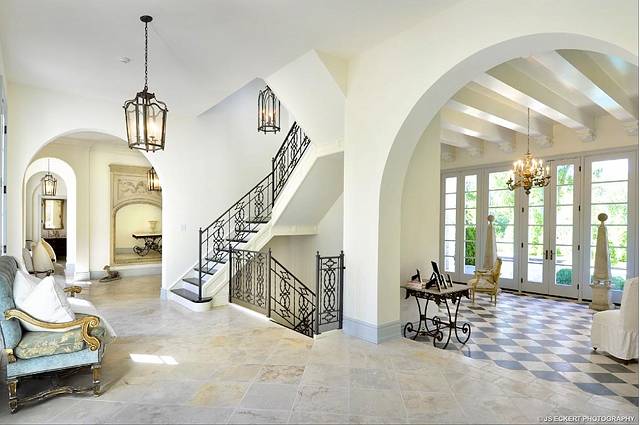 This whole house was built with amazing materials and wonderful architectural details.
Staircase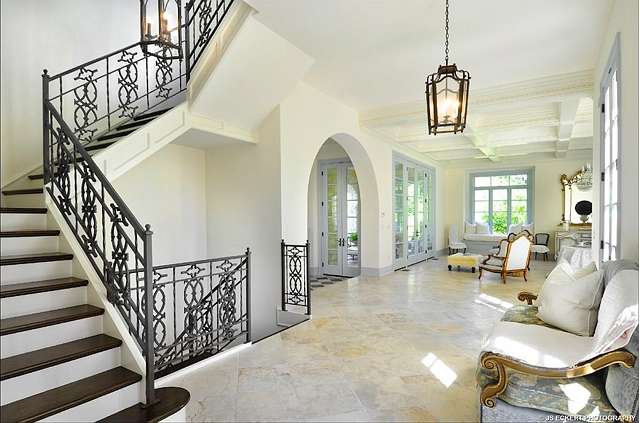 Iron railings can add so much interest to a grand foyer. I also love the arches you'll see all over this place.
Living Room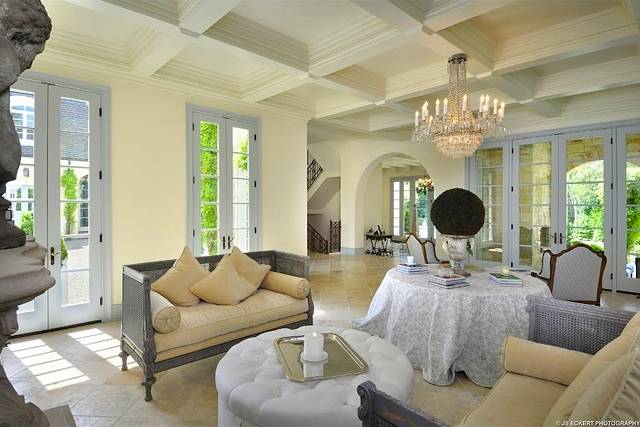 This living room is very spacious and was divided using different sitting areas.
Floors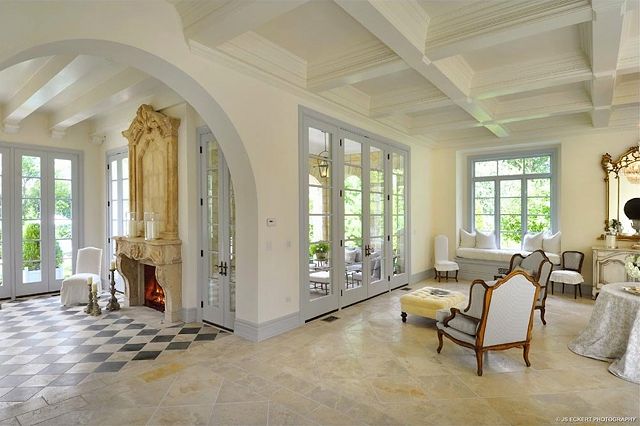 Most of the floors in this house are made of stone, but my eyes are really fixated on the ceiling and arch details.
Gray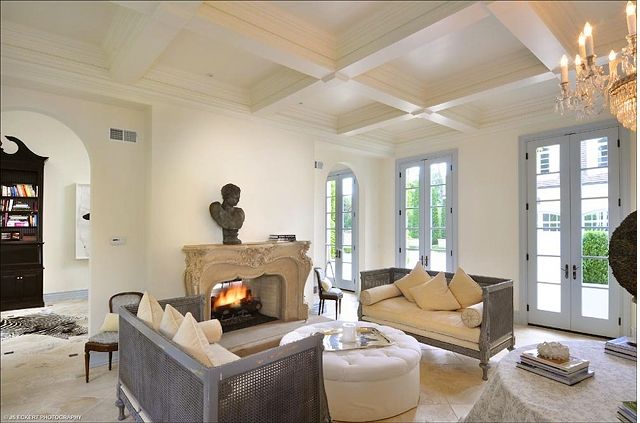 This space has some touches of gray with these sofas and also with the doors.
Dinning Room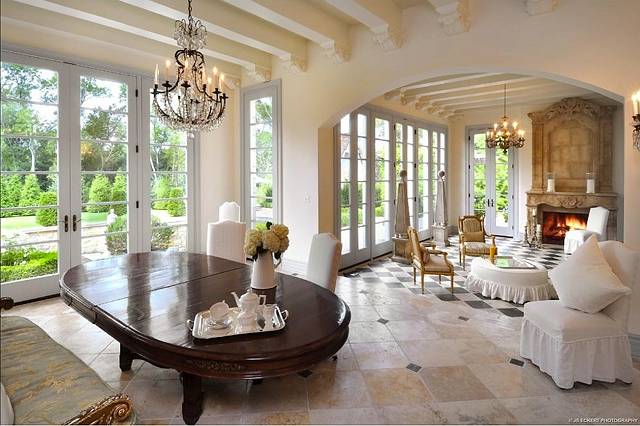 This dining room has a very open feeling. The best thing about this space is the gorgeous doors opening to the garden.
Grand Salon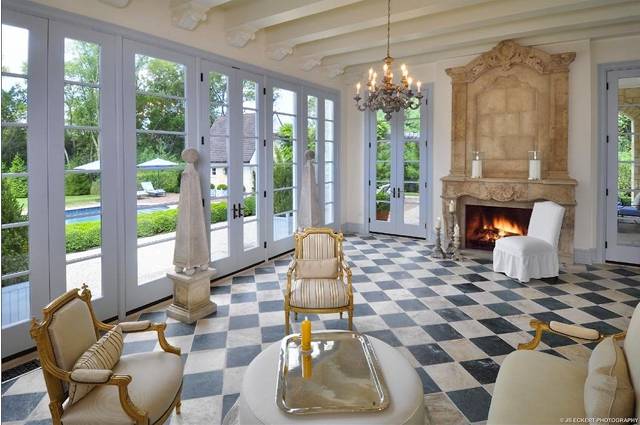 This room would be perfect to accommodate an elegant party.
Heartbreaker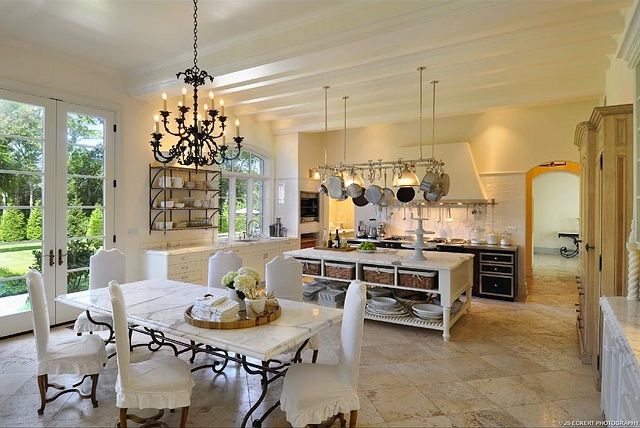 I call it "heartbreaker kitchen" because my heart aches now as I see this kitchen. I want it so badly! Jokes apart, but truly, this is one of my favorite kitchens I've seen for a long time.
Pots and Pans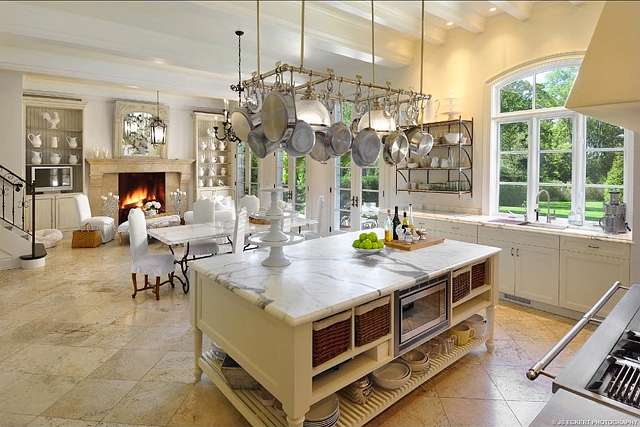 Pure charm! Love, love, love!
We Cook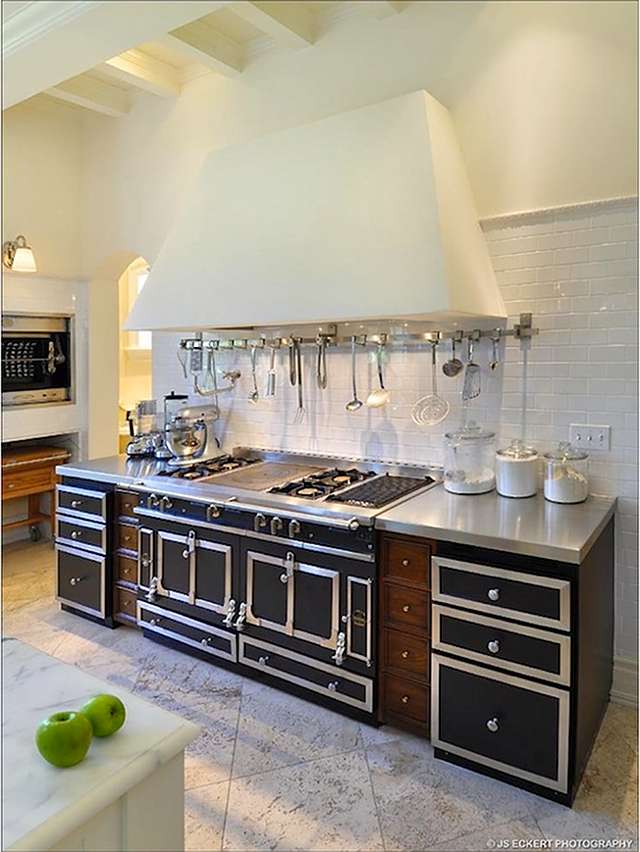 No one would want to find an excuse with this LaCornue Range. So, next time someone asks you why you don't cook, just say you're waiting to have one of these!
Family Time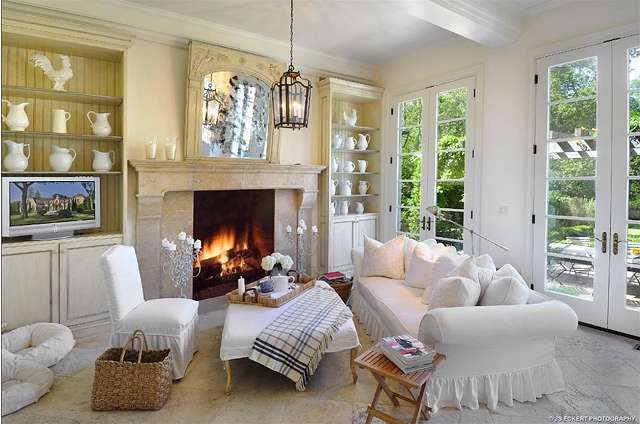 This is so perfect, so cozy and so beautiful! This is just by the eating area in the kitchen.
Coffee?
This space is fantastic to prepare coffee or tea for guests and store all of the china.
Office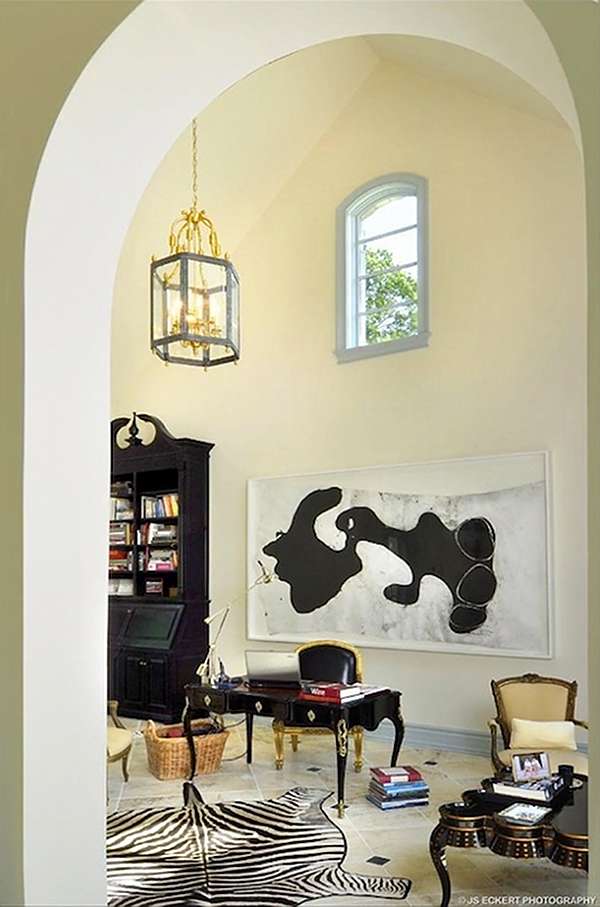 A very stylish office.
Higher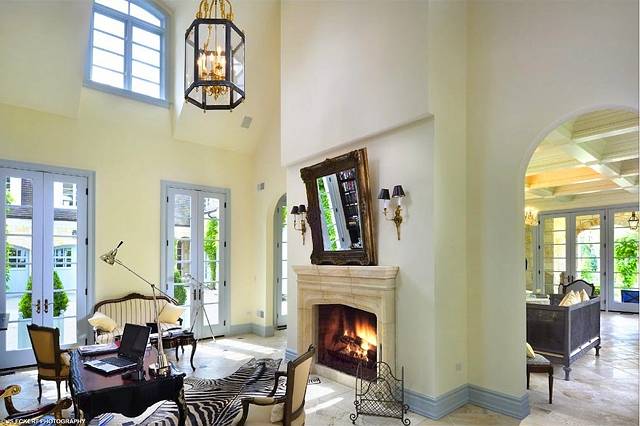 I love the high ceiling and the fireplace in this office.
Master Bedroom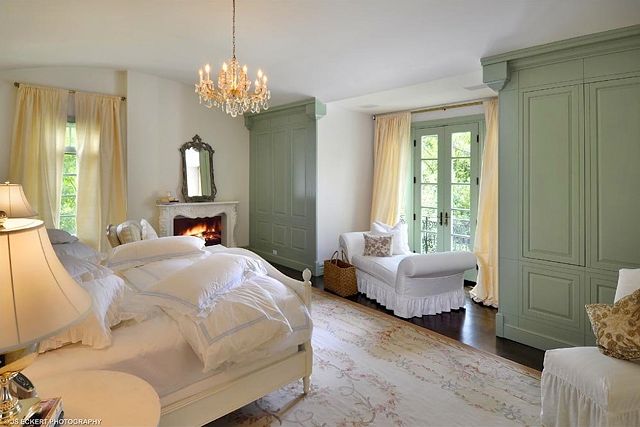 The color palette and the texture of this master bedroom are perfect if you're looking for serenity.
Second Reason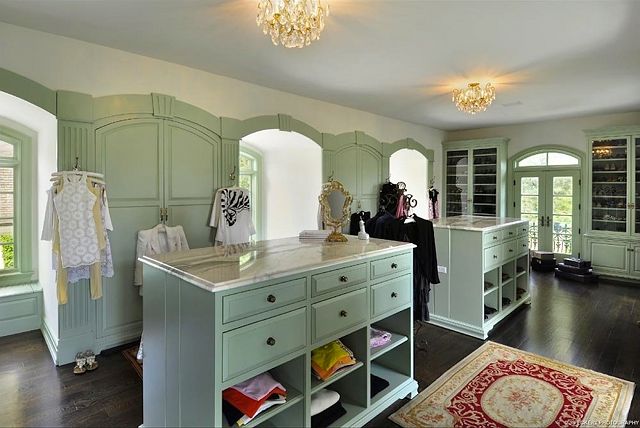 The first reason I fell in love with this house was that incredible kitchen and this is a close second!
To Be Continued…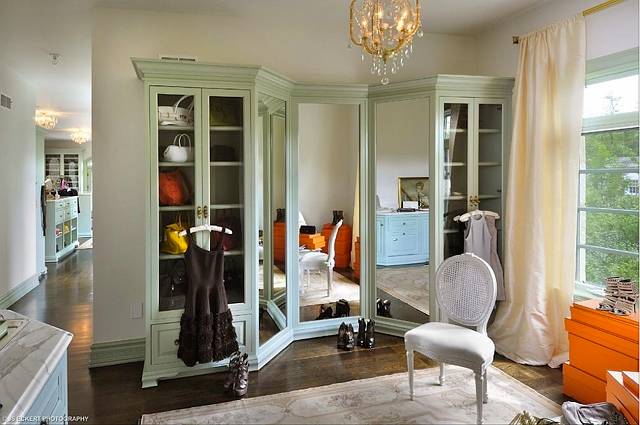 Bigger is better when it comes to closets. Unless you have a problem with shopping. I definitely have not!
Va Va Va Voom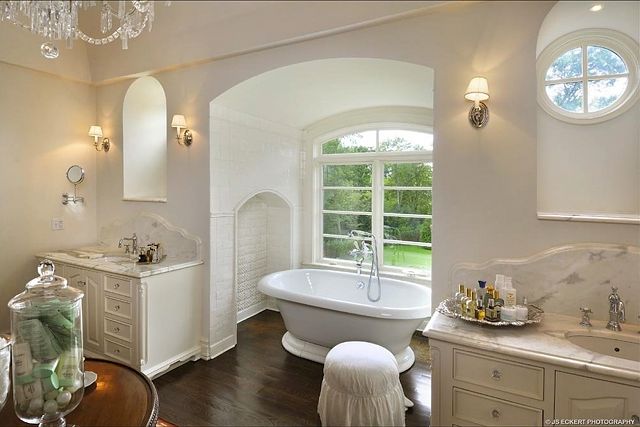 This is yet another passion of mine about this house: the master bathroom!
Privacy, Please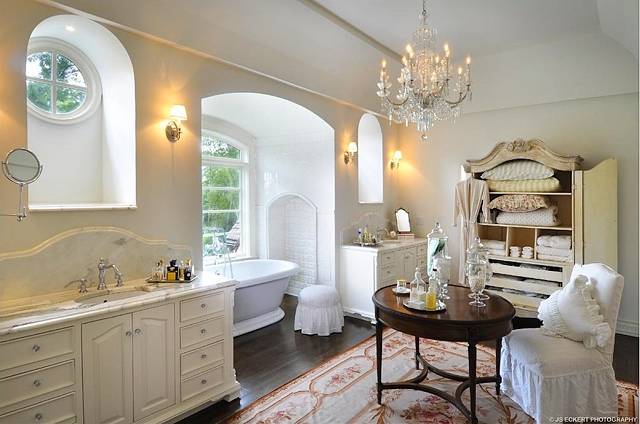 I'd spend so much time in this bathroom! It's too beautiful to leave.
The Mix of Shower & Chandelier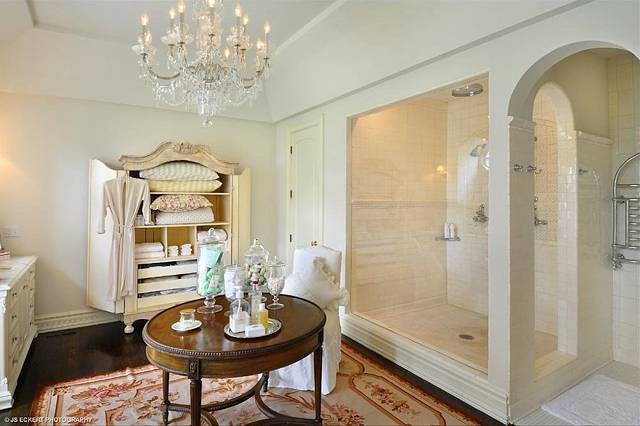 This is pretty much the ideal shower for me: white and spacious. What do you think of that armoire? Oh, love!
Guest Bedroom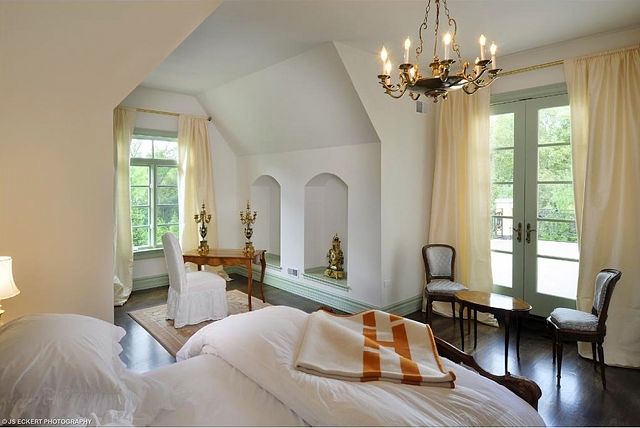 The guest bedroom was kept to a minimal, so you could appreciate the architecture and the antiques.
Felling Blue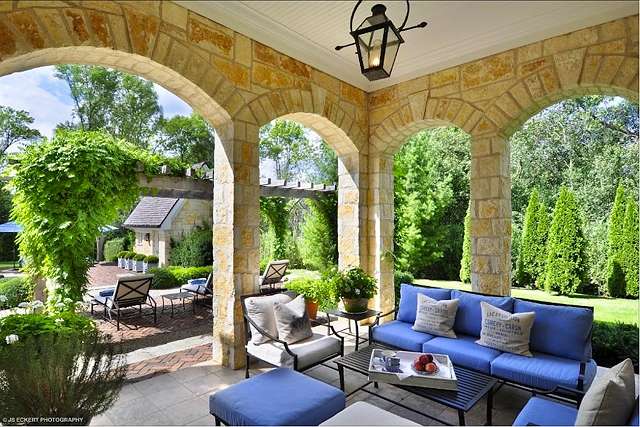 Blue is always gorgeous for outdoor furniture.
Fire & Stone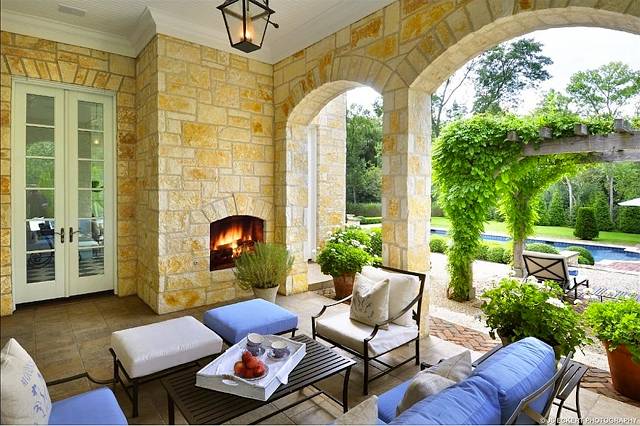 Gorgeous stone work and a beautiful fireplace.
Al Fresco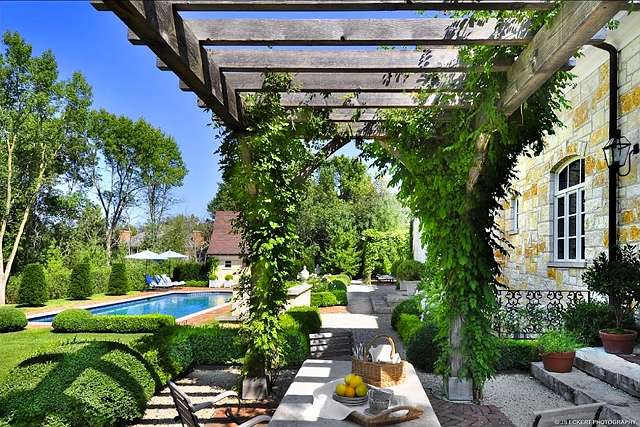 There's something so special about eating al fresco.
Play Time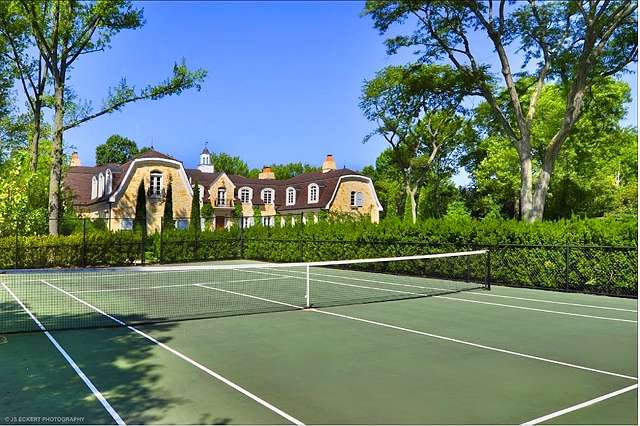 Nice!
Above It All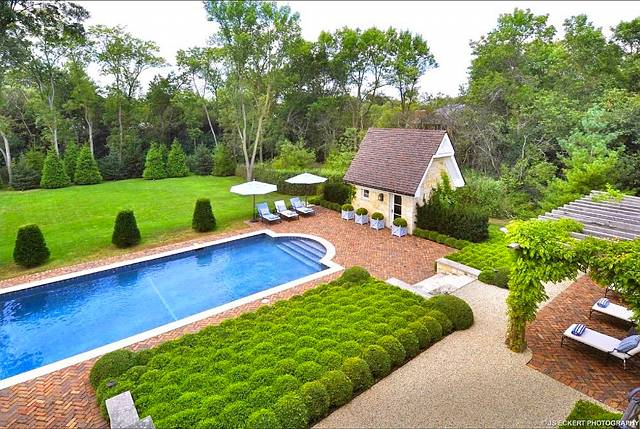 Beautiful view of the property. I love how private it is.
Shhhh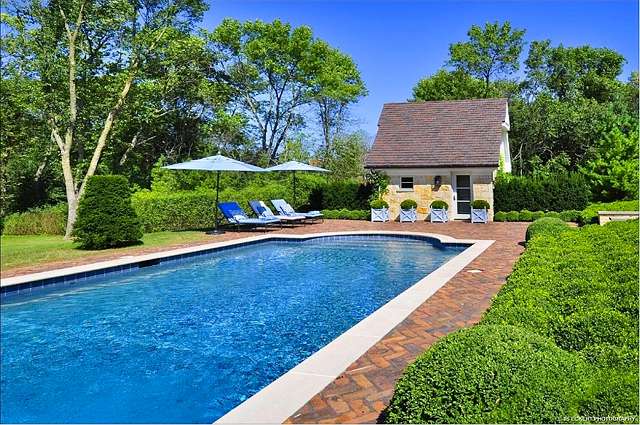 This pool and the pool house feel so tranquil. I can picture myself swimming here and hearing the birds and the wind. That is if the kids are at school, of course!
Gardens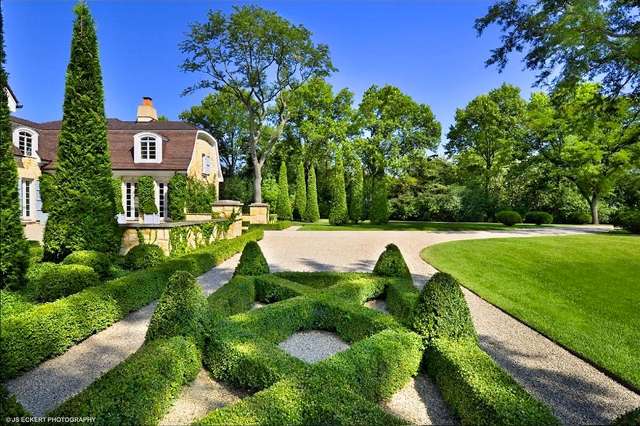 How elegant!
Back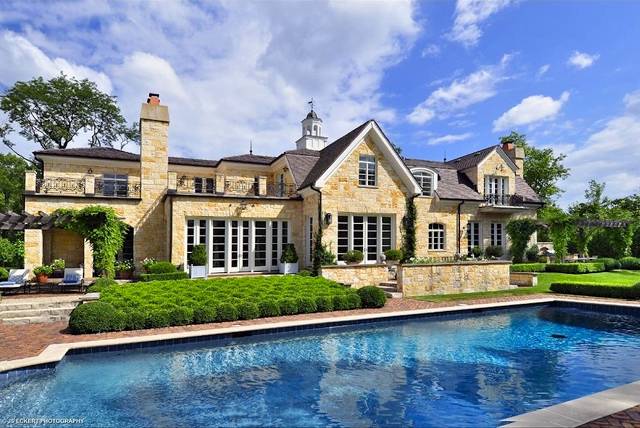 "Don't look back" does not apply to this house.
I'm sure you noticed how spacious the formal rooms are in this house, but what I really appreciated here is the fact that the master bedroom and the kitchen feel cozy. I think this is essential in any house, regardless of its size, I think we need to feel the spaces we live, we need to feel the energy of people that livs in the same space we do. This house has that and I like it even more for this reason.
Now, you tell me what are your thoughts on this one!
Source: priceypads.
Did you have a fun weekend? We had a really wonderful one! We went to a fair and the kids had the best time of their lives! I can't believe how much they grew from the last year. The little train that was so fun became too boring and too slow. They wanted more adventurous rides so they tried an airplane that would go a bit higher and other rides that were a bit more interesting. We spent the whole day there, seeing animals, eating some amazing BBQ ribs, having some slushies and cotton candy. Gee, I sound terrible, huh? We usually try to eat healthy, but we were at the fair!
This week is a very special one for me. My little daughter is turning five! It's hard to believe that my little girl is growing this fast! Also, one of my closest friends is coming over to visit us from another coast. We haven't seen her for more than a year and it's always fun when she's over. So I have great expectations for the week that's starting. I hope you have many great things planned also, but if not, make sure to be open for great things, too!
Thank you for being here today, tomorrow and every single day!
xo
Luciane at HomeBunch.com
Hot Summer Prices! Get My Help with Interior Design: HB's Design Service.
Come Follow me on Twitter: Twitter/HomeBunch