Avril Lavigne has been divorced from Deryck Whibley since December of 2010. No big news about that, but as you know, when a celebrity gets divorced, soon they put their house for sale and it's no different with her. She just put her Los Angeles house up for the same price she once bought it for: $9,500,000.
The house was built in 2003 and is located in a very prestigious gated community of Bel Air Crest. It has over 12,000 sq.ft. of living space, 8 bedrooms, 10 full and 1 half bathroom, Venetian plaster walls, a huge chef's kitchen and a beautiful pool with gorgeous views.
To be truly honest, I would never post this house if it wasn't hers and I'm just doing this because I find it interesting to see how and where some celebrities live. I didn't really care for the decor. I know some people will like it, but I think it's too dark. Usually, by the time we see a celebrity listing, their belongings are all gone and the house is staged. If this is the case for this house, I must say that the stagers are trying to give an "edgy" look to the house to match Avril's personality, which I don't necessarily agree with. I think this house would have so much more potential to sell if it was well decorated. That's my opinion, but I can't wait to hear yours!
Avril Lavigne's House
Beautiful curb-appeal.
Trees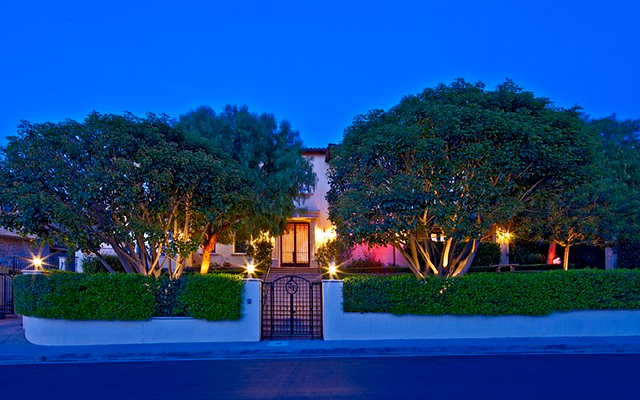 The trees add some privacy.
Front Door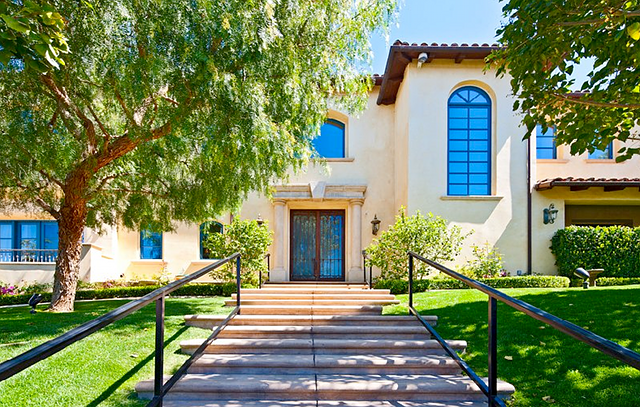 Lovely.
Gardens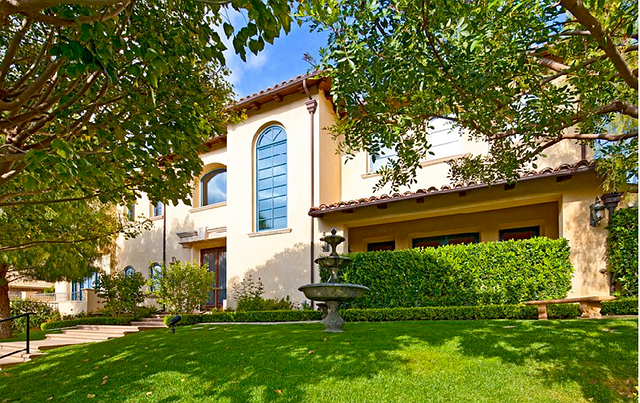 Lush gardens.
Foyer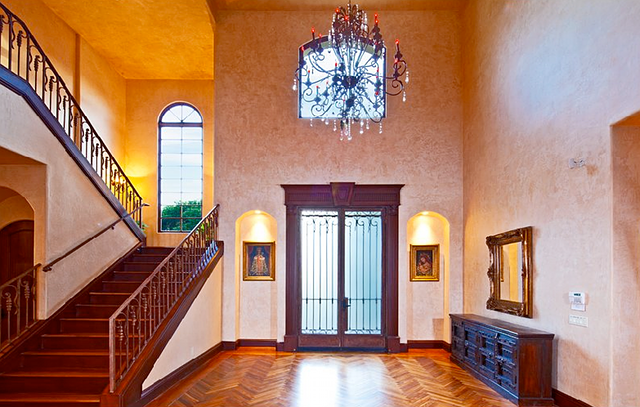 Beautiful floors and architecture, but it feels too bare.
Dining Room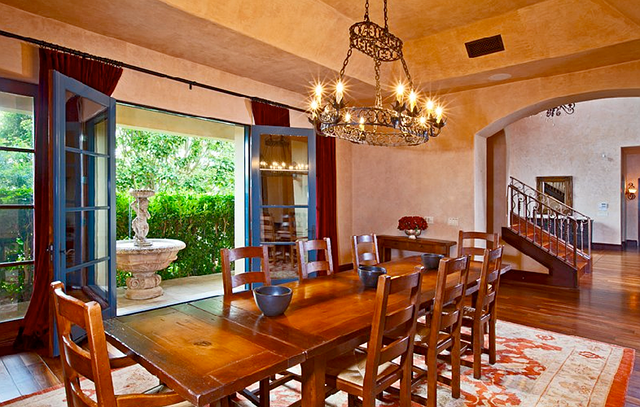 This room actually feels nice and welcoming, the chandelier is beautiful and the room has a great feel with the open doors to the garden.
Family Room & Eating Area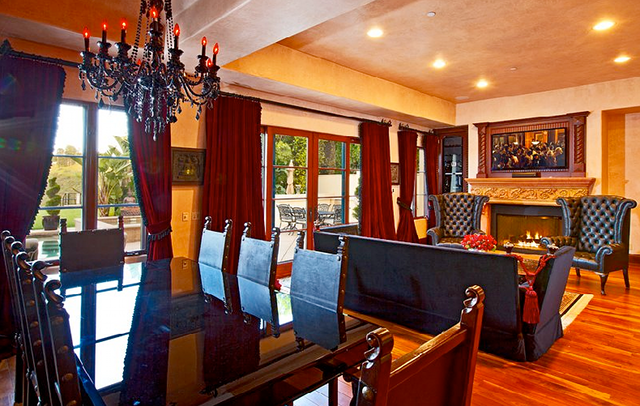 And the "creepy decor" starts… Sorry guys, but I think there's too many dark elements in one room and the chandelier reminds me of "Dracula's Castle."
Open Space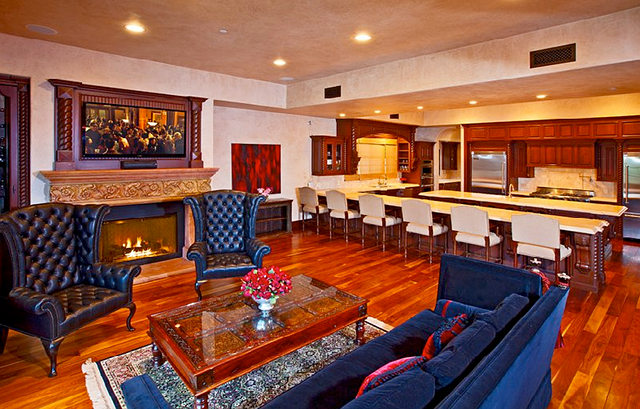 Very large.
Chairs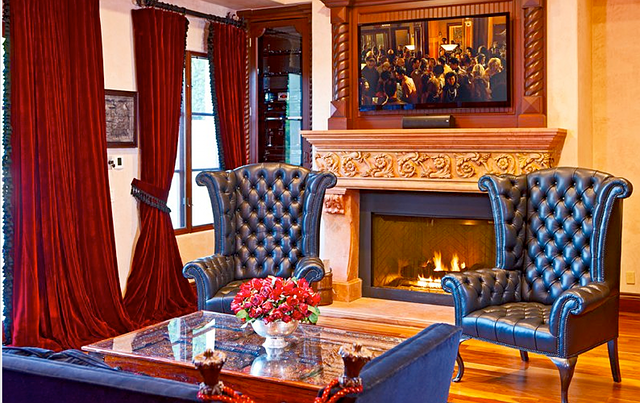 These chairs are great, but everything look incredibly heavy here because all elements selected combined with the architecture and the plastered walls are already heavy. This room would look much better with more balance.
Kitchen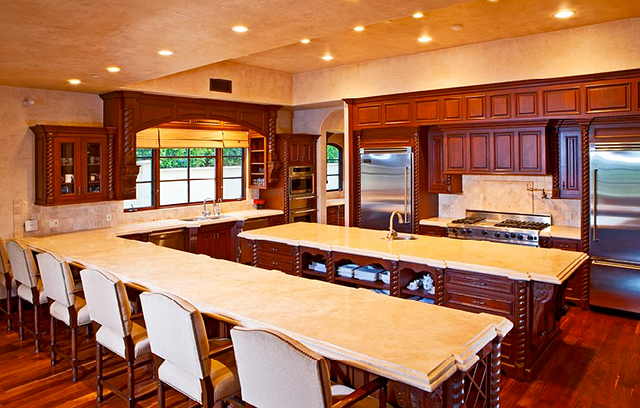 Beautiful kitchen! Love all the counter space.
What's Cooking?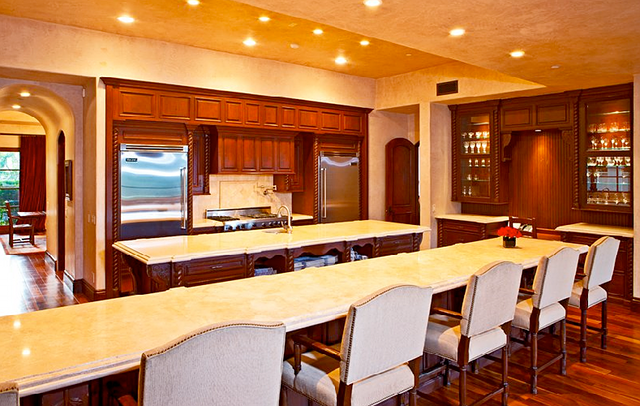 I wouldn't complain if I had this kitchen. Love the space!
Butler's Pantry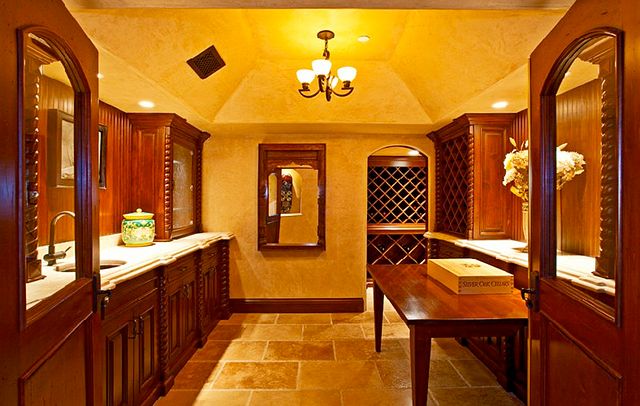 Beautifully done.
Upstairs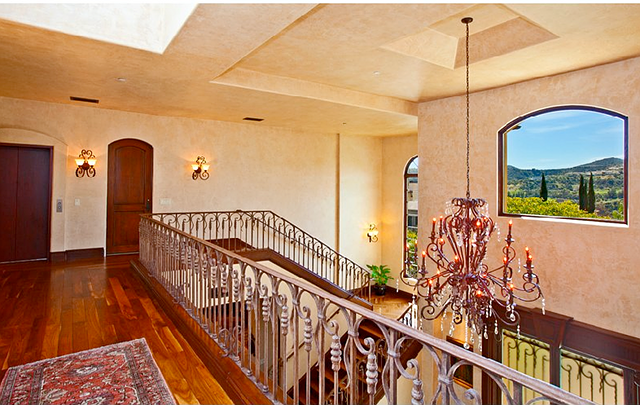 Beautiful views surround this home.
Master Retreat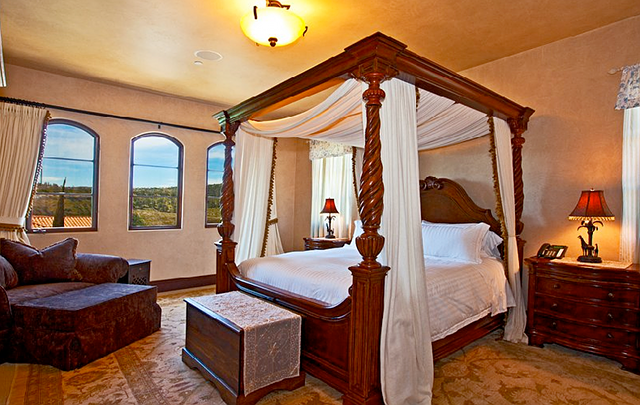 The bed is beautiful, but that chair is too heavy for this room. Again, too many "heavy" and "bulky" furnishings in one single room.
Master Bathroom
Lovely balcony access.
Guest Bedroom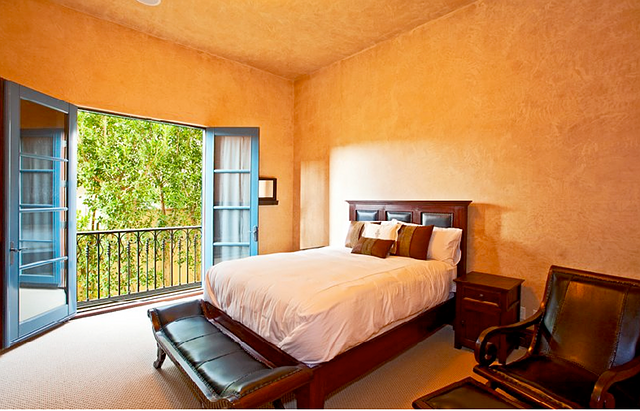 Venetian plaster walls are beautiful, but I think they shouldn't be used in every single room of a house. This guest bedroom would look better if it had lighter colors.
Guest Bathroom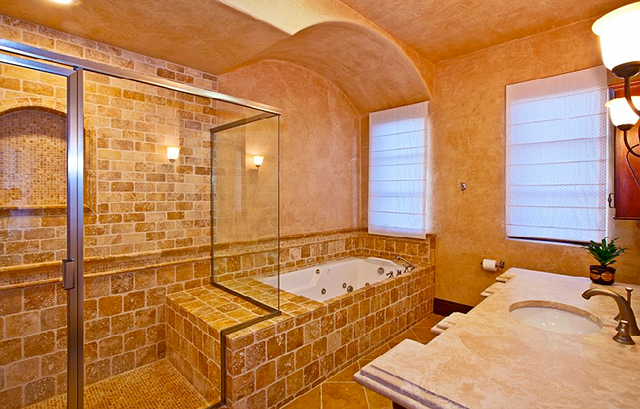 Nicely done, but again, too much of the same color.
Outdoor Areas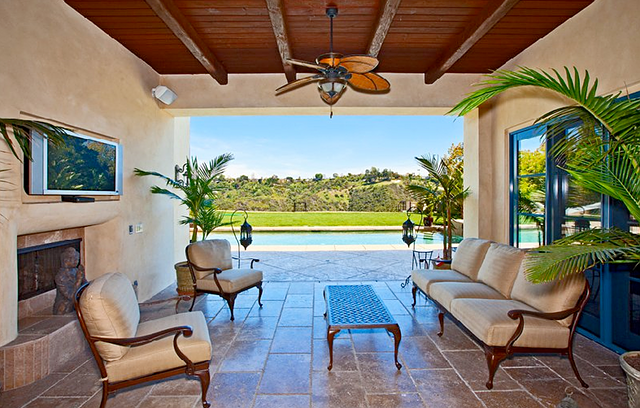 The best will begin now! Let's go outside!
House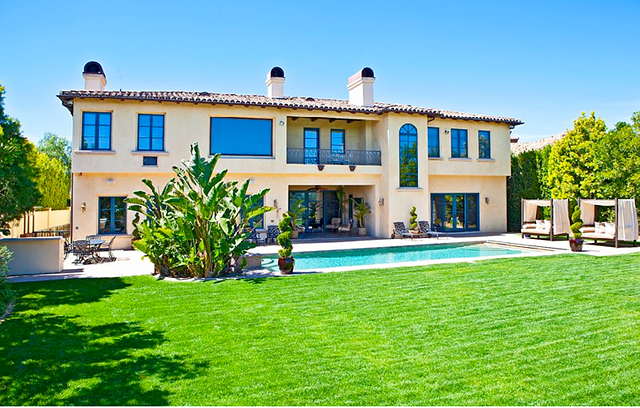 This house has a great backyard, perfect for California's warm weather.
Views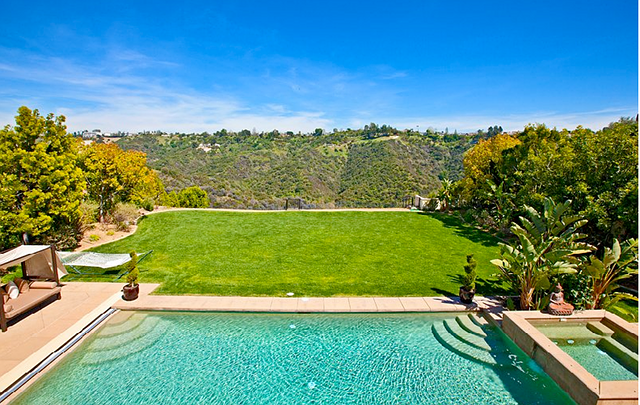 Peaceful.
Water & Sky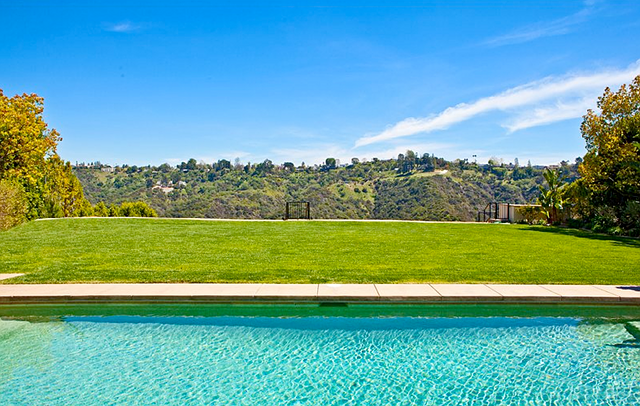 I love this photo. Can you imagine swimming here and looking at the hills?
Relax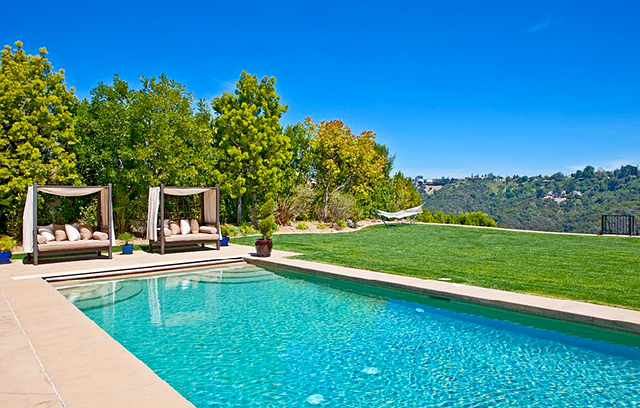 A dreamy spot to relax.
Where To Be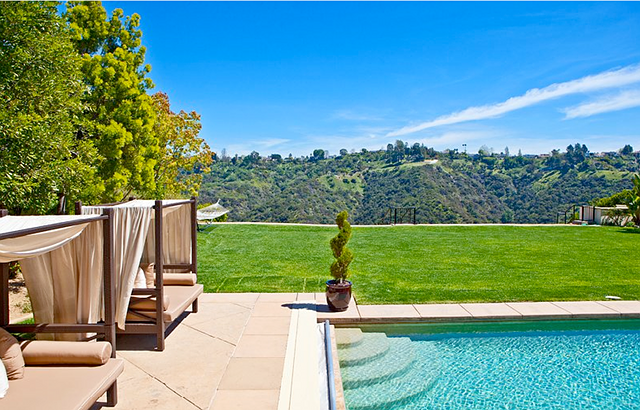 If you ever get tired of the decor inside, you can come here and just enjoy the natural beauty.
Night Light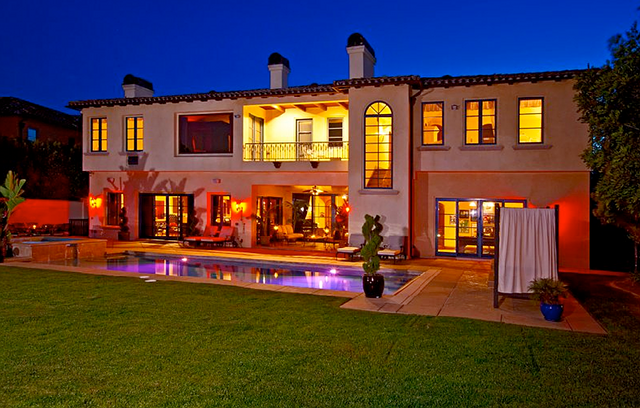 The back of the house during the night. That pool is "screaming" party!
I really can't wait to know what you think of Avril Lavigne's house. Share your thoughts and let me know if you'd spend $9,500,000 for it.
Oh, did you have a good weekend? Remember I told you I was planning on eating lots of ice cream during the weekend? Well, I couldn't disappoint you, so, yes! I ate lots of delicious ice cream every day! I also had so much fun with my kids and husband. We went to a playground with the kids, cooked together, prepared some fresh seafood and ate some more ice cream! 🙂
Have a very blessed week! I also want to thank you all for coming here everyday and if this your first time, I hope you feel welcomed and keep coming back! Having you here is always a gift for me.
xo
Luciane at HomeBunch.com
I Can Help You with Interior Design: HB's Design Service.
Come Follow me on Twitter: Twitter/HomeBunch
Source: Jade Mills, The Realstalker.