Hello, everyone! I am really happy to be back with a brand new "Beautiful Homes of Instagram" and I am truly honored to be sharing Daisy's home, of @DaisyHomeDesign, with you today. Daisy's home feels special because it features timeless design ideas. This is a home that goes beyond trends – it's a home that will certainly stand the test of time. I also only invite people to this series that I feel will leave their mark around here. I have published big and small homes in this series, and for me what matters the most, beyond the decor, is who lives in these houses. They need to offer you more than decor inspiration, they need to inspire you in a deeper way and I knew that this couple will certainly do that. Read on and you'll soon find out why I am featuring them today.
"Welcome to the enchanted forest! That's the nickname I've given the neighborhood we live in. Nestled on the North Shore of Long Island, New York, our neighborhood not only has its own wildlife sanctuary it's also home to two beautiful private beaches. My husband Dimitri and I couldn't help but fall in love with the area and were thrilled when we first laid eyes on the newly-constructed Colonial house that would eventually become our home.
A little background on Dimitri and I, we both come from very humble beginnings. I put myself through law school and he put himself through medical school. We worked hard and lived in a small apartment for several years as we saved up enough money to buy our dream home. The fact that we worked so hard to purchase our home is a reminder of the incredible journey we've taken to get here. We've poured our hearts into this home so when Luciane reached out to me to feature it as part of her Beautiful Homes of Instagram segment on Home Bunch, I was beyond honored."
Beautiful Homes of Instagram
We loved the house when we bought it three years ago but it completely lacked any landscaping. The entire two acres were filled with wild brush, dirt and rocks. The front (aerial shot shown here), was completely designed by my husband, Dimitri. We not only added hundreds of plants and trees, we also added walkways filled with pea gravel, the crown jewel of which is our fountain. This shot also shows the progress of the backyard, which thankfully, is now finished.
Shop the Look:

Fountain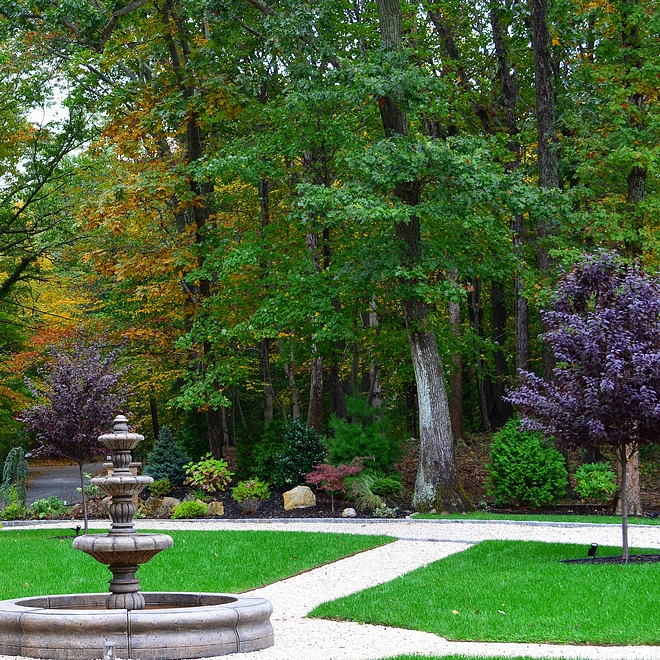 The fountain is a three-tiered outdoor fountain with an Old Euro Basin that has a diameter of 104 inches. The finish on ours is coffee and provides a nice contrast to the light tan color of the house.
Foyer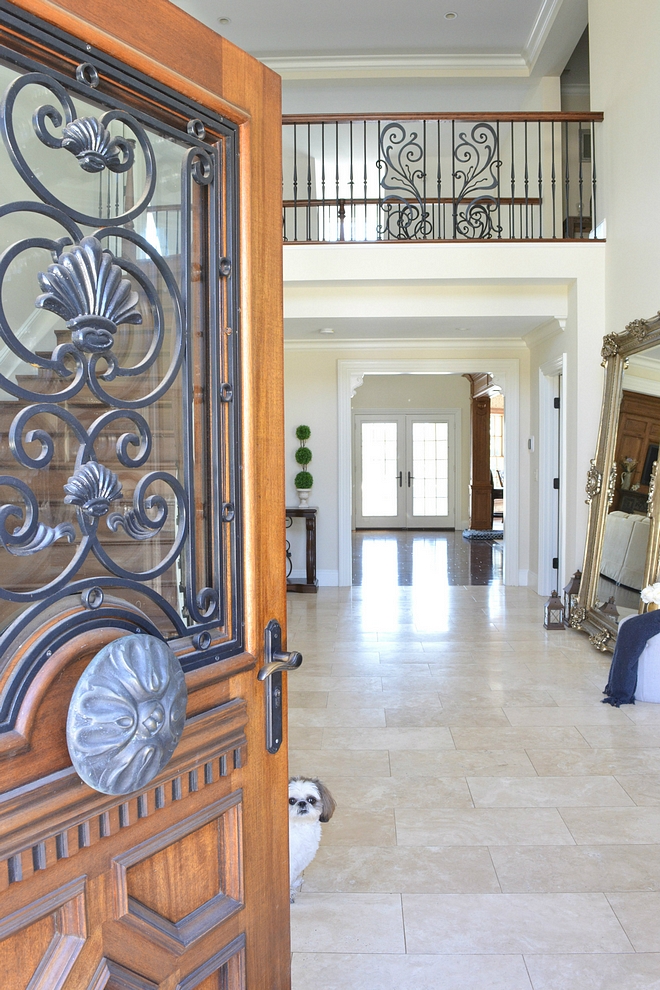 Just be aware that any guests that come over are typically greeted by our two year old Shih Tzu Theo. Here he is welcoming us into the foyer.
Chandelier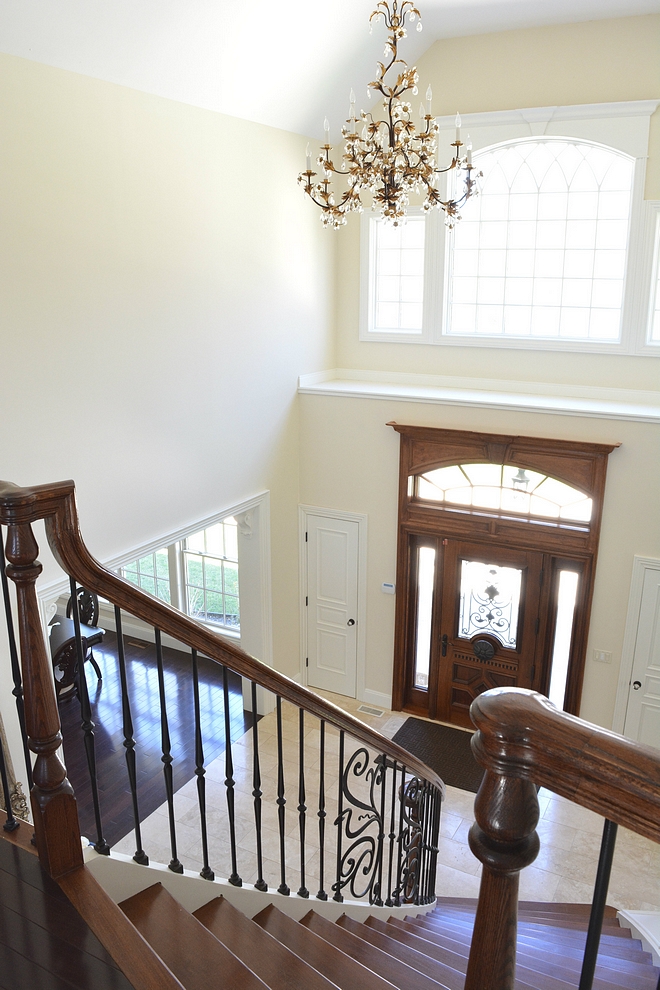 Hanging from the 25 foot high ceilings is the foyer's chandelier. It's comprised of gold leaves and crystal flowers. It actually has a motor up top which allows us to lower the chandelier for cleaning with an easy flick of the switch.
Beautiful Flower Lighting: Here, Here, Here, Here (flush-mount), Here (Flower Drum Chandelier), Here (large Butterfly lantern) & Here (antique).
Mirror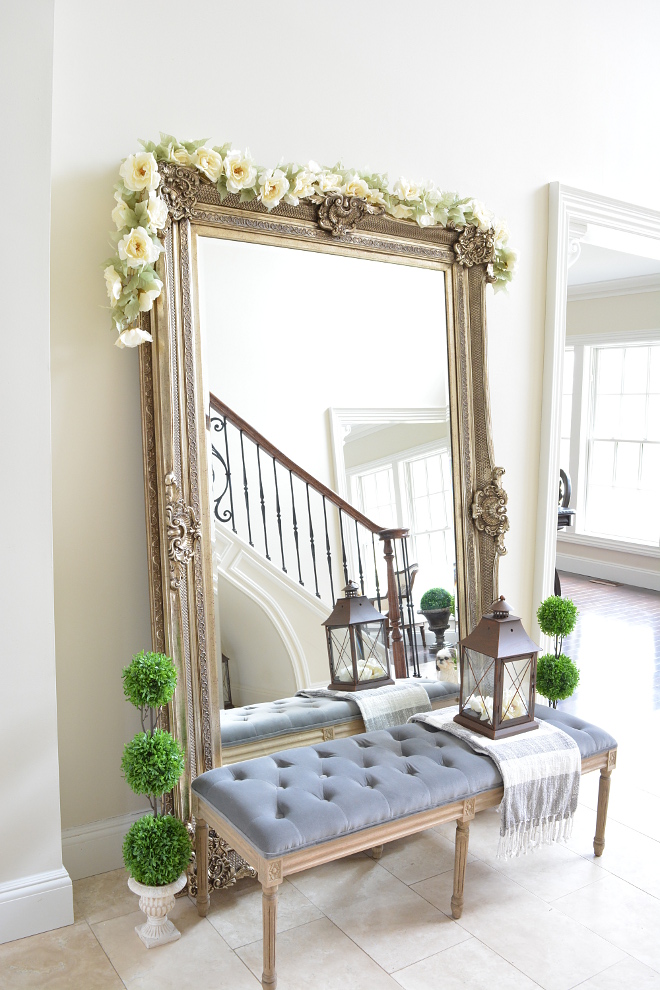 The tall ceilings in the foyer seem to dwarf this 7-1/2 foot Rosamund floor mirror from Frontgate but I can assure you it feels grand when you stand next to it. A close look at the lower right hand side of the mirror reveals a certain furry photo bomber in this picture.
Floor Mirrors: Here, Here, Here & Here.
Bench is from HomeGoods – Similar Foyer Bench: Here, Here, Here, Here & Here.
Dining Room

Off of the foyer is the dining room where sunshine is never in short supply.
Tablescape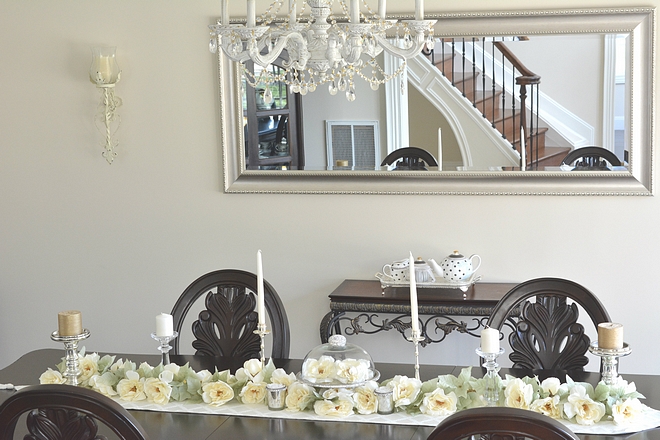 I wanted to keep this room simple so for the tablescape I used some faux florals from Michael's to line the center of the table. I added some height to this look by adding a few different types of candle sticks.
Dining Room Chandelier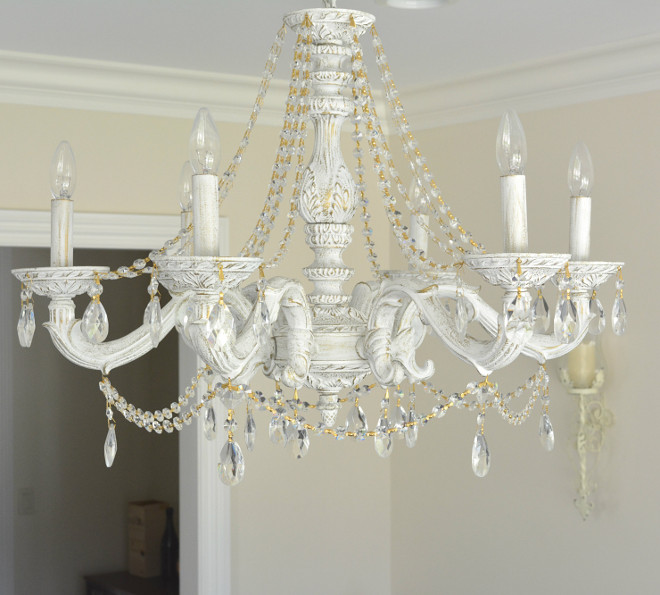 Here's a close up of our chandelier from Wayfair. I just love the distressed look and how the gold accents of the crystal chain pop against the white of the wood.
Great Room


When we first purchased the house, we thought the interior was pretty much finished. Little did we know how many more details it truly needed! Here is a shot of our great room from the second floor balcony. Since buying the house we've added stone and a custom made built-in to the accent wall and two crystal chandeliers (which again, are from Wayfair).
Stone Accent Wall


The stone on the wall is by Boral and is called Echo Ridge. We used the same stone to create our pillars off of the upper terrace in our backyard. The two tufted wingback chairs are originally from a company that was known as Home Decorators but I believe it has since been bought out by Home Depot. The clock is from HomeGoods and to this day, it's still one of my most favorite purchases from there. During Christmas, this is where I set up our 12 foot tall Christmas tree. It not only has an impressive height, it's actually really wide too! Last year I end up having to move the chairs next to the fireplace.
Large Wall Clock: Here.
Fireplace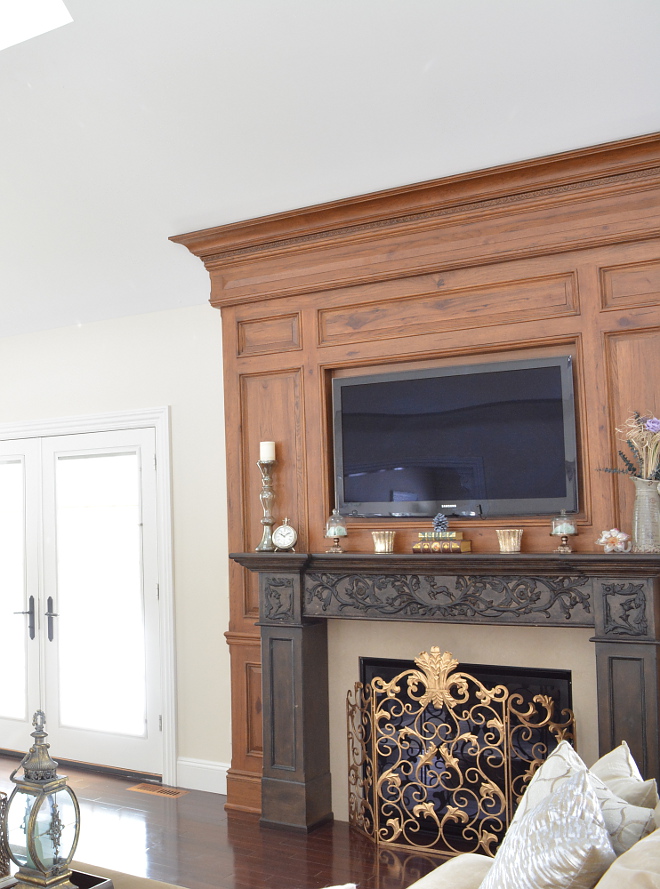 Speaking of our fireplace, I have to share the woodwork that surrounds it. I love the two-toned wood and the detailed hand carvings of reindeer frolicking about. For some extra drama I added this gold fireplace screen from Horchow. I just love how the gold pops against the espresso stain of the wood and the marble boarder.
Cabinet

I had so much fun designing this built in with our architectural wood workers from Master Concepts, LTD. I felt the walnut stain matched the Echo Ridge stone nicely. I also added burnt gold mirrors to the cabinet doors to tie the design in with the gold fireplace gate. Lastly, Dimitri and I topped off this look with some gold hardware that was handpicked in Italy.
Room Layout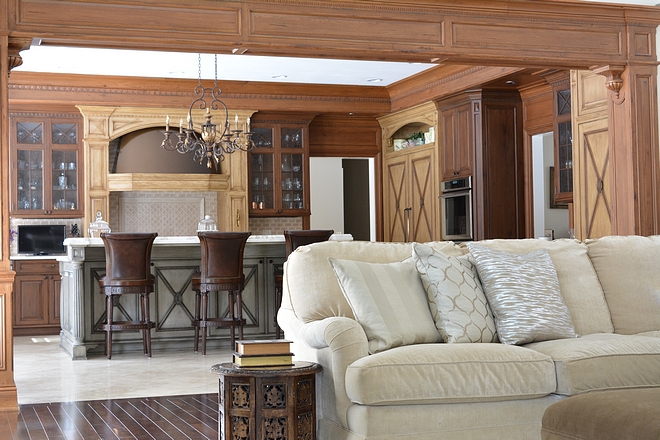 One of my most favorite features of our home is the fact that the great room opens up to the kitchen. I absolutely love to cook and entertain, so the kitchen is where I spend most of my time. It's nice to be able to work in the kitchen yet still socialize with guests as they hang out in the great room. I especially love this view of the Kitchen because you can really see all of the woodwork that was done by Master Concepts. They were at the house for months adding in every detail.
Kitchen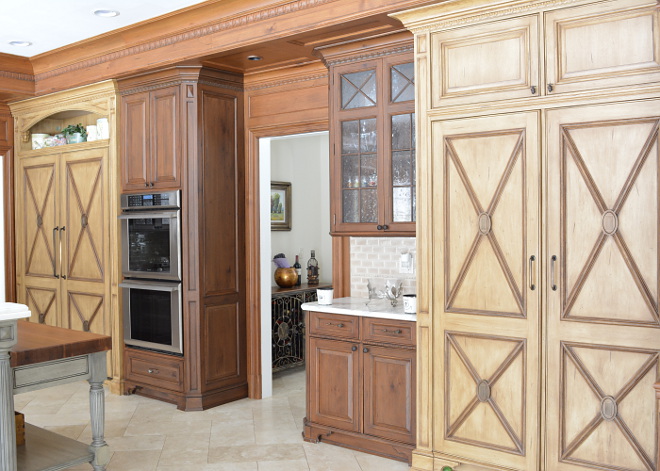 Certain rooms in our home have a tremendous amount of detailed woodwork and the kitchen is definitely one of those rooms. Almost all of our appliances are hidden. You would never know it just by looking at the outside but to the left of this photo is our Thermador refrigerator and freezer. Next to the refrigerator are our Thermador double ovens, which are a lifesaver during gatherings and holiday events. To the right, those double doors open up to our pantry and some upper storage for pots and smaller appliances. Just in this one picture you can see 4 different stains of wood. Who would have guessed that these different stains would all go together but I feel as though it gives the kitchen extra character. From this angle you also get a glimpse of the unfinished butler's pantry, we haven't customized it yet but we've added a wine jail and a shelf made out of Carrera marble, so it's actually pretty functional.
Kitchen Island


Truthfully, we eat at our kitchen island every night. The wood and leather bar stools are actually pretty comfortable and it's just so convenient serving food that is a few footsteps away from the stove.
Other Beautiful Leather Counterstools: Here, Here, Here, Here, Here, Here, Here, Here & Here.
Kitchen Island


The kitchen island is 9 feet long (not including the butcher's block at the end), two tiered, and is made up of double stacked honed Calcatta marble. The cabinetry is a distressed weathered grey.
What's Cooking?!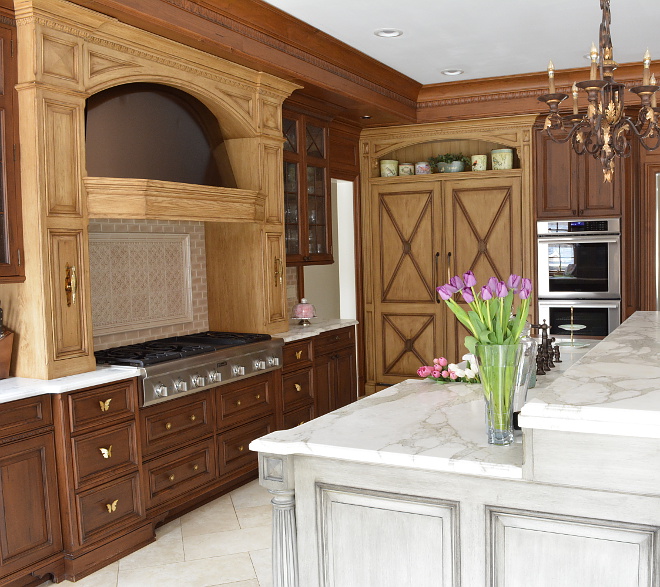 Behind the island is where all of the yummy magic happens. Whether I'm remaking Greek family recipes or trying out something completely new from Pinterest, my Thermodor gas cooktop never lets me down. On each side of the stove are two Mother of Pearl woodpecker handles which pull out to reveal the spice drawers. And in case you're wondering, yes I have managed to completely fill them up. Looking below at the cabinetry you'll see more quirky handles in the form of butterflies, also made from Mother of Pearl. The kitchen definitely fits the "enchanted forest" theme.
Kitchen Sink

The white farmhouse sink made by Villeroy and Bosch. The faucet was actually handpicked from Italy.
Similar Farmhouse Sink: Here.
Similar Kitchen Faucet: Here.
Grey Kitchen Island

Aesthetically speaking, I think my favorite part of the kitchen would have to be the island.
Here, you get to see the butcher's block of the island, the breakfast nook and the coffered ceilings above it.
Shop the Look:

Laundry Room
Off of the kitchen is the laundry room which was completely renovated last year by my husband and father-in-law. Prior to the renovation, this space was just a sink, with a Formica countertop and three cabinets underneath. It also included the washer and dryer.
When I do need to do laundry our Electrolux washer and dryer get the job done quickly and efficiently. If only they could also fold and put everything away, I'd be all set!
Multi-Purpose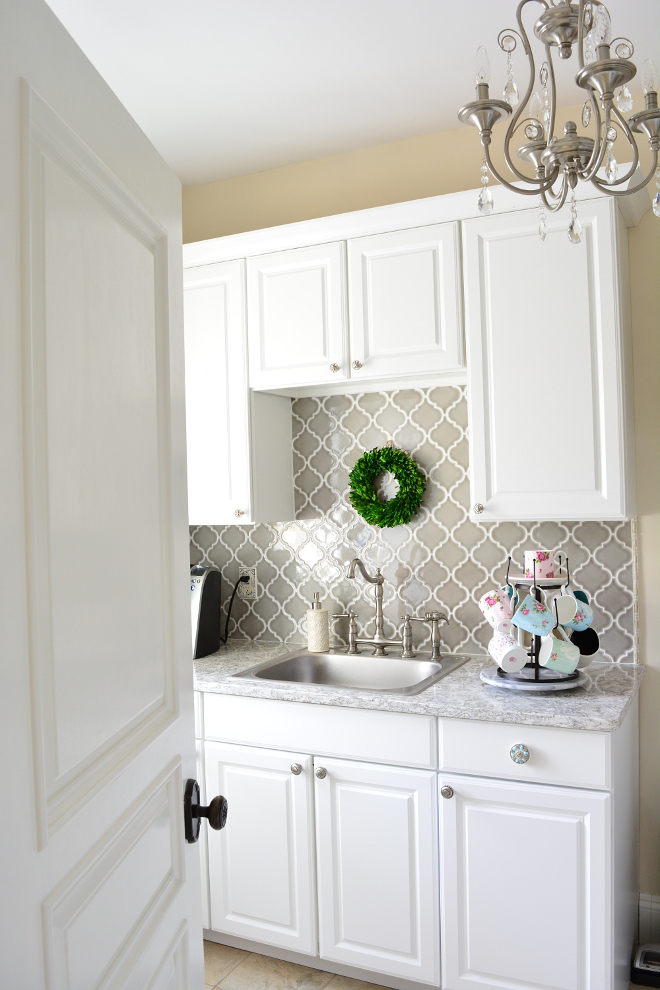 This space serves so many more purposes beyond just doing laundry. I often use it as a mini kitchen when we're entertaining guests as it's the perfect place to temporarily store dessert out of site when there's no room in the kitchen fridge. It's also where I come to make my coffee every morning. This close-up shot shows just how precise Dimitri was when cutting and laying the tile. Can you tell that he is a surgeon by trade? Just look at how perfectly cut all of the corners and edges are!
Backplash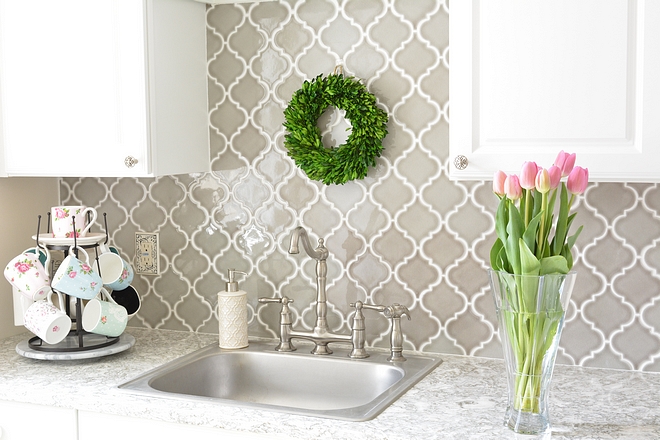 During the reno, Dimitri himself installed more white cabinets along with the grey Merola tile backsplash, a chandelier, (all from Home Depot) and new Cambria granite countertops for the sink and over the appliances.
Favorite Bathroom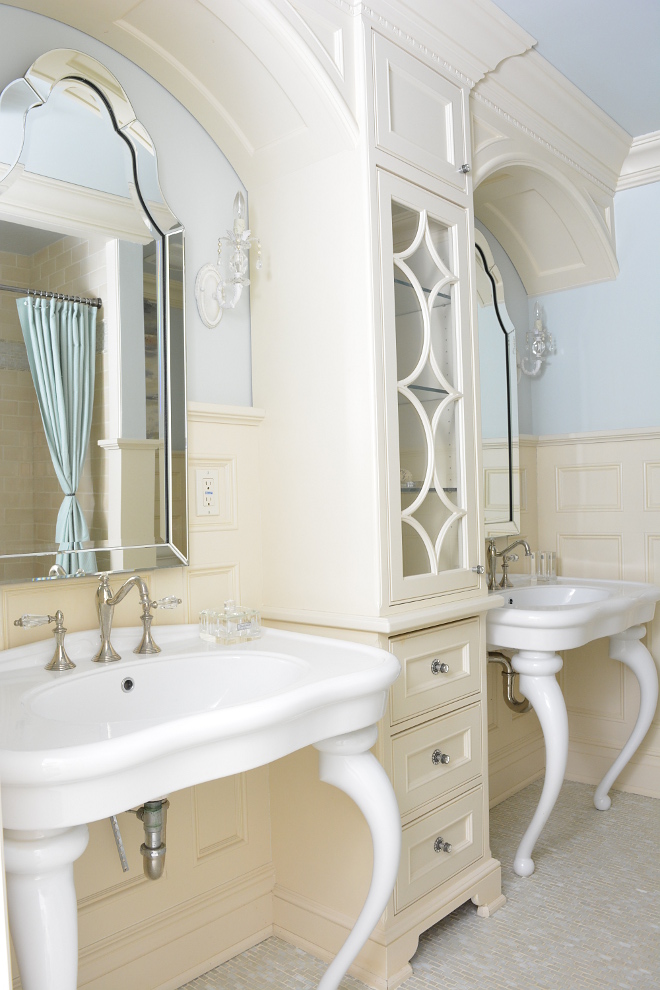 This is my most favorite bathroom of the house, unfortunately pictures just do not do it any justice. I love the long curved legs of the pedestal sinks, the cream, blue and white color scheme and the detailed woodwork of the cabinetry.
Mirrors: Here, Here, Here & Here.
Faucet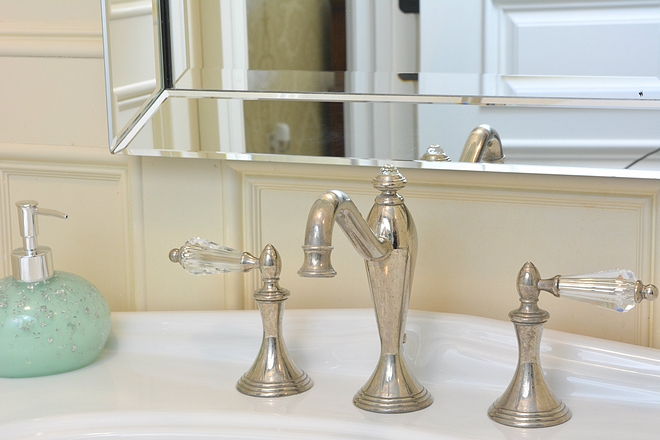 This is my favorite bathroom because it has so many hints of glam. From the crystal light fixtures to the crystal on the handles of the faucet, this bathroom is a glam enthusiasts dream.
Similar Faucet: Here.
Tiling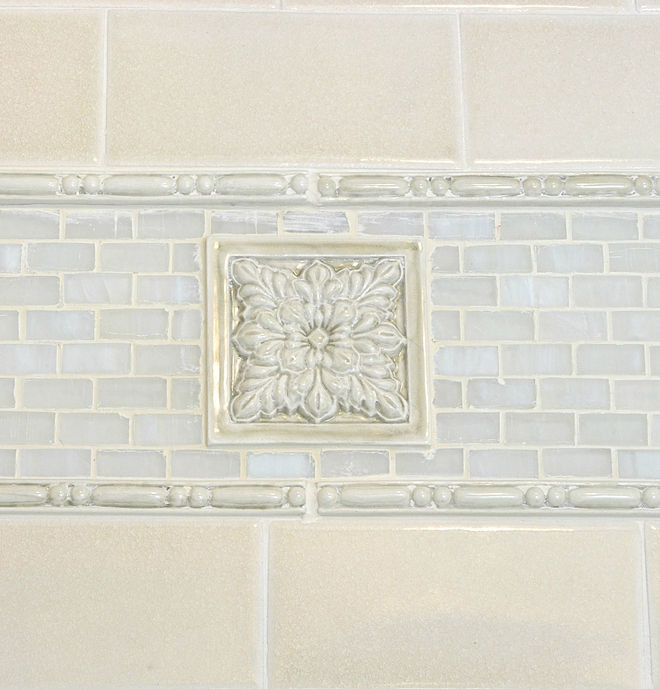 I love the iridescent blue-ish grey mosaic tile. It not only lines the upper trim of the shower but it also makes up the entire flooring of this bathroom.
Master Bedroom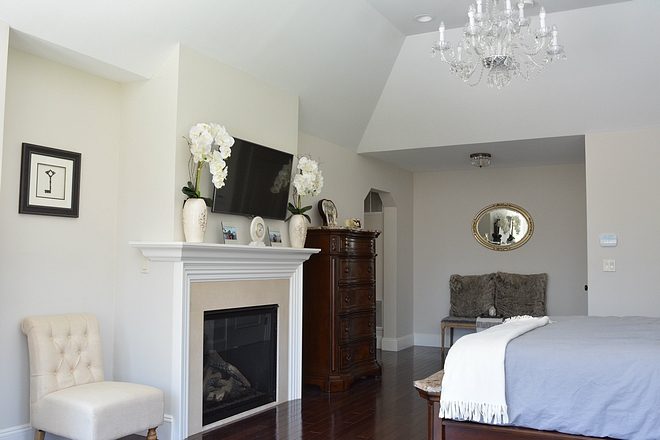 The master bedroom has a sitting area, en suite bathroom and a walk-in closet. Although we've worked hard to furnish it, it's definitely one of those rooms that needs a little more work. I'd love to add some elegant wallpaper on that accent wall by the bench there. Also, our walk-in hasn't been finished yet, although it is functional. Within the next few years we have plans to add custom cabinetry and an island with marble countertops. I'm thinking the color scheme will be white wooden cabinets with gold hardware.
Sitting Area

The sitting area is another place where on weekends I just love to relax and sip my coffee. All of the tufted furniture is from Home Decorators (which I believe is now a part of Home Depot).
Sofa: Here – similar: Here (sofa).
Chaise: Here.
Master Bathroom

It was always a dream of mine to have a nice jetted tub. My goal was to make the bathroom feel as spa like as possible. In the winter-time this Bain Ultra tub is put to good use!
Traditional Mirrors: Here, Here, Here, Here, Here & Here.
Inspiring Bathroom Vanities: Here, Here, Here, Here, Here, Here, Here & Here.
Similar Sink: Here.
Inspiring Bathroom Stools: Here, Here, Here, Here, Here, Here & Here.
Backyard

Looking at this photo it's hard to believe that almost everything you see here did not exist last year. The 25 year old original gunite pool did come with the house but considering it hadn't been used in over a decade it needed an extreme "facelift". The pool got all new piping, a Diamond Brite finish to the interior and a mosaic tile trim. We also converted it to a salt water system and added a heater and new interior lighting. For the rest of the backyard we added an upper terrace coming off of the house, an outdoor kitchen, the patio around the pool, the pool house, tons of landscaping and even a firewall.
Poolhouse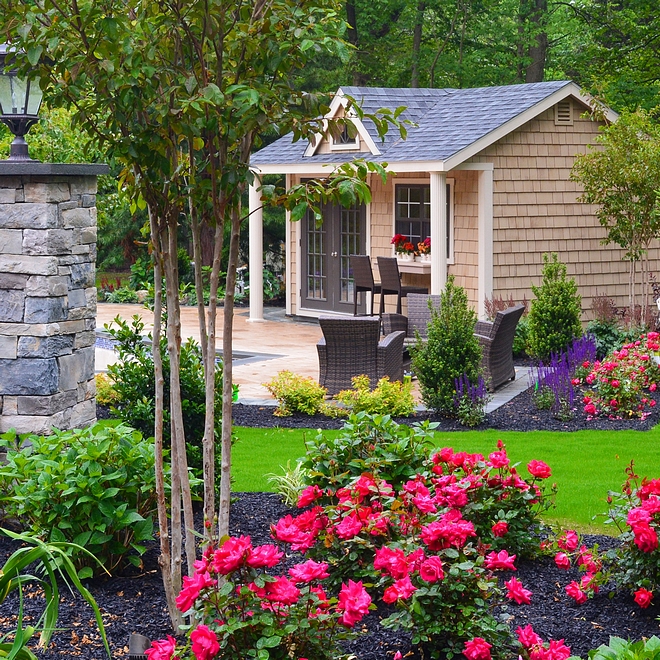 The pool house, which has really become my She Shed is nicknamed Minnie because she is an identical replica of the house. Dimitri was very meticulous with the custom design when he placed the order with Sheds Unlimited. Her trim is the same color, she has French doors, two front pillars and she even has the same cedar siding as the house. You can't see it from this angle but on the other side she also has an outdoor shower, which is perfect for rinsing off before and after the pool. This year we're finishing the inside of Minnie by adding custom built-in seating, and a bathroom. Dimitri will once again be doing this entire reno!
Patio

My summer photos of the backyard are limited because the backyard was still a work in progress last year. Here, you see a glimpse of the two tiered outdoor kitchen. It has granite countertops, a Sedona BBQ, two burners by DCS, a sink and a refrigerator. In the background you can catch a glimpse of the firewall. This year we're actually adding a an espresso stained cedar pergola which will have posts starting from the top of the fire wall. The bar stools for the island and the tannish cream table and chairs behind it are all from Frontgate.
Traditional Patio Furniture: Here, Here, Here & Here.
Home-Sweet-Home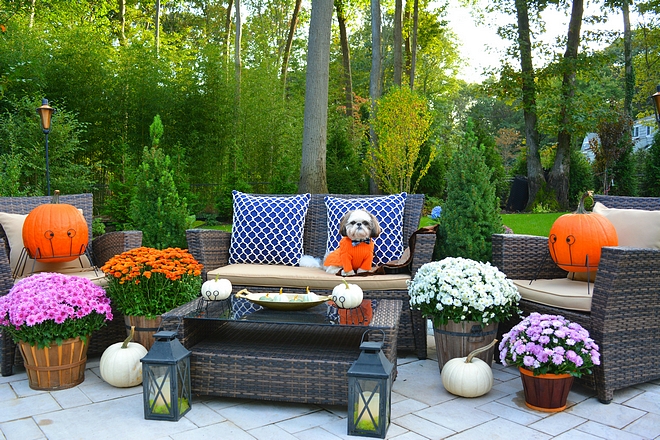 Well, I hope you enjoyed the tour of our home! Thank you so much for following along. Although when we bought our home we thought the interior was primarily finished, we quickly realized that more details were necessary in order to reflect our style and taste. Dimitri and I have worked so hard to transform a handful of rooms and we look forward to continue customizing our home, one fun project at a time. We plan on adding wainscoting, some coffered ceilings, customizing our walk-in closet and finishing the 3,500 square foot basement. And while these projects will take some time, I look forward to sharing our journey on my Instagram @DaisyHomeDesign. I'd like to extend a special "thank you" to the sweet and talented Luciane for giving me this incredible and exciting opportunity to showcase our home on her prestigious design blog.
Similar Outdoor Set: Here.

Make sure to follow Daisy on Instagram to see more pictures of her beautiful home!

This Month's Best Deals



Wayfair: Up to 70% OFF – Huge Sales on Decor, Furniture & Rugs!!

Serena & Lily: Enjoy 20% OFF EVERYTHING! Use Code: NEWIDEAS! New Summer Collection!
Pottery Barn: New Outdoor Sales! 1000s of New Arrivals!!!
West Elm: Mega Spring Sale Up to 40% OFF!
Horchow: Flash Sale: Up to 55% Off!!!
One Kings Lane: Save Up to 70% OFF! Warehouse Sale + Outdoor Sale!
Williams & Sonoma: 20% off your order.
Nordstrom: New Spring Arrivals!
JCPenny: Clearance 80% OFF
Neiman Marcus: Up to $100 OFF on Women's Shoes & Handbags!
Pier 1: Extra 10% Off + Free Shipping!
Joss & Main: Outdoor Entertaining Sale – Up to 65% Off!
Posts of the Week:





See more Inspiring Interior Design Ideas in my

Archives.
Interior Design Ideas:

Paint Color
"Dear God,

If I am wrong, right me. If I am lost, guide me. If I start to give-up, keep me going.
Lead me in Light and Love".
Have a wonderful day, my friends and we'll talk again tomorrow."
with Love,
Luciane from HomeBunch.com
Interior Design Services within Your Budget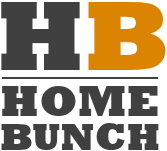 Get Home Bunch Posts Via Email

"For your shopping convenience, this post might contain links to retailers where you can purchase the products (or similar) featured. I make a small commission if you use these links to make your purchase so thank you for your support!"