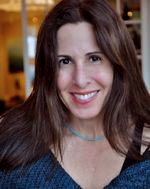 It's been a while since we had a friend over here for a chat and I've been missing sharing some of my inspiring friends and their work with you. Being back with "Chatting with Friends" feels even more special when you have a guest like Brooke Giannetti, she's not only one of the best interior designers in America, author of the very popular book Patina Style and the blog Velvet & Linen, but she's also one of the kindest people I know. She's always very candid and you can't help but feel closer to her when you read her blog. She shares her amazing designs and also her very interesting experiences. She's married to architect Steve Giannetti and has three beautiful children and let's not forget, she also has the most famous and cutest chickens on the 'net!
Be prepared to know a bit more about this great person and very talented interior designer!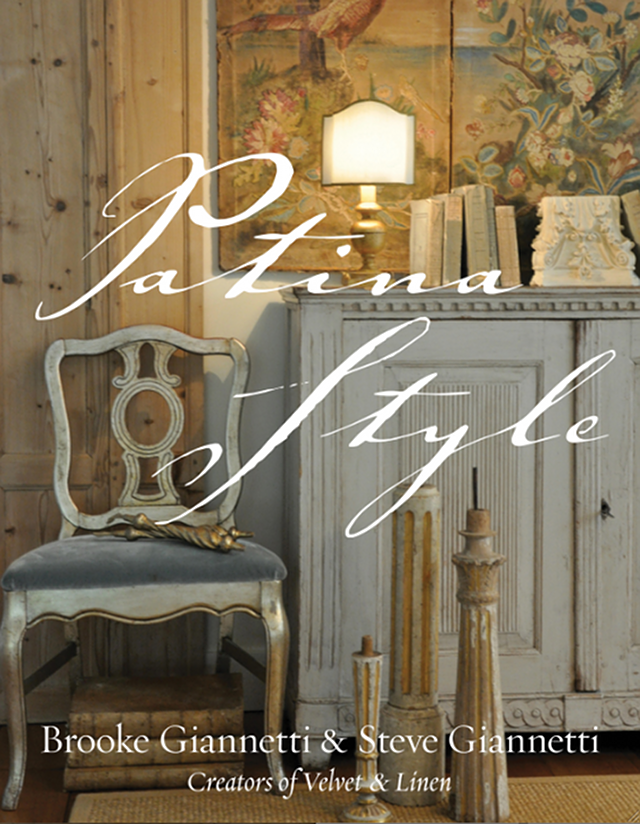 HB: You were born and raised in California and still lives there. Do you think this has influenced your designs?
BG: Absolutely! I think the relaxed California lifestyle can be seen in all of the homes we design. I also feel it is important to have a connection to the outdoors to take advantage of the gorgeous weather in Southern California.
HB: Describe what is a harmonious design for you.
BG: I love keeping most of the walls the same color (preferably white plaster) so all of the rooms flow together. I also like to keep the color scheme in the spaces complimentary. The most harmonious homes use a very limited color palette that is inspired by the location of the home.
HB: The ideal client usually is…
BG: Informed, loves collaboration and has an open mind.
HB: Name something that you can't stand in the interior design world.
BG: Too perfect interiors. I like interiors that look comfortable and relaxed.
HB: I know you like flea-markets. Who would you love to go shopping with?
BG: Interior Designer Kim Fiscus. She has a wonderful eye.
HB: You have an exciting career and also a beautiful family. I must say that I admire the way you talk about Steve on your blog. I feel you really love and admire him. How do you balance your professional and personal life?
BG: Fortunately our profession is our passion, so it's natural that it would be a large part of our life together, and I think it's important for our children to see that. Our busy life with our children keeps everything in balance. We have no choice but to turn off our careers when the kids are around!
HB: I'm aware you don't have a formal design education and in fact you've started in this business because you were asked by one of Steve's client to help decorate their child's room. You haven't stopped since. Do you think there is advantages of not having a formal education in this area, like for instance, instead of being over-influenced by others, you've learned to find your own niche?
BG: The best part about not going through a design program is that I'm not afraid of breaking design rules. I created my own rules through experience and listening to my instincts.
HB: If you had to give some advice to a person that's just starting in this career, what would that be?
BG: Find a mentor whose work you love and is open to sharing. Start designing! Experience designing will teach you much more than going to design school.
HB: Besides your own book, is there any other that have inspired you in the past?
BG: Rose Tarlow's book is a classic. Her interiors never go out of style. All of the Belgian design books by Beta Plus are incredible. I'm drawn to the way Belgian designers use ancient building materials in a more contemporary way. I also love European magazines: Cote Maison and Campaigne.
HB: Unfortunately, not everyone can afford to contract an interior designer. I think that writing a book like "Patina Style" is actually a gift you give to all of us that want to learn more from you and Steve. I'm sure you have met many of your fans through your book by now. Please, tell us how does it feel.
BG: Wonderful! My blog, Velvet and Linen, and our book are ways for us to share what we've learned and what we love. To connect with people who appreciate our work is a gift.
HB: How do you see your life in five years?
BG: Our boys will be in college. Steve, Leila, and I will be living in Ojai on Patina Farm with our dogs, chickens, and miniature horses.
HB: What really makes you feel uncomfortable?
BG: Rooms with no connection to the outside. Rooms with too much color.
HB: Life is all about…
BG: Fulfilling your dreams.
HB: Something you've learned in this life that you want to carry with you until the end:
GB: Life is all about the experiences you have with the people you love. Our goal is to design homes that support the dreams that our clients have for their lives.
Home Sweet Home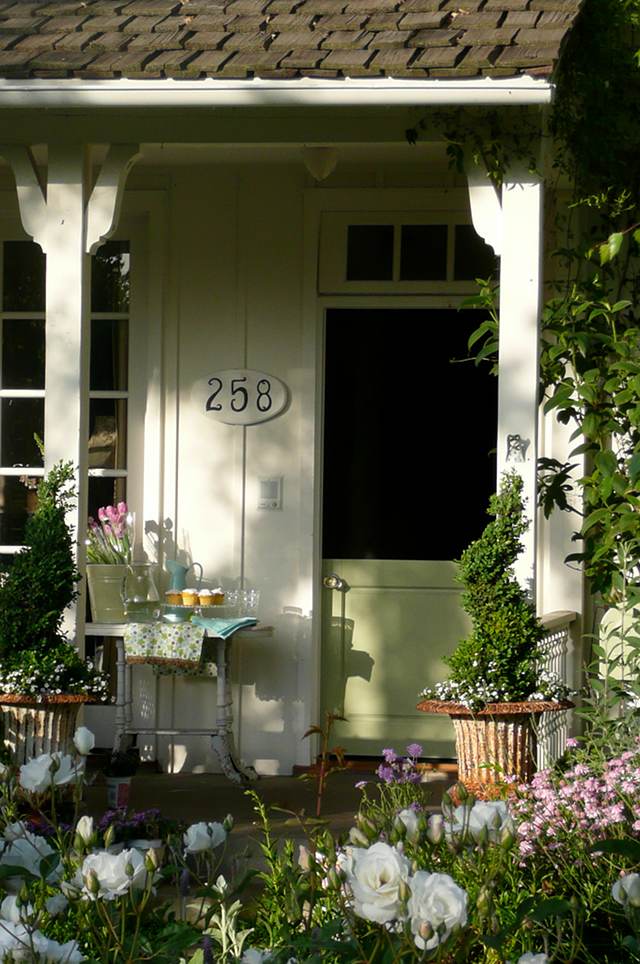 Brooke's house is dreamy! Take a look at her roses! Labor of love!
Lovely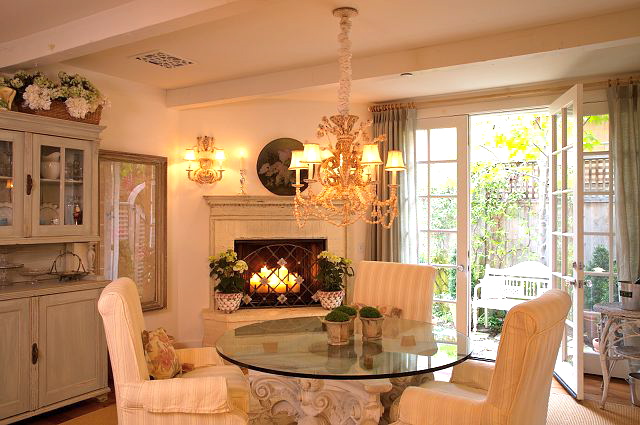 I adore the feminine touches of this room and the fact that the French doors open to the garden.
Patina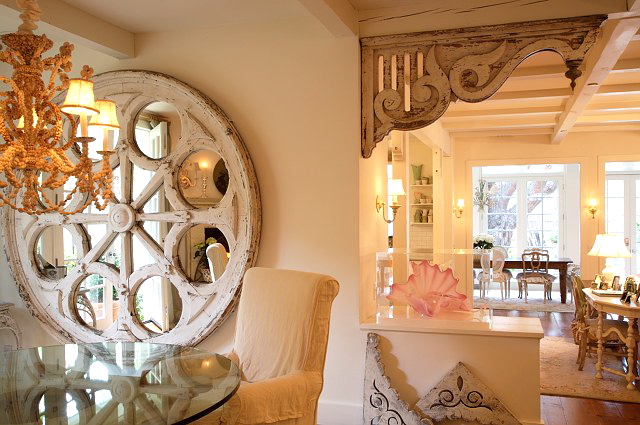 You'll always find some gorgeous elements with patina on Brooke's designs. She loves to mix old with new. That's what is perfect design to me!
Kitchen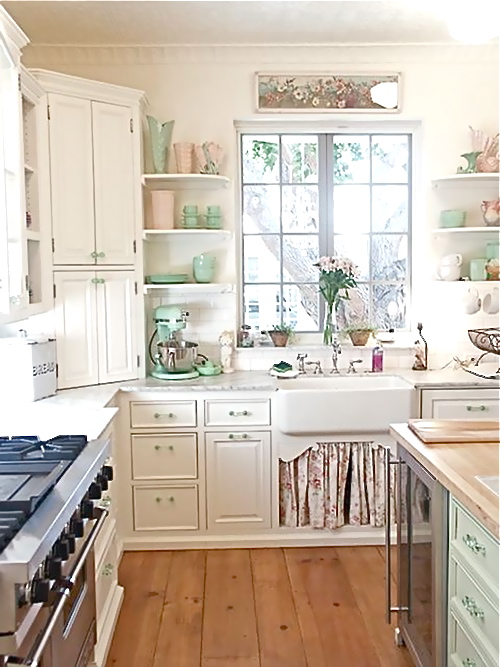 Brooke's kitchen is just stunning. I adore the light green touches.
Sunroom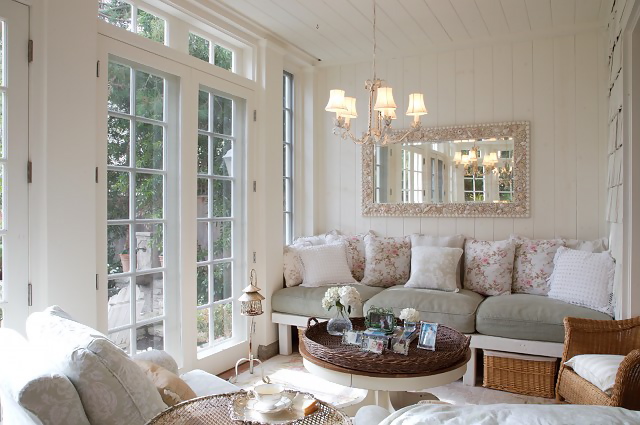 The most inviting sunroom. Everything feels comfortable.
Sweet Dreams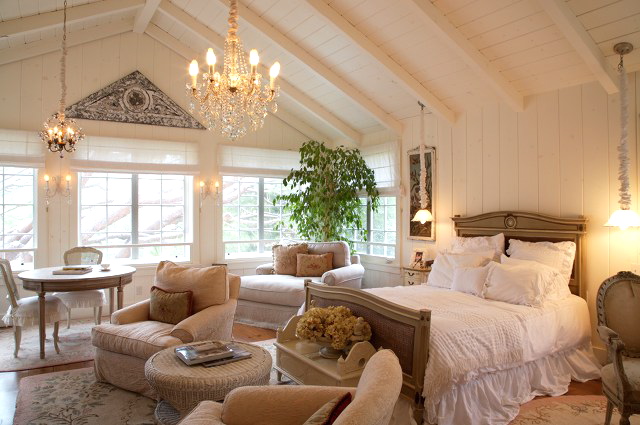 Her master bedroom is all about comfort and beauty.
Sleep Like an Angel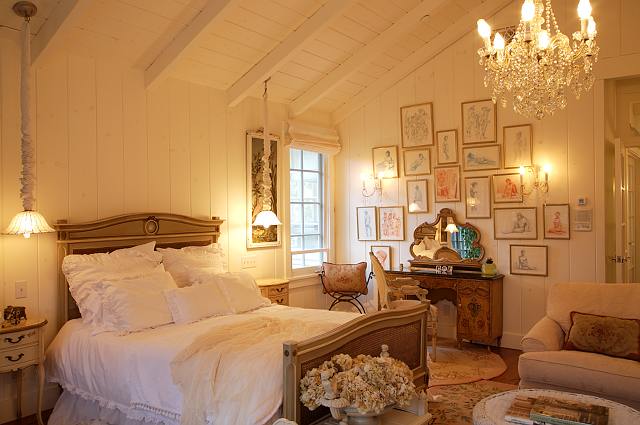 Timeless and inspiring.
Candles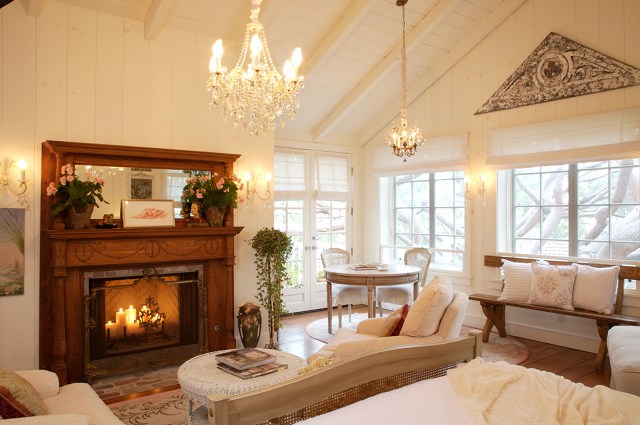 Very romantic.
Clawtub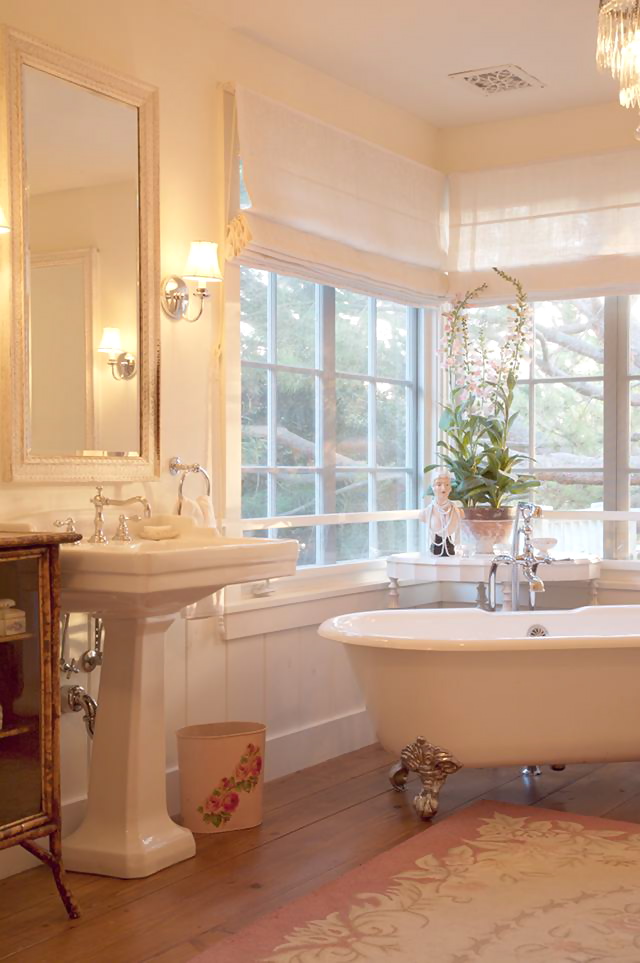 Her master bathroom has the same vibe as the rest of the house.
California Beach House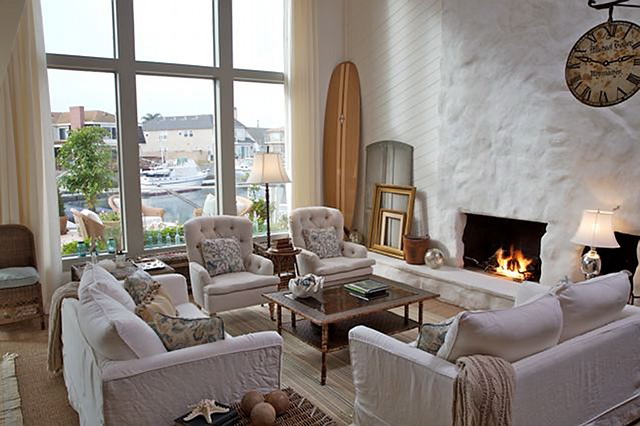 The design gets more relaxed at the beach house.
Water View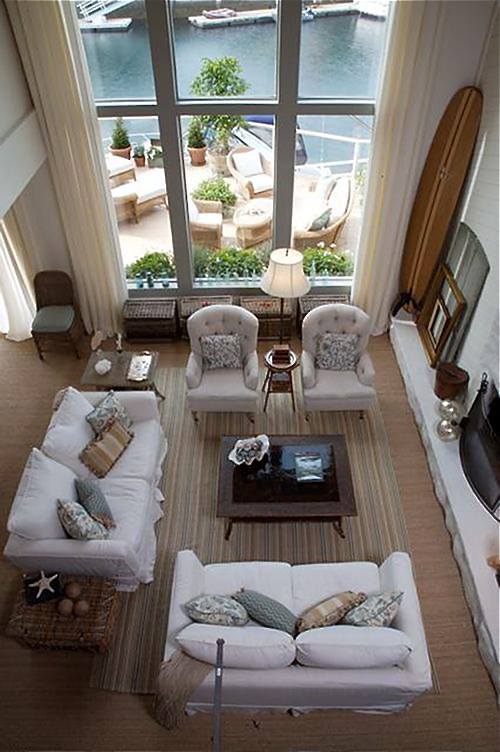 Brooke and Steve has their own line of furniture. Don't they look great in this room?
Time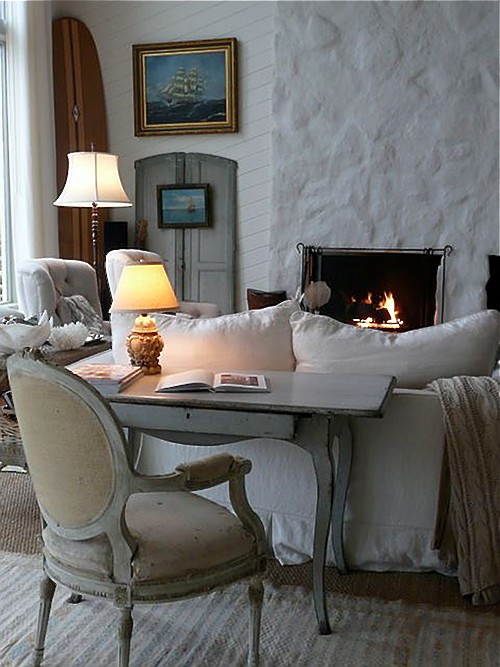 Gorgeous vintage chair and desk.
Dining Area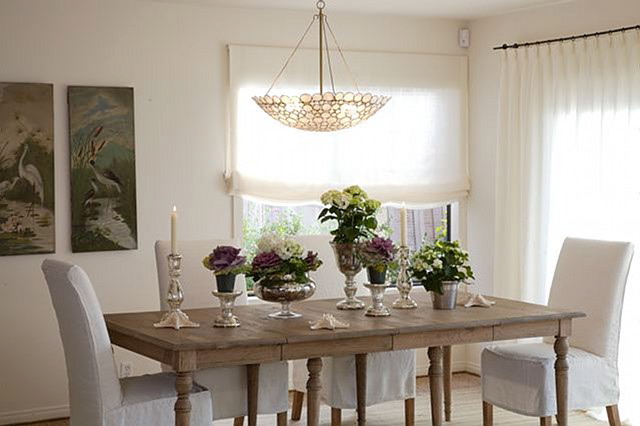 I love the light fixture and the table. Everything has a very natural feel.
Eating Area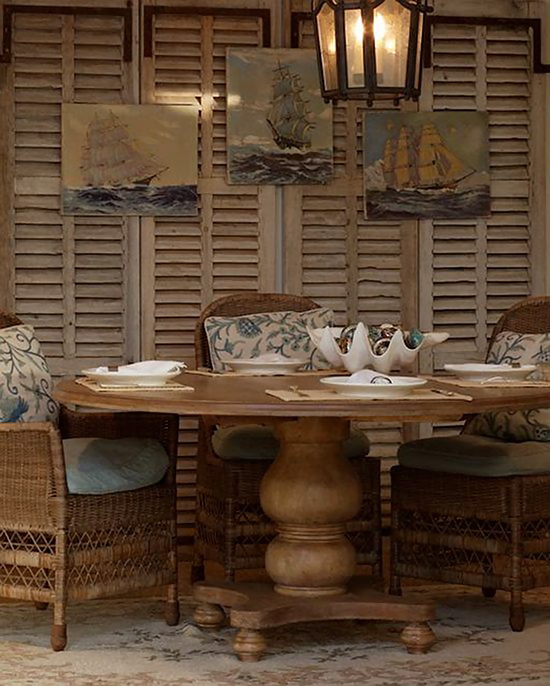 The antique shutters add a chic feel to this eating area.
Master Bedroom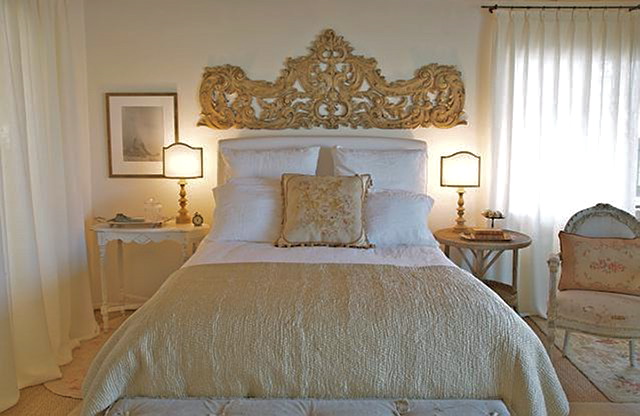 Creative and beautiful.
Master Bathroom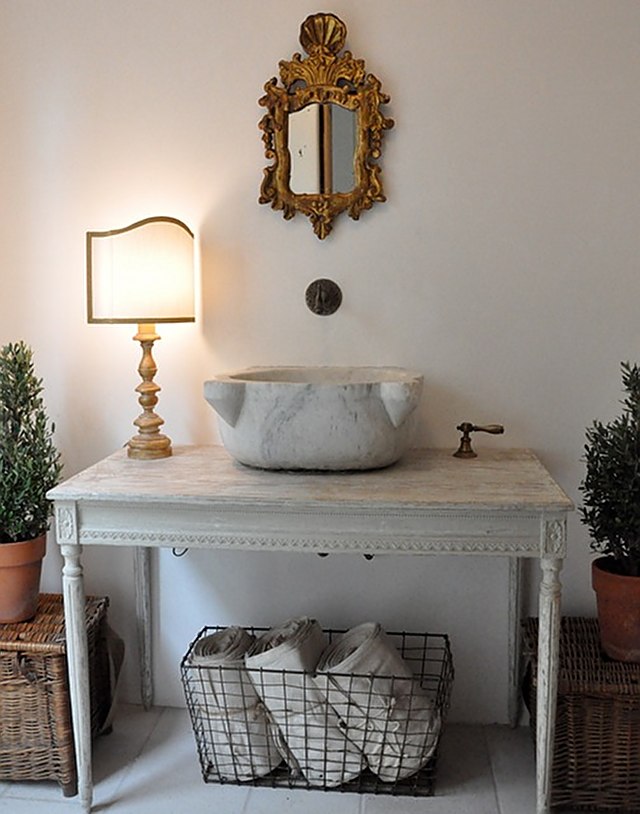 Falling in love with this sink is so easy!
Relax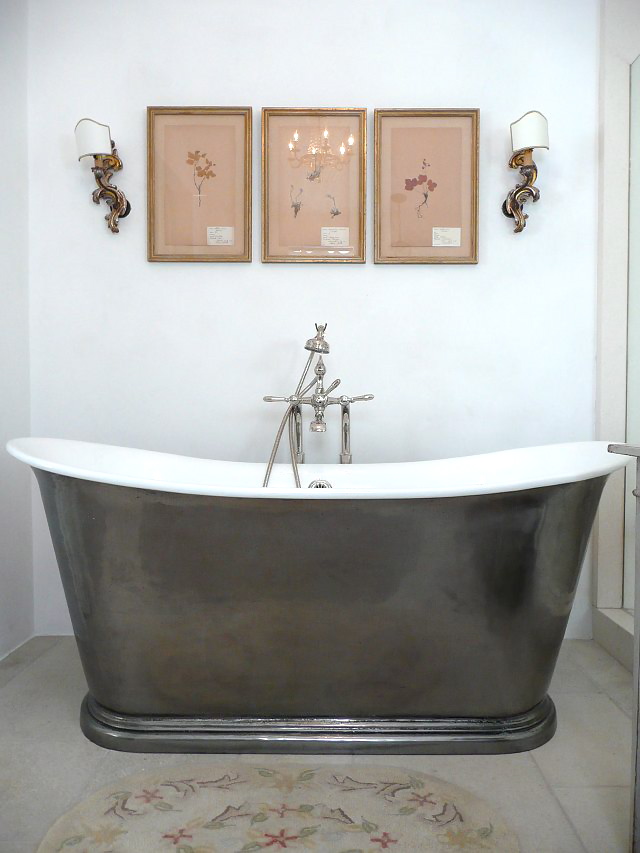 The perfect place to relax!
I hope you guys have enjoyed Brooke's interview and also her houses. Brooke and Steve have an amazing portfolio but I chose to show you their homes because I think it's always interesting to see the designer's own home, after all, it's where they can use 100% of their instinct and personality. And the more I see Brooke's houses the more I fall in love with the authenticity of her designs.
Once again I'd like to thank Brooke Giannetti for taking the time to have this chat with us!
Please, make sure to visit her blog Velvet & Linen and I also really recommend her book Patina Style.
Have a really great day!
xo
Luciane at HomeBunch.com
Get My Help with Interior Design: HB's Design Service.
Come Follow me on Twitter: Twitter/HomeBunch
Source: Velvet & Linen.