If you're a devoted reader of Cool or Fool, you probably know that I often post things that are mostly more hated than loved on Fridays. Why? Well, I think it's always fun to read the comments when people truly speak their mind and judge the space and decor without measuring "niceness," which is the purpose of this series. I don't post anything here to hear compliments, but only the truth, how you really feel about what you see.
That's why I decided to post this knitted furniture cover today. When I first saw it I really liked and I still do. I can only imagine how much work this person puts into it to make a cover for a chair as seen above. But even though I like it I started debating about if I would like this for a long period of time or I simply would get really tired of this look. Would I ever come to question myself about what I was thinking to cover my chair in a sweater??? That question made me decide to put it up here and let you guys decide if this is actually a neat idea or maybe something a bit too much. Once again, you decide! Is it Cool or Fool?
Cover What You Love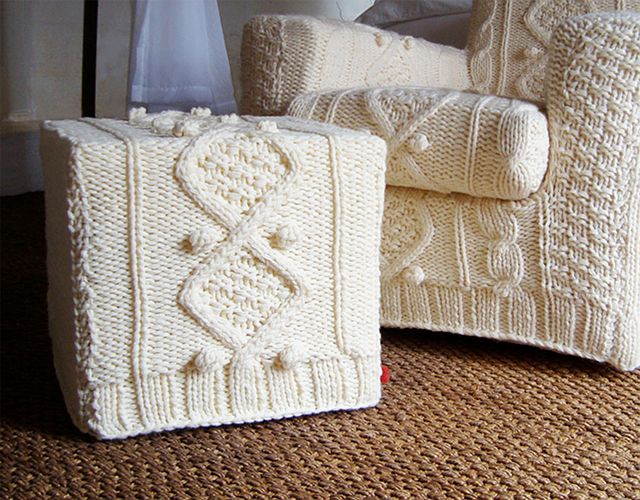 Nothing will feel chilly during this season, not even your favorite chair and ottoman.
Mix It!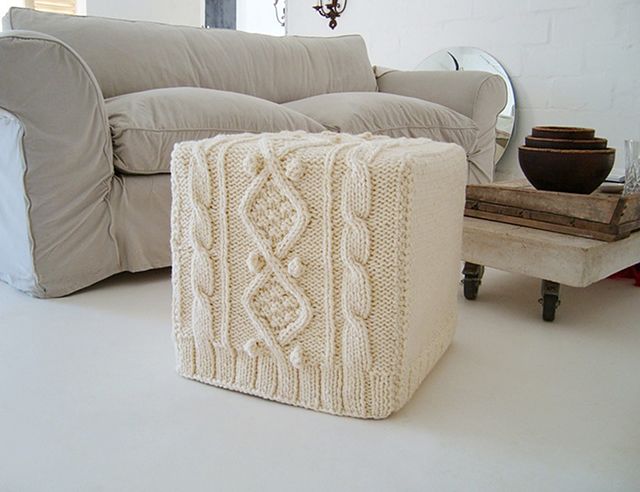 I actually prefer this look over the one above. Mixing it is better.
I'm guessing we'll have more "love" than "hate" in this Cool or Fool. Am I right? 😉
Plans for this weekend? I'm planning on starting to buy some Christmas gifts for my kids. I can't believe it will be here so soon and I need to prepare everything before my baby's arrival. But I have made my mind up that I will not stress with shopping this year. Do you know that overwhelming feeling that so many of us have at this time of the year, where we need to start to prepare everything, plan everything and start getting "nuts"? I'm saying a big "no" to that. I simply cannot let this happen this year. I'll be having a newborn and can you imagine if I add more stress into the mix? No one will have fun. So my plan is to start buying whatever I need to buy now, but keep things simpler this year. We'll celebrate as we always do, but with less fuss. Our house will be decorated and I will let the kids be in charge of that in parts. They'll help with the decor around the tree and if doesn't look as "straight" as it should, I'll be fine… I'll allow myself to enjoy whatever this Christmas has in store for us, instead of planning every detail.
Miracles only happen when we give enough space for the Divine to happen.
Have a blessed weekend!
xo
Luciane at HomeBunch.com
Get My Help with Interior Design: HB's Design Service.
Come Follow me on Twitter: Twitter/HomeBunch
Source: Loved these knitted covers? You can actually buy them! "Biscuit Scout"
* "Cool or Fool" happens every Friday. I've started this section where I post "different" and controversial things that I know some of you will love and others will not. The point is to tell us what you really think, regardless of anything. It's a space where you speak your mind and analyze what you see. Have fun with it and laugh along the way!