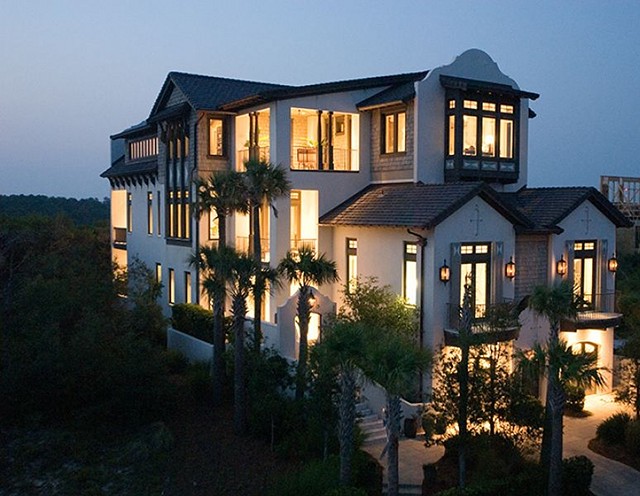 When I first saw this house at my friend's blog, Conspicuous Style, I was really blown away by it! The house has amazing views and if you read this blog for a while you know how much I love a house with a beautiful view. This house is located in Santa Rosa Beach, Florida and it's truly amazing. It has 5 bedrooms, 6 and 1/2 bathrooms, 7,000 sq.ft., a guesthouse and it's absolutely gorgeous inside. Have ever thought of moving to Florida? This house is for sale for $ 5.5 mil.
Take a look and tell me what you think!
Foyer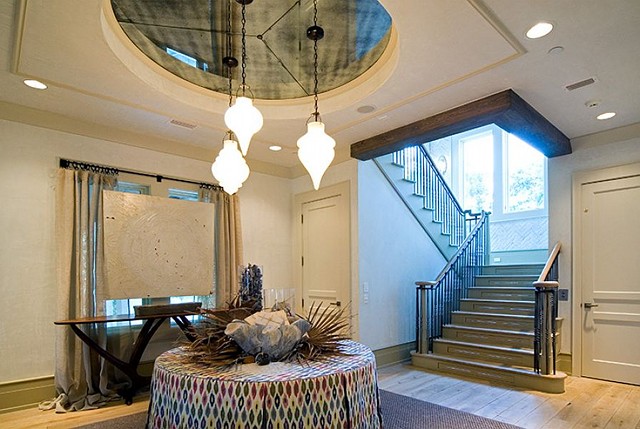 This foyer is very unique. I adore the light fixtures. Interesting art display (covering the window).
Living Room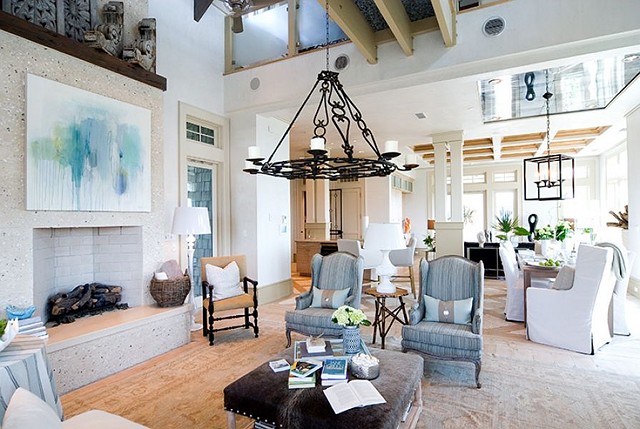 This space is just gorgeous! I love the furniture, take a look at those chairs!
Dining Room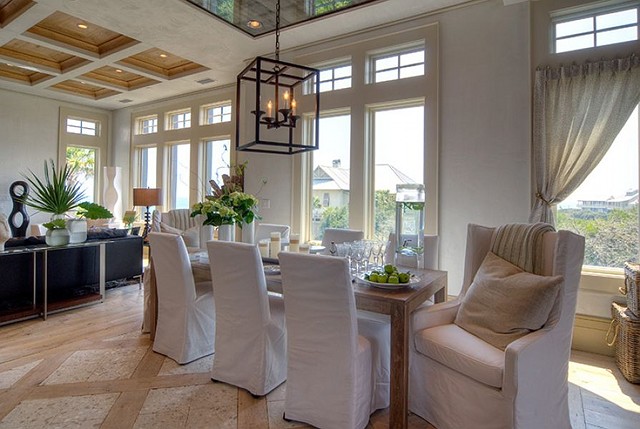 Great elements for a dreamy dining room: high ceilings, lots of windows, access to the outdoors, a light fixture that makes a big impact. Chairs? Chairs are more appealing to me if they have fabric on them (upholstered or slip covered).
Zen Kitchen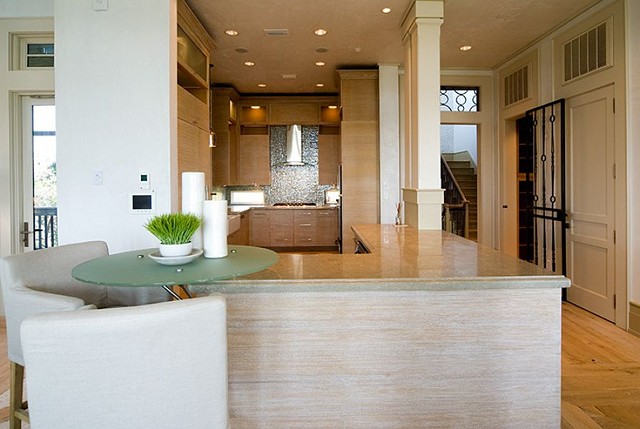 This is a very sleek and simple kitchen. It blends into the architecture of the house and make the place feel calm.
Family Room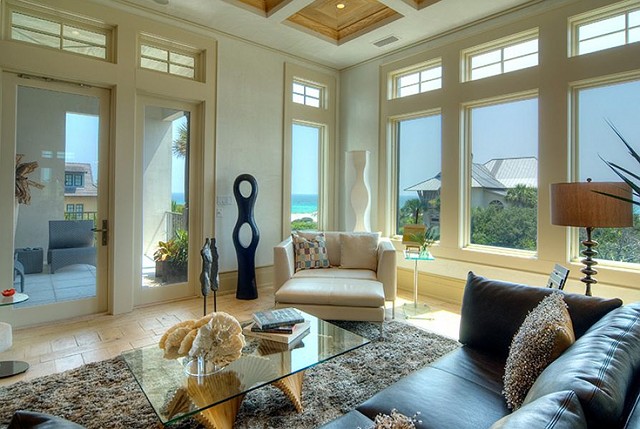 This room has a more modern feel and great views.
Master Bedroom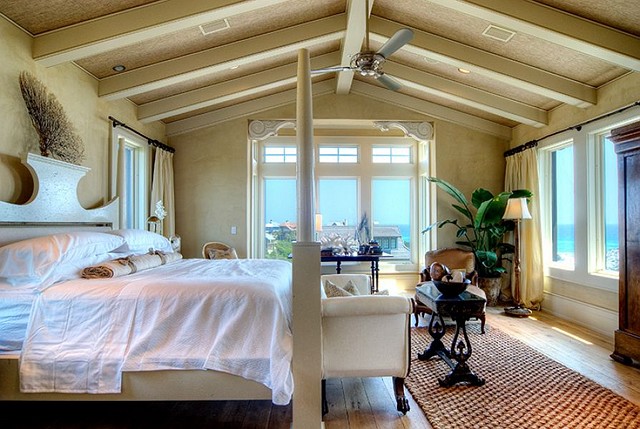 Really well done! The ceilings are great and the views are even better!
Master Bathroom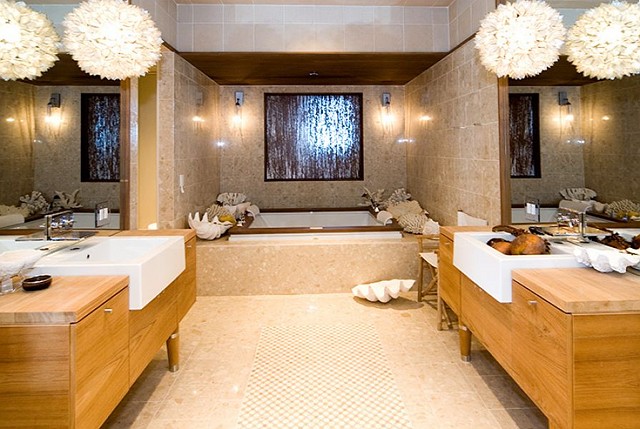 My favorite thing here are the light fixtures.
The Other Side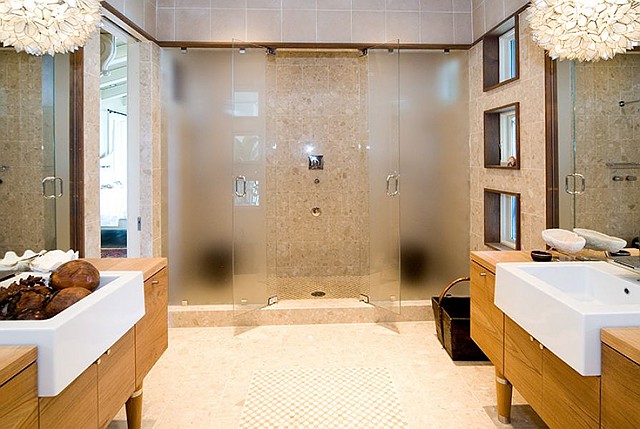 When I saw the first picture I thought this bathroom was too beige, but I think it has a lot to do with the light. This is the same bathroom, just another picture of the other direction. It looks brighter and better.
Guest Bedroom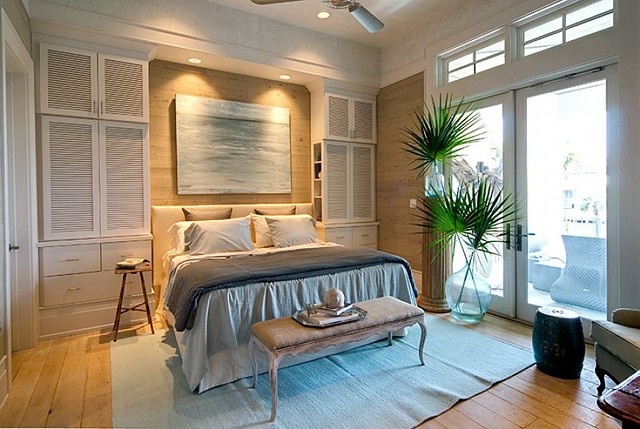 This room is beautiful. Very neutral, which is good for a guest bedroom, plus I love the built-ins.
Happy Kids' Bedroom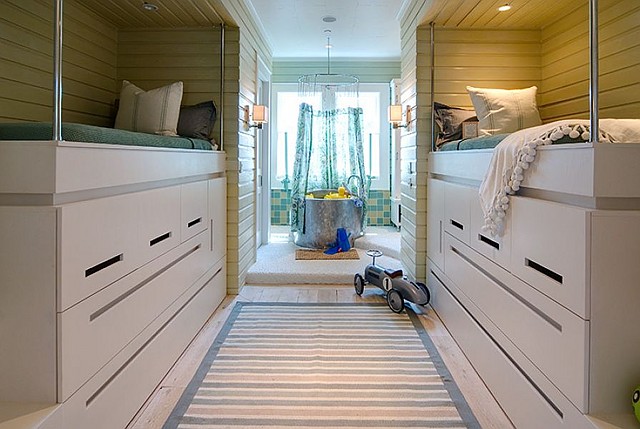 This is to inspire! Perfect if you have 2 children and little space. The beds go up and loads of storage down. Plus, take a look at that super fun bath! I'm in love with this one!
Guesthouse_ Foyer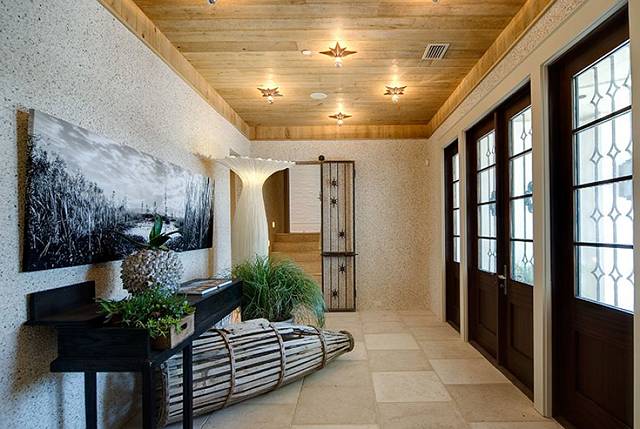 I really like it!
Guesthouse_ Family Room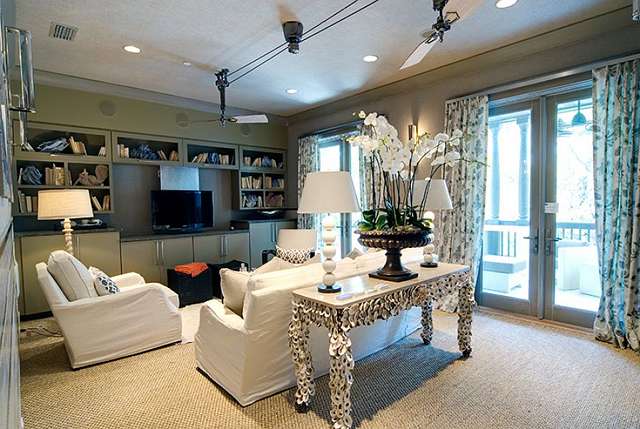 I'm not sure what to think of this console made of shells… Do you love it or hate it?
Guesthouse_ Kitchen
This is just the cutest guest house kitchen!
Guesthouse_ Eating Area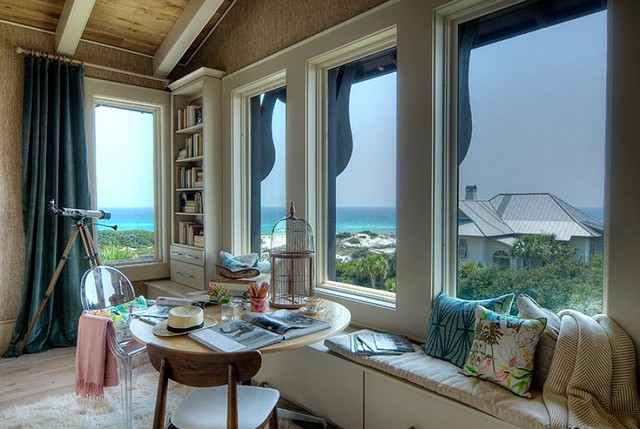 This place has a cottage-y vibe.
Guesthouse_ Art Studio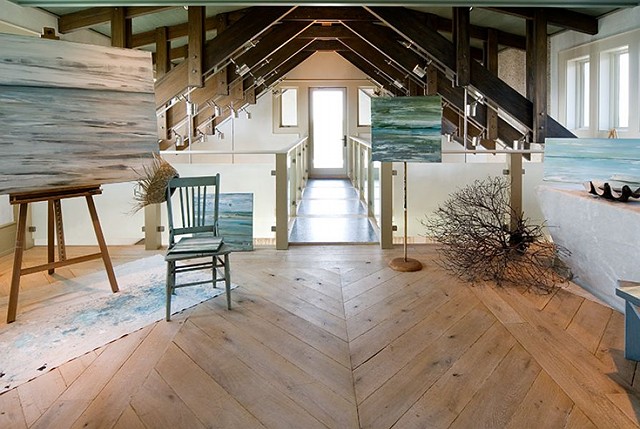 I love everything here, the space itself and the art.
Guesthouse_ Bedroom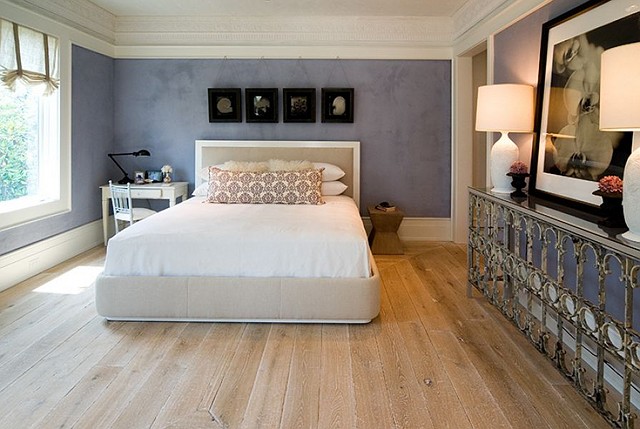 I'm intrigued by the color on the walls. I think it's a great one for the bedroom.
Guesthouse_ Bedroom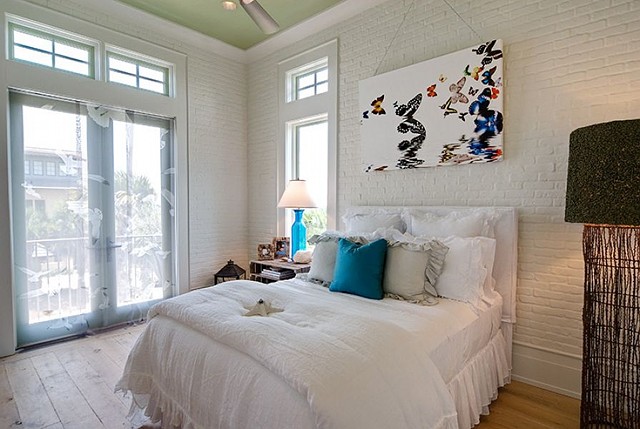 L-o-v-e-l-y! Notice the ceiling being painted green and the painted brick walls.
Source: Conspicuous Style, Destin Properties.
I loved the main house and how comfy the guesthouse feels. Many rooms and decor to get inspired here. Now, let me know your thoughts on this one.
Baby News: I just want to thank many of you that write me emails asking how I'm feeling lately and how The baby is doing. Thank God, I'm feeling great and our baby boy is really strong. I'm 25 weeks pregnant now (time flies, right?!) and I'm feeling really healthy. Being pregnant is not always easy on you. Life is busy around here but I really can't and won't complain about anything because I feel blessed.
Some people asked me if we've chosen the name already and we did! Finally, hubby and I agreed to name our son "Matthew". I love the meaning of it: "Gift of God", which he really is. I've told you before that he was a big surprise for all of us. We have two more small children (ages 6 and 5) and we thought we were "done". We even donated all of our kids' things last year, but God had other plans and he sent this baby to us. Having to buy everything again is being fun but a bit stressful at times. Still, we're really grateful for everything. Our kids are enjoying every minute of this pregnancy. They sing, talk and read to Matthew. Nobody goes to bed before giving a kiss to my belly. 🙂
Thank you for your love and friendship. Thank you for letting me share this very special moment of my life with you. It makes everything feel even better.
Have a wonderful and safe day!
xo
Luciane at HomeBunch.com
Hot Summer Prices! Get My Help with Interior Design: HB's Design Service.
Come Follow me on Twitter: Twitter/HomeBunch