Hello my dear readers and friends. Today I want to introduce you to a very special friend of mine: Sheila from SZ Interiors. Sheila is also Canadian and I feel so close to her for so many reasons. She's one of those people that are always making of her house, a true home. She's always sharing a project on her blog and I love seeing all the great transformations. I want to thank her for preparing not only a beautiful but also a "delicious" post for us today. Keep reading and you'll understand why I call it "delicious".
******
Happy Holidays Home Bunch readers!
First, I really want to thank Luciane for inviting me to visit today. It is an incredible honour to find myself here at Home Bunch. I hope you are feeling well, Luciane, and that you and Matthew are getting some rest. We all know that he is in the best of hands! Sending you big hugs and blessings.

xo

Sheila
With the Holiday Season in tow, I wanted to share some berry delight. Berries are such an amazing way to add delicious not only to your diet, but to also to your festive decor! I hope you enjoy these decorating ideas, and maybe even find one or two that will work for you. At the end I'll be sharing a special recipe with you; it's an age old tradition, but this actual recipe has only been in my collection in more recent years. It has fast become a family favorite, and is well on its way to becoming our own age old tradition!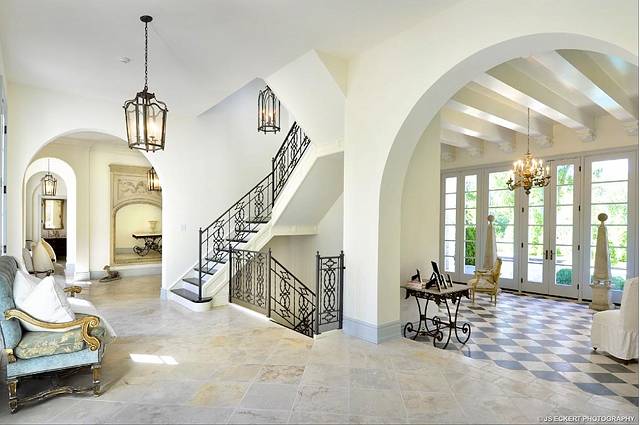 Source
Berries in decor…
Source
Especially with a white backdrop, as white as the snow.
And even when the snow is faux 😉 …
They're so lovely when paired with floating candles.
Source
There's an elegance that's hard to compare.
Source
I love the way the branches have also been used.
And here, the layering of leaves still on their branches, and the berries is so effective.
Source
With just the use of a simple jar.
Jars add a relaxed feeling of home to a setting.
Source
And here, the scattering of rocks adds to that overall appeal.
Berries go a long way to help dress a mantle.
Source
Especially amongst greenery like you see here.
Or paired with lanterns like here.
Source
I really like lanterns, and love this presentation. It's understated with such a natural elegance and flair.
Wreaths are always a nice way to greet your guests.
Inside…
Source
And out…
Source
Will this close-up inspire you to make one for your home?
Source
You might like this DIY tutorial by Thoughtfully Simple.
Or maybe you want to personalize your doorstep with a monogram wreath.
Source
And if this is your style, Our Unexpected Journey has set out DIY steps for you make your own.
But when it comes to Holiday decor, there is no feeling that says 'home'…
Source
Like a hand-strung garland of popcorn and berries for your tree!
Did you find any inspiration here for your own decor?
And now for my promised recipe…
What foodie delight does a non-kitchen Contessa create for her family's turkey dinner? You know, to ensure traditions remain in tact and memories continue to build year after year?
Well for this one it's cranberry dressing… And the funny thing is I was never a big fan of it growing up. I'm way more into savory than sweet, and until I discovered this recipe, I always found the dressing was more like dessert. So if you want a savory cranberry delight, this recipe is the one for you!
This recipe came from a cook book given to me by my very special aunt. It's called 'A Culinary Courses Journey', and is a collection of recipes from Princess Cruises… my aunt also got the book signed by Princess Cruises executive chef, Antonio Costantino, and the Maitre D' Hotel, Ignazio D'Agostino! This has become a keepsake to cherish, even for a non-kitchen Contessa like me!
Cranberries to traditions…
Source
CRANBERRY DRESSING

Makes 1 quart

3 cups fresh cranberries

1 cup water

1/2 cup white wine

1-1/4 cups sugar

juice from 1 orange (about 1/4 to 1/2 cup)

2 tablespoons shallots, minced (finely diced onions work too)

1/4 cup celery, finely chopped

1/4 teaspoon dry mustard

1/2 piece cinnamon stick

3 cloves

*tie cinnamon stick & cloves into cheesecloth sack

salt & pepper, to taste
Steps:
1. Squeeze juice from an orange and set to the side.
This is about how much juice you should have…
SZInteriors Photo
The vintage lemon juicer once belonged to my grandmother. I love that you can strain the seeds out!
2. Place cranberries, water, wine and sugar into a pan and bring to a boil. Reduce heat and simmer for 10 minutes.
SZInteriors Photo
3. Add the remaining ingredients and simmer 10 minutes more.
4. Remove the cheesecloth sack containing the cinnamon and cloves, and adjust the seasoning to suit your taste.
The sauce can be served chunky or pureed. I serve mine chunky…
SZInteriors Photo
…in this vintage glass bowl that also belonged to my grandmother, the same bowl she served cranberry jelly in when I was growing up!
And it's these added touches that make this tradition so special to me. I always think about my grandmother, our family, and my life growing up whenever I make this dressing, and especially when using these dishes.
I hope you have enjoyed this post. I would like to thank Luciane again for inviting me to guest post at Home Bunch.
May the warmth of family, the comforts of home embrace you this Holiday season.
THANK YOU FOR READING!
xo Sheila
*****
Thank you once again, my dear Sheila for this amazing post. I really want to try this recipe. I think it will be a hit around here!
If you liked this post, just wait to see her blog! Click here to visit it: Sheila from SZ Interiors.
Have a sweet day!
xo
Luciane at HomeBunch.com
Get My Help with Interior Design: HB's Design Service.
Come Follow me on Twitter: Twitter/HomeBunch
Source:Sheila from SZ Interiors