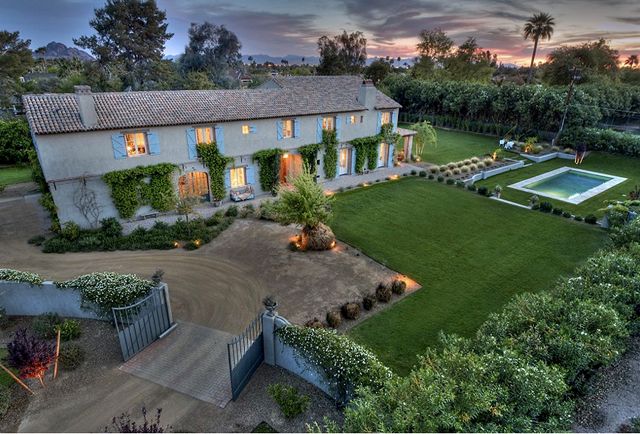 French Homes are always so pretty to look at and they always make me want to have more French inspired decor in my own home. This newly constructed Arcadia French Country home has been on the cover of "Phoenix Home & Garden" magazine, and with a good reason, it's gorgeous! Each room provides its own distinct character; every niche is built to perfection, from the salon style living room lined with magnificent floor-to-ceiling woodwork to the master bedroom and bathroom, not to mention the amazing kitchen.
Want it? Me too! To have it you'll have to spend about $3,300,000. Yes, this gorgeous home is for sale, which makes me dream even more. It also has 4 bedrooms, 6 bathrooms, 5,882 Sq. Ft. and it's located on 1+ Acres.
If you like French decor, I know you'll love this home!
French In The Desert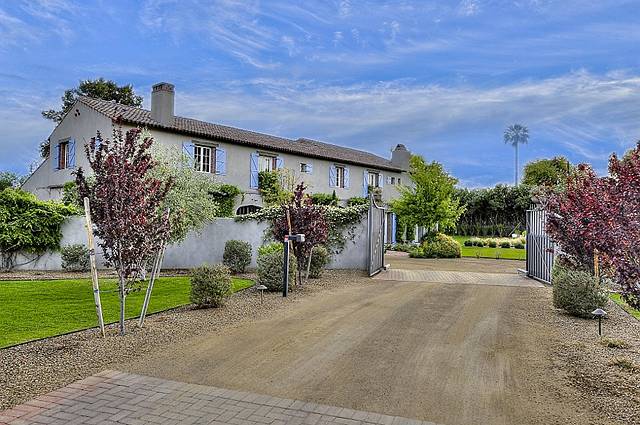 Hard to believe, but this home is located in Phoenix, Arizona!
Vines
This home really feels like you're in France. I love the exterior.
Shutters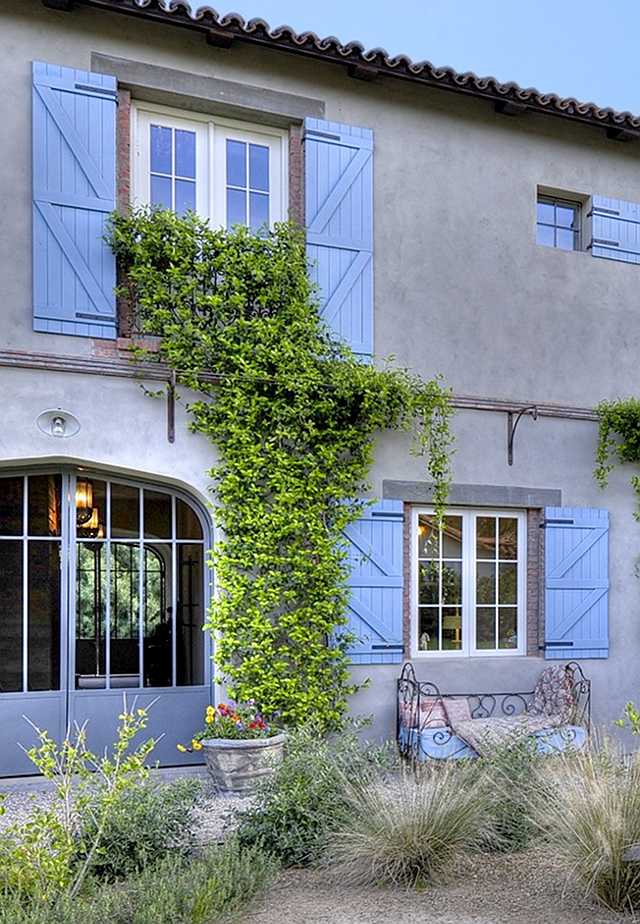 Gorgeous iron doors and shutters.
Foyer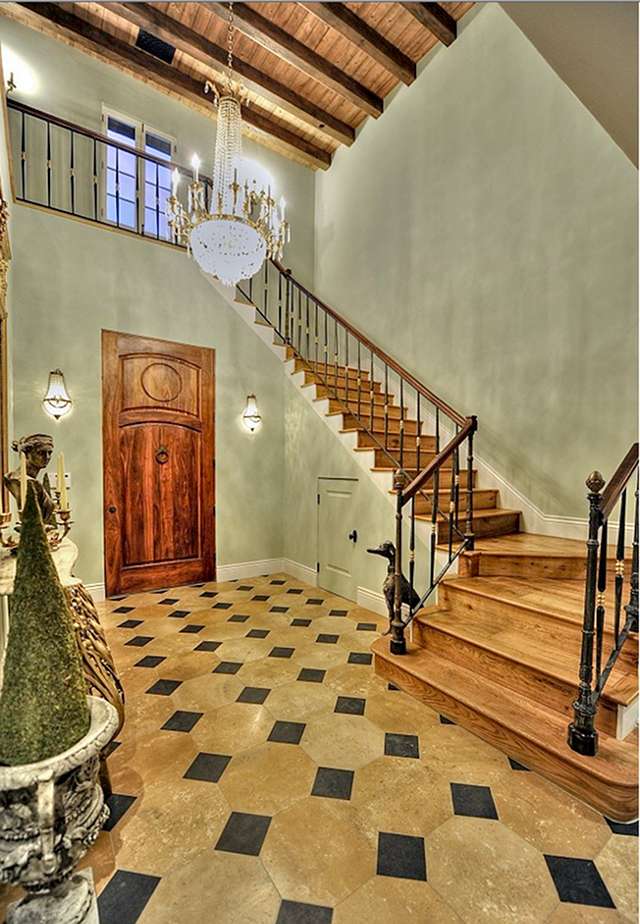 The foyer feels very French county with an elegant twist.
Living Room
The living room has timeless elements and I really like the color they chose for the paneling.
Formal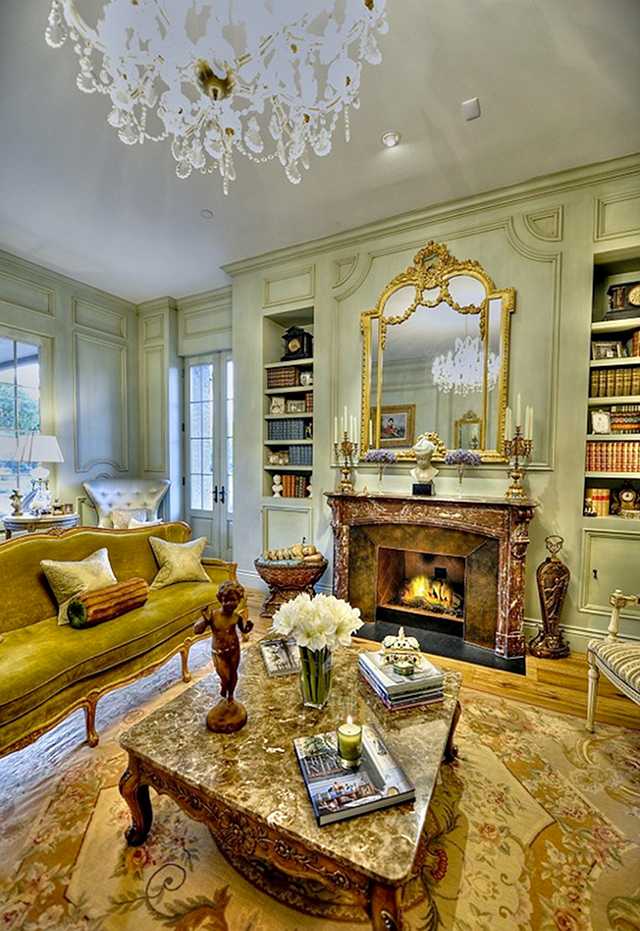 This is a very formal room with beautiful finishing.
A Bigger View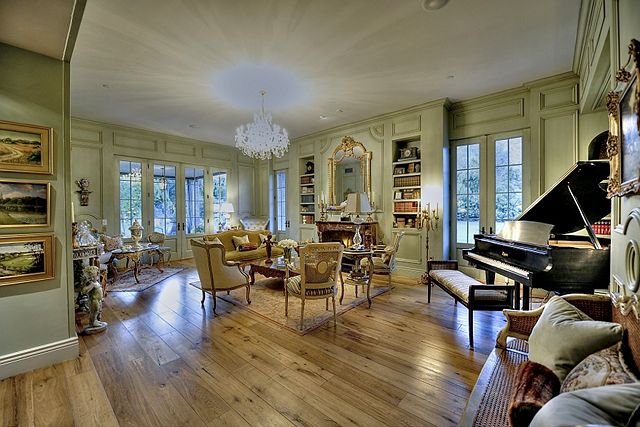 The colors and textures were really well chosen for this living room.
Dining Room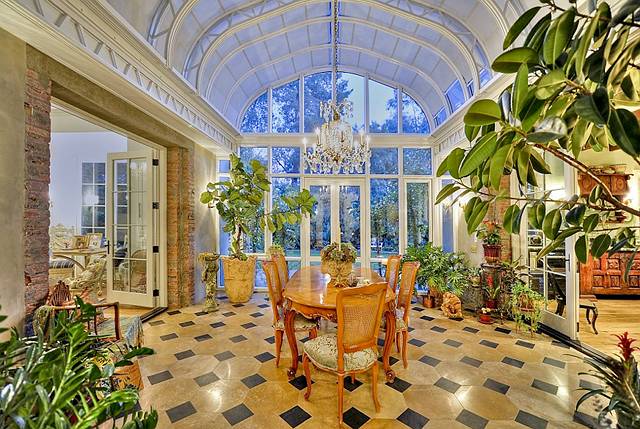 The dining room is located in the conservatory.
Chandelier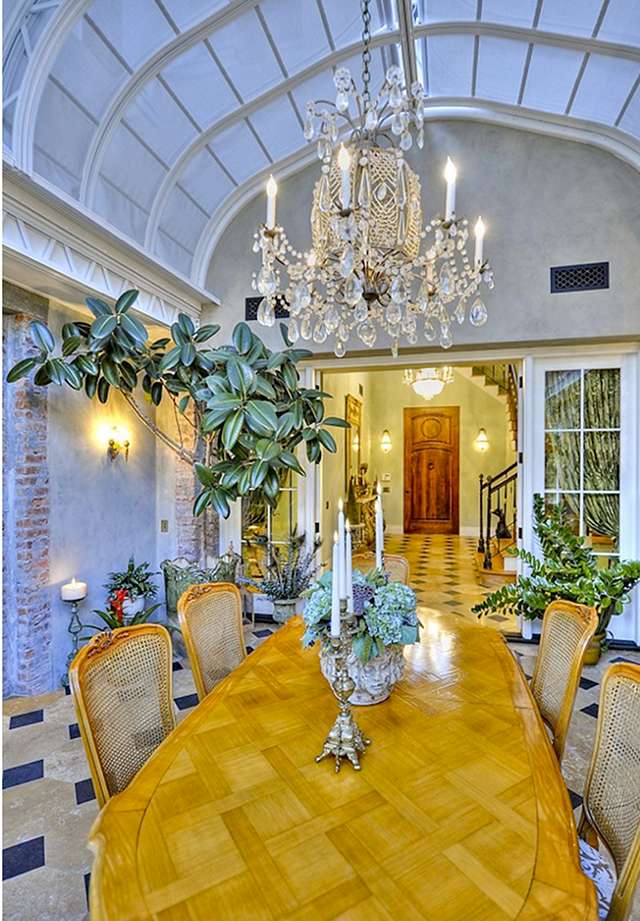 The chandelier and the furniture makes this room feel more formal.
Dinner Time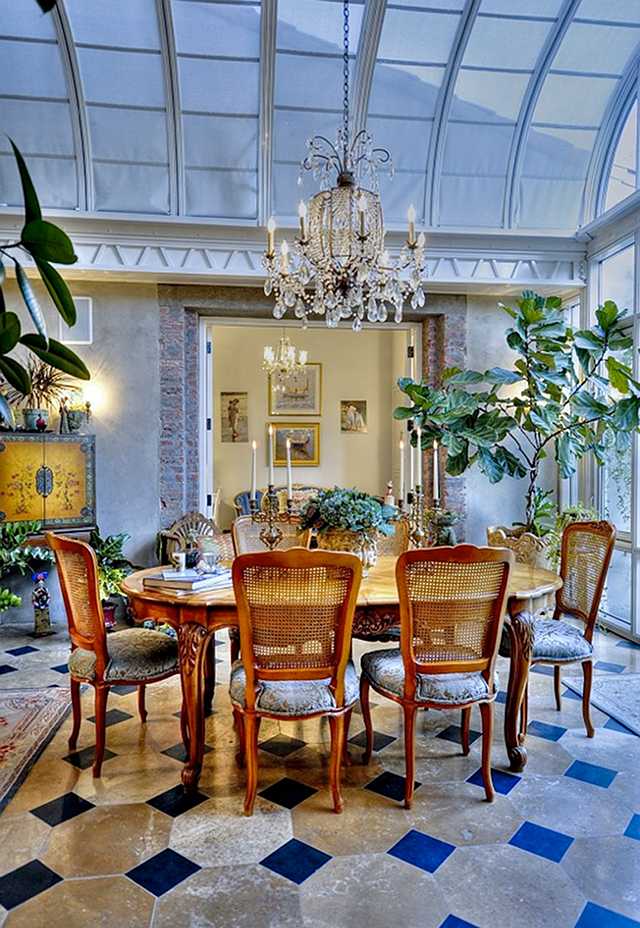 I think it would be a really interesting experience to dine here.
For Us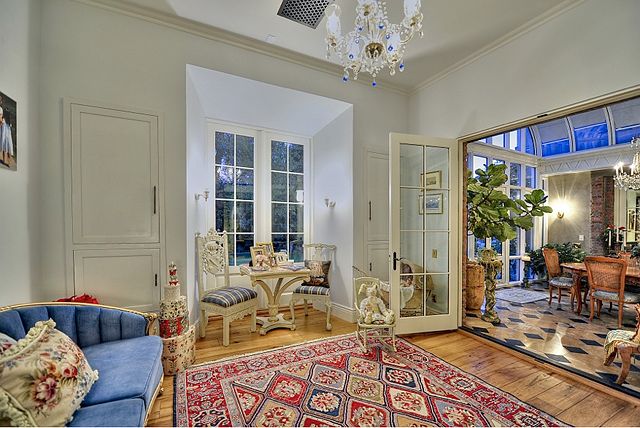 This room is just beside the dining room and it seems to be a nice room for sitting and chatting. Adorable chandelier.
Kitchen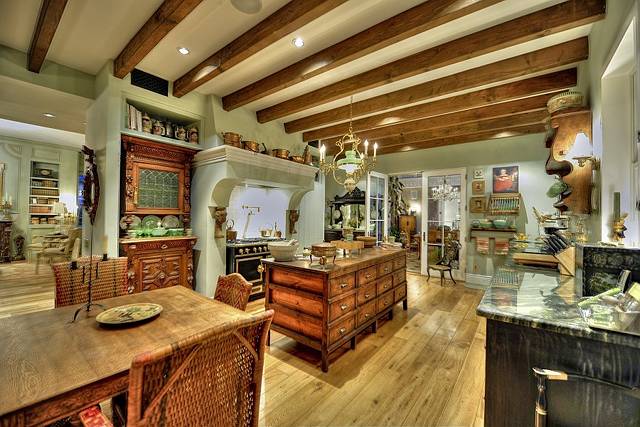 This is one of my favorite parts of the house. This kitchen is so unique, so different than what we're used to seeing and I love that. You look at it and you can't believe this house was just built.
Range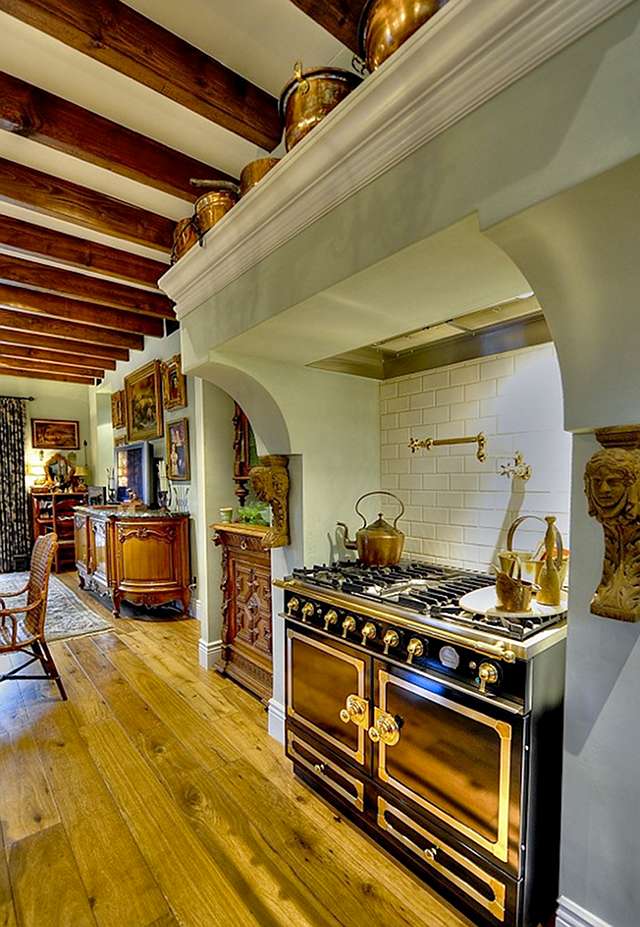 Spectacular range and beams.
Better Island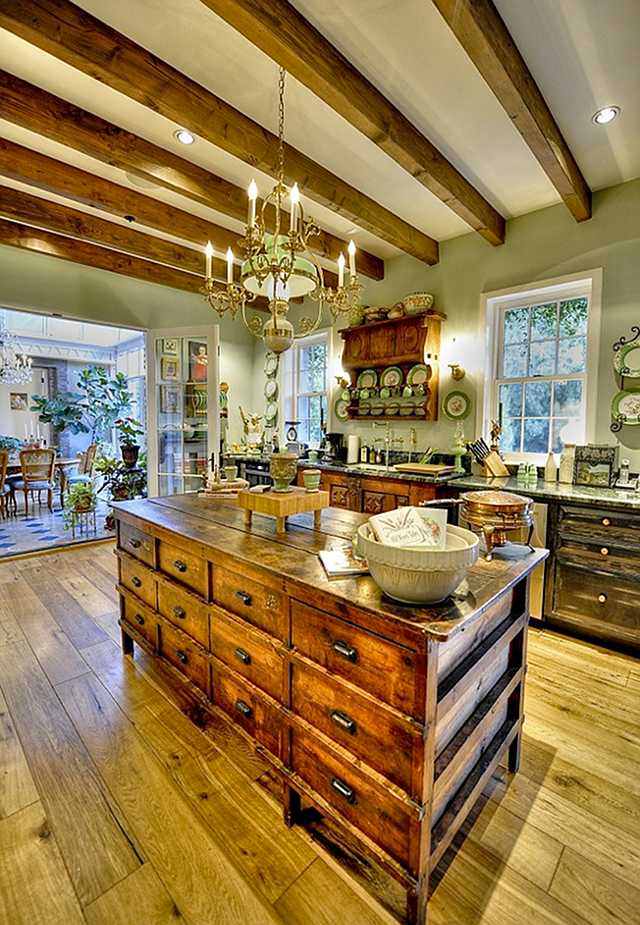 How charming!
Family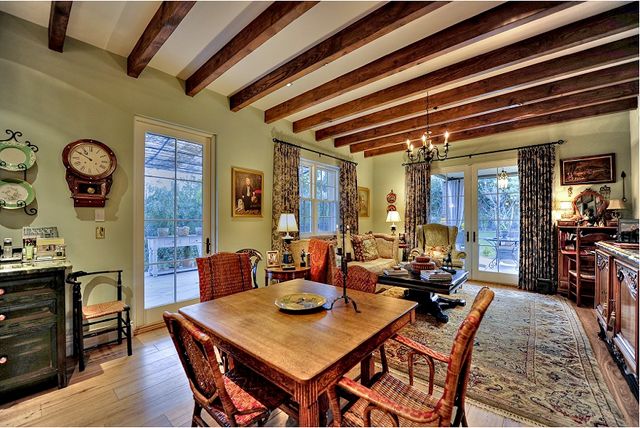 This is what I like to see! Even if you live in a big house, it's always important to feel cozy in it. The eating area and the family room are connected and they feel very welcoming.
Family Room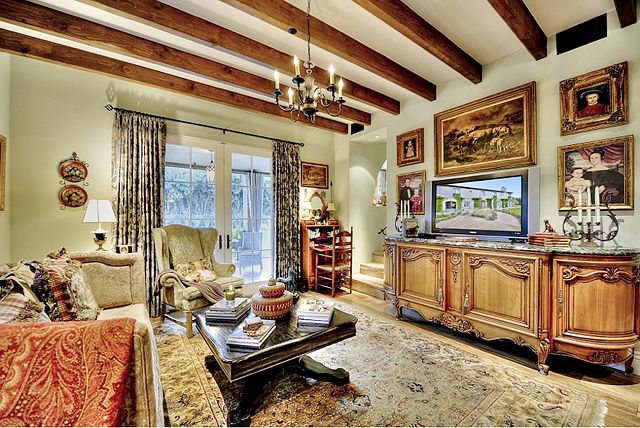 Wonderful touches here. Love all the warm textures.
Powder Room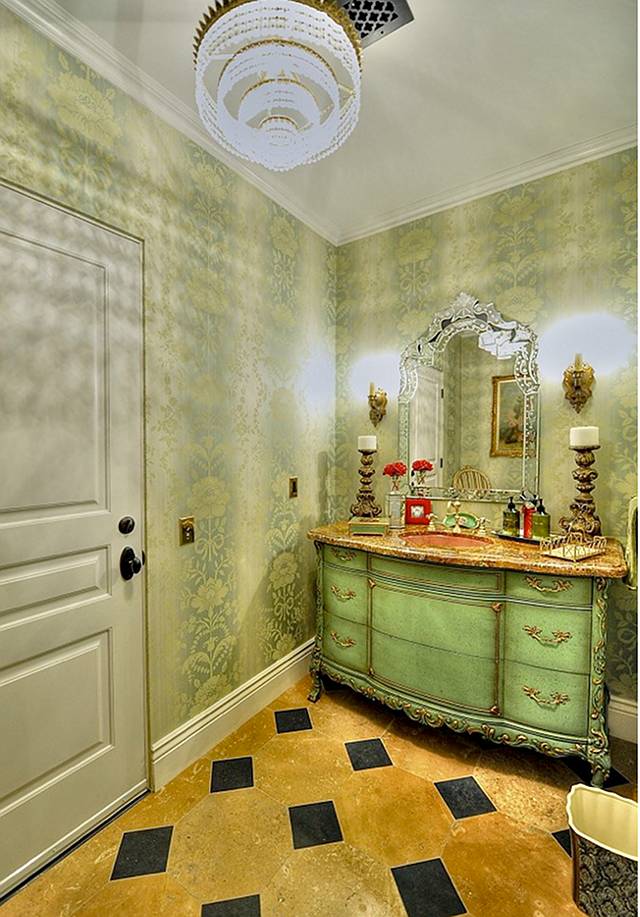 Beautifully done.
Laundry Room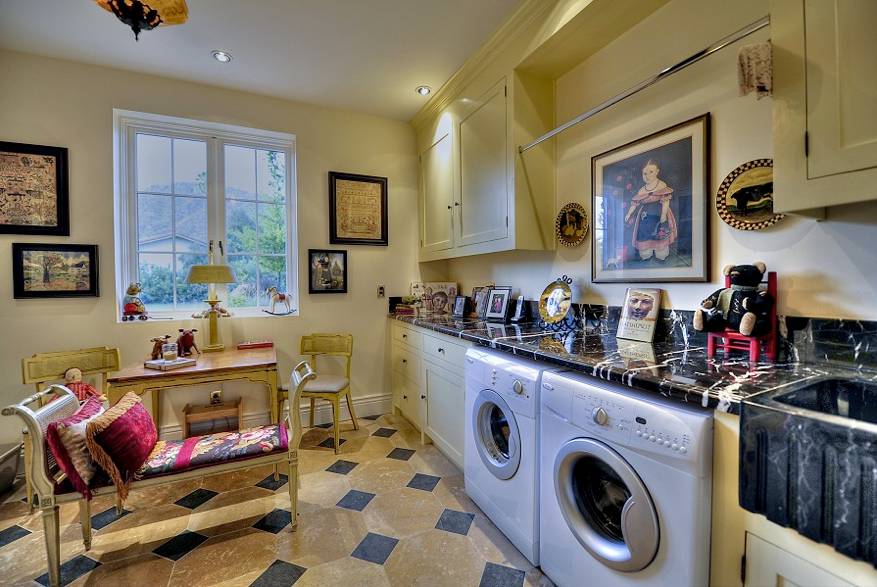 The most French laundry room I've seen in a while.
Landing Area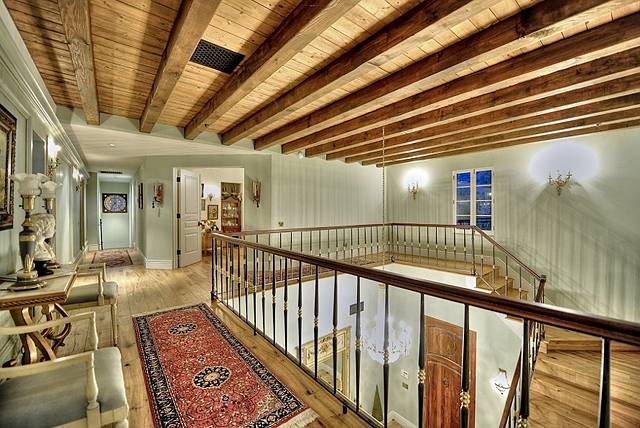 I'm in love with the rustic ceilings and the color on the walls.
Master Bedroom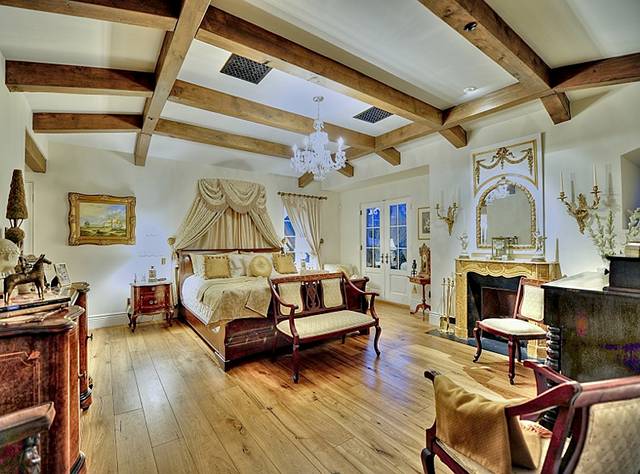 This room has so many amazing details. I really like the fireplace, the beams and the floors.
Master Bathroom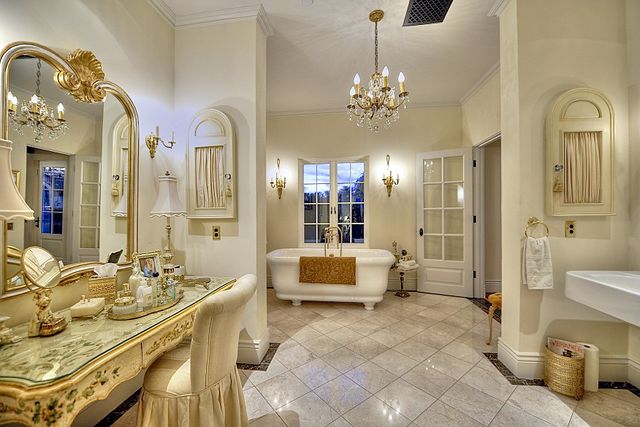 Stunning! Take a look at the built-in medicine cabinets.
Relax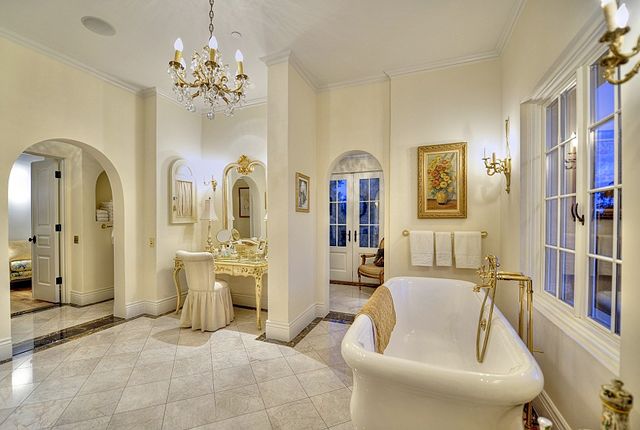 A dreamy bathroom.
Guest Bedroom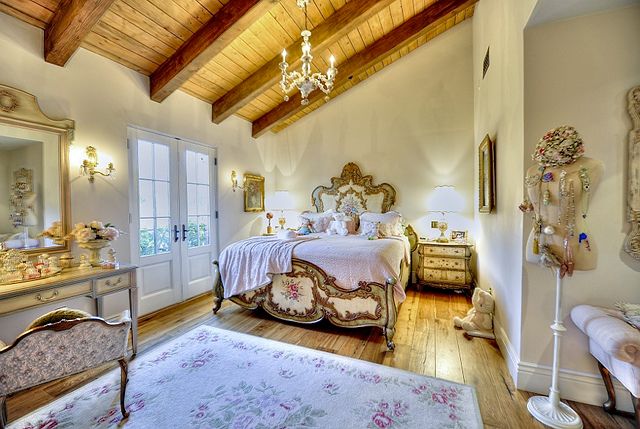 A very feminine French bedroom.
Double Beauty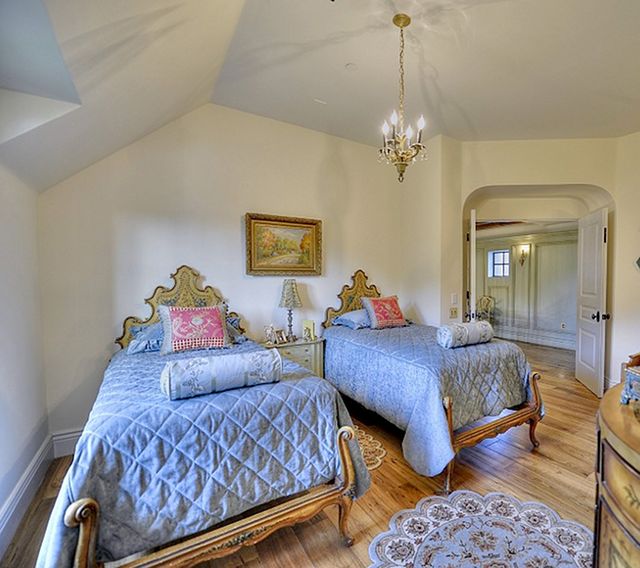 Beautiful beds.
Guest Bathroom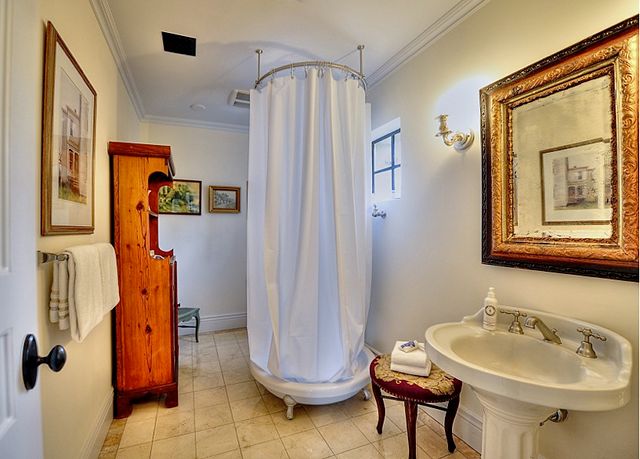 Very French, yet very simple.
Be Our Guest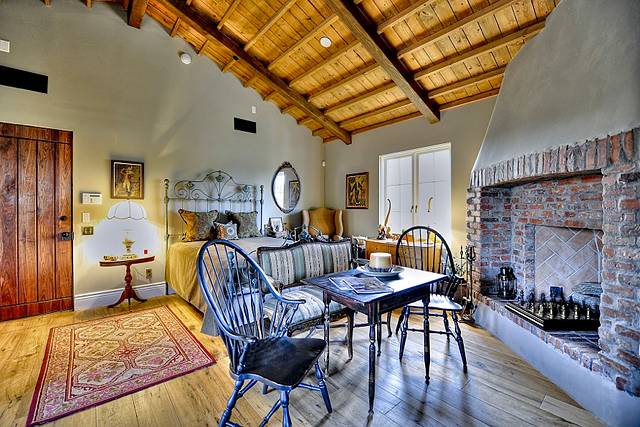 This is such a beautiful guest bedroom. It's rustic and chic ate the same time.
The Real Deal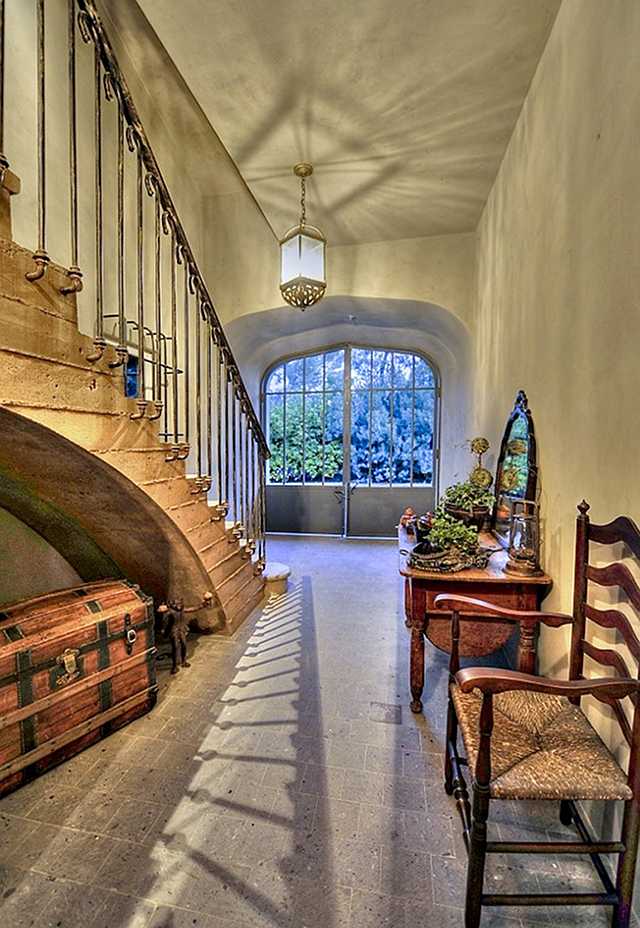 Gorgeous, gorgeous, gorgeous!
Outdoors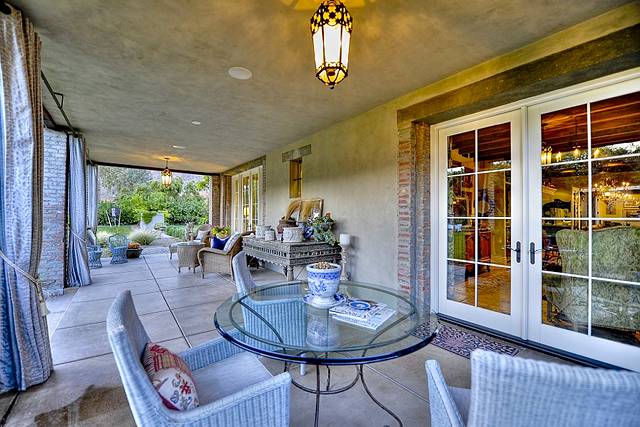 Does it inspire you too?
Chatting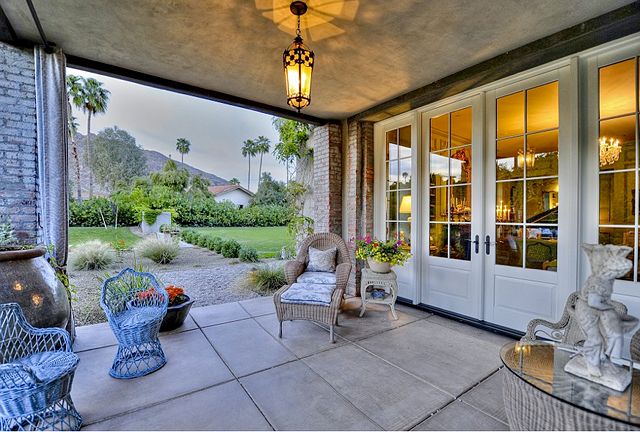 Lovely place to enjoy the views.
Lovely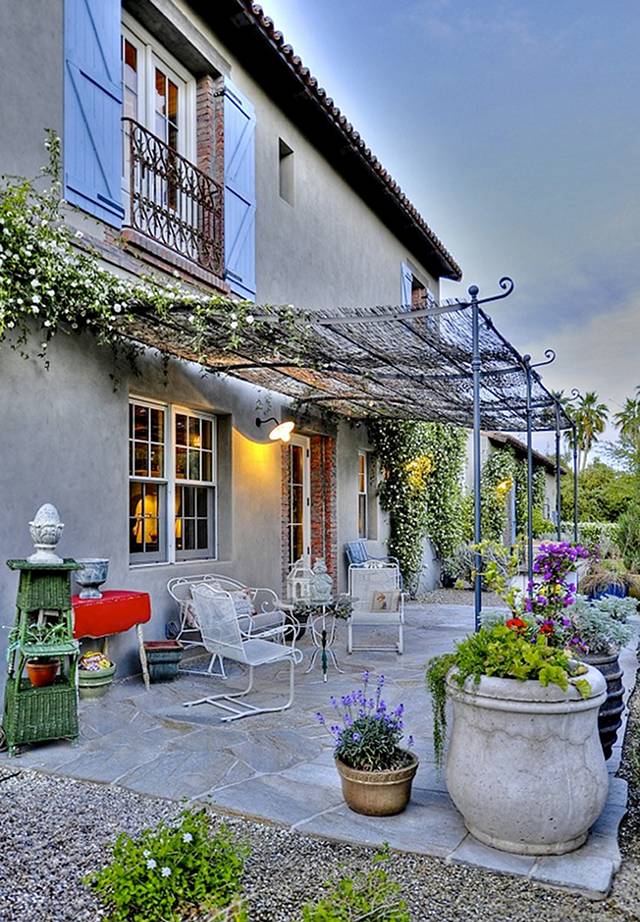 This is just the best spot in the backyard.
Summer Nights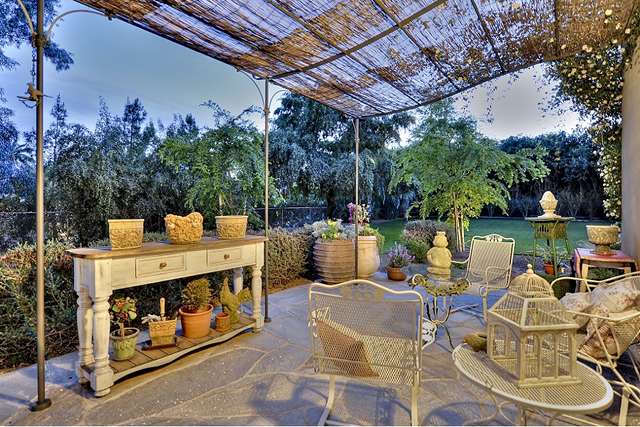 Can you picture yourself here on a summer night?
Night Light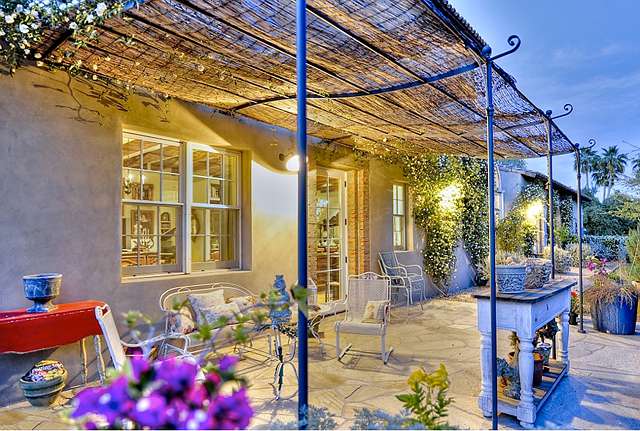 Dreamy!
Backyard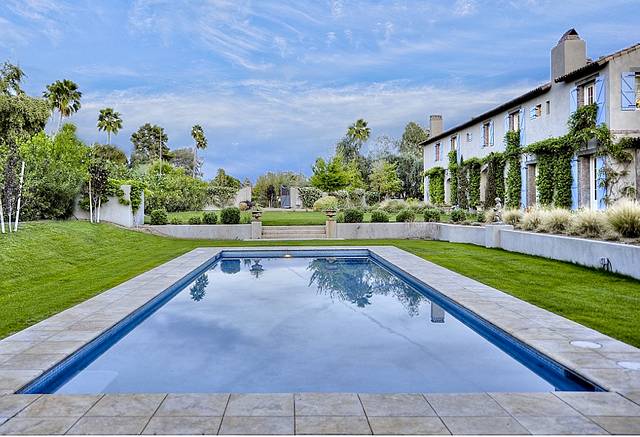 Everything looks immaculate on this property.
Pool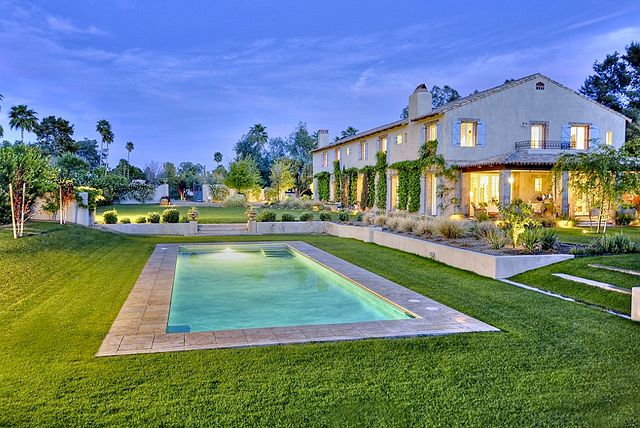 The pool looks very inviting.
Home
A beautiful place to call "home".
This house is truly stunning. I think it was really well designed. There's some formal rooms but also others that you can feel embraced by. The outdoors are simply dreamy. I could spend most of my time there! I hope you also liked seeing this house here today.
Let's talk about our weekend? Mine was busy. I worked much more than I wish I did. Both my kids didn't feel well, so on top of working a lot, I barely slept. Life? Yes, this is real life! But I'm not going to complain, I'll try to rest whenever I can now and I'll be positive about this week that's just staring. Besides, whenever I look outside and see the many trees that surround my home, I'm reminded that there's so much to be grateful for, including the Fall that's beautifying everything around here. I'm actually planning on buying some pumpkins and carving them with the kids. Halloween is so soon! Oh, they also got their costumes ready… This is really a fun time of the year, don't you think?
So, I'm sending lots of great thoughts for our week, hoping that all of us can really enjoy it and have some fun!
One more thing, I want to thank you all for the super sweet comments about seeing my baby. It was so nice of you for being happy for me. It's amazing that I'm being able to share this pregnancy and its adventures since week 6! Now, we have only 6 weeks to go! Can you believe it? Most people get really tired of being pregnant at this point and I totally understand why, but I can't complain. I'm enjoying every minute of it in a way that I can't even explain. I guess because this probably will be the last one, so I really want to treasure everything and it's being a blessing being able to share these moments with you all.
xo
Luciane at HomeBunch.com
Get My Help with Interior Design: HB's Design Service.
Come Follow me on Twitter: Twitter/HomeBunch
Source: Pricey Pads, Frank Aazami MLS #4562355