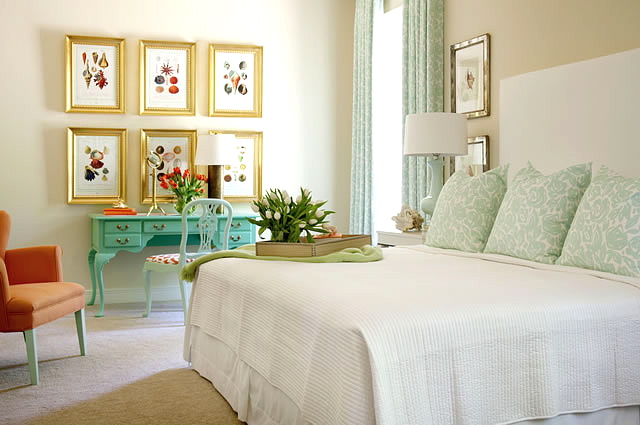 When I see a room designed by Tobi Fairley I immediately think of a sunny day. Her designs are really inspiring, very happy, cheerful and she's not afraid to use color; vibrant color, subtle color, beautiful accessories and definitely comfortable furnishings.
Tobi is well-known in the interior design world and has been selected as one of Top 20 Young Designers in America in 2009 by Traditional Home Magazine. Her work has been published in several magazines.
I hope you feel happy seeing these very colorful, summery rooms.
Blue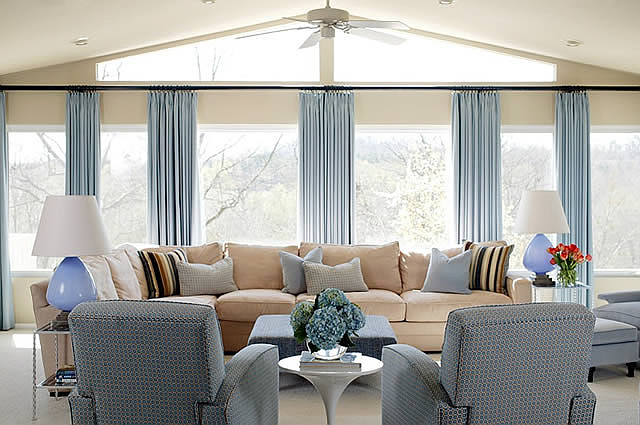 This room is heavenly! Notice the large lamps, a signature of her design.
Sweet Orange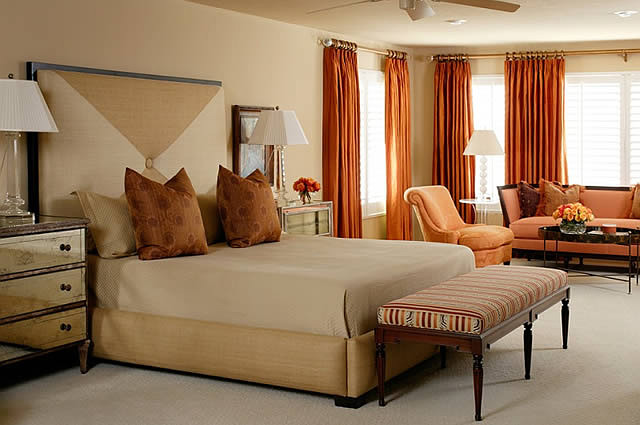 You can feel the sunshine in this room even in the middle of a snow storm. Beautiful bed.
Reflexion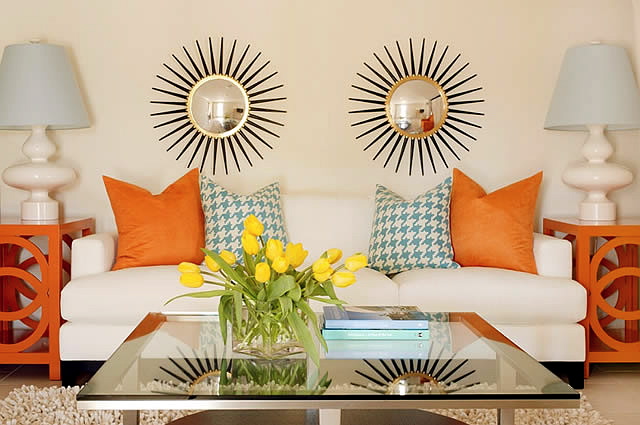 This is a really fun living room. That's how I see Tobi's designs: nothing is too serious.
Blue & Green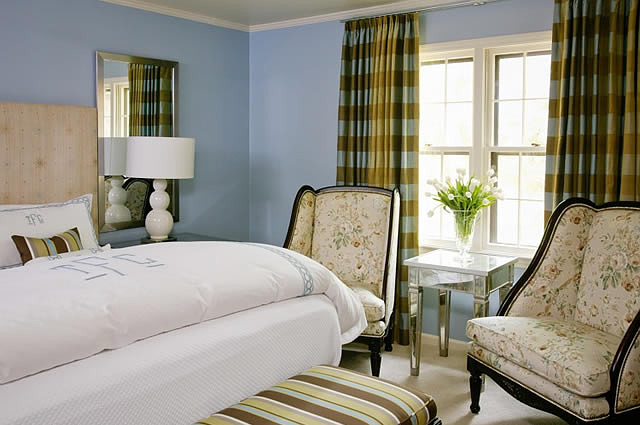 This room isn't very spacious but it's so well designed that you can even find space for a sitting area.
Guests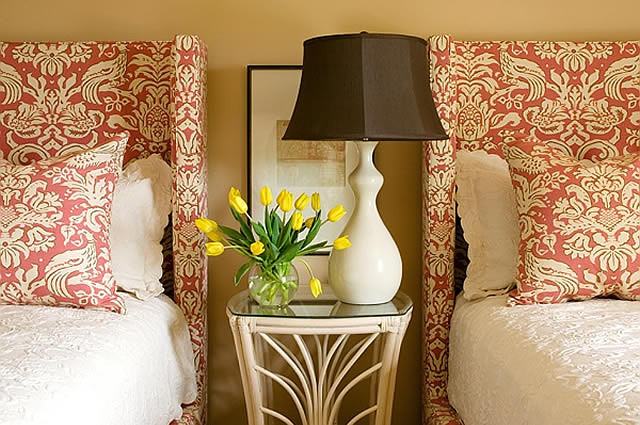 These beds look very tailored. Pretty!
Hello, Hello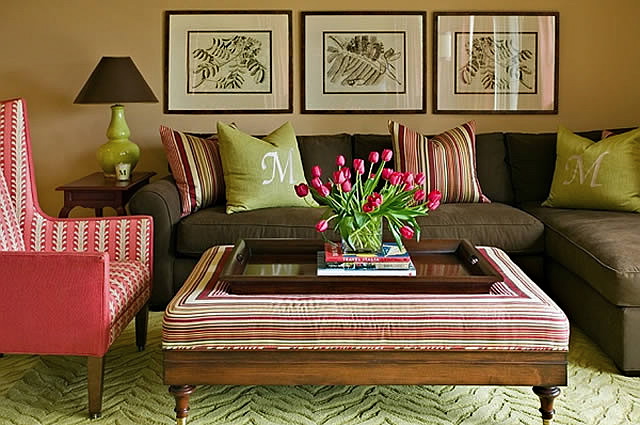 I'm loving seeing coral with green in this living room. It's really fresh.
Darling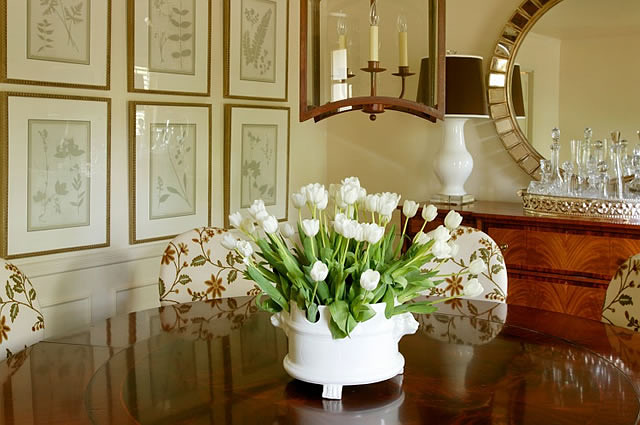 This dining room is so sweet! I adore everything here, especially artwork and the fabric on the chairs. Gorgeous, classic and not boring.
Display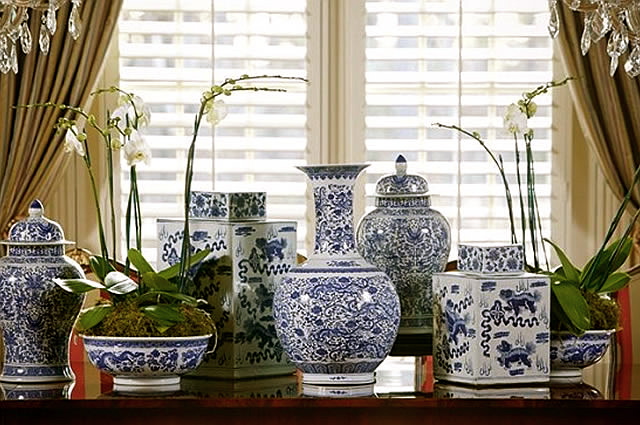 What a fantastic way to display your collection.
Living Room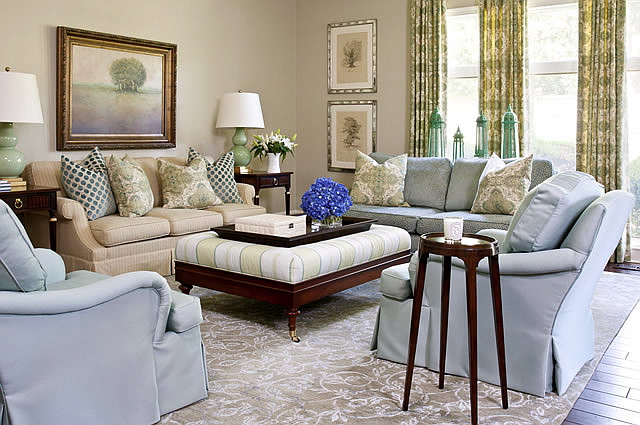 My favorite type of living room is pretty much like this one: calm, soft and chic, but mostly importantly, a space where anyone would feel comfortable to sit and chat for a long time.
Make sure to check Tobi Fairley's website. She's a very talented interior designer. I hope you've enjoyed this post and I hope these beautiful colors had brought some cheerfulness to your day. If you love color and really want to bring "Spring" into your house, remember that you should give it a try. Start adding color slowly into your place and soon you'll have a space that you will feel really happy in. Use your favorite color in your favorite room, even if you have to bring in your favorite color by using only some flowers. Seeing what we love makes us feel more welcome in our own place.
Let me know your opinion on this post. I read all of the comments you leave here and I can assure you I'm always smiling while reading them.
Enjoy your day and I hope you're having a peaceful one. Some wonderful friends have asked how I'm feeling. I'm doing great and I already feel I'm growing (or is that the pizza? 🙂 ). I'm being really busy this week, volunteering, attending at my daughter's ballet recital, studying for a test and to be honest, I feel going to bed as early as 8:30 pm! Yes, I'm doing great, but needing some extra sleep. My bed is always so comfy… 🙂
xo
Luciane at HomeBunch.com
Come Follow me on Twitter: Twitter/HomeBunch
Source: Tobi Fairley.