Welcome! I wish I could say this word in every single language out there because this blog is for everyone. This is a channel where we can connect with each other and where we can get inspired, can dream (a lot!), can give a break to our minds and problems, it's like a SPA FOR YOUR EYES. Just relax and enjoy.
Here I will talk about everything beautiful (or that can become beautiful) in our houses or the house itself. I am PASSIONATE about houses, furniture, accessories and everything in between. I spend hours everyday looking what's new in the "HOUSE WORLD". I just find to be very interesting how some people show their personality in their homes, also I love to check some furniture designs that are like pieces of art.
I am also here to talk to people that have this passion too, to share our thoughts on what we think we should bring to our homes, or at least to our hearts, since some pieces are just to be dreamed_ yet.
By the way: I came up with this name HOMEBUNCH, because I think it sounds fun and also because we are not here to talk only about a specific thing when comes to homes, we are here to talk about a bunch of things that hopefully will make you be inspired to bring into our home.
I hope we enjoy every word typed here.
Have a great day!
with Love,
Luciane at HomeBunch.com
Interior Design Services within Your Budget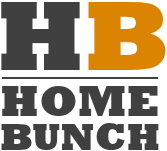 Get Home Bunch Posts Via Email

Save