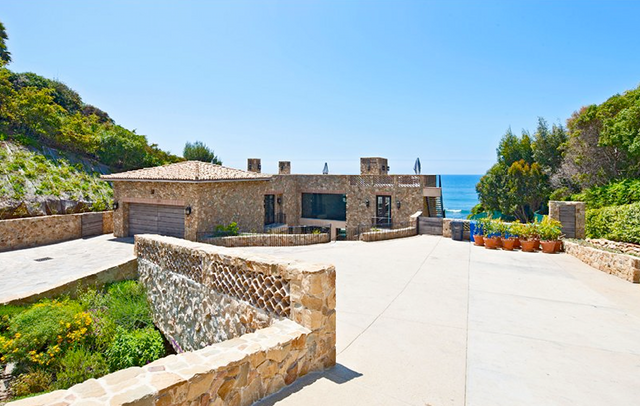 Whenever you say "Malibu Beach House," you set the bar up high. You don't really imagine a sweet, little cottage. The little sweet cottages are long time gone and massive, modern and ultra-chic houses are built and often put on the market for multi-millions. Does it appeal to you? Well, honestly speaking, I have my heart set on the little & sweet cottages we often see, but I wouldn't say "no" to a house like this one.
This house is newly built and it's just above of one of Malibu's premier beaches. It has been meticulously designed by architect Doug Burdge with the interesting combination of an exterior made of stone and a modern interior. The Poliform kitchen is the big star of this house, with the exception of the ocean, of course. If you get scared by huge houses, this one might feel comfortable for you with its 6,152 sq ft. of living space and 2,500 sq. ft. of roof top deck, which features an outdoor fireplace all sitting above the Pacific Ocean. Yes, dreams can be built!
By The Sea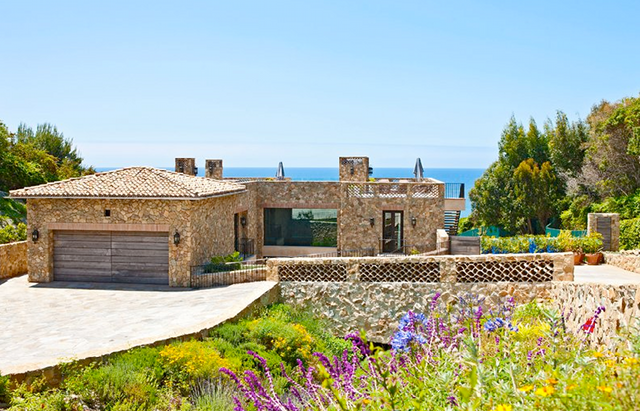 Sardinia meets Malibu.
Drive & Dream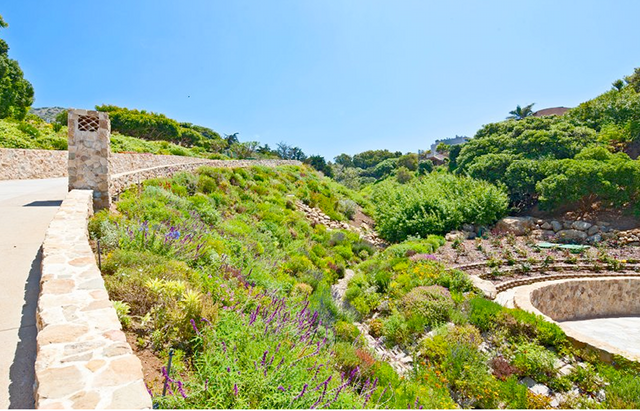 Perfect landscape by the beach.
Before You Come In
The back of the house.
The Reason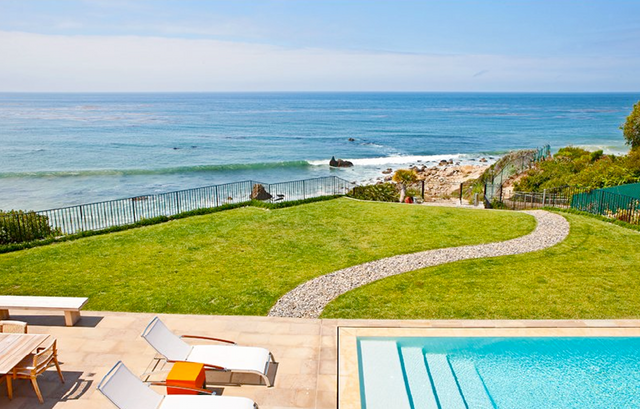 The reason people dream about living by the ocean. Imagine waking up everyday to see this!
Living Room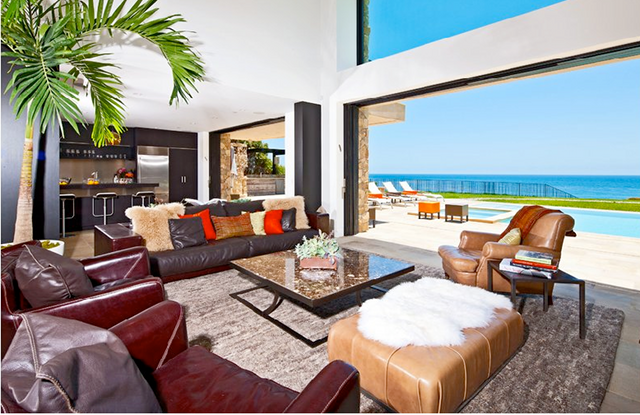 At first I thought the furniture seemed too dark for a beach house, but when you look at the kitchen you'll find the importance of having these hues in the living room. It creates a good flow.
Open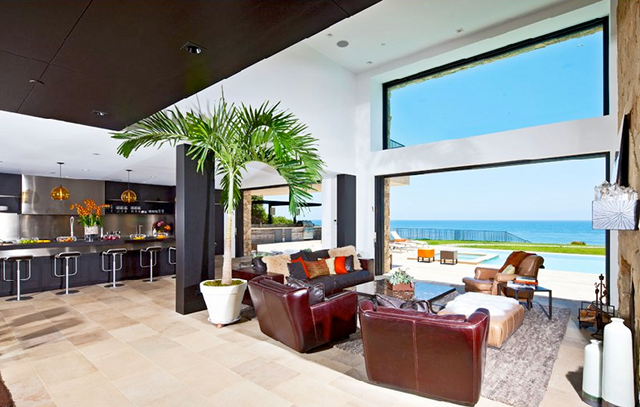 If you have a view like that, you need to have open spaces to the outdoors.
Fireplace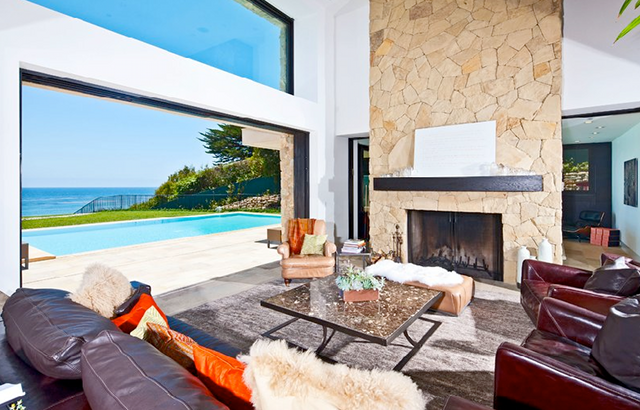 A nice place to be.
The Main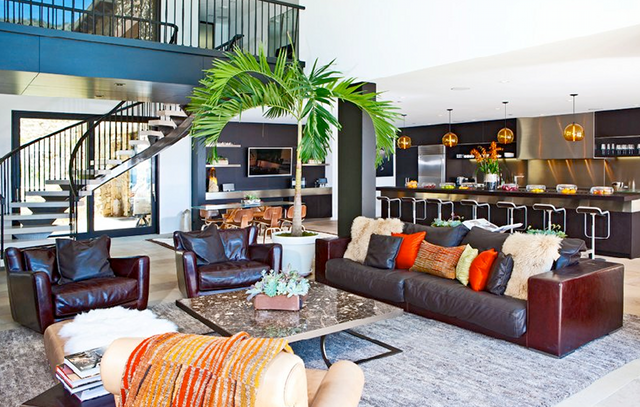 I really like this picture. You have a good feel about the design.
Not a White Kitchen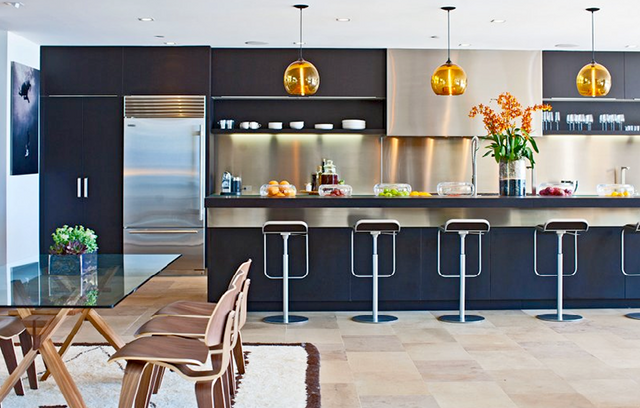 This is a marvelous kitchen.
Eat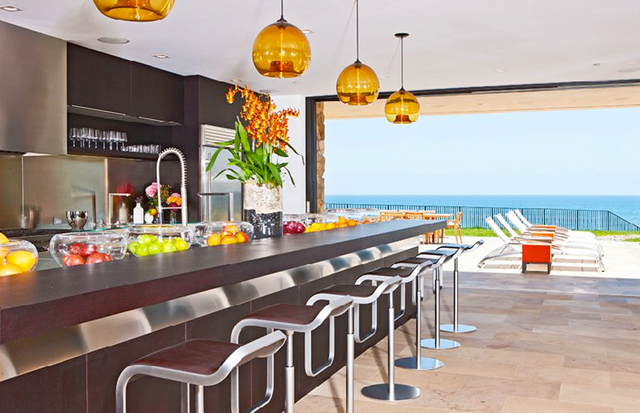 I love the stools, they go perfectly with this kitchen.
Cook & View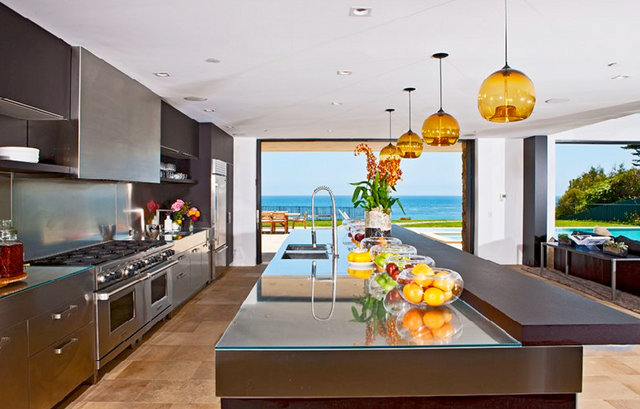 So spacious! Imagine cooking here and looking at that view! I'd keep burning myself!
Fruit Bowls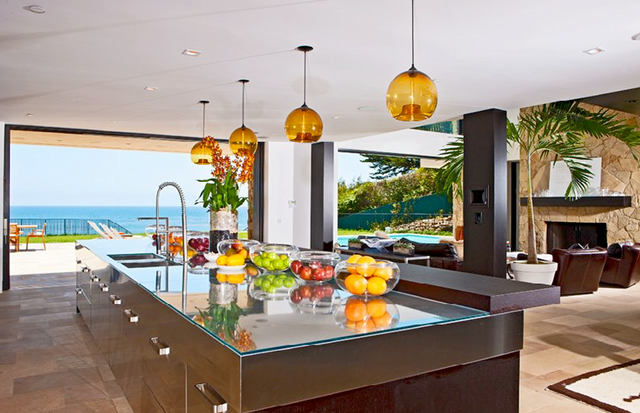 A very easy thing to adopt to any kitchen are these gorgeous, yet simple bowls of different kind of fruits. These really pop in this kitchen, adding beautiful colors.
Closer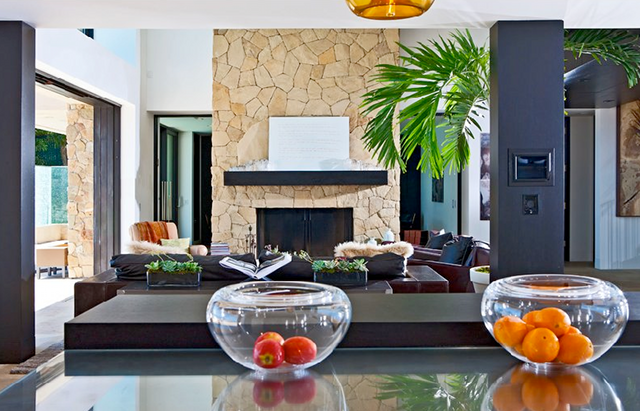 You can use any fruit you like with simple glass bowls. Love this idea!
Flowers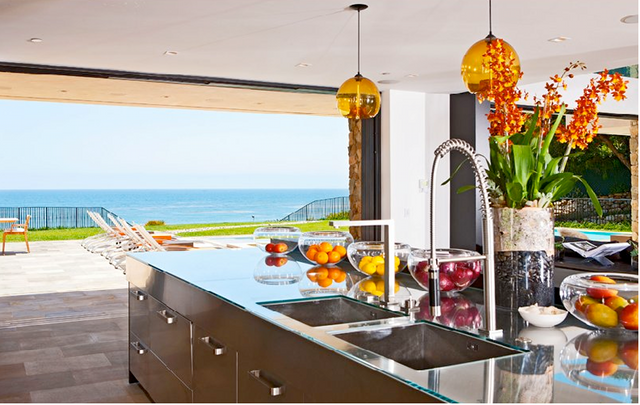 Adding fresh flowers is always a nice touch.
Call All the Chefs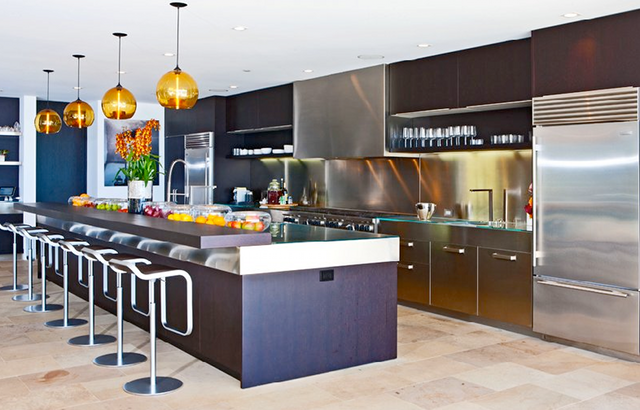 It's a large kitchen. I usually like more traditional kitchens, but this one really got my attention. I simply love it!
Eating Area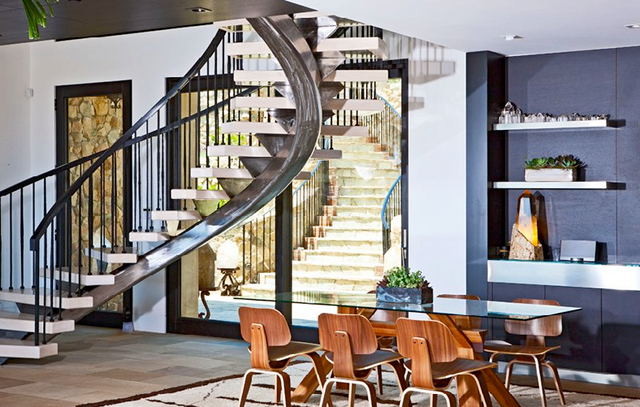 Great table and gorgeous chairs.
Sculpture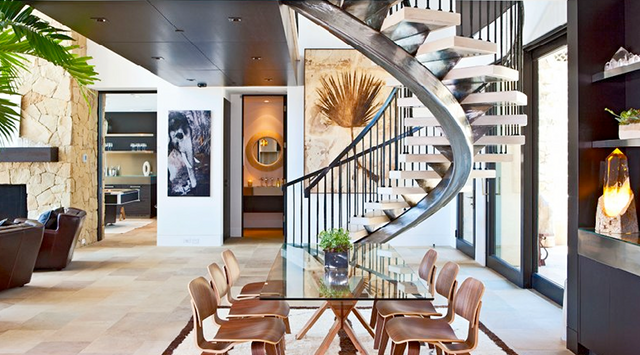 The staircase looks almost like a sculpture here.
Games Room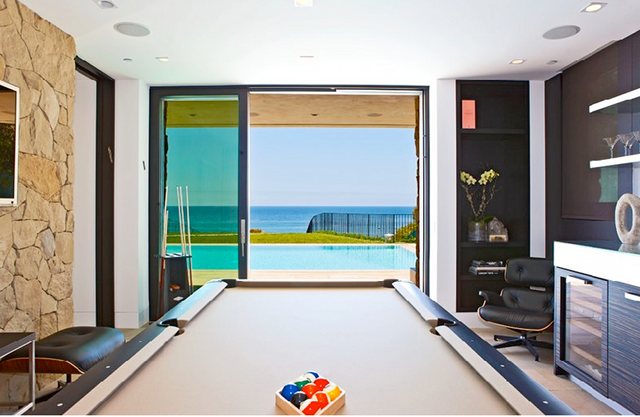 Playing with that view would be even more fun, huh?
Staircase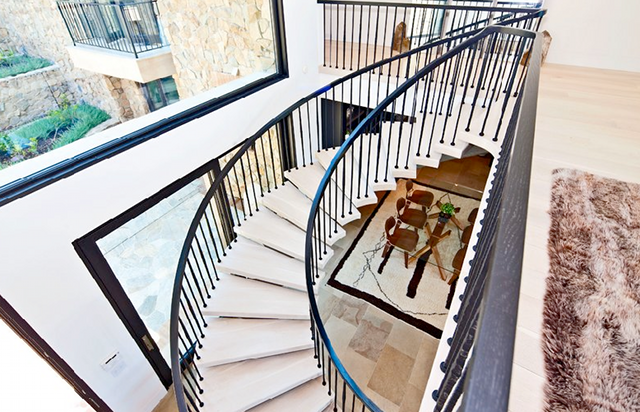 Gorgeous architectural details!
The Bridge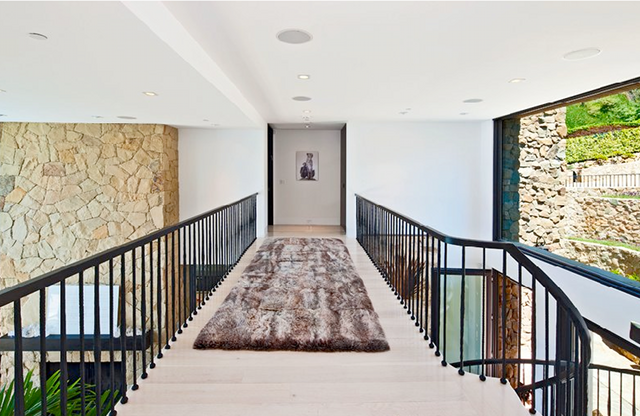 Truly stunning.
Master Bedroom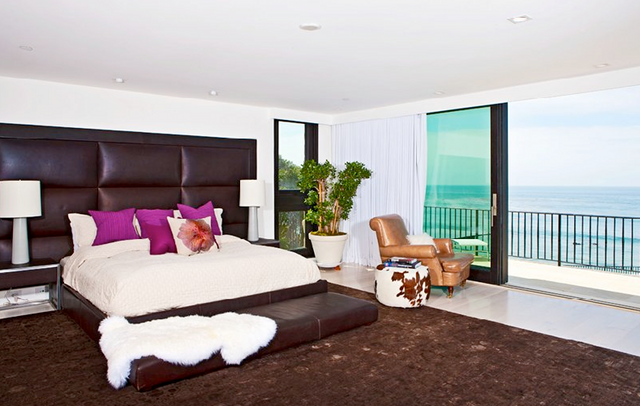 I like this bedroom, but I can't say I like the brown rug. It's just too dark for this bedroom, especially with a view like that. Lighter is better.
Bed & Pilows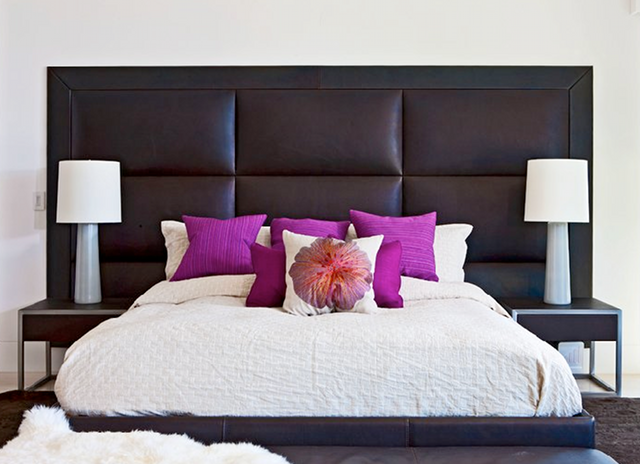 This bed is pretty and I can't imagine it without those pillows. Aren't they great? It diminishes the masculinity of this bedroom.
Other View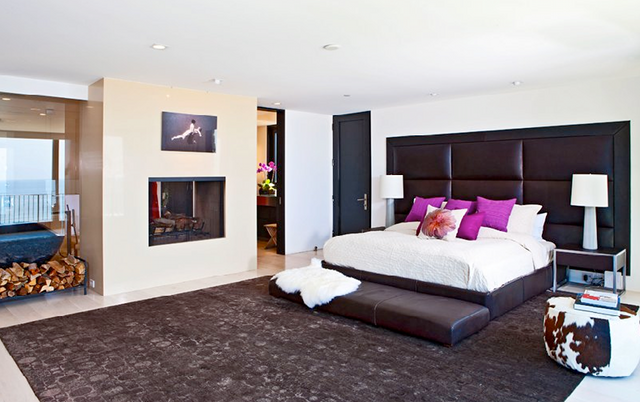 Fireplace in a bedroom is always an added bonus.
Master Bathroom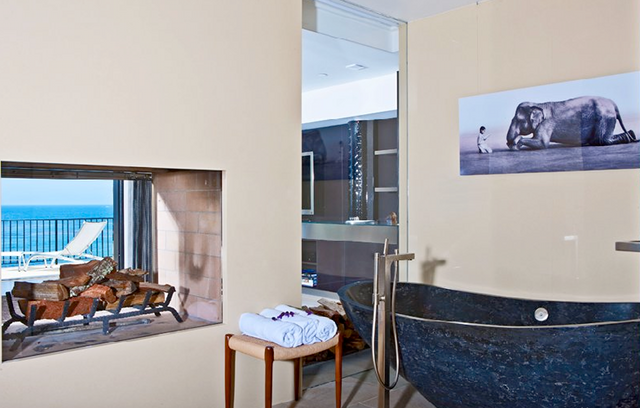 That tub! Yes, that tub! Amazing!
Luxe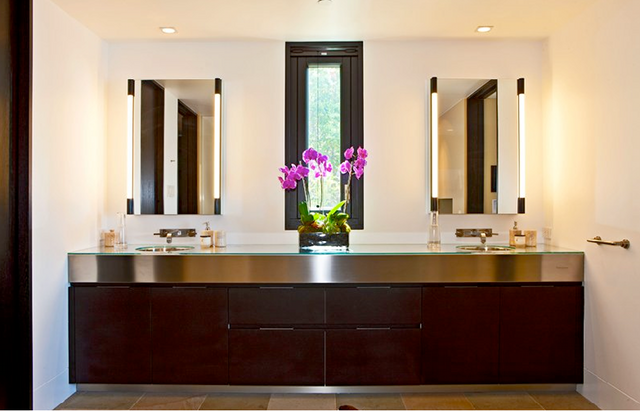 It feels really sleek and luxurious at the same time.
Flow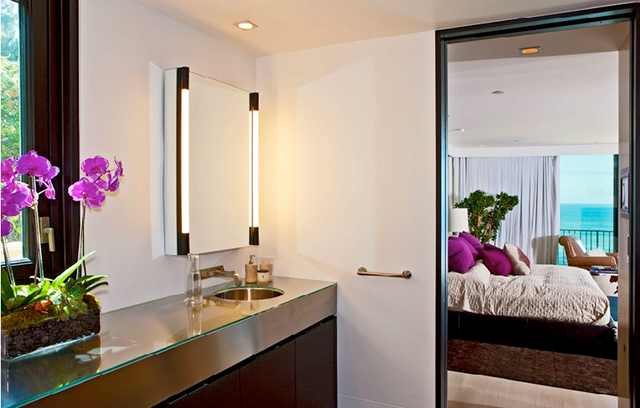 This is truly a beautiful place.
Your View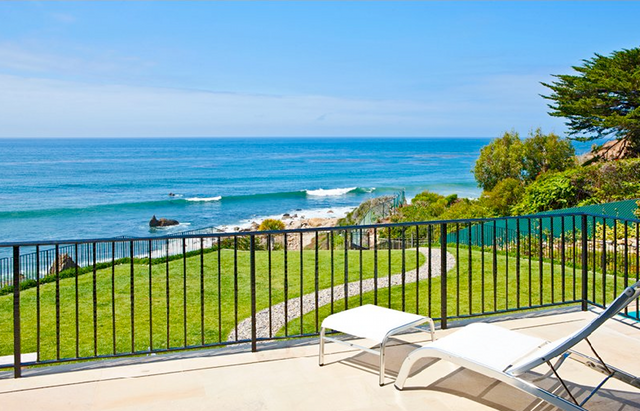 If this was my house, you'd often find me here, listening to the waves.
Guest bedroom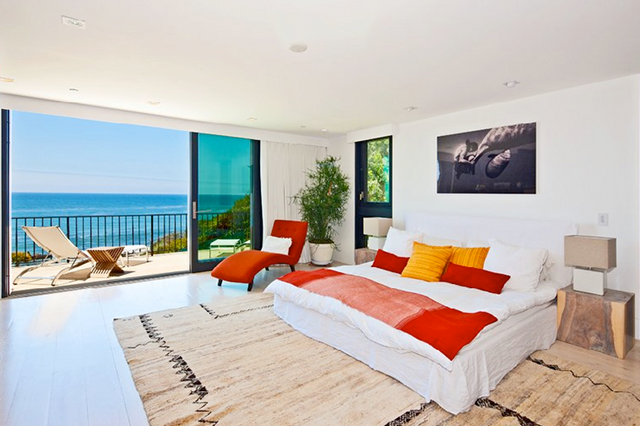 Fun colors here.
Guest Bathroom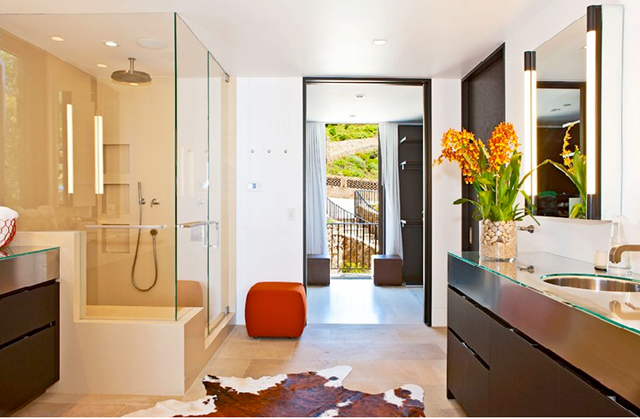 It feels really open. Cowhide looks great in a bathroom, but I'm not sure if it belongs there.
Balcony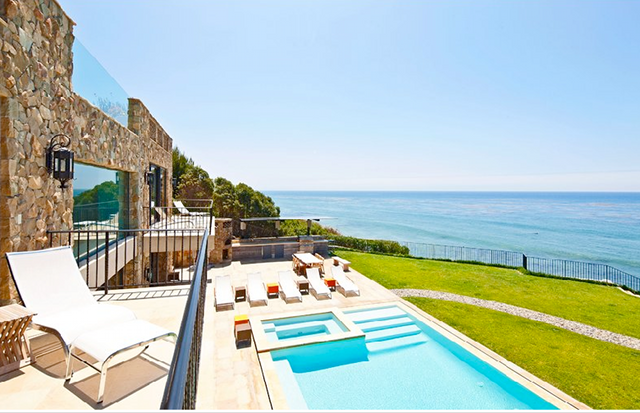 It wouldn't be bad to be a guest in this house, eh?
By the Sun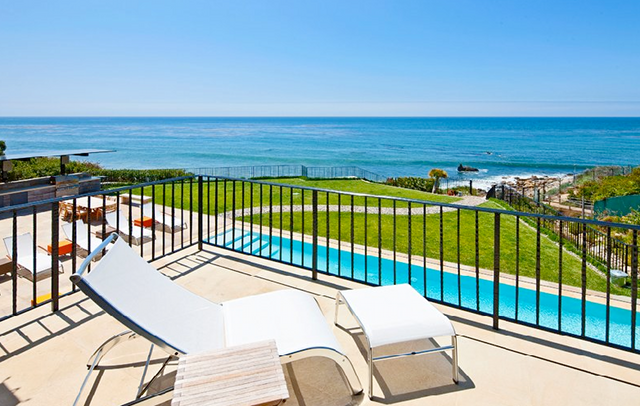 Just bring me a smoothie, please.
Rooftop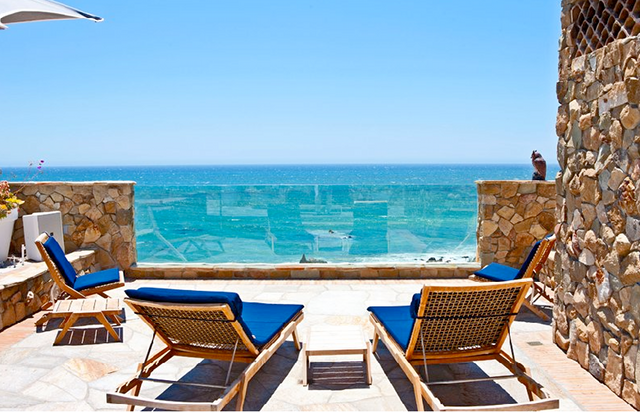 This is another amazing place! Wow!
Summer
Can imagine spending your summers here?
Friends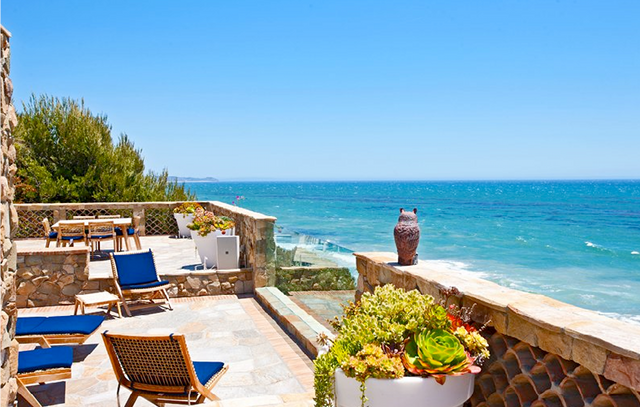 Long conversation spot.
Nights By The Fire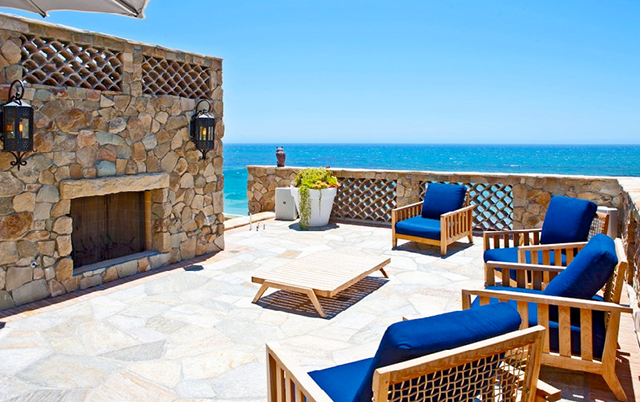 This spot is gorgeous during the day and I can just imagine it during the night, with the stars…
Just Us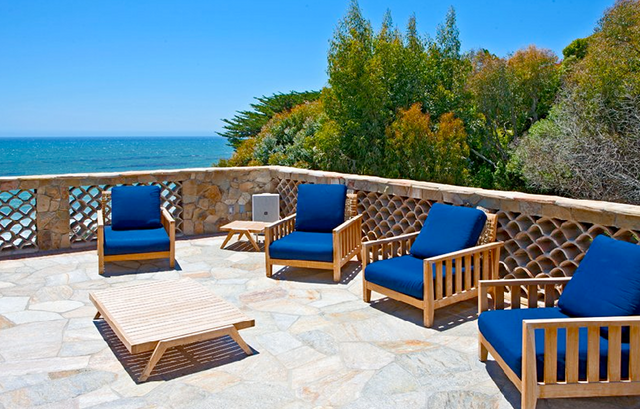 Very private.
Let's Eat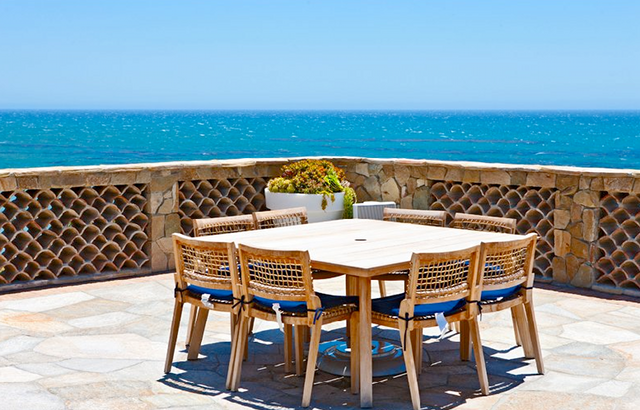 This reminds me so much of Italy.
Beauty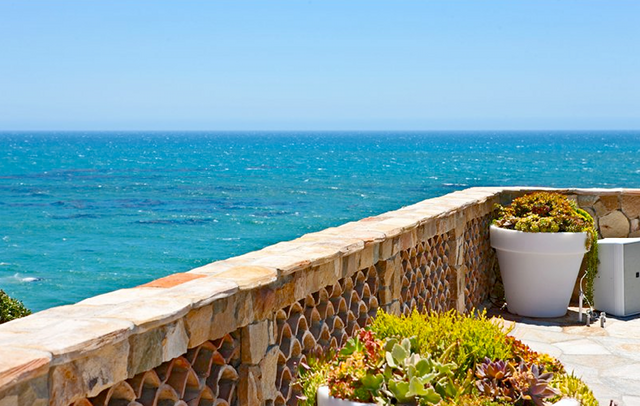 Surreal.
The Beach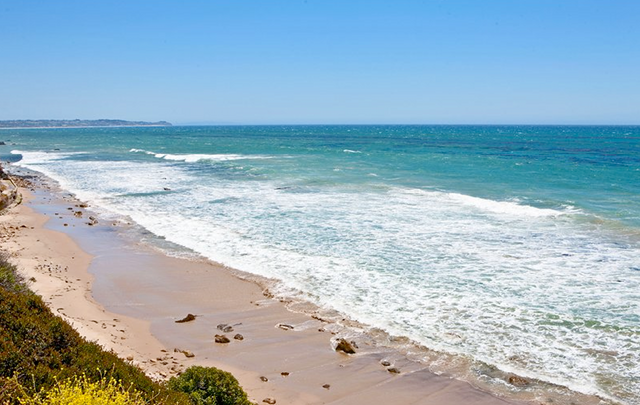 I'd be here. Any time, any day.
Pool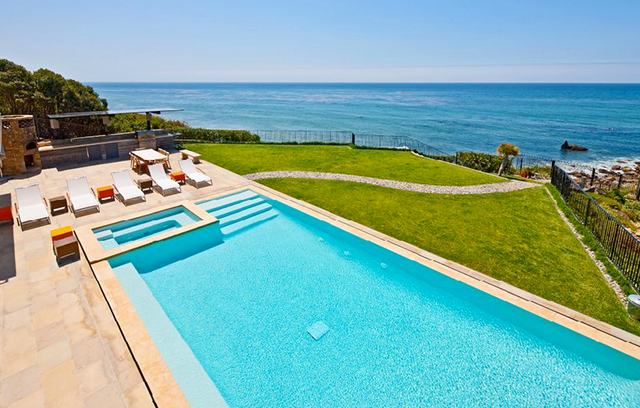 This pool wouldn't be a bad idea either!
House Of Dreams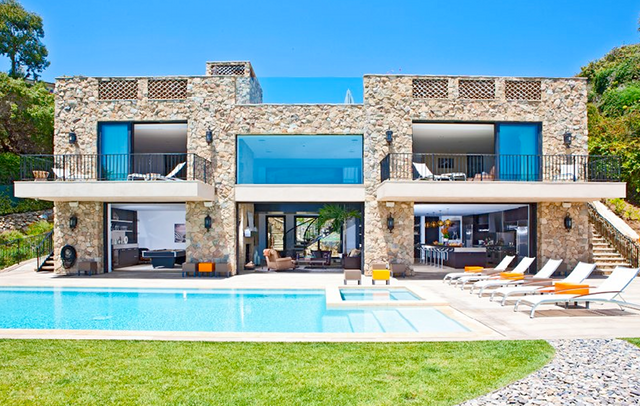 Unique stone exterior.
Sun Kissed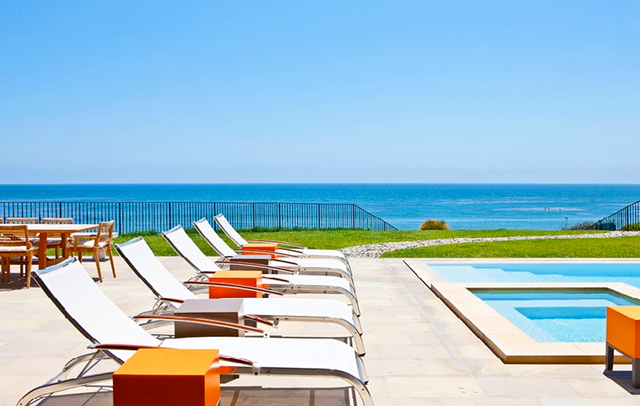 I can't stand being in the sun for too long, but I'd definitely spend some fun time here.
Sunny Day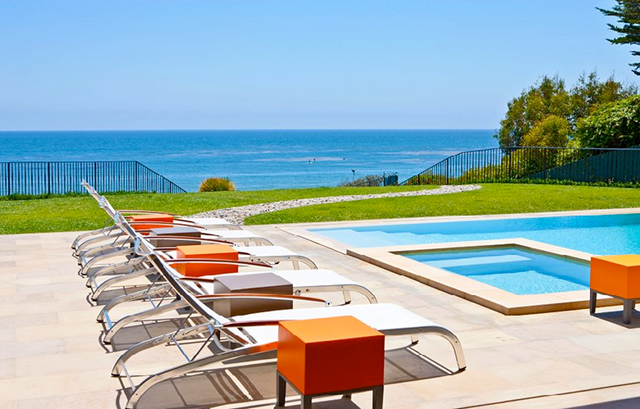 I adore the outdoor furniture of this house.
Splash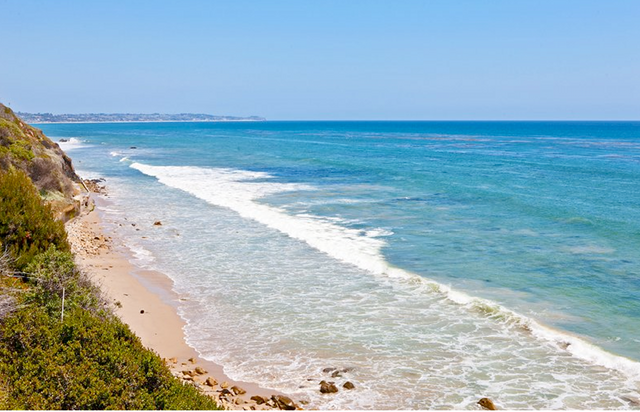 The house is unbelievable, but what really impresses me is the ocean and the dream to live by it.
Did you have fun with this one? If you're asking how much they're trying to sell this house for, the price is $26 million. Hard to imagine all that money, but I don't post houses like this for what they cost, but for how impressive and inspiring they can be. Besides, it's always nice to dream, right?
Source: Chris Cortazzo.
BABY NEWS! Now, I know this is not related to this post. But many of you know that I was supposed to find out yesterday if I'm expecting a Boy or a Girl, right? We had suspense from our doctor. The hospital wouldn't send the report to his office until the very last minute, but we finally found out we're expecting a….
BABY BOY!!!!
I had a strong feeling it would be a boy and I really wanted my baby to be a boy, so I honestly couldn't be happier! And I wanted to share this happiness with you all. Just, please, pray to everything to go perfectly with the baby and my pregnancy.

Thank you so much for your support and love.
Wishing you a sunny day!
xo
Luciane at HomeBunch.com
I Can Help You with Interior Design: HB's Design Service.
Come Follow me on Twitter: Twitter/HomeBunch