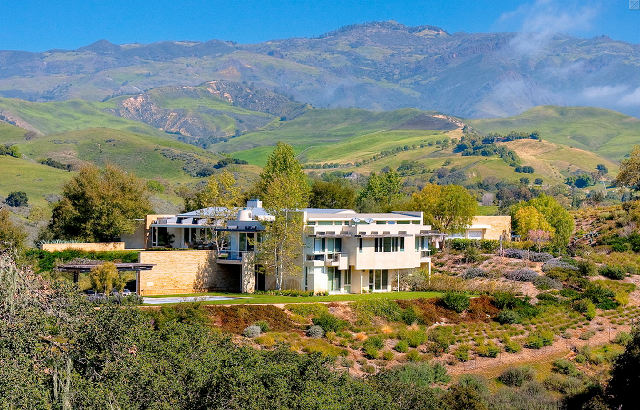 Have you ever dreamed about living on an acreage? What about on 116 acres surrounded by California mountains? Sounds pretty good, right? I was looking at some houses online and I found this one that I immediately wanted to share with all of you.
Santa Ynez is very close to Santa Barbara and only two hours from Los Angeles, which I think is a perfect place to live if you want to be close to L.A. yet worlds away from all the traffic, pollution and all the chaos of a big town. This is pretty much like paradise for those that are looking for quietness.
The current owners commissioned Michael Palladino, senior partner and design architect in Richard Meier's Los Angeles office, to create a contemporary home in keeping with the materials, colors and context of the natural landscape. The result is a sophisticated house grounded in the western architectural vernacular that exemplifies modernist principles of form following function. It achieves the ideal of architecture that is comfortable to live in and architecture as art. The two-year building process required unusual precision and workmanship from both contractor and crew.
This house has 6 bedrooms, 6 bathrooms, formal living, dining and family rooms, a private sitting room, office and even an exercise room, all come with amazing views. What impressed me the most about this house was the custom designed curved ceiling in the living, dining and family rooms. It's shaped like a wave and measures 14 feet at its highest point ending in clear story windows.
Take a look and let me know if you like this one.
Driveway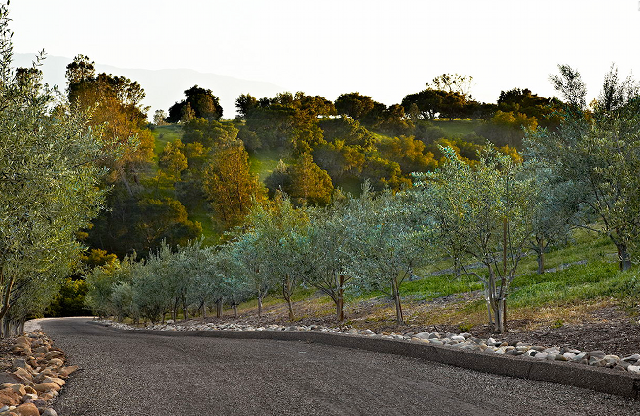 Enchanting…
The Pathway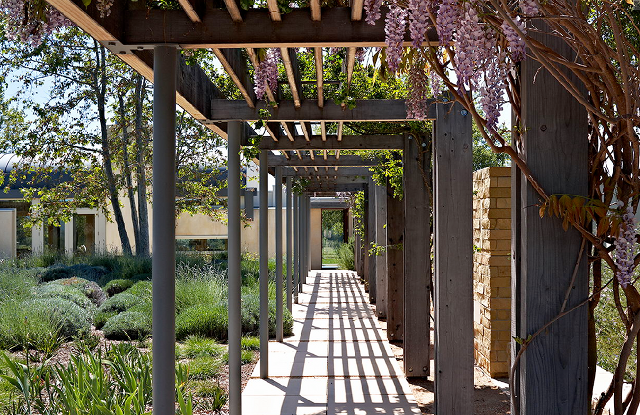 Gorgeous plants surrounding the property.
Door
The house has a contemporary and natural feel.
Living Room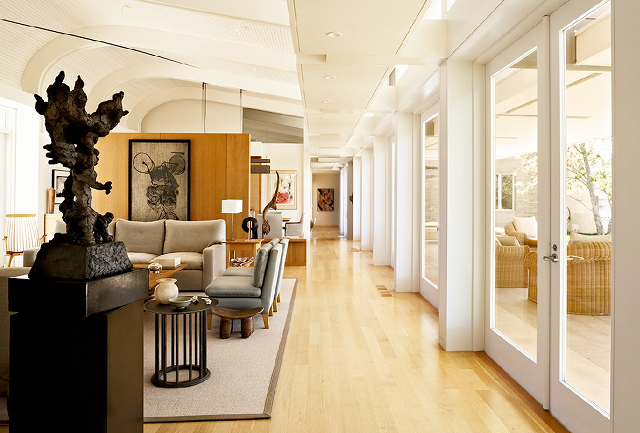 Very open and notice the "wave" ceiling. Beautiful and unique architectural detail.
The Furniture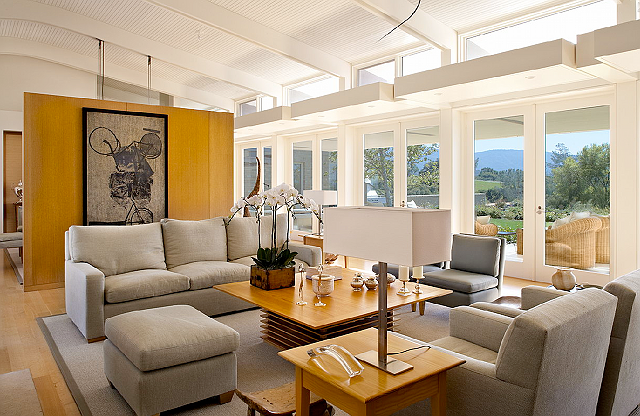 The furniture is sleek yet comfortable. Check out the views!
The Other Side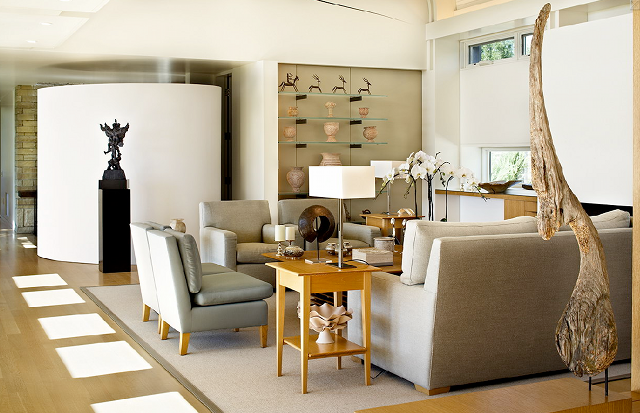 I love the shape of this room and how light it feels.
Waved Dining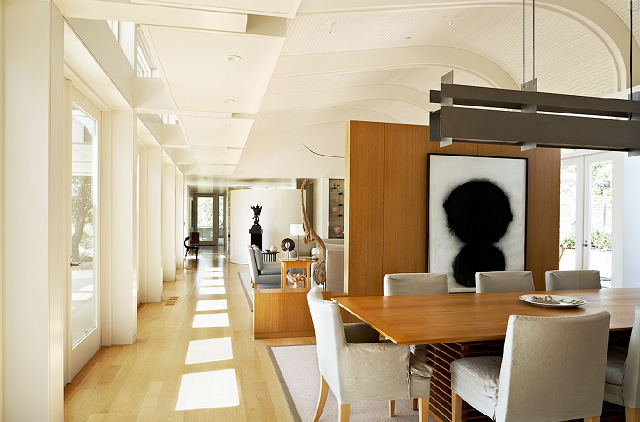 The dining room flows perfectly with the rest of the room. Everything was meticulously designed.
Dining Room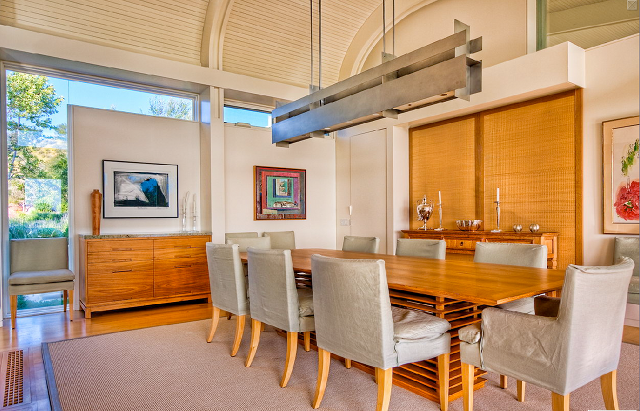 Even though I always prefer a more traditional house, I must say that I'm amazed with the beauty of this house and all the architectural details found in every room. Very original light fixture.
Family Room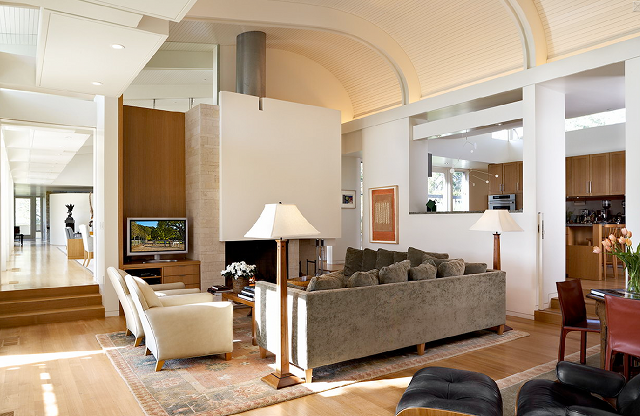 The waves continues here! I also like the fireplace.
Open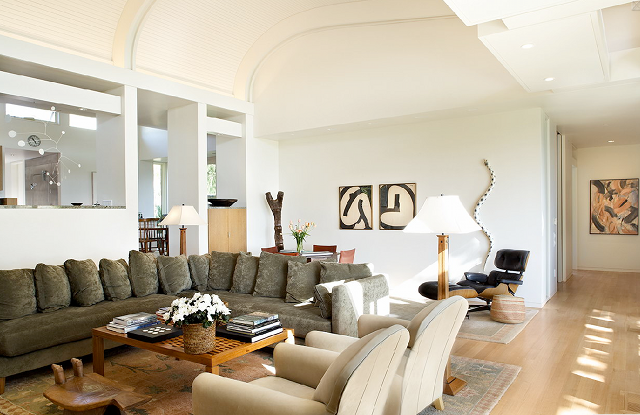 All the rooms are very spacious. Notice the artwork around this house. They're beautiful!
Kitchen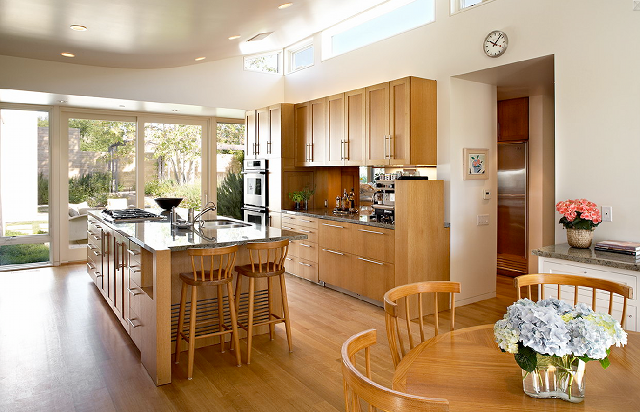 I think this modern kitchen looks great with this honey toned wood.
Windows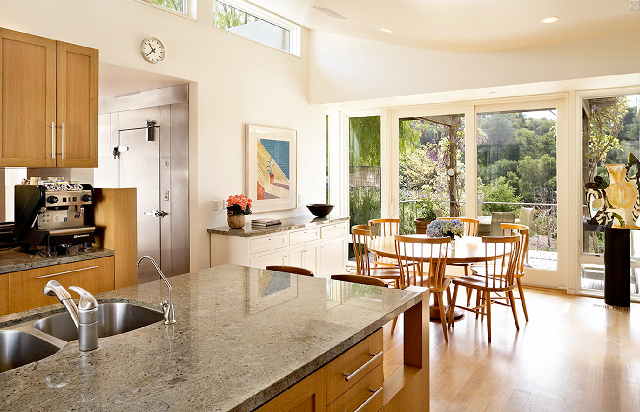 If you look at the picture above, you'll notice that there's doors on both sides of this kitchen. Imagine opening the doors on a warm day and letting the breeze come in. Also, notice the walk in commercial grade refrigerator in the hallway. Isn't it cool?
Sitting Room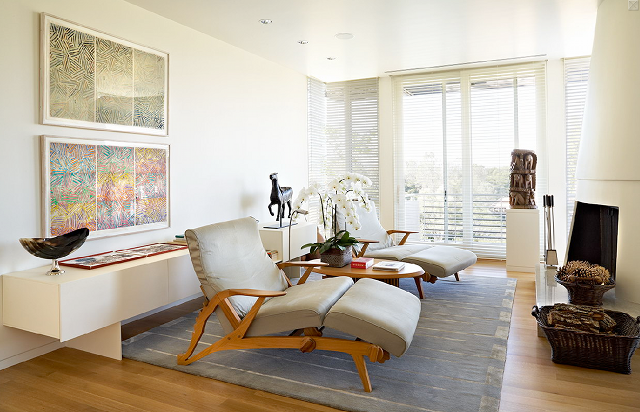 Comfy and quite. Perfect spot to read a book by the fire.
Staircase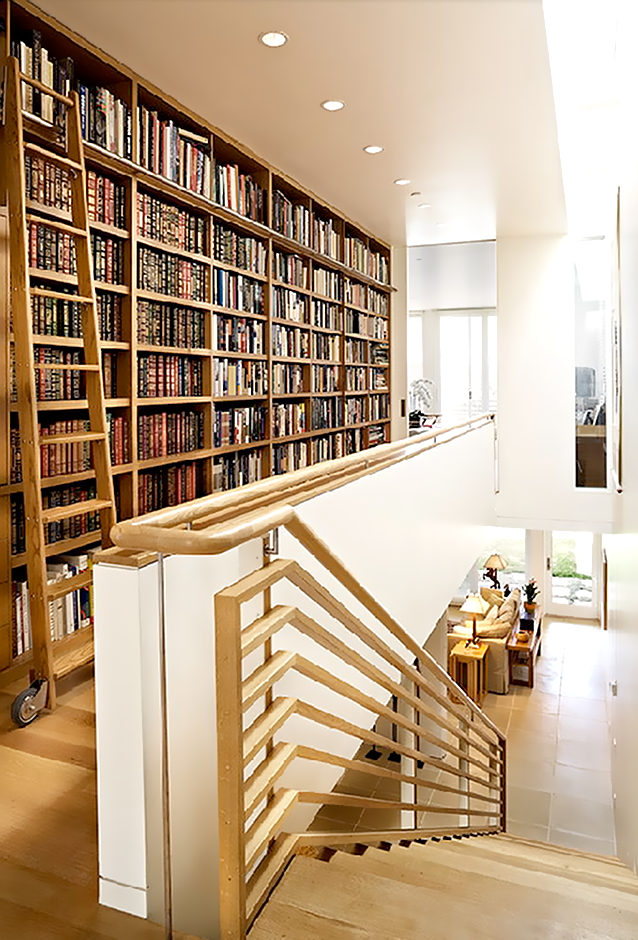 This is totally inspirational to me.
Hers Master Bedroom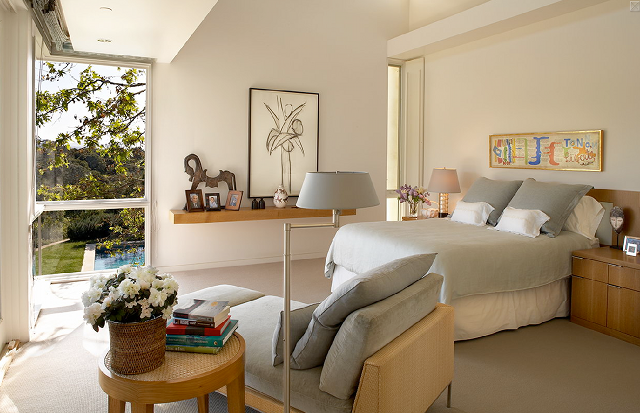 This house has Hers and His Master Bedrooms. Perfect if one of you snores! 🙂
His Master Bedroom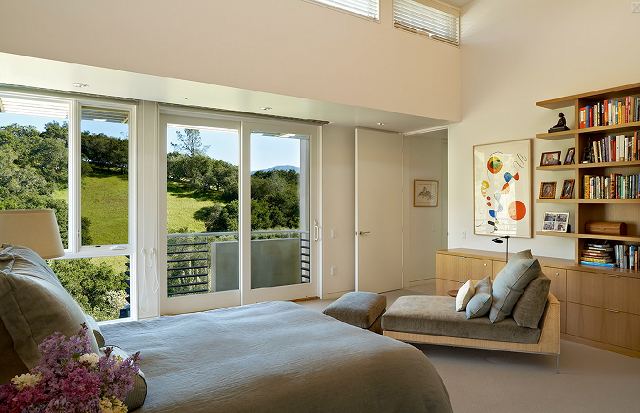 Love the built-ins and the amazing views!
Master Bathroom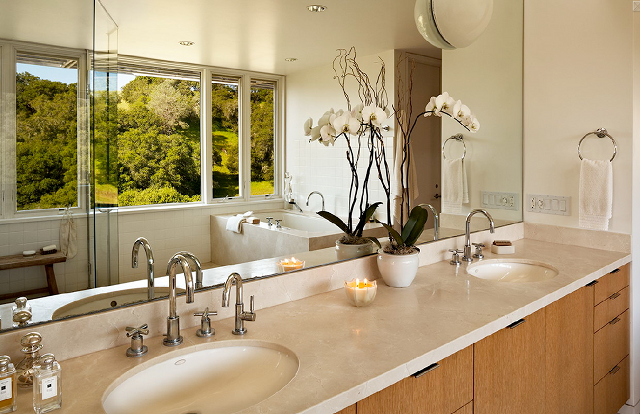 Shared master bathroom.
Guest Bedroom
Beautiful!
Light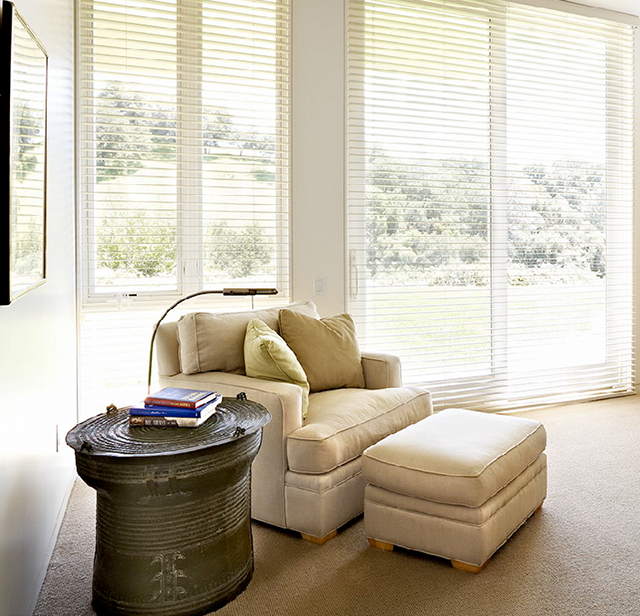 I love this little corner with a comfortable chair and this super fun side table.
Office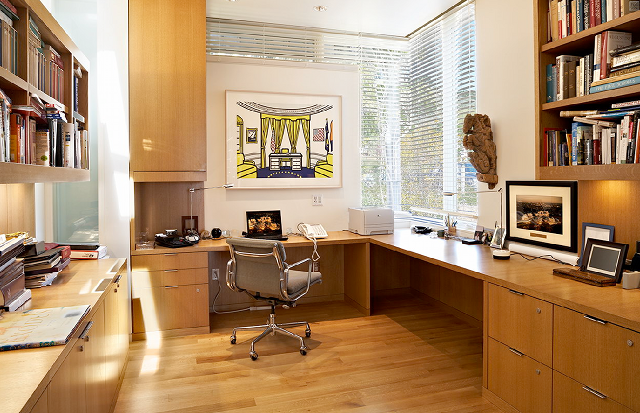 So much space and no excuse to not be organize with all these built-ins, huh?I'd love that!
TV Room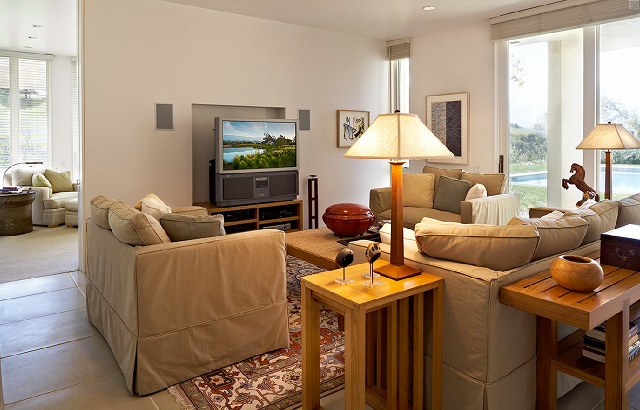 A cozy part of the house.
Outdoors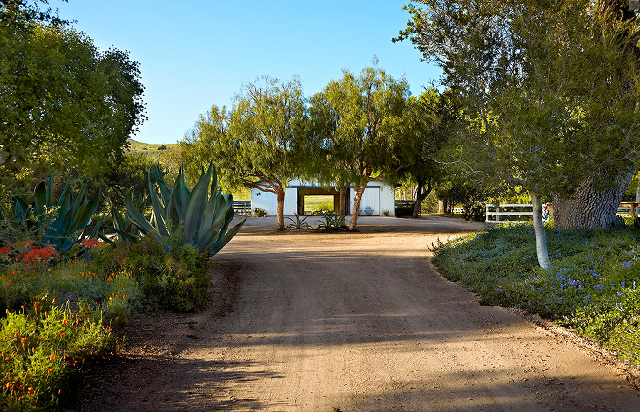 If you had any doubts about the interiors, be prepared to fall in love with the grounds!
Paradise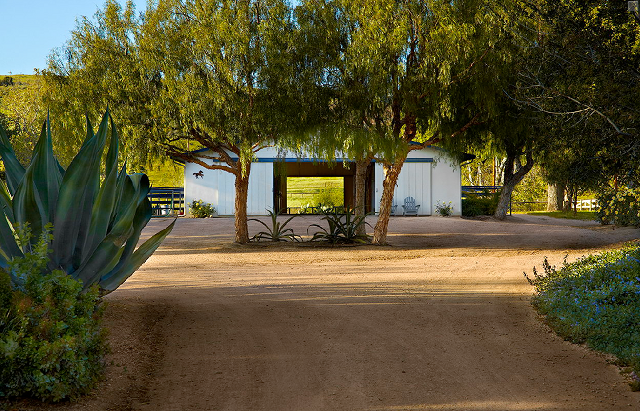 Love horses? This is the perfect place to have some, too!
Riding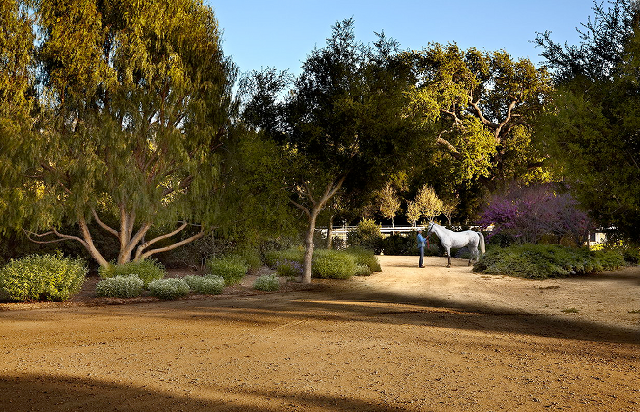 This is simply surreal.
Beauty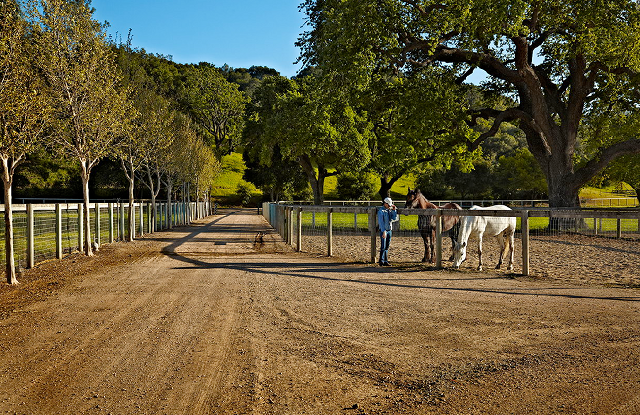 Beautiful riding area.
Picinic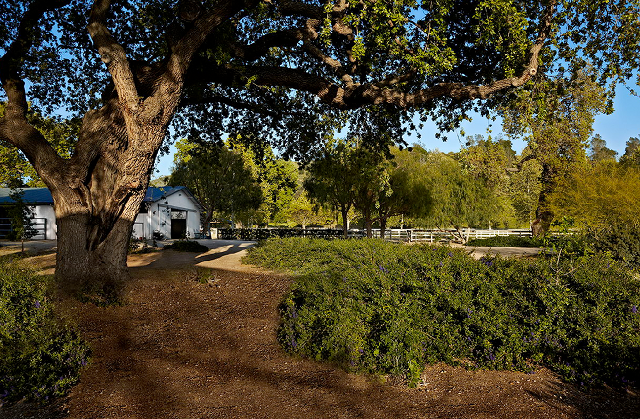 Imagine having a picnic under this tree.
Pool
Doesn't it feel inviting?
I can't wait to hear what you think of this house. Did you like the interiors? What about the grounds?
Source: SB Photo tours.
I hope you had fun and enjoyed seeing this place. I surely enjoyed preparing this post for you, although my kids were running around the house and wouldn't stop tickling each other! 🙂
Have a blessed week, my dear friends, and I hope I'll see you here everyday.
xo
Luciane at HomeBunch.com
I Can Help You with Interior Design: HB's Design Service.
Come Follow me on Twitter: Twitter/HomeBunch