If you love beach houses and if you love blue, this post is for you! I can say I love both. I live on a river, just a block from the beach and even though we're so close and drive by the sea every time we get out of the house, I still wish I could see the waves from my entire house. There's something so special to have sand just outside your door, hearing the ocean breeze and the waves crashing. This house has that!
Overall, this house seems like a place where anyone can feel relaxed because it's not overdone. Just like a beach house should be.
Living Room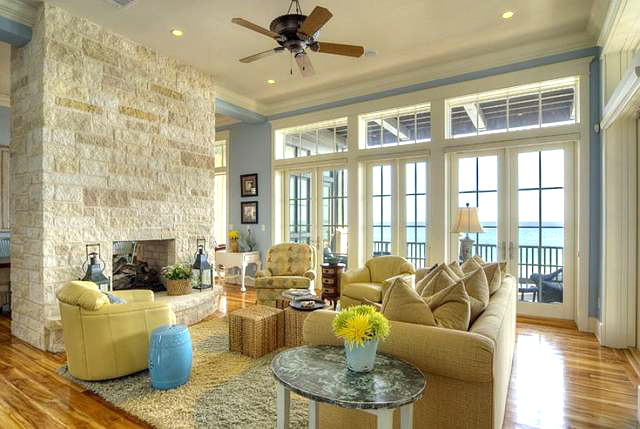 The living room is pretty but not too "stuffy". I think that's essential in a beach house. Notice the views!
Fans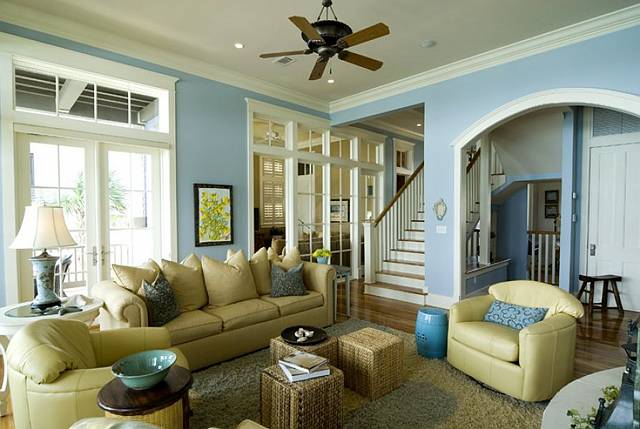 I don't think fans should be used in formal rooms, but I can make an exception when the house is located on the beach.
Fireplace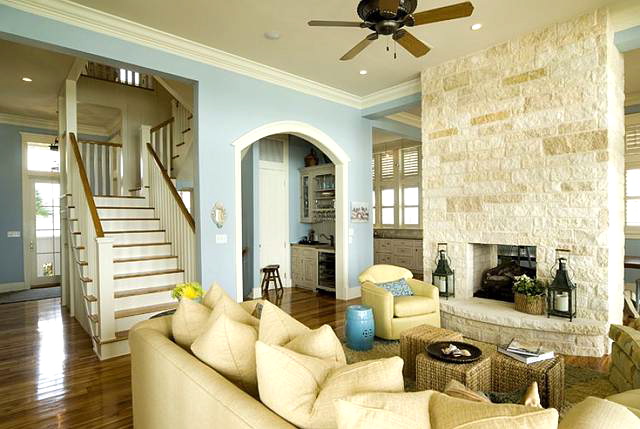 The fireplace makes a big (literally) statement in this room and also divides the living room and dining room.
Breeze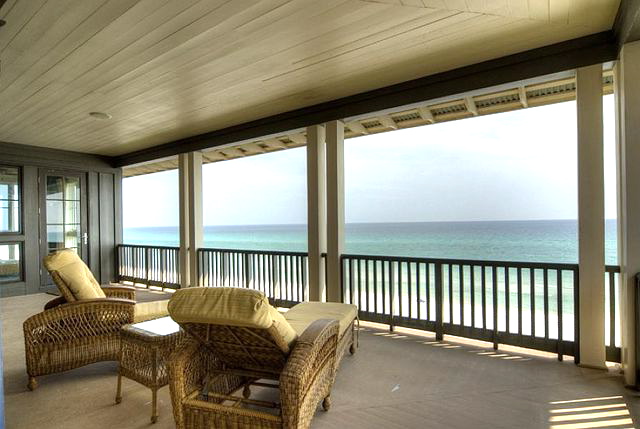 This is what you see just outside the living room and this is where you'd find me if this was my house.
Dining Room
I simply adore this! It's has a great cottage-y vibe. The chandelier is beautiful, but it could be bigger and just a little bit lower.
Kitchen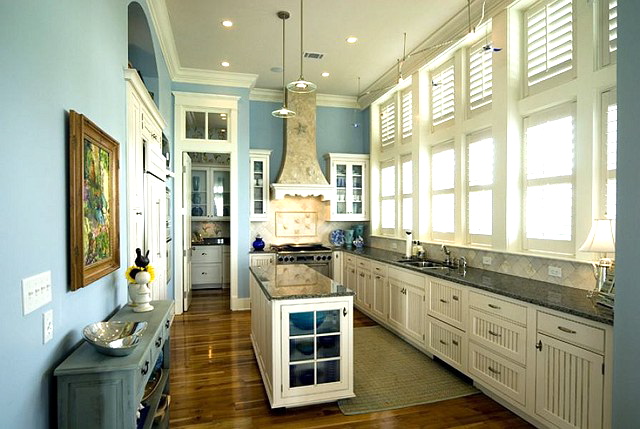 I really like this kitchen. The whole house is built with teak floors and they show beautifully in this space. I also love the many windows and the high ceiling.
Open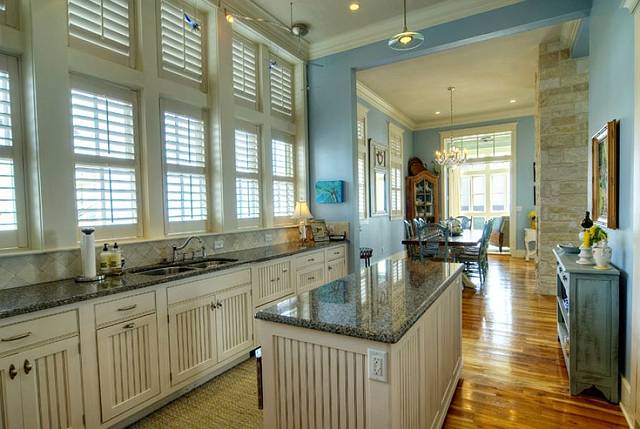 This kitchen has a great flow to the dining area.
Blues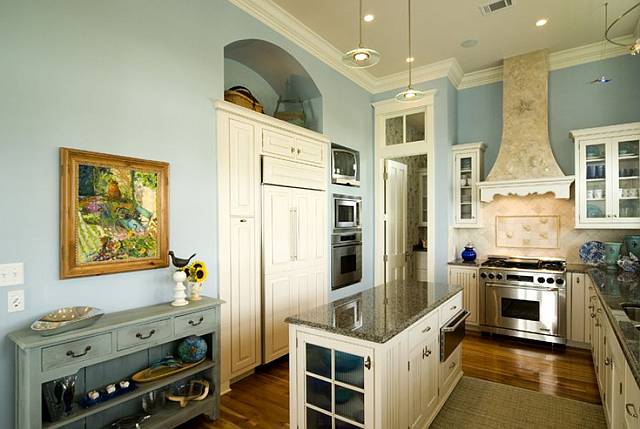 A blue kitchen is always calming and refreshing.
Master Bedroom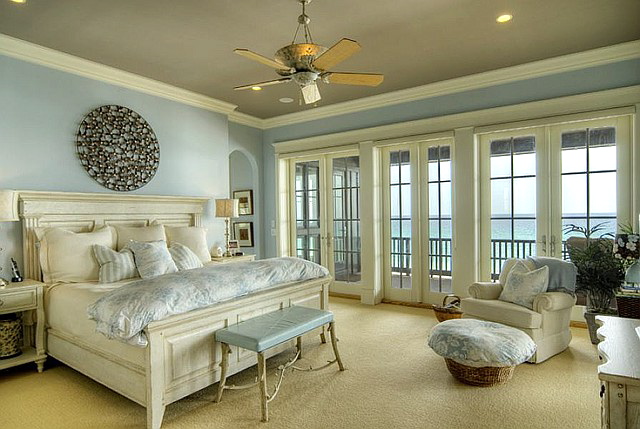 It's impossible to not love this master bedroom. Even if the interiors aren't for you, take a look at that view!
Horizon
And this is where you can go from the master bedroom. So nice!
Sweet Guests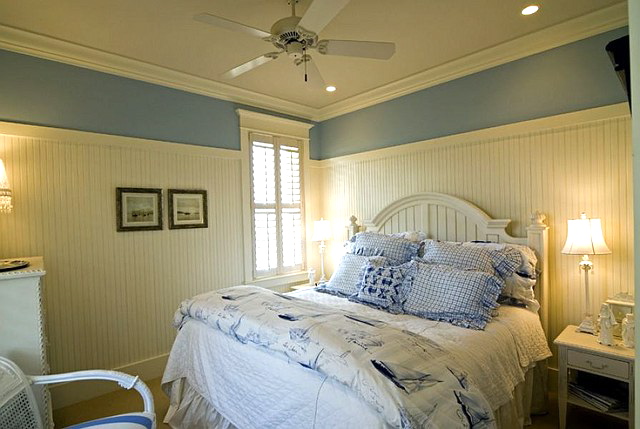 This guest bedroom is truly welcoming.
Family Room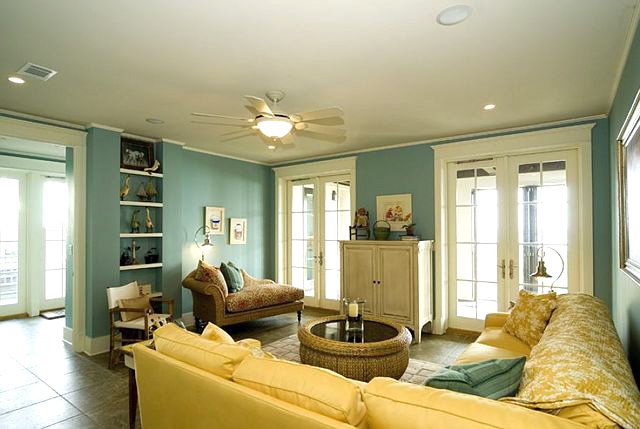 This basement family room has direct access to the beach and tile floors are a great way to handle the sand. I love the decor.
Source: Destin Properties.
What are your thoughts on this house? Do you think it has reached its potential? Does it make you feel relaxed with all the blues on the walls and the views? Leave me a comment telling me what you think of this one. I always love to hear from each and every one of you.
Today I'll be baking. It always relaxes me and I usually try to do it with my kids. Last week I made some cornbread for the first time and everybody loved around here, including my husband. I made it again a few days later and the cutest and sweetest thing was seeing him jump in the kitchen when he woke up and saw there was freshly baked cornbread on the counter. He thanked me and came to give me a hug. That made my day!
It's interesting, but for me, simple moments like these make my life feel fulfilled. There's not such a thing of a "perfect" life, but when we take the best parts of each day, we definitely can "write" a beautiful story.
Write a beautiful story today!
xo
Luciane at HomeBunch.com
Hot Summer Prices! Get My Help with Interior Design: HB's Design Service.
Come Follow me on Twitter: Twitter/HomeBunch