Posted in:
Architecture
,
Beautiful Homes
,
Beautiful House
,
Bedroom Design
,
Classic Design
,
Coastal Decor
,
Coastal Homes
,
Coastal Interiors
,
Cottage
,
Dining Room Design
,
Gardens
,
Guest Posts
,
Home Decor
,
Interior Design Blog
,
Interior Design Ideas
,
Kitchen Design
,
Living Room Design
,
Paint Color
,
Patio Ideas

3 comments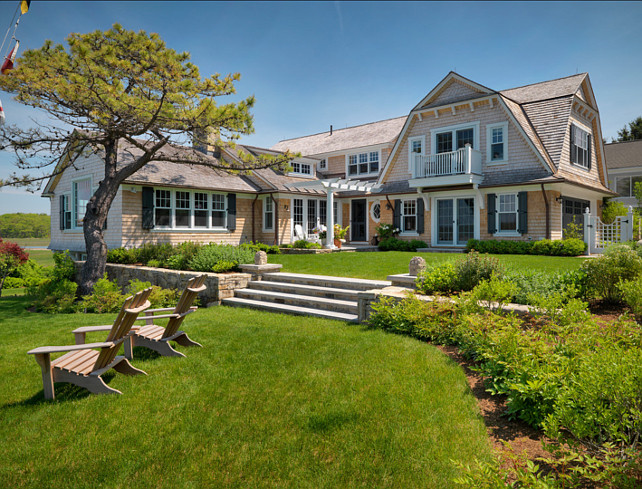 Located in Maine, this coastal cottage seems like it was designed for happiness.
With beautiful ocean views and miles of white sandy beach, you know this is a special place the moment you lay your eyes on it. The interiors, designed by Anthony Catalfano Interiors Inc., were decorated with care and causality, yet maintaining an elegant approach. Warm neutral hues act as a canvas for coastal-inspired colors, making this home feel relaxing and radiant at the same time.
Let's take a little break and escape to a summer vacation! Who's ready?
Maine Coastal Cottage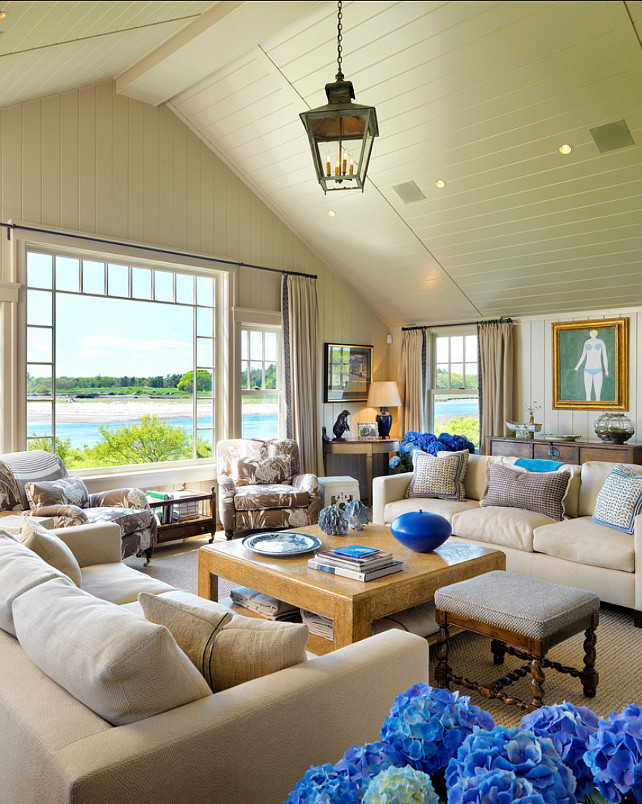 Inspired by the sand and ocean view, this living room was decorated with warm beige and blue accent colors.
Paint Color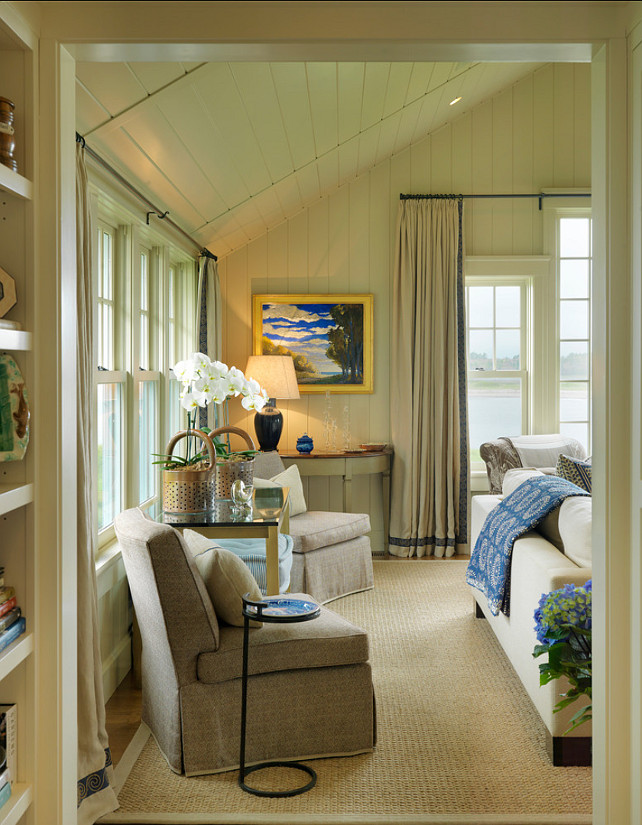 Benjamin Moore Royal Silk  939
Kitchen Design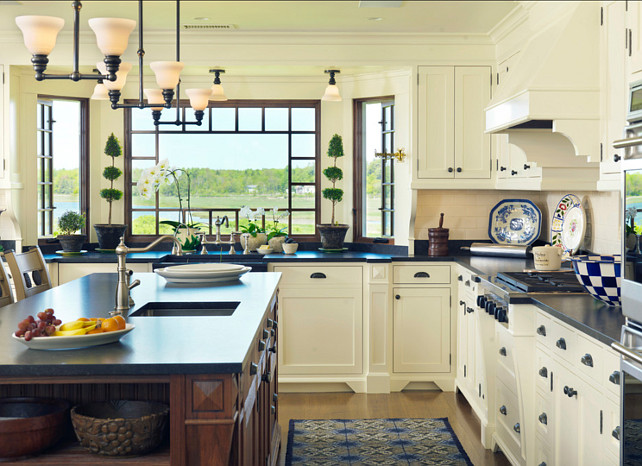 In the kitchen, the ocean view is framed with beautiful windows, while topiaries accents the greenery found outdoors.
With a view like that, I wouldn't mind doing the dishes here!
Benjamin Moore White Paint Color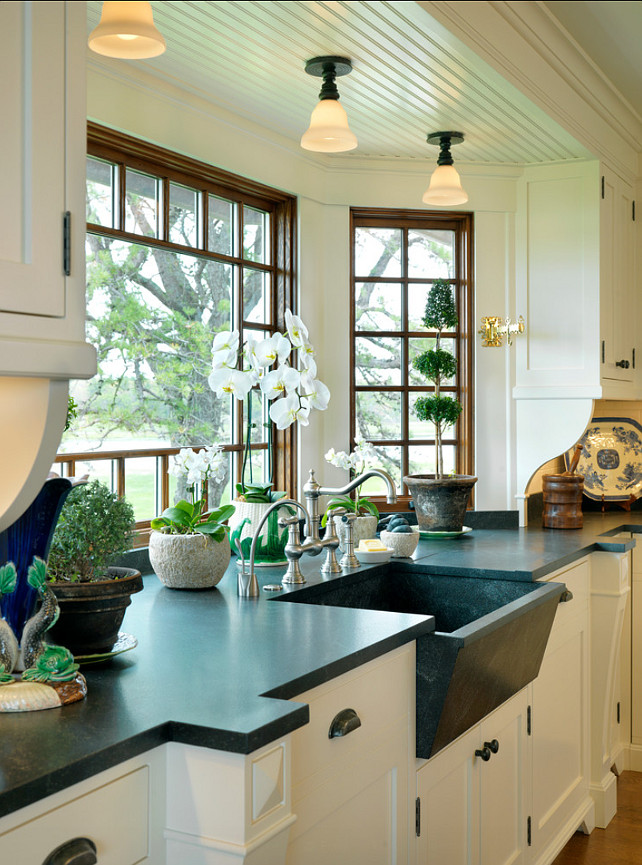 Similar Cabinet Paint Color: Benjamin Moore Swiss Coffee OC-45
Countertop and sink are made of natural honed soapstone.
Dining Room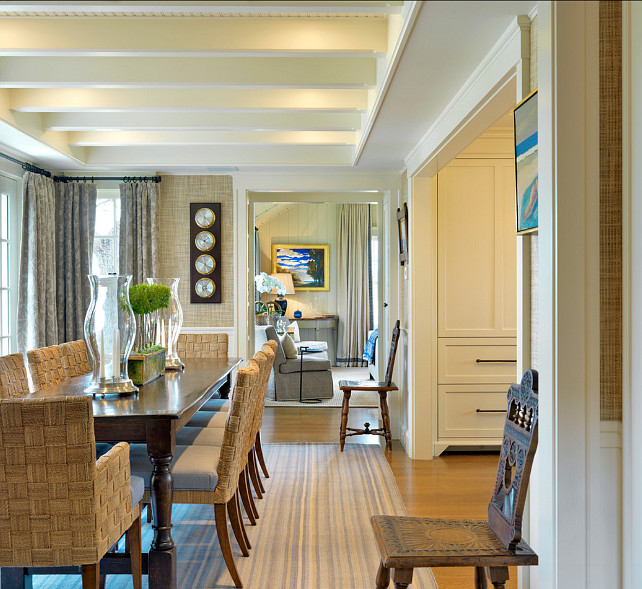 While casual, this dining room feels elegant and full of personality.
Note that the dining room opens to the kitchen.
Grasscloth Wallpaper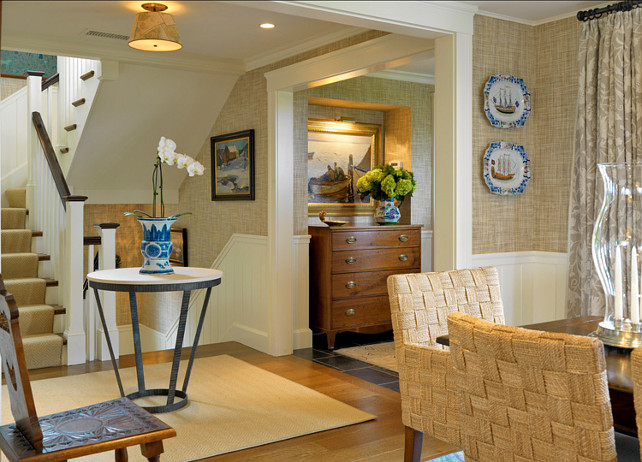 I am loving the texture in this entryway and dining room.
The grasscloth wallpaper is similar to "African Raffia Grasscloth Wallpaper" by Phillip Jeffries. Color: Antibes.
Light Fixture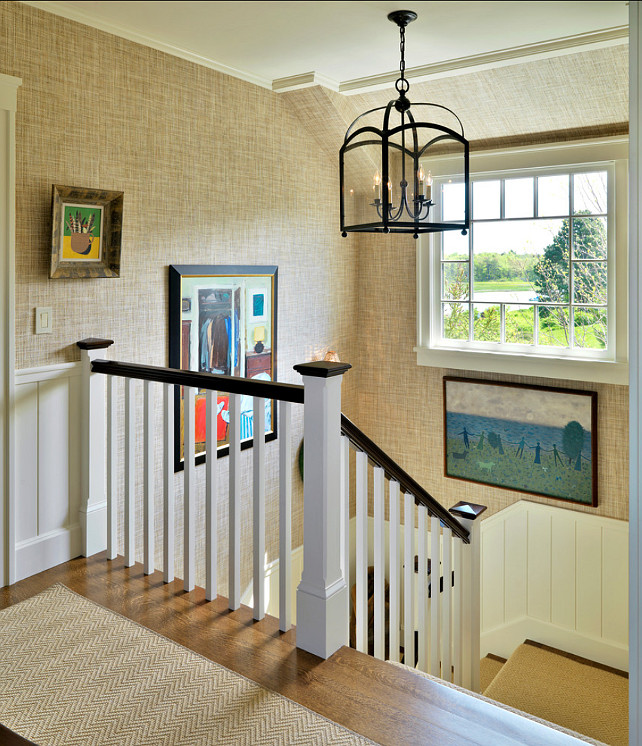 Light fixture is the "E.F. Chapman Arch Top Lantern".
Lounge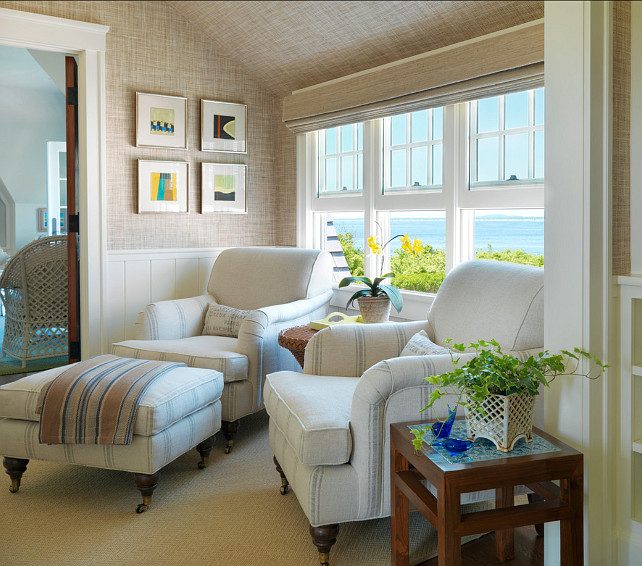 I strongly feel that every home should have a small, cozy space designed especially for reading or relaxing. This landing area is a great example of that.
  Bedroom Design
 You simply don't want to get out of the bed with a bedroom like that!
 Similar Paint Color: Benjamin Moore Cream Fleece  233
Patio Decorating Ideas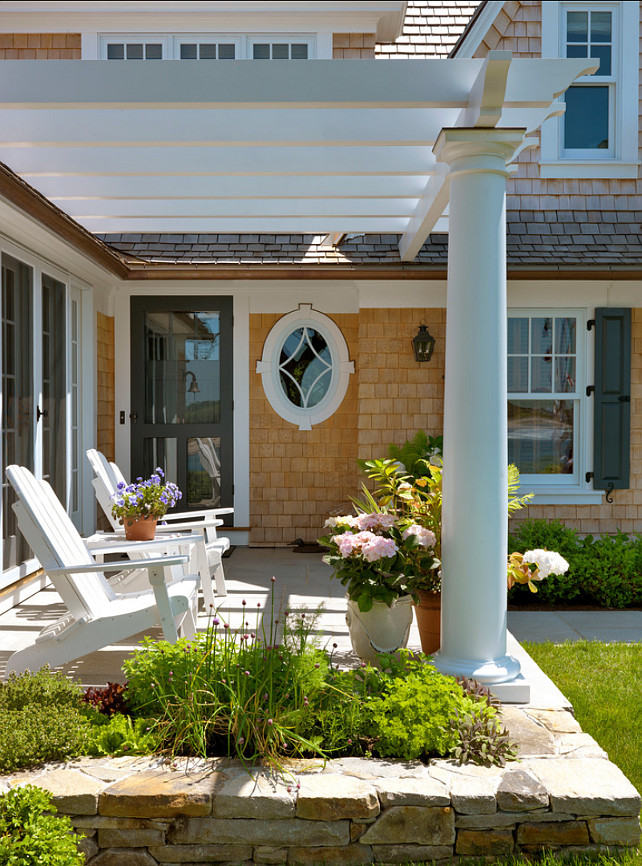 If you feel you don't have a pleasant outdoor space, make it to be one of your goals during this spring. You don't have to break the bank to have a welcoming patio. Shop around and be creative. You can find really good bargains at the end of the season and online.
Spending time outdoors is good for your body and your mind! (Just don't forget the sunscreen!

)
 Maine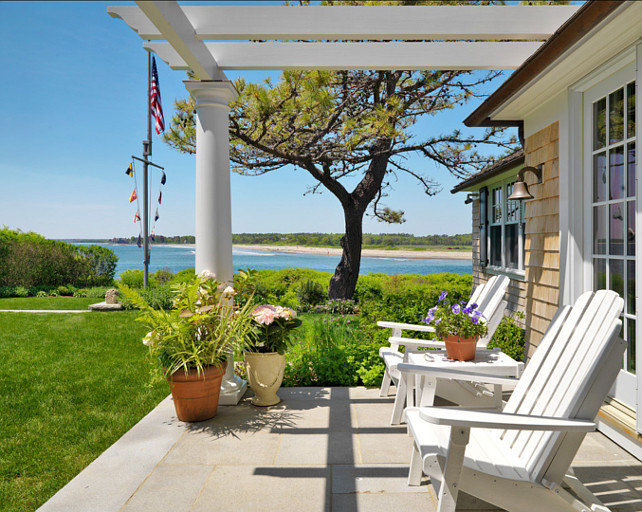 We can almost feel the summer breeze…
See more Inspiring Interior Design Ideas in my

Archives. 
Interior Design Ideas:

Paint Color
 How wonderful is to feel the sunshine on your face…. I miss feeling that, but I know it won't take long for Spring to finally reach this part of the world.

I hope you all have a fun day, filled with great moments and laughter!
Just before I go, let me share this with you… One thing I am doing lately with my toddler is dancing "Happy" by Pharrell Williams. We play it over an over and we laugh, clap and jump and have lots of fun! It's silly, but we love it! Give it a try!

with Love,

Luciane at HomeBunch.com
Interior Design Services within Your Budget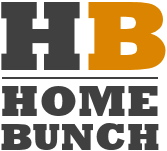 Get Home Bunch Posts Via Email

Sources: Anthony Catalfano Interiors Inc.

Posted in:
Architecture
,
Beautiful Homes
,
Beautiful House
,
Bedroom Design
,
Classic Design
,
Coastal Decor
,
Coastal Homes
,
Coastal Interiors
,
Cottage
,
Dining Room Design
,
Gardens
,
Guest Posts
,
Home Decor
,
Interior Design Blog
,
Interior Design Ideas
,
Kitchen Design
,
Living Room Design
,
Paint Color
,
Patio Ideas

3 comments