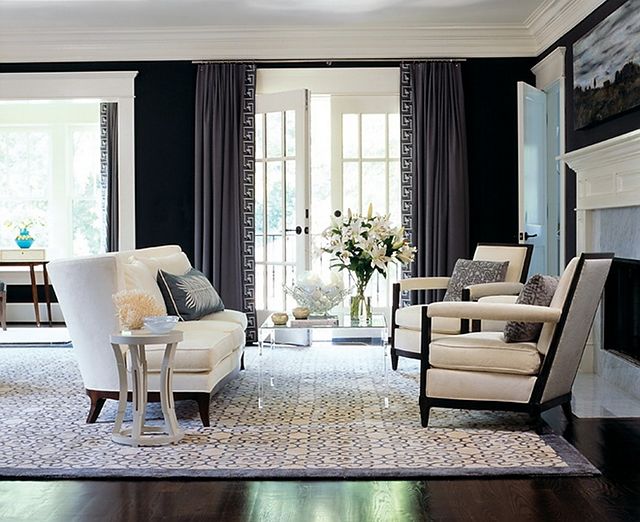 When interior designer Brian Watford was contacted by the owners of this craftsman-style home he knew this would be a fantastic opportunity to really let his designs speak for themselves. He added pieces that have a mid-century feel and others that are completely timeless, creating a space that feels chic yet livable for all members of this young family.
This is the kind of house you get in and want to look into every detail because there's something to learn and admire in every corner.
Foyer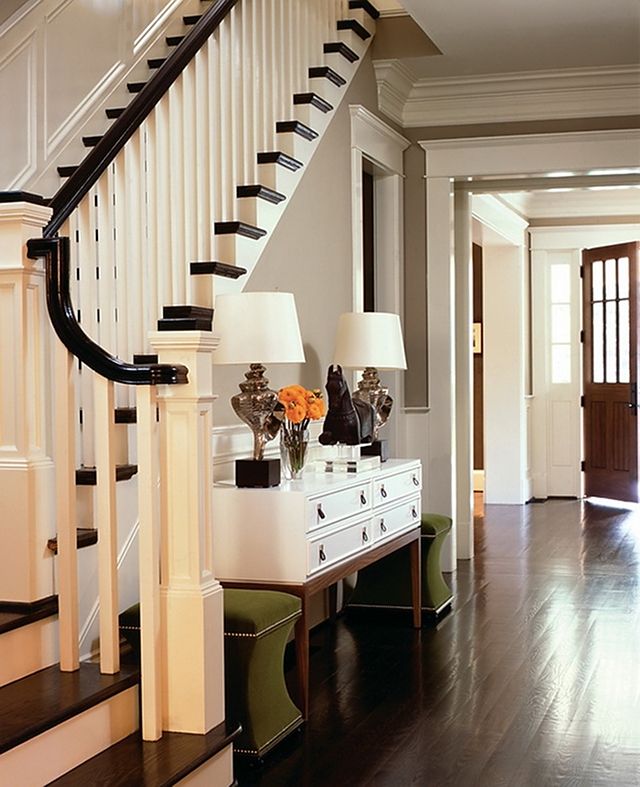 It's impossible to not love this foyer! I really like the green velvet ottomans. They look perfect with the dark floors.
Dining Room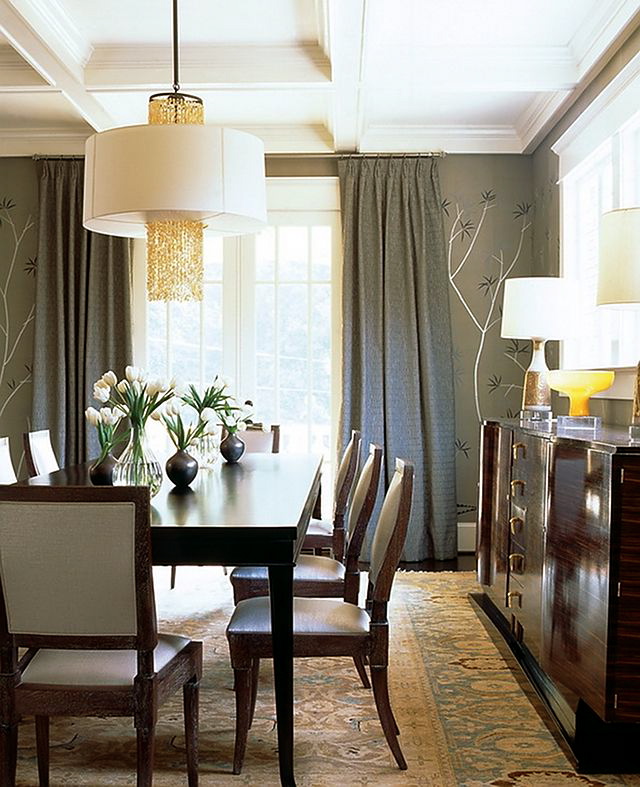 The dining room feels really warm. I like the textures found here and I especially like the silk chinoiserie wall covering.
Lightly Light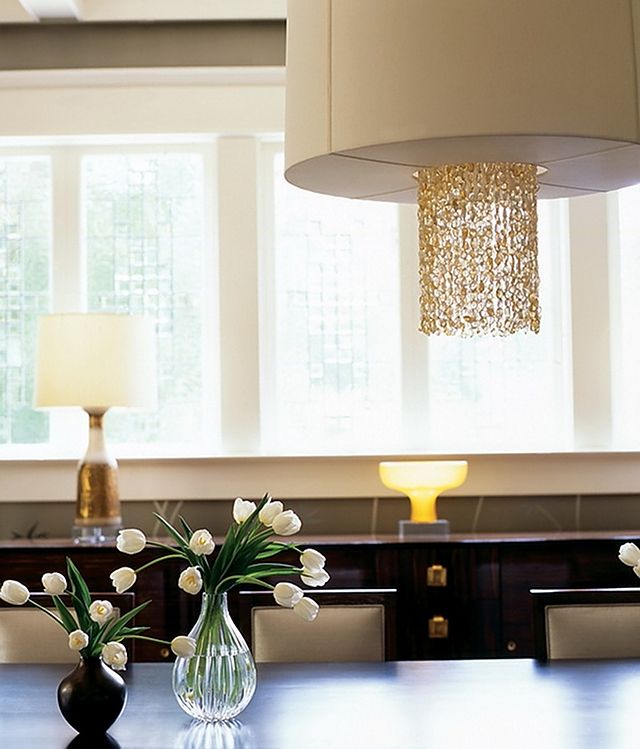 A very unique and stunning chandelier of citrine gemstones cascading through the center of a silk drum shade.
Living Room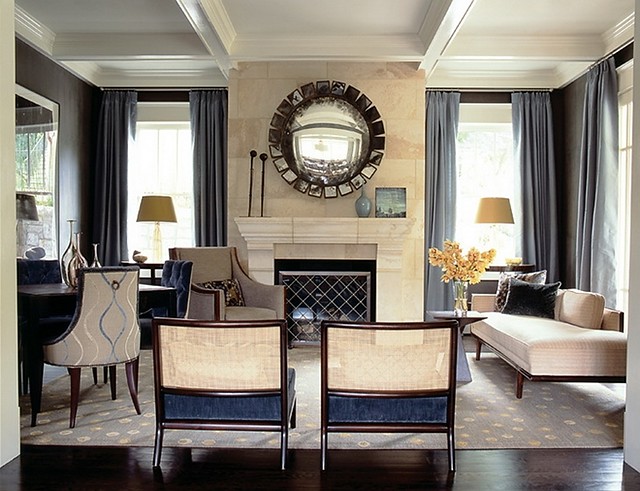 This is such a beautiful room with such elegance. Beautiful furniture was chosen for this space, including that vintage daybed.
Let's Play & Talk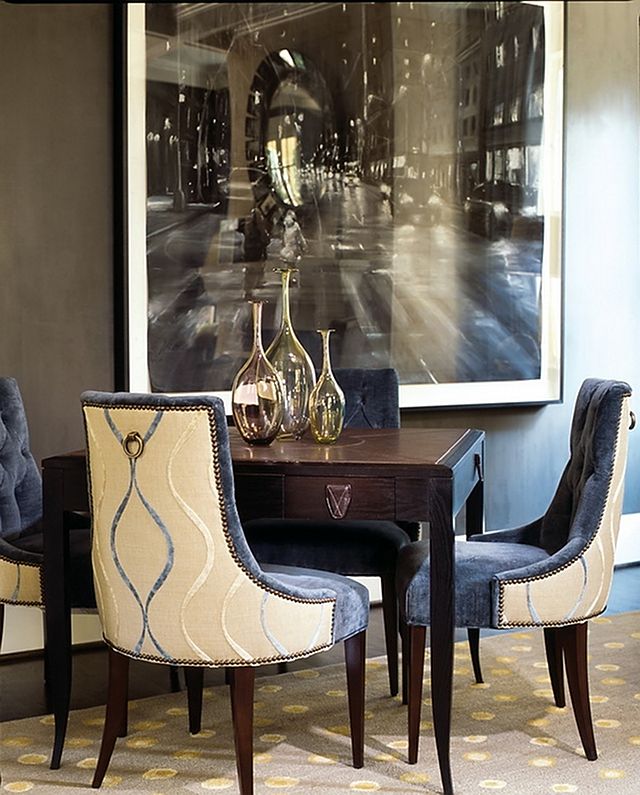 I usually don't like "game tables" but I can have this one in my place any time!
Where We Eat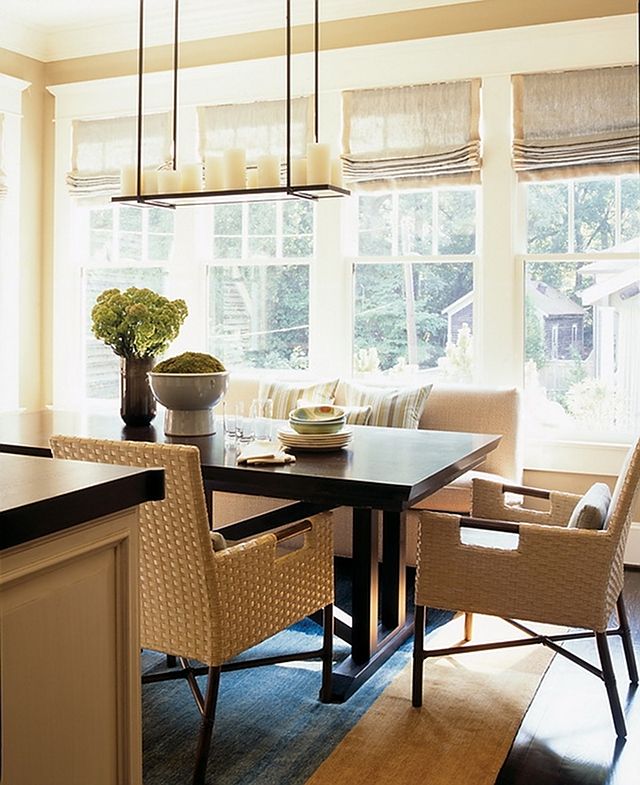 I love breakfast areas that feel sunny like this one. I also like the rug, but I'll be honest here, I simply cannot have one under my table, not with two small children and a baby on the way!
Family Room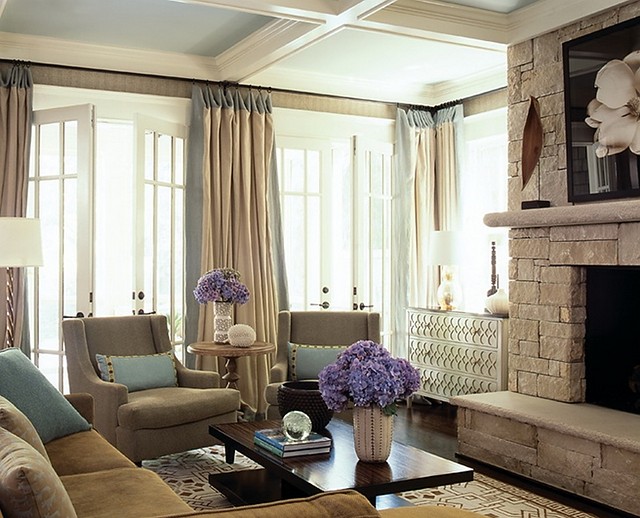 Even though I love this entire house, this is the space that speaks most to me. I really like the soft blues and the French doors. The walls are covered in a chevron-patterned grasscloth.
Master Bedroom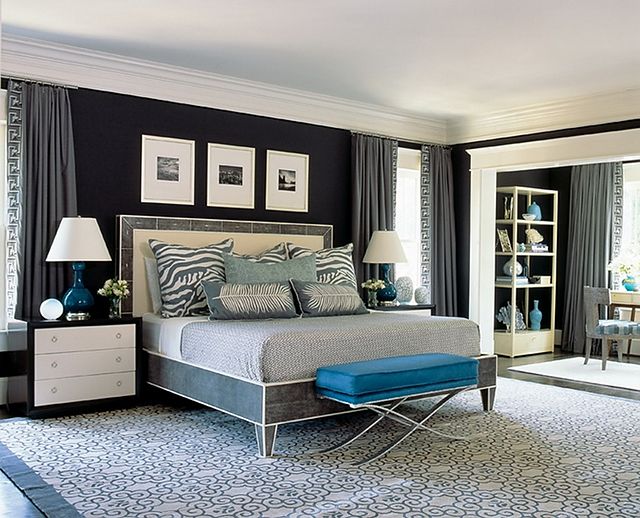 This master bedroom is really big, the sitting area can be seem at the top of this post (1st picture). The designer upholstered the walls in charcoal gray wool and added some white, gray and turquoise to the space. Talking about turquoise, have you notice how gorgeous the "X-legged" bench by the bed is?
What are your thoughts on this house? Did you like how chic every room feels? Let me know. I can't wait to know if you liked it.
How are you guys doing today? Everything is good with you? I'm feeling overwhelmed today. You know, I always try to be positive about everything in my life and complain as little as possible. That's something I'm still learning to do, but I was even telling my kids today that it seems there's much more things to be done around me than I have time to accomplish them. Do you feel the same way? I think most of us do feel this way. The problem is, the list never ends and it keeps growing. I'm the kind of person that tries to keep life as simple as possible and "put less on my plate" when I know I already have too much, but life is life and things keep happening and we need to at least try to accommodate new changes.
So, if you're feeling a bit overwhelmed like I am today, I hope coming here was a little break that you deserved and could forget about the things you have to do.
Have a lovely day and hopefully one with a small "to do" list! 🙂
xo
Luciane at HomeBunch.com
Get My Help with Interior Design: HB's Design Service.
Come Follow me on Twitter: Twitter/HomeBunch
Source: Atlanta Homes & Lifestyles