Hello, my wonderful friends! I am very happy to start this new week with one of the most amazing "Before and After" ever shared on Home Bunch. Sara, from @simplysoutherncottage, will certainly inspire and teach us a few important things, such as, to never, and I mean NEVER understate the power of visualization. Trust me, you must have a lot of power of visualization to transform what this cottage used to be to what it is today. I can't find words to tell you how much I admire Sara and I just became her newest fan and follower! I hope you do the same! 🙂
Get to know all of the details below!
Beautiful Homes of Instagram: Farmhouse Cottage

Roof: Standing seam metal roof
Pink flower border: Petunias
Meet the Homeowner


Oh my goodness y'all, I am beyond excited to be featured on Home Bunch this week. I'm Sara @simplysoutherncottage and almost a year ago, I wrapped up a MAJOR restoration project of my 1926 Louisiana cottage. Born and raised in the northern part of the state, once I left for college in Arkansas I said I would NEVER come back. Famous. Last. Words. After being away for nearly 15 years, my heart started stirring and longing to be back with my family. In December 2014 while driving around a quaint, southern, historic community, I stumbled upon this house and immediately knew it was supposed to be mine.
Before

I mean, it looks vacant, right? And it was. But persuading the family to sell, who had owned it for ninety years, proved extremely challenging. Even though it was in shambles, I could see in my mind all of the after pictures you are about to encounter. I KNEW what was hiding underneath the brush, decay and clutter. And after a twenty two long month love affair with this cottage, I finally was able to secure it. You can read the entire story here. Luciane will be showing you all of the beautiful after pictures, but you'll definitely want to visit my blog to see all of the befores. By day, I am a senior educational sales consultant, and by night I love to "play with" and invest in other real estate properties. When time allows, I enjoy writing and you can find more of my personal journey on "SimplySara" and more about my cottage on "SimplySouthernCottage". I'm highly motivated and extremely driven. Each morning I wake up with joyful expectation, excited about what will unfold during the day. I love Jesus and my family with my entire heart. I also love to read and I spend LOTS of time outdoors, both in my yard and doing outdoor fitness activities. Almost every week, you'll find me on an airplane traveling for work and sometimes, I'm able to squeak in some personal adventures to feed my wanderlusting soul. I'm deeply Southern through and through and if you ever hear me talk, you'll definitely notice my drawl that's thick as molasses! Thank you so much for joining me on Home Bunch this week and I hope you'll enjoy this segment about my little cottage!
Exterior Paint Color


Exterior: All original wood siding, Color: Extra White by Sherwin Williams.
Before & After Pin

Feel free to pin this to inspire others! 🙂
Front Porch


I get asked a lot…. "Why the yellow door?" I knew from the get go, I wanted a bright, cheery, colorful and inviting exterior. This yellow door exudes joy and positivity and anyone who sees it, just has to smile.
Door color: Lemon Twist by Sherwin Williams
Gas Lanterns: Custom made by CopperWorks Custom Lighting in Shreveport, LA – similar here.
Talling bushes flanking sidewalk: Yuletide Camellia
Short bushes: Buford Hollies
Pink Flowers: Petunias
View from Park


Door was handcrafted by a local artisan: Webster Door Company
Park


My cottage sits directly across the street from a historical park. In 1850, an all boys school was constructed (in the current park) but closed in 1898 when the public school opened. The actual school building was eventually relocated, turned into a hotel and, sadly torn down in the 1970s. The park commemorates the academy and this gazebo sits in nearly the same location as the one constructed in the 1850s.
Side View


What a dreamy front porch!
Blue Porch Ceiling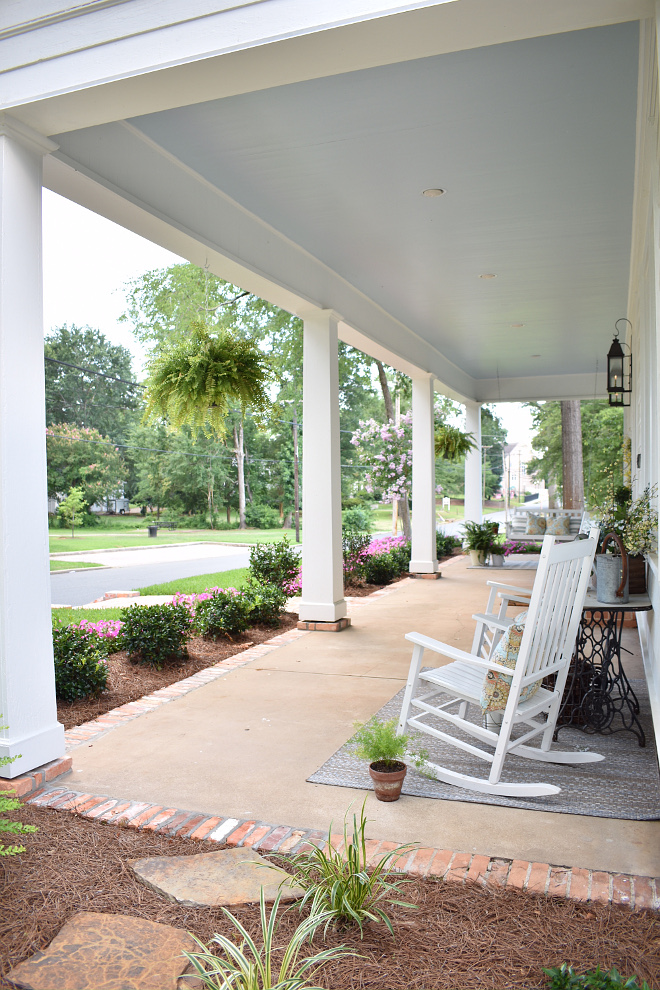 Blue Porch Ceiling Paint Color: Atmospheric SW 6505b y Sherwin Williams.
Street View


The cottage sits within a historic residential district and is surrounded by historic homes.
Hello mat: Walmart (discontinued) Similar here, here & here.
Rockers: Walmart – similar here.
Porch Swing

This has to be one of the most inviting porches I have ever featured… isn't this so inviting and perfect?! Sara is soooo talented and she definitely has a green thumb! 🙂
Swing: Lowes – similar here.
Outdoor Rugs: Orian Rugs.
Welcome Home!

Neutral décor and simplicity make my heart sing. Walking into a peaceful, calm environment at the end of a long travel week, soothes my soul. So inside my home, you won't see much variety in color. But what you will see are bright, simple spaces! While I'm not a minimalist, per se, I'm not really a "things girl" and really adore an uncluttered home.
Three walls had to come down to create this space. You are looking from the library area, into the living room and then into the dining kitchen area.
White Couch and chair: Normanson by Birch Lane Sofa & Chair.
Chandelier: Old World 9 light chandelier.
Millwork


All woodwork in the home is original to the cottage, but was covered by layers of wallpaper and paneling. It was milled from one of the first sawmills in Louisiana. All walls are painted Snowbound by Sherwin Williams. Trim and all cabinets are Alabaster by SW.
End table: Ashley Furniture Signature Design
Rug: Rugs USA – similar here.
Lamps: Kirklands, clearance
Scroll: custom from Cottonwood Shanty
Dining Room

Shades: Horizons Natural Woven Shades, Pattern Matchstick, Color: Walnut (Leslie Rainer Designs (local) did them) – similar here, here & here.
Dining Table: Birch Lane.
Chairs: Custom made by Chair Whimsy.
Similar Rug: here.
Hutch


Hutch: My great grandmother's

Dining Room & Kitchen

The dining room is directly connected to the kitchen.
Chandelier: Original to the cottage
Island Backside


I got most of my inspiration from Instagram and Pinterest. I knew I wanted a rustic island similar to Becky Cunningham's @becky.cunningham.home (also a fellow Louisiana décor Instagrammer) and after showing Shreveport Salvage several pictures, they were certain they could build something similar. And I couldn't be more pleased with the way it turned out.
Island pendants: Here.
Island hardware: Pulls & Knobs.
More Details


Island: Custom made from salvaged wood from one of the oldest houses in North Louisiana. Barnwood top is from a 100 year old salvaged barn, a parish over.
Island Measurements: 74" x 32" (43" with overhang) x 36"
Similar Library lights above sink: here, here, here, here, here, here & here.
Stools

Stools: Country Jungle.
Faucet

Faucet: Water Creation.
Sink

Originally there was two separate windows on this wall, but I knew I wanted a huge bank of triplets right over my kitchen sink!
Sink: 33" farm sink. It was a "second" so I got a good deal on it – similar here & here.
Hardware: Pulls & Knobs – I absolutely love them!!!
Countertops: Cambria Torquay
Refrigerator Cabinet

All kitchen, bath and laundry cabinets are made from birch and maple.
Appliances: Frigidaire Gallery
Hall

Looking from the kitchen, down the hallway into the mudroom area. Laundry room door was salvaged and repurposed from the home. Decal can be found here. I made the magnolia wreath hanging on the back door.
Light: Birch Lane.
Vinyl Plank Floors: Mannington – Color: Sandpiper
Laundry Room

The cabinet above the washer/dryer is original to the cottage. Prior to restoration, it was housed in almost the same location but over the original kitchen sink.
Whirlpool Washer/Dryer:Washer&Dryer.
Floors: Same as kitchen.
Countertops: Cambria Torquay
Room Layout

Looking from the kitchen area, into the living area and finally into the library. Three walls were taken out to create this flowing space. All floors are original to the cottage. The black candlestick you see on the left was found at a rummage sale.
Library

This space is perfect to curl-up with a good book at the end of day.
Similar Ceiling Light: here & here.
DIY Bookwall

After being inspired by Erin @cottonstem's bookwall, I decided to give it a go in the library area of my cottage. I came across this quote somewhere online and knew I wanted it to be my focal point. So I got to work one evening with some old books, nails and duct tape and made this happen! I LOVE the way it turned out.
Theater chairs are from a local antique shop and were salvaged from a theater in Michigan.
Ottoman: Wayfair.
Loveseat: Wayfair.
Rug: Amazon – similar here.
Fireplace

The fireplace was originally located in the living area, but I relocated it to the library and decided on a gas log insert. The bricks for the surround and hearth were given to be by a neighbor. And the windows and the mantel pictured here are both original to the home. Behind the windows are farmhouse style bi-fold doors to hide a TV. But, as part of my ongoing simplification process, I've chosen to not have a TV! This area used to be a bedroom. The fireplace surround and bookshelves are completely new.
Ceiling

One of my favorite things about the cottage are these amazing ceilings! They had been covered up with drop ceiling tiles so I was ecstatic when those came down and this gorgeous wood was hiding underneath! (The perpendicular boards you see are where the walls were.)
Chicken coop coffee table: Custom built by Shreveport Salvage.
Hardwood Flooring

Hardwood floors are refinished and original to the house.
Stairwell

Upstairs was originally a wide open attic space. I finished it out to create 2 bedrooms, a living area and a guest bath. The sconces on the wall shown here are original to the cottage and repurposed from a different location – similar here.
Guest Bath

This guest bathroom is completely new to the cottage and did not exist prior to restoration. It is a converted space in the attic area. The washstand was found at an area junk shop and if you look closely it fits JUST right!

Faucet: Signature Hardware – similar here.
Sink: Signature Hardware.
Similar Antique Washstand: here.
Similar Floor Tile: here.
Home Office

My office area. I was SO disappointed when this desk arrived. It clearly said the desk was "white" on the Birch Lane site, but when it came in, it was definitely a buttery yellow. Then it was super hard to put together. But ultimately I decided to keep it! I love the functionality and storage it offers. Yes it has drawers and cabinets on BOTH sides (it isn't turned incorrectly). The off-white color really does seem to work in the room and it's definitely growing on me!
The cabinets that flank the windows are repurposed from the kitchen area. The chair is a Facebook garage sale find that I customized a bit – similar here – Other Great Desk Chairs: here, here & here.
Desk: Birch Lane.
Rug: Wayfair.
Chandelier: Amazon – Also here.
Master Bedroom

I extended the calm, neutral palette into my bedroom area. You can see there isn't a lot of clutter in my home. I love keeping everything simple, neat and organized. It makes my life SO much easier! The little grate above the headboard is actually the ornamental piece from my grandparents' screen door. I salvaged two of those to use in my cottage.
Bedroom Suite: Ashley, but is about 12 years old and has been discontinued – Other Beautiful Four Poster Bed: here.
Windmill Ceiling Fan: Quorum.
Similar Rug: here.
Always There


One of my favorite scriptures and a constant reminder of where I've been and how far I've come. Also, my biblical basis to live simply. (Created by @treasuredpearlhandmade)
Decor

Comforter set: Downlite topper and Wamsutta Vintage.
Reuse & Reinvent


I reused every single original door that was found in the cottage. For my master closet and master bath, I repurposed two of the original French doors that led into the dining area. By placing them on barn door tracks, I was able to save space in these areas.
Master Bathroom

The master bath was completely gutted and is brand new. I wanted clean, simple lines and again, soothing, calming spaces.
Lights: Birch Lane.
Chandelier: Saint Mossi Chandelier – similar here.
Faucets: Signature Hardware.
Tub: Vintage Tub and Bath Randolph Morris 66 Inch – similar here.

Vinyl Plank Floors: Mannington
Master Shower

The shower features subway tile and penny round floor tile.
Mudroom

My mudbench area was formerly the laundry porch and was not heated and cooled. Therefore, it was actually one of the most deteriorated parts of the cottage. I knew I needed a place to dump my purse and coat when I come in the back door, so this area was perfect for that purpose! The knobs are the former plumbing fixtures from the master bath and the locker baskets are salvaged from my old high school before it was razed. The back door is actually the former front door I repurposed here.
Back Porch


Originally, the cottage did not have a back porch. I knew I would need a place for coffee drinking, book readin', and afternoon nappin', so I decided to add on an amazing porch area. And honestly, this is where I spend the bulk of my time when I'm home. After seeing many amazing bedswings on Instagram and Pinterest, I showed pictures to a local artisan, Ali's Creations, and this is my vision come to life under her hammer. Definitely my favorite place under my entire roof!
Beautiful Pillows: here, here, here, here, here, here, here & here.
Planters

Sara really knows how to add charm and beauty to her home.
Flowers

The back porch features petunias.
Greenhouse

Most of the original windows were severely damaged, so ultimately I decided to replace them with new, energy efficient windows. I knew immediately though, I wanted to save all the old windows to have a functional greenhouse built in my backyard.
Close-up


I am so pleased with the way this turned out!
Inside

This is how the greenhouse looks on the inside.
Hidden Treasure


About 12 years ago, my neighbors were tired of looking at the decaying, unkempt cottage. To remedy that, they built this amazing brick fence! And all these years later, I get to be the beneficiary! What a dream!
Fence Close-up


Charming and timeless brick fence design!
Garage

One evening as I was outside watering, I turned around to head back for more water, and this sight literally took my breath away. A storm had passed through and the remnants at sunset were spectacular! The garage is newly constructed and not original to the cottage. Upstairs is for storage. To the left of the one car garage is my craft room.
Dawn


I feel that Sara's home is a proof that dreams do come true when you visualize, believe and work hard for them. Believe in your personal dreams…
Similar Bedswing: here & here.
Many thanks to Sara for this inspiring house tour!
Make sure to follow @simplysoutherncottage to see more of her beautiful home!

Best Sales of the Month:

Thank you for shopping through Home Bunch. For your shopping convenience, this post may contain AFFILIATE LINKS to retailers where you can purchase the products (or similar) featured. I make a small commission if you use these links to make your purchase, at no extra cost to you, so thank you for your support. I would be happy to assist you if you have any questions or are looking for something in particular. Feel free to contact me and always make sure to check dimensions before ordering. Happy shopping!
Wayfair: Up to 75% OFF on Furniture and Decor!!!
Serena & Lily: Enjoy 20% OFF Everything with Code: GUESTPREP
Joss & Main: Up to 75% off Sale!
Pottery Barn: Bedroom Event Slale plus free shipping. Use code: FREESHIP.
One Kings Lane: Buy More Save More Sale.
West Elm: 20% Off your entire purchase + free shipping. Use code: FRIENDS
Anthropologie: 20% off on Everything + Free Shipping!
Nordstrom: Sale – Incredible Prices!!!
Posts of the Week: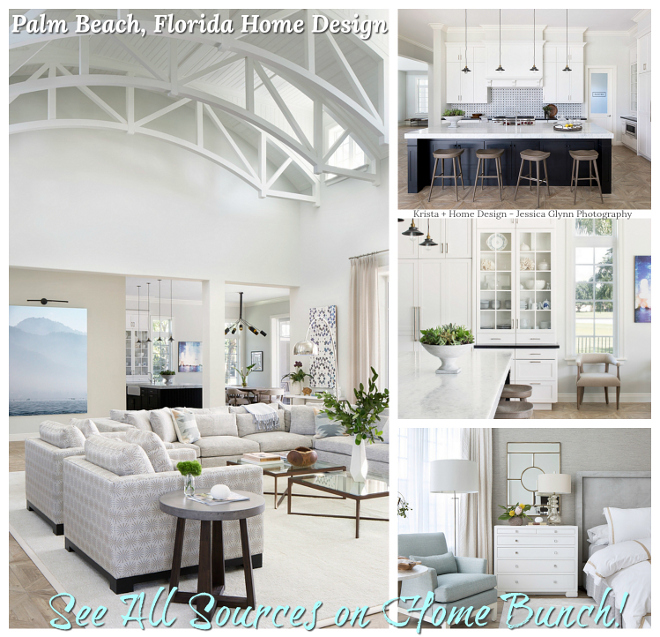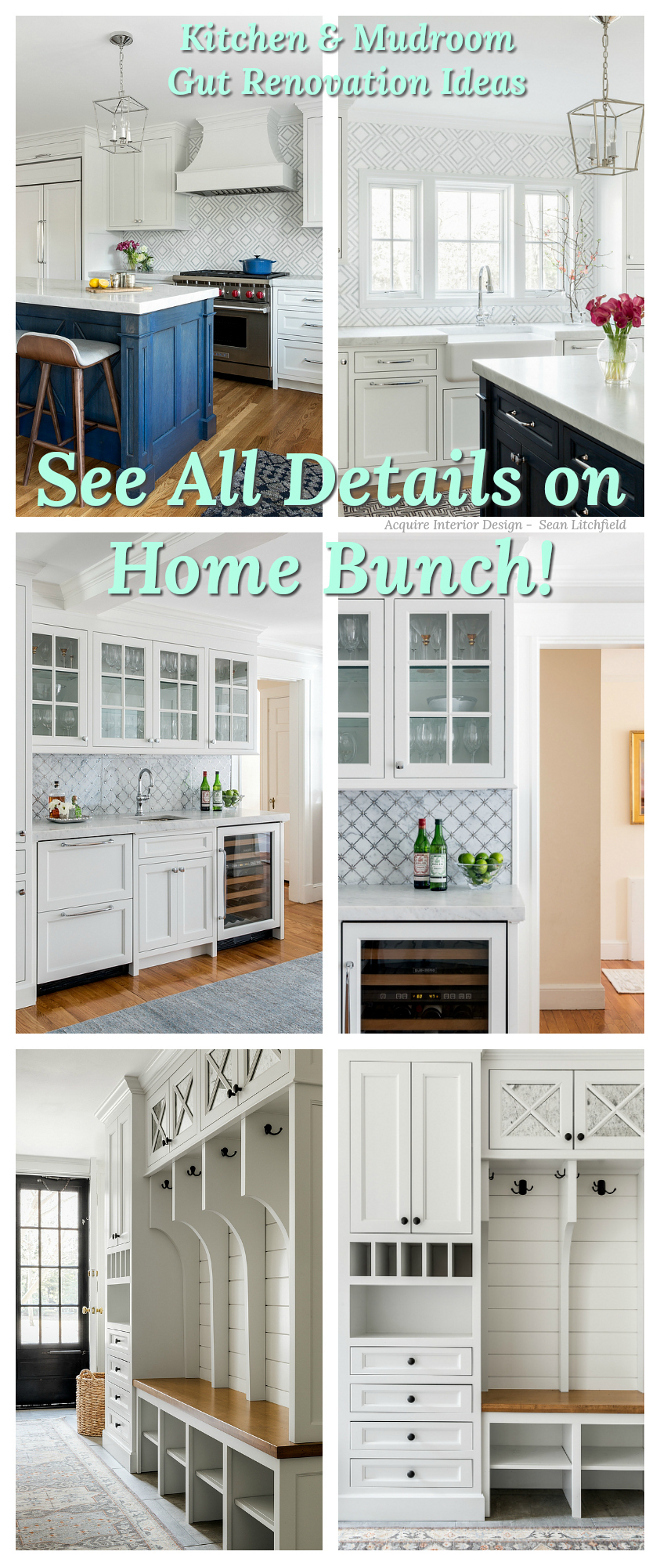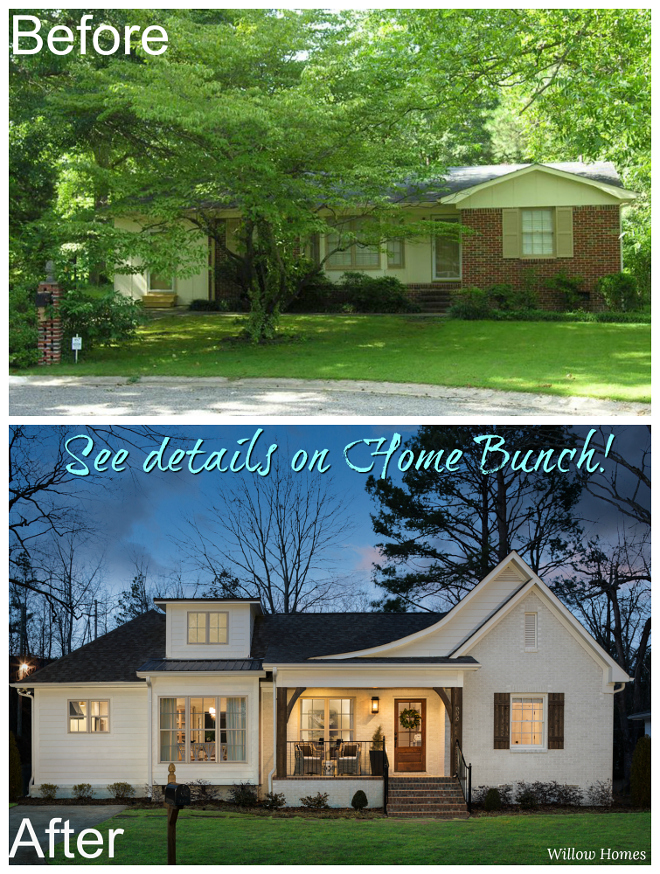 See more Inspiring Interior Design Ideas in my

Archives.
Interior Design Ideas:

Paint Color
"Dear God,

If I am wrong, right me. If I am lost, guide me. If I start to give-up, keep me going.
Lead me in Light and Love".
Have a wonderful day, my friends and we'll talk again tomorrow."
with Love,
Luciane from HomeBunch.com
Interior Design Services within Your Budget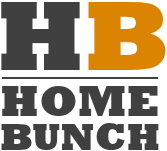 Get Home Bunch Posts Via Email

"For your shopping convenience, this post might contain links to retailers where you can purchase the products (or similar) featured. I make a small commission if you use these links to make your purchase so thank you for your support!"